I'd have to say that this particular easy decor project reminded me how much I love re-purposing old things and making them new. Hmmm, maybe that's why I hang onto things a little longer than I should… either way, I'm super excited about this diy project using my old porch pillows. Saving this "pillow pair" from the sure fate of the trash started a true 're-loved' story. The best thing about this particular project is the fact that you can rescue the inserts from the old porch pillows and viola, you're halfway done! Let me explain…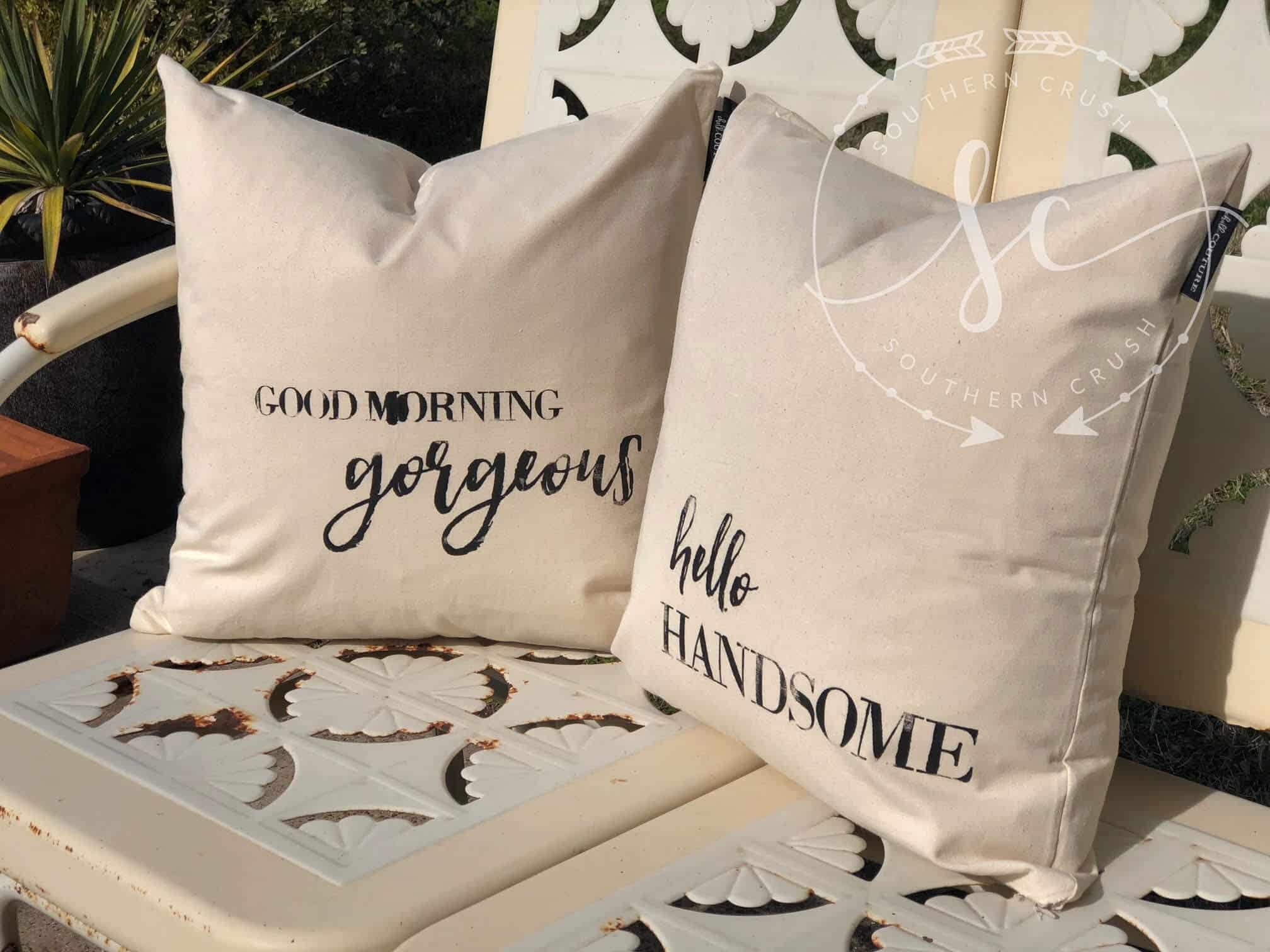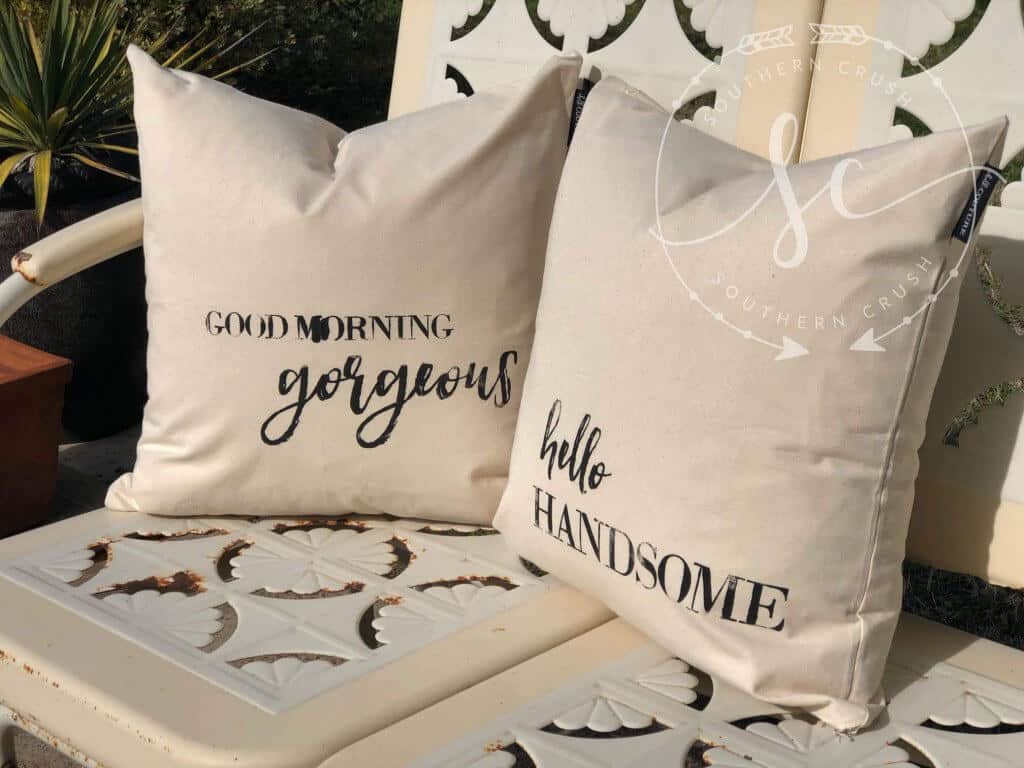 Back Story…
Several years ago, I purchased a cute pair of pillows with a bird pattern on them from a local decor store. I thought they worked beautifully for the chippy, vintage yellow glider (which is another diy project itself) on my back porch. However; as time passed, mother nature had taken a toll on them. Their sweet bird pattern faded and they had a bit of mildew stains on the back. Eewww!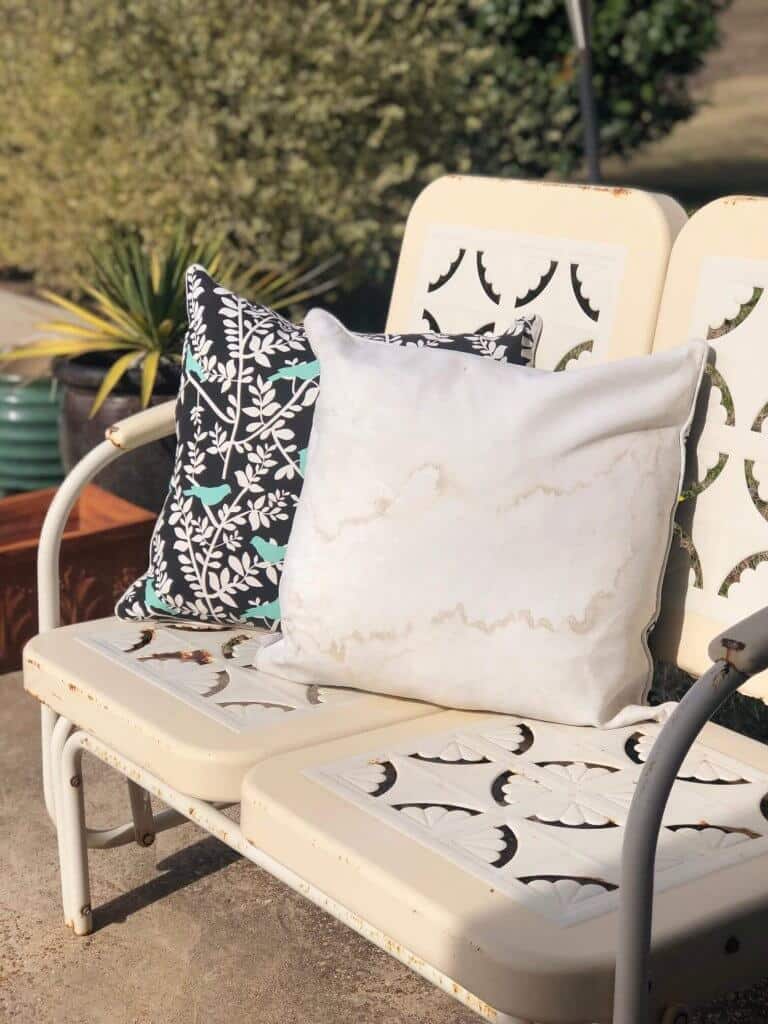 Many times over, I would glance their way, using my better judgement and think to myself, "Today's the day. I'm going to toss those old pillows and go get some pretty new ones." For some reason or another the thought would come and go and the porch pillows always remained. Which reminds me of another diy project I would often put off which was decluttering my cabinets. Until one day. One day changed everything.
Inspiration Hit
Inspiration came along and I knew exactly which stencil I wanted to put on them—"hello handsome and good morning gorgeous"! I'd been eyeing them online for quite a while! That morning, I grabbed all of the materials I would need >>> and a new 're-loved story' began.
DIY Project Materials Needed
Two Canvas Pillow Slipcovers
Transfer Stencil of your choice
Chalk Ink of your choice
Iron or heat press
Small Squeegee
Ink Mat
It was time to make 'good' on my previously dismissed better judgement. I quickly removed the old, damaged pillowcase covers (which by this point the bird pattern had turned a some sort of strange neon color) from their completely reusable inserts and got busy creating two new porch pillows masterpieces with a little help from some cute stencils.
The entire project was so quick and easy that it only took a few short minutes and can be seen here ⬇️⬇️⬇️
and they lived happily ever after…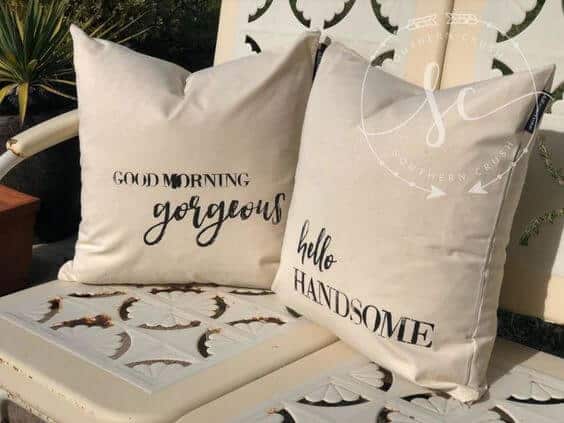 >>>BE SURE TO PIN THIS FOR LATER!<<<
What do you think? It's easy enough for anyone to do. I immediately fell in love all over again with my his & hers porch pillows–they were a true 're-loved' story!
>>>Leave your thoughts below in the comments please… BTW— Life is short—Enjoy the mess!
**P.S. Please join us over on our
Facebook Page
to see more fun projects "Live".