How to Make a DIY Window Planter Box (the Inexpensive Way)
Looking for an easy, inexpensive way to add some instant charm to the exterior of your home? Why not try making your own DIY window planter box!
Window planter boxes are the perfect solution for creating that extra pop of color to make your space pretty.
Creating them yourself requires only minimal carpentry skills, and the end result is something that will add beauty to your outdoor area for years to come.
This blog post contains affiliate links. The opinions are wholly my own from my own experience. I may earn a small commission from clicks through to the websites that end in a purchase.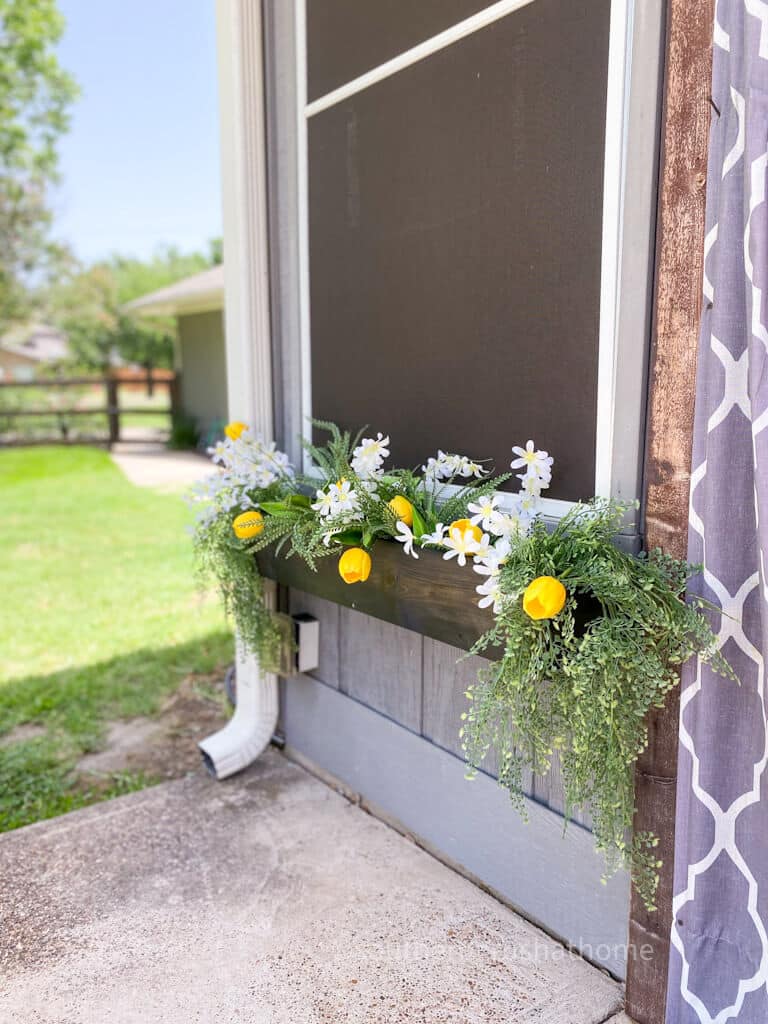 Below are some DIY window planter box ideas you can try out with just a few tools and materials. These easy flower boxes will look great anywhere from a front porch or side patio to an urban balcony or rural garden.
Whatever your space and needs, this step-by-step tutorial will help you get started.

How do you make an inexpensive DIY planter box?

One of the easiest ways to make a DIY window planter box is to use items from around the house. You can build a basic box with pallets or wood scraps, and if you have glass containers or other plastic storage containers, these can be used on the inside of the box as well.
We used scrap wood that we had laying around. It was a bit more narrow than I would've wanted (1x6x6 instead of 1x8x8 or 1x10x10), but in the end, it worked out perfectly.

In this tutorial, I'll show you how to make an outdoor planter box using inexpensive materials. With just a few scrap pieces of wood, some black wood stain made with black paint, and a few supplies from the local hardware store, you can easily add these accent features to your outdoor space. Let's get started!
Tools and Materials you'll need to make a Window Planter Box
First and foremost, you'll want to make sure you have the supplies you need on hand. This includes not only the materials you'll use to build the planter boxes, but also basic carpentry tools like a tape measure and hammer. You'll also want to make sure your outdoor space is prepared for your new planter boxes.


There are a variety of paints on the market that are made specifically for use outdoors. Other materials you might want to consider include garden soil, decorative stones or gravel for drainage, and a selection of plants to fill your new boxes.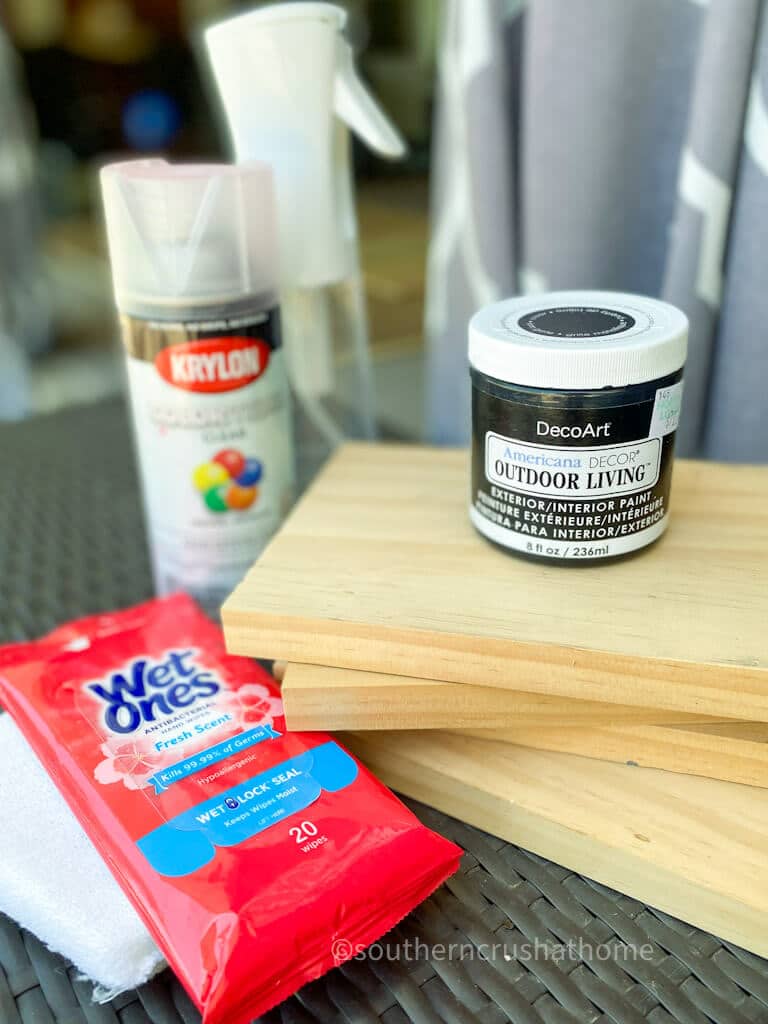 Equipment Needed for DIY Window Planter box
Chop Saw, Table Saw, or Hand Saw
Hammer
Level
Power Drill
Tape Measure


Supplies Needed for DIY Window Planter box

A piece of 1x8x8 lumber (although it should match the width of YOUR window)
Screws for assembling
Anchors for mounting to the wall (if needed)
Black Exterior Paint for Black Wood Stain
Clear Protective Spray Paint
Cotton Pad for Black Wood Stain
Baby Wipes for Black Wood Stain
Florals of your choice (Potting Soil if using Live Flowers)
How to Make DIY Window Planter Boxes
Step 1. Measure Twice Cut Once
LOL This is so true! Always measure your wood more than once because sometimes, the longer you think about it, the more you may want to change your mind about the length to cut it.
Step 2. Cut the pieces of wood
Using either a table saw or chop saw like this one, cut the wood pieces you will need for the planter boxes.
Quick Tip
Once you measure and cut the first piece of wood, use that piece as a guide for the others!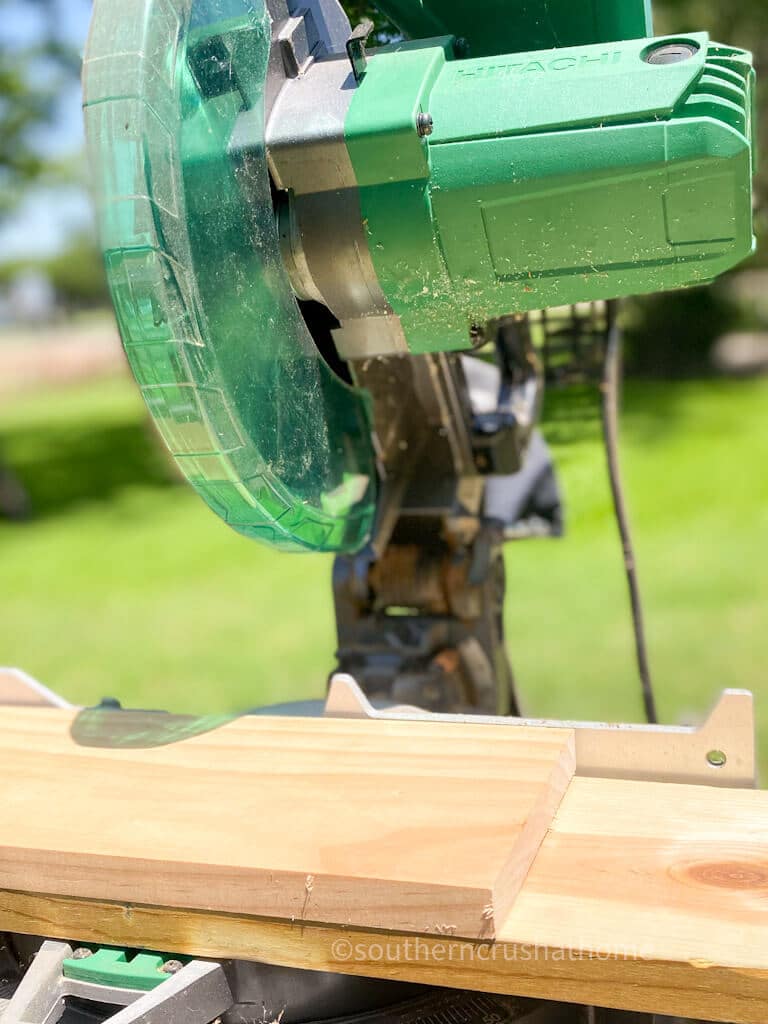 These are the pieces you will need for making two window planter boxes. Your measurements may vary depending upon the size of your outdoor window.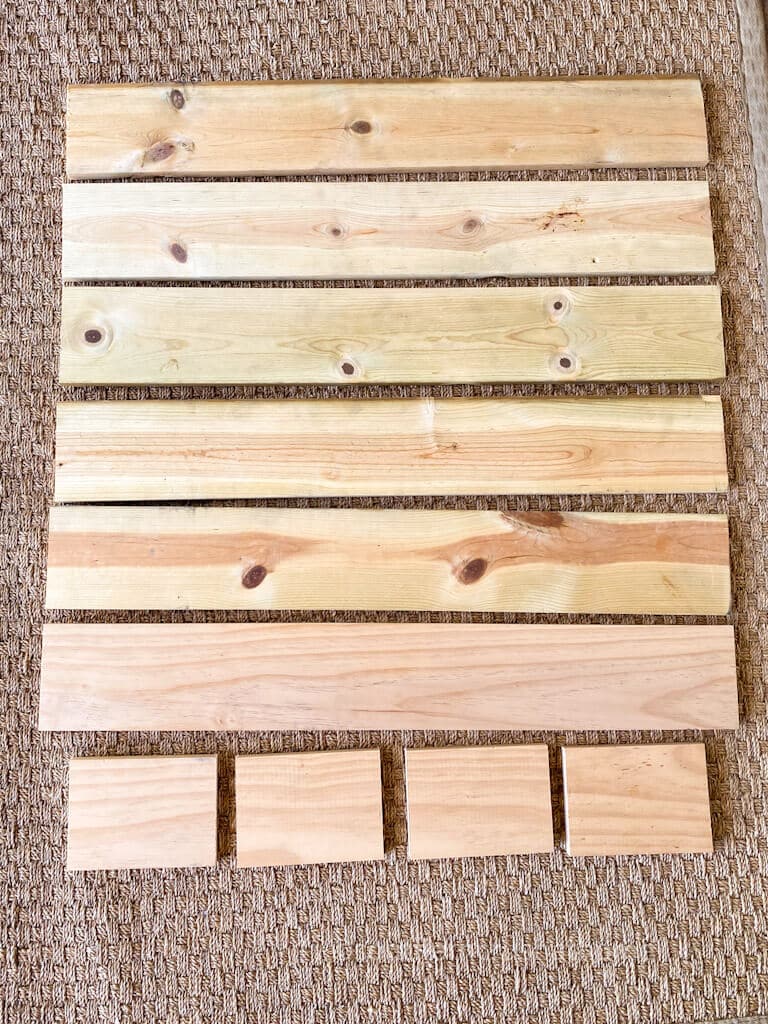 We used the following measurements to make two boxes.
4 – 5″ x 6″ pieces of wood
6 – 37″ pieces of wood

Step 3. Paint and Seal the Wood Pieces
This is where you can get creative! Paint or stain your wood piece in whatever color you desire. It's nice to match your house paint or use a complementary shade.
I just love to use these handy paint "samples" when trying to decide on a color.
We decided on a DIY black wood stain made from outdoor paint I had on hand. See the entire wood staining process below.
After the wood has dried completely, seal it with the waterproof sealer of your choice.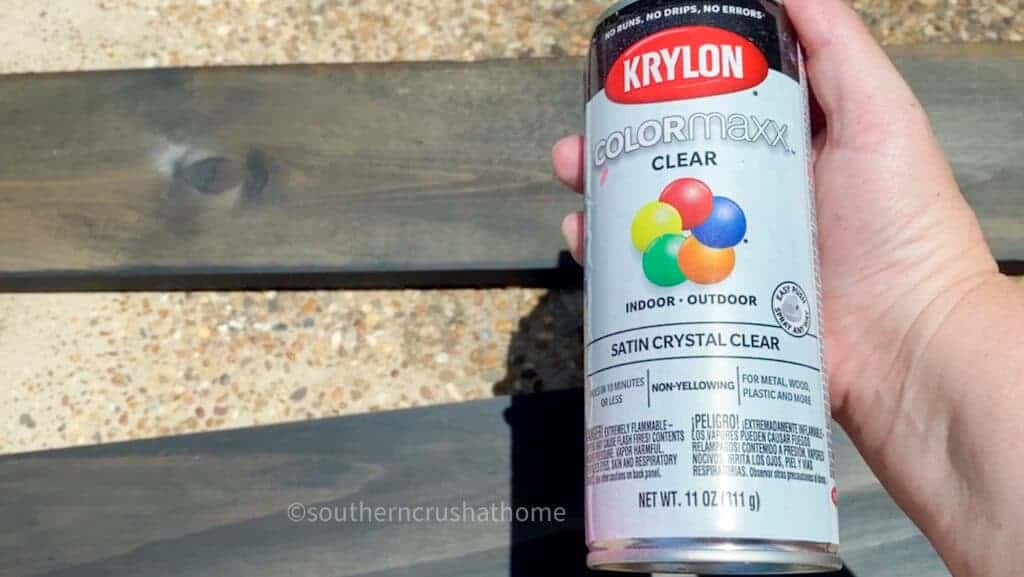 Step 4. Drill a drainage hole at the bottom of the box
Drill three holes along the bottom piece of wood for drainage if you plan to plant live plants or herbs in your flower box.
Step 5. Join the pieces of wood together by using screws and decorative nail heads to assemble the window planter box
First, we screwed one 37″ plank to the top of another 37″ plank and then added the two side pieces of wood also with wood screws.
Using anchor screws and a level we hung the planter box on the exterior wall under the window.
We had to "cheat" it a bit because our house is old and the window is a bit crooked. This planter box is the perfect solution because the flowers inside will cover up the difference!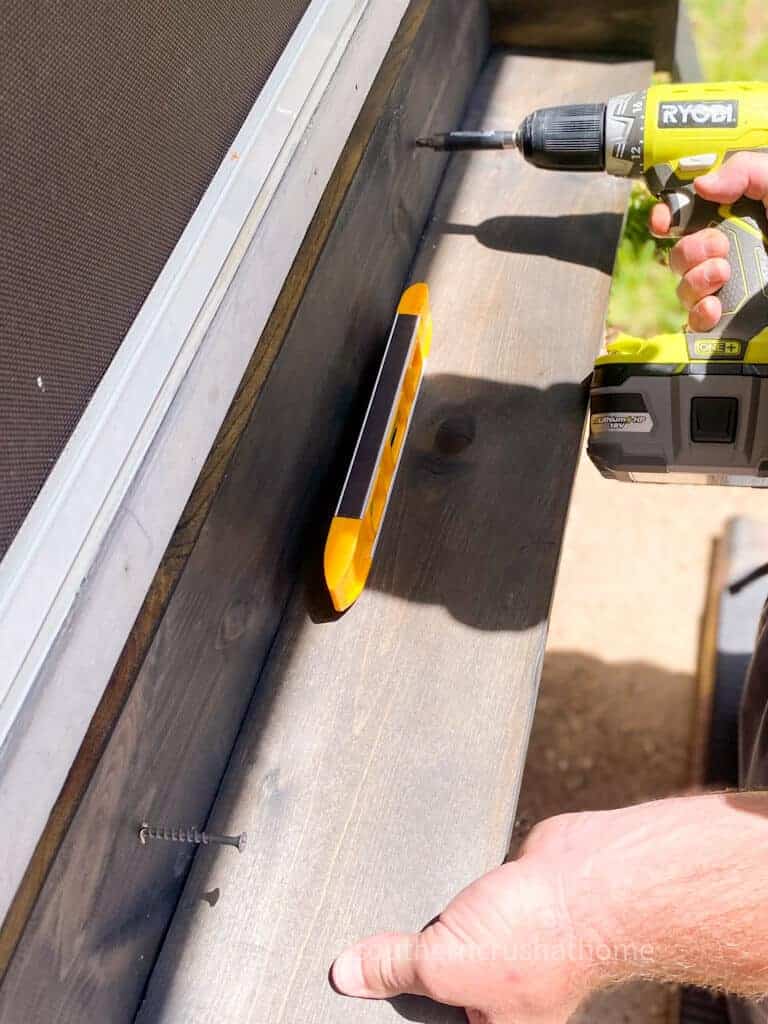 Finally, we added the "front" of the window box using shiny galvanized nails that won't rust for a modern look. I just love how these turned out!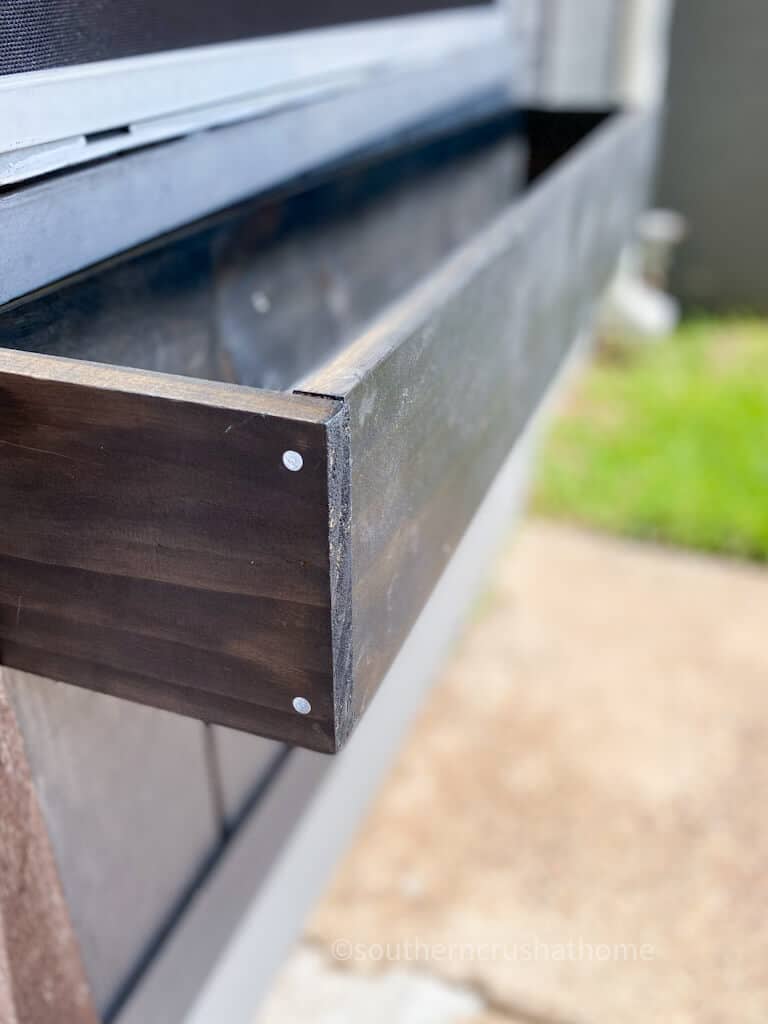 You can definitely assemble your planter boxes so that no nails are showing and you can place the front of your box over the sides for a more clean look; however, I love the way these are done!
Step 6. Add Faux Flowers, Herb Garden, Plants, or Live Flowers
If you want to add an herb garden, live plants, or real flowers; now is the time to add gravel and soil and start planting.
If you want to add faux flowers that last all summer long there is no need for soil or gravel.

Simply add two rectangular-shaped plastic containers from Home Depot and glue a piece of floral foam into the bottom. Arrange your floral picks and add greenery as needed.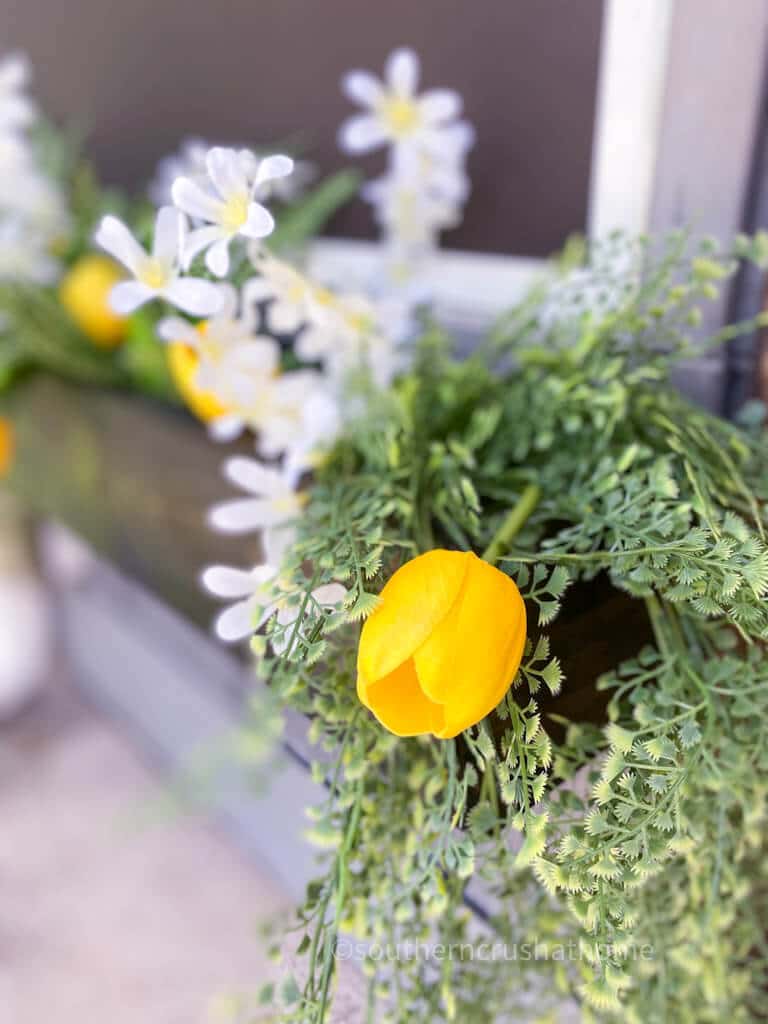 I just love the idea of switching out the flower colors each season!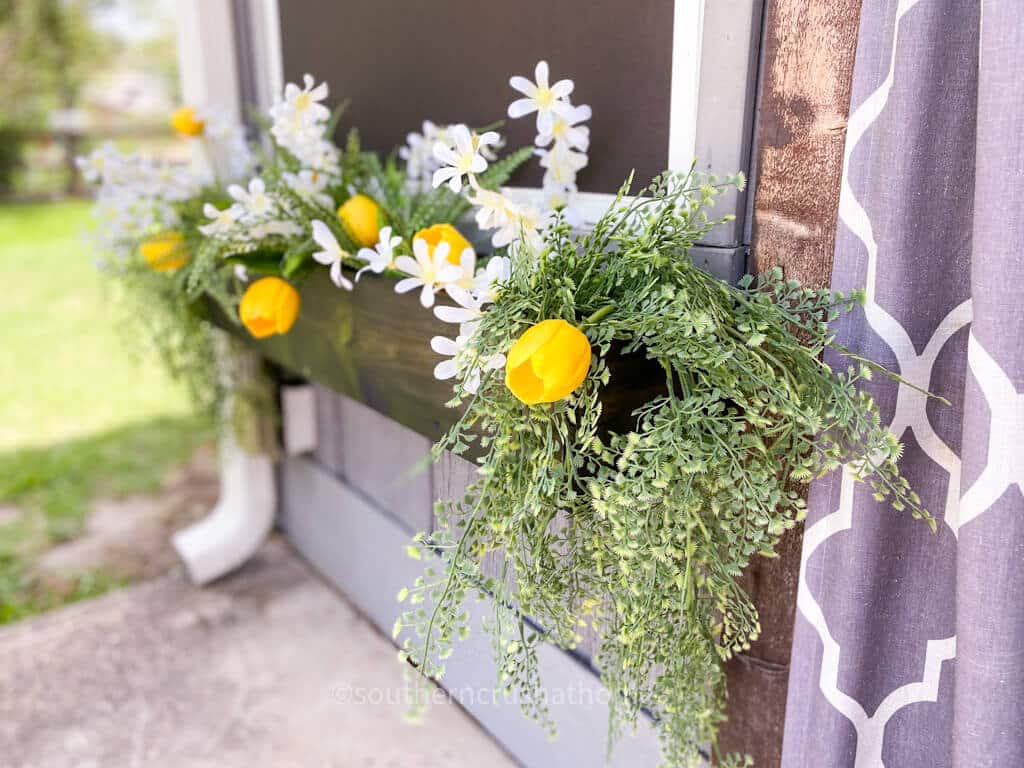 Add some cascading greenery on the sides for a dramatic effect.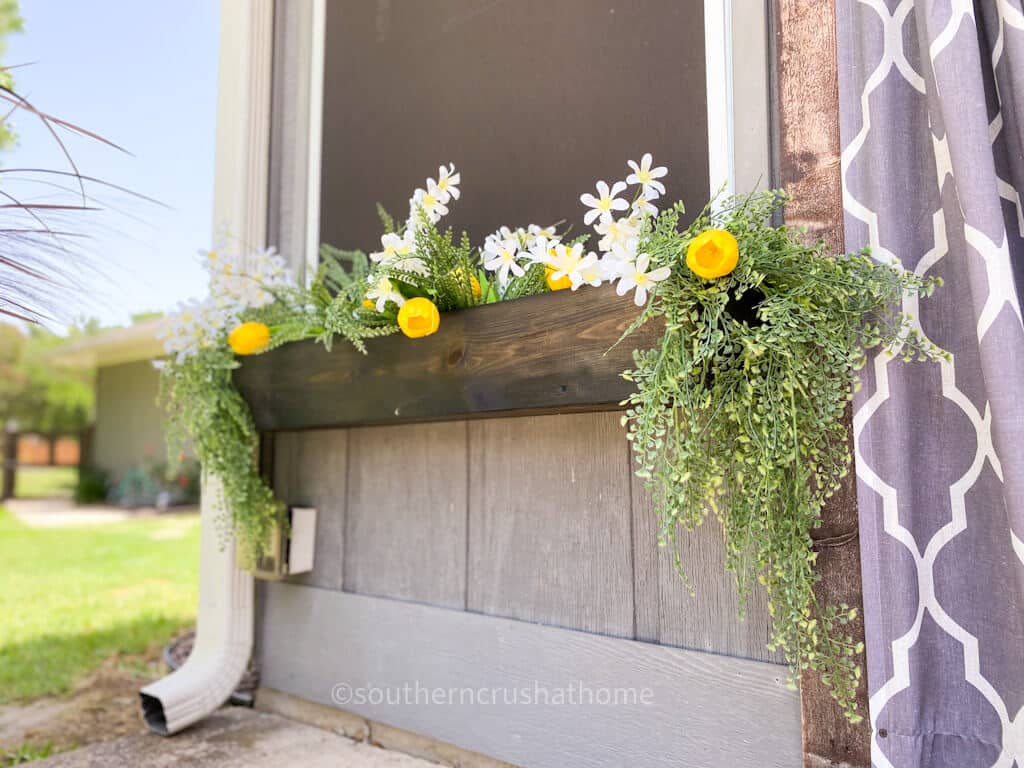 These planter boxes were inexpensive and easy to make with some wood scraps we had on hand and oh what a difference they made to our outdoor space!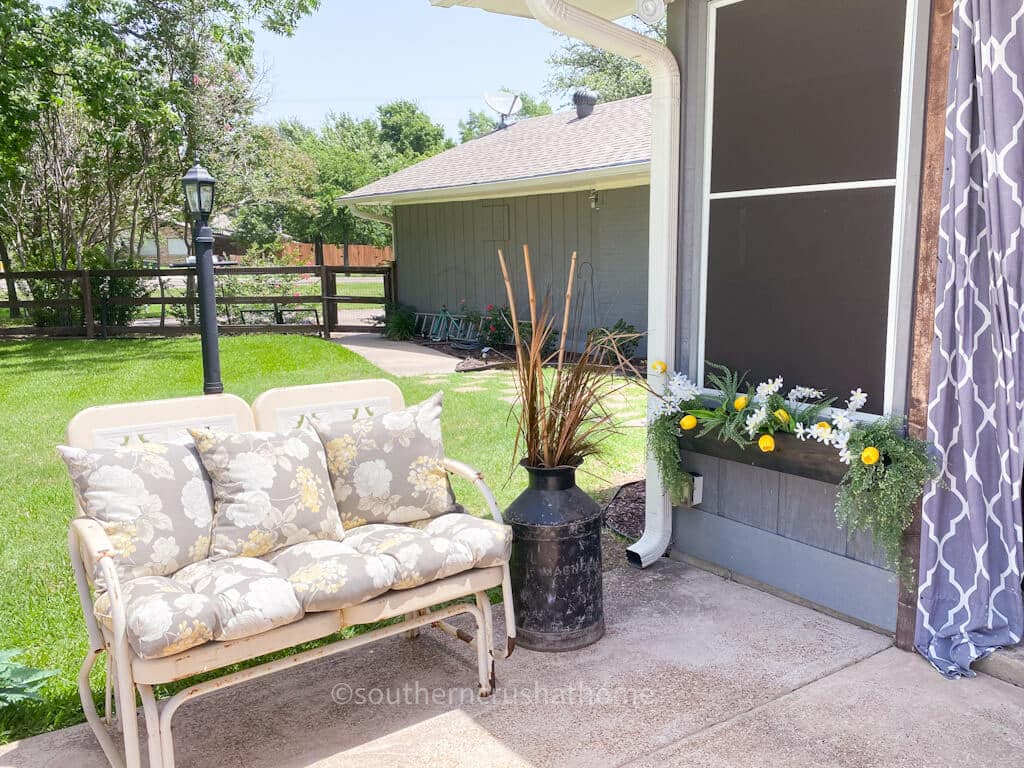 How to Make Black Wood Stain
Step 1. Apply the Outdoor Paint
Apply black paint generously with a baby wipe or soft cotton pad.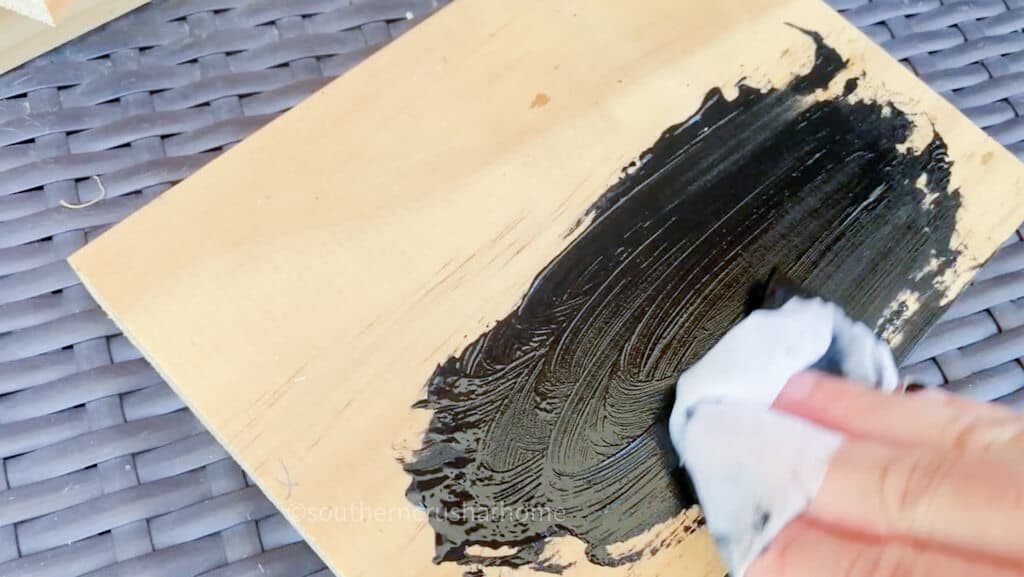 Step 2. Spray the Black Paint with Water
Spray the black paint with water. I love this continuous sprayer!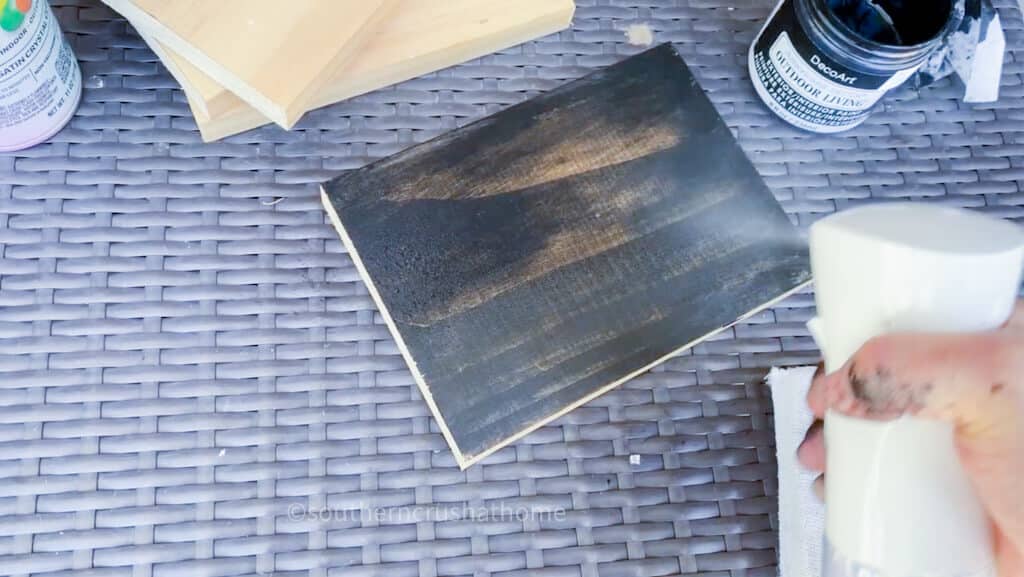 Step 3. Wipe the Black Paint Off
Go back and wipe the paint off using a cotton pad.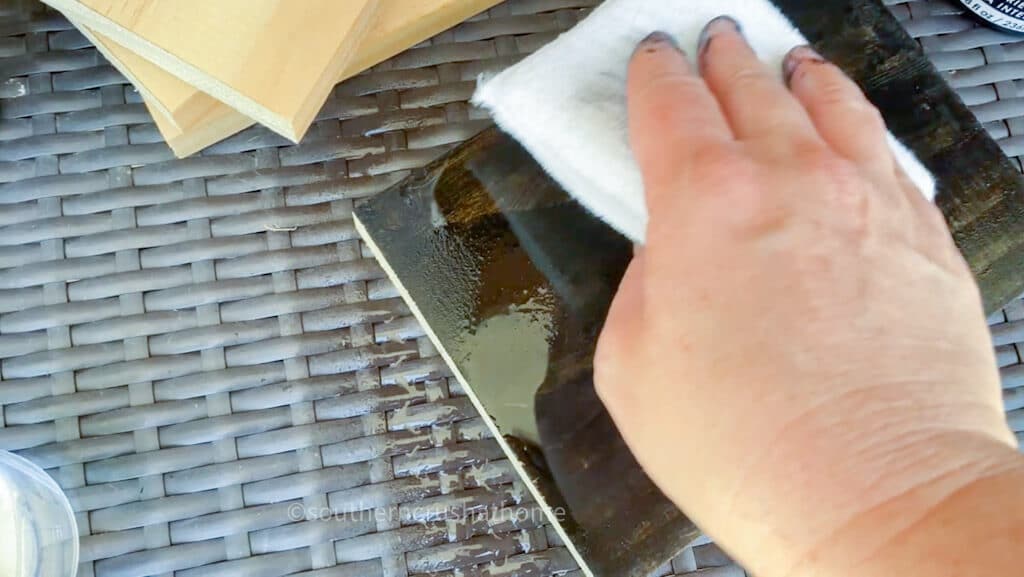 Continue until you are left with the black wood stain look you desire.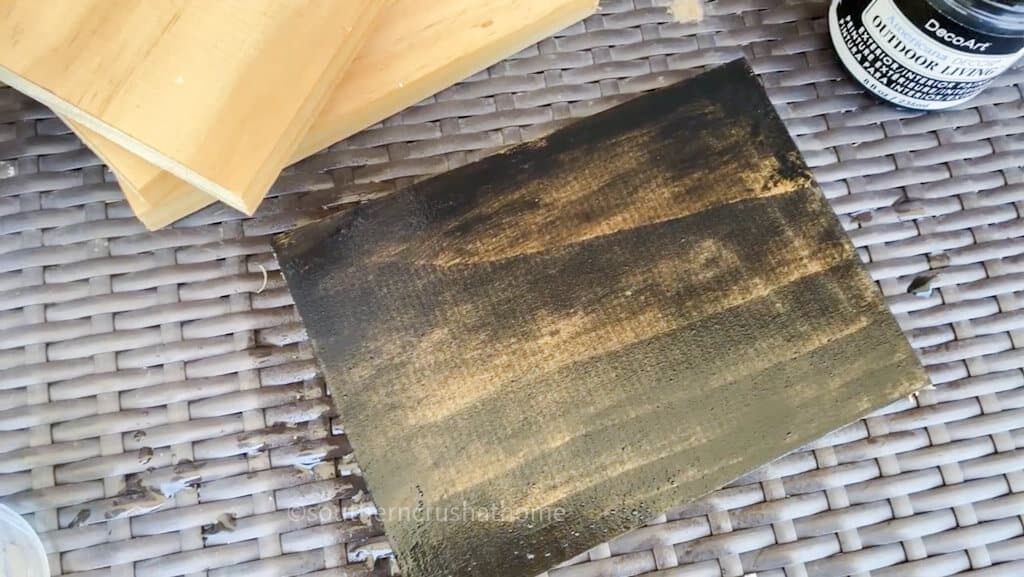 FAQ about DIY Outdoor Window Planter Boxes

Do planter boxes need drainage?

Planter boxes need drainage, or they will become waterlogged and can cause root rot. Use a box with proper drainage holes or line the bottom with gravel. This will allow excess water to escape and keep the soil from becoming soggy.
How to handle over-watering problems in planter boxes?

Another common problem with planter boxes is overwatering. If you notice that your plants are
consistently getting too much water, there may be a hole in your irrigation system or a leak somewhere in the house. Fix these issues before they cause damage to your plants.
What do you line planter boxes with?

A good choice to use for lining planter boxes are separate plastic containers from Home Depot that fit snuggly right in place. That way you can take them in and out for switching out the plants.
When it comes to garden organization, one of the most important things to do is to keep your plants organized. This not only makes it easier to find what you need when you need it, but it also helps keep your little planter garden looking neat and tidy.
What are flower boxes?

A flower box is a decorative container that is placed outside of the home to hold an assortment of
beautiful blooming flowers. These containers are typically made out of wood, metal, or plastic and can be purchased at any store that sells gardening supplies.
They range in size from small planters to large barrels but all are designed to create a beautiful oasis for homeowners to enjoy. Some flower boxes are equipped with lids so that they can be used as outdoor planters when not in use.
Do window boxes cause damage?

Window boxes are a great way to add plants to your home. But there are some risks related to window boxes. The weight of plants can cause damage to walls and windowsills. Avoid adding super-heavy plants without adding extra support to your boxes.
Tips for Maintaining a DIY Window Planter Box

It's important to protect your wooden planter boxes from rot.

1) Use durable materials – If you're going to spend time outside, it's worth investing in materials
that will stand up to the elements. Look for wood or other materials that will dry out quickly and
keep their structure.

2) Maintain soil levels – Planters need at least 1 inch of soil at the bottom for drainage and to
prevent root rot. Otherwise, water may pool in the bottoms and cause mold or fungal growth.
3) Install supports – Support structures should be installed before planting extra heavy plants to avoid damage to the planter box.

4) Caring for a planter box is just as important as caring for the plants inside of it. Make sure that
you keep the soil moist, but not soggy, at all times. If you see any sign of rot, such as brown
spots on the roots, remove the plant immediately to prevent further damage.
Self-Watering Planter Boxes
If you're looking to simplify gardening while also keeping your plants beautifully watered without the hassle of having to do it yourself, then what you need is a self-watering planter box!
These boxes are designed with a container that holds water and provides easy access to the plants' roots. Not only are these boxes incredibly easy to use and maintain, but the reservoir system helps ensure that your delicate vegetation gets just the right amount of moisture for optimum health!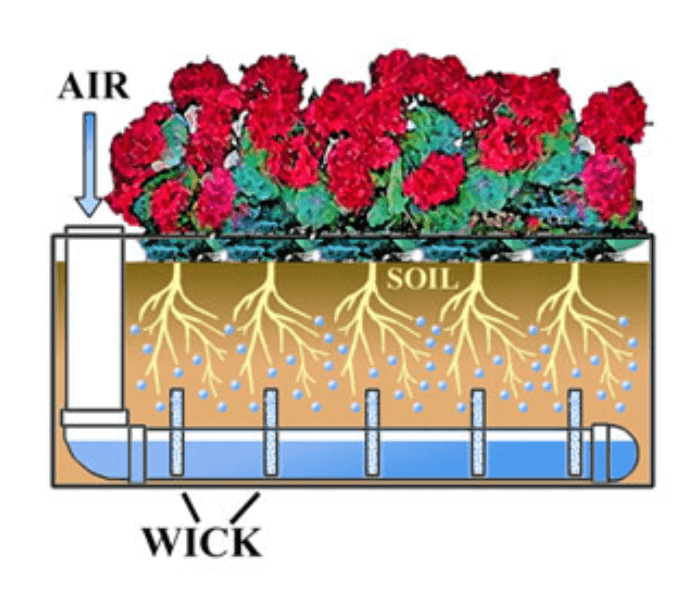 Even for those with small yards or balconies, self-watering planter boxes can make growing an array of beautiful blooms or herbs possible. I'm sure once you start using them, you will fall in love with their convenience and your plants will thank you too!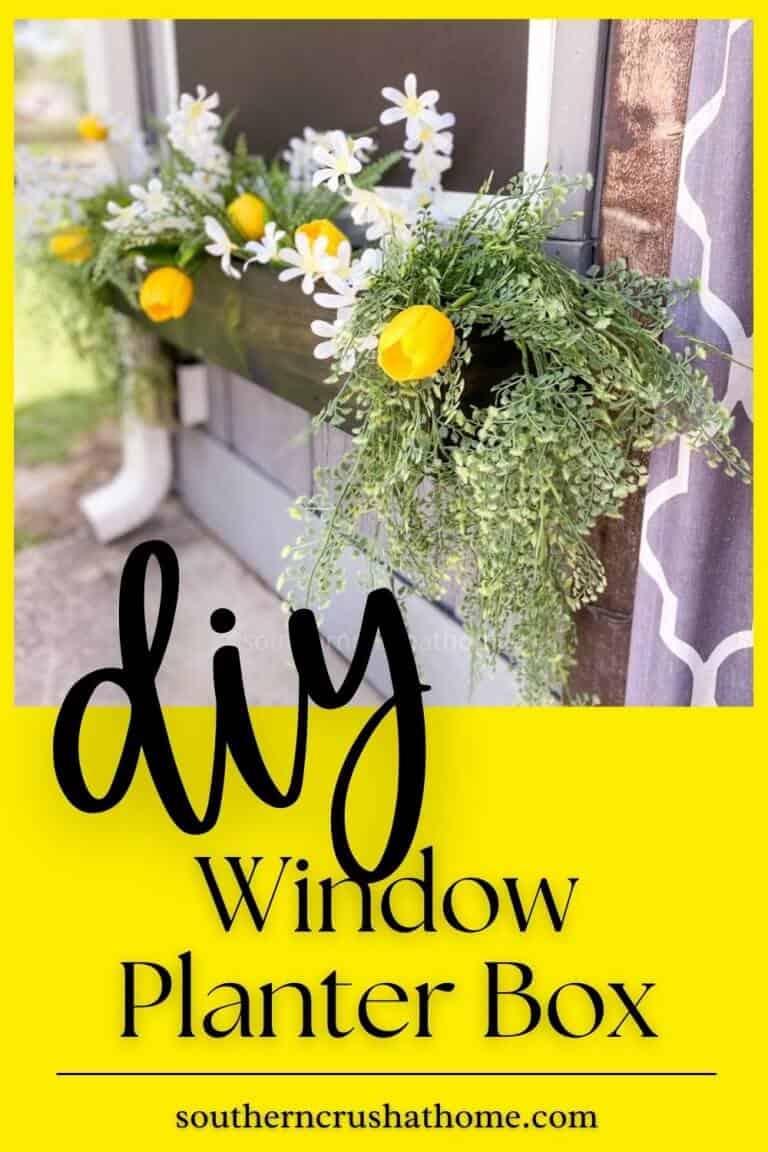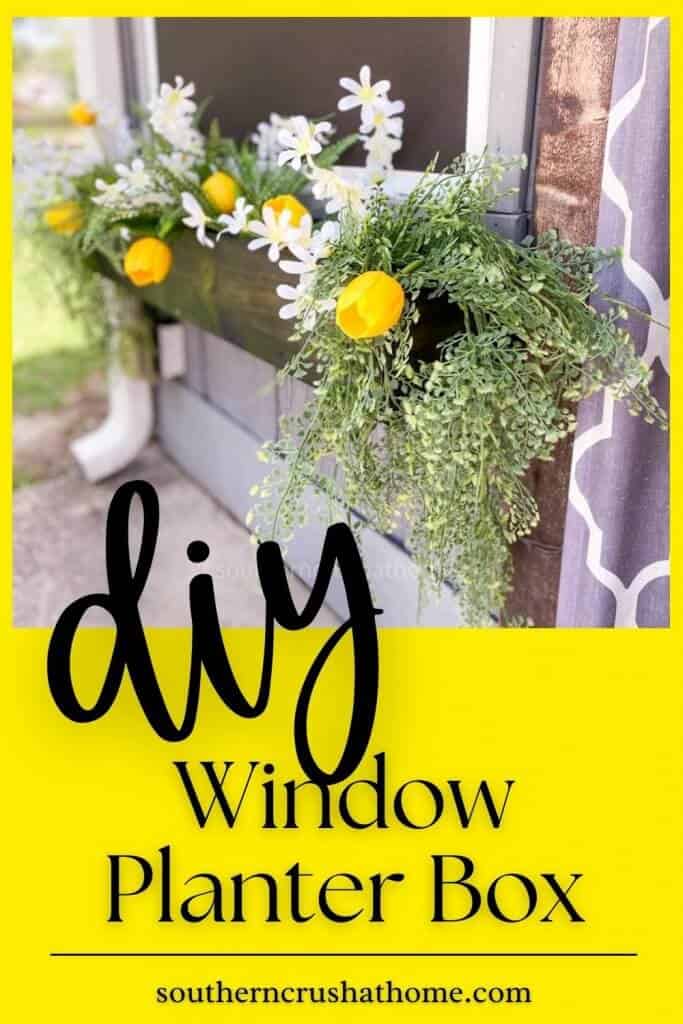 Be Sure to PIN this for Later!
5 Inexpensive Types of Outdoor Planter Boxes

Wood planter box

Wood is a sturdy, natural material that's easy to work with, making it an excellent choice for outdoor planter boxes. You can either choose to stain your wood planter boxes to give them an instantly bold and colorful look, or keep the wood unstained and let the natural beauty of the wood show through.
When it comes to using fresh wood, you'll want to make sure to seal the wood before assembly to protect it from rain and rot. If you're reusing wood that's been sitting around in your garage or attic, you can skip this step.
In order to paint your wooden planter boxes, be sure to use outdoor paints that are made to withstand outdoor temperatures, UV rays, and moisture.

Outdoor Planter Box for a DIY Herb Garden

This planter box is perfect for growing your favorite herbs, greens, or small veggies. The design is easy to follow, and it doesn't require many tools or materials.
You can either use cedar or pine wood, and the only necessary tools are a chop saw and a screwdriver.
If you choose to stain your wood, make sure you use an outdoor stain that is specifically designed for use with outdoor wood. It's also important to allow your stain to dry completely before assembling your planter box.


Planter Box with Raised Bed

If you're looking for a planter box that can also be used to grow larger plants such as tomatoes, peppers, or cucumbers, this is the perfect design for you. This planter box is often perfect for balconies or places where the space needed for a traditional garden is not available.

Brick Planter Box

A brick planter box is simply a container made from bricks. You can choose from pre-made containers, faux bricks, or brick veneer, or make your own by stacking bricks on top of one another.

PVC Pipe Inexpensive Planter Box

As the name implies, a pipe planter box is basically a box made out of PVC pipe. The main purpose of a pipe planter box is to hold plants.
Because they are made out of PVC pipes, they are incredibly durable and waterproof. This makes them ideal for outdoor use.
They are also relatively inexpensive, making them an affordable option for individuals on a budget.
Finally, because they are made out of PVC pipes, they are easy to clean. All one has to do is hose down the inside after use, and then wipe it down with a damp cloth. Because of these factors, pipe planter boxes are an attractive choice for many gardeners.

The great thing about creating your own planter boxes is that it's a project that suits all skill levels.
Whether you're a beginner or more experienced with carpentry, you can easily create a beautiful and functional planter box that will add value and charm to any outdoor space.
There are so many different designs you can try, so don't be afraid to experiment with shapes, materials, and paint colors.
Start with one design, and once you get the hang of it, try out a few more. With a little bit of inspiration and the right materials, you'll have beautiful outdoor planter boxes in no time.
The most important thing to consider when designing and building your planter box is how much space you have available. Small planter boxes can be made using recycled materials, but for best results, use natural materials whenever possible.
If you are using outdoor space for gardening, it is best to incorporate several different sizes of planters so that you can mix up your crops.

Other Outdoor Projects You May Like