Best Christmas Movies to Stream on Amazon Prime 2023
As we approach the holiday season, there is no better way to get into the spirit of the season than by having Christmas movies to stream on Amazon Prime. From old favorites like Miracle on 34th Street and It's a Wonderful Life, to the more modern classics like Home Alone and Elf, this list of Christmas movies on Amazon has something for everyone to enjoy.
This blog post contains affiliate links. The opinions are wholly my own from my own experience. I may earn a small commission from clicks through to the websites that end in a purchase.
About Amazon Prime Video Streaming
Prime Video offers unlimited streaming of movies on Amazon Prime and TV episodes for paid or free trial members in the US and Puerto Rico. For more information, go to Prime Video.
With Amazon Channels, you can watch your favorite shows and movies from HBO, SHOWTIME, and STARZ channels. You don't need a cable or additional apps and you can cancel anytime. Amazon Channels cost $4.99–$14.99/month for Prime members.
Holiday Classics to Stream on Amazon Prime This Christmas
If you're looking for some holiday classics to stream on Amazon Prime this Christmas, you're in luck. The streaming service has a great selection of festive films to choose from, including some all-time favorites. Get cozy and enjoy a movie marathon day!
Here are just a few of the Christmas classics you can watch on Amazon Prime this holiday season: Prancer, The Polar Express, Ernest Saves Christmas, Frozen, Home Alone, Fred Claus, The Grinch Who Stole Christmas, Jingle All the Way, Santa Clause, A Christmas Story, Christmas with the Kranks, The Star, Toy Story, Christmas Vacation, The Muppets, and more.
Whether you're looking for a feel-good story or a heartwarming tale, you'll find plenty of Christmas movies to stream on Amazon Prime this holiday season. So curl up with your favorite blanket on Christmas Eve and enjoy!
Christmas Movies to Stream for FREE on Amazon Prime
Christmas is a special time of year when family and friends come together to celebrate. What better way to get into the holiday spirit than by streaming the best Christmas movies on Amazon Prime?
Here are 9 Christmas movies that you can stream for free on Amazon Prime Video: Arthur Christmas, Bailey Christmas Hero, Cat in the Hat Christmas, Jack Frost, Snowglobe, All I Want for Christmas, and more.
So whether you're in the mood for laughter or tears, there are Christmas movies on Amazon Prime that are just right for you. So pour yourself a mug of hot cocoa and settle in for a cozy night in front of the TV.
Speaking of in front of the TV, I decorate a special tree each year just for celebrating our love of movies. It was showcased in a magazine and you can follow the steps below to create your very own version of my Movie Theater Christmas Tree!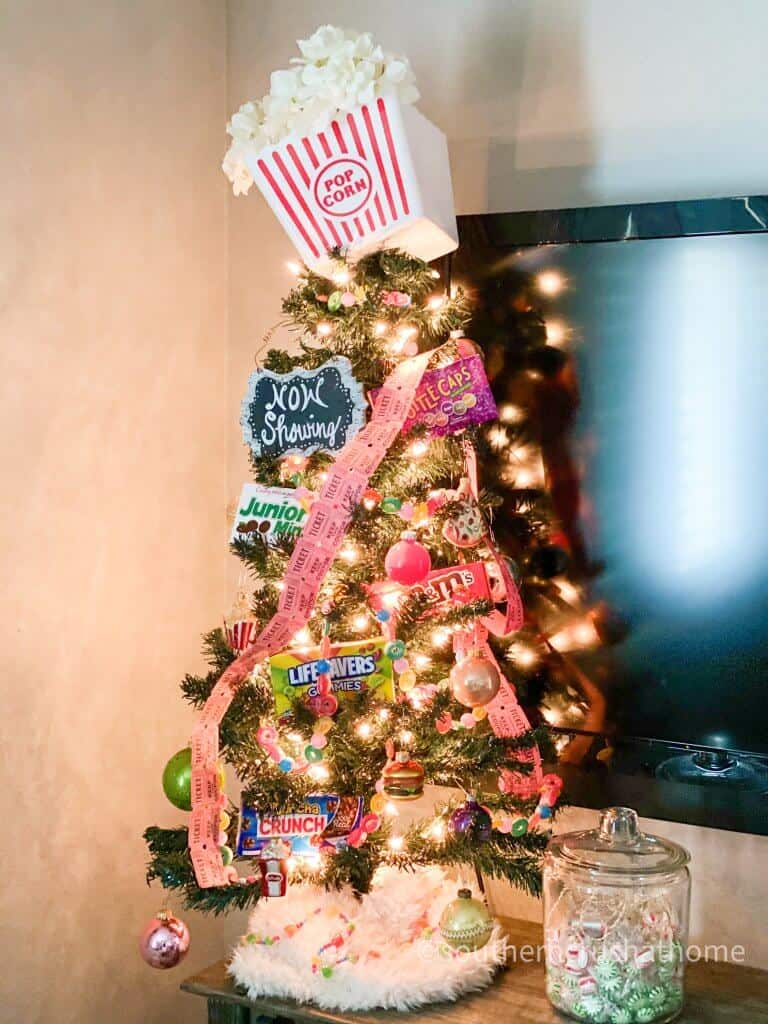 And, to take it a step further and really lean into that Christmas movie spirit, how about adding matching family Christmas PJs to the mix? Everyone can dress alike and gather around the big screen together to watch holiday movies.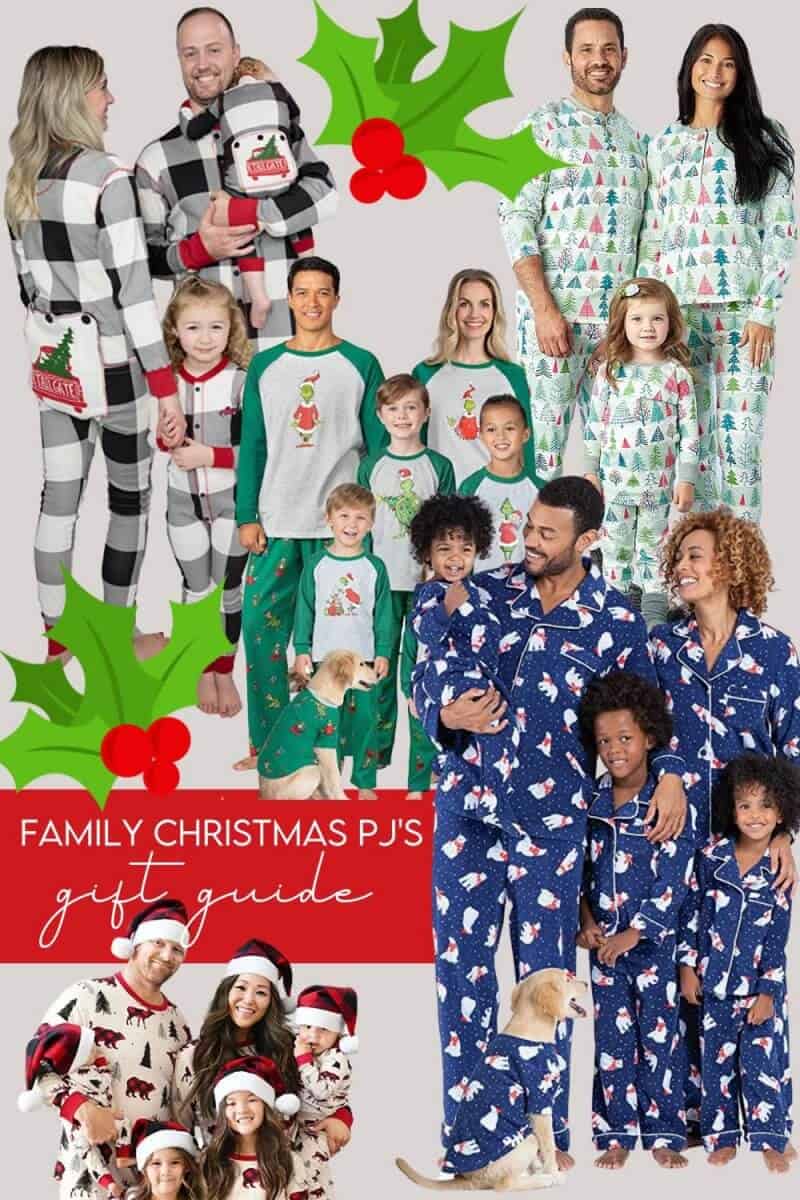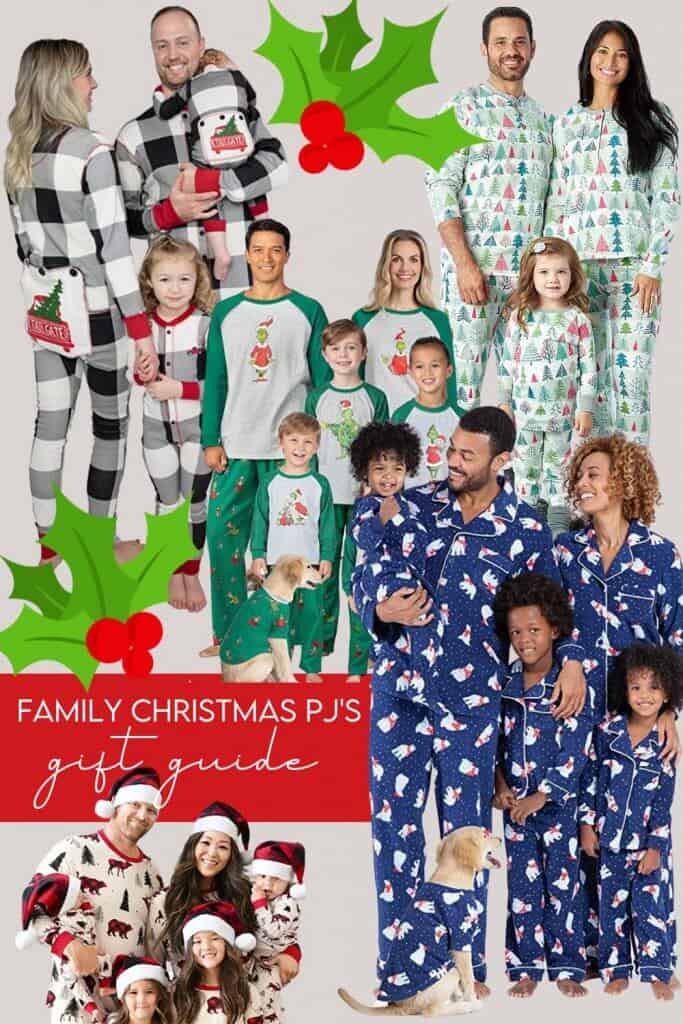 About the Classic Family Christmas Movies
Miracle on 34th Street (1947) – Miracle on 34th Street is a classic story about an old man who claims to be Santa Claus and brings joy back into people's lives. It stars Edmund Gwenn as Kris Kringle, Maureen O'Hara as Doris Walker, Natalie Wood as Susan Walker and John Payne as Fred Gailey. This movie is one of those timeless holiday tales that will give you all the feels!
It's a Wonderful Life (1946) – The iconic classic tells the story of George Bailey's life and how it takes a miraculous turn when an angel intervenes and shows him what would have happened if he had never been born. Starring James Stewart in the lead role, this movie is sure to bring joy to your family!
Home Alone (1990) – Get ready for some laughs with this fan-favorite Christmas movie! When Kevin McCallister gets separated from his family during their holiday trip, he has to use his wits to keep burglars away from his home. Macaulay Culkin stars as Kevin in this hilarious adventure that will have you laughing out loud!
Elf (2003) – This modern Christmas classic is sure to become a tradition in your family. Will Ferrell stars as Buddy the Elf who must travel across the country in search of his real father so he can help save Christmas. Along the way he learns valuable lessons about love and family that will stay with viewers for years to come.
I hope these great Christmas movies will add some cheer and joy to your home this holiday season! Whether you're looking for laughs or heartfelt moments, there's something here for everyone in your family. So break out some popcorn and cozy up together for a night of streaming fun! Happy Holidays!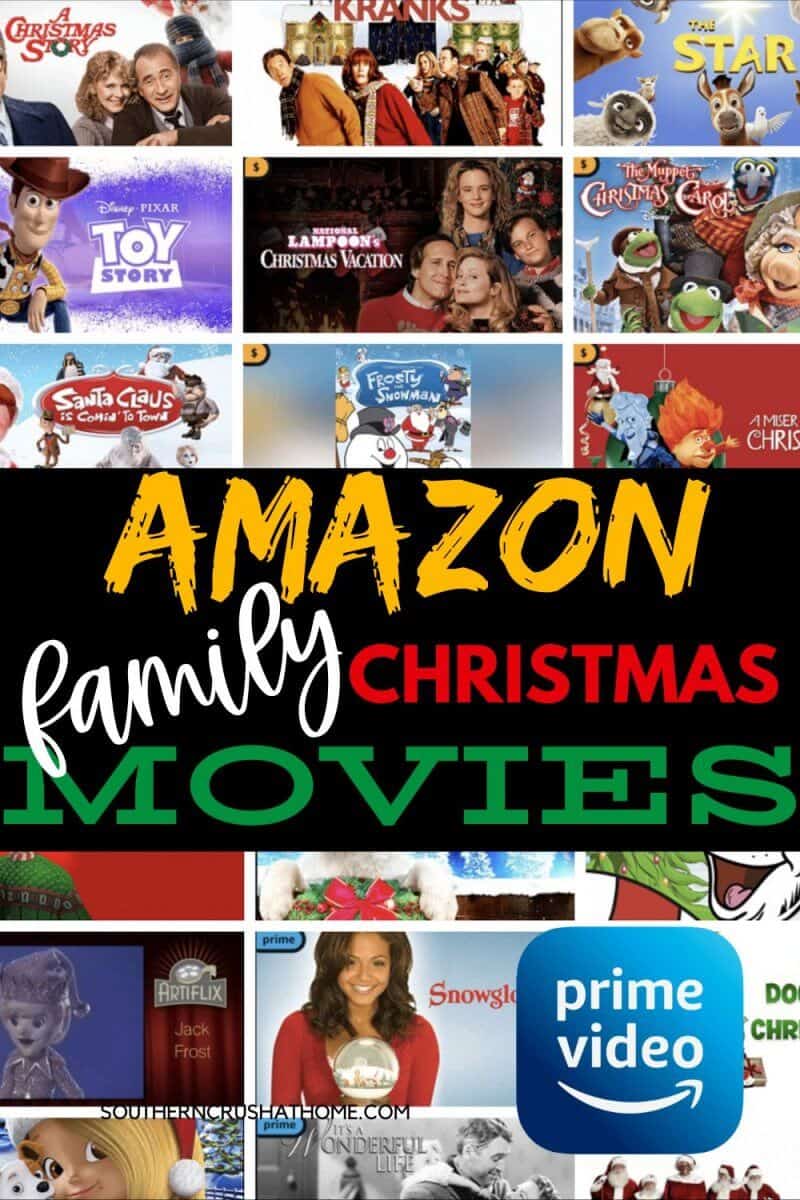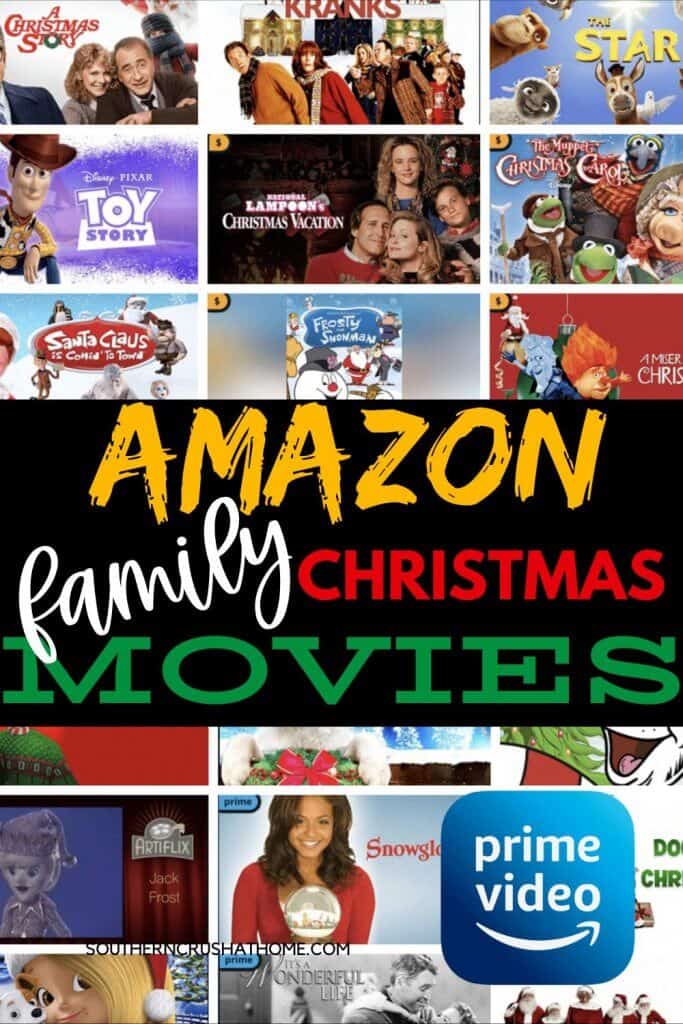 Be sure to PIN this one for Later!
More about Amazon Prime
In order to participate in the amazing deals that Amazon Prime offers, you will need an Amazon Prime membership. They do offer a FREE 30 Day trial as well.
Here are some Prime benefits included with your membership:
Delivery Benefits
My family uses our membership weekly and it has been the best investment now that we are staying home and ordering practically everything online for delivery. These are the benefits straight from their website.
FREE Two-Day Delivery: Millions of items are delivered fast and free.
FREE One-Day Delivery: Available on more than 10 million items with no minimum purchase.
FREE Same-Day Delivery: Available on over 3 million items on qualifying orders over $35. Order in the morning, typically before noon, and get your items by 9 p.m.
FREE Ultrafast Grocery Delivery: Get free two-hour delivery on groceries, including quality fresh food and produce (in select cities).
FREE Release-Date Delivery: Be among the first to get new video games, books, music, movies, and more. Choose Release-Date Delivery on qualified items and receive your package by 7 p.m. on that date.
FREE No-Rush Shipping: Don't need your Prime order right away? Select No-Rush Shipping and earn rewards for future purchases.
Here is the complete guide to Prime delivery benefits.
Shopping benefits
Amazon Prime shopping benefits are definitely my most used perks of membership. It is amazing to order something one evening and it arrives the very next day…
Prime at Whole Foods Market: Exclusive savings for Prime members, 5% Back for eligible Prime members with the Amazon Prime Rewards Visa Signature Card, and 2-hour delivery in select cities (more soon).
Amazon Prime Rewards Visa Signature Card: Eligible Prime members earn 5% Back every day on all Amazon.com and Whole Foods Market purchases, in addition to rewards everywhere else you shop.
Amazon Prime Store Card: Eligible Prime members can get 5% back every day on Amazon.com purchases and access to exclusive financing offers.
Prime Wardrobe: Try on clothes, shoes, jewelry, and accessories from the comfort of your home, and pay only for what you keep.
Early Access to Deals: Get 30-minute early access to Lightning Deals on Amazon.com.
Prime Exclusives: Amazon's hand-picked products are offered exclusively to Prime members.
Amazon 4-star and Amazon Books Stores: Prime members pay Amazon.com prices on all products in-store.
Alexa Voice Deals: Prime members can shop with Alexa and receive an additional discount on select deals.
Amazon Pantry: Low-priced everyday essentials in everyday sizes delivered to your door for a flat delivery fee.
Amazon Family: Up to 20% off diapers and 15% off eligible products from your baby registry.
Prime Reload: All Prime members can earn 2% rewards on their debit spending when they reload their Amazon.com Gift Card Balance with a designated debit card.
Reading benefits
My mother-in-law loves to read. I mean really loves to read. If you love to read, these perks may be just what you're looking for from your Prime membership!
Prime Reading: Prime Reading gives you unlimited access on any device to more than a thousand eBooks, popular magazines, comics, books with Audible narration, and more.
Amazon First Reads: Read one of next month's new releases now for free.
Prime Print Magazines: Prime members can choose from select 4-month magazine subscriptions for only $0.99.
Learn more about Prime Reading.