Easy and Affordable Christmas Storage Solutions for Organizing Christmas Decor
Looking for ways to organize and store your Christmas decor this year? Look no further! Try one of these buffalo check Christmas storage solutions!
They're easy to use and will help keep your Christmas decorations looking great for years to come. Plus, they'll add some festive buffalo check flair to your home during the off-season! So, without further ado, let's get started!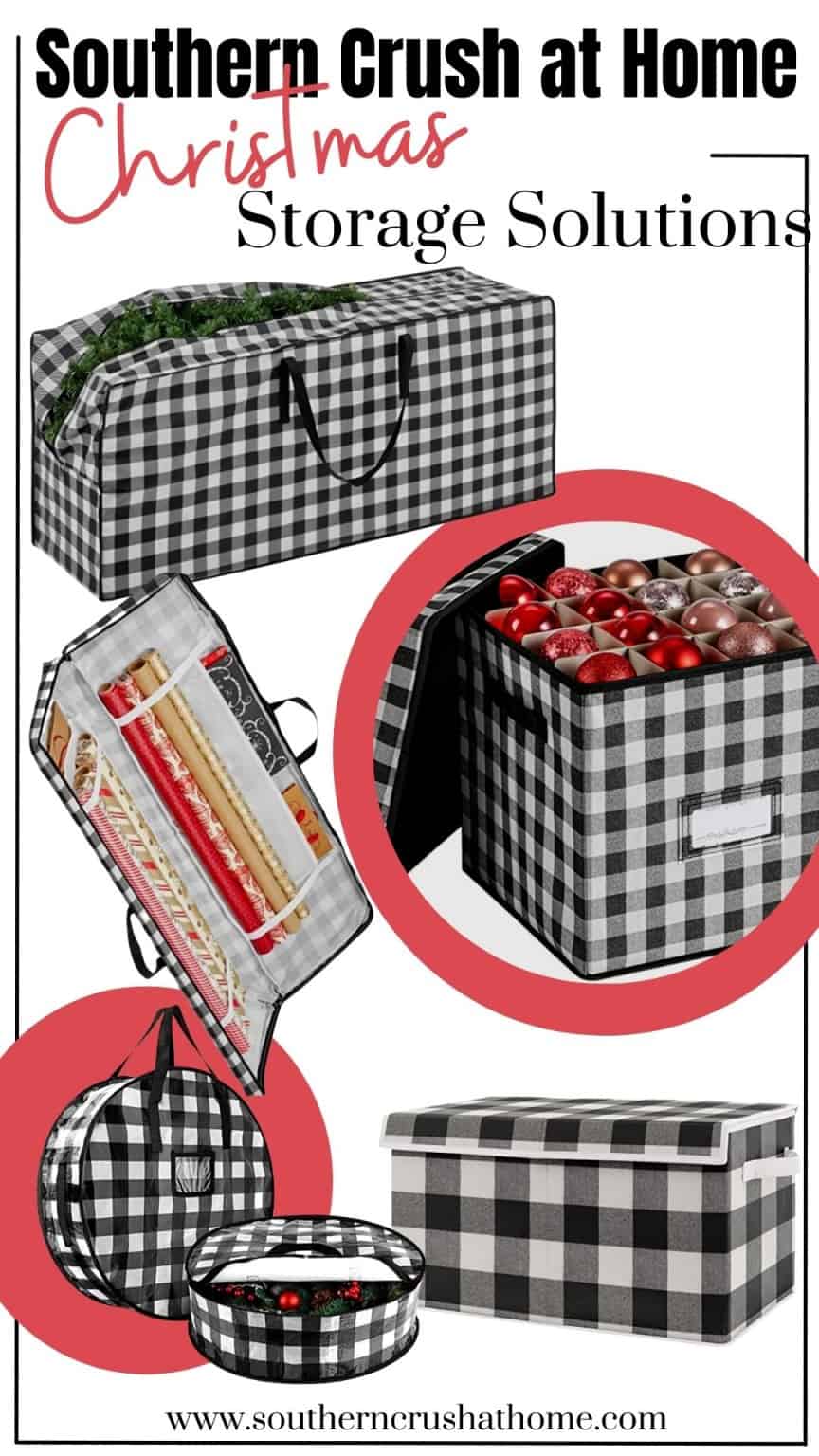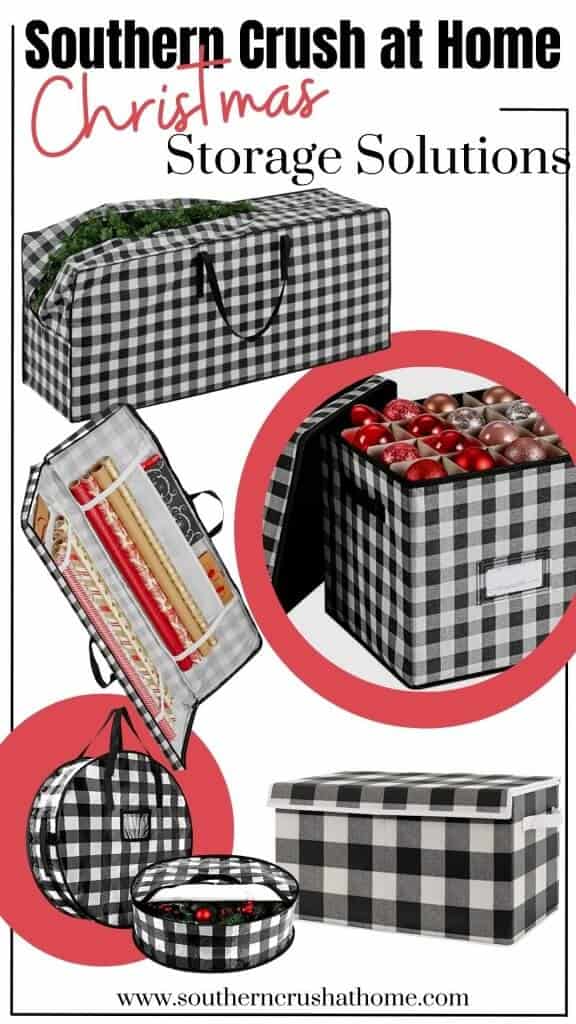 Be sure to PIN this one for later!
I've gathered some of my favorite storage solutions to help you get your home back in order after the holidays.
From space-saving ideas to tips for packing up your ornaments, I've got you covered. So read on and start planning your holiday storage strategy today!
This blog post contains affiliate links. The opinions are wholly my own from my own experience. I may earn a small commission from clicks through to the websites that end in a purchase.

Best Christmas Ornament Storage
This Christmas ornament storage box is hands down my new favorite storage solution for all of my Christmas ornaments.
I am able to fit everything from one full size 7 foot Christmas tree including ornament balls, vintage ornaments, and even bows all into one box.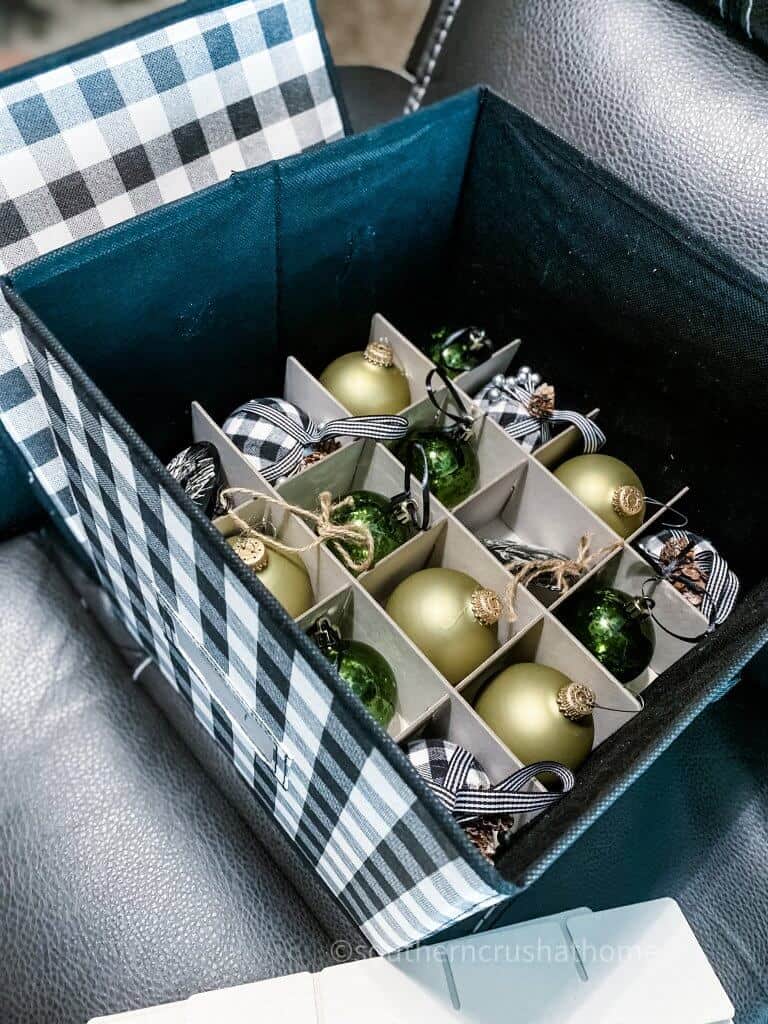 It comes with little cardboard inserts to line up according to how large you need the compartment to be for your Christmas ornament. I added all of my Christmas tree bows to the top of my box!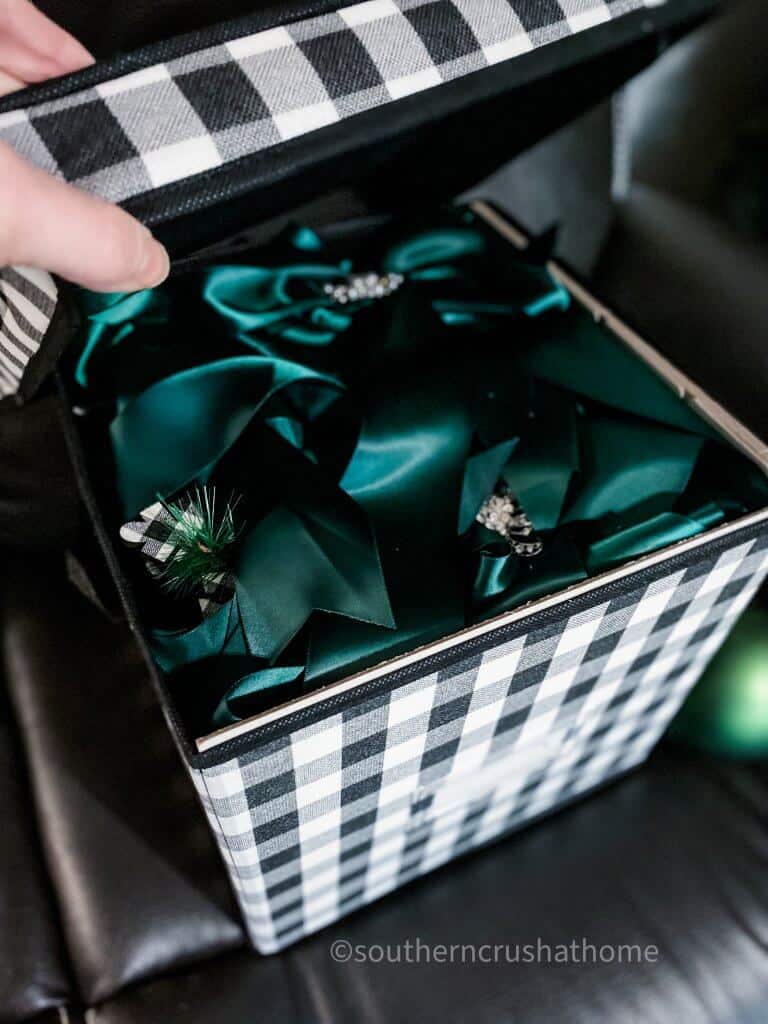 It's super affordable and so I grabbed one of these for each of my Christmas trees! Do you have more than one Christmas tree?

Best Christmas Wreath Storage
Bring on the Christmas wreath storage! These little gems come in a two-pack and I cannot recommend them enough! The fact that they have the buffalo check pattern is simply an added bonus in my book!
I ended up adding my pine Christmas garland to one of them and it barely filled it up so I added all sorts of other Christmas decor to the bag. My framed Oh Christmas Tree decor fit right on top perfectly!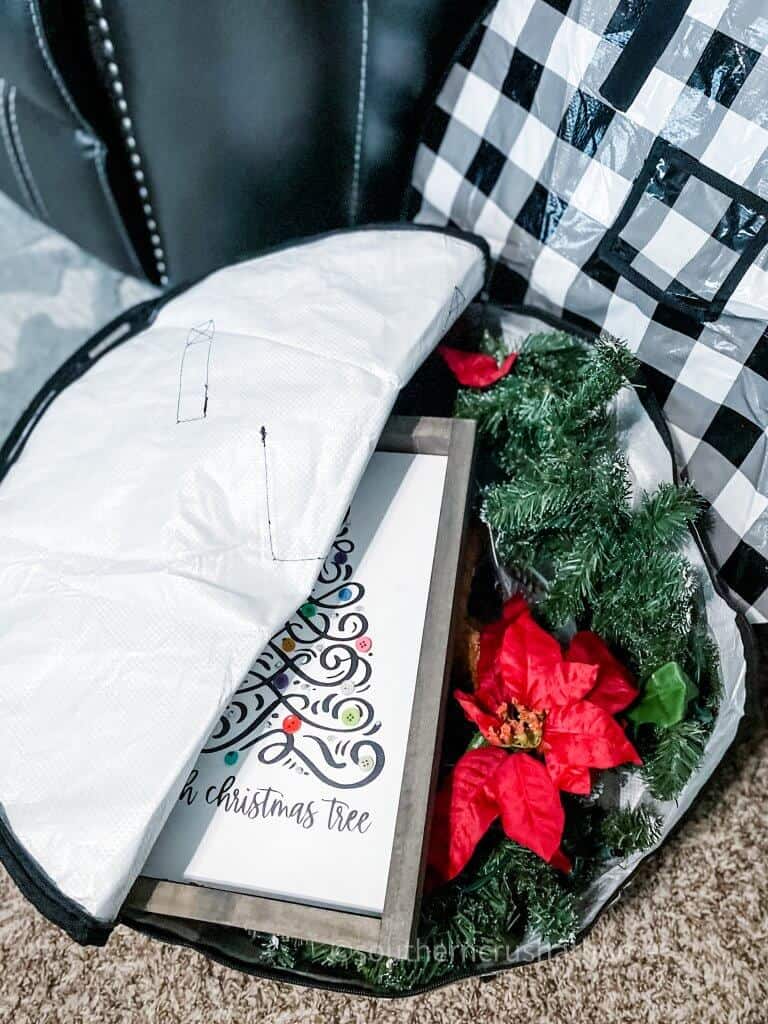 These wreath storage bags come with a fun little place to hold a label on the front as well as two sets of handles. There are handles to carry them from the top and handles on the side.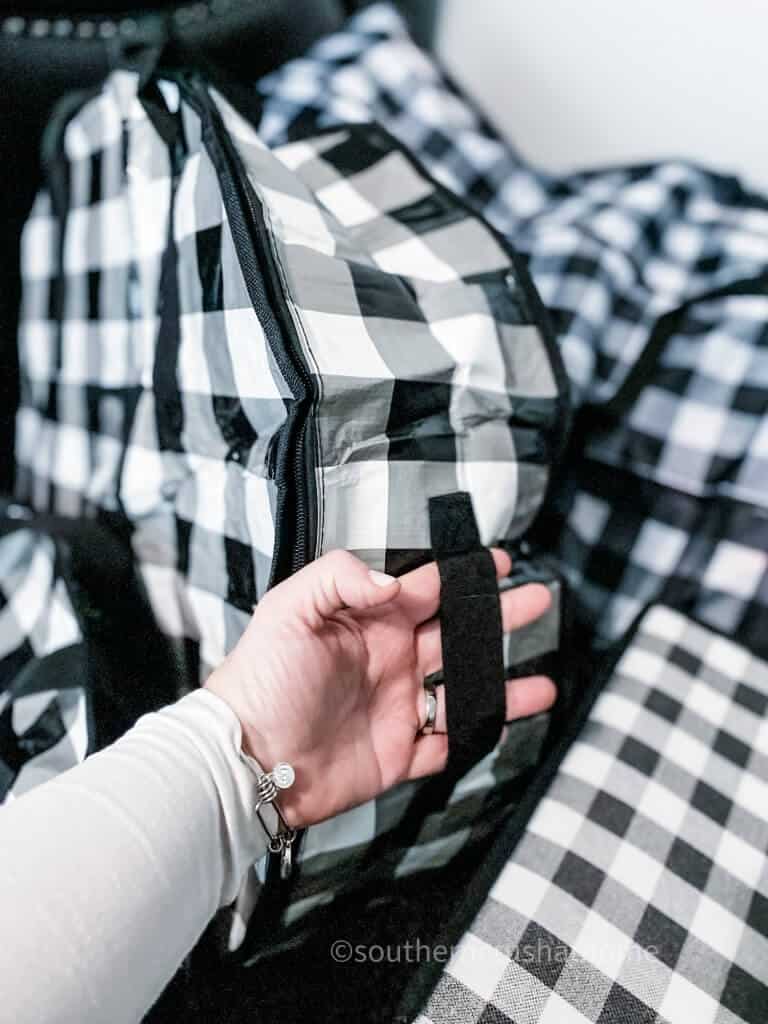 Best Christmas Tree Storage Bag
This was actually my first year using an actual storage bag for my Christmas Tree. King of Christmas sent me a new tree and it is beautiful!
It deserved a beautiful buffalo check Christmas tree storage bag like this one!
So easy to use. I just took the tree apart and placed each of the three sections down into the bag. Super simple!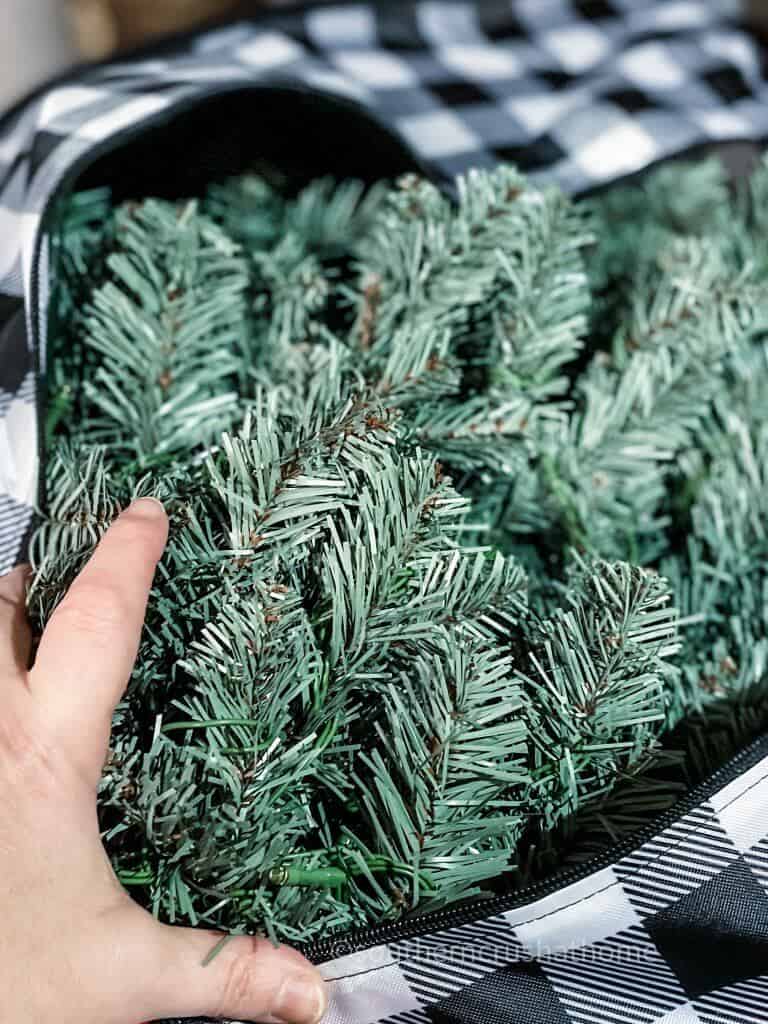 This storage bag even comes with durable handles for carrying or "dragging" it around. It fit my 7 foot Christmas tree perfectly with quite a bit of room to spare!
I love that I didn't have to squish it in, so I'm hoping there won't be much fluffing to do when I pull it out next year!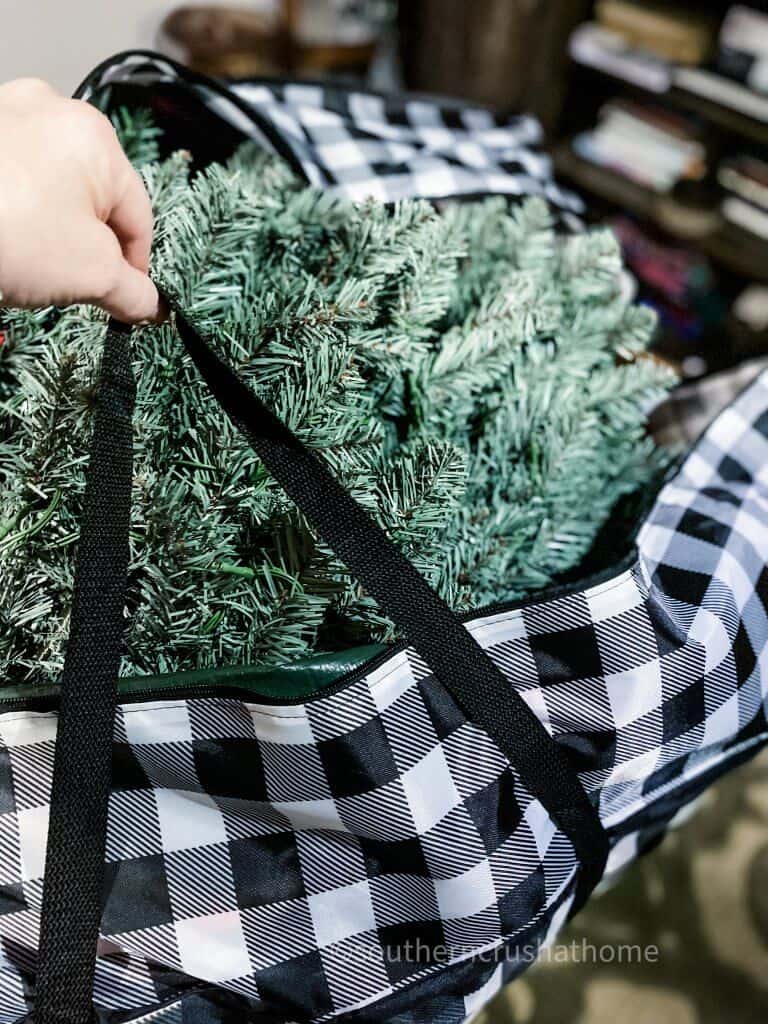 Best Gift Wrapping Storage Solution
Have I mentioned how much I love buffalo check or buffalo plaid? It should be pretty obvious so far. If you love it as much as I do, consider joining my free Facebook Group where we share all things buffalo check!
This gift-wrapping storage bag is the perfect solution for all of my Christmas gift-wrapping needs!
Before, my gift-wrapping supplies were all mixed together. There was a birthday, a holiday and every day which made it overwhelming.
With this special bag specifically for Christmas wrapping supplies, everything is in one place where I can find it!
It easily holds 10-12 rolls of gift wrapping paper and several gift bags.
Along with inside pockets for tissue wrapping paper, bows, tinsel, tape, scissors, and really anything you can think of putting in it!
This is the outside front pocket where I put my gift bag fillers.
I love that there is also a great velcro pocket on the front for tape or gift tags like the ones I made this year HERE.
Oh and yes, hilariously they're buffalo check!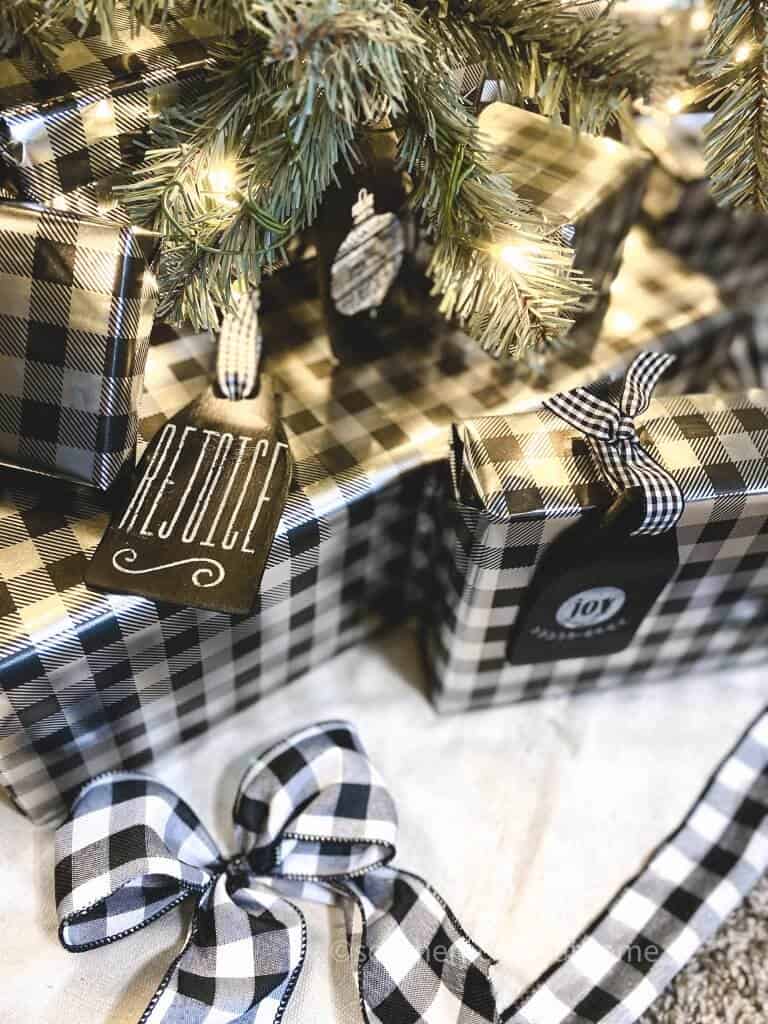 Aren't they so unique? Have you tried to make some of them yet?

More Storage Solutions
When I was shopping for these amazing buffalo check storage ideas, I came across this handy trunk. It fits all of those unusually shaped decor pieces that just won't go in a bag.
Another great storage solution that I grabbed this year was this four-pack of Sterilite Clear Storage Bins! I realize they are not actually buffalo check, but I couldn't go without sharing them. They are fabulous!
The fact that they're clear makes it easy to identify what's in them. It makes hunting down Christmas decor so much simpler. Now I can pack up each room into its own bin.
Best Places to Find Christmas Storage
All of these buffalo check Christmas storage solutions were found online and ordered online by me.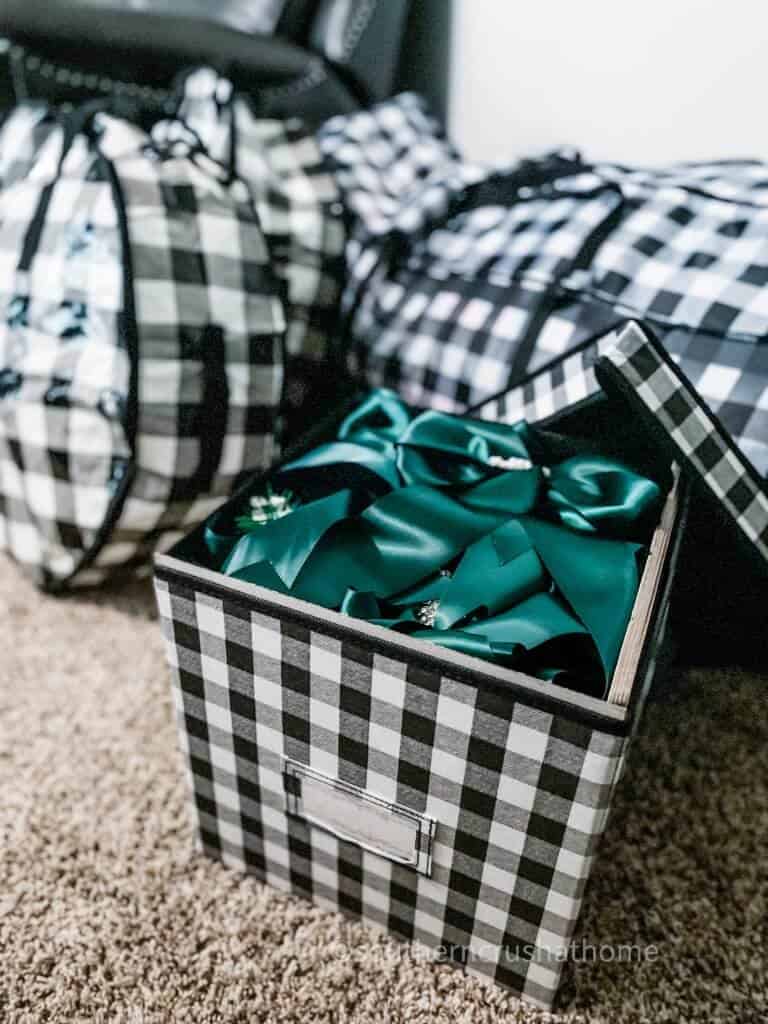 You can hunt and peck for each of these in stores; however, I want to make it easier for you by sharing them here with you in a convenient one-stop shopping resource.

I hope this blog post was helpful and that you're able to easily get your Christmas decor organized. I know that seeing all of mine stored in the buffalo check pattern puts an extra big smile on my face.
This is something I should've done years ago, but I'm glad I did now!
Be sure to subscribe to the blog for more simple solutions and home decor inspiration.