How to Make Special Christmas Tags for Gifts
We all know that time is running out, and the holidays are coming up fast. That means it's time to start getting those Christmas gifts ready. One of the easiest ways to do that is by making your own gift tags for this year! This post will teach you how to make some great looking tags for any type of present. It doesn't matter if they're presents for family members, friends, or co-workers – there's a tag idea for everyone on your list!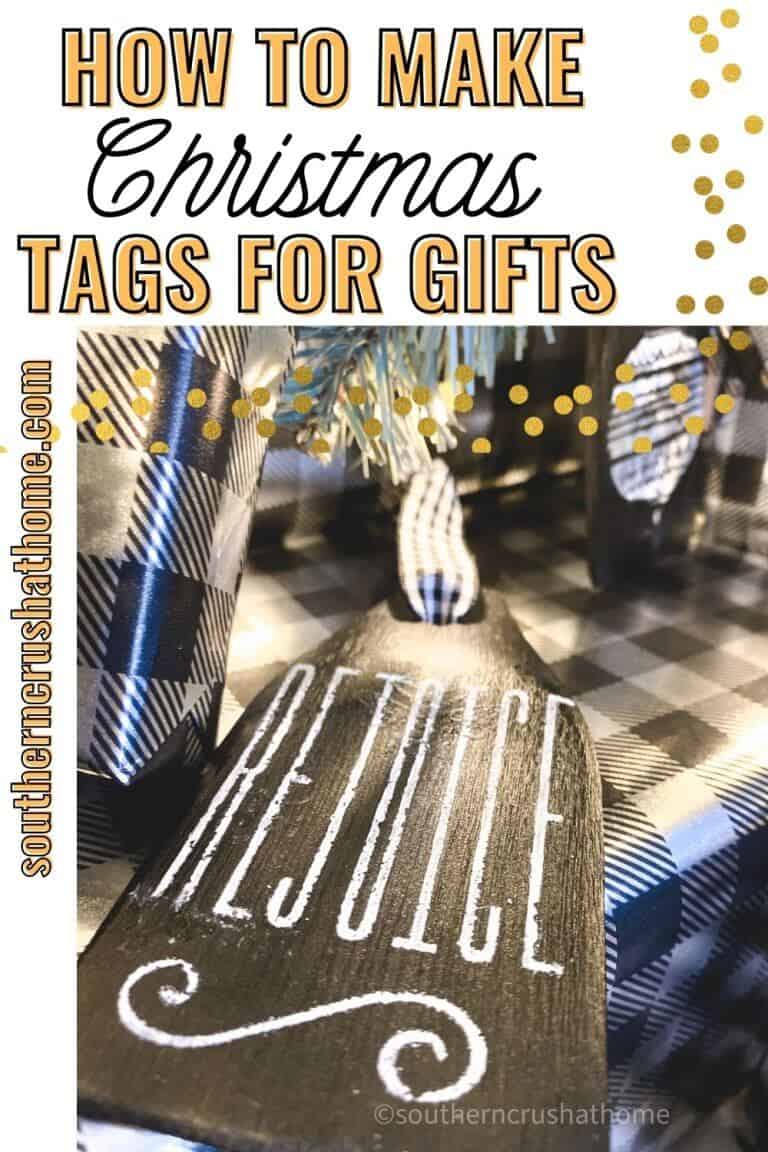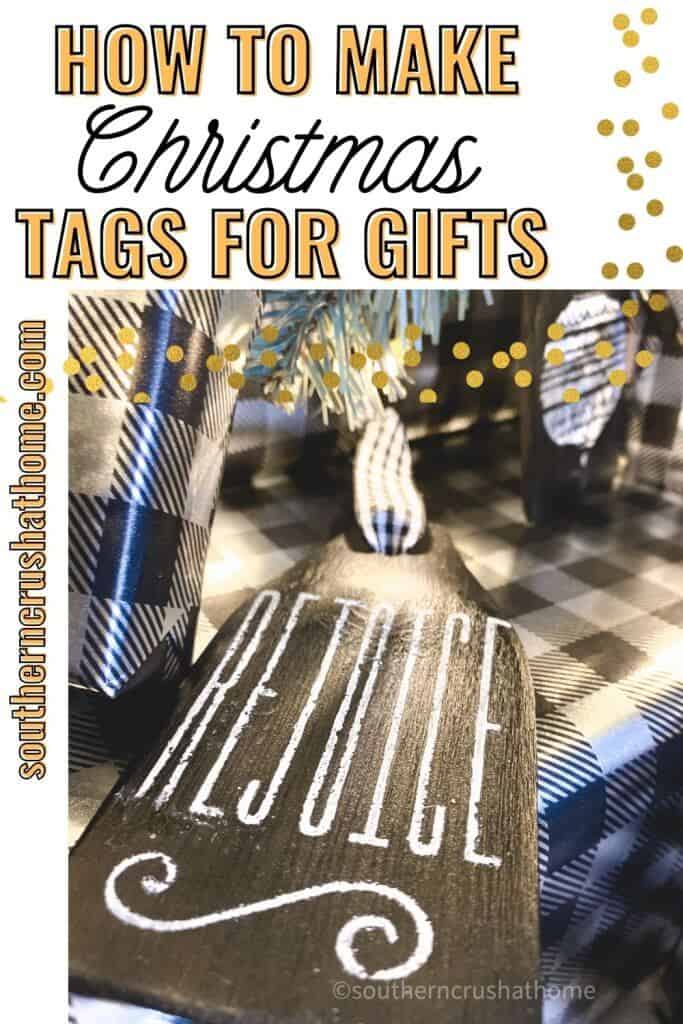 Be sure to PIN this one for later!
what you'll need to make christmas tags
Wooden Spatulas
Chalkboard Paint
Buffalo Check Ribbon
Chalk Paste
Mini Squeegee
Adhesive Stencils
Ryobi Drill
Hand Saw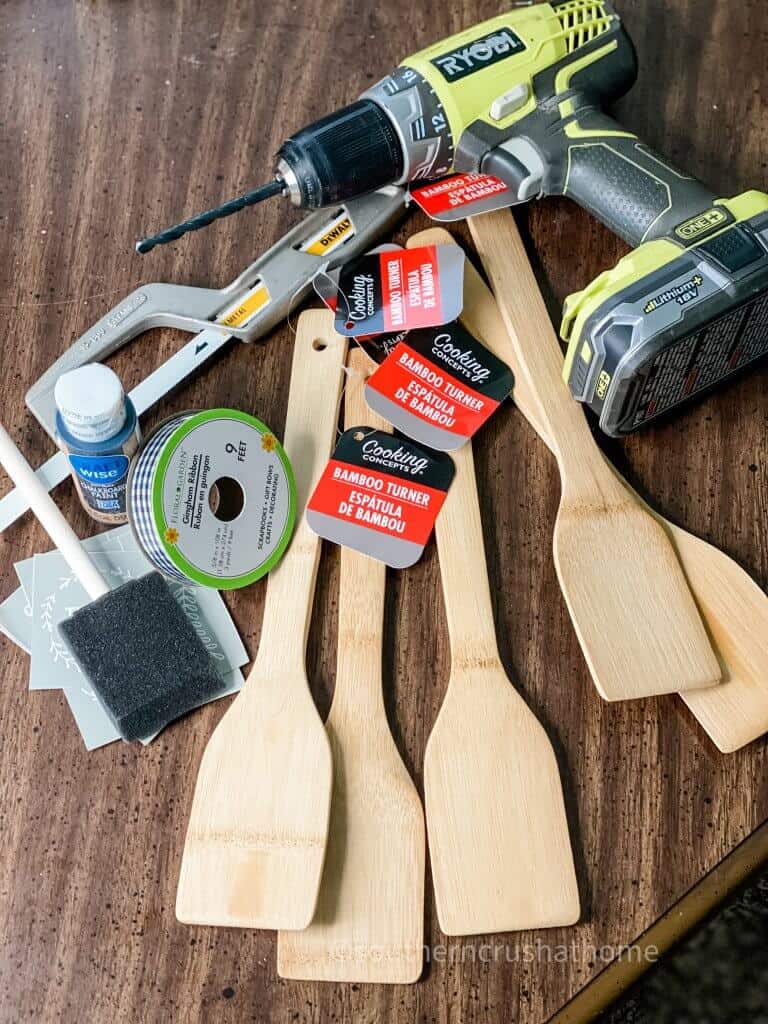 how to make tags for gifts
I made these exact Dollar Tree tags earlier this year and HERE is the step by step tutorial for making the Wooden Spatula Gift Tags.
Once you get to the stenciling step; trade out the everyday stencils for some fun, holiday festive designs.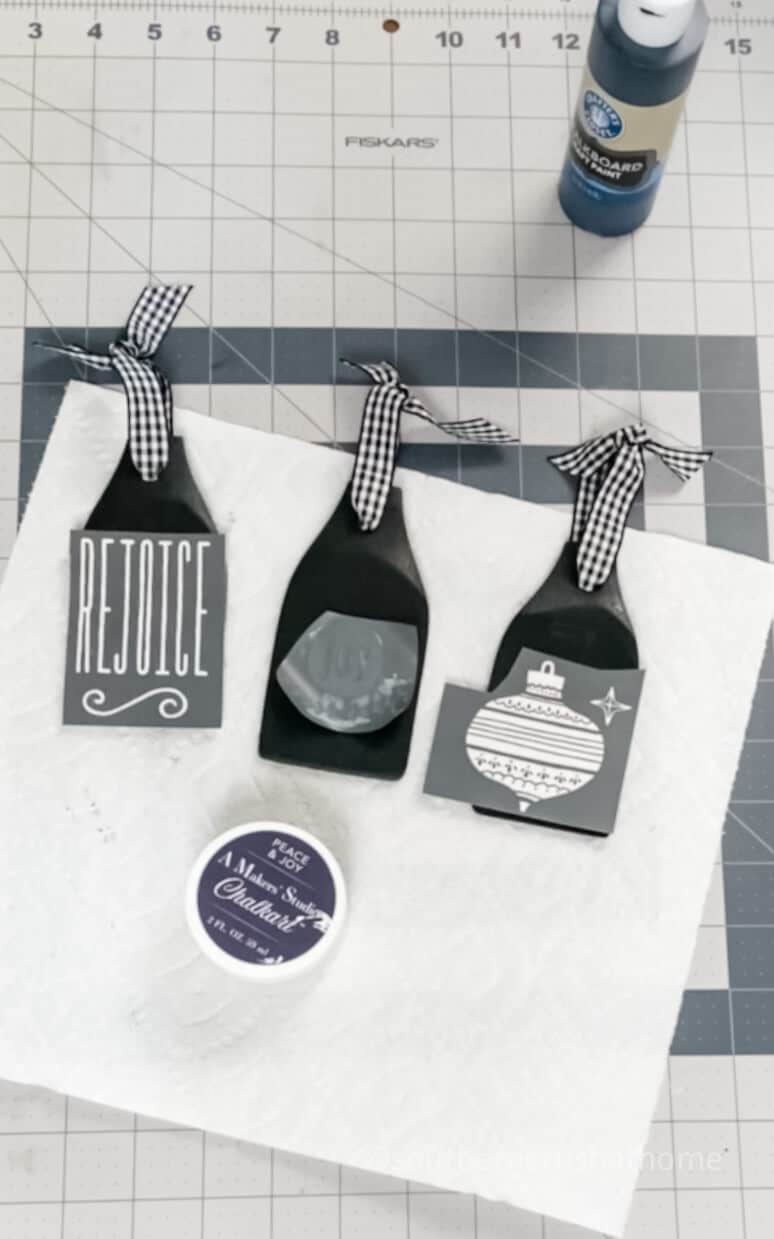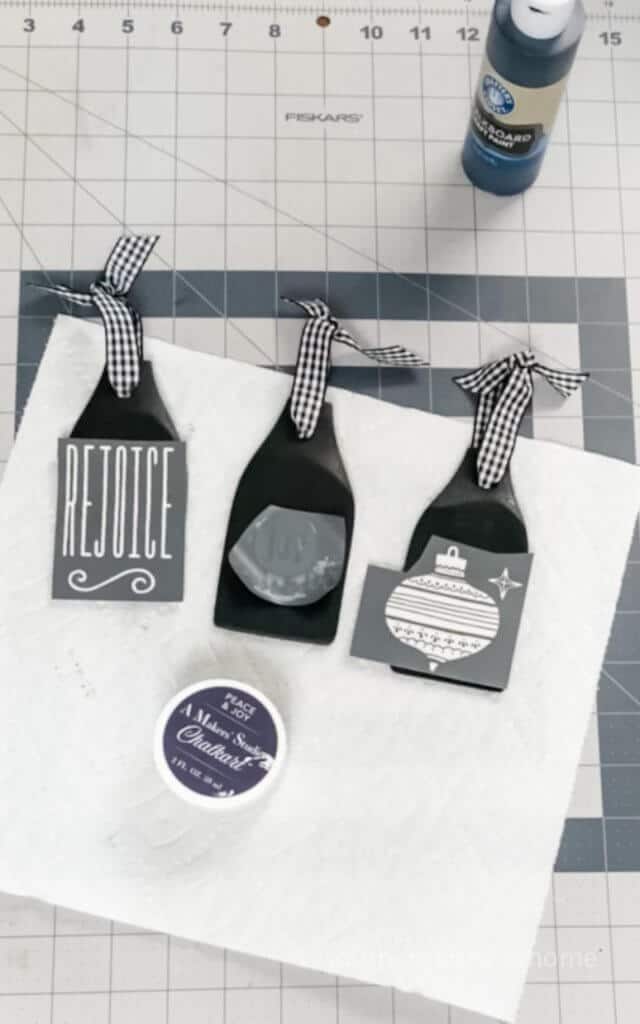 I picked these particular Christmas stencils because I thought they were oh so cute! You can find these exact stencils HERE.
Now apply the chalk paste with a squeegee to the gift tag. I chose white to pop agains the black chalk board paint.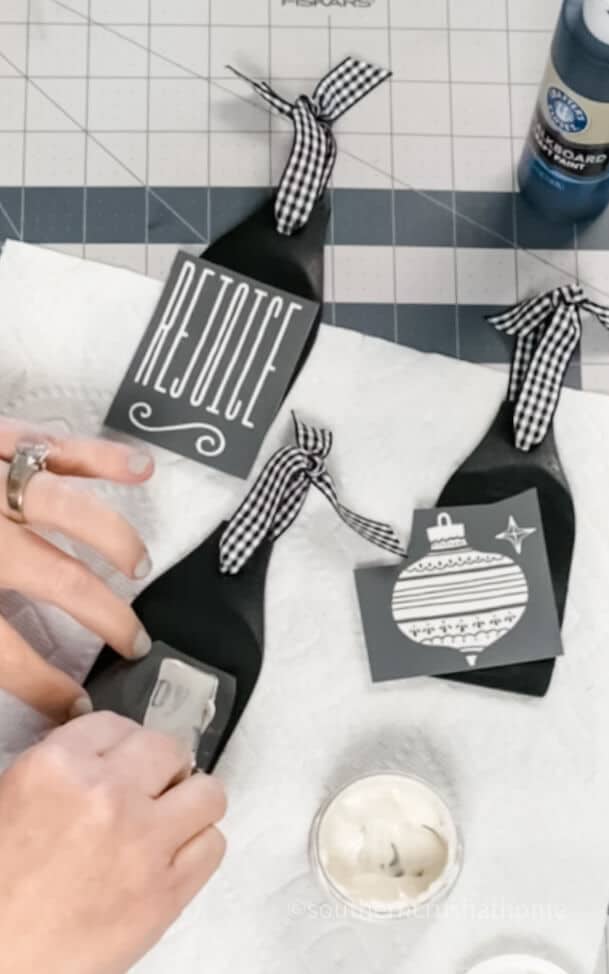 Now for the fun part! Peel back the stencil to reveal your amazing design! You're friends and family are sure to love these!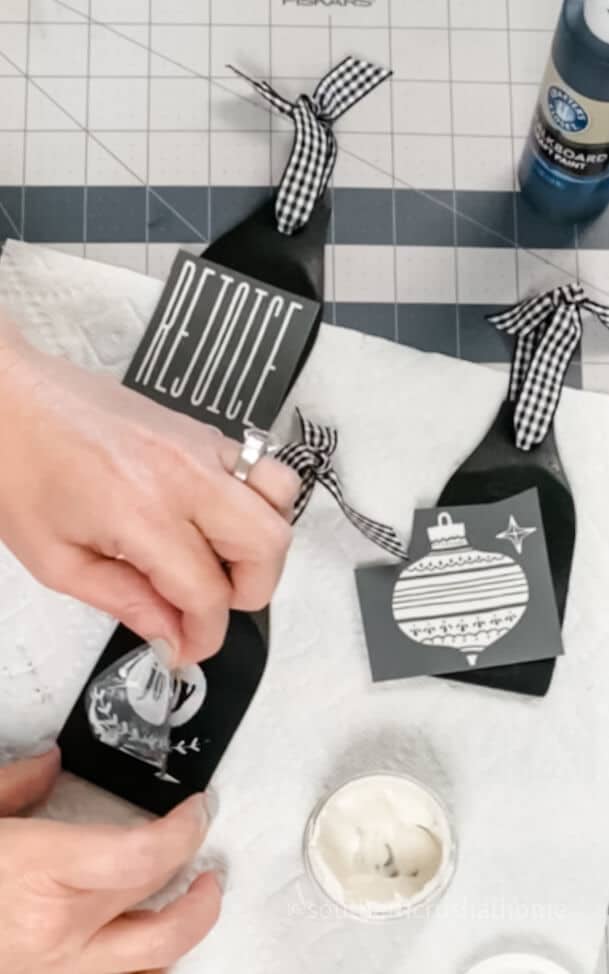 One more reveal, just because I love this part! Hee, Hee! This is the one with "REJOICE" on the stencil.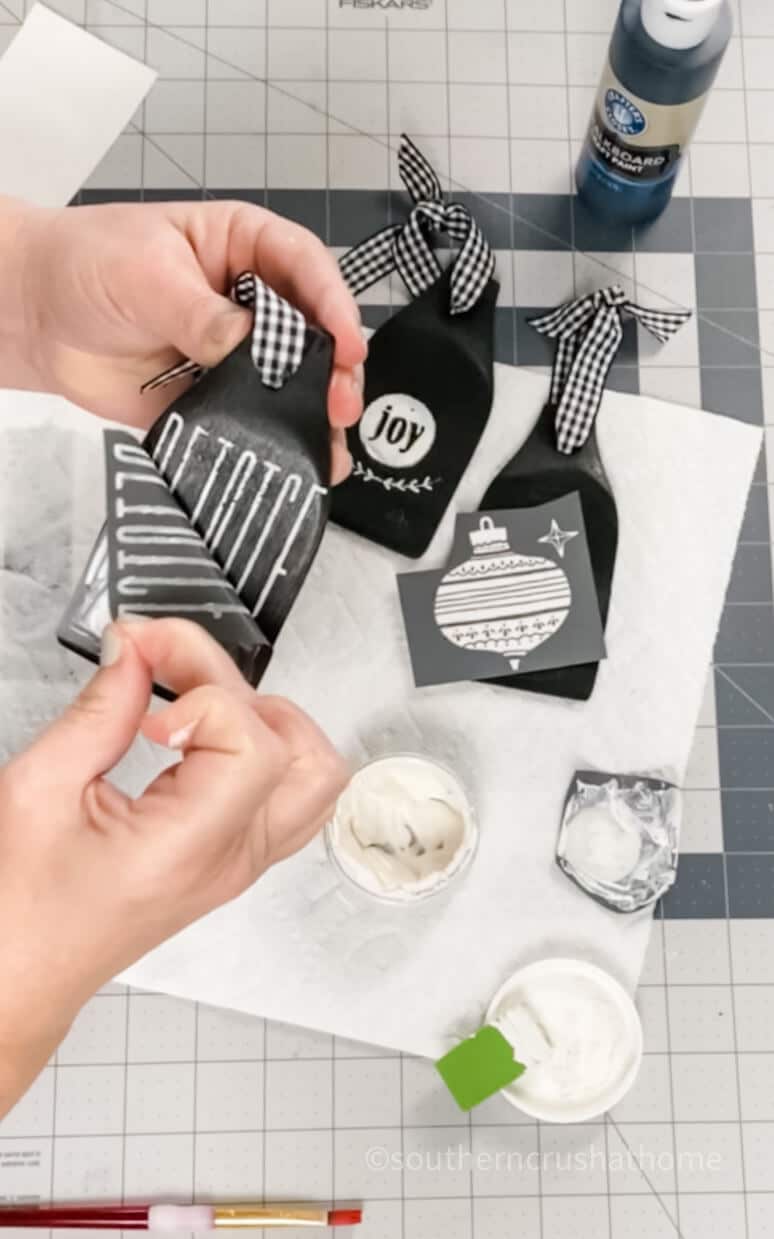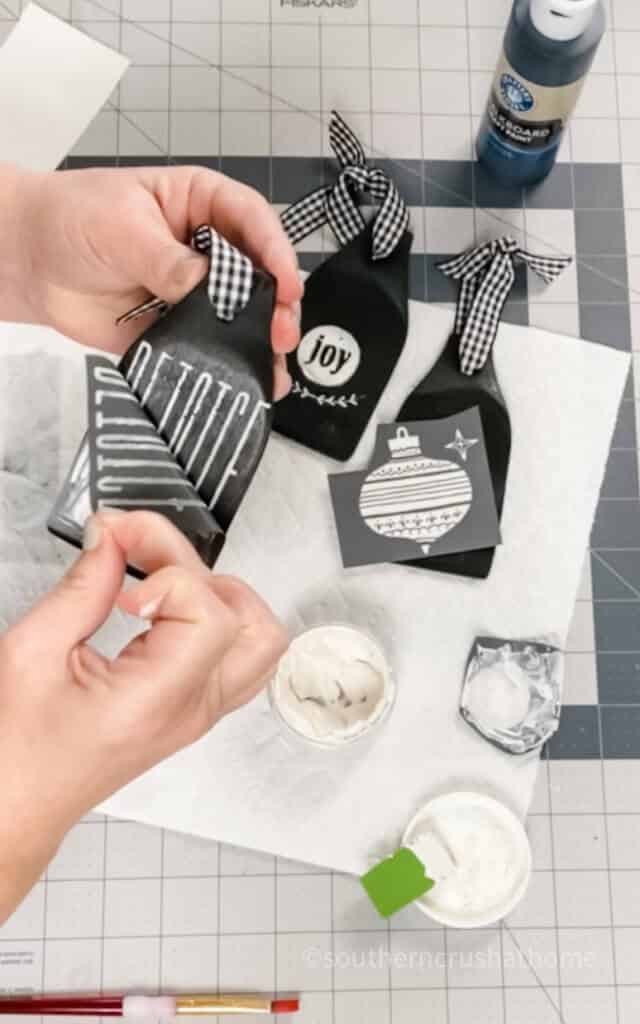 Take an artist's paint brush and some water to easily clean up any mistakes or spots on the gift tag.
It's hard to stay inside the lines sometimes as these tags are quite a small surface.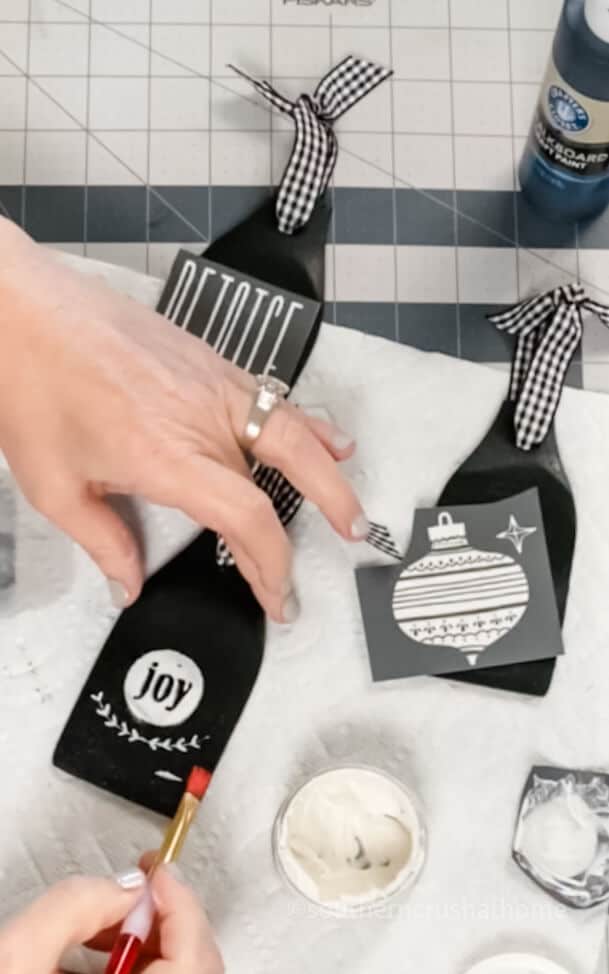 How to finish the christmas tags for gifts
Be sure to add a pretty ribbon to the top hole on the gift tag. Tie it in a knot or a bow either one will look cute.
If you are placing these on a gift bag, fill the bag with pretty tissue paper then the tie them on one of the bag handles.
If you are using them on a gift package, you can tape them down like I did.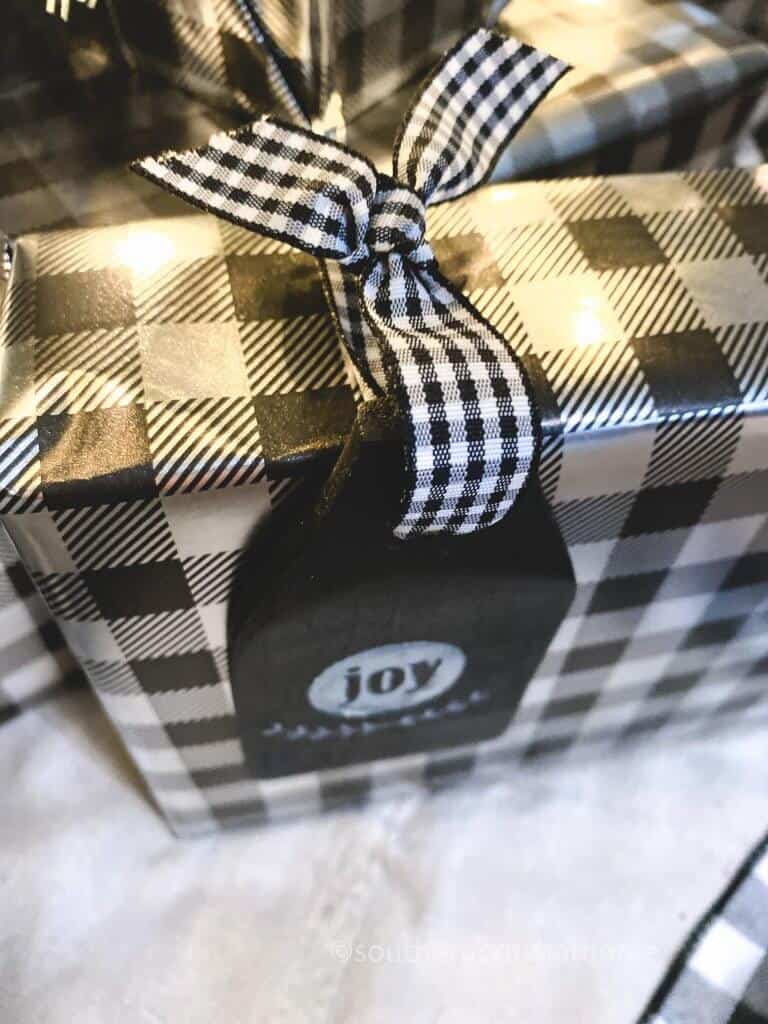 I think these turned out so cute! How about you? Let me know in the comments below…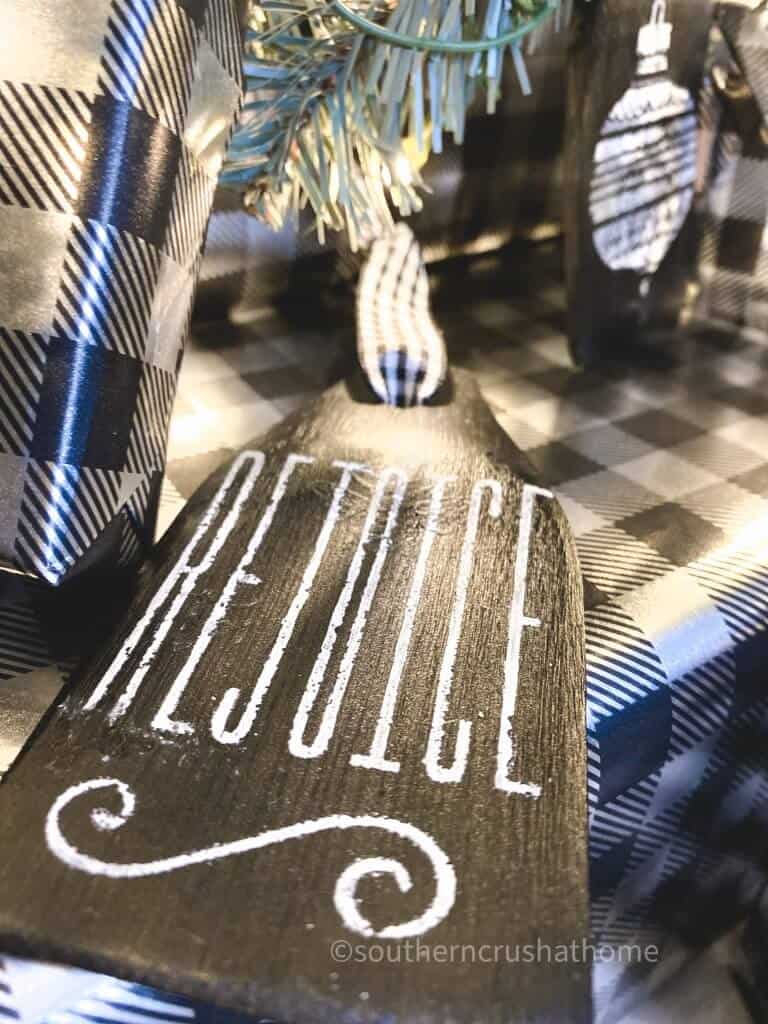 While wooden gift tags are not necessary for gift giving; they sure make the recipient feel special.
They're such a thoughtful gesture and really give the feel of a handmade Christmas.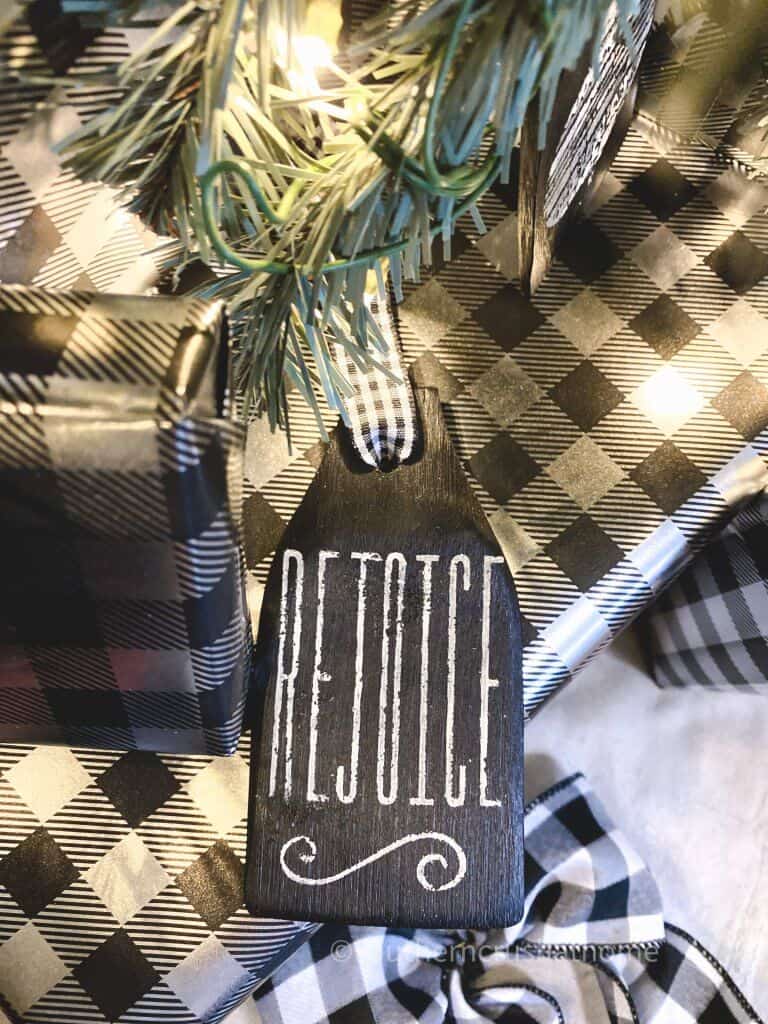 I hope you'll make some of these this year~don't they look good all together underneath the Christmas tree?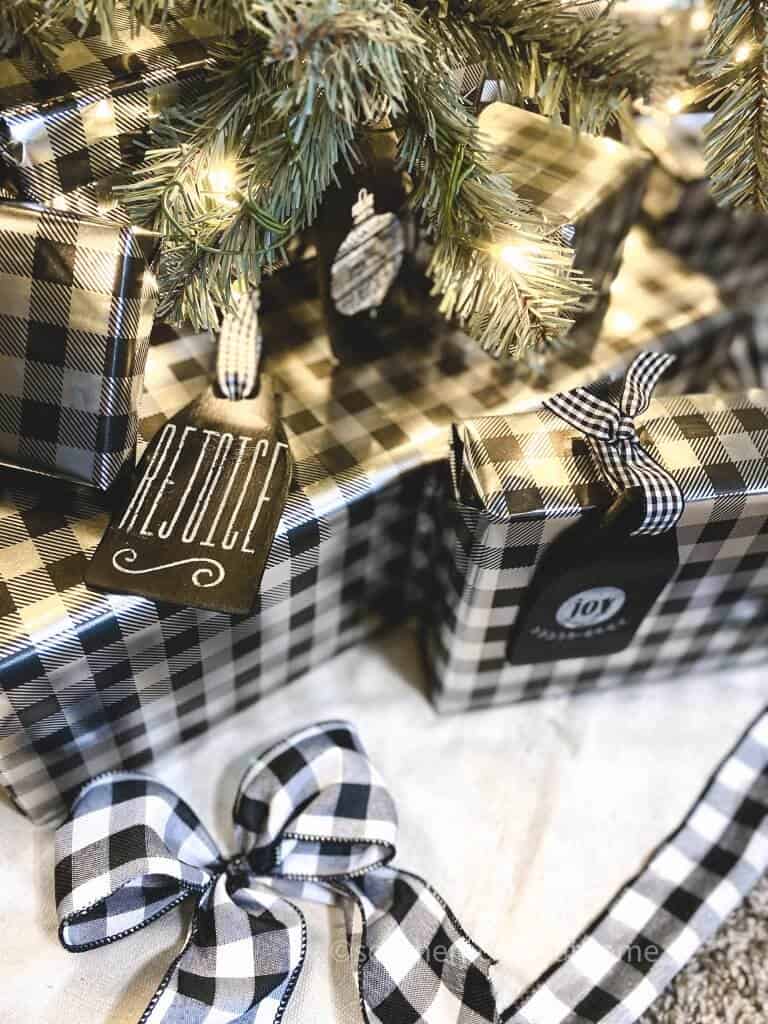 Oh and if you love the matching Christmas Tree skirt, the super easy no sew DIY TUTORIAL is HERE on the blog!
It is made from drop cloth and I'm oh so tickled with how it turned out!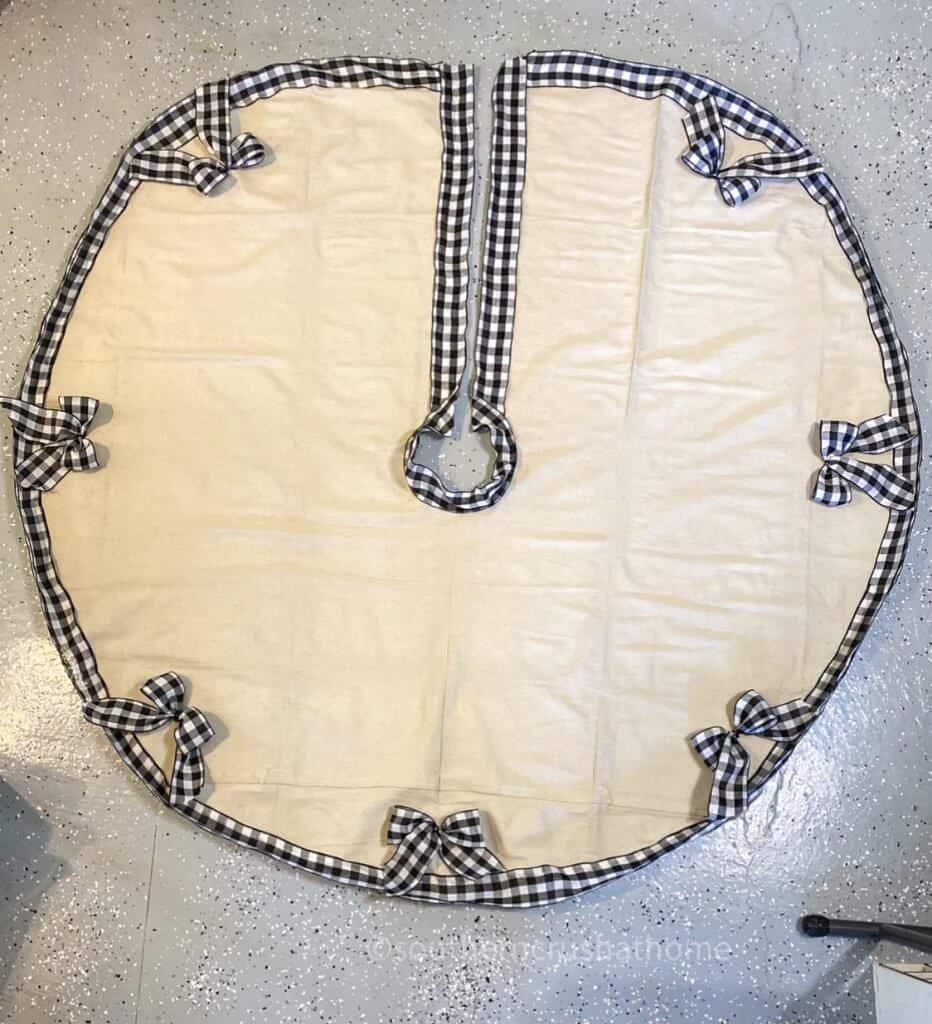 If you love all things buffalo check, consider joining my FREE group on Facebook HERE Buffalo Check Obsessed.
There was so much drop cloth leftover from the Christmas Tree skirt DIY project, that I made THIS matching Table Runner!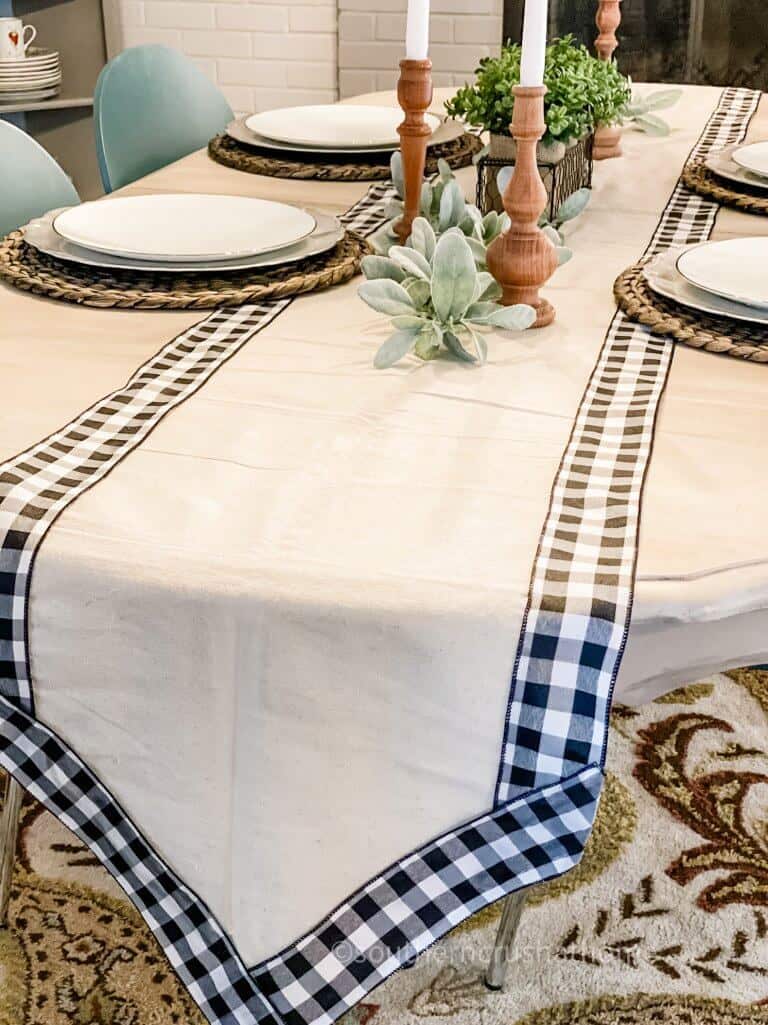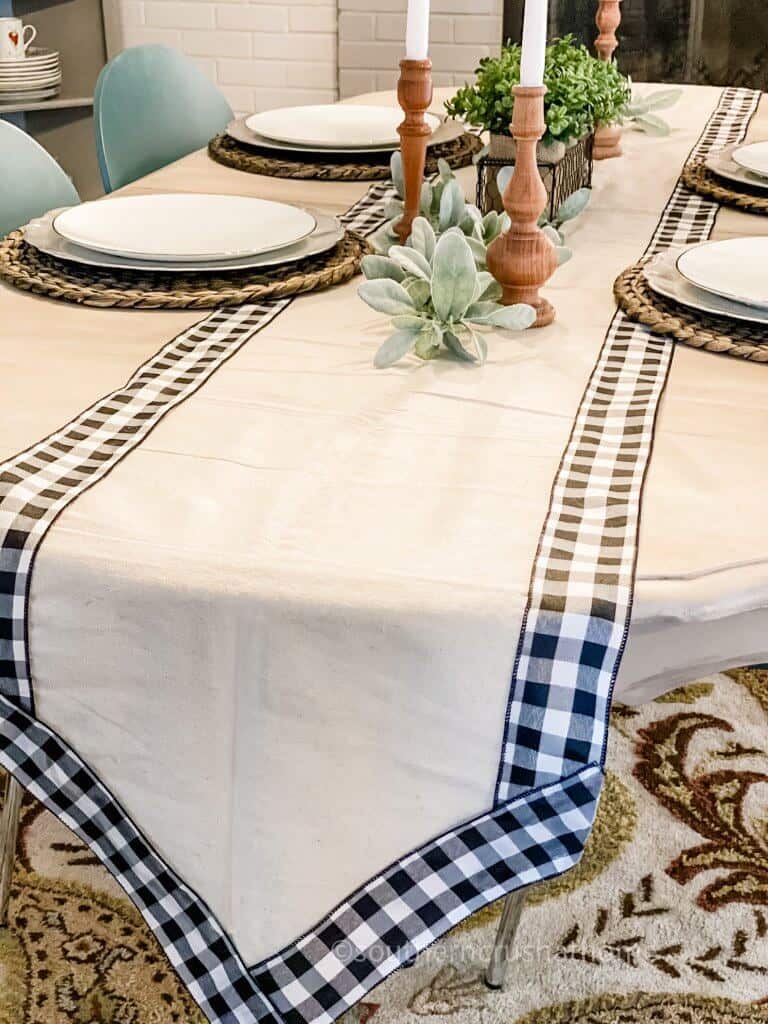 It's was great for Thanksgiving and will carry me right through to my Christmas Tablescape!
other gift wrapping ideas
You may want to check out these Christmas Gift BOWS
I hope you're inspired with these ideas! I'd love to keep in touch, so please be sure to subscribe TODAY!
You'll get tons of ideas for year round inspiration and crafting your home decor one diy project at a time.