Interchangeable Seasonal Wood Signs Nesting Box DIY
Interchangeable seasonal wood signs are so popular right now. The idea is to have a single sign that you can change out for the different seasons; spring, easter, summer, patriotic, fall, Halloween, Christmas, and even special occasions like birthdays. These fun pieces of decor are an easy to decorate your home without buying and storing extra signs. My friend and fellow blogger, Kaycee Geeding of Roost + Restore has created the best version of these interchangeable wood signs I've seen and she calls it a "nesting box". Let's make one of these interchangeable seasonal wood signs using her amazing product…
*This post contains affiliate links. If you make a purchase using one of my links I may be paid a small commission. This in no way affects your pricing.
supplies needed for interchangeable wood sign diy
how do you personalize seasonal wood signs?
At this point in the project it all depends on how you want to personalize your sign. For this DIY I used the following additional supplies:
mod podge
assortment of buttons
hot glue gun and glue sticks
Java gel stain or black paint
baby wipes
steps to make a diy interchangeable sign
Using a tiny bit of stain or paint on a baby wipe, cover the frame with color. If you don't want to use stain, you can water down any color of paint you desire to get the same effect. White, red or gray would be great colors for this project!
Paint the insert your desired color. I went with white.
Apply mod podge to the insert if using the FREE printable.
Trim your printable and place on insert.
Apply a thin layer of mod podge over the printable and allow to dry.
Once dry, sand down the edges.
If you prefer using an SVG with your cutting machine like I did, grab it HERE.
Using your hot glue, add various sized and colored buttons all over your tree to mimic ornaments.
Embellish with ribbon or hanger as desired.
If you prefer to see the video version of this tutorial, it can be found HERE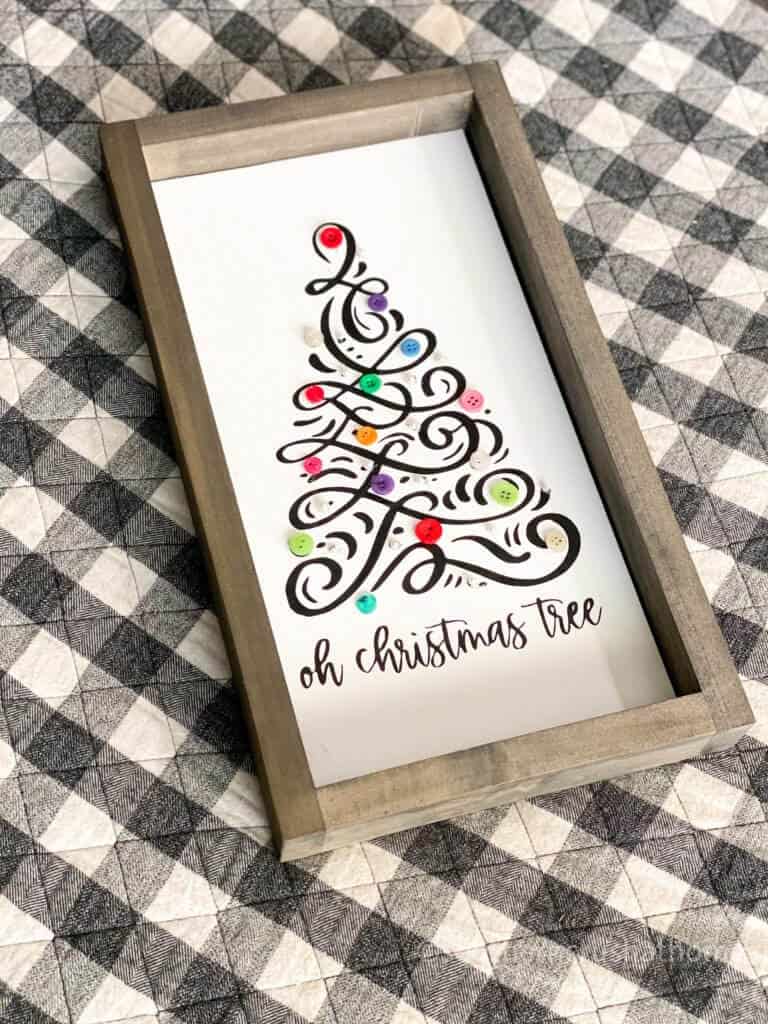 other interchangeable seasonal wood sign insert choices
There are several other inserts to choose from to truly create your one of a kind interchangeable wood sign. Roost + Restore offers shiplap, flat, southwest, chevron and herringbone. Find all of them HERE.
ways to display interchangeable seasonal wood signs
These signs are so cute and easy to make they would look good just about anywhere in your home. My favorite ways to display them are on a seasonal buffet tablescape, a fireplace mantle, a small side table between two chairs, a tv console, a tiered tray, an ottoman tray, an entryway table, and of course a gallery wall! Grab my FREE Gallery Wall Guide HERE for tips and tricks to creating a gallery wall you'll love!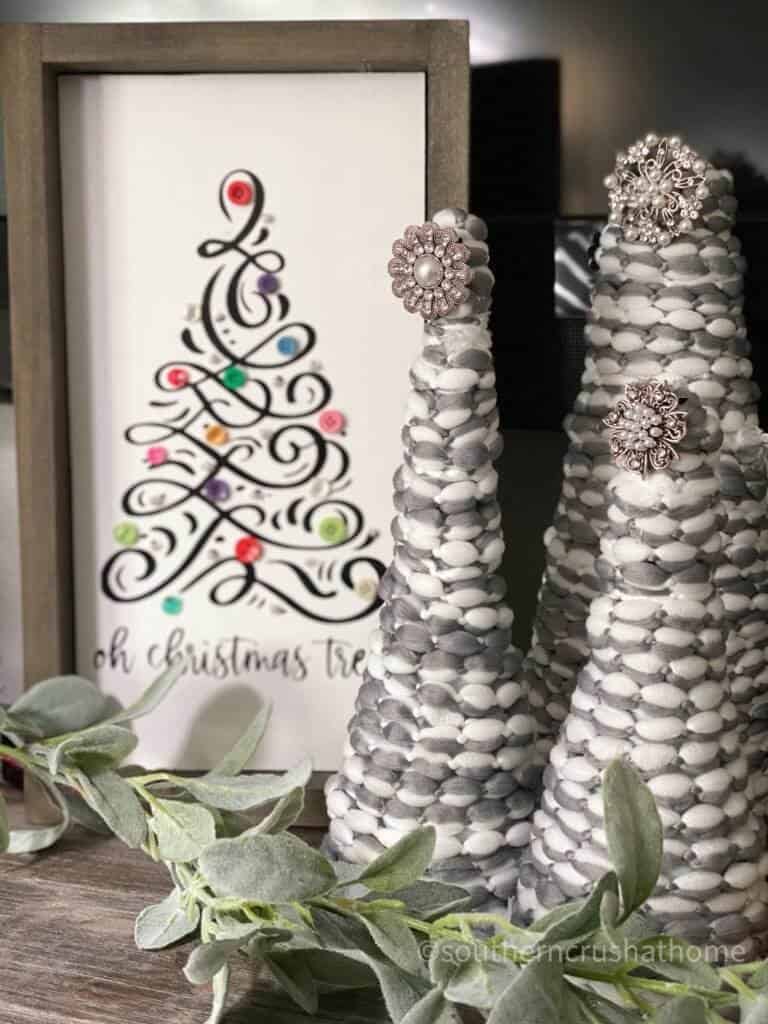 These adorable signs are the perfect solution for creating new decor for each season! Purchase your frame and then personalize your insert for each new creative idea you have for a sign. Check out all of my FREE printables that you can use on your interchangeable wood signs HERE. All of my premium Printables can be found HEREand if you'd like all of my printables in one place for FREE join the VIP group! Info on the VIP group can be found HERE!
How do you use free printables?
This is definitely a question I get asked a lot! People want to know how do you print them? What paper is best for printing? What if I don't have a printer? These questions and more are answered here in this handy blog post I wrote in an effort to help you navigate printables called How to Print & Use Free Printables: The Ultimate Guide. I hope you find it helpful.
sign up for my emails
If you love these kinds of DIY ideas, you need to be getting my emails, friend! Each week I send out a couple of emails that include updates, crafts, shopping experiences, and decor inspiration. Be sure to get yourself signed up below.