Upcycled Vintage Hanging Colander Planter
This upcycled vintage hanging colander planter was so much fun to make. I absolutely love how it turned out! The country red color paired with adorable strawberry napkins is a perfect match. Keep your eyes open for a vintage colander so you can make your own DIY planter.
WHAT YOU'LL NEED TO MAKE Upcycled Vintage Hanging Colander Planter
Vintage Colander
Plant Hanger Chain
Brown Craft Paint
Drill
HOW TO MAKE Upcycled Vintage Hanging Colander Planter
Start by drilling three holes into the colander for the plant hanger chain.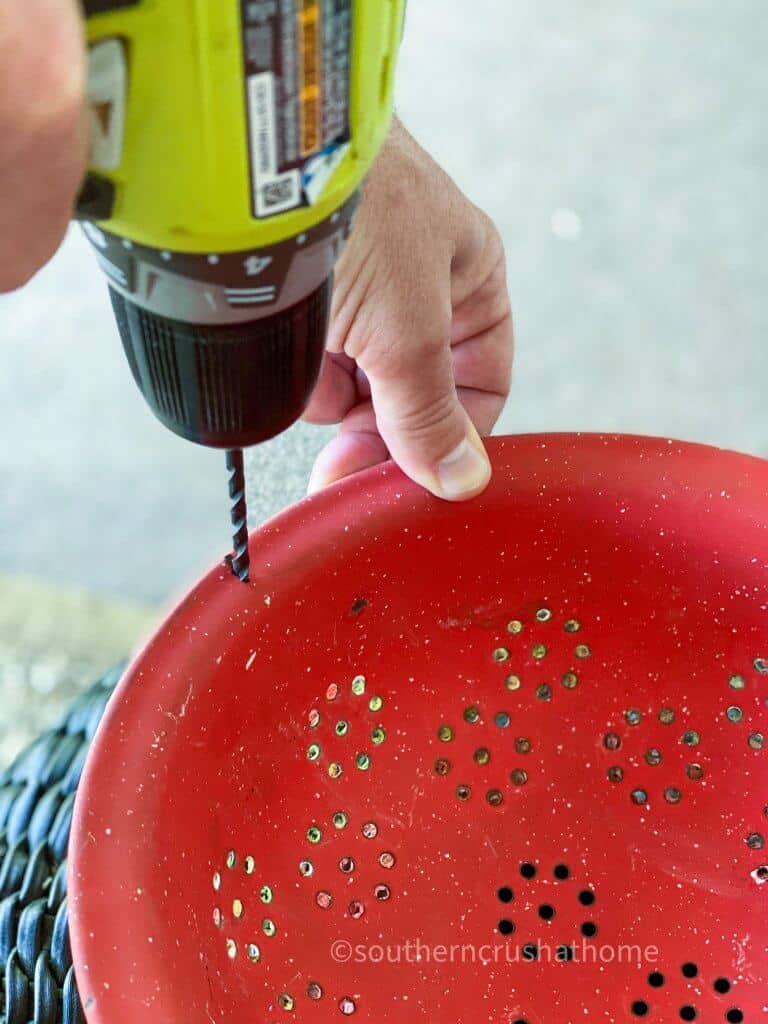 Paint under the lid of the colander to the base of it with white chalk paint and a chip brush. This allows the pretty napkins to show up much better.
Use a heat gun if you want to speed up the drying time. You can use the same chip brush for the mod podge too. Just wipe it off first with a baby wipe.
Use a piece of tape to separate the napkin so you are just using the printed part of the napkin. Most napkins are 2 or 3-ply. These are only 2 layers.
Determine the best placement of the napkin on the colander, and cut the napkin to size. Add the mod podge to the colander and then gently place the cut napkin onto the colander. Use a baggie to rub the napkin and remove the wrinkles. The bag will help keep the napkin from tearing.
I found these super cute strawberry themed napkins in this online Napkin shop!
My friend Miss Tracy has an awesome "napkin club" if you love napkins as much as I do! Each month she sends you a bundle of fun napkins and then shows you what to make with them!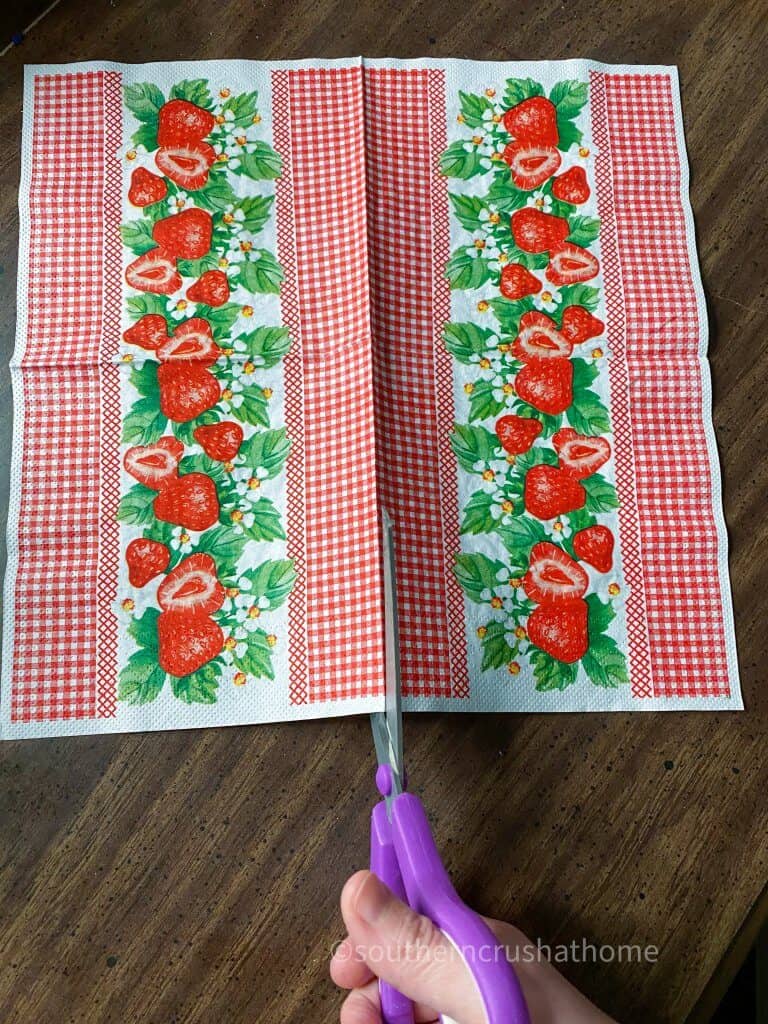 Continue to cut the napkins and add them to the colander until the entire piece is covered. You can also use a small dry paint brush to remove some of the wrinkles. Add a coat of mod podge to the top of the napkins too. Let dry.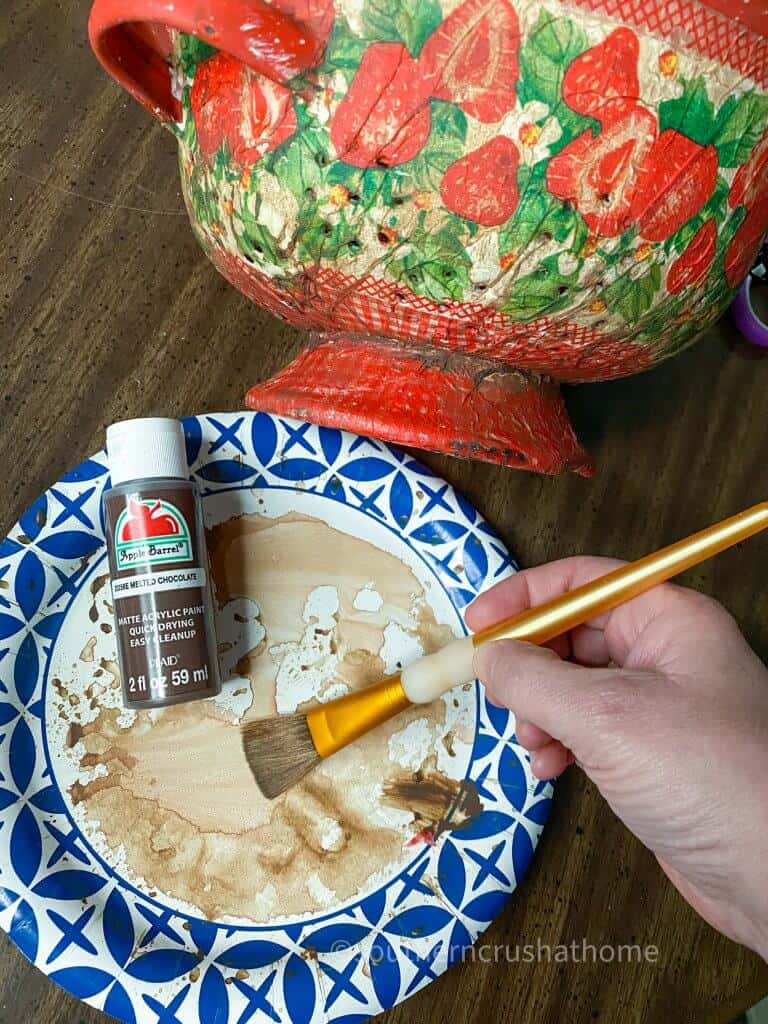 Next up…
Add a little brown craft paint to a paper plate. Use your small paint brush to age the napkins. You can mix a little mod podge into the paint to thin it out. You don't need to heavily paint this, but use more of a dry brush technique like I show in these stamped terracotta pots.
Now you want to poke the holes through the napkin very carefully so as not to tear the napkin.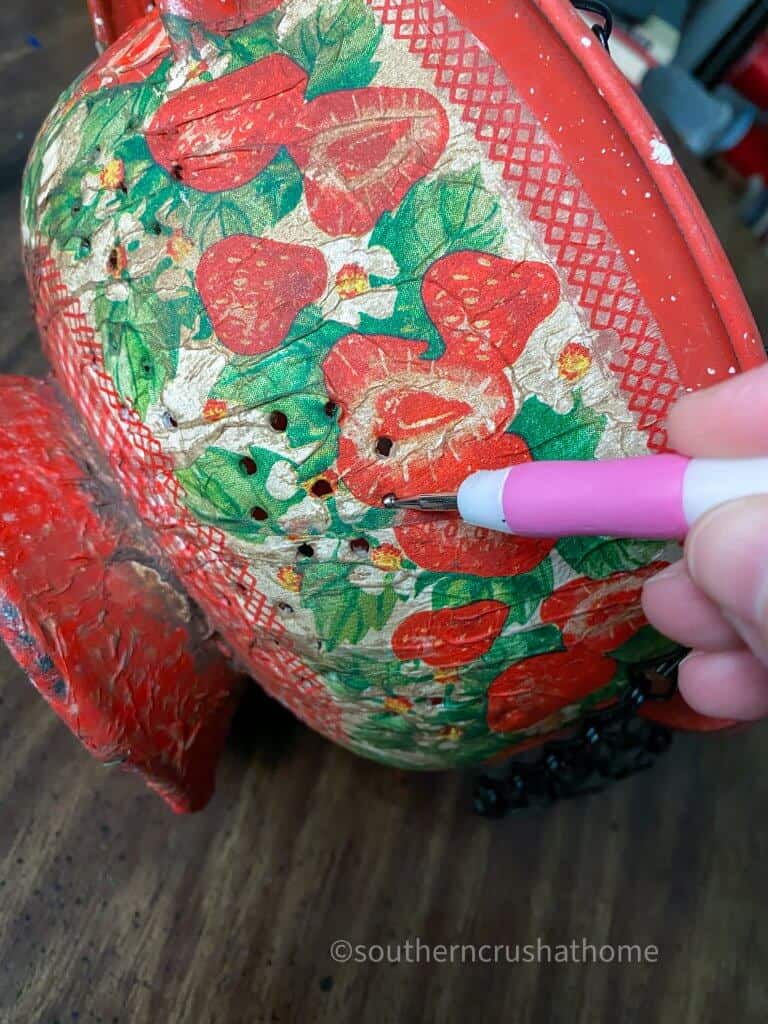 All that's left now is to add your chain to the colander for hanging.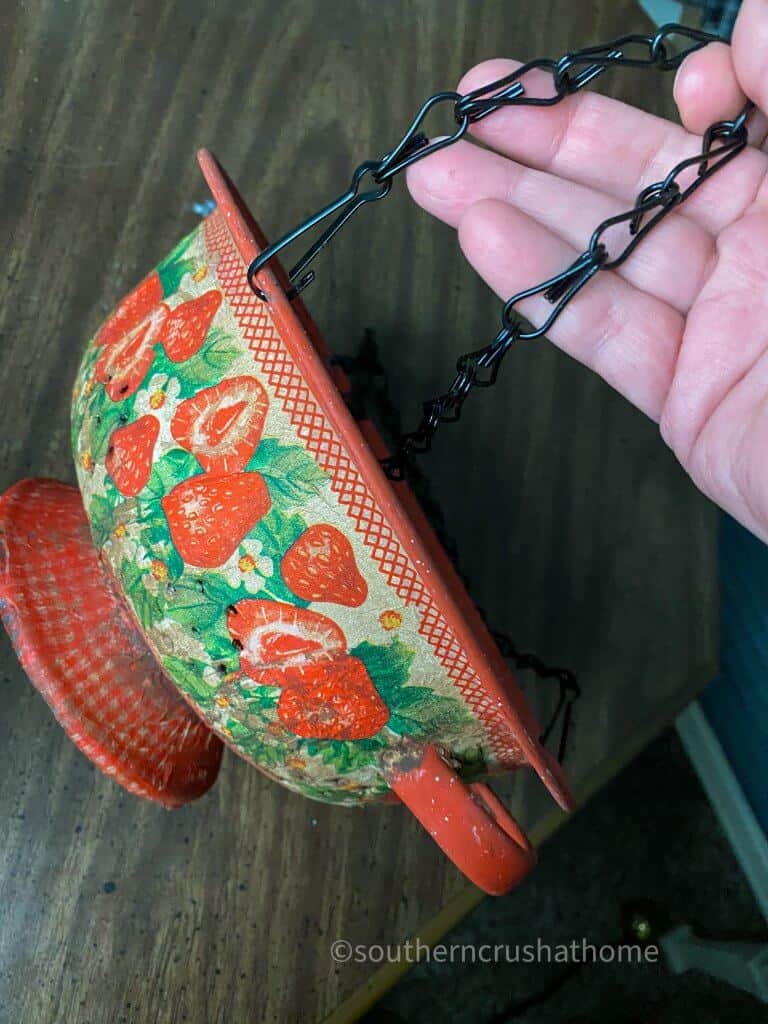 I filled it with a beautiful red geranium and love how it looks hanging in my yard. It's such a unique piece that you can't just buy at the big box store. Sometimes it's fun to have a little something unique in your garden! And this beauty is a statement piece for sure!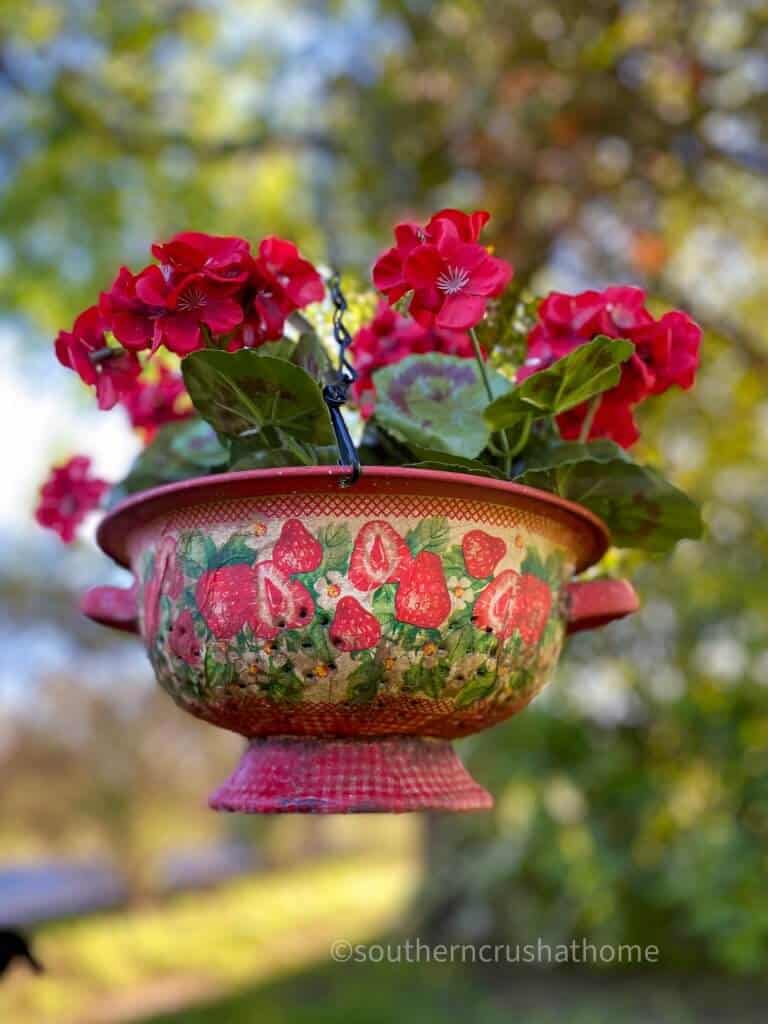 What plant would you hang in your vintage colander planter? I bet white petunias would look beautiful too. Or how about a classic fern?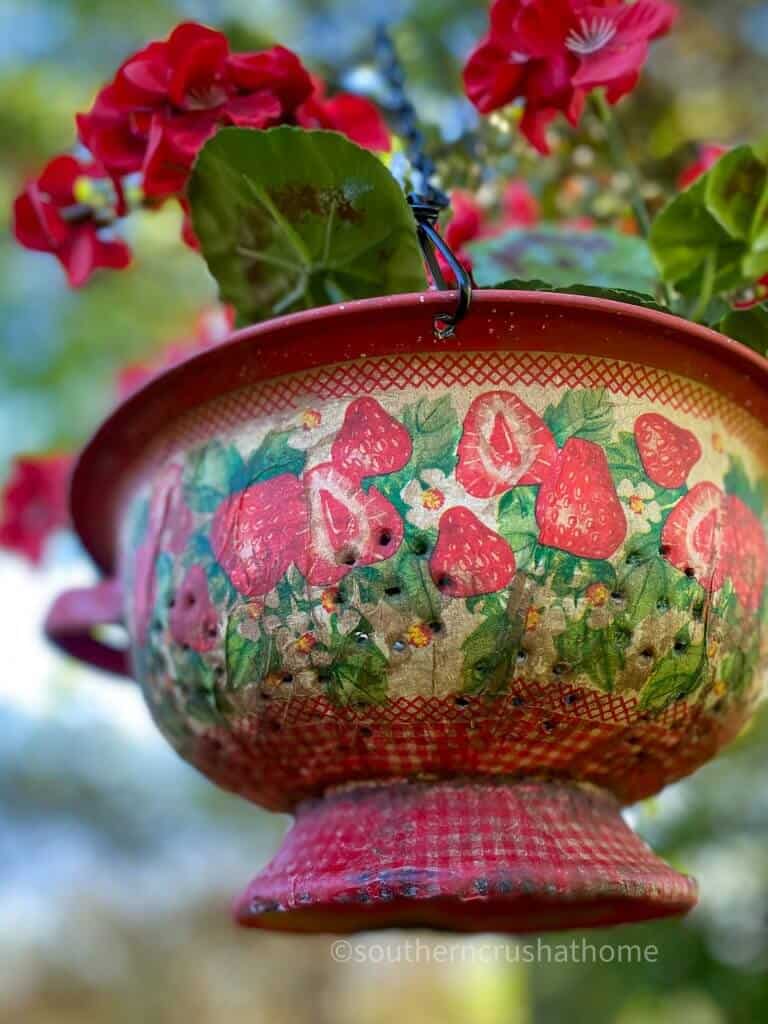 NEXT…
What do you think of this pretty planter? Is this something you could see yourself creating? If so, definitely keep your eyes open at a vintage market or thrift stores for a colander that you can update.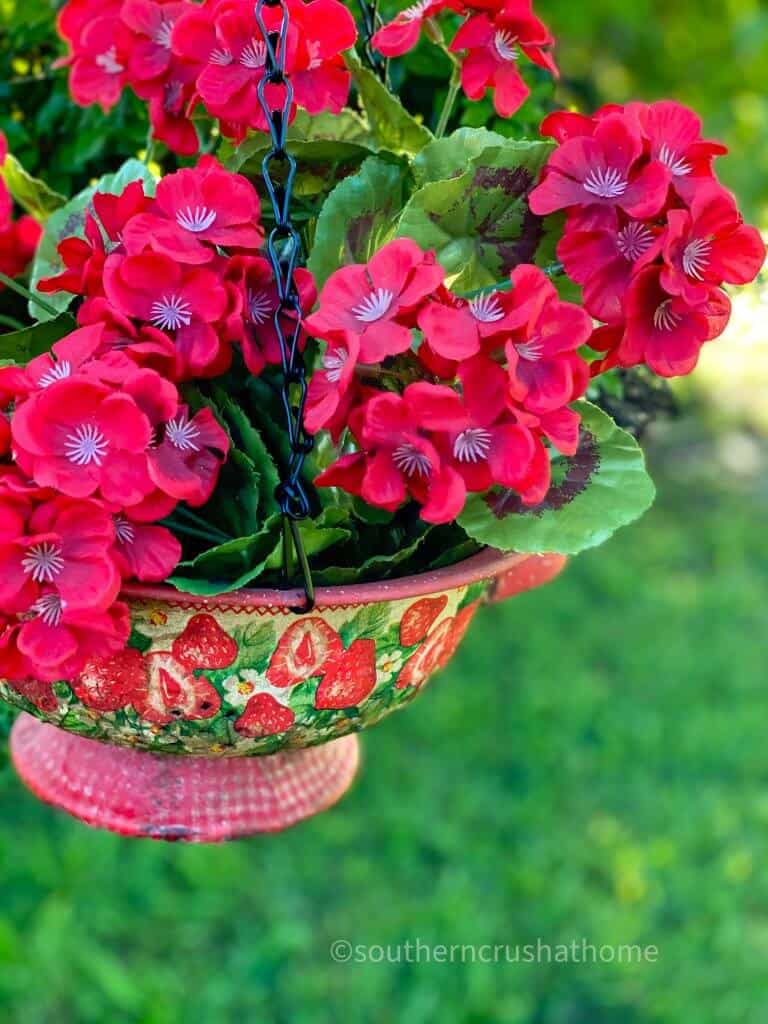 IF YOU PREFER TO WATCH THE LIVE STEP BY STEP INSTRUCTIONAL VIDEO, WATCH IT BY CLICKING HERE.
Vintage Hanging Colander Planter
This was not a hard project at all, but it really is a conversation piece. I will definitely make another one if I am lucky enough to spot one in the store.
THAT'S IT!
There are so many fun ways to decorate with this pretty colander planter. If you didn't want to hang it, you could even leave off the chain and place it on an outdoor table. Wouldn't that be pretty? Let me know if you give it a try!
BE SURE TO CHECK OUT THESE OTHER simple craft ideas!
GET MY EMAILS
If you love DIYs and Ideas like these as well as seeing all the fun things I find out shopping, you need to be getting my emails, my friend! Each week I send out a couple of emails that include updates, crafts, shopping experiences, and decor inspiration. Be sure to get yourself signed up below. I can't wait to meet you!
Upcycled Vintage Hanging Colander Planter
Let me show you how to make a beautiful DIY hanging colander planter with this tutorial. It uses the most adorable strawberry napkins and a vintage colander.
Materials
Vintage Colander

Plant Hanger Chain

White Chalk Paint

Mod Podge

Chip Brush

Brown Craft Paint
Instructions
Drill holes into the colander for the chain to hang.

Paint the main section of the colander with white chalk paint. Let dry.

Cut the napkins to size to fit the colander.

Use a chip brush to add mod podge to the colander.

Place the cut napkins onto the mod podge and gently press.

Use a plastic bag to remove any wrinkles.

Repeat until the colander is covered.

Age the napkins with a little brown paint.

Poke the holes back out of the colander.

Add the chain and your favorite plant, then hang and enjoy!