7 Easy Solar Lantern Outdoor Decor Ideas (using Dollar Tree Solar Lights)
These 7 easy solar lantern outdoor decor ideas will help you add some personality to your patio or porch on a budget!
All of the projects use Dollar Tree solar lights, so you can enjoy some pretty lighting without breaking the bank.
Plus, you can pick up solar lights at Dollar Tree and use them to create beautiful and practical designs that will brighten up your yard or garden.
Be sure to PIN this for later!
We all love spending time outdoors in the summertime, but it can be tricky to create a festive atmosphere without spending a lot of money.
Well, I have the perfect solution…solar lights! They are a great way to add decorative lighting to your outdoors without having to hardwire anything or worry about electricity.
Solar Lantern Outdoor Decor
Before I get to my Dollar Tree solar light projects, I wanted to share a few fun and easy ways that you can decorate with solar lanterns in your outdoor space!
Create a magical fairy garden by placing solar-powered fairy lights around your plants.
Line your driveway or walkway with solar pathway lights for a modern and stylish look.
Decorate your trees with strands of solar string lights for a festive touch.
Place solar lanterns around your patio or deck for a romantic ambiance.
Highlight your favorite garden features with a solar spotlight.
Create a unique night-time display by attaching solar floodlights to your house or shed.
Add some extra security to your home by installing solar-powered wall lights.
Create memorial cemetery solar lights to help with nighttime visits and add a special touch to a gravesite.
These are just a few of the many ways you can use Dollar Tree solar lights to add some extra flair to your outdoor space! So get creative and see what other great ideas you can come up with!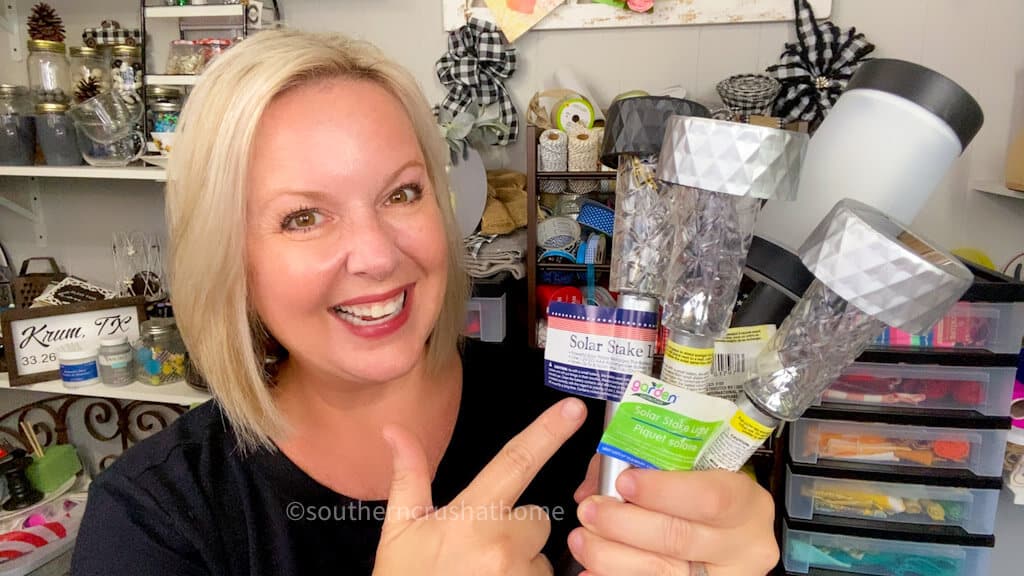 I'm always looking for inexpensive projects to add to my home. Now it's all about my outdoor space. Did you see the adorable pool towel rack I made using Dollar Tree flip-flops? So cute!
Now, let's take a look at 7 solar lantern outdoor decor ideas that I've made using Dollar Tree solar lights for even more inspiration!
Watch this step-by-step video tutorial
If you'd like to see how to re-create each of these seven DIY Solar Lantern outdoor decor ideas watch this step-by-step YouTube video tutorial below.
Illuminated planters
Place solar lights inside decorative planters and centerpieces. If you live in a warmer climate, choose plants that will bloom at different times of the year for continuous color.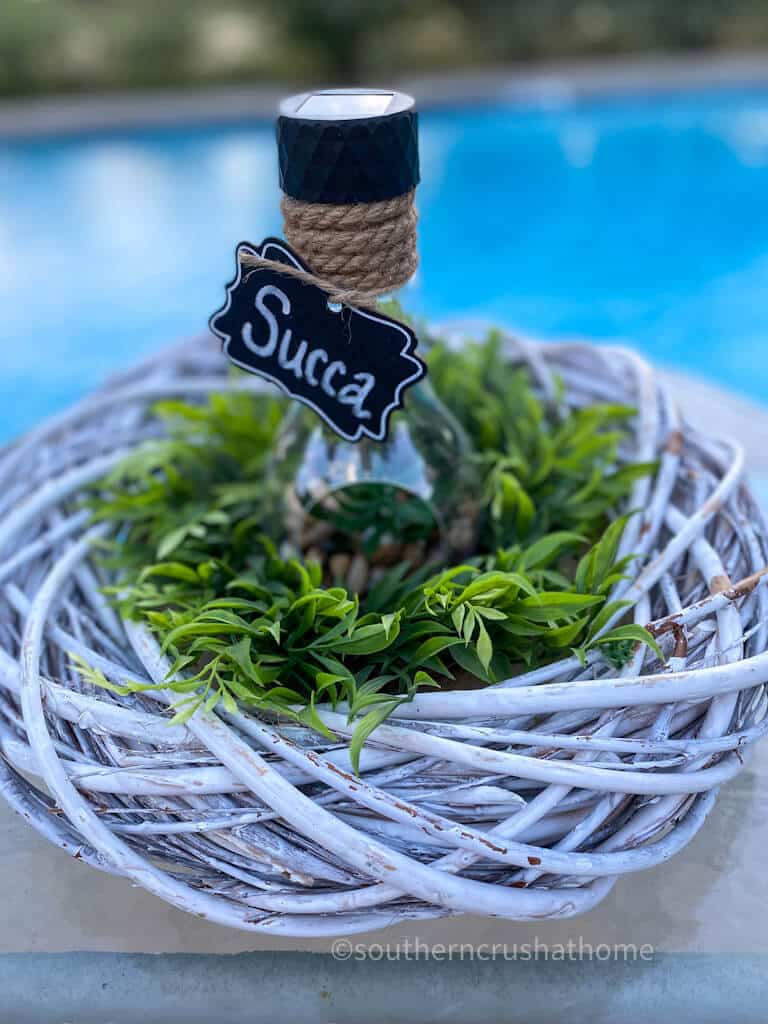 I added a solar light to a Dollar Tree plastic globe succulent planter, wrapped the neck with jute nautical rope, added a cute "succa" tag, and then placed it in a wreath to make a pretty table centerpiece.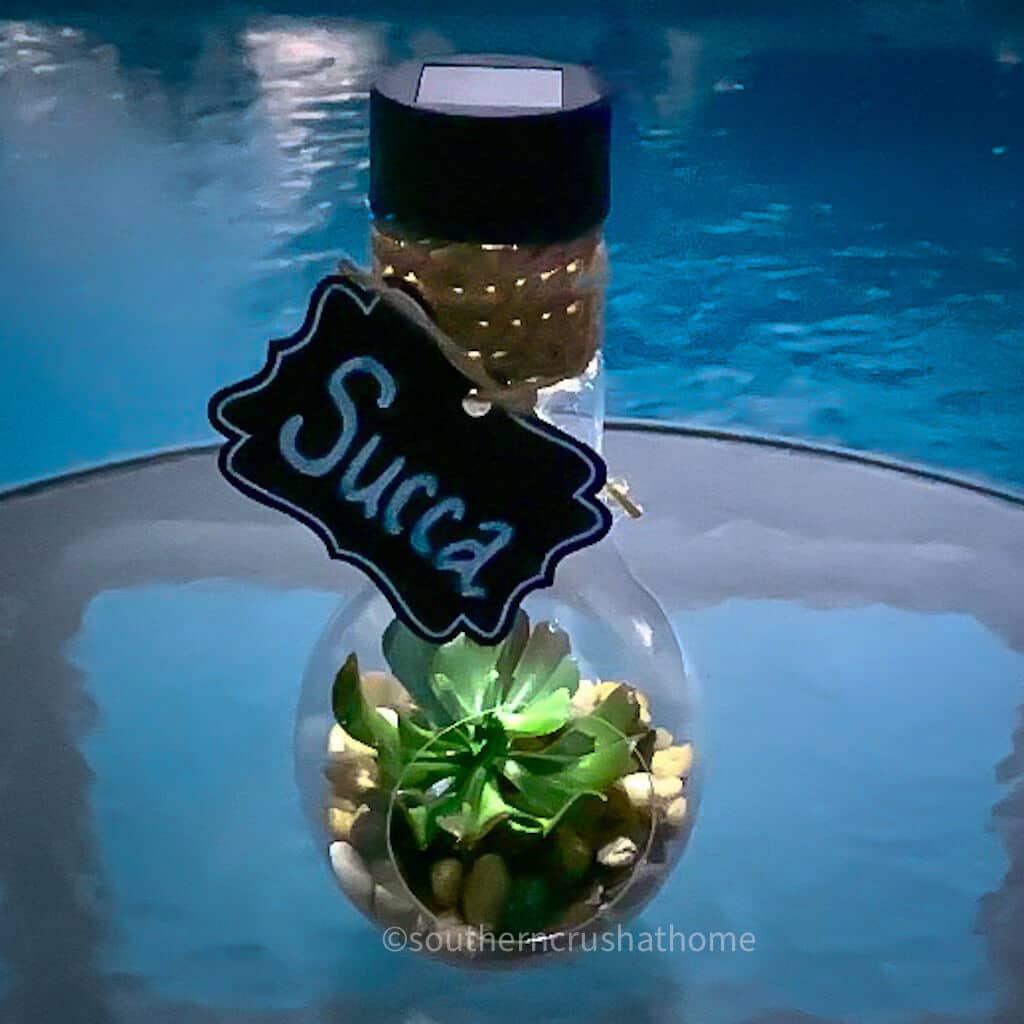 Mason jar lights
Mason jars are the perfect vessel for solar lights. Simply tuck the solar light bulb just inside the jar lid ring and enjoy the soft, glowing light.
You can paint the lids like I show below and add a patriotic ribbon for Memorial Day straight through the 4th of July.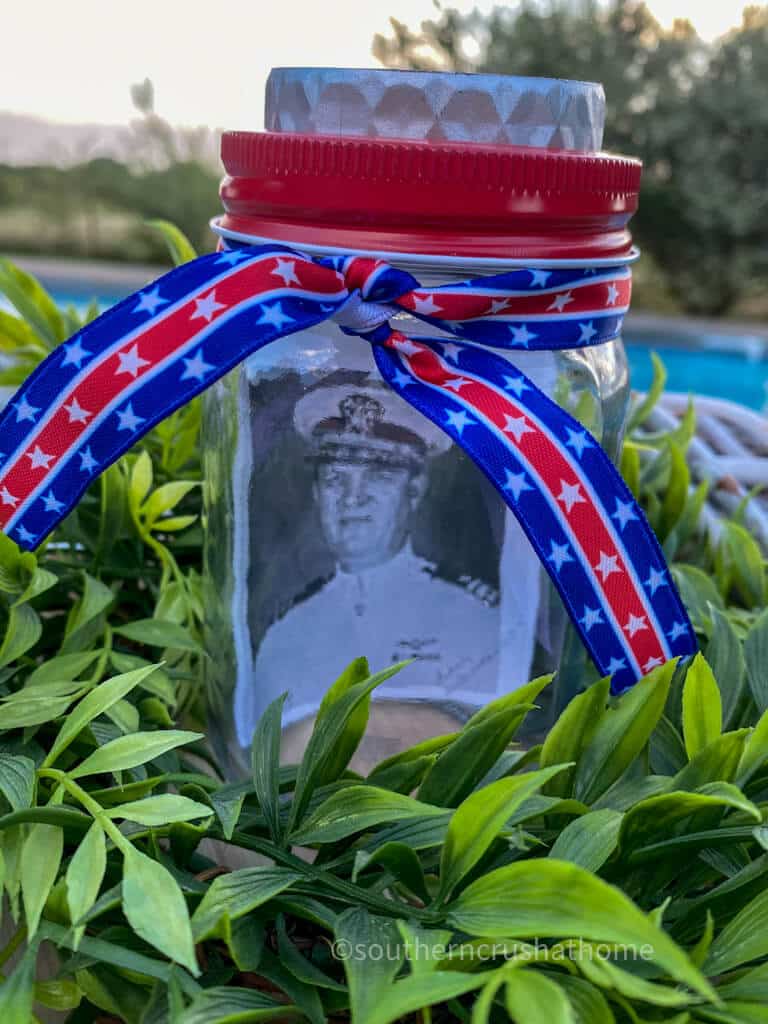 A special family photo placed inside the mason jar makes a meaningful gift that could also be placed at a gravesite or cemetery.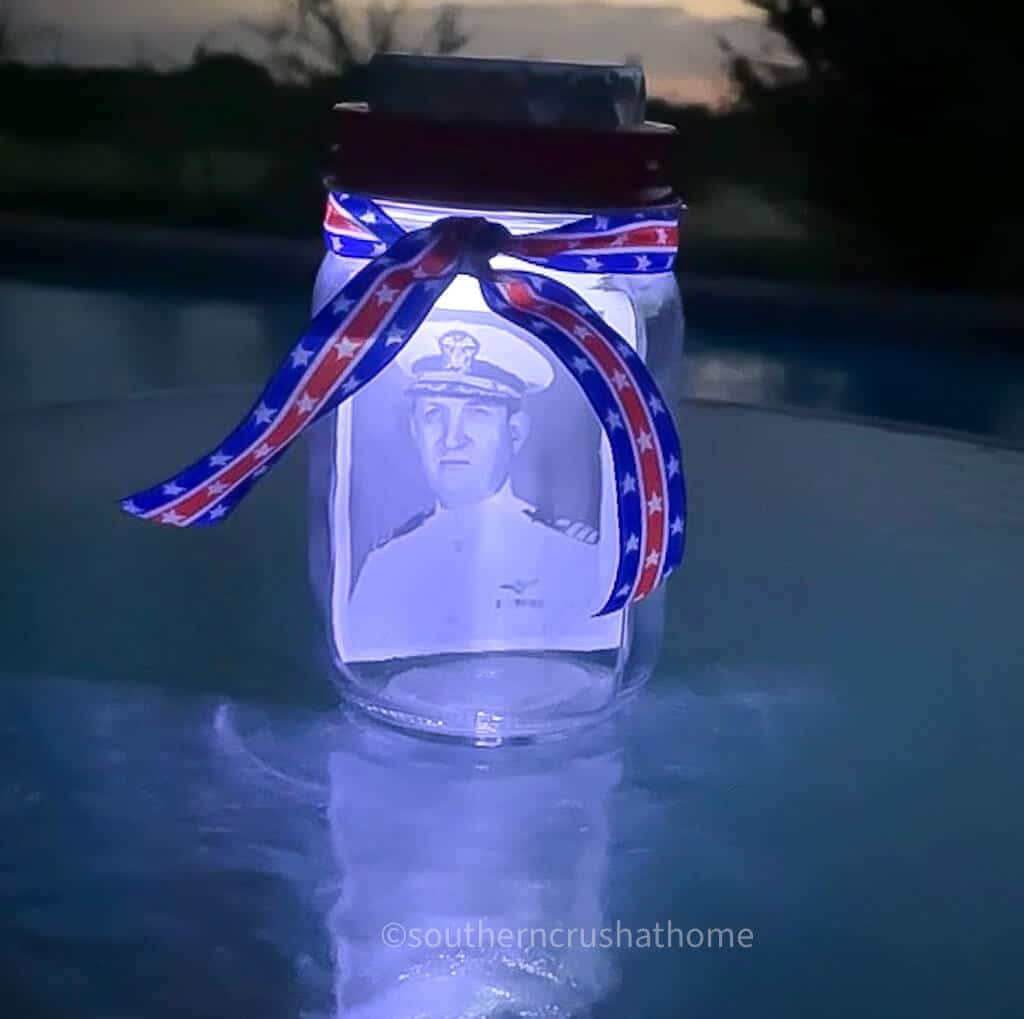 Another idea for mason jars is to add pretty detailing to the jar with Dollar Tree glass stickers. It's so pretty on its own, but even more lovely used in a wreath centerpiece.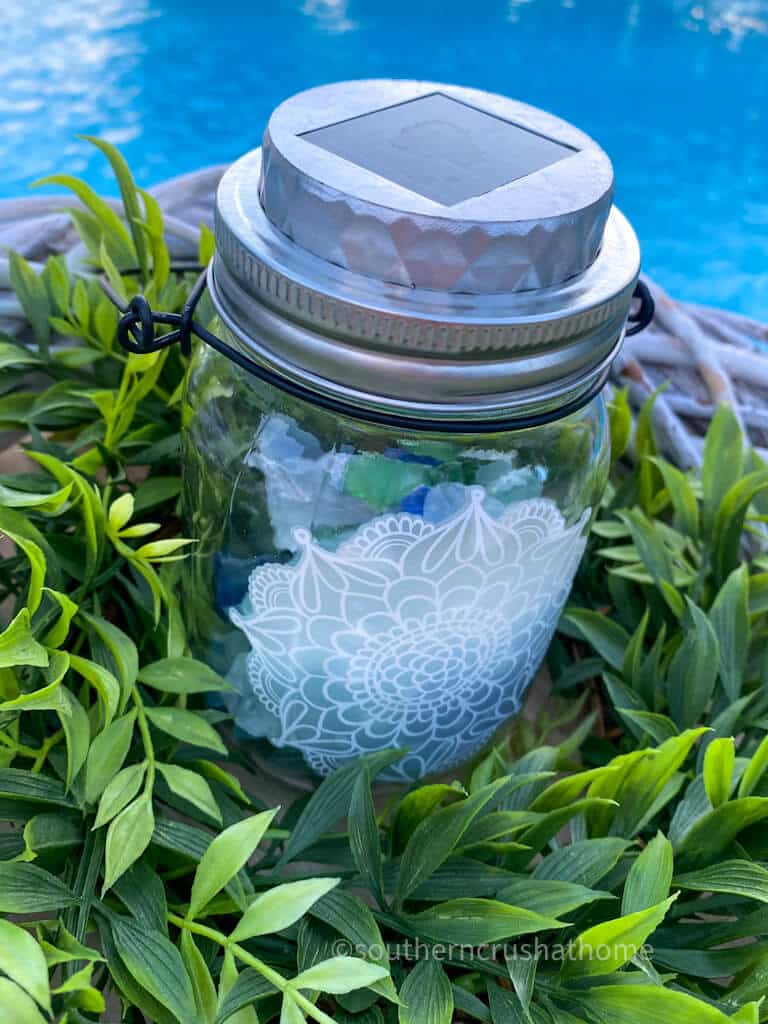 Add a collection of beach glass or seashells for a simple decorating idea for summer.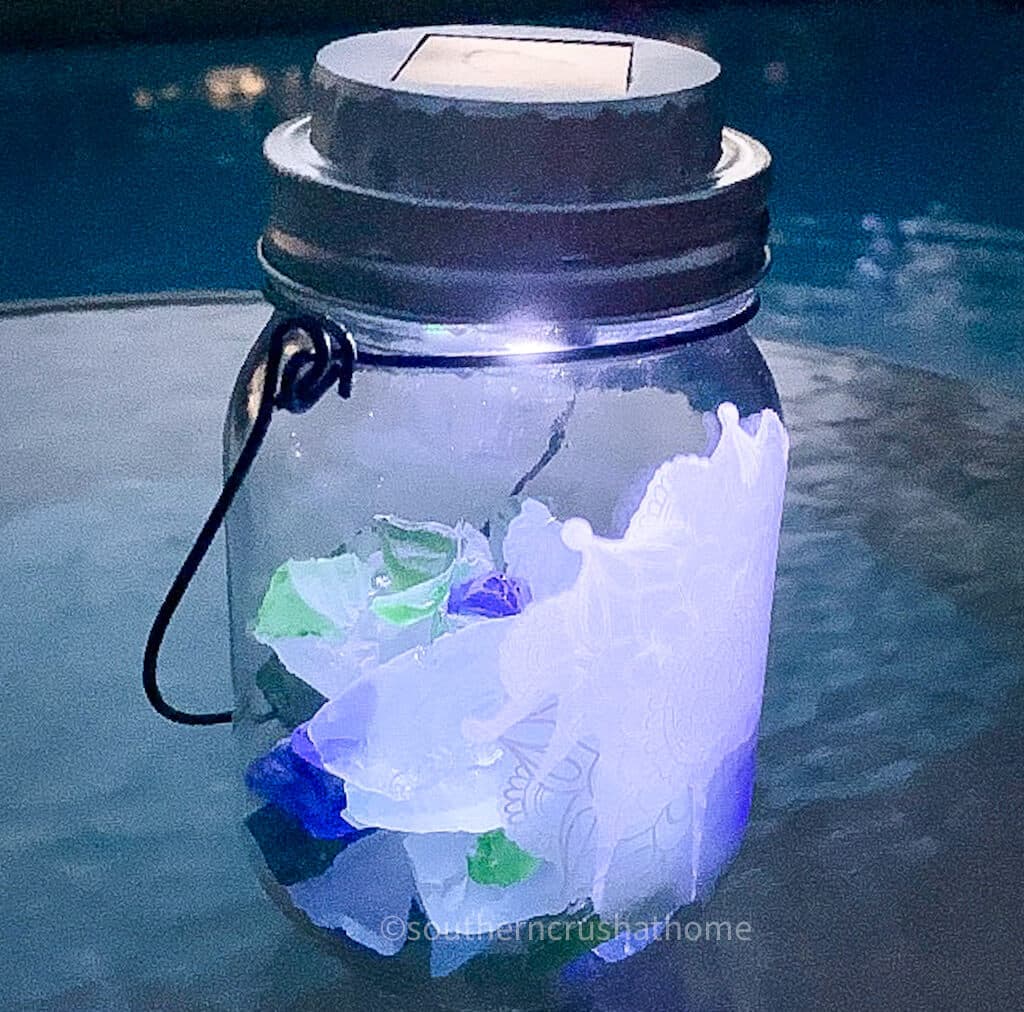 Solar Garden Decor
A simple thrifted crystal beverage glass is taken to the next level with added crystal filler from the Dollar Tree topped with a single solar light bulb and a buffalo check ribbon. Check out tons of buffalo check ideas HERE.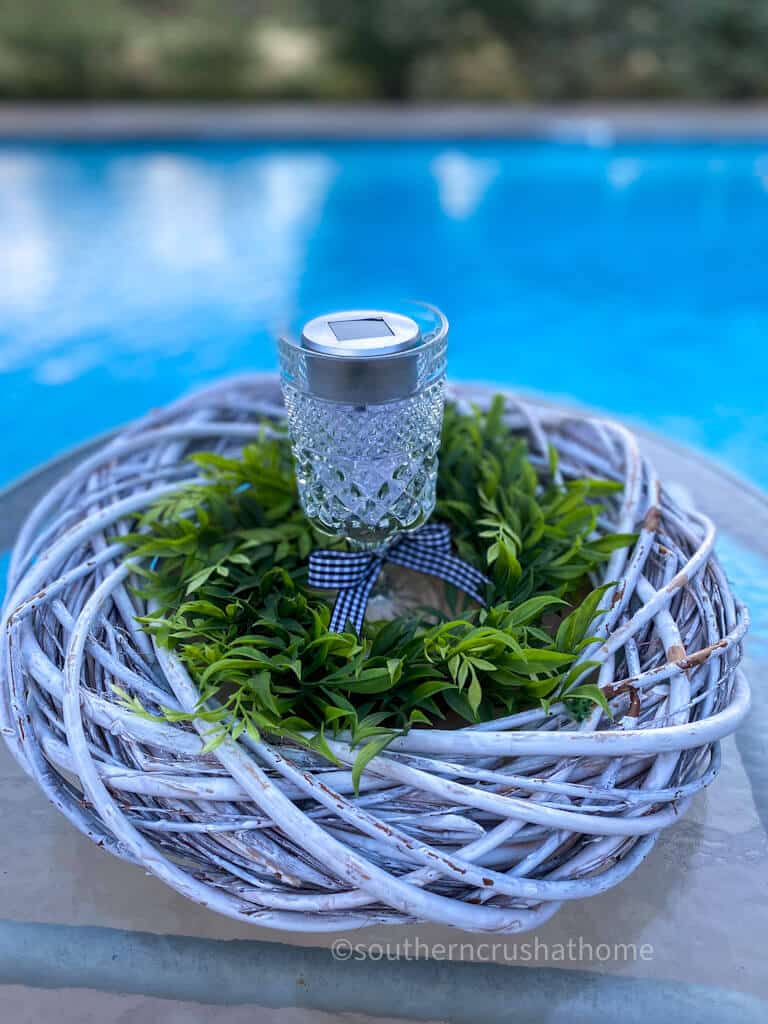 You can also display the glass alone for a soft touch.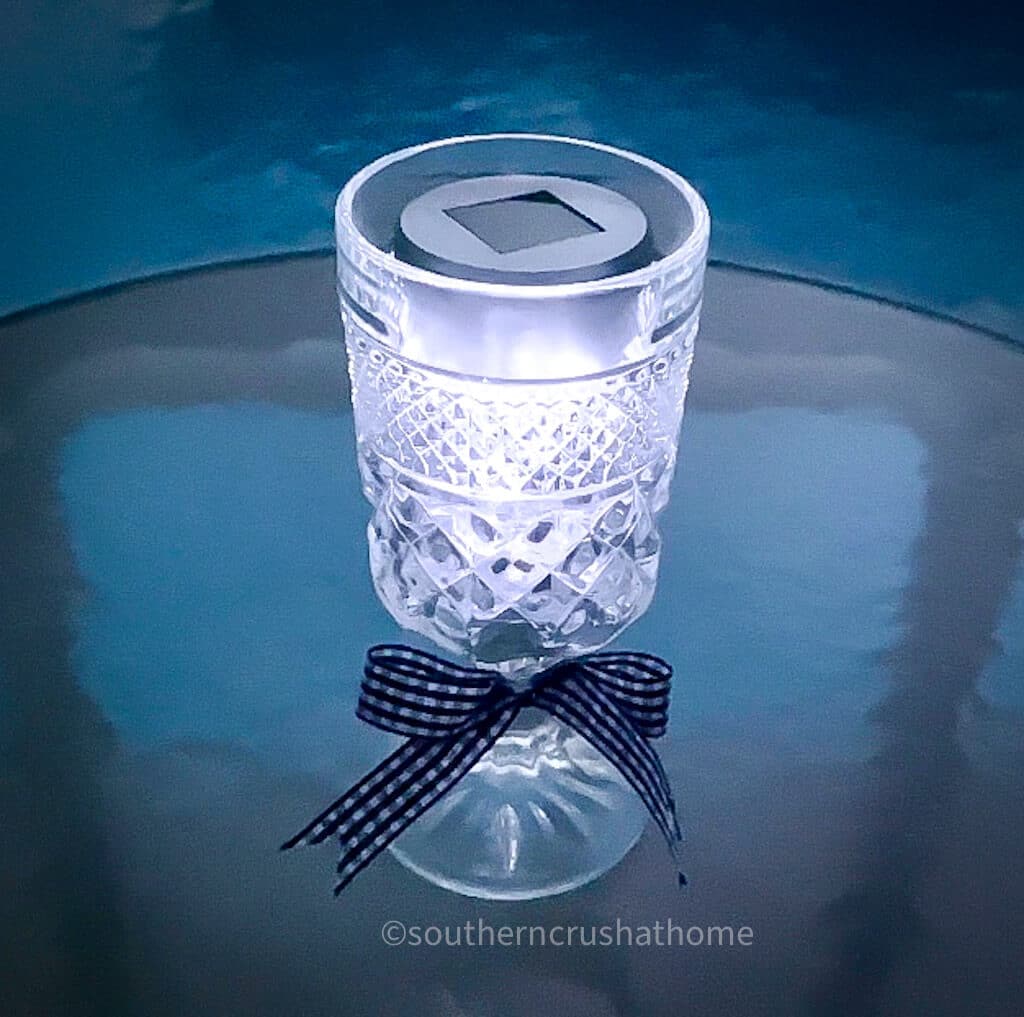 Outdoor Solar Lighting
Make an outdoor solar chandelier by hanging solar lights in a circular pattern from a shepherd's hook or tree branch.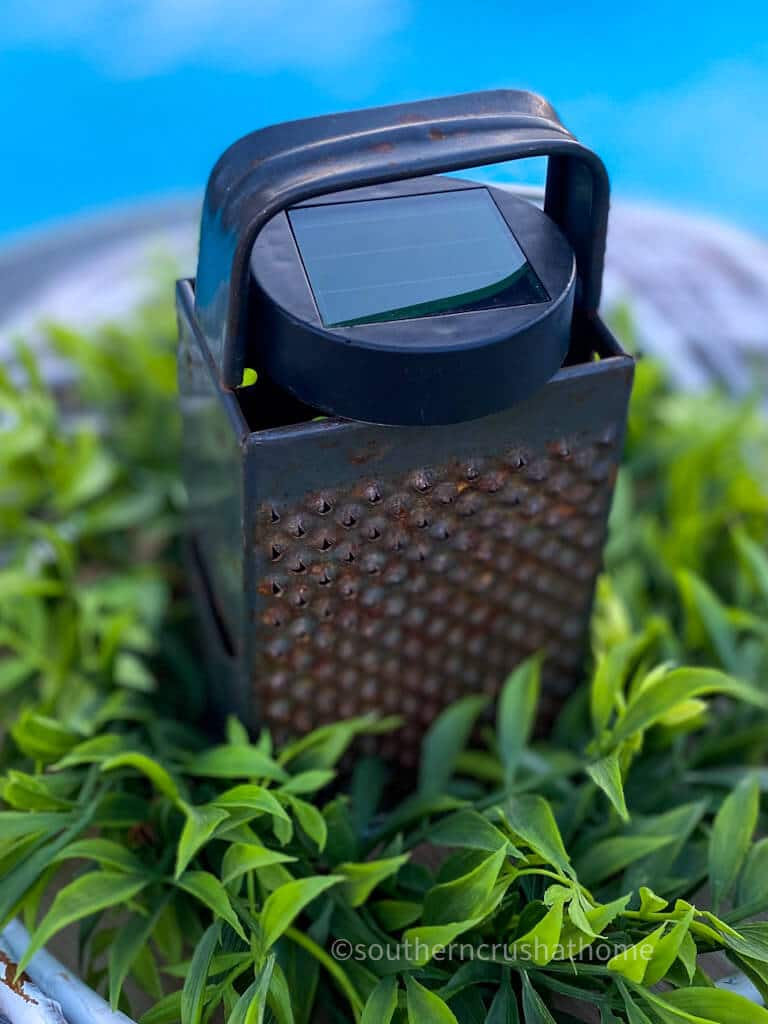 Use unexpected items like cheese graters or baskets for a unique display.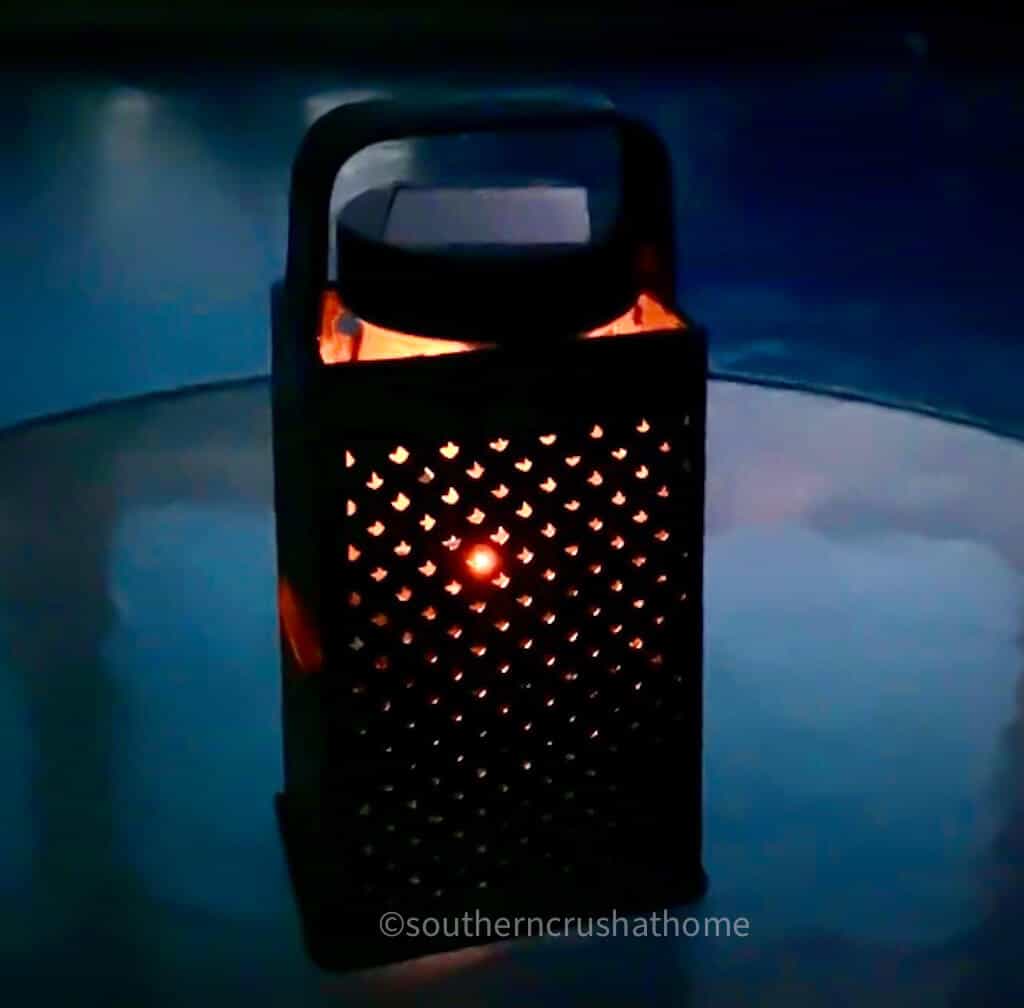 It looks so pretty at night as the lights peek through the holes in the cheese grater and basket.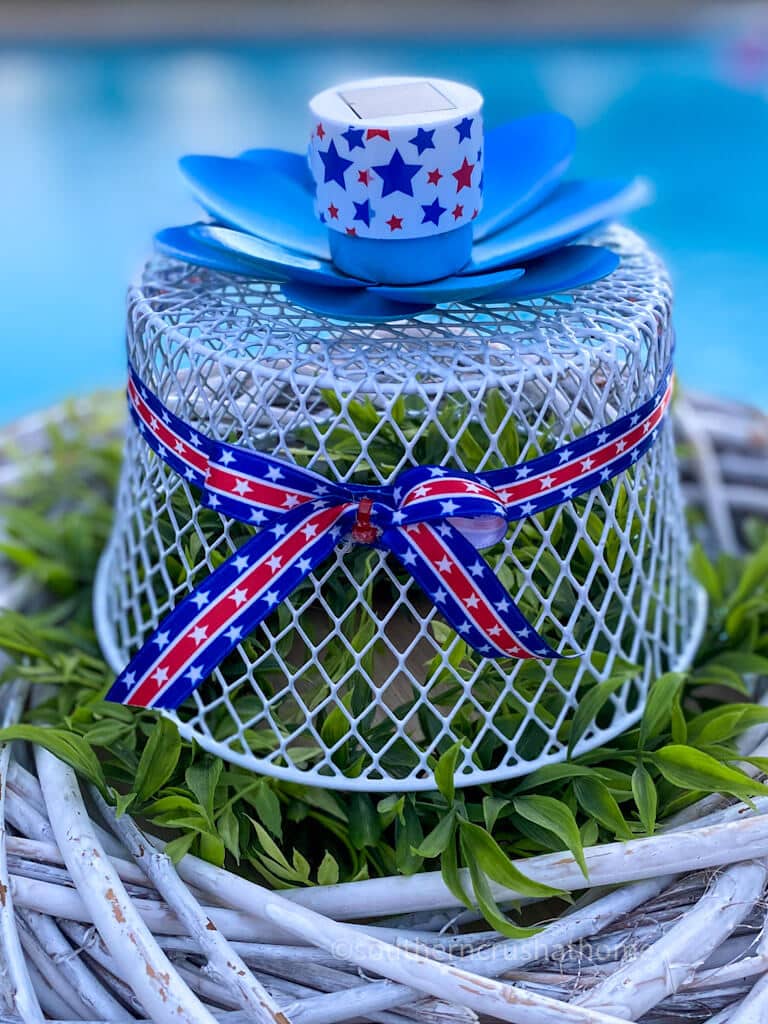 While this basket is decked out for patriotic summer holidays, you can easily remove the ribbon once the holiday is over for a year-round solar light display.
Another idea is to add colorful buttons to the inside of the solar light. Assemble using the iron insert from the mason jar solar light to create a beautiful colorful solar light. It looks simply amazing at night!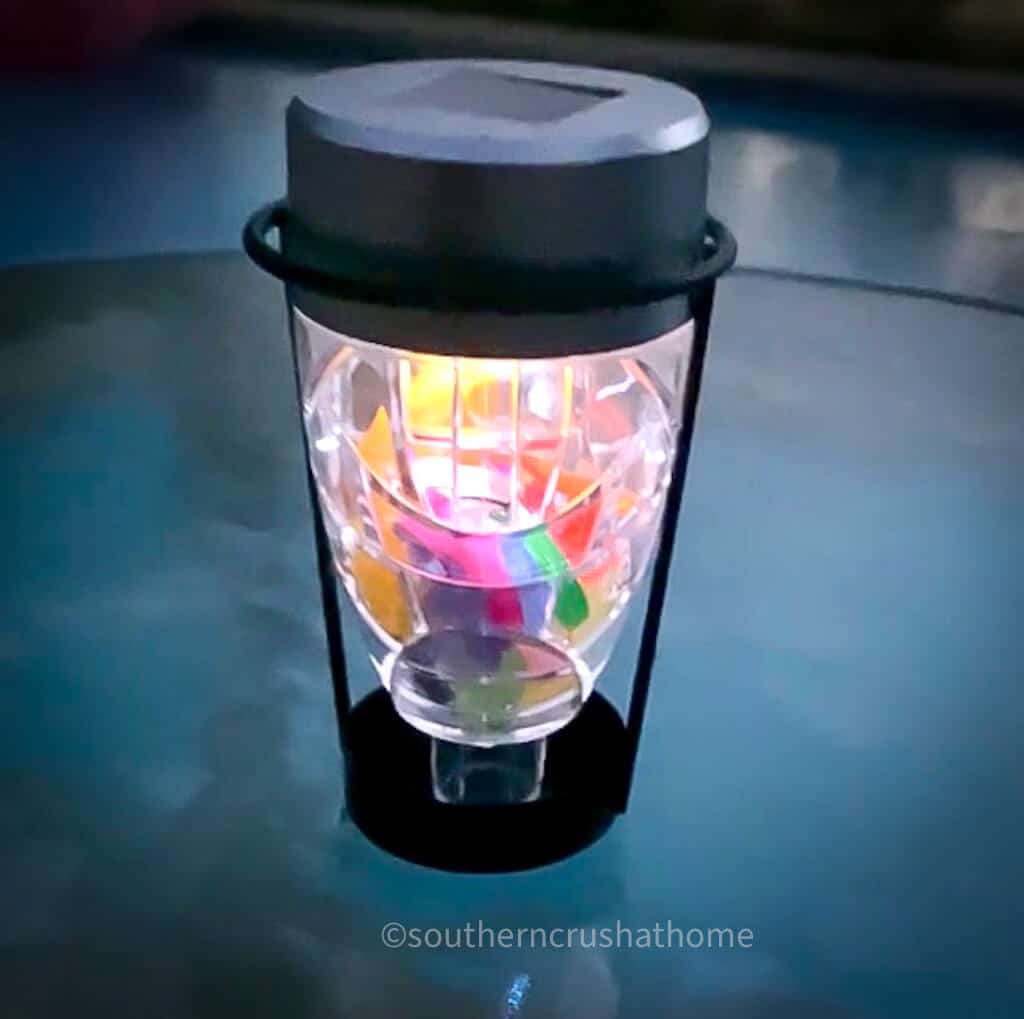 These are just a few of the many ways you can use Dollar Tree solar lights to add some extra flair to your outdoor space! So get creative and see what other great ideas you can come up with!
Frequently Asked Questions
How to make solar garden lights decorative
Create a solar chandelier by hanging solar lights from a tree or pergola. This is a really beautiful way to light up your yard or garden.
Decorate your fence with solar fairy lights. This is an easy way to add some sparkle and interest to your outdoor space.
Add solar lights to flower pots or planters. This is a great way to brighten up your porch or patio.

How do solar outdoor lights work?
Solar lights work by generating and storing their own power during the day and then releasing it at night.

How long do outdoor solar lights last?
On average, solar lights last between 1 and 2 years before you need to replace the rechargeable batteries inside the solar light's panel.
That is about 300 to 600 continuous charges. You definitely get your money's worth with Dollar Tree solar lights!
Here are even more DIY summer outdoor ideas:
Creative Outdoor Patio Lighting and String Light Ideas
Repurposed Headboard Garden Sign (with Buffalo Plaid Stencil)