Santas Reindeer Christmas Table Decorations
Is there anything more Christmas-y than Santas reindeer? These festive deer make the perfect addition to your holiday table decorations. With a little bit of creativity, you can create a charming centerpiece that will brighten up your home during the winter season. Read on for some tips on how to get started!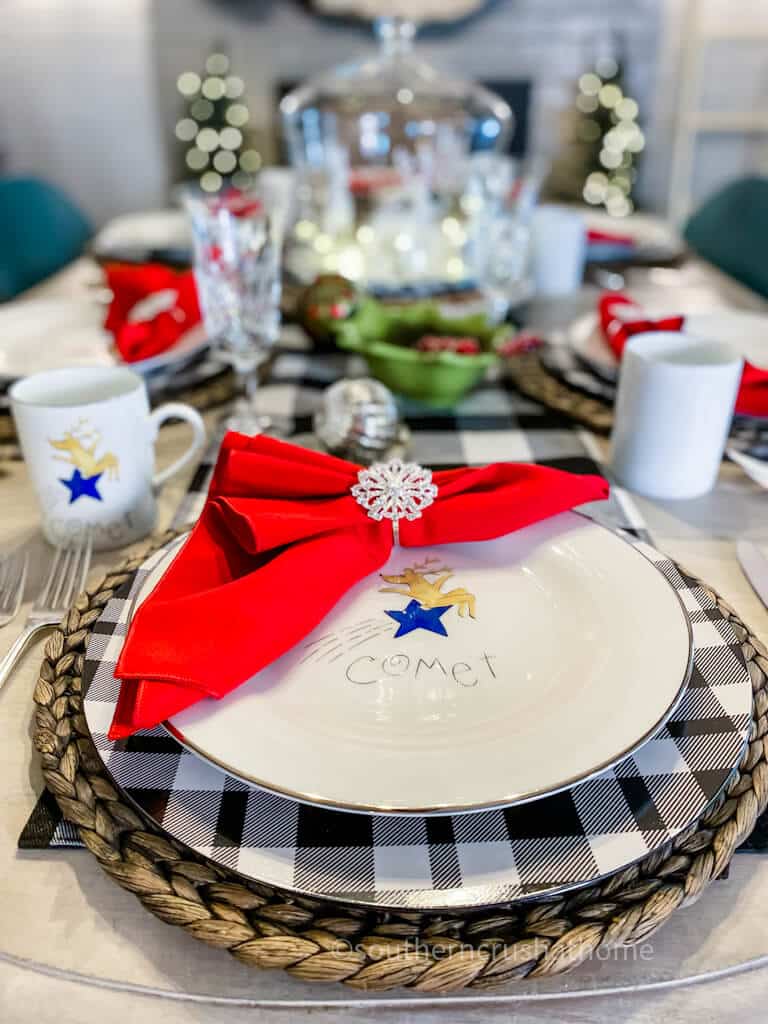 This blog post contains affiliate links. The opinions are wholly my own from my own experience. I may earn a small commission from clicks through to the websites that end in a purchase.

Today I'm linking up with a few of my fabulous blogger friends for a Best Bloggers Home Tour including my friend Libbie Burling with A Life Unfolding who is sharing a Cozy Cottage Christmas Mantel and Cynthia Villegas with Vintage and Grace Living who is sharing a Magical Gingerbread Christmas Mantel. Be sure to catch the rest of the inspiration at the bottom of this post!
Setting the Christmas Table
Putting together the perfect Christmas table doesn't have to be hard. Below are some easy tips on how I incorporated whimsical Santas reindeer into my classic Christmas Table Decor.
Table Runner
Let's start at the beginning with a great Christmas table runner, shall we? This holiday season, bring festive cheer to your family's table with a table runner that compliments the rest of your Christmas table decorations.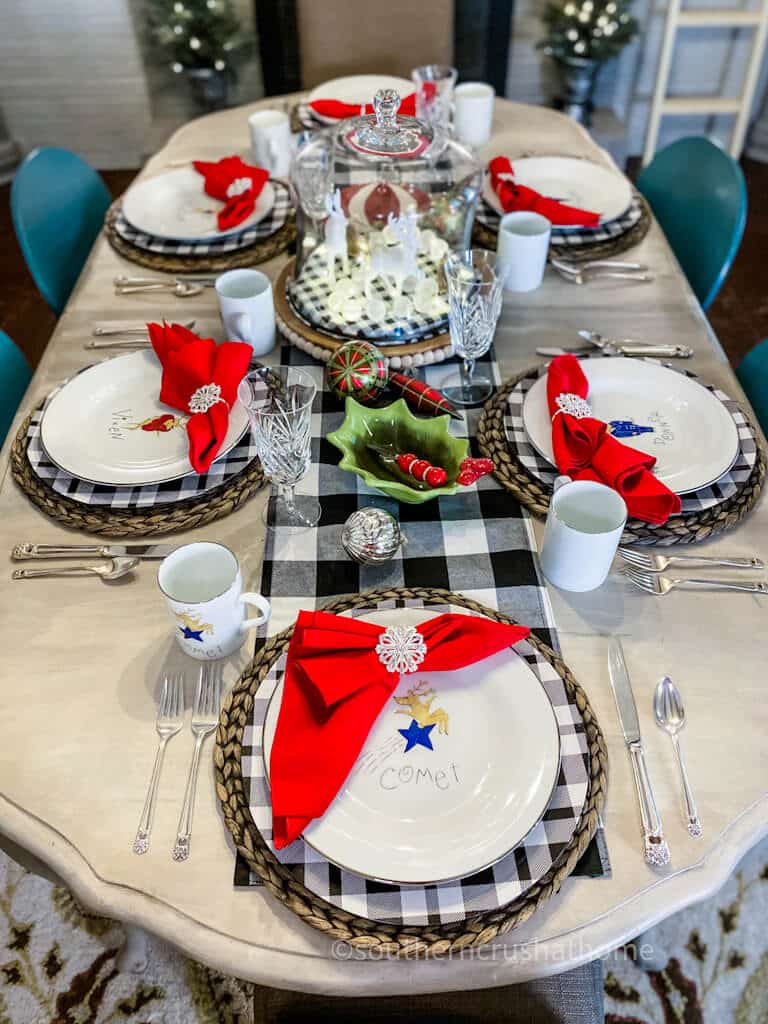 I like to go with something solid or with a fun pattern to create a base for the rest of the table setting. This year it was my "go-to" black and white buffalo check pattern that carries my Christmas table from the holidays into the new year!
Table Setting
The holidays are a time for family, friends, and loved ones. What better way to show your holiday spirit than by setting a beautiful table with a Christmas Table Setting?
This year's whimsical table setting includes a charger, plates, my mother-in-law's mother's silver, pretty napkins with bling, and crystal stemware.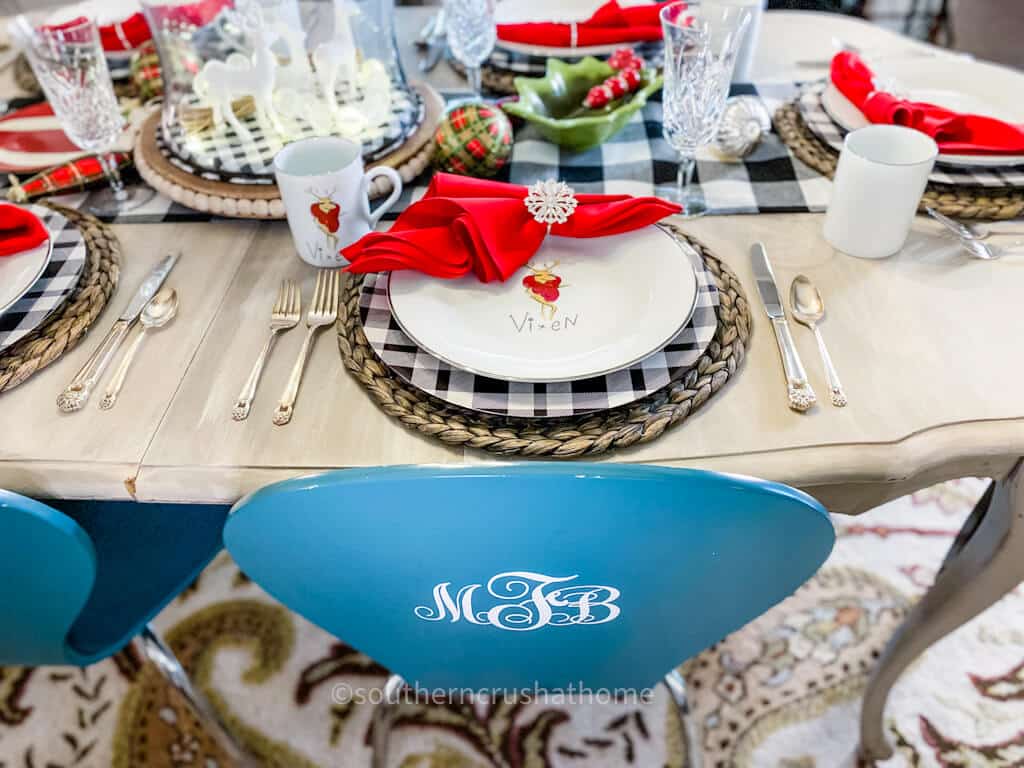 The base is a neutral grass woven charger which serves to essentially ground the rest of the place setting.
Next are these fun Santas Reindeer dinner plates and matching mugs for hot cocoa, tea, or cider.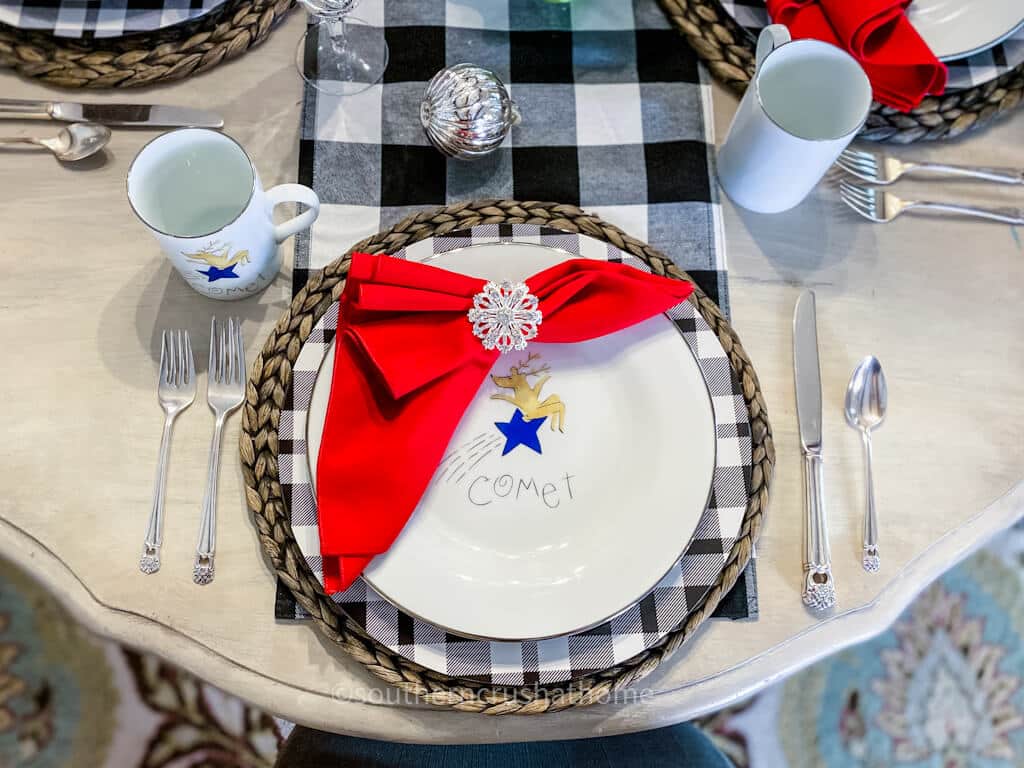 To bring in some more of the classic side, I've added my Waterford crystal stemware to the mix to go along with these adorable Santas reindeer mugs.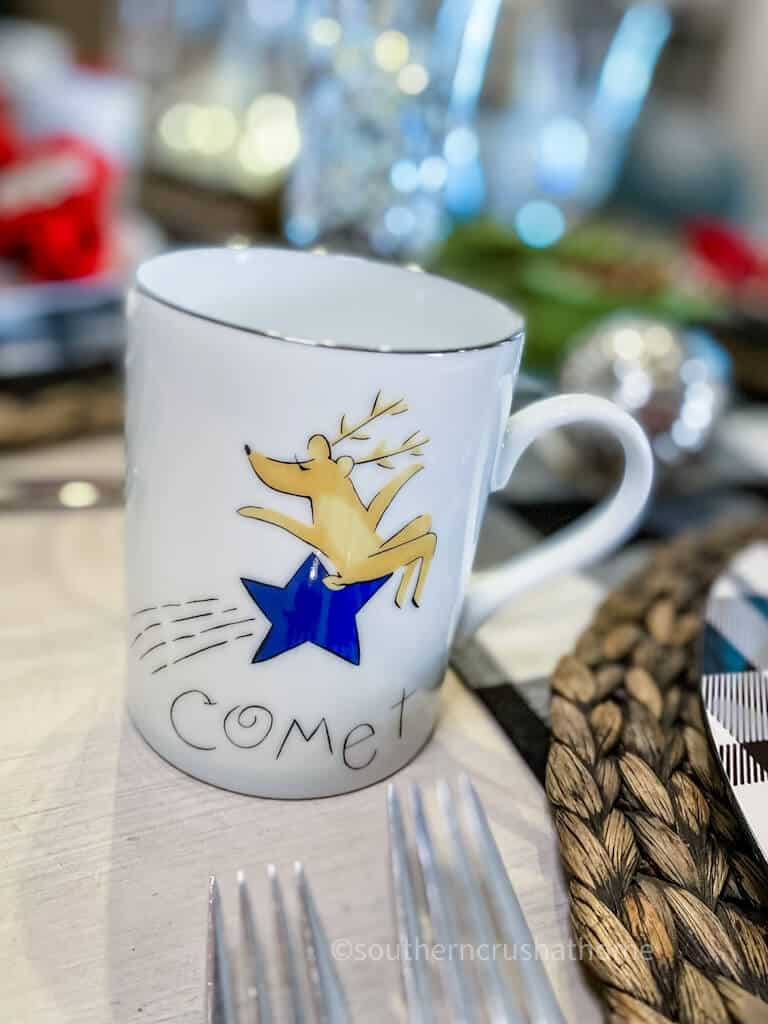 These Christmas Tree Ornaments from King of Christmas are the perfect addition to your holiday table and add a touch of additional color pops.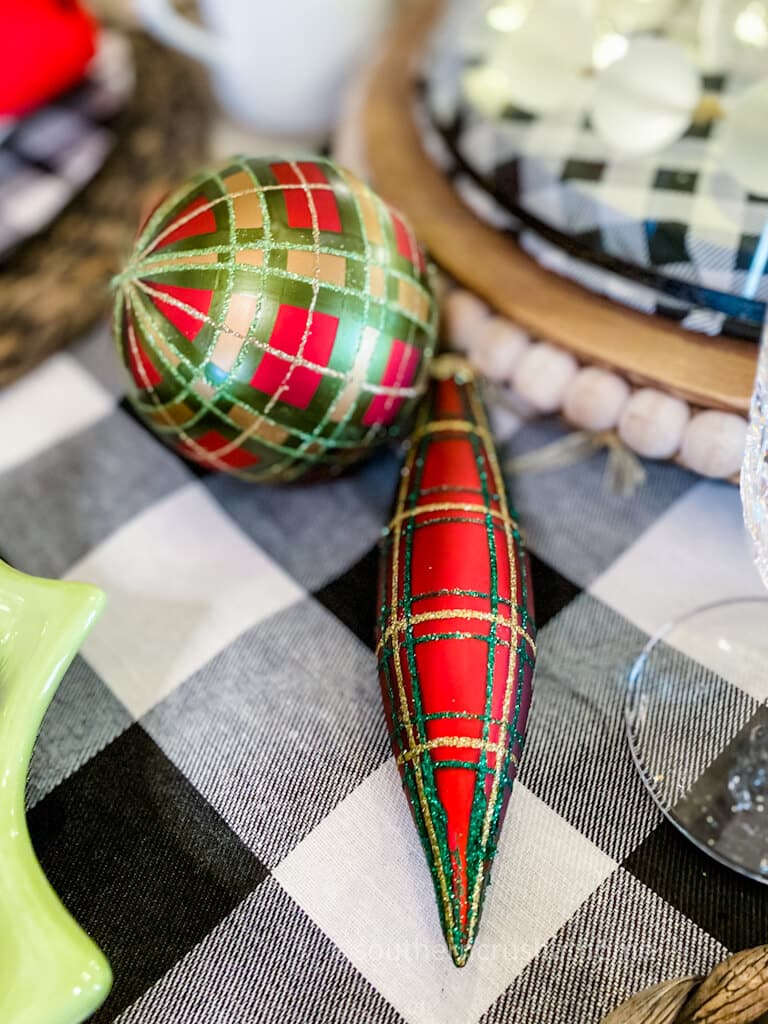 Napkins
Looking for something special to help make your holiday table sparkle? Check out these Christmas table napkins! Solid red napkins are perfect for dressing up your table for Christmas dinner or any other holiday gathering. (You can also use these for Valentine's table decorations)
I simply added these fun rhinestone napkin rings and draped them over the top of the santas reindeer plates. The napkins are cloth so they're easy to care for and can be reused again and again.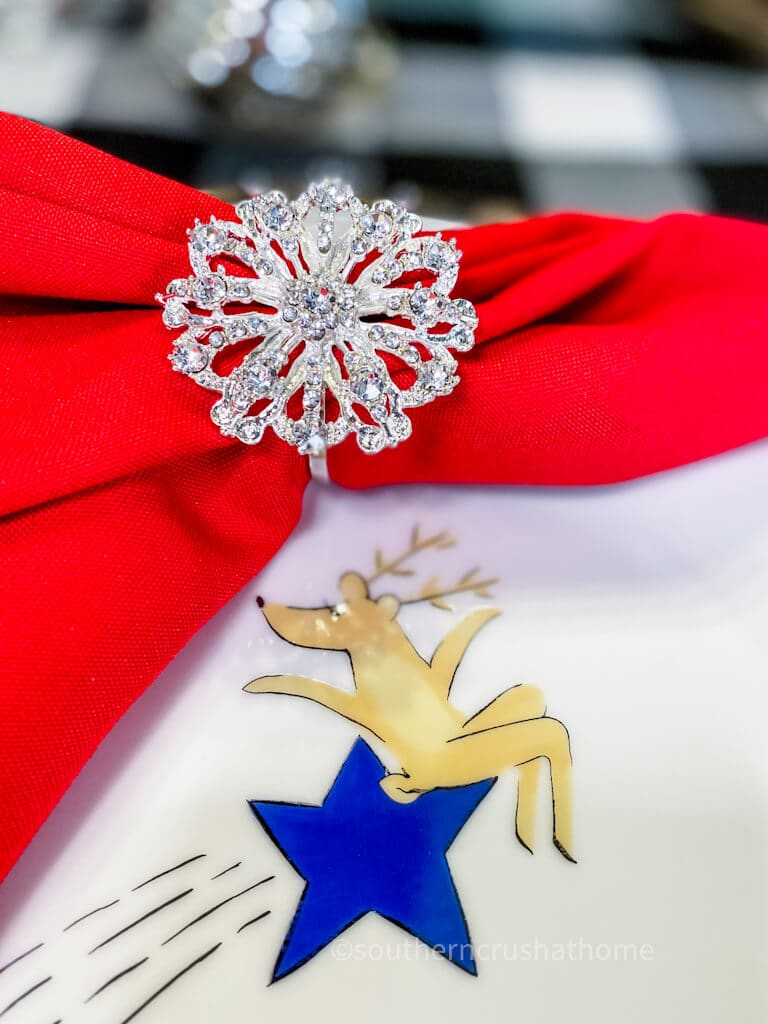 So don't settle for ordinary paper napkins this holiday season. Make your table shine with Christmas table napkins!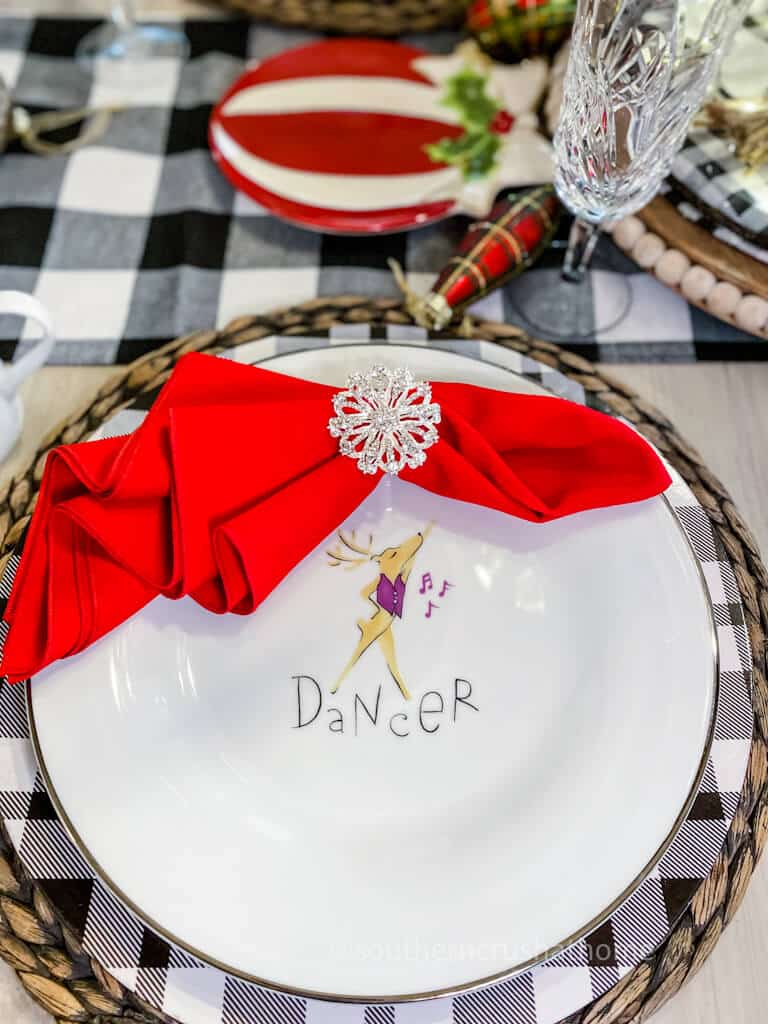 DIY Table Centerpiece
This beautiful Christmas Table centerpiece is the perfect way to add a festive touch to your table this holiday season. It features a DIY Buffalo Check base with a simple glass cloche on top.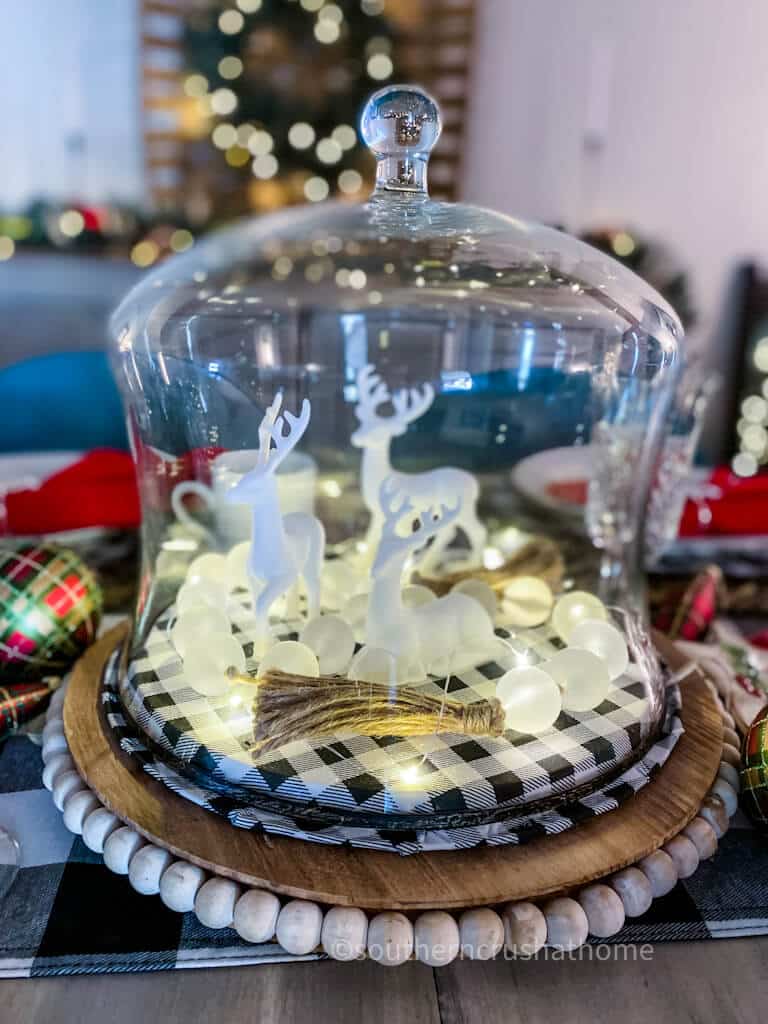 To make this centerpiece, I covered a Dollar Tree pizza pan with scrap fabric. Next, I placed a fun frosted sea glass bead garland with felt reindeer on the base. I added Dollar Tree fairy lights to the centerpiece and topped it with the glass lid I found at an antique mall! It was a perfect fit!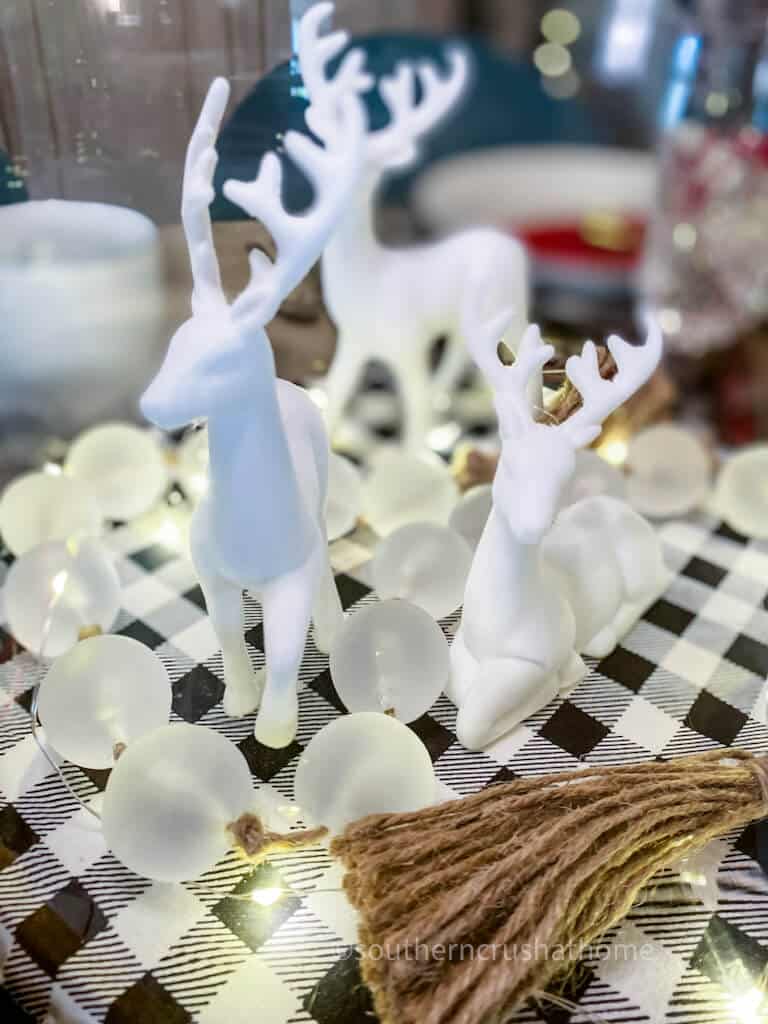 The perfect addition to your holiday decor, this centerpiece will bring joy to your home for years to come.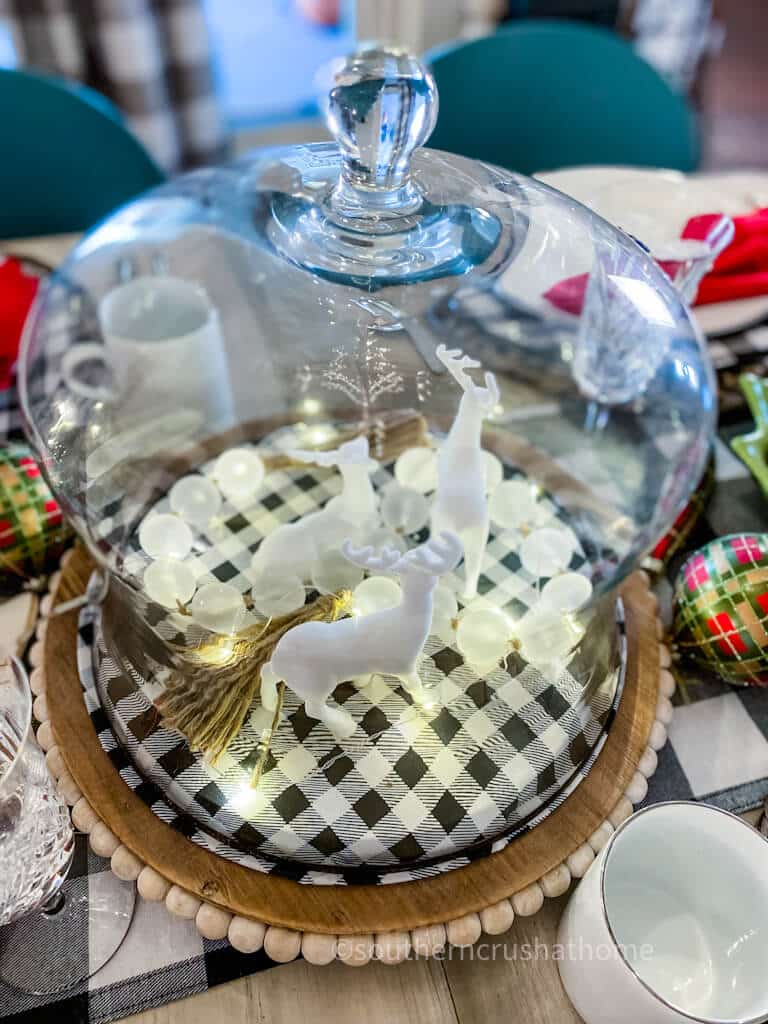 Where to Shop for Santas Reindeer Decorations

Santas Reindeer Names
As the Christmas holiday approaches, children all over the world start making lists for Santa. Every year Santa Claus has a few special helpers.
According to legend, Santa's original team of reindeer were named after the nine traditional Christmas carols: Dasher, Dancer, Prancer, Vixen, Comet, Cupid, Donner, and Blitzen.
However, in recent years, Santa has added a new member to his team: Rudolph the Red-Nosed Reindeer. With his shiny nose leading the way, Rudolph has become one of Santa's most trusted helpers – and a holiday icon in his own right.
So whether you're hoping for a visit from Santa's original team or hoping to see Rudolph up close and personal, keep your eyes peeled on Christmas Eve – you never know when one of these special creatures might stop by your house.
Christmas Table Decorating Tips
Putting together the perfect Christmas table doesn't have to be hard. With a few simple tips, you can create a tablescape that is festive and chic. Here are my top tips for setting the Christmas table:
Start with a beautiful centerpiece. A well-placed centerpiece can really set the tone for your whole table. Choose something festive and eye-catching.
Use candles to add ambiance. Candles always make a table look special, and they smell wonderful too!
Use seasonal colors and textures. Think about using red and green, or shimmering golds and silvers. And don't be afraid of texture! Ruffles, lace, and even pine cones can add interest to your table setting.
Make sure everyone has a place to sit down! Nothing ruins a dinner party faster than an empty chair at the table!
Don't forget the place settings! Make sure each guest has a napkin, plate, silverware, and glass of water or wine (depending on their drink of choice). Merry Christmas!

For even more Santas reindeer fun, try this Easy Magic Reindeer Food Recipe + Reindeer Food Printables with the kids!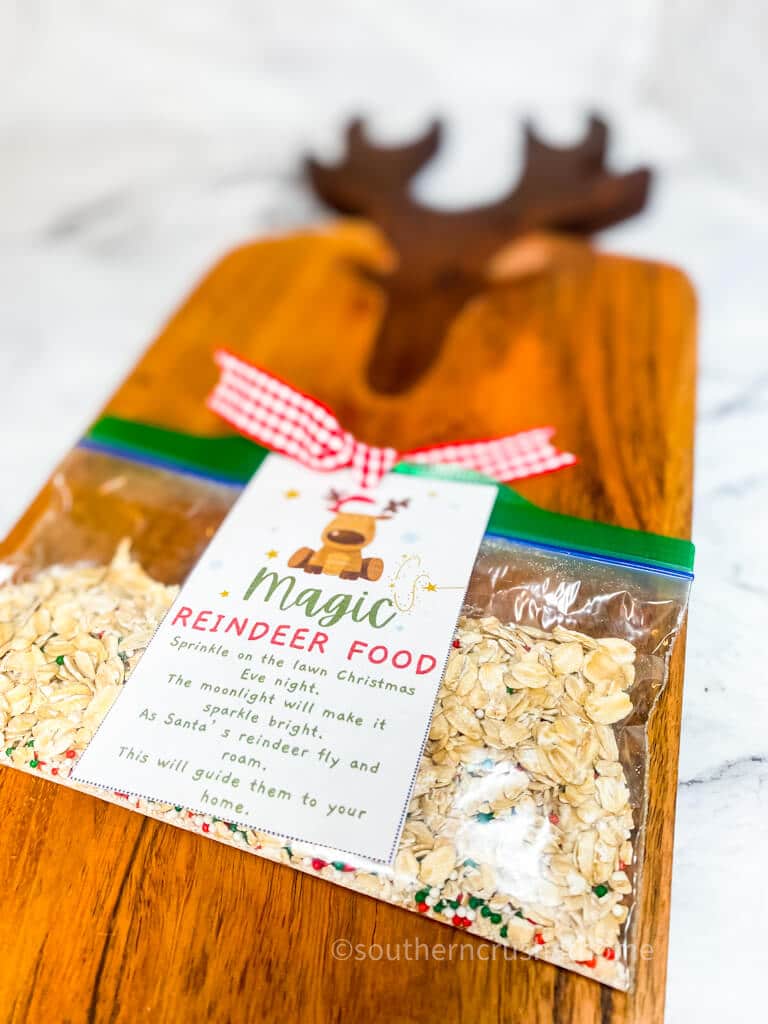 More Holiday Home Tour Inspiration
Join me in welcoming my blogger friends for all of the Christmas inspiration you can possibly get here below on our Bloggers' Best Holiday Home Tour of 2022! Thank you to Kelly Radcliff with The Tattered Pew for pulling this all together!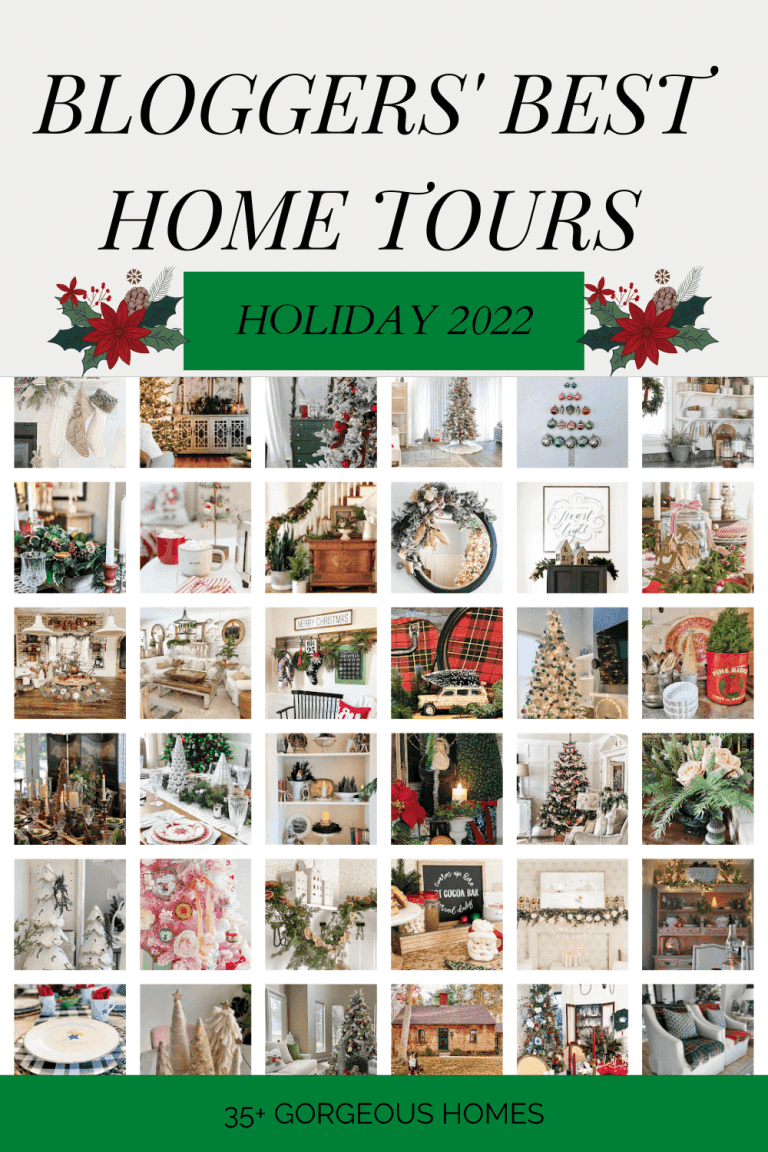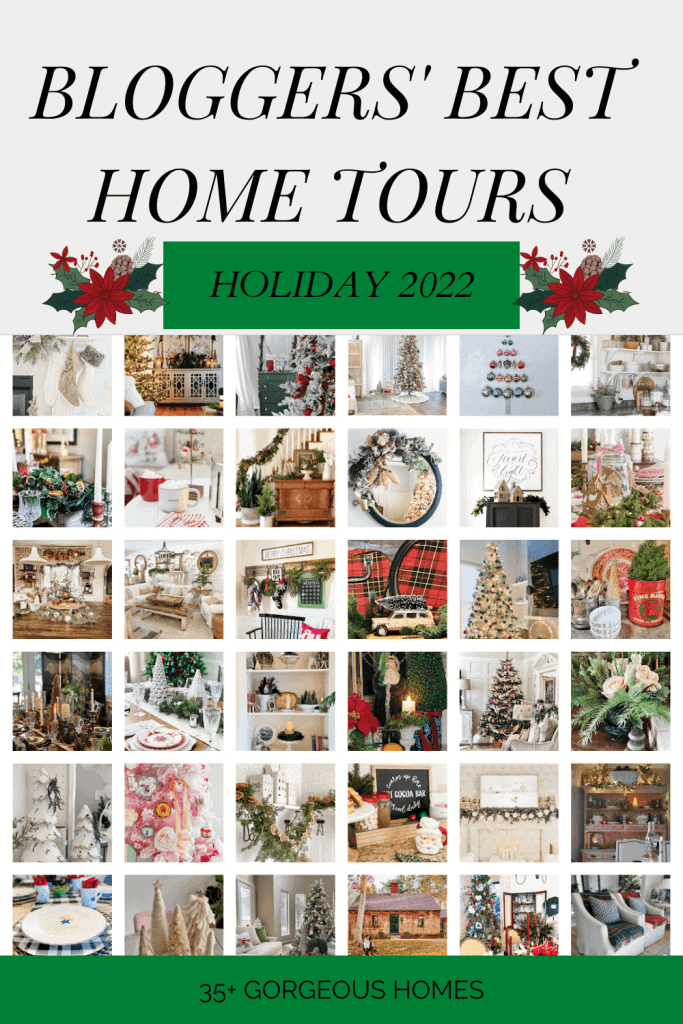 Bloggers' Best Holiday Home Tours
This week I am joining some of my blogging friends for the Bloggers' Best Holiday Home Tours 2022. Thirty-five talented and creative women will be opening their homes up for you to tour all week long. You can visit each Christmas home tour by clicking the links below.
Monday's Tours

The Tattered Pew // Cottage On Bunker Hill // StoneGable // My Wee Abode
Open Doors Open Hearts // Cottage In The Mitten // My Thrift Store Addiction
Tuesday's Tours

Midwest Life & Style // She Gave It a Go // Sand Dollar Lane // Bricks n' Blooms
Pasha Is Home // Robyn's French Nest // The Ponds Farmhouse
Wednesday's Tours

Shiplap and Shells // White Arrows Home // This Is Simplicite // White Lilac Farmhouse
Peacock Ridge Farm // Cloches and Lavender // Simply2Moms
Thursday's Tours

County Road 407 // Country Peony // Eleanor Rose Home // Le Cultivateur
Thistle Key Lane // My Family Thyme // Follow The Yellow Brick Home
Friday's Tours

Southern Crush At Home // A Life Unfolding // Southern Home and Hospitality // WM Design House
Dabbling and Decorating // Lora Bloomquist // Vintage and Grace Living