Samplize Review: Peel and Stick Paint Samples
As a professional, I am always looking for new products to test out and share with my readers to make their home projects easier and more successful. Recently, I came across Samplize peel-and-stick paint samples, so naturally, I had to try them out! Here's my review of Samplize peel and stick paint samples.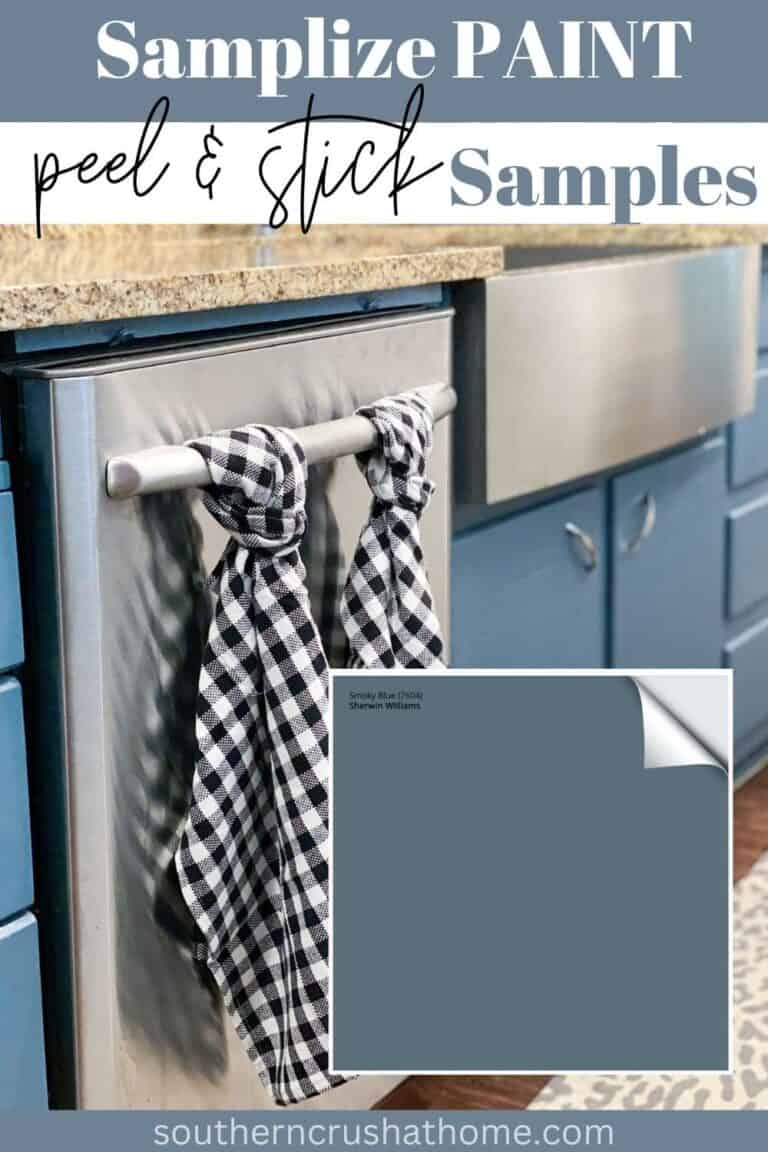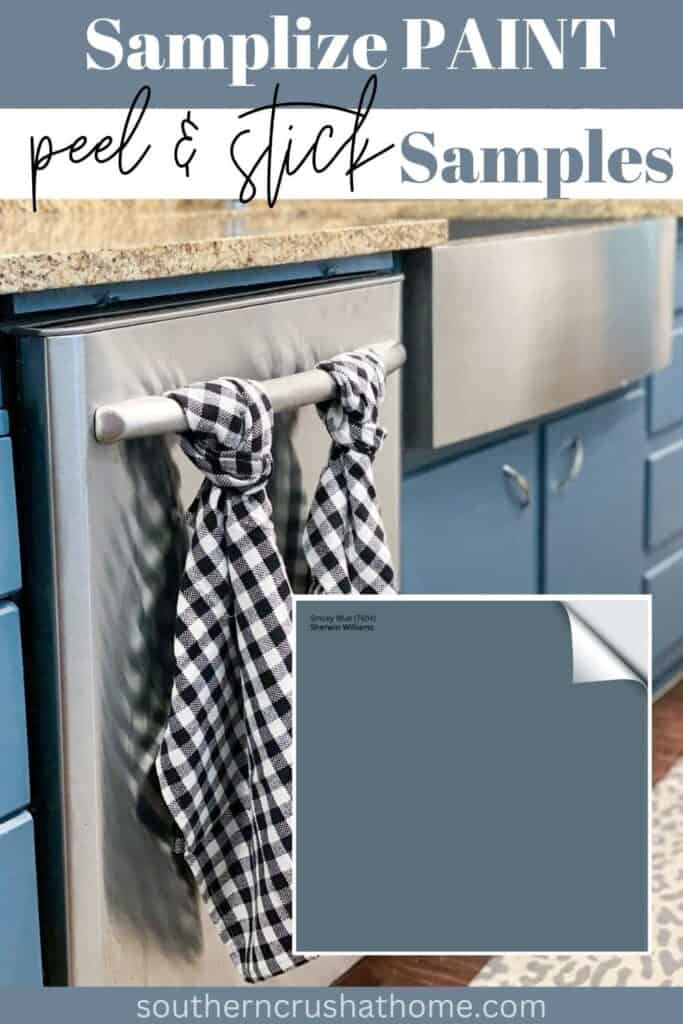 Be sure to PIN this one for later!
If you're in the market for a fresh coat of paint, but don't want to spend hours agonizing over small swatches and indecisively worrying about getting the perfect hue of blue gray, or the best shade of white paint color, allow me to introduce you to Samplize. This peel-and-stick paint sample system is here to revolutionize your home redecoration projects, with minimal effort or risk involved!
This blog post contains affiliate links. The opinions are wholly my own from my own experience. I may earn a small commission from clicks through to the websites that end in a purchase.
Samplize is a whole new alternative when it comes to choosing colors that best reflect your style without all the hassle. Let's take this journey together and explore how simple – yet effective – Samplize paint samples can be!
What Are Peel & Stick Paint Samples?
Samplize peel and stick paint samples are squares of actual paint color that you can apply directly onto your wall.
Try out samples from your favorite lines of paint like Benjamin Moore, Sherwin Williams, Farrow and Ball, and PPG before you invest in a huge paint project.
The sample is waterproof, so you can keep it up on the wall until you decide whether or not you like the color.
This is really helpful because seeing an image online or in a catalog doesn't always give a full idea of what the color will look like in your own home.
With these peel-and-stick samples, you can be sure that whatever color you pick will look great when it's finally time to paint your walls!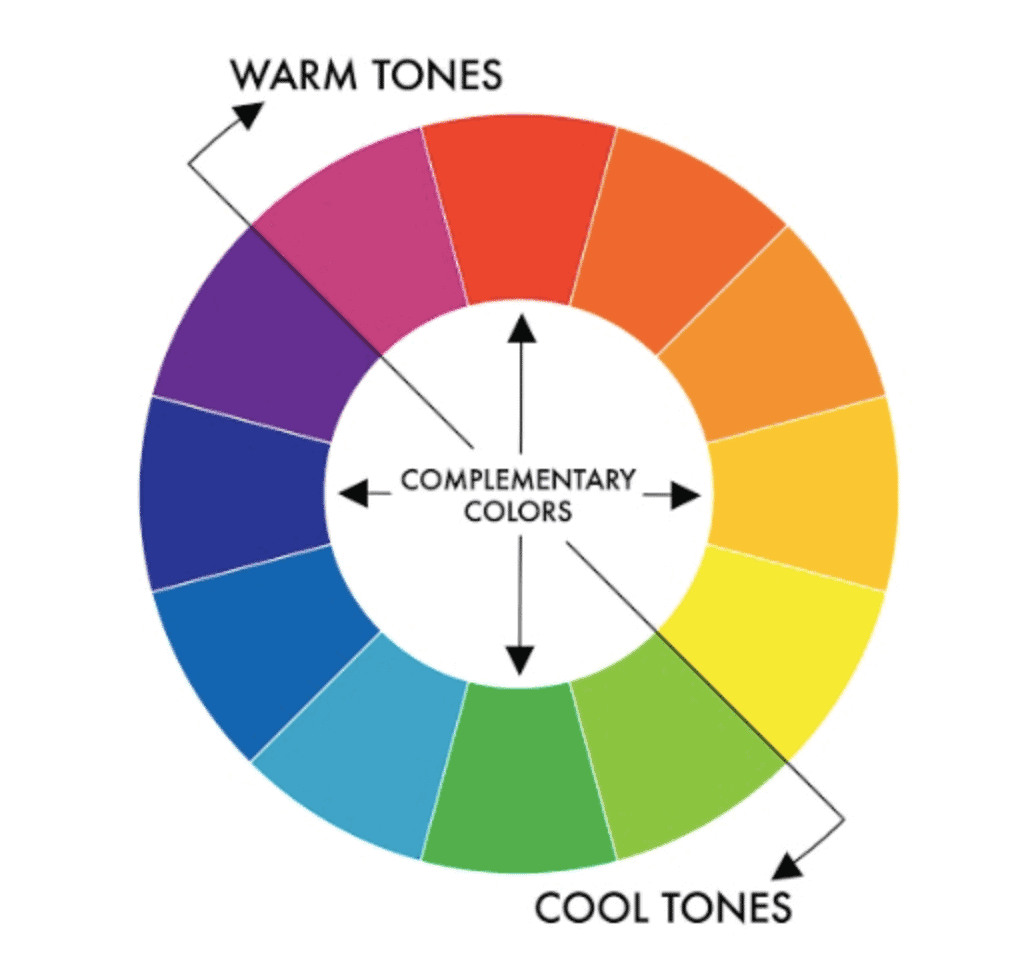 How to Use Samplize Paint Samples Step by Step
I was really impressed by how easy it was to apply these samples to my walls. All I had to do was remove the backing paper from the sample and press it firmly on the wall—it was as simple as that!
The adhesive holds strong but doesn't leave any residue when removed.
After I applied each sample, I waited about 24 hours to see how they looked with the light in the room at different times of the day before moving on to the next one.
They actually stayed on my walls for several weeks without any issues at all – no fading or discoloration whatsoever!
Smoky Blue by Sherwin Williams is the color I ended up using on my kitchen cabinets as well as my bathroom cabinets! Thank goodness for Samplize!
Cost & Availability
Samplize peel and stick paint samples are surprisingly affordable – they cost only $5.95-$7.95 per sample! And if you order 8 or more samples at once, they will give you 2 more for free, making them about $4.75!
That makes them one of the most cost-effective ways to try out different colors before committing to painting your entire room. You can purchase them below.
With this unique product, you can order samples that come pre-cut in 9″ x 14.75″ squares which is pretty big if you ask me!
All in all, I highly recommend Samplize Peel & Stick Paint Samples if you're considering a home renovation project. Not only are they an affordable way to "test drive" different colors before committing fully, but they also make applying colors much easier than traditional painting methods. Trying out different colors has never been so easy! Try Samplize today for your next home project – you won't regret it!
The company recently added a convenient "paint sample bundle" to its line of products making it easier than ever to choose just the right shade! See a few of the bundles below:
With Samplize, the ordering and delivery process is fast and seamless – simply choose your desired design and color palette options, pick which room they are intended for, add them to your cart, and place the order.
You'll typically see your sample arrive within a couple of business days after order shipment; however, mine appeared at my doorstep overnight in a FedEx envelope!
If you're like me and need to quickly test out an idea before executing it in full detail, Samplize makes it easier than ever!
If you're considering a paint project, you may want to check out these posts, too:
Pros and Cons of Samplize Paint Samples
Note: This table is not an exhaustive list of all the pros and cons of using Samplize, but rather a few examples to provide a general idea.
| Pros | Cons |
| --- | --- |
| Convenient peel-and-stick design | A limited selection of brand options |
| Mess-free and easy to apply | Will not 100% replicate sheen |
| Samples can be easily removed and reused | Limited sample size (9″x14.75″) |
| Wide range of colors and shades available | |
| Can help avoid costly mistakes when selecting paint colors | |
Get real-life color by ordering from Samplize. Customers absolutely rave about their ease of use and satisfaction with the product. See below!
Real Customer Testimonials
"Easiest, most helpful thing ever. To be able to stick them to the wall and then peel them off and stick them in different areas with different lighting?! Game changer."
"Love these! The colors are beautiful and the samples are BIG! Helped me so much in picking colors for our new house."
"Awesome!!! Ordered one day and got them the next day!!! Yay! I will be ordering more very soon…great service and a feel-good company that goes beyond. Thank you!"
Not only does it allow them to confidently choose the right hue for the interior design project ahead, but the swatches arrive quickly and in optimized condition.
I personally can't recommend this service enough!