How to Paint Bathroom Cabinets the Easy Way
Are you tired of looking at your dingy and worn bathroom cabinets? Do you want to give them a fresh new look quickly and without having to spend hours sanding and prepping? Then this tutorial is for you! I'm sharing how to paint your bathroom cabinets the easy way. Read on to discover my efficient method for freshening up your bathroom space.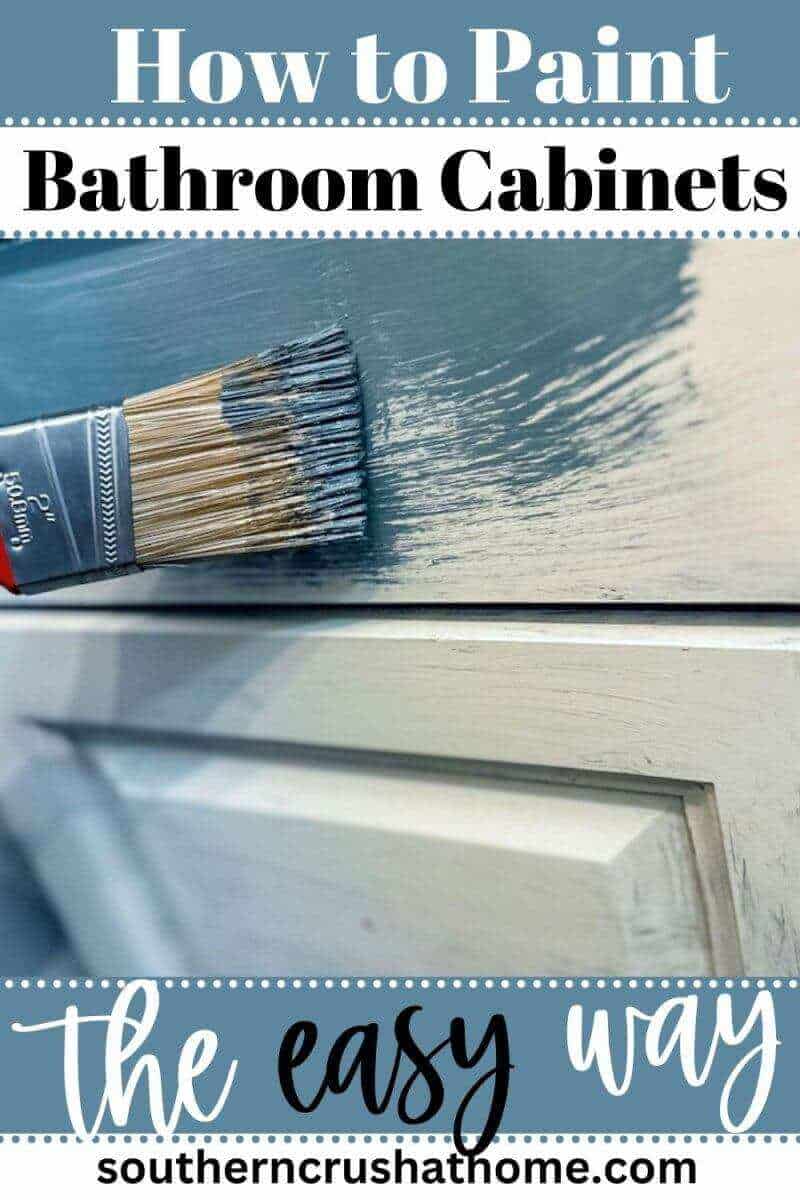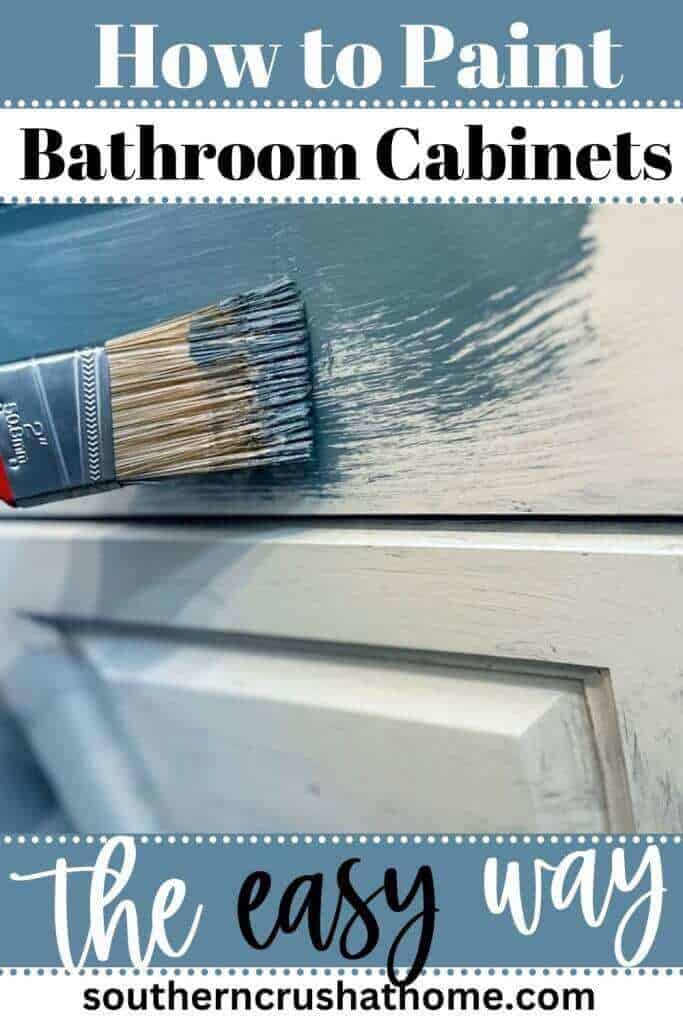 Be sure to PIN this one for later!
We use our small bathroom a lot! Every day for about a year I kept saying how terrible the cabinets looked and how we needed to paint them but there was never enough time. Finally, I'd had enough.
We still had leftover paint from painting kitchen cabinets a few years ago and I decided to use it on the bathroom cabinets, too! It was time.
In order to squeeze it in between all the other projects on our to-do list, it needed to be fast, so this was my easy way!
This blog post contains affiliate links. The opinions are wholly my own from my own experience. I may earn a small commission from clicks through to the websites that end in a purchase.
How to Paint Your Bathroom Cabinets in Four Easy Steps
This is an easy way to paint your bathroom cabinets in just four steps. It's so fast, I wonder if I should name this process… "Fast and Furious" or "Talladega Technique" oh boy, I better just get to the steps below.
Supplies Needed
TSP cleaner
Primer
Paintbrush
Rag
Sandpaper
Screwdriver or Drill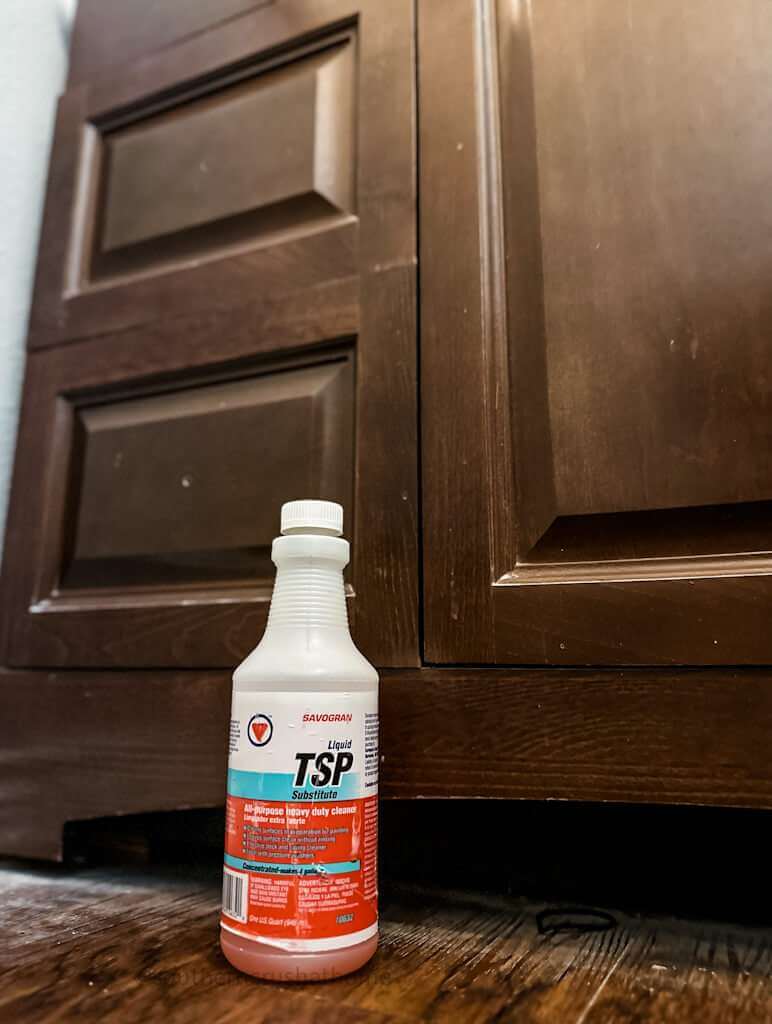 Prepping Your Cabinets

It all begins with prepping your cabinets. First, remove all cabinet hardware. You can use a screwdriver for this task or an electric drill if you'd like.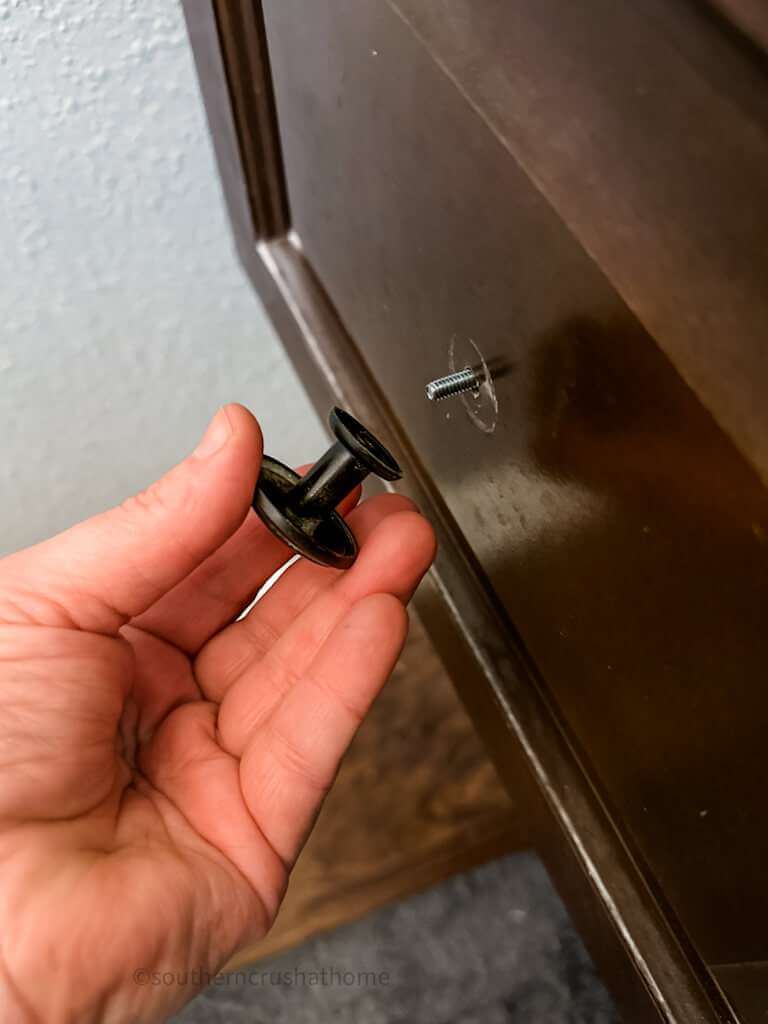 Once all of the hardware is off, begin wiping the cabinet faces clean with a mixture of TSP and water on a soft cloth.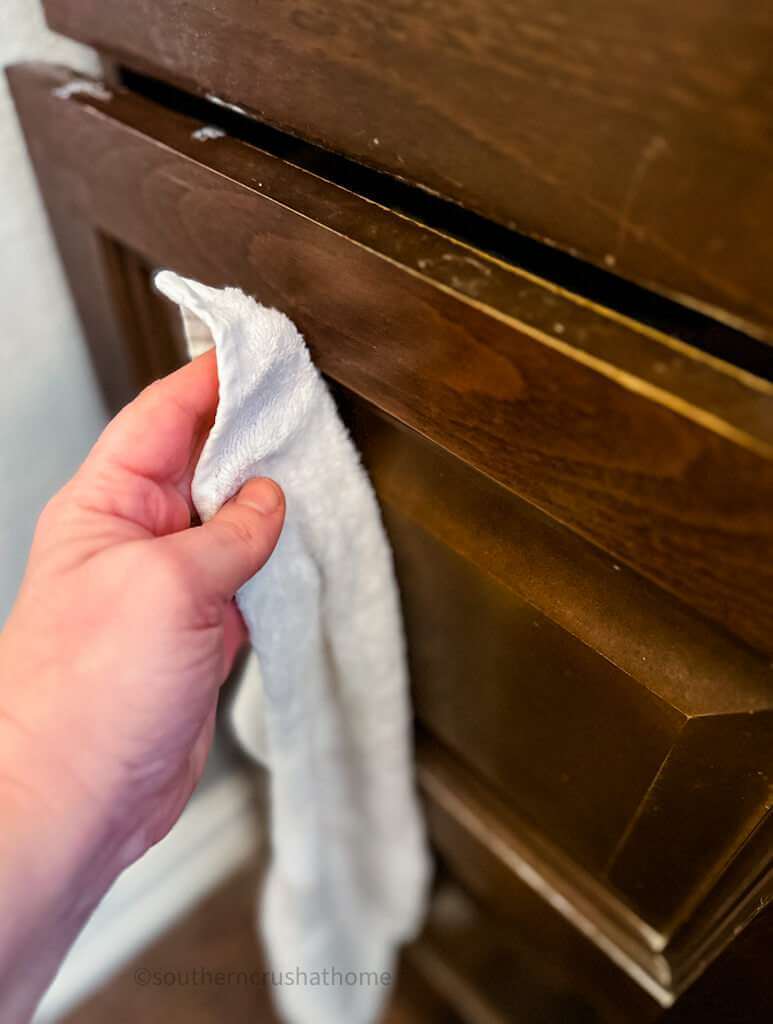 Next, protect any flooring or areas you do not wish to paint.
Notice I did not say to remove the drawers from the cabinet. For this easy DIY paint project to go quickly, I opted to leave the drawers in place!
Finally, lightly sand any areas with chipping or peeling finish that need it prior to painting. I did not sand the entire drop-in bathroom vanity.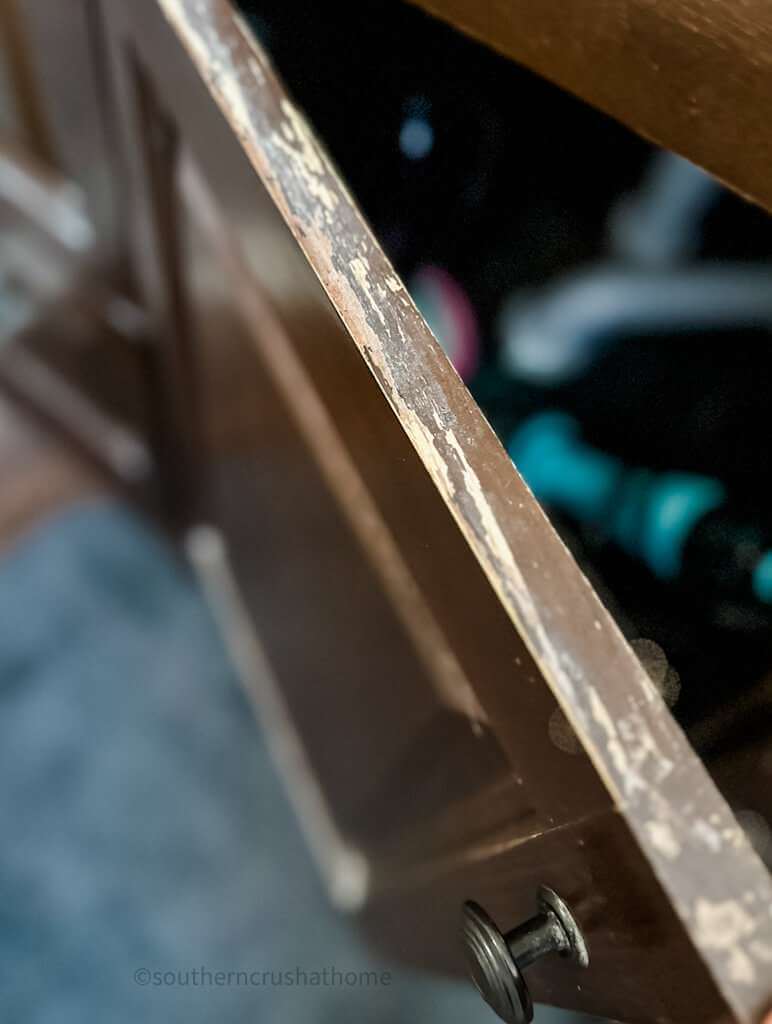 Priming Your Cabinets
Now you are ready for priming! Before reaching for the paintbrush it is very important to prepare your existing finish properly so that the new coat of paint adheres correctly and looks its best.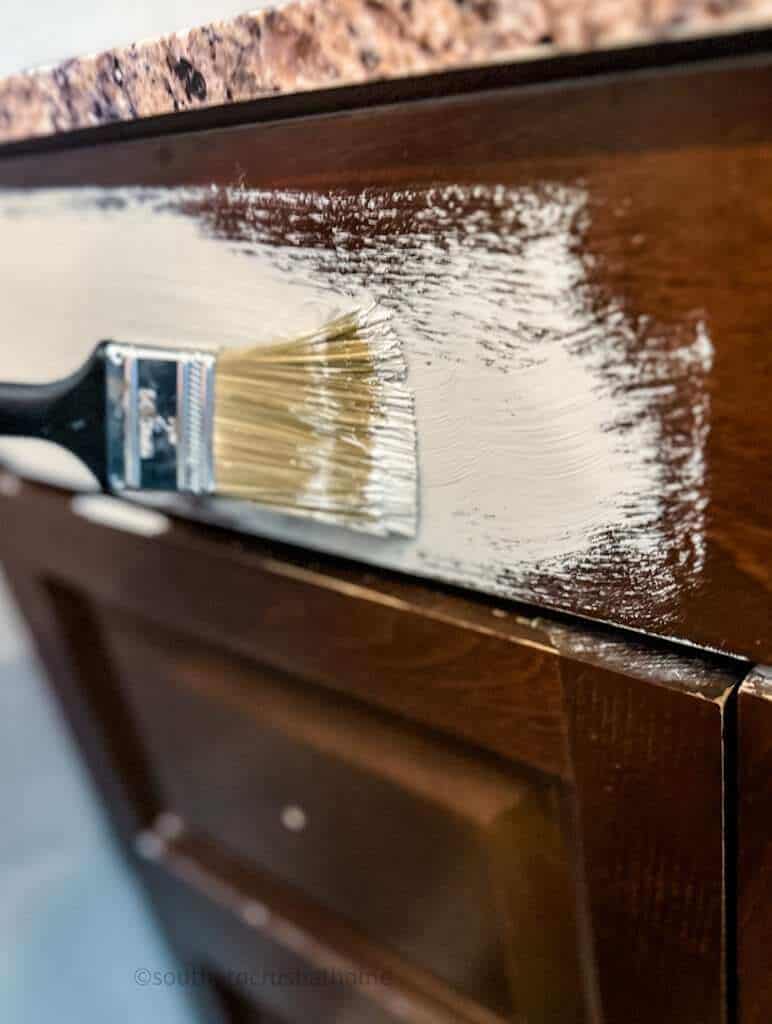 The new primer will help the paint properly adhere without chipping, bubbling up, or peeling off later. Apply one to two coats of high-quality primer, letting enough time to dry between coats – now you're all set for painting those cabinets! (I only painted one coat for this small project)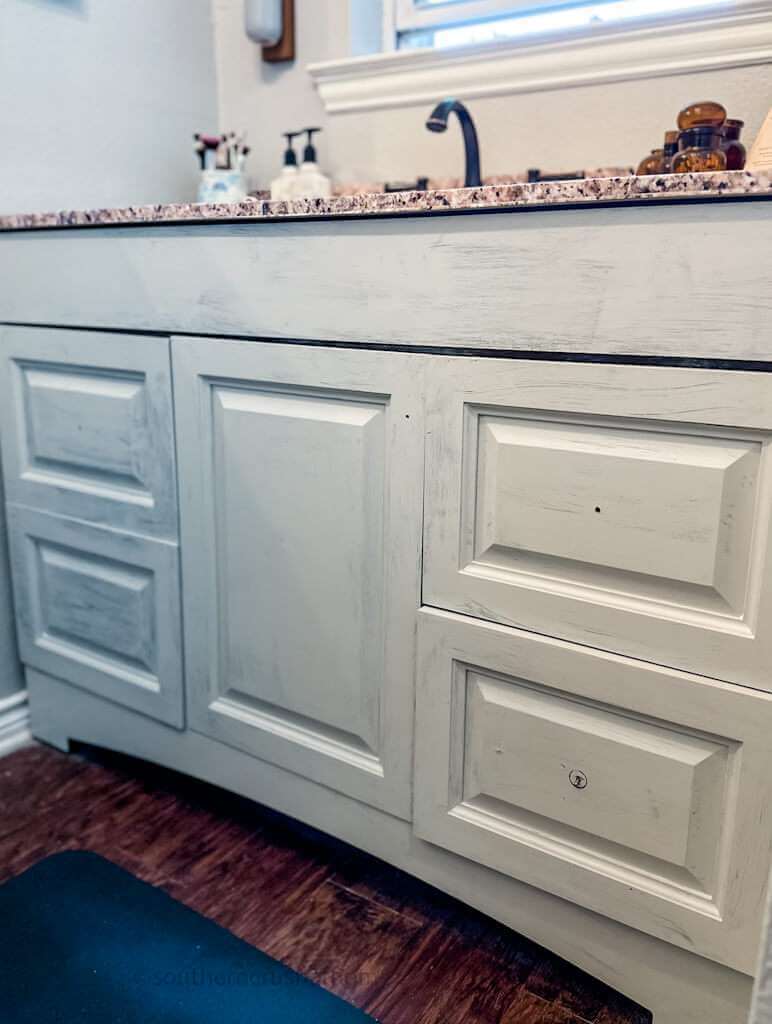 Painting Your Bathroom Cabinets

Once the preparation is finished it's time to get painting! Grab your choice of color in any acrylic latex paint with a satin or semi-gloss finish; however, oil-based paints are best for cabinets that receive heavy use, as they are more durable than latex-based paints.
I used the color below that I had leftover from painting my lower kitchen cabinets. If you want you can see all of my favorite blue gray colors here and all my white favorite paint colors here.
Apply two coats of paint using a high-quality brush – making sure to let each coat dry before applying the next one.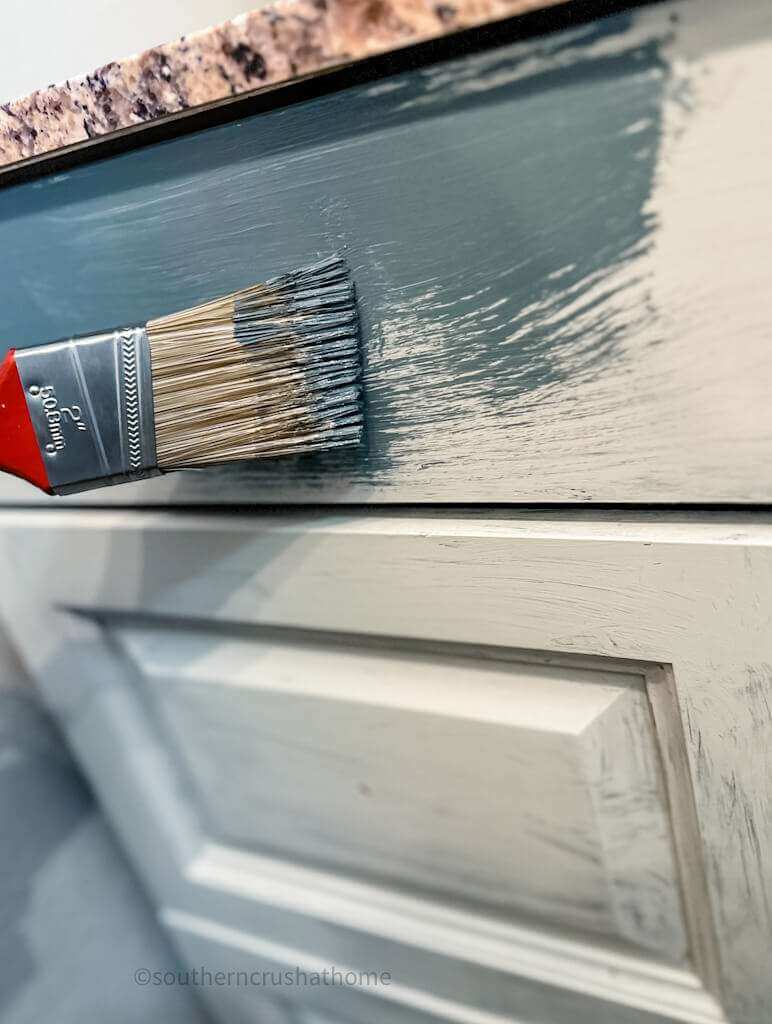 When both coats are dry, reattach all of your cabinet knobs and hardware, then stand back and admire your handiwork!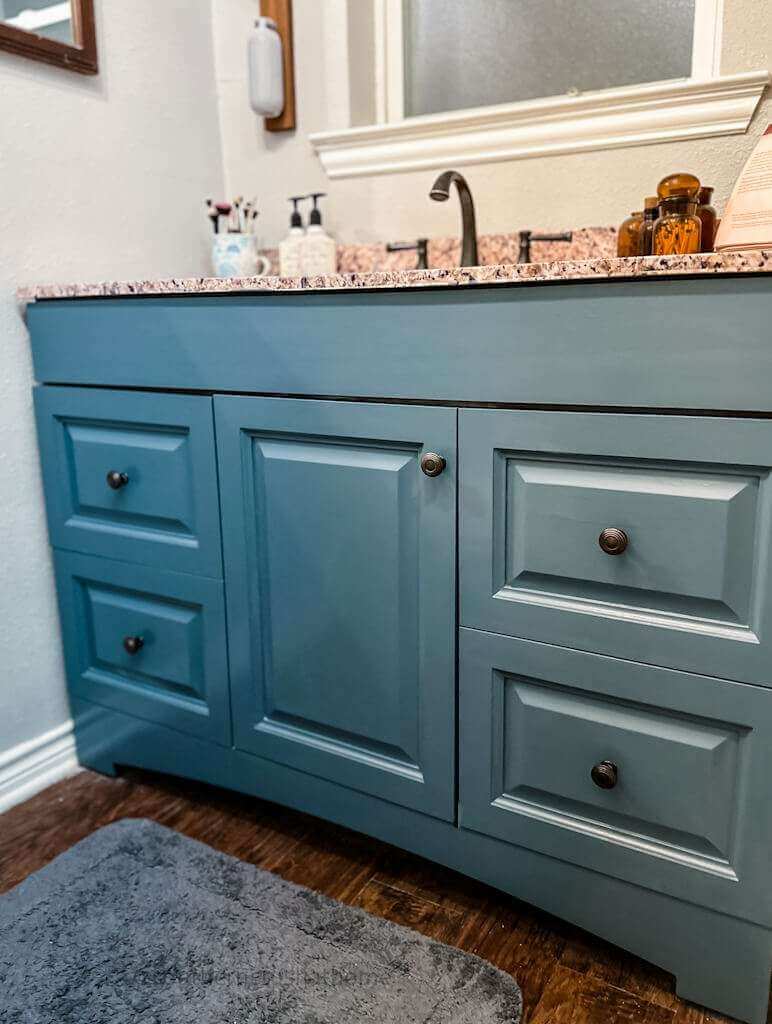 Protecting Your Hard Work

Depending on which paint you choose an extra layer of protection may be necessary. A furniture wax or polyurethane topcoat will ensure that your newly painted cabinets stay looking pristine for years to come.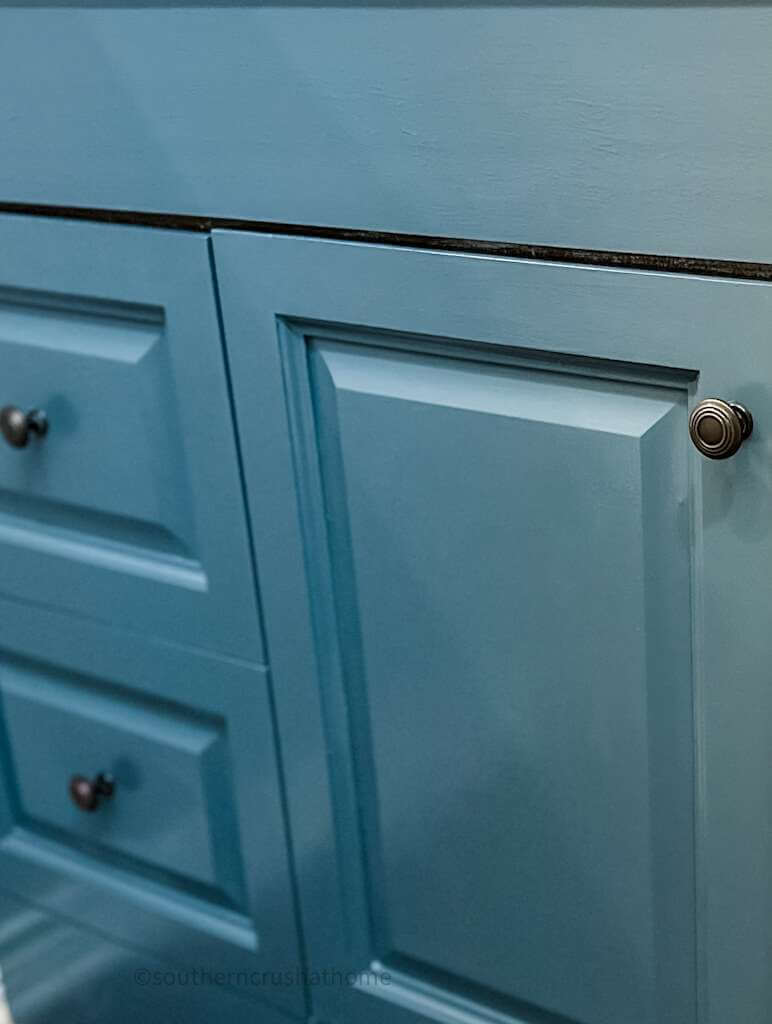 Simply apply wax with a dry cloth and buff or apply a thin coat of polyurethane sealer over the entire surface area using a brush then allow it time to dry before enjoying those freshly painted cabinets in their full glory!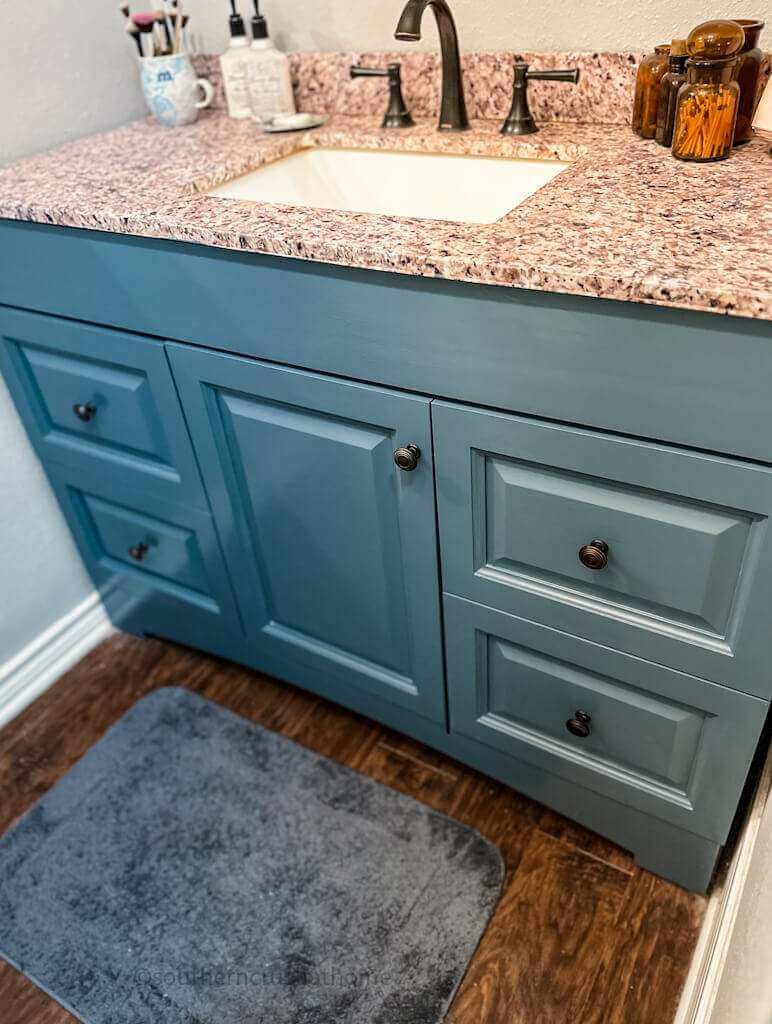 Tips and Tricks for Painting Cabinets
Use what you have. If you have perfectly good leftover paint from other projects, use that.
Try a sample if you're nervous. Find Paint Samples HERE.
Use a quality synthetic brush.
Allow ample drying time between coats of primer and paint.
Apply a fun finish to your hardware or replace the knobs with something new altogether! Watch my knob tour inside Hobby Lobby below for inspiration.
Maintaining Painted Cabinets
Maintaining your painted cabinets over time is important to ensure that the paint finish lasts as long as possible and stays looking great. Here are some tips for maintaining painted cabinets:
Regular cleaning: Dust and dirt can accumulate on the painted surfaces over time, so it's important to regularly clean the cabinets with a soft, damp cloth to remove any debris. Avoid using abrasive cleaners, which can scratch or damage the paint finish.
Avoid exposure to moisture: Painted surfaces can be vulnerable to moisture damage, so it's important to keep the cabinets dry. If you have a bathroom with a shower, make sure to use a ventilation fan or crack a window to help prevent moisture buildup.
Repair any damage promptly: If the painted surface becomes chipped, scratched, or damaged in any way, it's important to repair the damage as soon as possible to prevent it from getting worse. You can touch up the paint with a small brush or seek professional help if the damage is extensive.
By following these tips, you can help ensure that your painted cabinets stay looking great for years to come.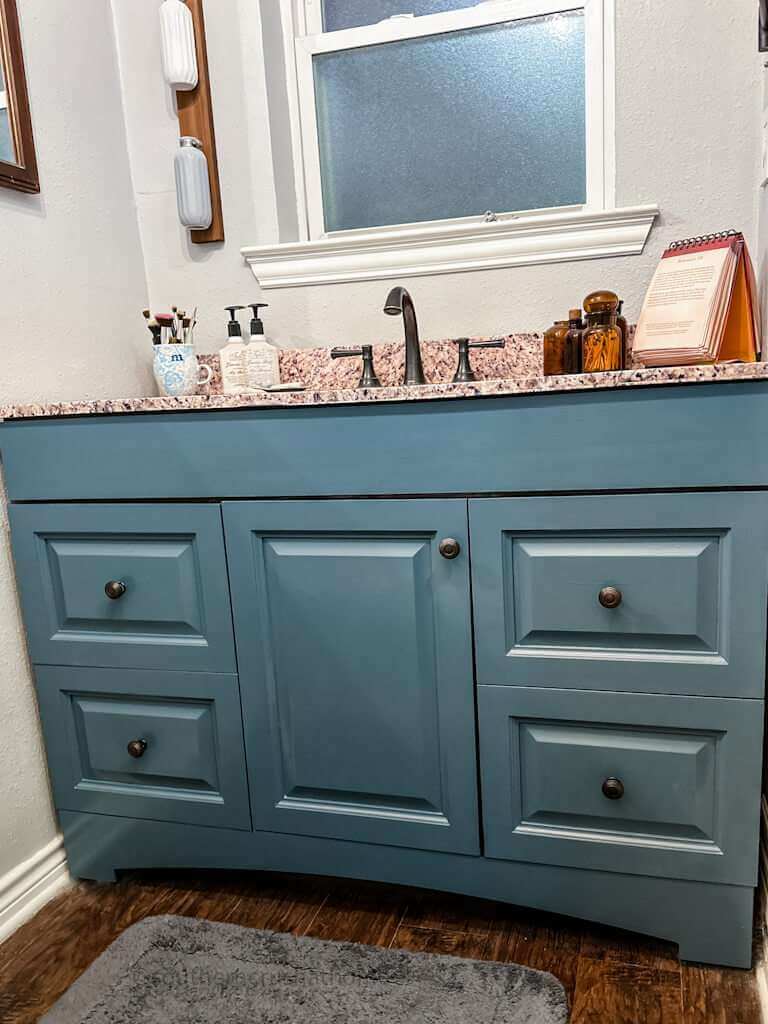 Bathroom Cabinet Makeover
Giving your bathroom cabinets a makeover doesn't have to be a crazy complicated thing– with these simple steps, you can achieve beautiful results in no time! All it takes is some prepping, priming, painting, and protecting and you'll have brand new-looking bathroom cabinets in no time at all – perfect for adding a touch of freshness and color to any bathroom space!
What a difference a little paint can make! This entire project took about four hours (because of drying time) from start to finish! Trust me, if I can do it, you can, too!
So what are you waiting for? Get started today on giving those bathroom cabinets the makeover they deserve!