Ninja Coffee Maker Review
Using my new Ninja coffee maker makes the world of difference to the taste of my morning cup of coffee! I'm sharing my own Ninja Coffee Maker review with you in case you're considering adding one of these to your kitchen!
There's nothing better than your first cup of coffee in the morning. Am I right or am I right? It helps get you going so that you are ready to take on whatever the day ahead may bring. If you love coffee in the morning as much as I do, you will love the Ninja coffee maker.
Be sure to PIN this for later!
This blog post contains affiliate links. The opinions are wholly my own from my own experience. I may earn a small commission from clicks through to the websites that end in a purchase.
What is a Ninja CE251 Coffee Maker?
The Ninja coffee maker is a 12-cup coffee brewer machine that is budget-friendly in the world of coffee makers. It does not fall short when it comes to extra features.
I recently purchased a Ninja coffee maker and it has quickly become one of my favorite coffee makers of all time. There are many different types of Ninja coffee makers available on the market today. Some of them have only one function and can be used simply as a way to brew a fresh cup of coffee without any other frills or additions. However, if you're willing to invest in something with a little more punch and pizzazz, there are plenty of Ninja coffee makers that have additional features that may appeal to your senses. I'll share more on those options below.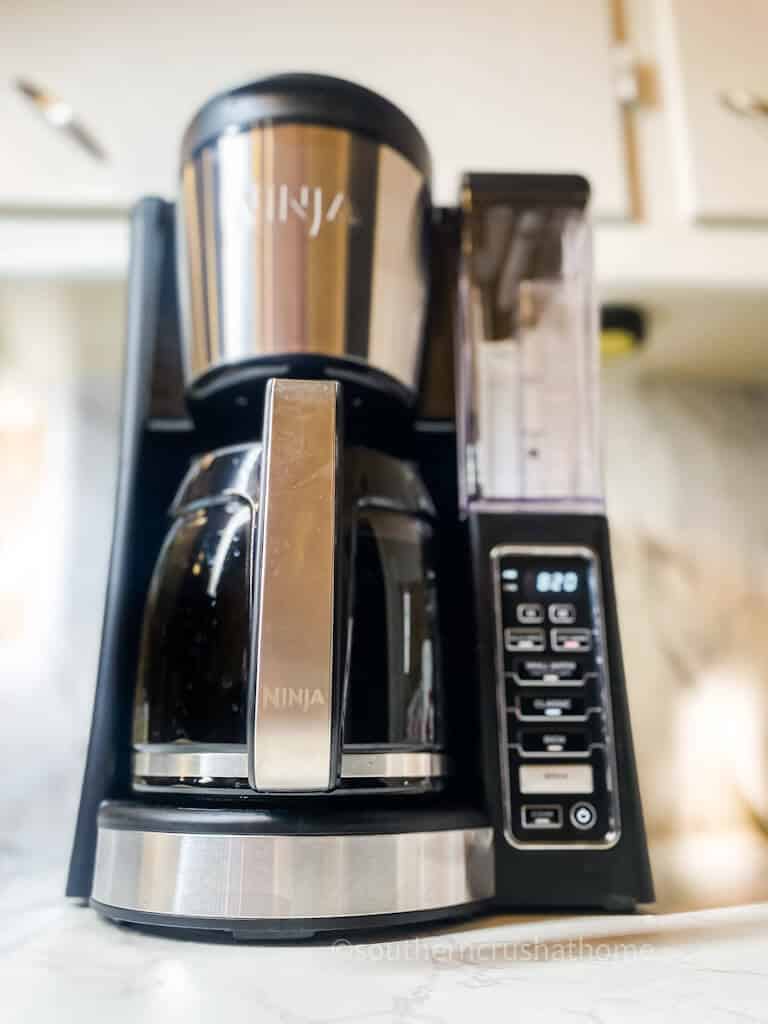 First of all, the control panel is clearly labeled and easy to navigate. It was one of the coffee maker's best features: I didn't have to do a lot of reading to figure out how to use it. For even more convenience, there is an LED clock display on the control panel, as well as a cord storage compartment located at the back of the machine.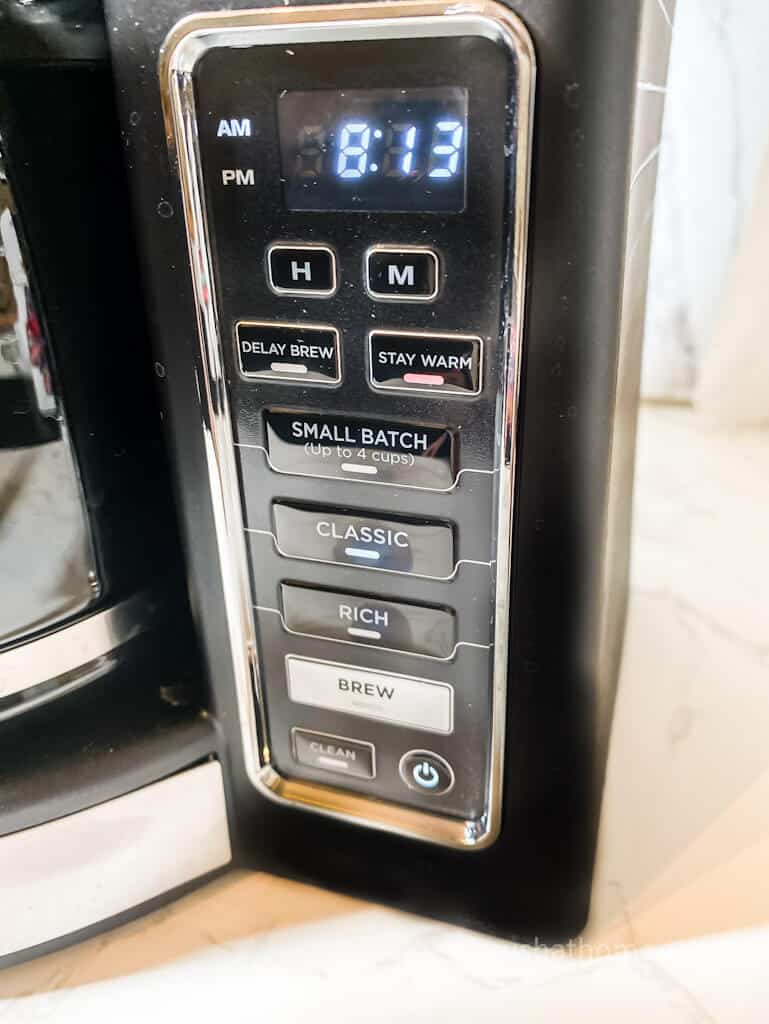 There are several options to control the strength of your coffee, including the Classic Brew which is light, and the Rich Brew setting (for a stronger coffee).
There's also an automatic brew function, which means that it can brew automatically 24 hours ahead of time if it is set to do so. There's nothing better than hot coffee waiting to greet you each day. Mine is set for 6:30 am each morning!
In addition, there's a pause feature and an adjustable warming plate.
These extras really make this machine's performance stand out, in my opinion. The warming plate is a highlight: It's adjustable for up to four hours so that you can select how long you want to keep your coffee warm. I'm not naming names, but some of us like to drink coffee for all four of those hours.
I also like that the water tank is removable, allowing me to fill up the tank at the sink more easily.
Additionally, this machine can brew up to 12 cups of coffee at a time, which is quite a large amount considering its slim design. This is great news if you drink a lot of coffee or have a big family with several coffee drinkers.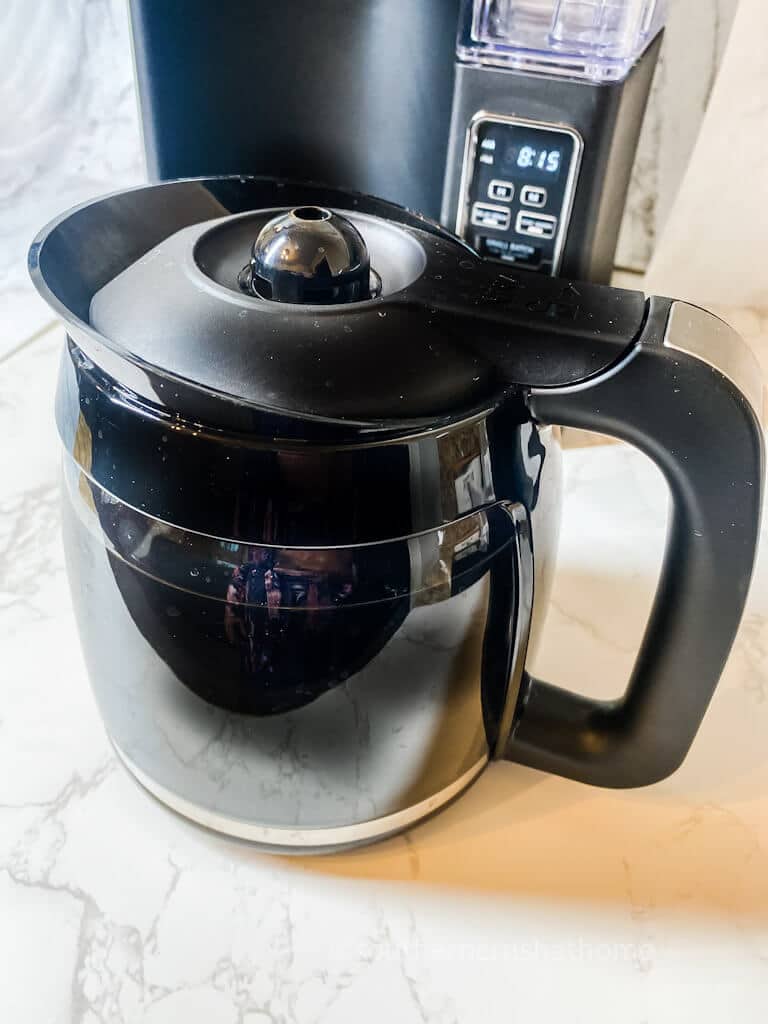 There is also a convenient small-batch setting, allowing you to brew up to only 4 cups of coffee at a time which saves coffee and water if you have a smaller family.
The carafe has a built-in flavor straw that recirculates the coffee as it brews to ensure that every single cup is as fresh and hot as the last.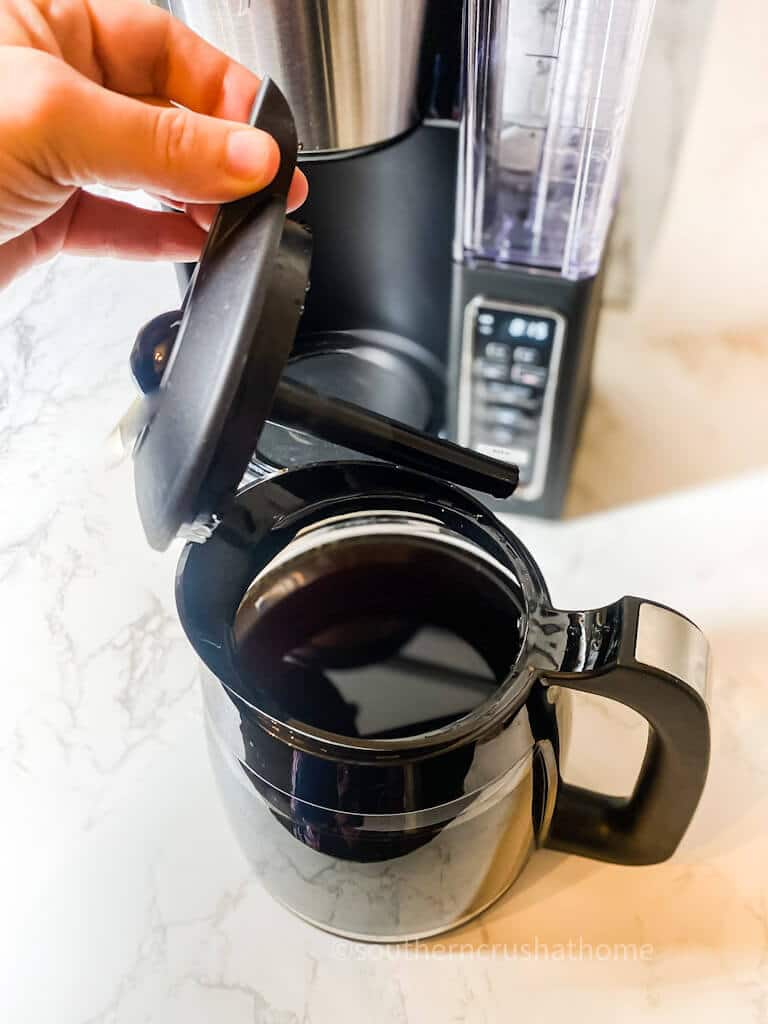 Side Note: This makes for the perfect Christmas Gift, Mother's Day, Father's Day, or Birthday Gift! It is often on sale during Amazon Prime Days, too!
How to Use Ninja Coffee maker?
Ninja Coffee is one of the best choices for those who have limited time to wake up in the morning.
To brew coffee using the Ninja Coffee Maker, first fill the water reservoir with cold filtered water up to the preferred MAX line (noted on the side).
Use the built-in coffee measuring scoop to measure out the perfect amount of coffee grounds needed to make the appropriate servings.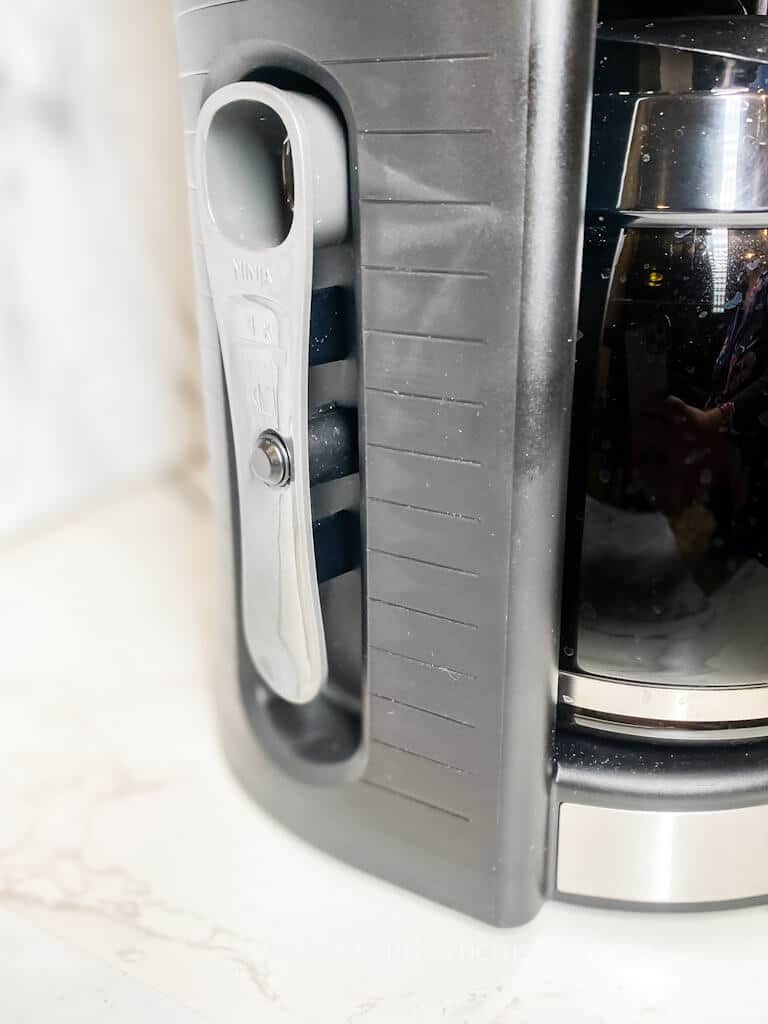 Place the coffee grounds into either the permanent filter or a paper filter and place the filter into the brew basket.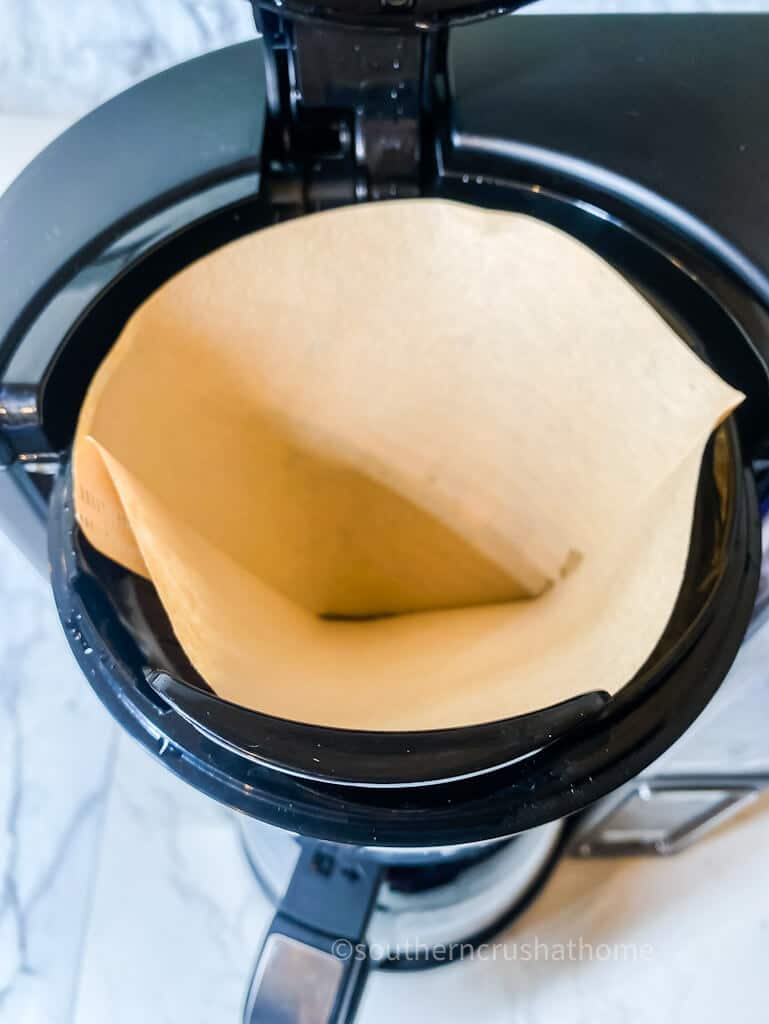 Then select your preferred coffee strength on the control panel. Then, press Brew or Delay Brew, and the machine will take care of the rest. Easy Peasy!
It's super easy to use; however, when you have time, I would also recommend reading the Ninja Coffee Maker instruction manual.
Where to Buy the Ninja Coffee Maker
You can purchase this coffee maker HERE below in my LTK shop!

I also love this convenient adjustable sliding tray that fits directly under my coffee maker in order for it to slide back and forth on the countertop.
It's super helpful when you want to pour in the water or tuck the appliance back underneath the kitchen cabinet to save space.
Pros and Cons of Ninja Coffee Machine
There are some advantages of using the Ninja coffee machine. There are lots of reasons why people love this coffee maker.
It is a compact design that fits under most kitchen counter spaces. This allows it to be easily stored while not taking up too much space.
The Ninja Coffee Pot also comes with an automatic shutoff timer, so you don't have to worry about leaving the pot on.
It has a transparent water reservoir that allows you to see how much water you have added at a glance.
It is easy to clean inside.
Pros
Easy to use
Doesn't take up a lot of counter space
Includes brewing customization classic or rich
Brews small and large batches 4 or 12 cups
Reasonably priced
There aren't a lot of disadvantages to this coffee maker in my opinion. If you like black coffee like me, then it's the perfect option. If you prefer to trick it up a bit, you may be disappointed that there is no option for iced coffee, lattes, espresso, etc.
Cons
No frother
No single-cup option
No built-in grinder
FAQ on Ninja Coffee Maker
How to clean ninja coffee maker?
The Ninja Coffee Maker is easy to clean. All of the Ninja 12-Cup Coffee Brewer's parts are dishwasher-friendly (top rack only!). This makes it super convenient to clean after each use.
You can also easily wipe down the warming plate after each use. Simply use a wet paper towel or sponge to wipe it down, and it is ready to go for the next brew.
Is Ninja coffee maker a good brand?
Ninja is a good brand overall because it has made some really good products over the last two decades.
The brand has a strong commitment to providing high-quality products with reliable parts. As a result, people are comfortable buying their products. They know they will get good value for their money.
Which is better Ninja or Keurig?
The Keurig vs. Ninja Coffee Maker is a common debate that can get very heated. I personally have owned both and there are pros and cons to each one.
The main reason people like the Keurig is because it is more convenient and easier to use for single-use servings. The Keurig also offers various features that are not offered by the Ninja, including a hot or cold option and a built-in water filter.
Keurig makes it easy to get a cup of coffee when you want one. You pop a K-cup into the machine and press a button. It's easy for beginners because all you have to do is fill the water tank and add your favorite K-cup. Then push a button and wait for it to brew. That's it!
On the other hand, the Ninja is more affordable than the Keurig. You can brew an entire pot for 12 cups of coffee at a time. The Ninja coffee maker is also easier to clean thoroughly making it a win in my book.
Other Ninja Coffee Machines
There are many types of Ninja coffee machines, each with its own unique features. There are also Ninja coffee makers with thermal carafes, which keep your coffee at the perfect temperature no matter how much you make. These machines use a dual-thermal system that keeps the coffee hot for up to 12 hours, so you never have to worry about reheating it.
Some Ninja coffee makers make your coffee in under 60 seconds, while others brew up to 12 cups at a time. It all depends on your specific needs and preferences.

The Ninja® DualBrew Pro Specialty Coffee System has replaced the discontinued Ninja Coffee Bar. The nearly identical Ninja Hot & Cold brews in 4 styles; Classic, Rich, Over Ice, and Specialty from your favorite coffee grounds or coffee pods with 9 ground sizes and 4 pods sizes from 6 to 12 oz. The specialty brew feature allows you to brew super-rich concentrate that can create delicious Ninja Coffee maker recipes including lattes, macchiatos, cappuccinos, etc. This Ninja Coffee machine is compatible with K-cups, too!
This Ninja Machine comes with 5 brew options that can make both coffee and tea. It has a smart basket recognition system that displays coffee and tea drink options. The best part about this machine is it brews directly into the cup and can be used with any brand of coffee or tea.
This specialty coffee maker can make 4 brew styles has a built-in glass water reservoir, a fold-away frother & separate glass carafe.
It brews fresh over ice for flavorful iced coffee that's never watered down while offering 6 different brew sizes for whatever the occasion calls for. Its pretty black glossy exterior and all-glass features mean that this coffee maker will certainly look stylish on your countertop!
Summary
A ninja coffee maker is that magical morning machine that will give you freshly brewed coffee in under a minute! That way, even if you have a busy schedule, there will always be time for that first cup of caffeine-infused goodness in the morning.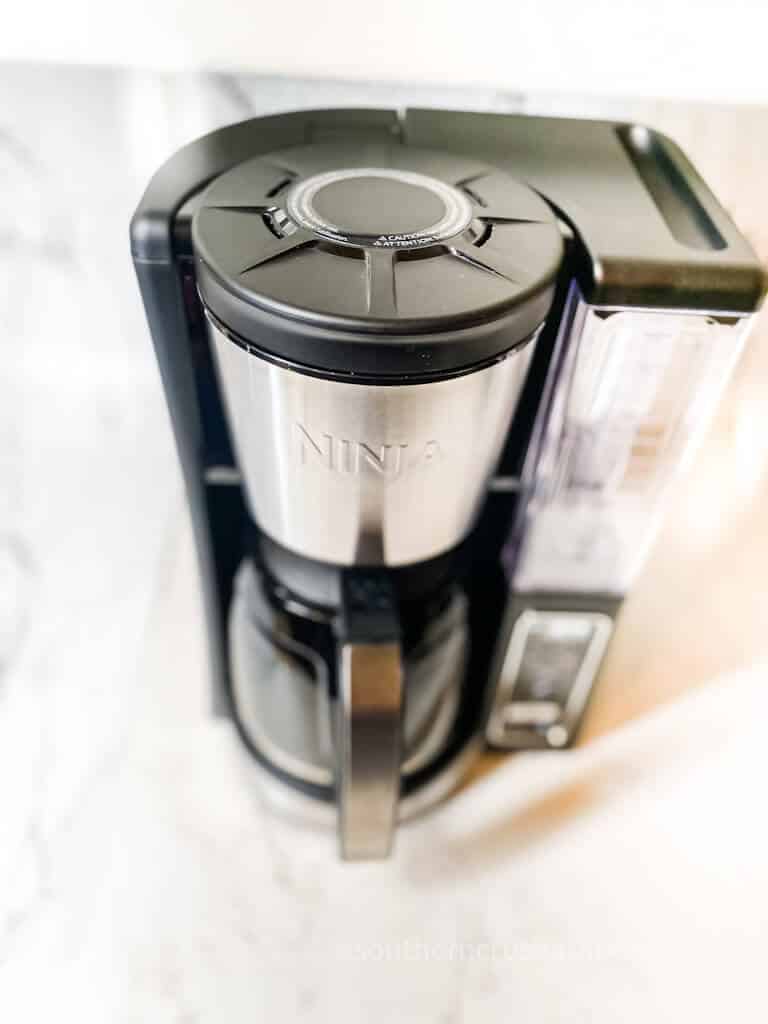 Specs
Product NameCE251 12-Cup Coffee Brewer
Product BrandNinja
Price$89.99
Weight7 lbs.
Product Dimensions10.55 x 14.61 x 9.96 in.
ColorBlack/Stainless steel
Water Tank Capacity12 cups
Power1100 Watts
Voltage120V
Warranty1 year, limited
What's IncludedIntegrated Ninja scoop, brew-through lid with flavor straw, glass carafe, gold-tone permanent filter, removable filter holder, brew basket, water tank, and water reservoir lid