Painting furniture professionally has gotten me pretty spoiled when it comes to what paint I use for projects. Even so, I have no problem whipping up a quick & easy DIY chalk paint recipe for times when I do not have access to my favorite chalky paint. There are lots of recipes out there for DIY chalk paint; but this one is for when you're in a pinch and need to make some fast. This fun tutorial shows you how to make and use DIY chalk paint on some old planter pots for my backyard pool area…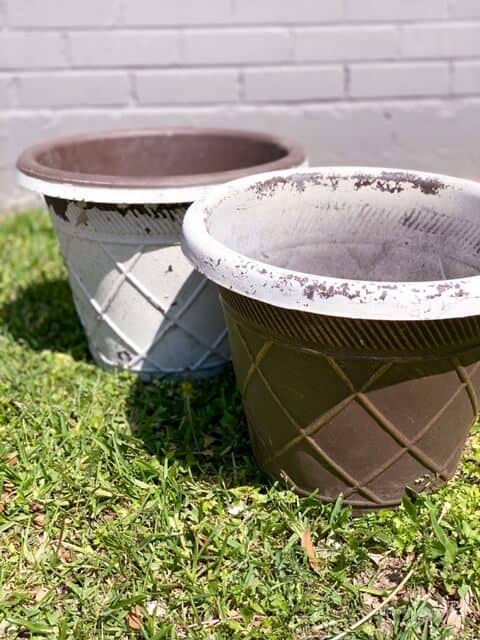 supplies needed
Baking Soda
Any Latex Paint of your choice (mine was SW-Salty Dog Satin)
Spare container for mixing (I recycled an old plastic Hellman's mayonnaise jar)
Sharpie
Chip Brush
Sandpaper (optional)
Gilders Paste Wax Rub in Gold (optional)
Spray Sealer
step by step instructions for How to make DIY chalk paint
Measure out and pour 1 cup of water into your spare container and mark it with a Sharpie. Pour out the water and dry your container out with a paper towel.
Pour out your latex paint into the spare container up to the 1 cup mark only.
Measure out 1/2 cup of baking soda and add to the paint in your spare container.
Add 1-2 Tablespoons of cool water to your paint mixture and replace the lid tightly.
Then shake your container vigorously for a minimum of 5 minutes to mix thoroughly.
Now your DIY Chalk Paint is ready for use immediately.
extra painting tips
Tip #1 If you need to stop painting for a short time and plan to use the same brush and color; wrap your wet brush up tightly in as wet paper towel followed by a piece of saran wrap. See below.
Tip #2 If you aren't able to do Tip #1 in time and your paint dries on your brush, soak it in some Murphy's Soap for a few hours and watch your brush come back to life! It's literally magical! See below.
Tip #3 Place a rubber band around the paint container to use for removing excess paint instead of the lip of the container. This helps the lid to not stick to all the paint later on.


>>>BE SURE TO PIN THIS FOR LATER!<<<
VIdeo tutorial for making diy chalk paint
If you missed the video tutorial, watch it here below.
I decided to use this blue DIY Chalk Paint on a couple of old planter pots that were taking up space in my garage. They were in really rough shape with old chippy paint and grime; therefore, they got a bath! Then they sat out in the sun to dry completely.
They were easy to cover with my DIY chalk paint, but they definitely needed two coats! Optionally, you can sand them lightly after painting if you'd like a super smooth surface, as this recipe is a little gritty. These pots are going back in my yard, so it was a 'no' on the sanding for me.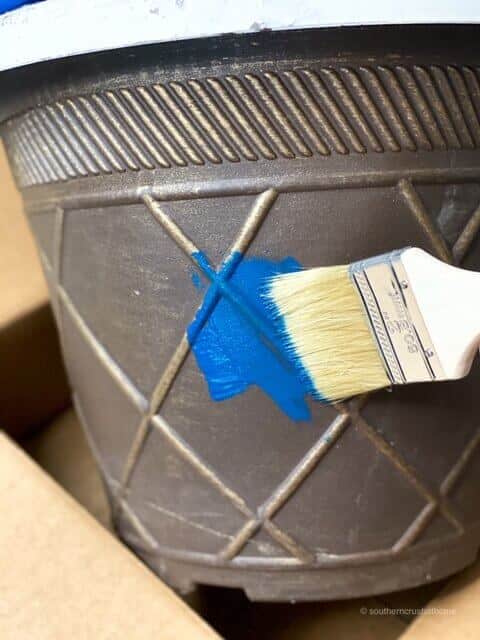 I added some of the gold colored wax to the raised areas of the planter pots for added detail and color.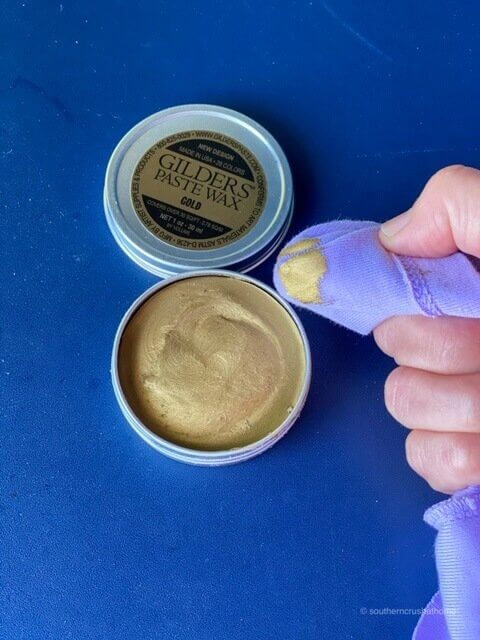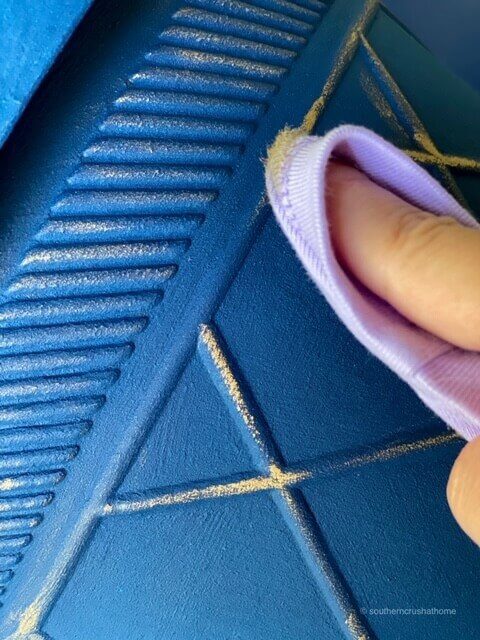 Finally, since these were going to be outside all of the time, I sealed them with Triple Coat Spray Sealer.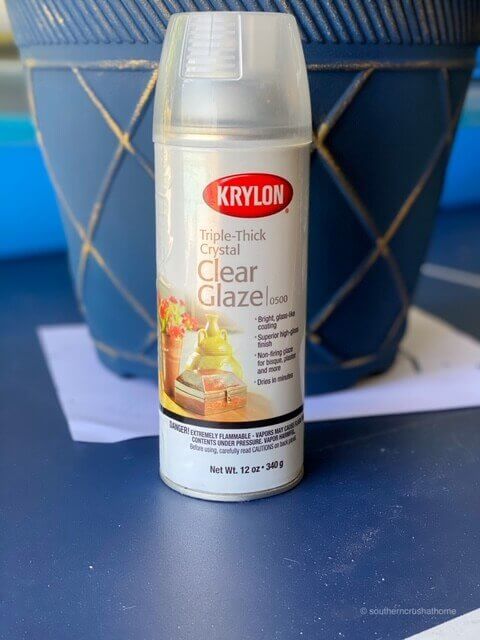 viola! quick & easy diy chalk painted pots!
This is my "go-to" recipe for DIY chalk paint in a pinch! Try it for yourself and see if you like it when you don't have the real deal! I use this on all materials; wood, glass, metal, plastic. It's ultra forgiving and provides a great coverage. There are definitely other recipes for DIY chalk paint and most require Plaster of Paris (which I never seem to have on hand) that is actually has a little smoother finish. This recipe just works for those times when you're in a pinch and need to paint something and don't have "all the things"!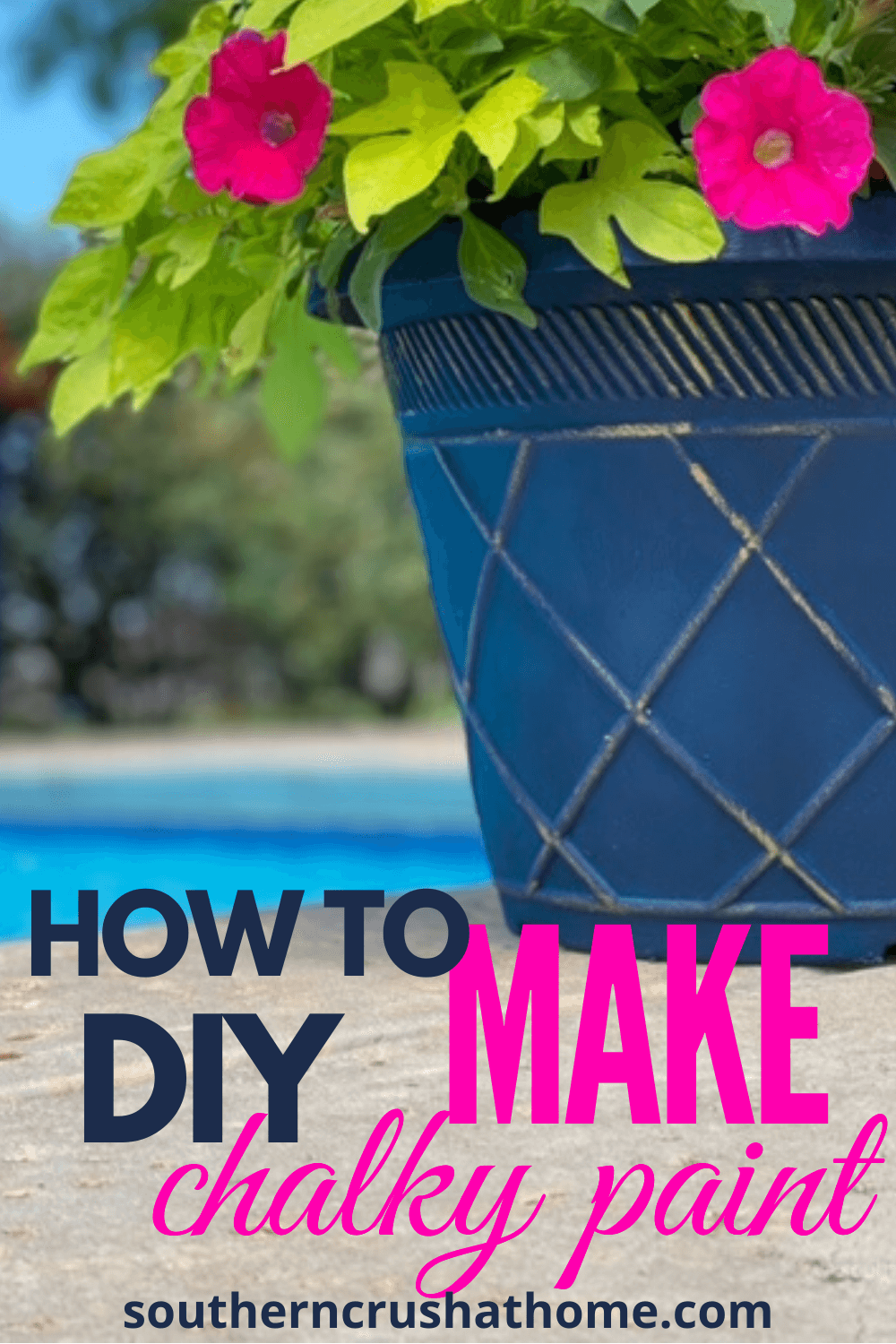 >>>BE SURE TO PIN THIS FOR LATER!<<<
If you love these kind of DIY ideas, you need to be getting my emails, friend! Each week I send out a couple of emails that include updates, crafts, shopping experiences and decor inspiration. Be sure to get yourself signed up below at the bottom of this page. I can't wait to meet you!
>>>Leave your thoughts below in the comments please… BTW—
Life is short—Enjoy the mess!
If you liked this DIY idea, you may also enjoy this other outdoor project using chalk paint and stencils…
Pool Storage Box DIY