Easy 3 Ingredient Sugar Scrub Recipe | DIY Sugar Body Scrub
This DIY 3 ingredient sugar scrub recipe is perfect for exfoliating your skin and leaving it feeling soft and smooth. So skip the expensive store-bought sugar body scrub and make your own quick and easy version!
Plus, it makes great homemade gifts for Mother's Day, birthdays, or just because. You could even create a little gift basket and include extra essential oils and my DIY bath bombs.
Add a DIY gift tag and you have a thoughtful gift that you made yourself.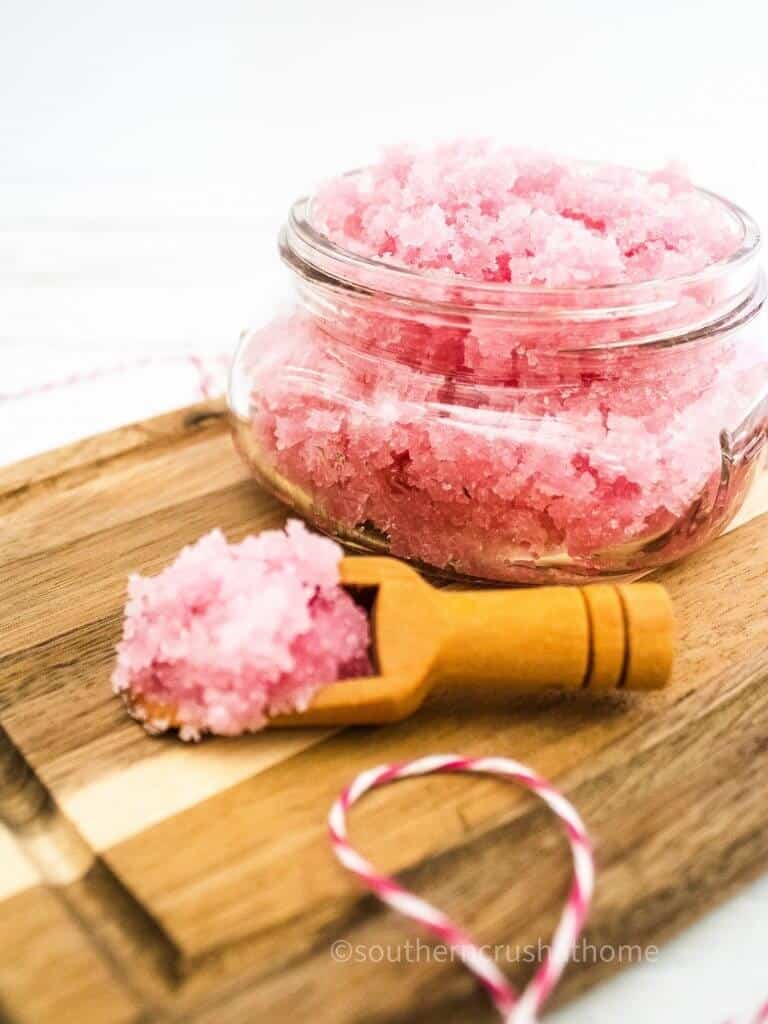 This blog post contains affiliate links. The opinions are wholly my own from my own experience. I may earn a small commission from clicks through to the websites that end in a purchase.
Supplies Needed for 3 Ingredient Sugar Scrub Recipe
Makes 1 cup of homemade sugar body scrub
Prep time: 10 minutes
Cook time: 0 minutes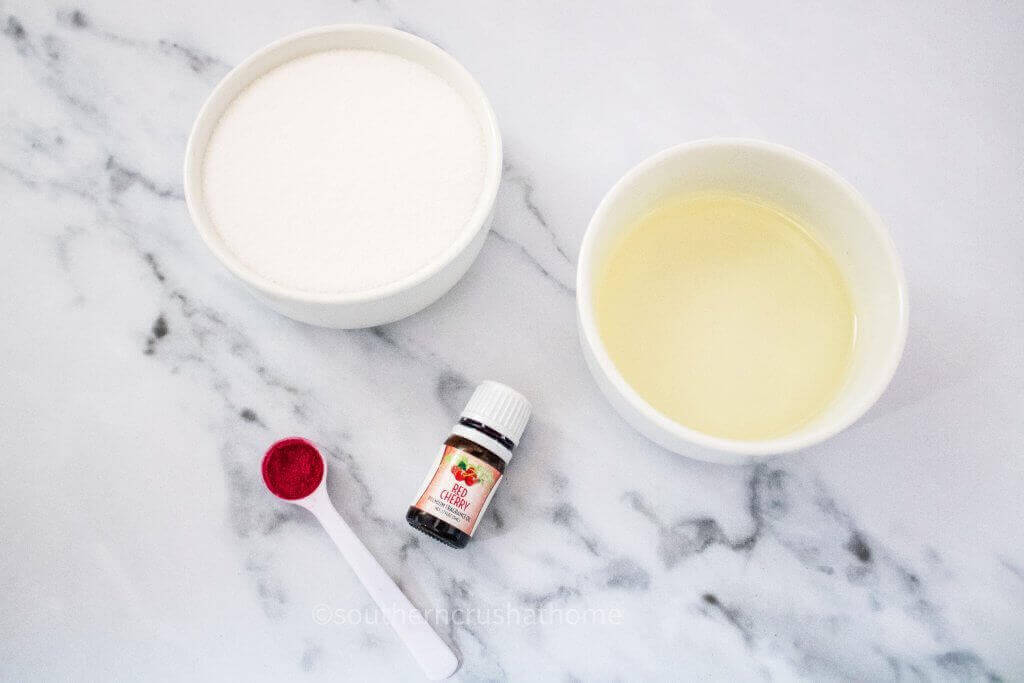 This is seriously one of the easiest homemade sugar scrub recipes ever, which makes it a great basic recipe to expand on with your favorite extras.
Be sure to read to the end of this post as I will share 3 other fun sugar scrub recipe combinations that start with this same easy 3 ingredient sugar scrub base made with coconut oil or almond oil.
How to Make Sugar Scrub for the Body
Step 1. Mix Your Ingredients
Add all of the ingredients together into a small glass or plastic bowl. Mix your sugar and coconut oil or almond oil well–these are the key ingredients in a great homemade body scrub.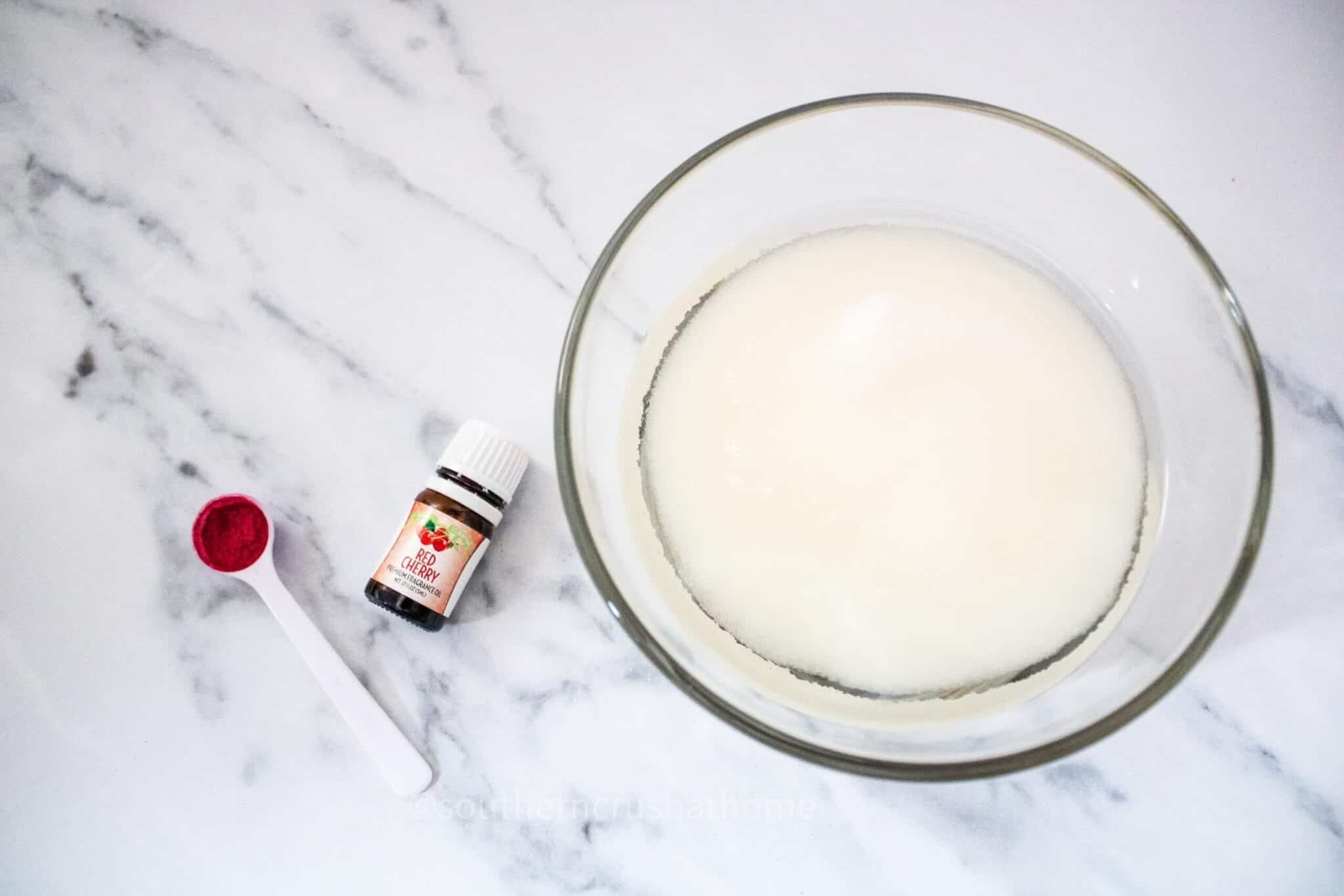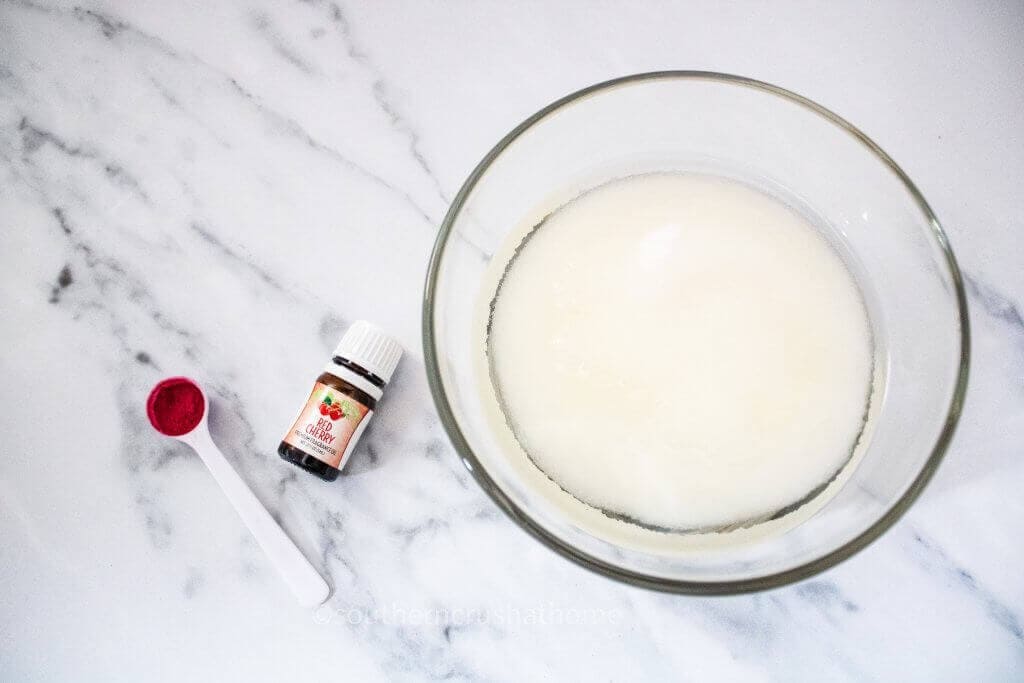 Step 2. Mix Ingredients Well
Stir to mix very well in order to combine everything together. Remember that the fragrance and the dye coloring are optional.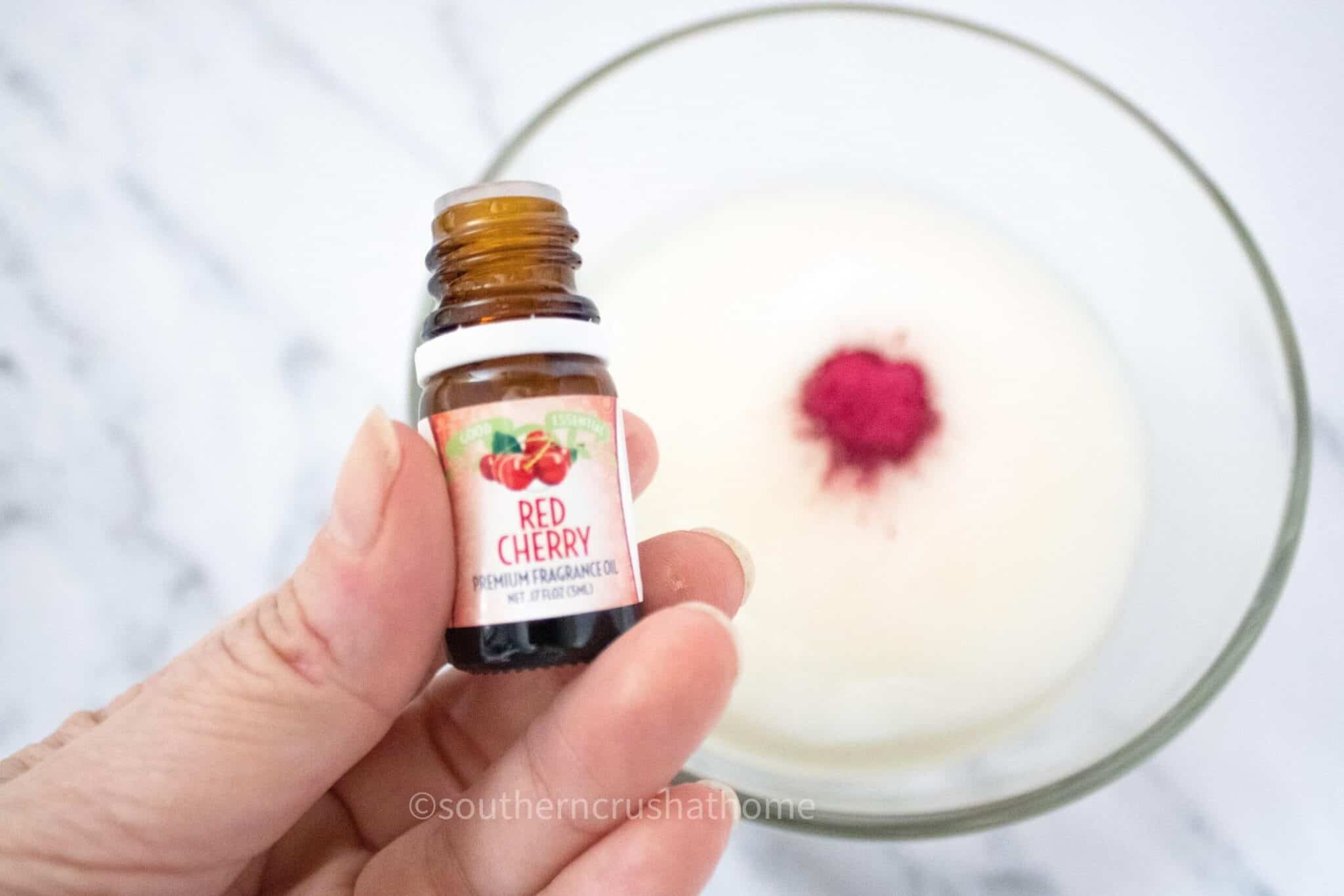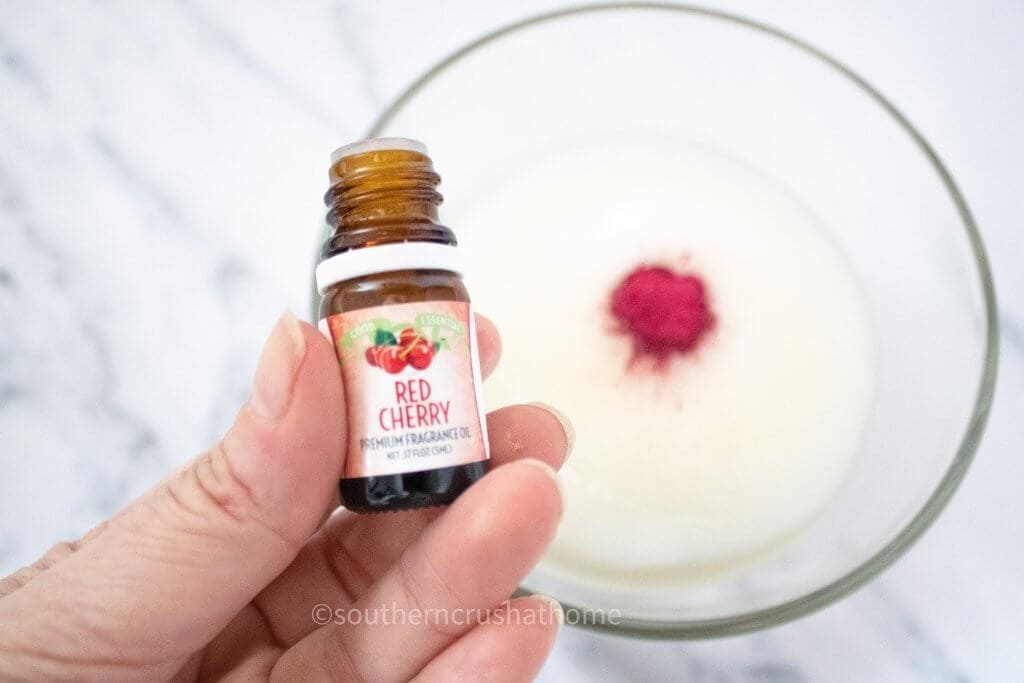 Step 3. Store the Sugar Scrub
Store your sugar body scrubs in an airtight container like these beautiful mason jars with latches. Mason jars make perfect containers to give your homemade sugar scrub away in as a gift.
Pamper yourself with this luxurious homemade sugar scrub…
Can you believe how easy this simple sugar scrub recipe was? Let me know if you've ever made your own sugar body scrub or lip scrub.
This body sugar scrub is great to exfoliate dead skin when used regularly at least two times a week. Massage a small amount onto your skin and leave it on for 5 minutes or more.
The more times a week you use it, the better, so keep a jar of sugar body scrub in your shower or display it on a cute tray near your tub.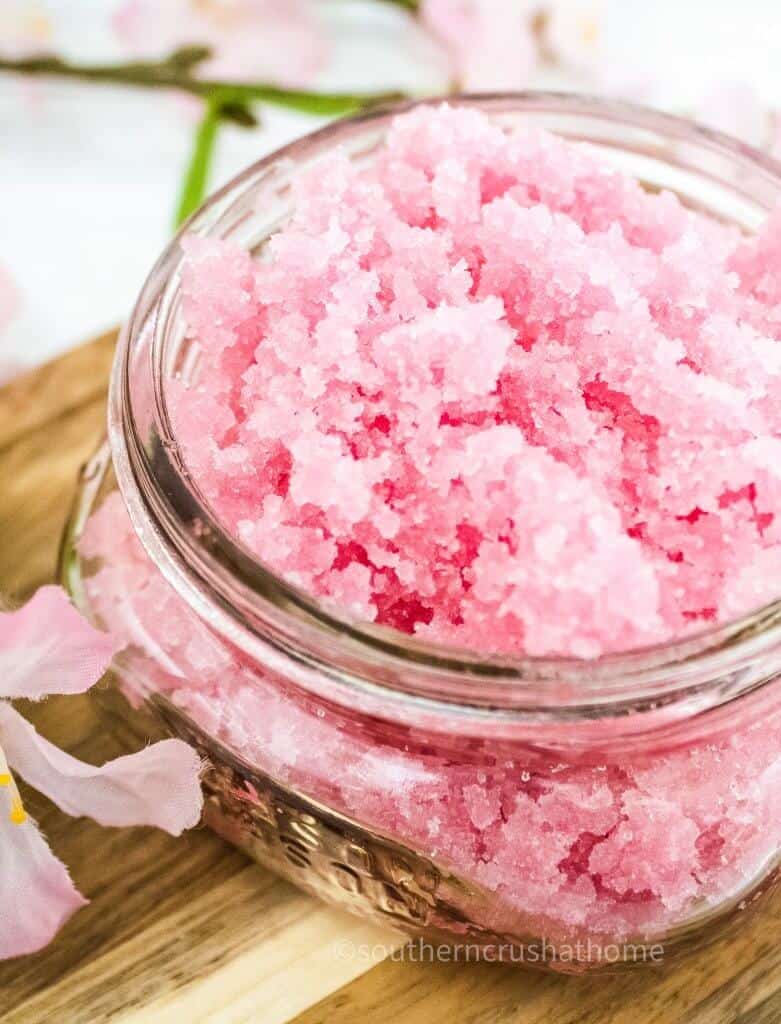 Isn't this pink color just beautiful? I wish you could smell how amazing the cherry fragrance is in this sugar scrub recipe.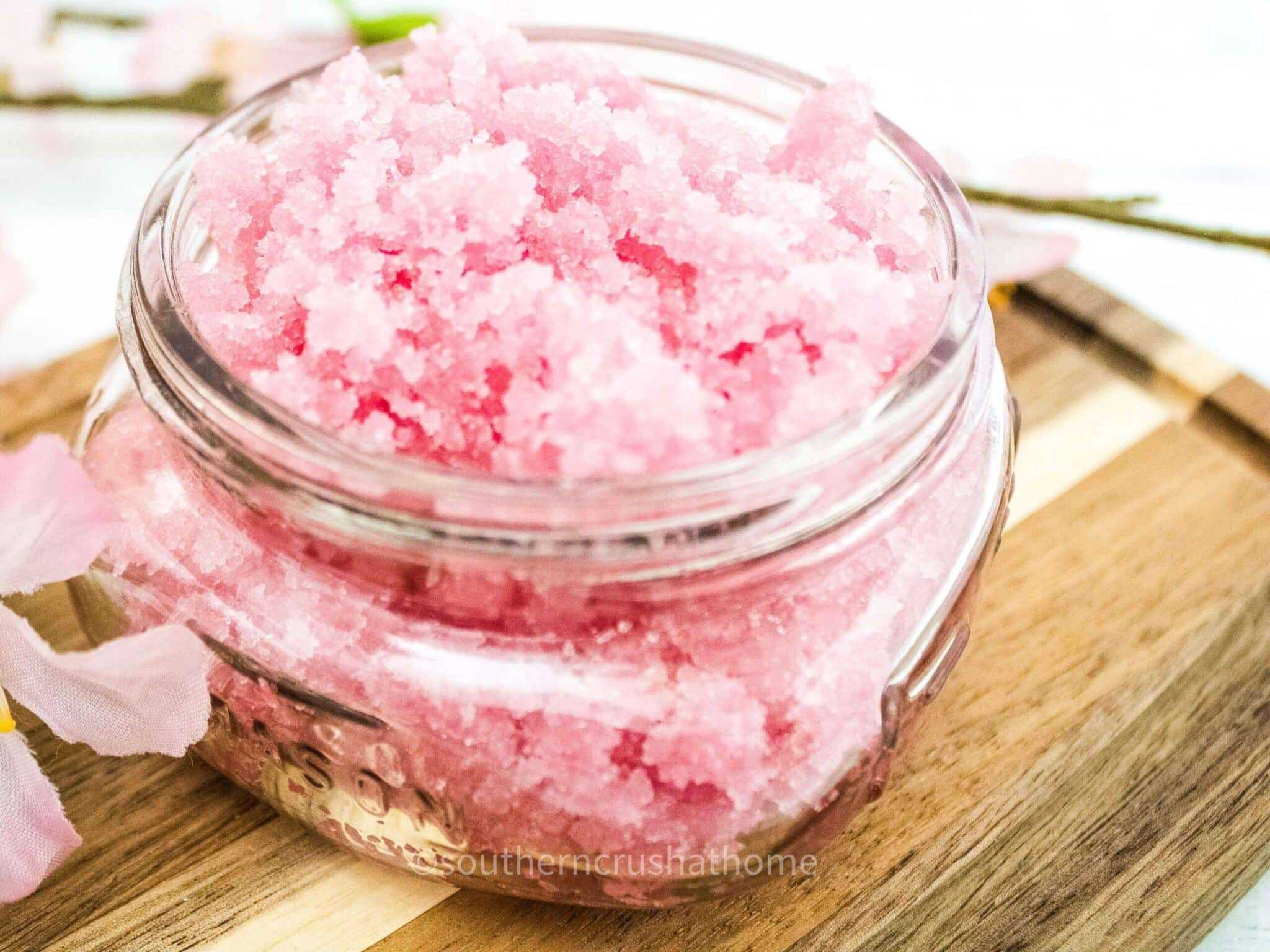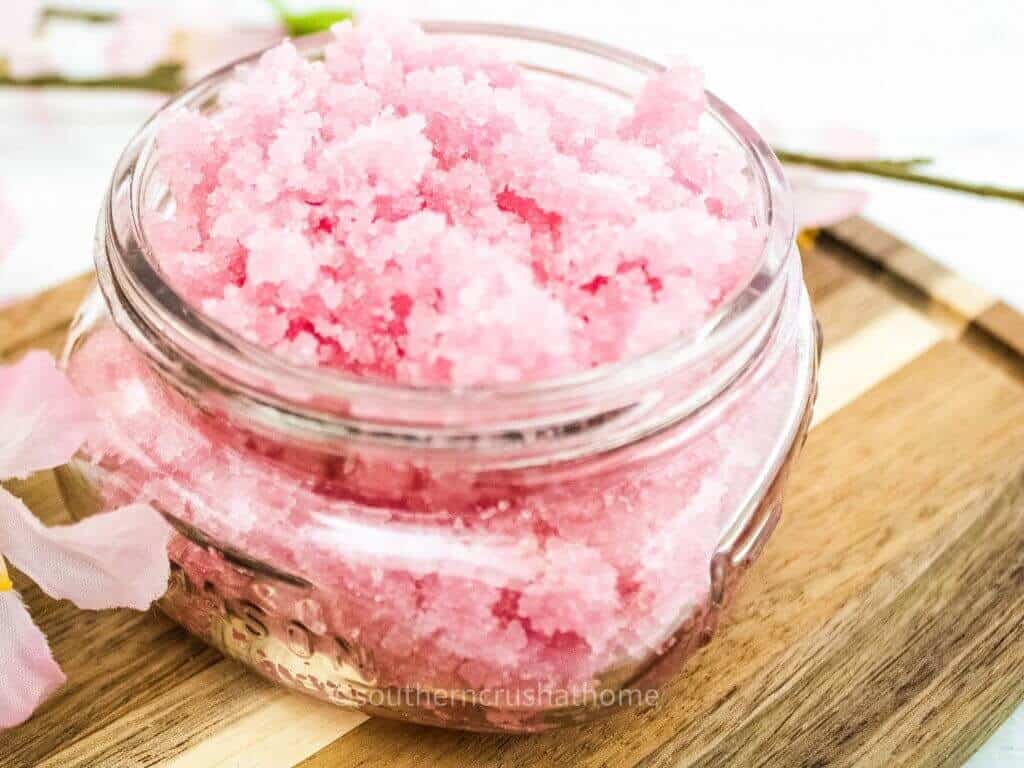 If you don't want to make a homemade body scrub, shop my favorite body scrubs below.
Popular Variations of DIY Sugar Scrubs
Vanilla-Coffee Scrub Recipe
Wake up with this sugar scrub in the shower! Make the basic scrub above using white sugar and your choice of essential oils.
Omit the essential oils and mica powder, and add ¼ cup of your choice of ground coffee and 1 tablespoon of vanilla extract.
It is rumored that coffee-based scrubs may help reduce the appearance of cellulite.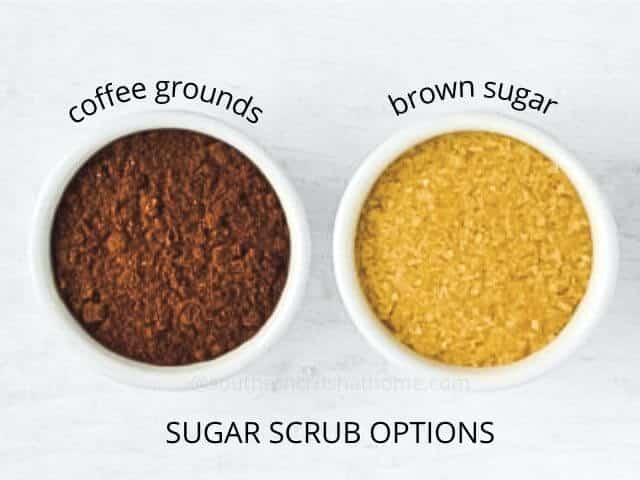 Brown Sugar-Maple Scrub Recipe
Follow the recipe above, but use brown sugar instead of white granulated sugar or cane sugar. Omit the essential oils and mica powder, and add 1 tablespoon of maple syrup.
Lemon-Vanilla Scrub Recipe
Make a basic scrub using white sugar. Use lemon essential oil and a drop of vanilla extract for this. You can also add yellow mica powder for coloring.
Other great recipe ideas to make diy homemade sugar scrub include:
lavender
peppermint
vanilla extract
eucalyptus
spearmint
tea tree oil
Vanilla Coconut Lime Recipe
Here are a few of my favorite essential oils found online below.

Frequently Asked Questions About Sugar Scrub

1. How do you make a homemade sugar scrub?
You need to include some type of carrier oil, like almond, vitamin e or coconut oil, brown or white sugar, and your favorite essential oils. That is the basic recipe that you can easily add to.

2. What is the best sugar to use for a scrub?
Be sure to use a coarse sugar to exfoliate your dry skin while also infusing it with moisture. You can use white sugar, brown sugar, or raw cane sugar.

3. How long does homemade sugar scrub last?
The homemade sugar scrub has a shelf life of about six months as long as you keep it sealed and avoid getting water in the container. That is why I like these jars the best!

4. Which is better sugar or salt scrub?
If you have sensitive skin, sugar scrubs are best because they have smaller granules than salt.
If you are looking to smooth out the rough patches on your dead skin, salt scrubs are best. They have sharper edges that will help with exfoliation.

5. How do you make a sugar scrub for lips?
Using a great recipe for a sugar lip scrub is a good idea for exfoliating your lips. This sugar scrub is meant to remove dead skin from your lips to create a smoother more even finish for lipstick application.
The only warning I have for you is not to eat it! It's hard when it smells so good from the essential oils and honey.
Sugar Lip Scrub
2 tbsp finely ground sugar.
1 tbsp olive oil.
½ tsp honey.
1-2 drops of your favorite essential oil.
Mix all of these ingredients together well and store them in an airtight container. The shelf life of the lip sugar scrub recipe is the same as the body scrub, about six months.
The honey lip sugar scrubs make it extra moisturizing because honey is a natural humectant—it helps the lips retain moisture.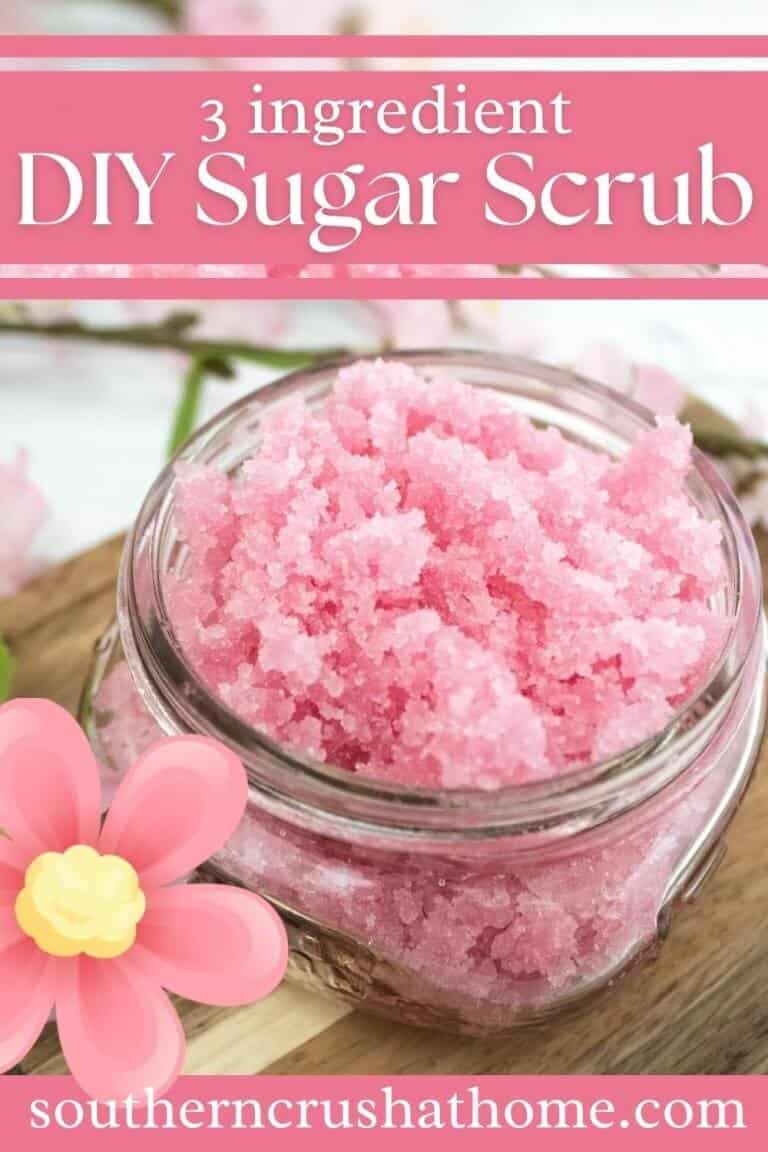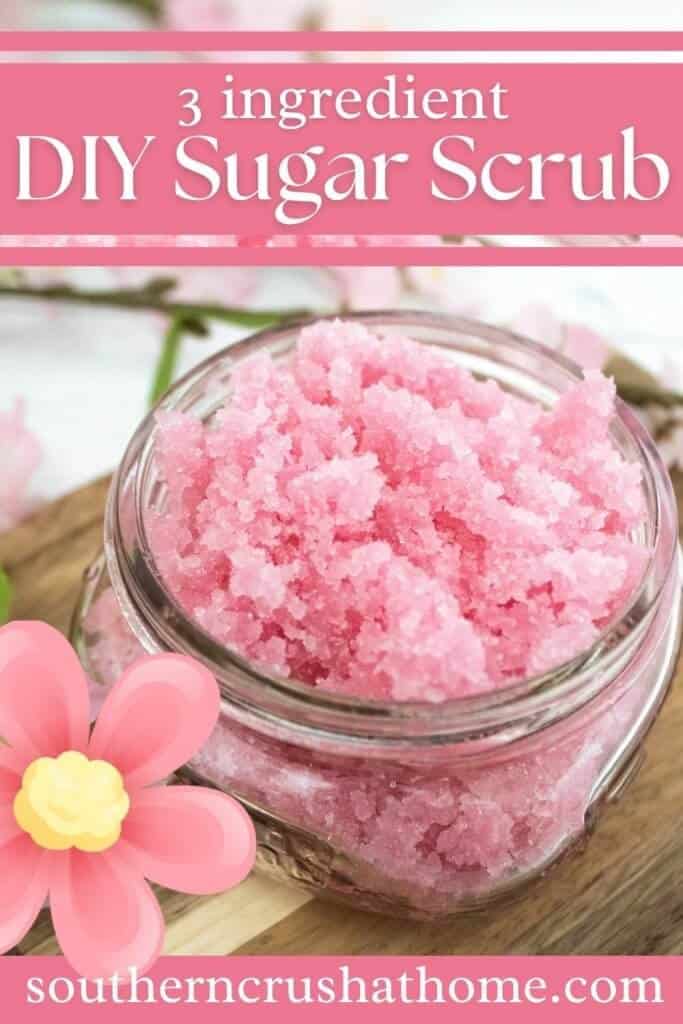 Be sure to PIN this for later!
Let me know what homemade body scrub or combination of body scrubs you will try!
Easy 3 Ingredient Sugar Scrub Recipe | DIY Sugar Body Scrub
All you need are 3 basic ingredients to make this indulgant homemade sugar scrub. Use this as a basic recipe that you can add to.
Materials
1

cup

granulated sugar

⅓

cup

sweet almond oil, coconut oil, or carrier oil

20

drops

red cherry fragrance oil or fragrance oil of your choice
Instructions
Add all of the ingredients together into a small glass or plastic bowl.

Stir to mix very well in order to combine everything together.

Store in an airtight container.