Easy Pumpkin Painting Idea – Paint Pour Technique
Create stunning fall decor. This easy pumpkin painting idea uses the paint pour technique to create vibrant pumpkins in no time at all!
"Wait a minute! I thought your pumpkins were orange." Not this year, instead it's a super fun paint pouring project to create a navy and gold marbleized paint pour pumpkin! When it's time to decorate the table for fall, standard orange pumpkins can sometimes be too boring! Enter my new favorite past time, creating these super easy paint pour pumpkins.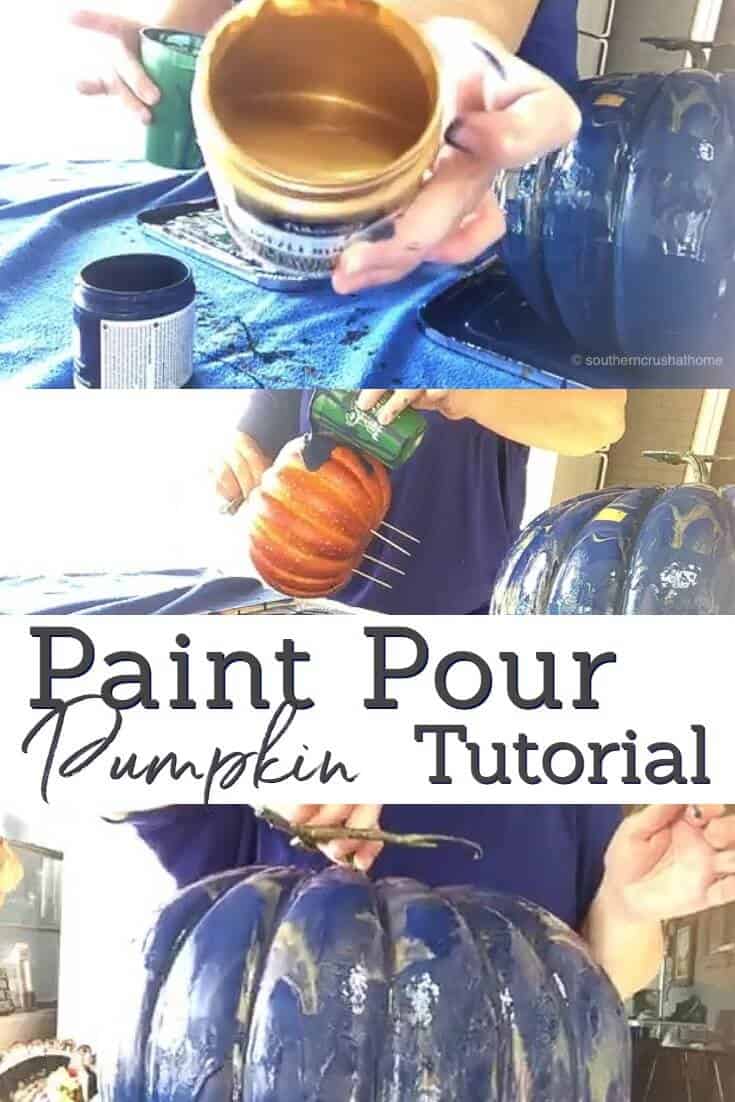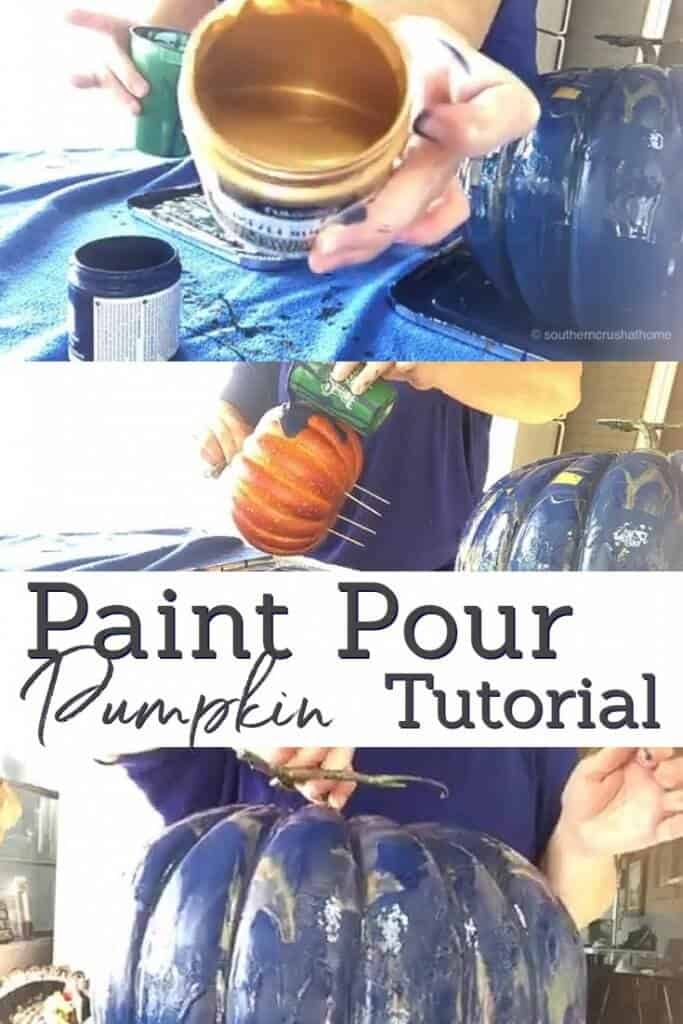 Be sure to pin this for later!
Easy Pumpkin Painting Idea
I prefer really easy crafts that you can do without a lot of thought. Arts and crafts should be fun! This easy pumpkin painting idea is so much fun. It uses lots of paint, but it is definitely worth it!
The inspiration for this project hit me when I was out looking for pumpkins. As I was shopping around for fall decor, I noticed most pumpkins were neutral colored. I decided navy and gold would be my colors of choice! With mixed metals trending in the wide world of home decor, antique gold quickly became my choice for fall accent colors!
All the steps and supplies for this craft are listed in the printable craft card at the end of this post. First, I have a video, pictures, and some tips that will help you out.
I wanted to create an interesting texture so mixing and marbleizing two different paint colors sounded like a fun way to go–Navy and Gold pumpkins for the win! Watch the quick video tutorial on this fun DIY project.
Supplies for easy pumpkin painting
Click here to view the full supply list for creating your very own version of these super easy pumpkins.
Any orange styrofoam pumpkin (mine were from Hobby Lobby, but I believe Walmart has them as well)
Several toothpicks
Foil Lid or tray (this is the top of a foil casserole dish)
Any acrylic paint colors of choice (mine were from Hobby Lobby, but any paint at all will do just fine)
Craft Tips and Pictures
Here are my best tips and some step-by-step pictures too. If you have any questions, please leave them in the comments and I'll answer them as soon as I can.
1. Create legs for your pumpkin
First, insert toothpicks into the bottom of the styrofoam pumpkin. This will provide a sort of 'legs' for your pumpkins and help stabilize them as they dry so that the bottom does not stick to your surface.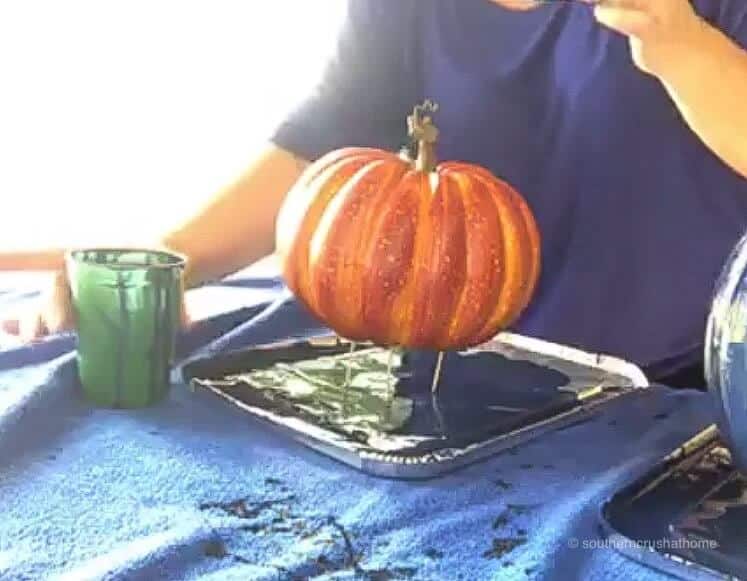 2. Pour your paint into a disposable cup
Now you are ready to prepare your paint for the pouring. To do this, pour the dominant paint choice into the bottom of a disposable cup. This will be the color you want to show up the most on your paint pour pumpkin.
3. Swirl Paints Together
Next, pour any accent paints in a swirling motion on top of the first paint. Get creative with this, it's the fun part. Feel free to add multiple accent paint colors to create more of a tie-dyed effect. Be sure to swirl it around as you pour it in the top, but don't swirl so much that it 'muddies' it up or blends the colors too much or it will not turn out the way you are hoping for.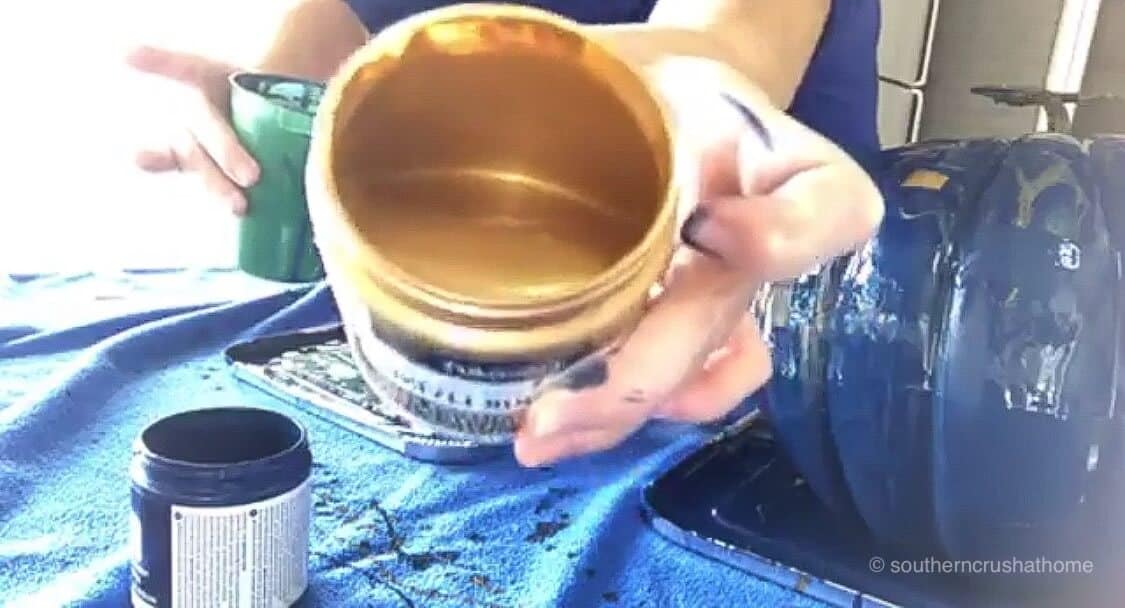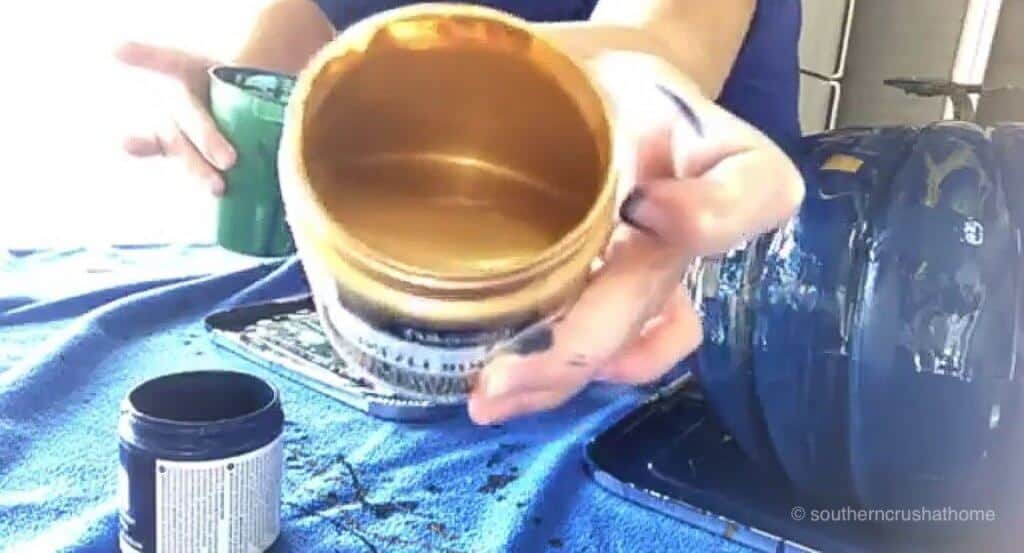 In the photo above, you can see how I took the gold paint and poured it as my secondary paint color on top of the navy blue paint.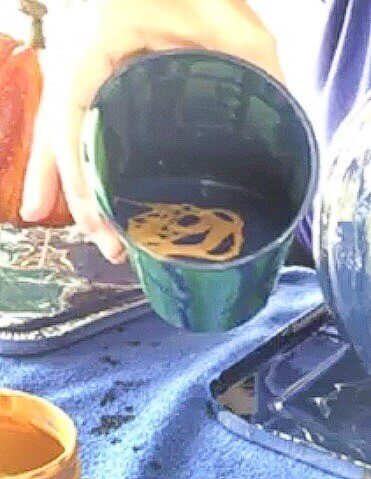 When you pour the second paint on top, don't overmix it. You want it to look lightly marbled.
4. Pour the paint on the pumpkin
Pick up the pumpkin by the stem and pour the paint over the pumpkin as you turn it around. This is the satisfying part of the project if you like to see transformations. Continue to pour the paint until the pumpkin is completely covered. If you run out of paint in your cup, see the next step below.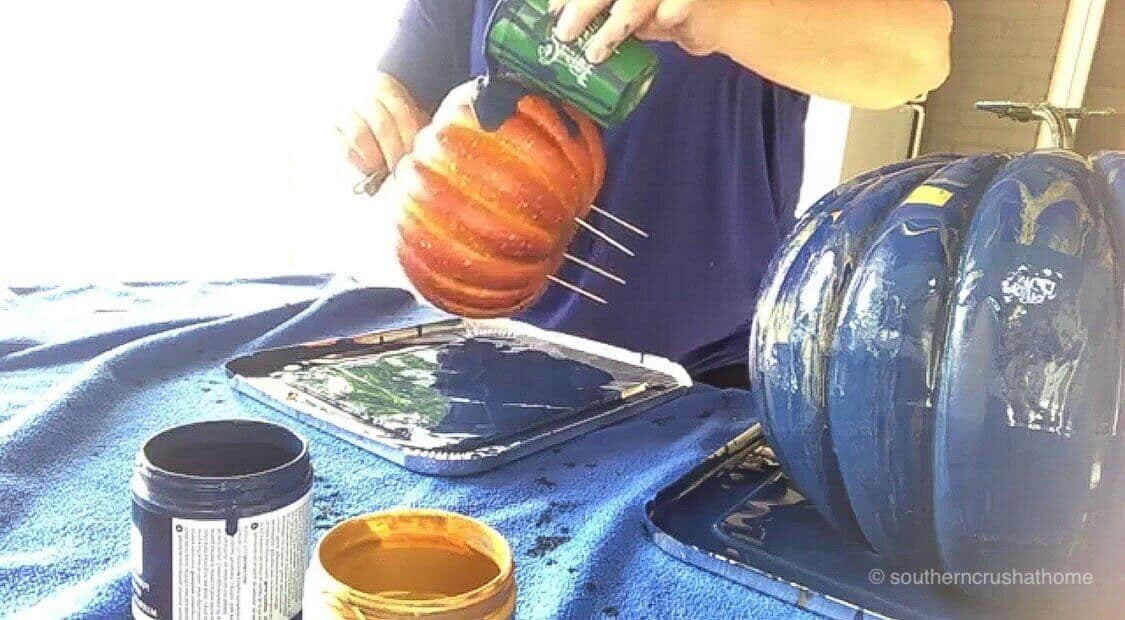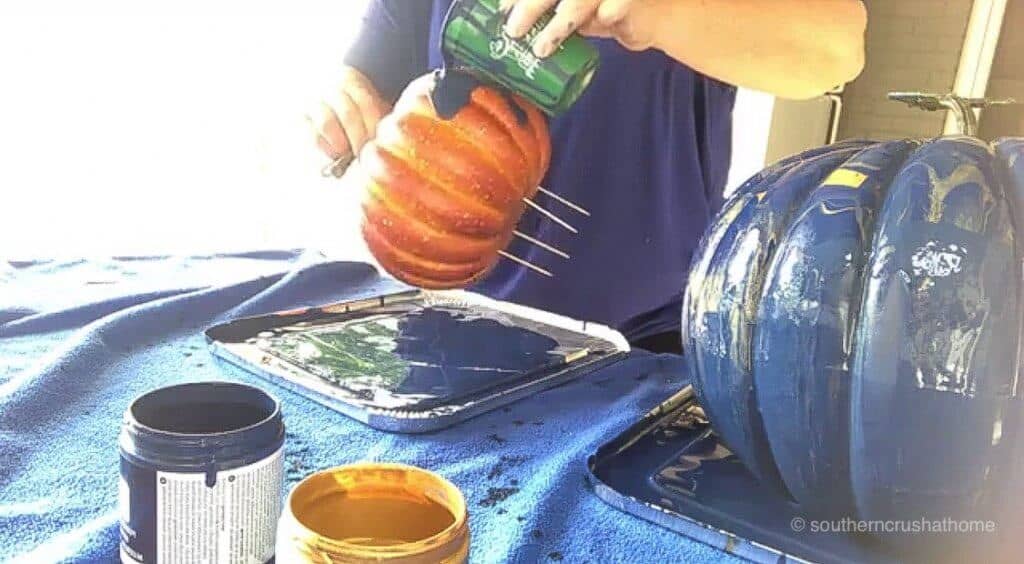 5. Save your paint
Take excess paint from the tray and pour it back into the cup. This is the easiest way to save your paint and make it work for you. Be sure to add more accent colors as needed.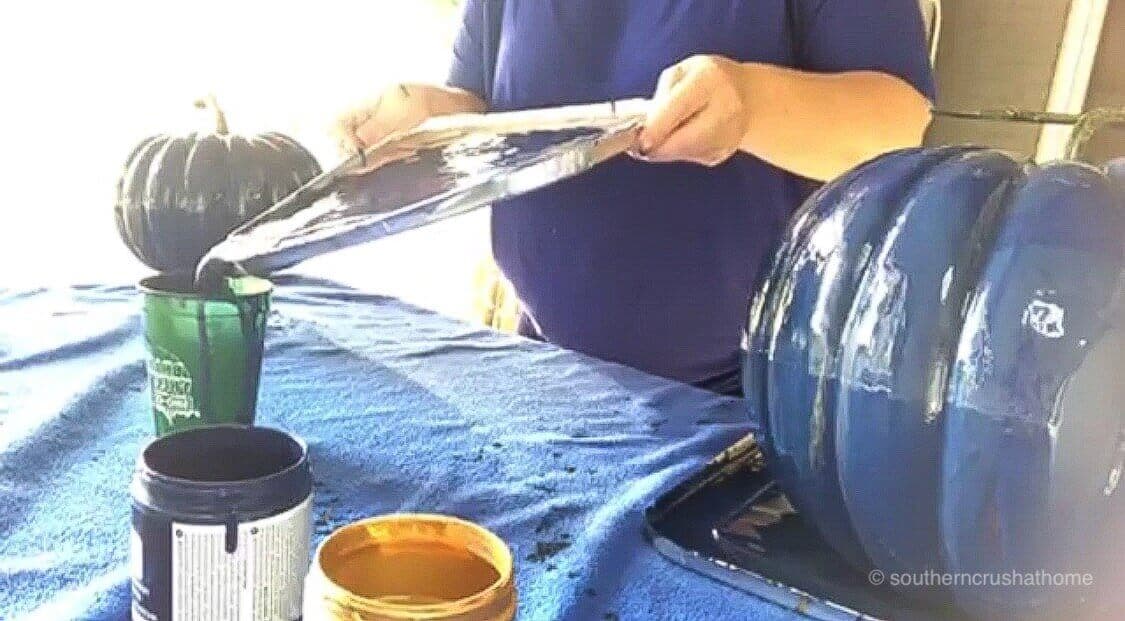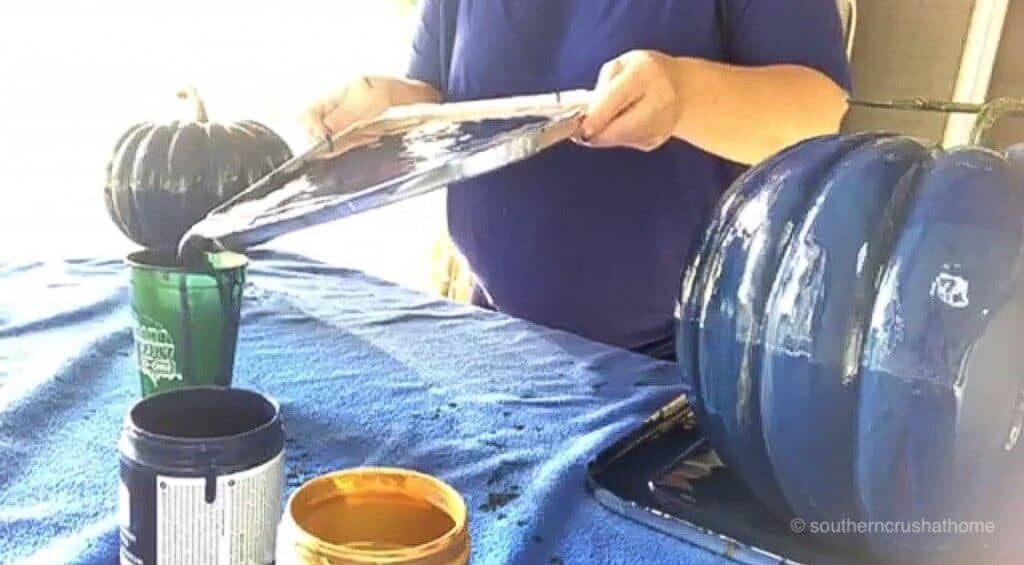 6. Add More Paint
Add additional paint a second time for any areas that were missed during the first pour and remember, there is absolutely no way you can mess this up. Leave pumpkin to dry sitting on the toothpicks in your tray for several hours. Overnight is best, trust me on this one and ask me how I know.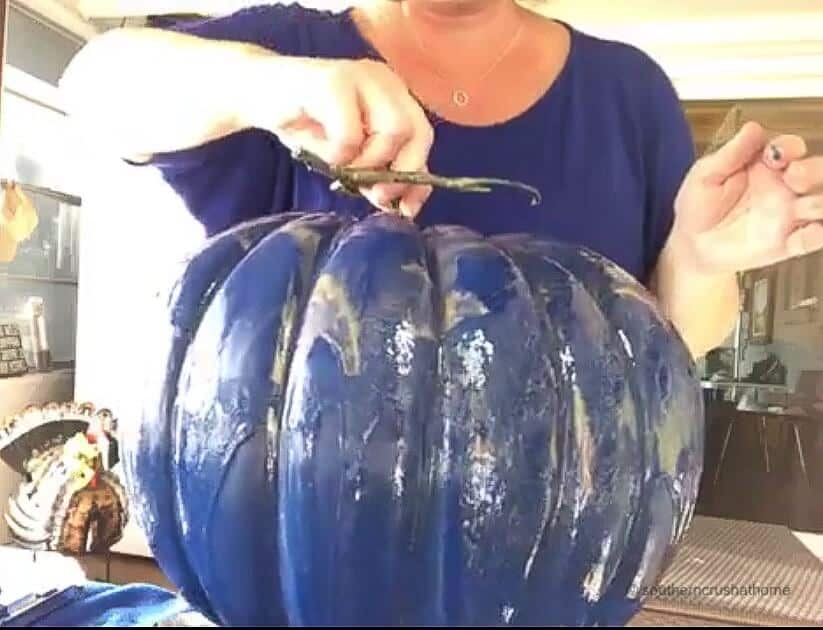 ​Once the mess was cleaned up and the paint had dried, a quick trip (is there really such a thing? LOL) back to Hobby Lobby was in order! I picked out some gold napkins, a navy buffalo check piece of cotton material (about three yards), a gold mesh piece, galvanized chargers, a few stems, and then a TON of stuff NOT on my list of course! The rest of the tablescape was made of 'finds' around the house I already had.
Easy Pumpkin Painting Decor Ideas
After you finish painting your pumpkins, the fun part begins – where to put them! How you style and decorate with your painted pumpkins is entirely up to you. Where you place them depends on your home and the size of the pumpkins you painted.
Here are a few photos of how I styled my navy blue and gold pumpkins.

As you can see, they look amazing as a fall centerpiece on your dining room table. I had so much fun pulling the blue and navy colors onto the table in small ways. The gold shade was the easiest one to play with!
What I CAN tell you is that this project was so much fun! It was super easy and I think it turned out nice. What do you think? For another fun pumpkin project, try out these DIY Looking Glass Pumpkins!
If you love this kind of DIY project, you need to be getting my emails, friends! Each week I send out a couple of emails that include updates, crafts, shopping experiences, and decor inspiration. Be sure to get yourself signed up below. I can't wait to meet you!
>>>Leave your thoughts below in the comments please… BTW— Life is short—Enjoy the mess!
**P.S. Please join us over on our
Facebook Page
to see more fun projects "Live".