Messy Bow Fall Wood Block Decor
Decorating for fall can be so fun! You can really be unique and creative when it comes to what you create. Changing out decor for Fall is so fun and making a wood block with my favorite signature "messy bow" makes it even better! This super easy, project was just the extra piece of decor my tiered tray needed in order to be ready for Fall…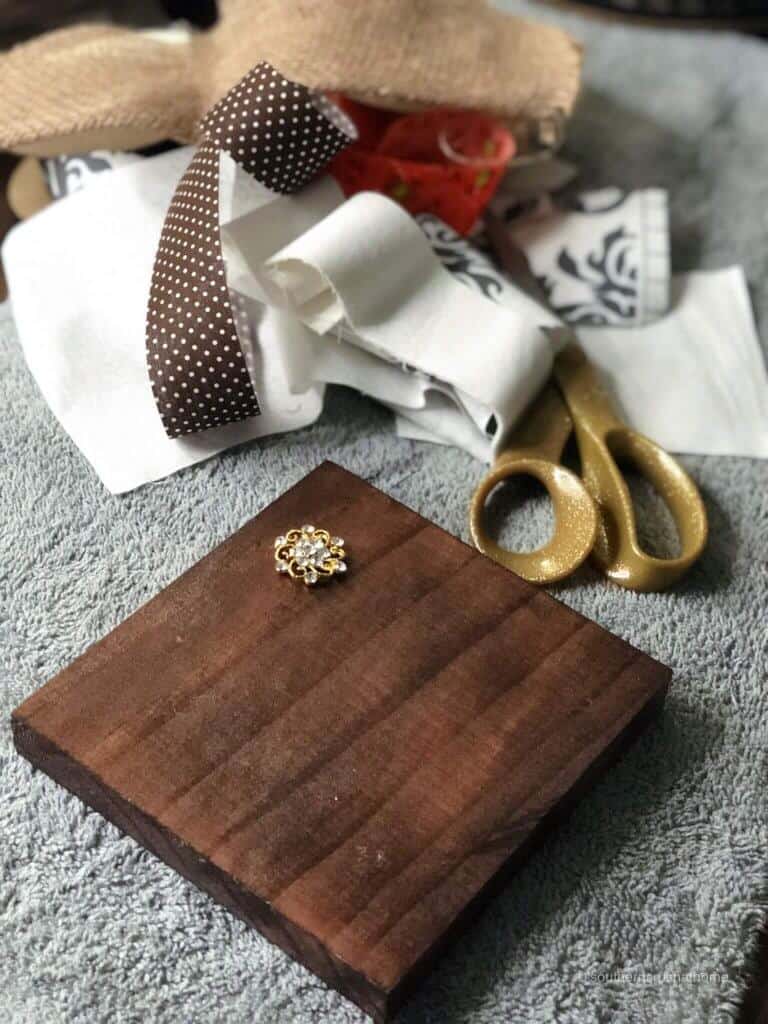 Supplies for the MESSY BOW Wood Block Decor Project
Assorted fabric
Burlap if desired
Assorted accent ribbon
Zip tie
Hot glue gun
Bling or button
1×5 or desired size wood block
Stain of choice
Step by Step
Stain and seal your wood block as desired. I used about a 4×5 piece of scrap pine wood that I already had on hand. I also used some leftover stain that I had around, too. I applied the dark stain with a rag.

Cut your fabric, burlap and/or vintage ribbon into several 1×5 inch strips (or desired length). I used about 15-20 strips, but you can use more or less, depending on how 'fluffy' you would like your bow to be.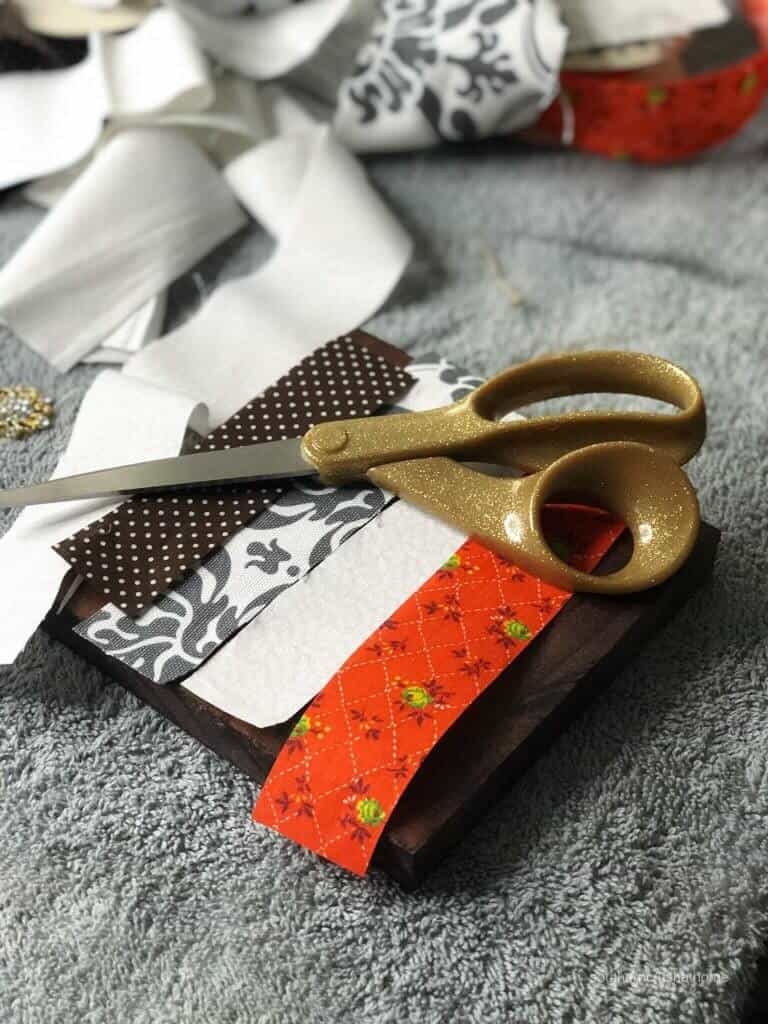 3. Arrange strips in a messy manner, laying them one on top of the other, criss-crossing every other one.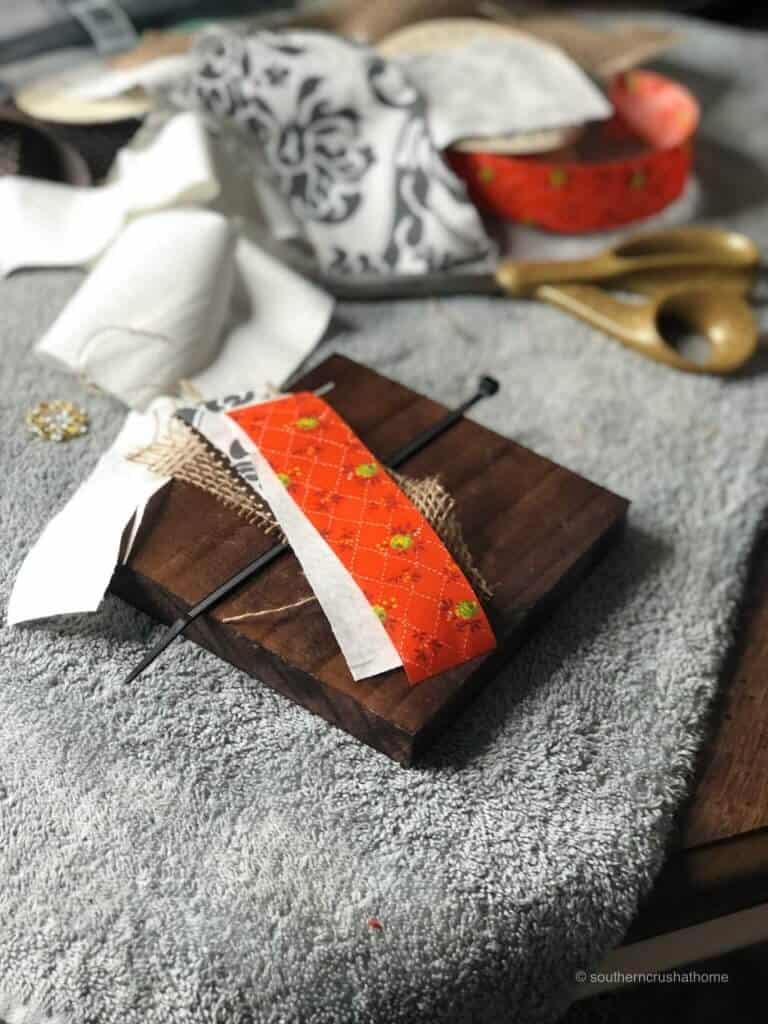 4. Secure the entire stack of material in the middle using a zip tie from the backside. Pull it closed very tightly.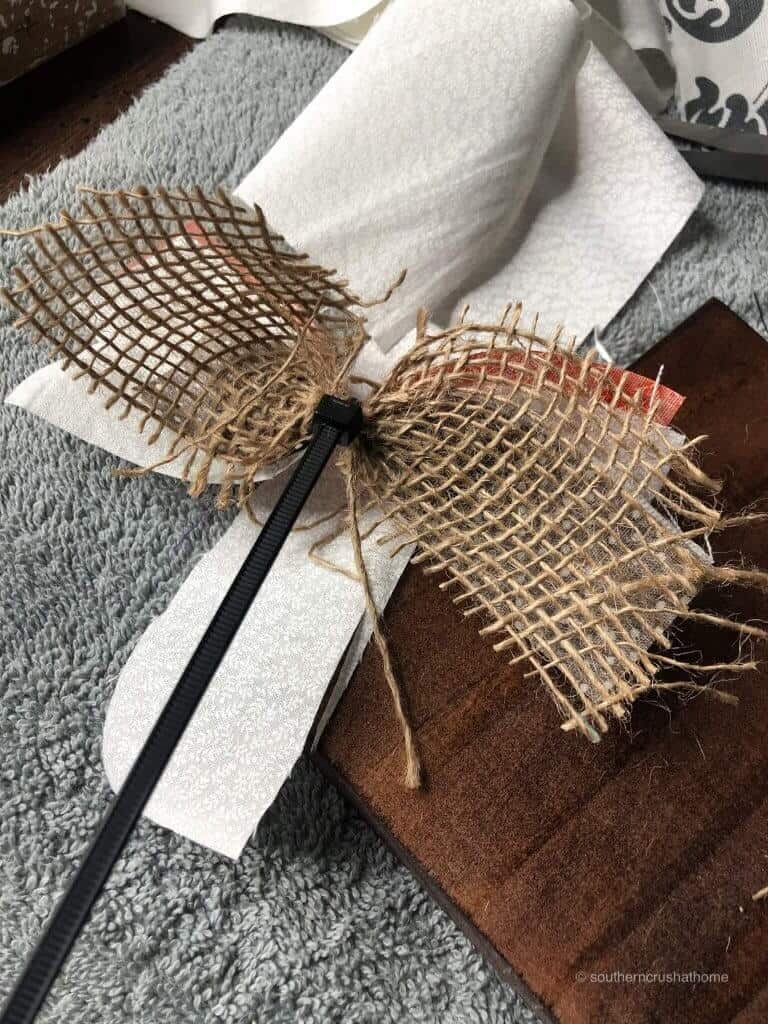 5. Trim excess zip tie with scissors from the backside of the bow.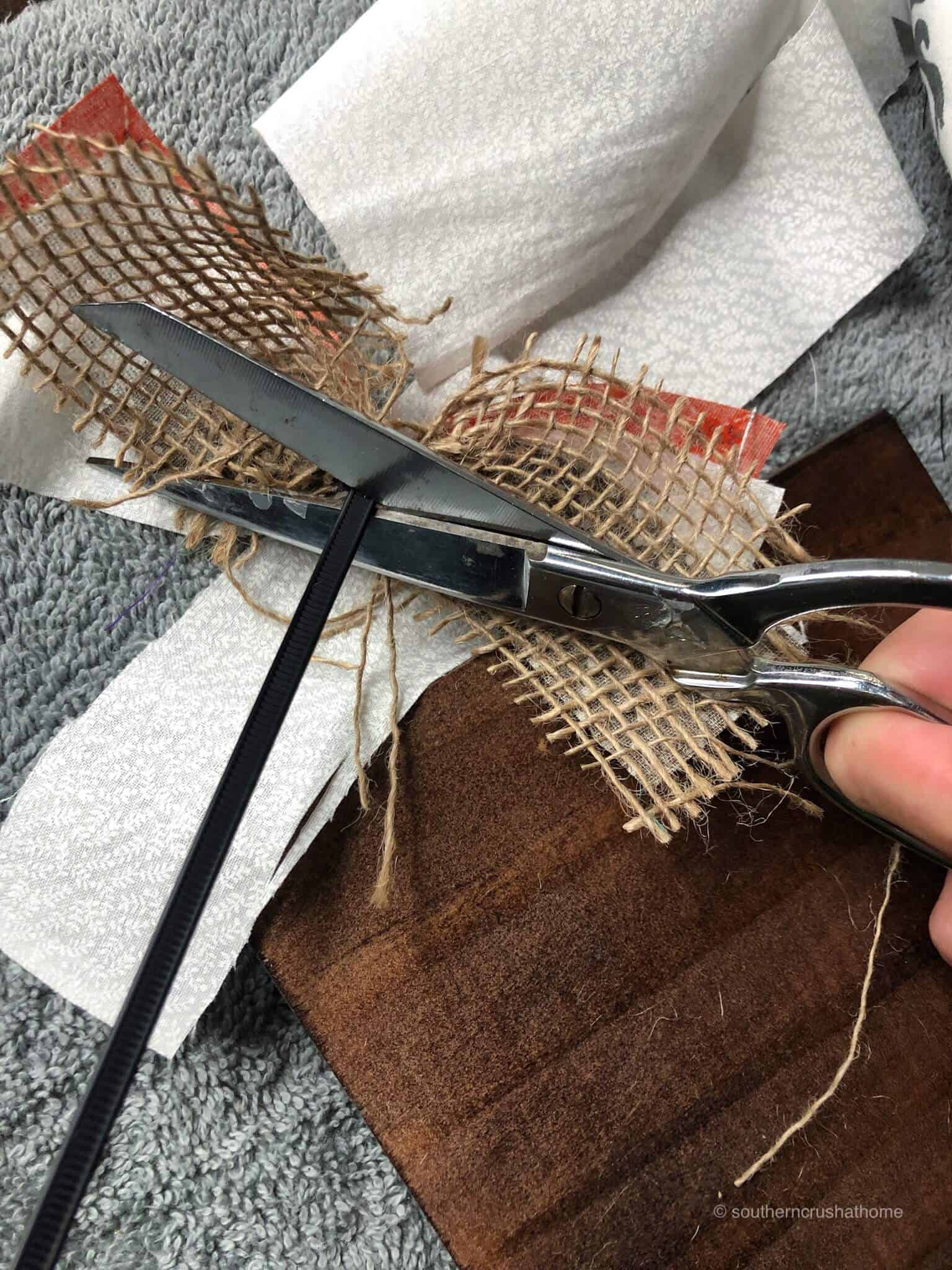 6. Pull on all fabric strips back and forth until they resemble a fluffy, pom-pom shape.
7. Add embellishments like rhinestone bling, or a button with hot glue in the center of the bow if desired.
8. Hot glue the completed messy bow to the center of your wood block.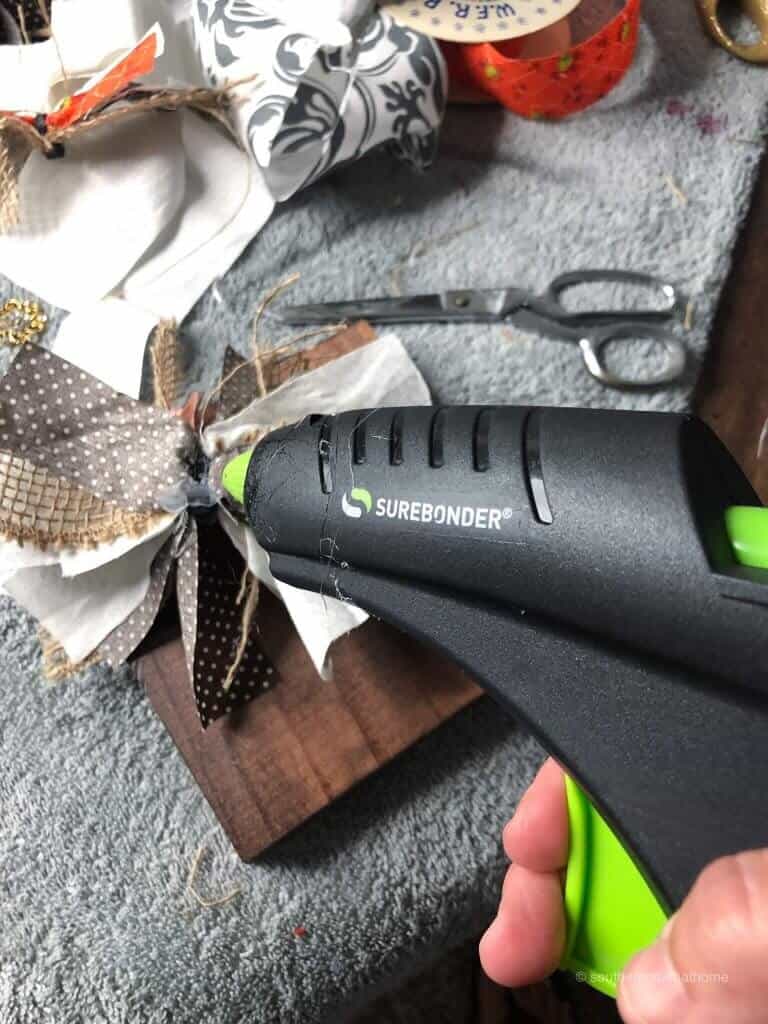 9. Display your wood block decor on your favorite tiered tray along with complimentary, assorted seasonal Fall decor, like your favorite mug, pine cones, pumpkins, wooden beaded tassel, etc.
Viola! Fall Wood Block Decor for a Tiered Tray
Easy and so much fun to make! This messy bow wood block is so versatile. The vintage ribbon colors can be changed out every season or changed up to simply match your decor; the options are endless! The bow we created in this project is a spin off from my Original Messy Bow seen here. You can literally make it as big or small as you like. The fun is in the creativity of your ribbon choices. These bows are great to dress up all sorts of Fall decor including signs, pumpkins, and even gifts. Let me know if you make one!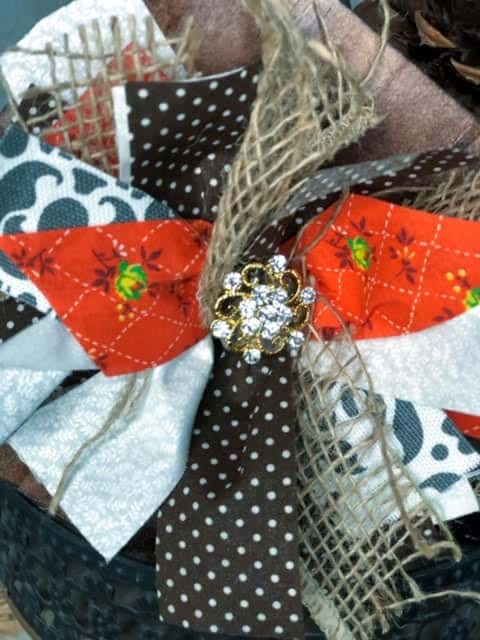 I love the polka dotted vintage ribbon on this bow! The burlap gives it that farmhouse touch as well. The gray blends, the colors all together and softens the bright orange vintage ribbon. The gold rhinestone bling in the center makes the whole thing sparkle. Bling is my favorite part! How about you?
If you loved this craft, you need to be getting my emails, friend! Each week I send out a couple of emails that include updates, crafts, and decor inspiration. Be sure to get yourself signed up below. I can't wait to meet you!
>>>Leave your thoughts below in the comments please… BTW— Life is short—Enjoy the mess!
**P.S. Please join us over on our
Facebook Page
to see more fun projects "Live". Once you have finished YOUR own version of this project, please share it with our community on the page. It helps people so much when they see others being creative!