Dollar Tree Decor Using No Bake Ceramic Paint
This easy project started with an adorable plate and bowl from the Dollar Tree. I was wanting to try my hand at my new ceramic paints and this was the perfect opportunity. Using a cute stencil and some glue, this Dollar Tree decor was a complete win!
supplies for dollar tree ceramic paint decor
Any Dishes of your Choice ( I used a bowl and plate from Dollar Tree)
Artist Paint Brush

step by step instructions for using ceramic paint
Prep your dish by cleaning with a damp cloth or rubbing alcohol.
Place your desired stencil in the center of your dish.
Apply ceramic paint using a scraper or spatula.
Add ceramic paint freely to any other areas you like on the dishes. This is the fun part!
If using traditional ceramic paint then bake to set according to the instructions below.
Place your decorated piece in a COLD oven immediately after creating your design.
Set the temperature to 325 degrees and let the oven warm to that temperature with the dish inside, leave for 35 minutes.
Turn off the oven; allow the piece to cool completely IN the oven.

If using the new No Bake Ceramic Paints then simply allow to dry thoroughly.
Next, using a strong adhesive glue such as E6000 attach the bowl to the plate.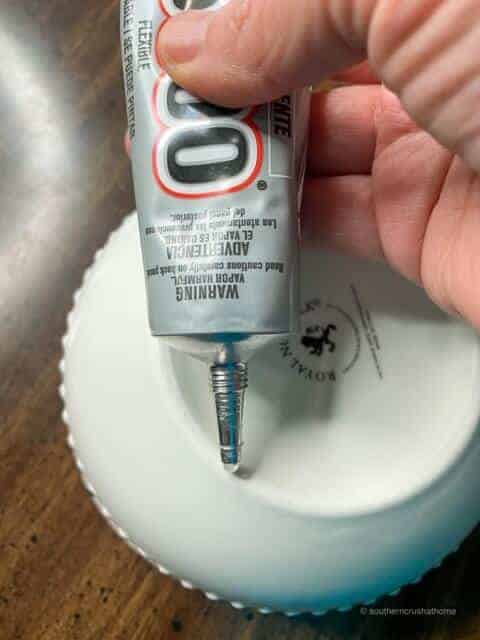 I used a few heavy objects here to help keep it in place overnight to dry.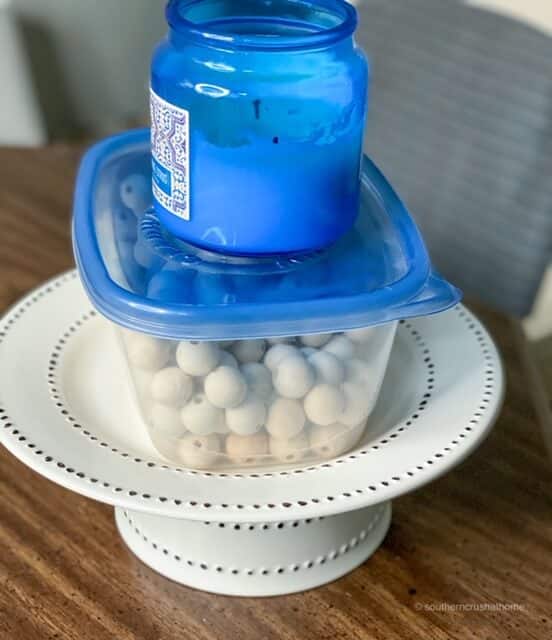 viola! Dollar tree decor using NO BAKE ceramic paint
There you have it! So much fun and so many options! I added my famous MESSY BOW to the base as a cute centerpiece on my countertop. If you water down the ceramic paint, you can simply "tint" your design as well! Will you make some decor using this method?
If you love these kind of DIY ideas, you need to be getting my emails, friend! Each week I send out a couple of emails that include updates, crafts, shopping experiences and decor inspiration. Be sure to get yourself signed up below. I can't wait to meet you!
Leave your thoughts below in the comments please… BTW— Life is short—Enjoy the mess!
BE SURE TO CHECK OUT THESE EASY DIY'S TOO!