Easy Caprese Salad – Tomato Basil Mozzarella Ladybugs
These tomato basil mozzarella ladybugs are not just adorable but delicious too. We all know and love a good Caprese salad with buffalo mozzarella, fresh basil, and juicy tomatoes but this is a whole new way of eating them. These easy Caprese salad ladybugs are so fresh and tasty that you'll find yourself making them over and over again.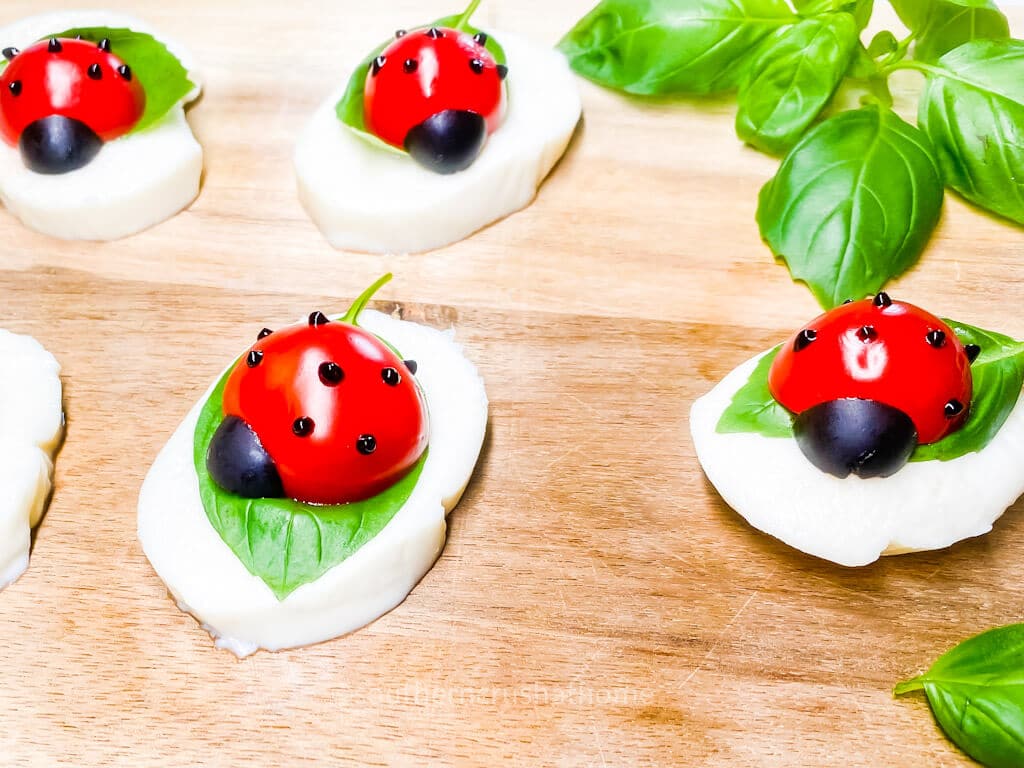 These ladybug Caprese appetizers are sure to get a giggle from your family or guests. They are the perfect salad for potlucks or picnics. I am sure the kids will love them, too!
I've got lots of other exciting salad recipes for you to try: Watergate Salad Pistachio Fluff, Pioneer Women Ambrosia Salad, or this Pioneer Women Potato Salad with a secret ingredient.
Or if you are looking for other kid-friendly foods try these: Cheesecake Stuffed Strawberry Santas, Oreo Truffle Bunny Tails, or these 3 Ingredient White Chocolate Ghost Pretzels.
This blog post contains affiliate links. The opinions are wholly my own from my own experience. I may earn a small commission from clicks through to the websites that end in a purchase.
Why You'll Love This Fresh Mozzarella Caprese Salad
irresistibly cute
fresh juicy, great for the summer with fresh tomatoes
easy to make
great for barbeques, picnics or pot lucks
handheld so easy for socializing while eating
Equipment You Need to Make this Simple Italian Salad
cutting board
sharp knife
serving platter
Ingredients To Make an Easy Caprese Salad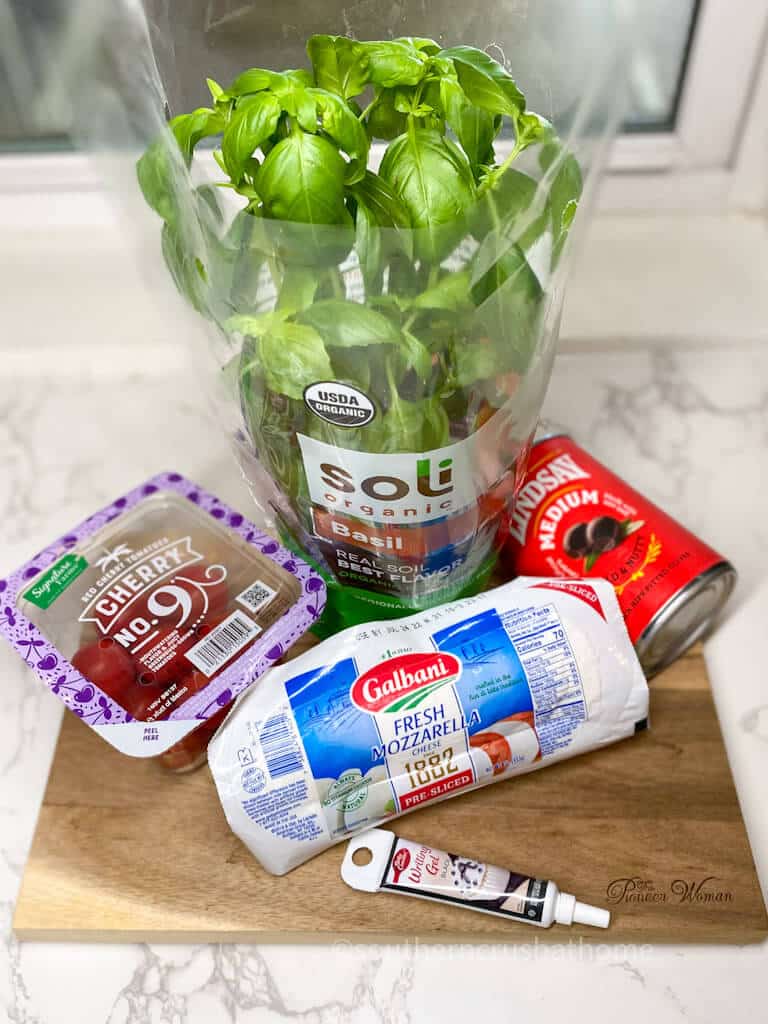 mozzarella slices – use buffalo mozzarella, bocconcini, or ball mozzarella (I used pre-sliced to save time)
cherry tomatoes – grape tomatoes work well too
basil – fresh basil is best (I bought a little plant to use over and over)
can of whole black olives – make sure they are pitted to save you some time
extra virgin olive oil
salt
How to make this Ladybug Mozzarella Caprese Salad Recipe
Slice mozzarella thinly if not already sliced.
Prep the produce by washing and drying them.
Pick whole basil leaves from the basil plant.
Place a basil leaf on top of a slice of the fresh mozzarella.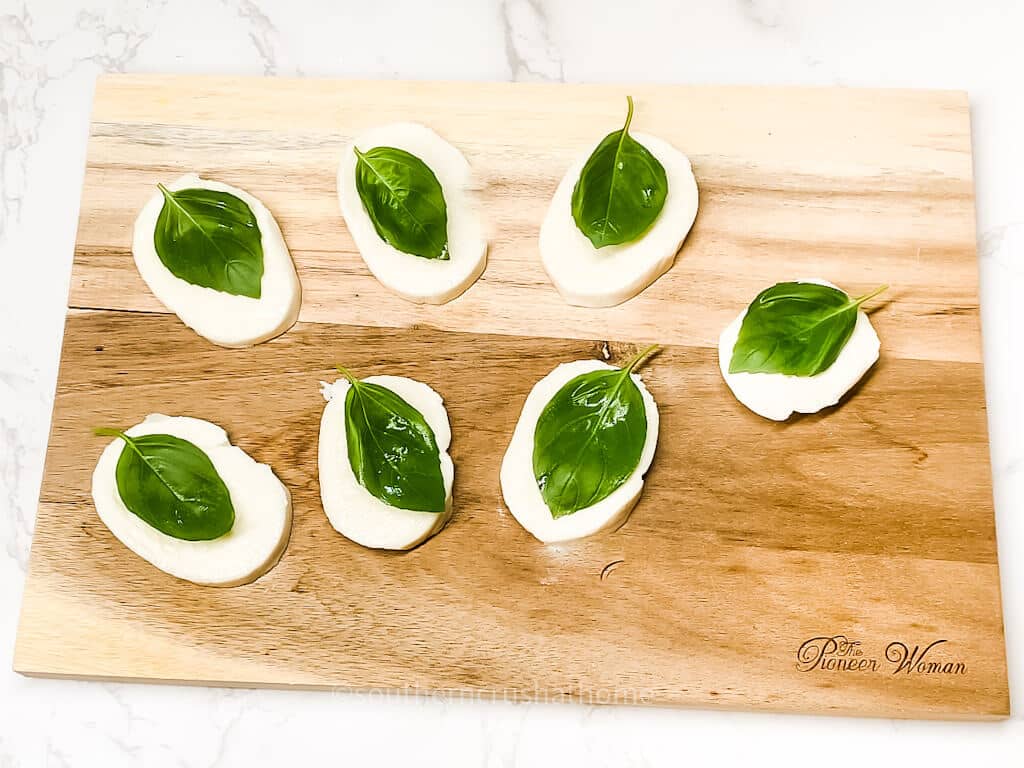 Slice cherry tomatoes in half.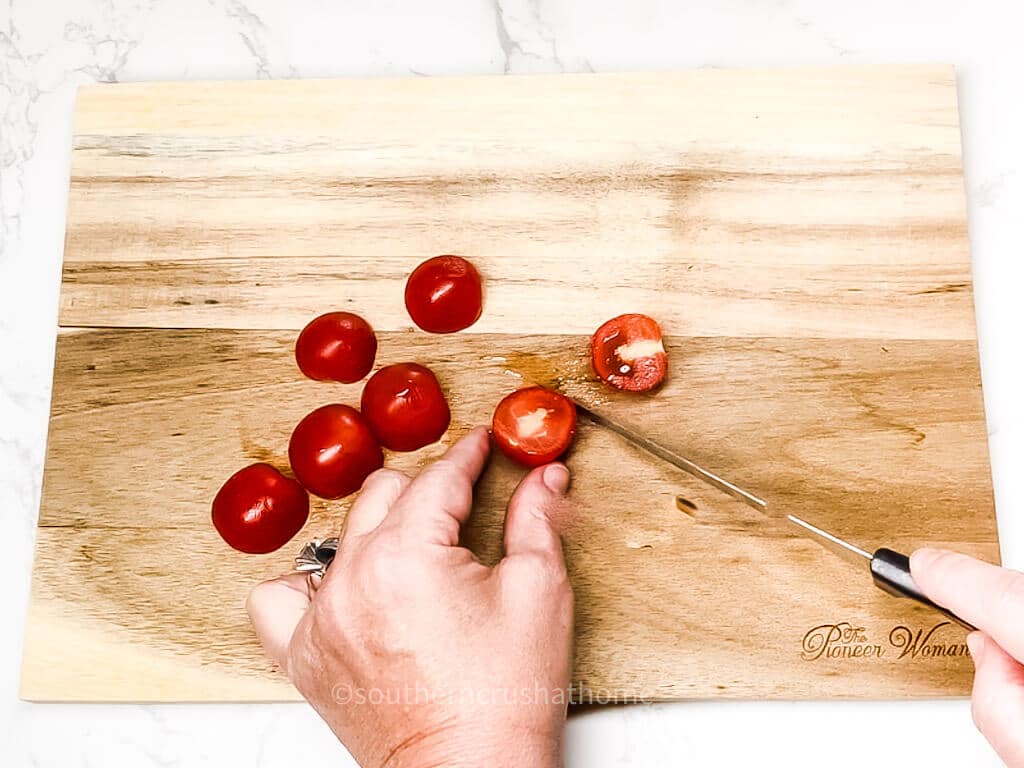 Place cherry tomatoes on top of the basil.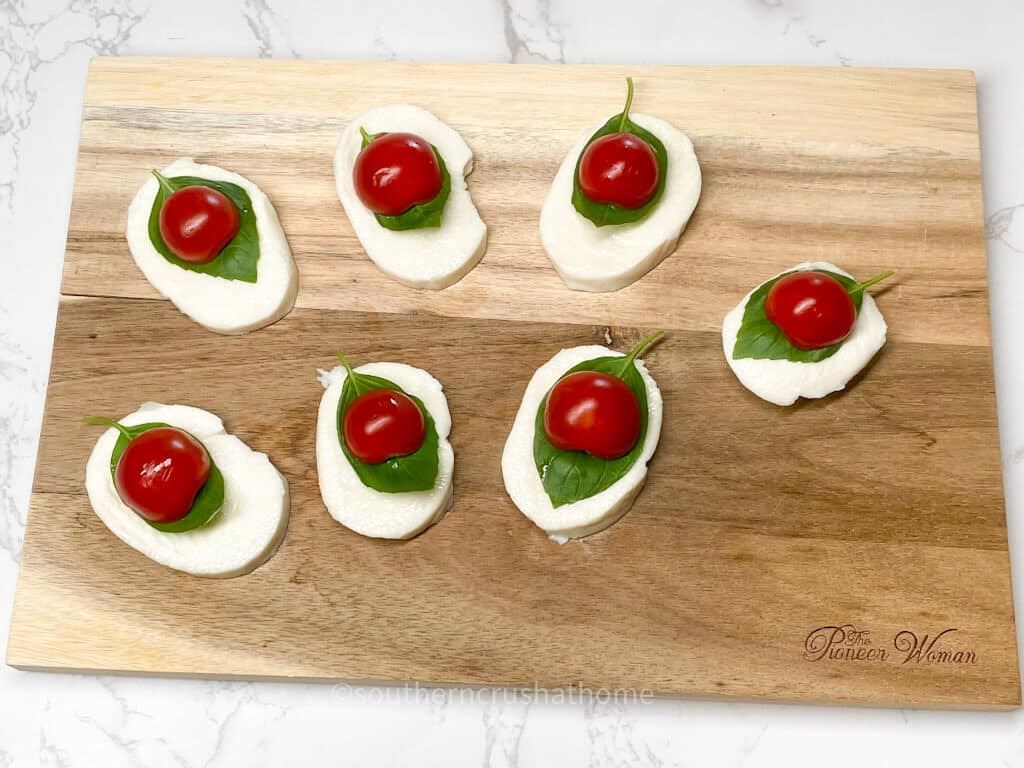 Slice black olive in half and then in half again.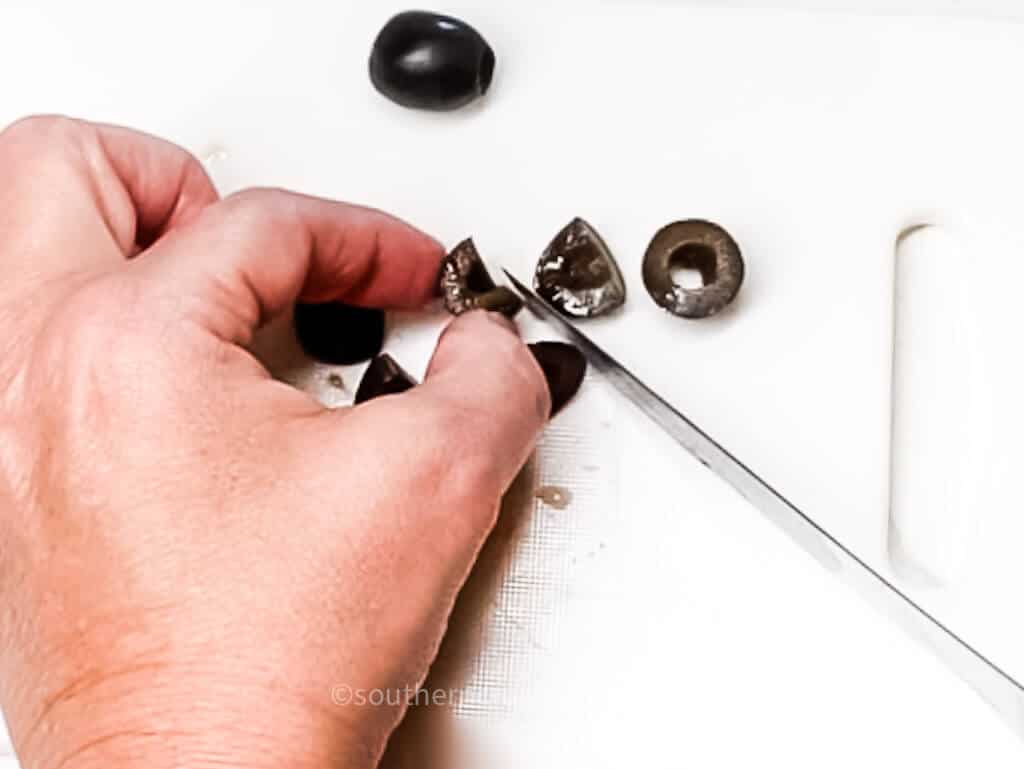 Place the olive piece in front of the tomato.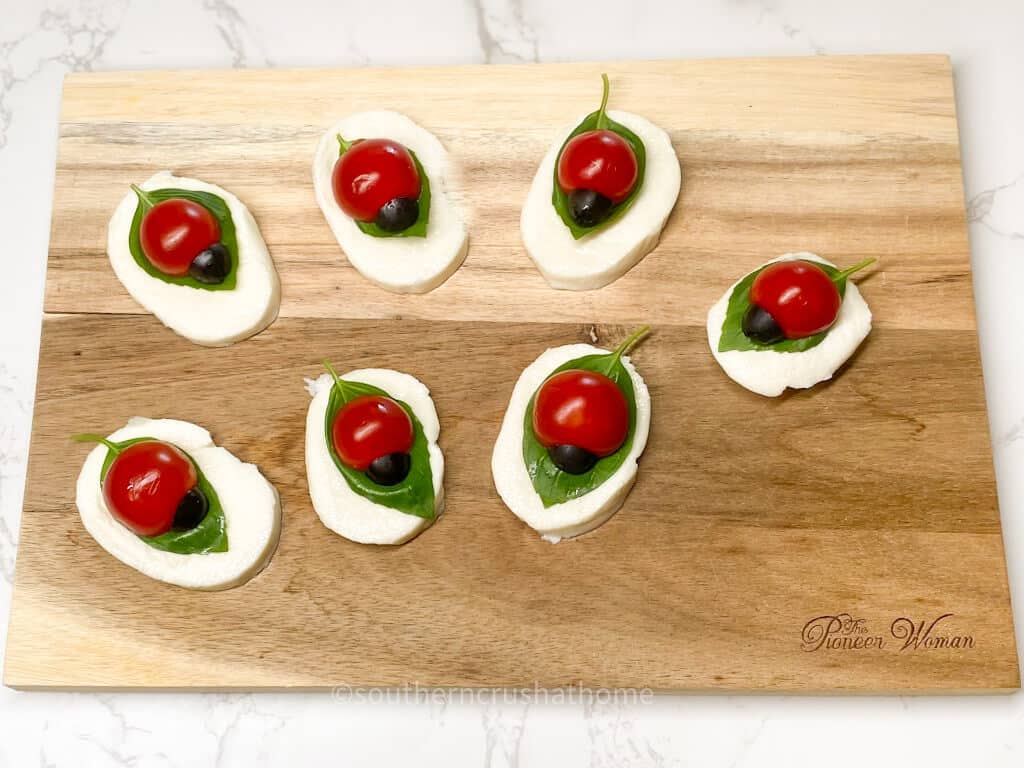 Add gel dots to the back of the tomatoes for the ladybug dots.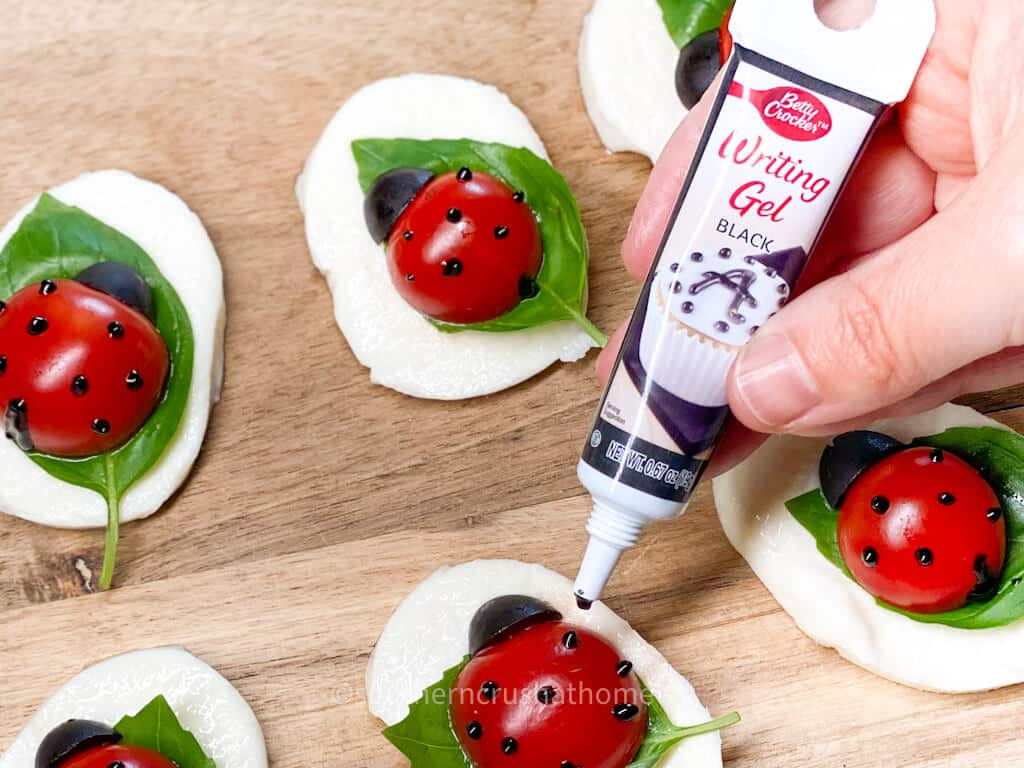 Assemble on a serving platter or charcuterie board and then drizzle with extra virgin olive oil and/or a balsamic vinegar glaze followed by a sprinkle of freshly ground black pepper or salt and pepper if desired.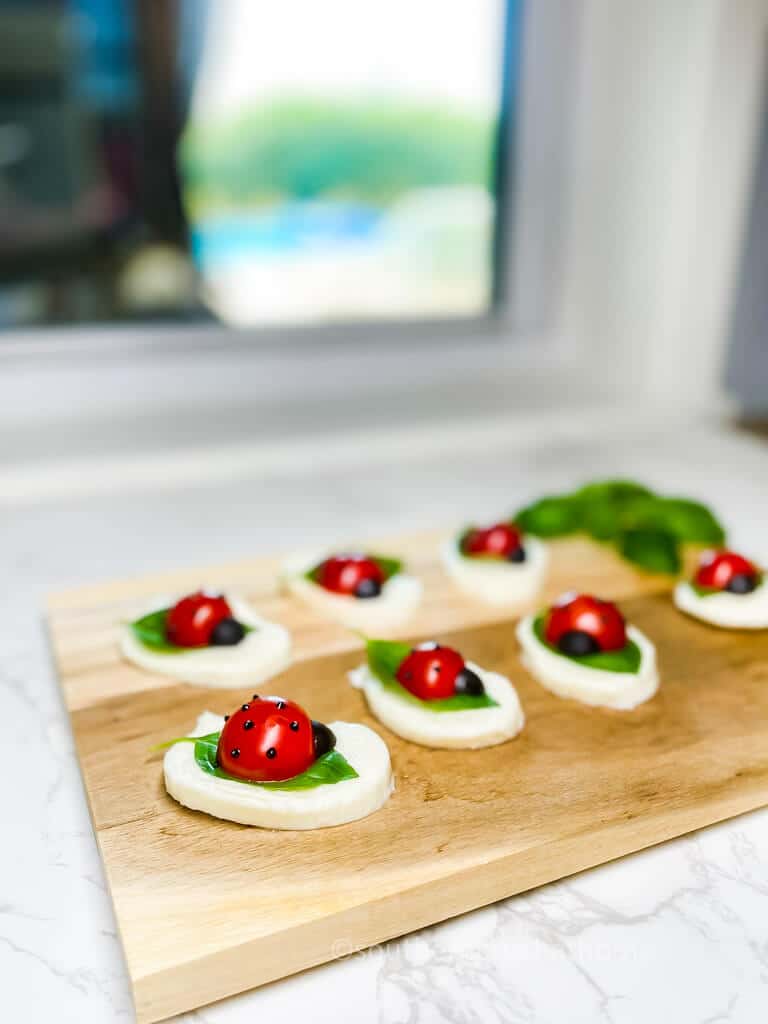 What is an Italian Caprese Salad?
A Caprese salad is an Italian salad consisting of fresh mozzarella cheese (bocconcini or buffalo mozzarella), sliced tomatoes, and fresh basil leaves. It is usually drizzled in extra virgin olive oil, balsamic vinegar, freshly ground black pepper, and sprinkled lightly with salt.
Like a Margherita pizza, it highlights the colors of the Italian flag: green, white, and red.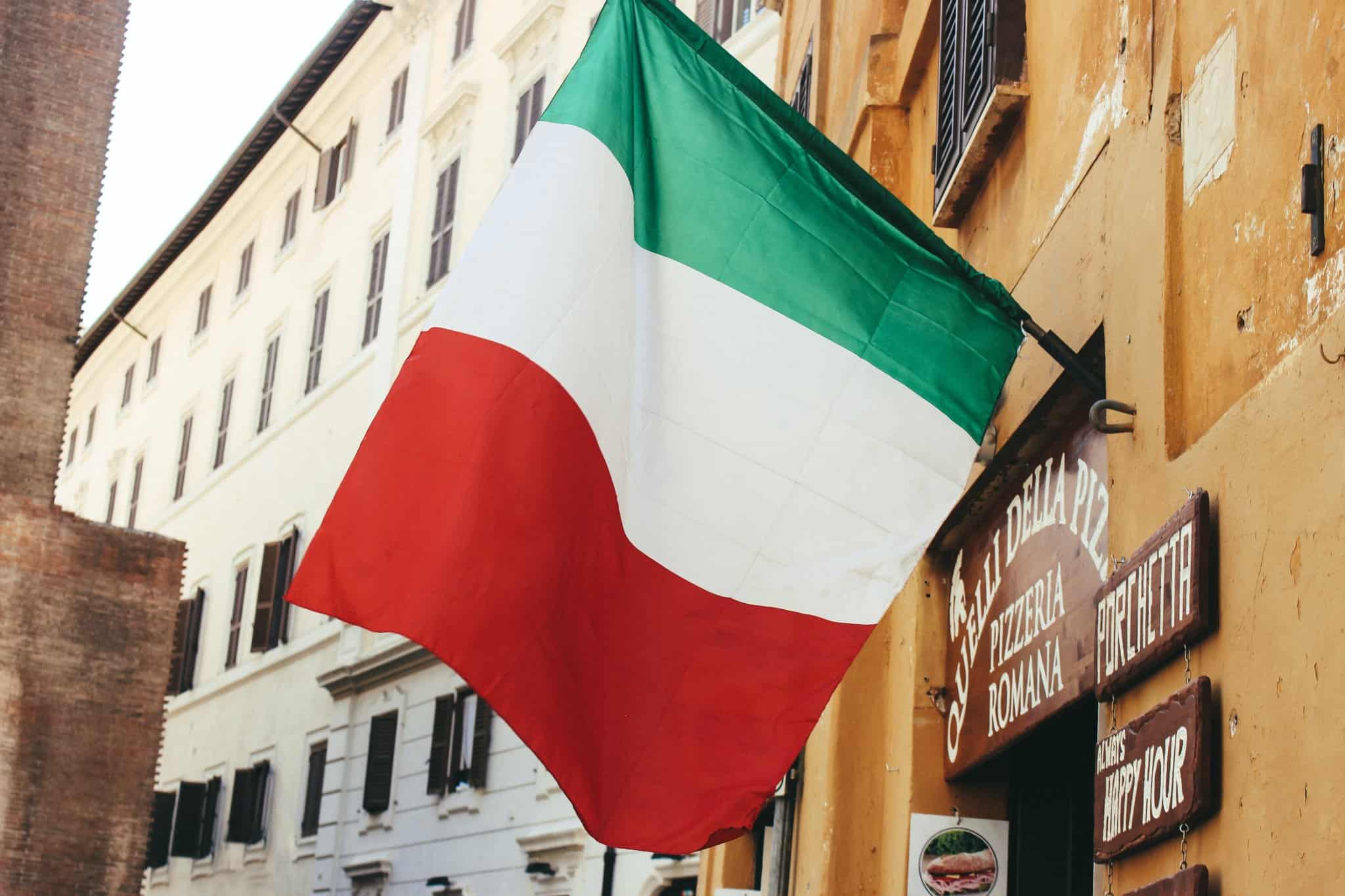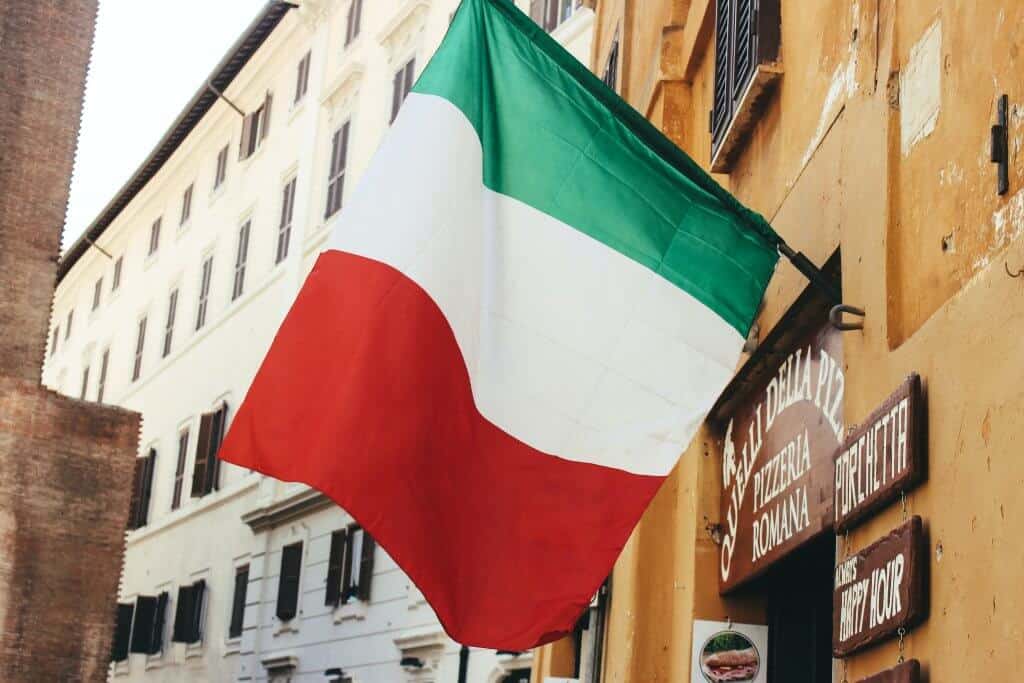 Variations Of The Ladybug Caprese Salad Recipe
place fresh mozzarella and basil on crackers for serving
drizzle with chili-flavored olive oil
serve on a bed of greens
add your favorite salad ingredients
sprinkle with chopped nuts
drizzle with balsamic glaze
use burrata instead of fresh mozzarella
add diced avocados
top with bacon bits or prosciutto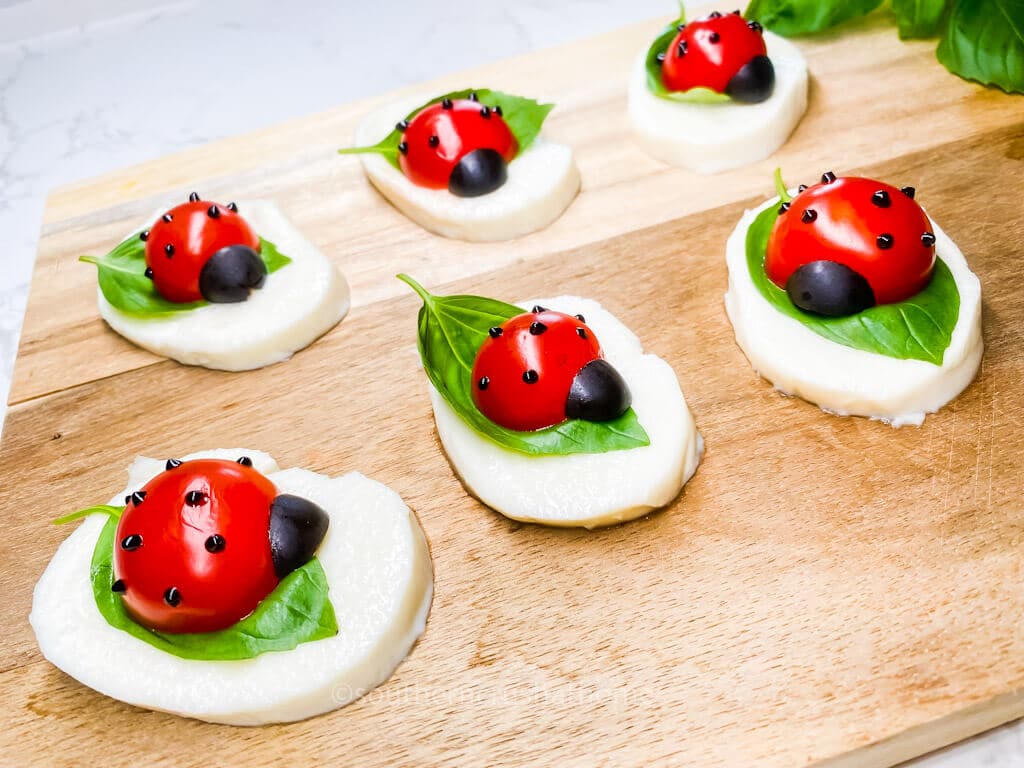 How To Store This Caprese Salad
This classic Caprese salad should be refrigerated until you are ready to eat it. It can be made in advance and kept in the fridge, covered, for a few hours; however, it's best if consumed right away.
Drizzle with extra virgin olive oil, and balsamic vinegar, and sprinkle with sea salt and pepper just before serving.
Tips and Tricks to Making this Easy Caprese Salad recipe
pat fresh mozzarella dry or place on a paper towel while assembling the ladybugs
precut the tomatoes and olives so they can drain any excess moisture
make sure you use ripe tomatoes, there's nothing worse than a salad with unripe tomatoes 🙁
only use fresh basil, dried will not give this recipe the right flavor
if you don't have fresh basil leaves on hand a small dollop of pesto will work as well
make sure to buy whole pitted black olives, halves or chopped olives will not work
only pull the pull tab back without fully removing the lid to easily drain the olives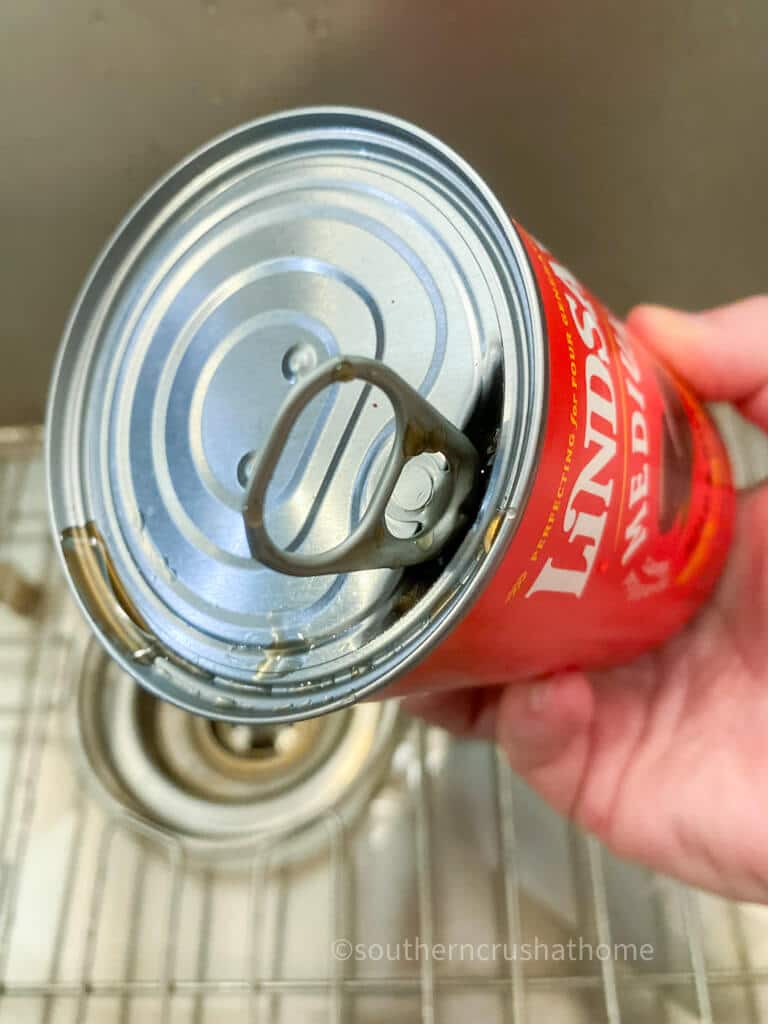 FAQs
Why do they call it a Caprese salad?
It is believed the Caprese salad was invented on the island of Capri hence the name Caprese. Traditionally made of tomatoes fresh mozzarella and basil leaves; other Caprese dishes include a sandwich, pizza, and pasta.
Can I use a different tomato to make this ladybug Caprese salad?
In theory, any kind of tomato works well in a Caprese salad as long as it is ripe. Cherry or grape tomatoes are best as they are small and when cut in half they are perfect for the ladybug body.
However, if you can't find cherry or grape tomatoes you can use a different kind (If heirloom tomatoes are in season, they are a super popular option for a delicious Caprese salad alternative) and cut them so they are small and round not thick slices. This will take a little more time, unfortunately.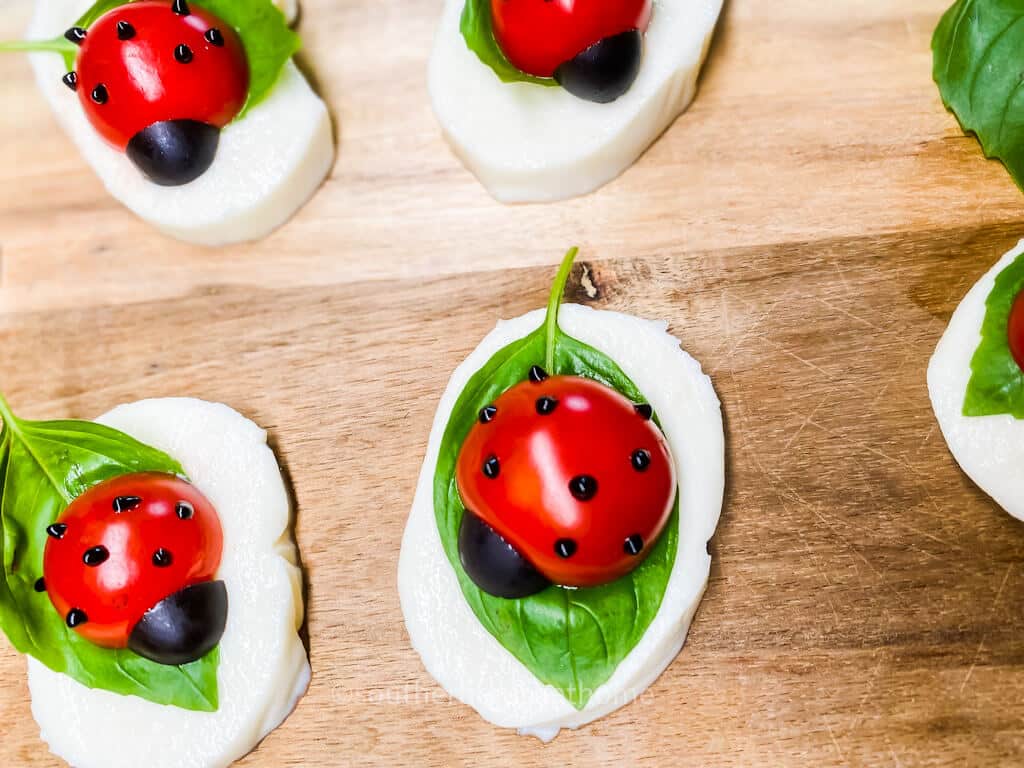 Is a Caprese salad healthy?
Fresh tomatoes, basil, and cheese are part of a healthy diet. Tomatoes are a good source of Vitamin C and cheese is a great source of calcium. Like any food, everything in moderation is best.
How can I make a vegan Caprese salad?
Making a vegan mozzarella Caprese salad is quite simple. You can easily substitute sliced, firm tofu for the mozzarella. The preparation instructions would be the same.
What can I substitute for the fresh basil?
If you are not a fan of fresh basil or you can't find any try using fresh oregano, parsley, or arugula instead. Or as I mentioned above pesto works well too.
What kind of basil works best in this mozzarella Caprese salad?
There are lots of different varieties of basil; sweet basil, Thai basil, lemon basil, and the list goes on.
I prefer to use sweet basil for my Caprese salad but if you prefer a different kind then go ahead and use it. Any kind should work well and give you the flavor you are looking for.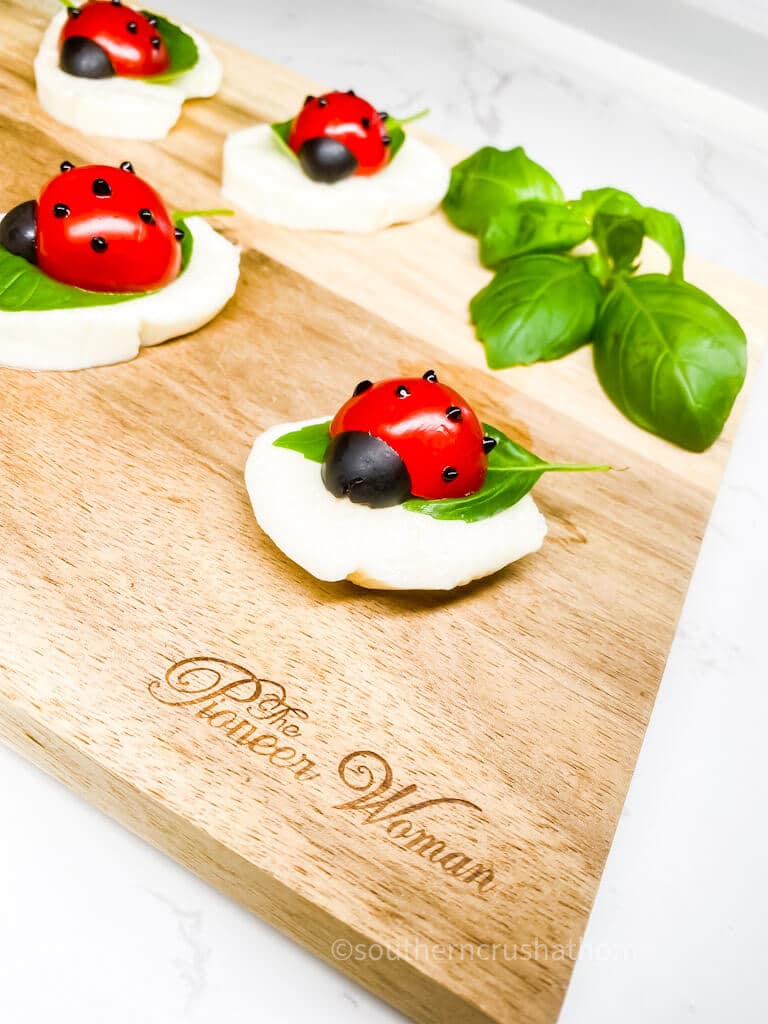 How do I serve this mozzarella salad?
This Caprese salad can be used as an appetizer to eat before your meal or it can be served as a salad. Both ways work well.
Since it is handheld and portable it is great to serve as an appetizer at a party while guests are mingling.
This can also serve as a delicious side dish served alongside a menu of other fresh and amazing seasonal recipes.
What is the difference between balsamic vinegar and balsamic glaze?
Balsamic glaze is a "reduction" of balsamic vinegar. Balsamic reduction is made by simmering balsamic vinegar in a saucepan until it's reduced in half and has the consistency of a sticky syrup or honey. Trust me when I say it's delicious!
Be sure to PIN this one for Later!
If Meal Planning has got you down, don't forget to grab a copy of my FREE Easy Meal Planning For Beginners Guide.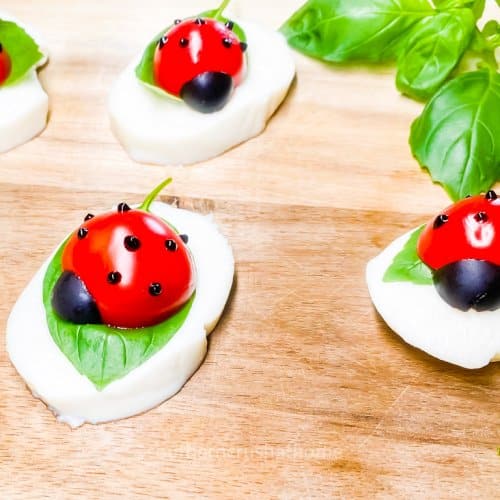 Easy Caprese Salad
Quick and easy tomato basil mozzarella salad ladybug appetizer
Ingredients
mozzarella slices

cherry tomatoes

fresh basil

1

can

whole black olives
Instructions
Slice mozzarella if not already sliced.

Place basil leaf on top of mozzarella slice.

Slice cherry tomatoes and place on top of basil.

Slice black olive in half and then in half again.

Place olive in front of the tomato.