Blackstone Griddle Review: The Most Versatile Griddle Available
Are you looking for a griddle that can do it all? If so, the Blackstone Griddle is the perfect option for you. This griddle is one of the most versatile on the market and can be used to cook breakfast, lunch, or dinner, this griddle can handle it all.
This article provides an in-depth review of the Blackstone Griddle. From breakfast to dinner, I'll share everything you need to know about this amazing piece of equipment!
This blog post contains affiliate links. The opinions are wholly my own from my own experience. I may earn a small commission from clicks through to the websites that end in a purchase.
About Blackstone Griddle
Blackstone griddles are the best way to prepare foods quickly and easily. It is an excellent choice for anyone looking to get a great-tasting, healthy meal on the table without heating up the kitchen.
It is available in a wide range of styles and sizes, so you can find one that exactly meets your needs. It can be used to make pancakes, omelets, crepes, quesadillas, hash browns, and more.
In addition, they can also be used to cook burgers and other meats. While there are some differences between models and brands, all Blackstone griddles have these key features in common-
A solid nonstick surface that resists burns and allows food to cook properly.
A heavy base that provides stability and reduces tipping during use.
An adjustable temperature control system that allows you to cook food at the desired temperature quickly and easily.
Benefits of owning a Blackstone Griddle
Cooking flexibility with a Blackstone Griddle
I have a 28″ Blackstone Griddle for outdoors and it did take the place of our charcoal grill and our tabletop indoor griddle. The large cooking space of this griddle allows you to cook a variety of things at once, which means less time spent prepping and more time enjoying your meal!
Indoor and Outdoor Versions
The Blackstone griddle comes in a variety of versions, each designed to meet the specific cooking needs of different environments. If you want to use your griddle indoors, Blackstone offers a kitchen version tabletop griddle.
Whether you need an indoor or outdoor version, there's a Blackstone model that's perfect for your home. The versatility of these units will give you more options in your kitchen, resulting in less time spent prepping food.
Easy Cleaning and Maintenance
Blackstone griddle is designed with easy cleaning in mind. All you need is a Grill scraper and a wet paper towel to get the job done, unlike other griddles.
In addition to the ease of cleaning and maintenance, the Blackstone griddle is made from durable materials, including cast iron. This ensures that your griddle lasts for years of daily use, no matter the environment. If taken care of properly, the Blackstone griddle should last up to 20 years.
Durable Construction
All models of Blackstone griddle are made from Cast Iron. It also has excellent temperature retention. It is heavier than aluminum griddles but offers a very even heat distribution. Some people prefer aluminum cookware because it is lighter, while others prefer cast iron because it distributes heat more evenly.
Convenient Size
The Blackstone griddle comes in a variety of sizes, so you can choose one that matches your cooking needs and situation. Griddles are available in sizes ranging from 17" to 36". If you are regularly cooking large quantities of food, you may want to choose a larger-sized model.
If you're using your griddle only occasionally, like for tail-gating, a smaller unit is sufficient and more convenient. Mine is 28″ with 2 cooking zones and is perfect for our family of four.
Blackstone Recipes
The multiple burner types available with a Blackstone griddle allow you to use a wide variety of cooking methods. You can sauté vegetables and make pancakes, use the griddle to broil steak, or even make stir-fry using the wok ring accessory.
It makes the best-fried eggs, scrambled eggs, and omelets. It makes cooking vegetable stir fry or potato home fries a breeze, too. I love making these quick and easy Brussel sprouts!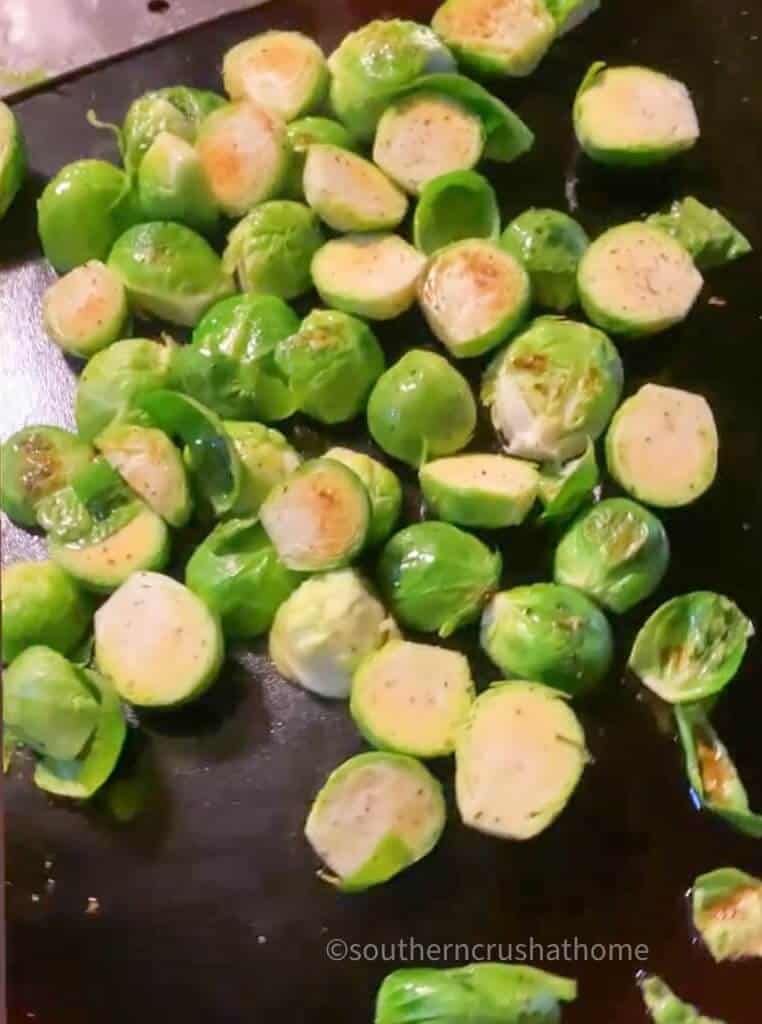 My favorite thing to make on the griddle is pancakes. I can make so many at once and they're all warm and ready to eat at the same time.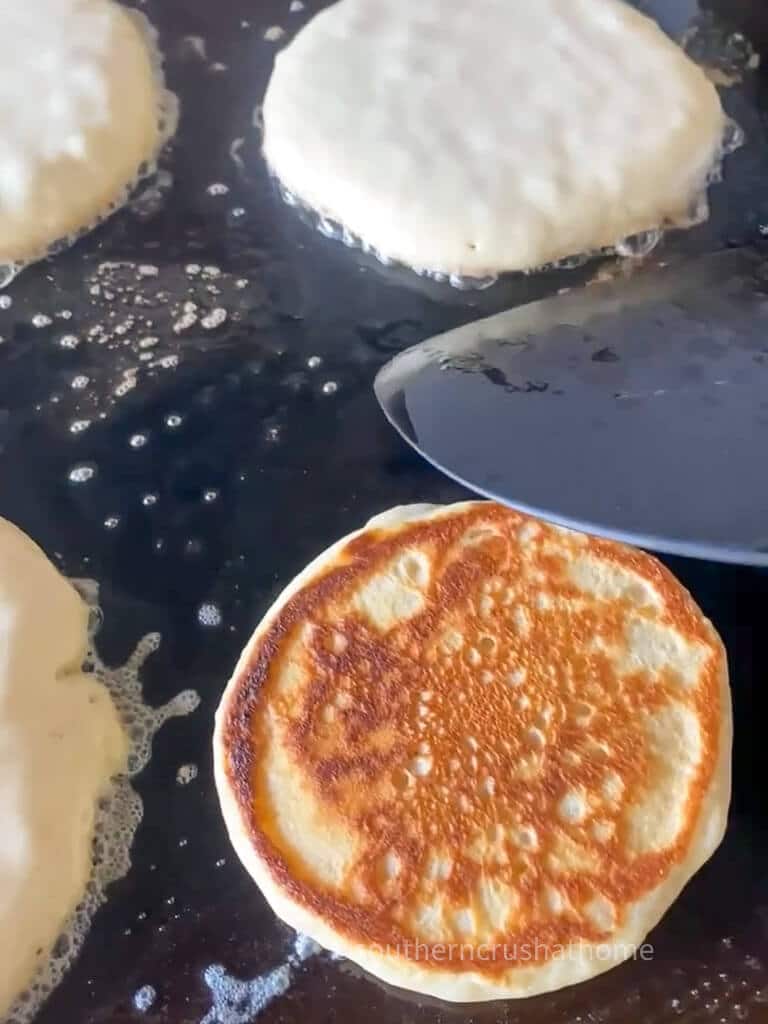 This is the handy pancake batter dispenser I love to use! It makes my life so much easier.
If you regularly entertain large groups of people, the ability to do several things at once is a huge bonus!
Two Important Tips for your Blackstone Griddle
Tip One
Grab one of these handy griddle side carts ASAP because there is not a lot of room to lay down trays, tools, or platters on the griddle itself. This amazing rolling cart is the perfect solution and holds all of your Blackstone accessories within arms reach while griddling!
Tip Two
If you will be storing your Blackstone griddle outdoors, it's a good idea to invest in one of these more permanent griddle covers. This one is super durable and made of diamond plate aluminum and it's my next investment for sure!
FAQ about Blackstone Griddle
What are the most commonly used Blackstone Griddle accessories?
There are several Blackstone Griddle accessories you can use. There are spatulas, tongs, and other tools that can help make your life easier when cooking on the Griddle. You can also use griddle covers or heat-resistant mats to protect your surface from heat damage.
The most commonly used Blackstone Griddle accessory is the "Seasoning and Cast Iron Conditioner". It is important to keep your griddle seasoned to protect your griddle. You can always use your own oil; however, depending on its burning point, it may leave a sticky residue behind.
Another recommended Blackstone Griddle accessory is the BBQ Set grilling tool kit. This set includes spatulas of various sizes, turner, grill scraper, grill tongs, scraper chopper, brushes, sauce bottles, egg rings, etc. This is the set that I purchased and we love it!
You could also choose to add a Blackstone basting cover, Griddle presser, or a professional Blackstone Griddle cleaning kit based on your requirements.
One can also look at Griddle covers and mats. They come in a variety of shapes, sizes, and colors to suit any kitchen's needs. These are easy to clean and are made of heat-resistant material.

How to Season a Blackstone Griddle?
To season your Blackstone Griddle, first, wipe it down with a clean cloth. After that, rub a little oil on the surface. Finally, heat the Blackstone griddle until it is hot enough to release the oil, but not so hot that you start to burn it.
When you start to see smoke, wipe off excess oil with a dry cloth and let the griddle cool completely before storing. Repeat several times until the desired color is achieved.
This simple process will help your Blackstone griddle last much longer than if you just leave it as-is.
Do Blackstone Griddles rust?
Blackstone griddles is known for being long-lasting because it is made out of quality material. But one thing to keep in mind is that Blackstone griddles do need regular maintenance. If you don't clean your Blackstone griddle after each use, then it might start to rust.
Should you use oil every time you cook on a Blackstone griddle?
One common problem that people experience with their Blackstone griddle is food sticking to the surface. This could be due to improper cleaning or incorrect seasoning.
If you are having issues with food sticking, try cleaning your griddle thoroughly and then seasoning the surface with a non-stick cooking spray or oil before cooking on it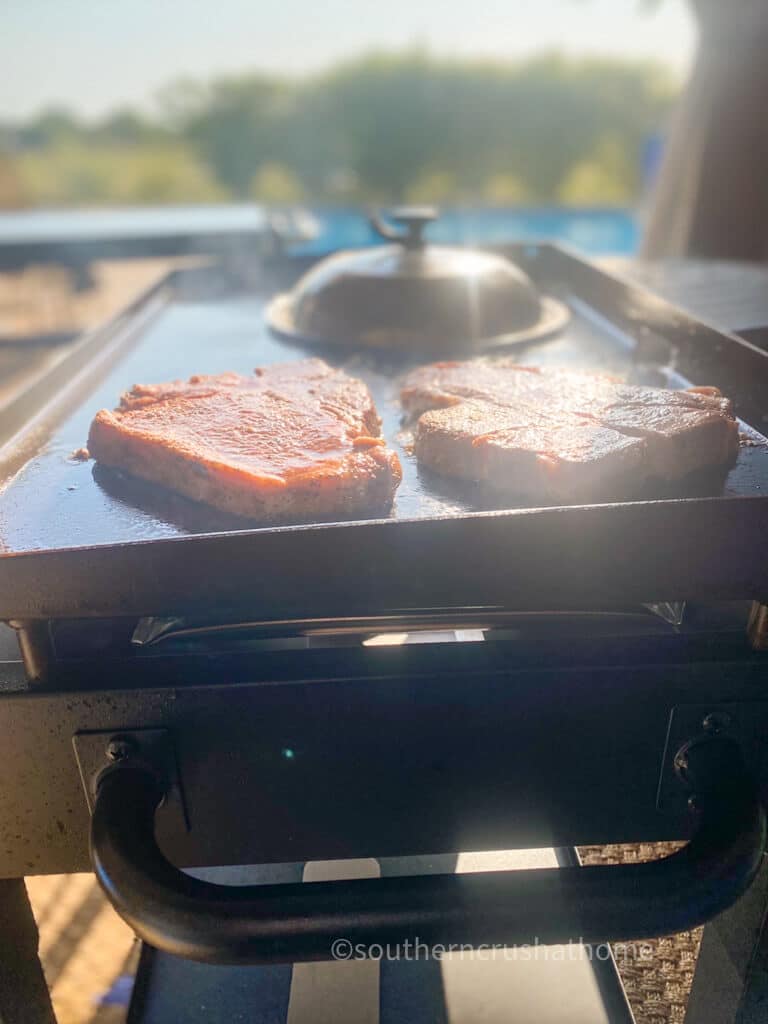 Summary
When you invest in a griddle, you want to make sure that it will give you the flexibility you need. If you are looking for something that can be used for both small and large batches of food. You want something with multiple temperature settings so that you can cook pancakes or steak on the same surface. You want something durable and easy to clean. The Blackstone Griddle delivers all of those features while also giving home cooks an exciting new way to use their favorite appliances.
You may like this popular article I also shared all about Grillin' and Chillin' Ways to Store BBQ Tools, too!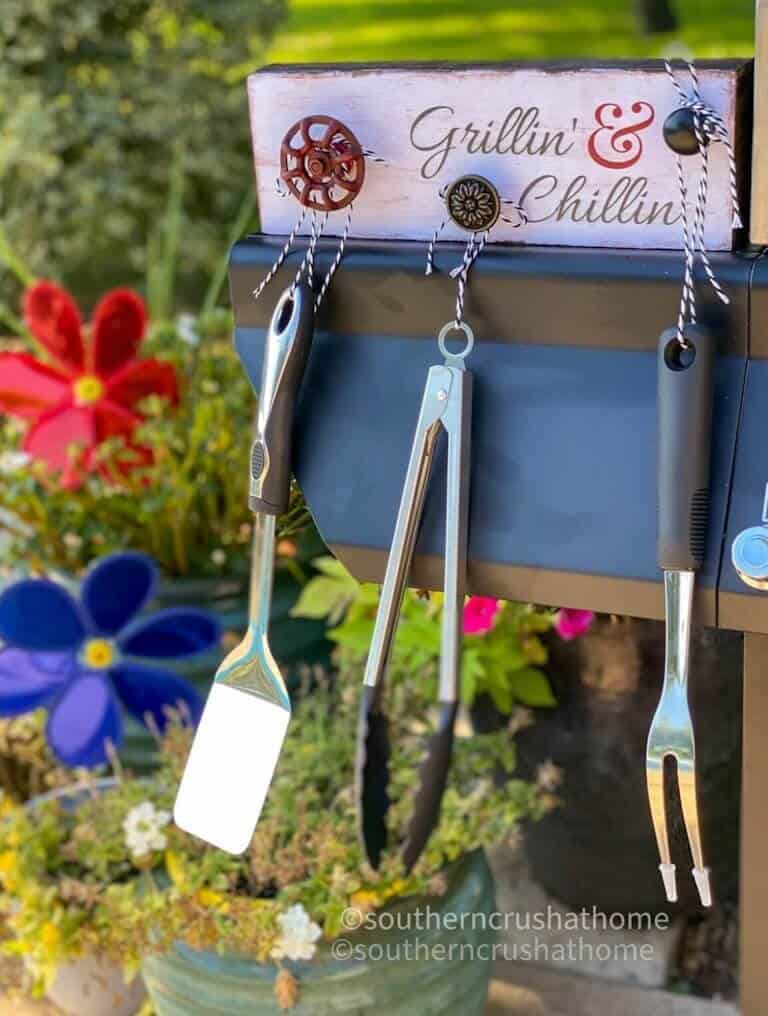 Check out my other REVIEWS below!