Veterans Day Celebration + FREE Printable
With Veterans Day being celebrated this week; I thought it may be a good time to share a bit about some of my favorite veterans. I come from a long line of veterans who have served our country proudly and one who even made the ultimate sacrifice. Truth is, I need a place to put this information for my kids and grandkids to reference, so stick with me and grab the FREE printable at the end.
what is veterans day and why do we celebrate it?
Veterans Day is a federal holiday reserved to honor all of those who have served our country in war or peace whether they are deceased or living. It was originally called Armistice Day, commemorating the end of World War I. While most use this day to appreciate the living veterans and their sacrifice; it is also, a time we spend reflecting on past loved ones who served. Memorial Day is a special day set aside specifically for remembering those who lost their lives serving while Veterans Day is for honoring all who have served in our military past and present.
remembering loved ones on veterans day
I have a long list of veterans to celebrate for this special occasion. Where do I even begin? I'll start on my mother's side of the family with Uncle Pete Fuller who served in combat with the marines in the Vietnam War. My Aunt Mary Fuller served as a Naval nurse as did her daughter, my cousin, Lori Buehler.
Fred Barnett, my father served in the Navy and his side of the family is flooded with military heroes. Marshall Barnett, my uncle was a pilot during WWII and was shot down and MIA at the age of eighteen. He has been hailed over the years and currently has a street in Dallas, TX named in his honor.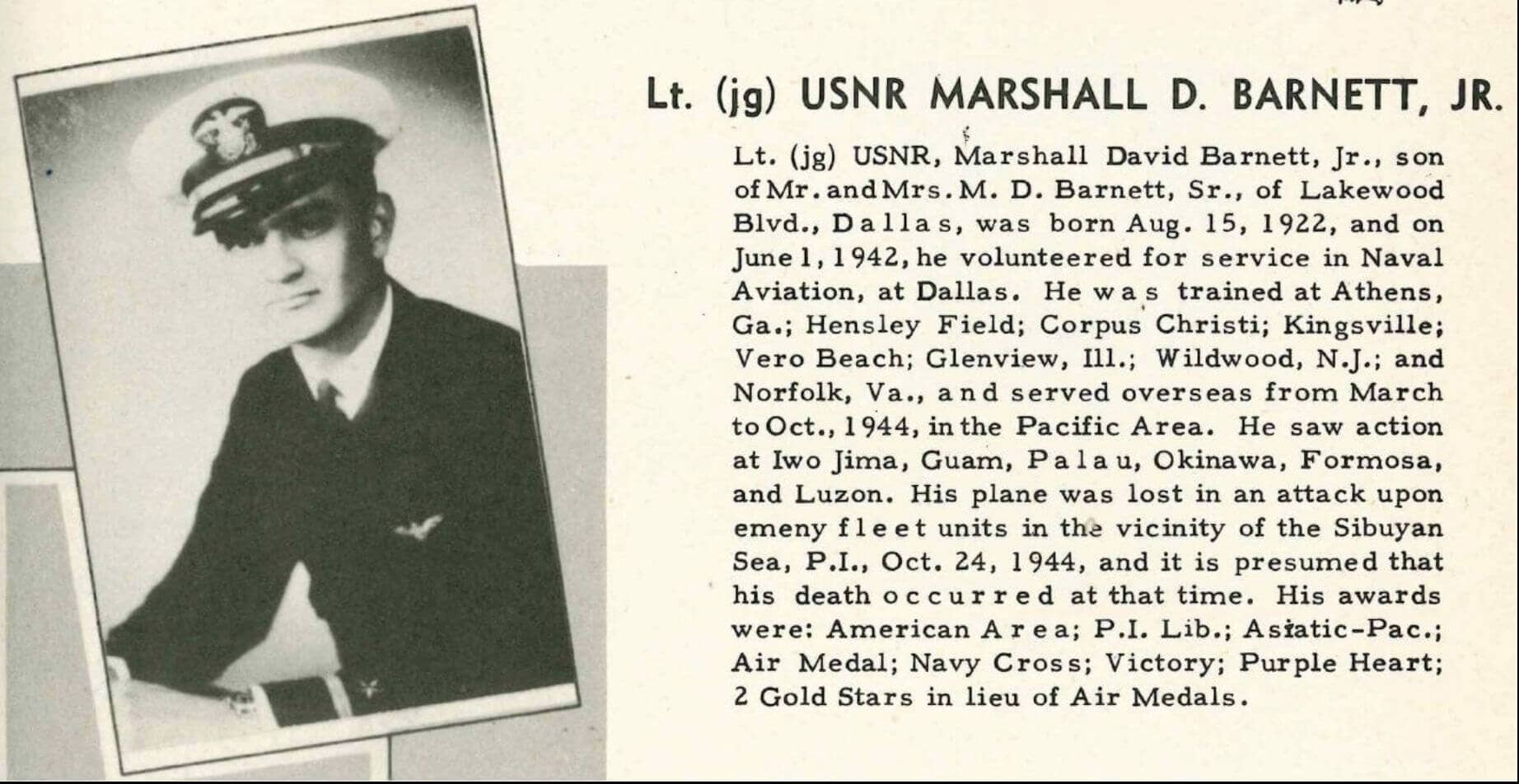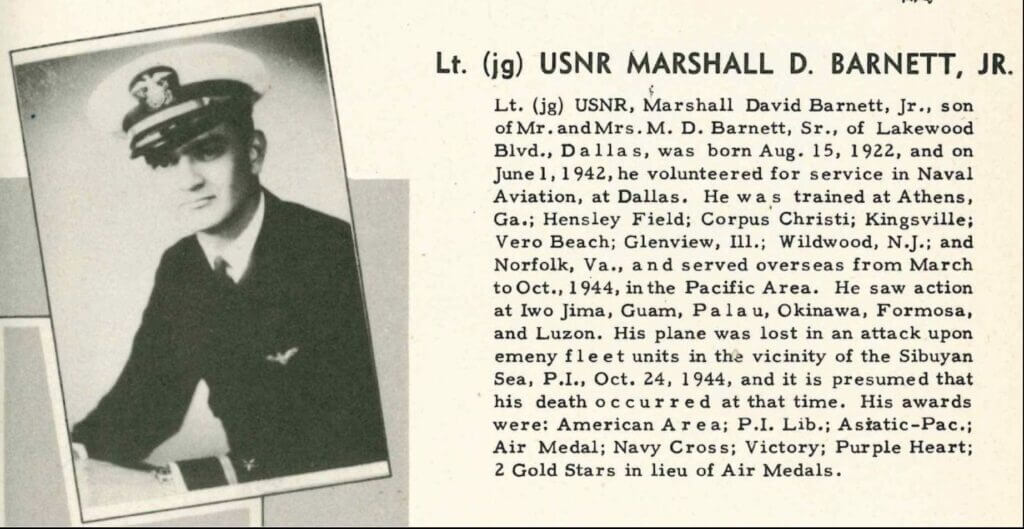 Name of Award
Navy Cross
Year Awarded
1945
Details behind Award:
Awarded for actions during the World War II
The President of the United States of America takes pride in presenting the Navy Cross (Posthumously) to Lieutenant, Junior Grade Marshall David Barnett, Jr. (NSN: 0-264306), United States Naval Reserve, for extraordinary heroism in operations against the enemy while serving as Pilot of a carrier-based Navy Scout Dive Bomber in Bombing Squadron THIRTEEN (VB-13), attached to the U.S.S. FRANKLIN (CV-13), in action against enemy Japanese forces in the Sibuyan Sea during the Air Battle of Leyte Gulf on 24 October 1944. Lieutenant, Junior Grade, Barnett fought his plane boldly and with relentless determination despite accurate and intense anti-aircraft fire during a brilliantly executed attack on a Japanese light cruiser. With his plane badly damaged by a burst of hostile fire in the execution of his dive, he continued his same daring tactics and released his bomb load at perilously low altitude to score a direct hit on the enemy ship. By his superb flying ability, indomitable fighting spirit and cool courage, maintained at great personal risk, Lieutenant, Junior Grade, Barnett contributed immeasurably to the extensive and costly damage inflicted on the Japanese fleet in this vital war area. His conduct throughout this action reflects great credit upon himself, and was in keeping with the highest traditions of the United States Naval Service.

General Orders: Commander in Chief, Pacific: Serial 0608 (January 29, 1945)
Action Date: October 24, 1944
Service: Navy
Rank: Lieutenant Junior Grade
Company: Bombing Squadron 13 (VB-13)
Division: U.S.S. Franklin (CV-13)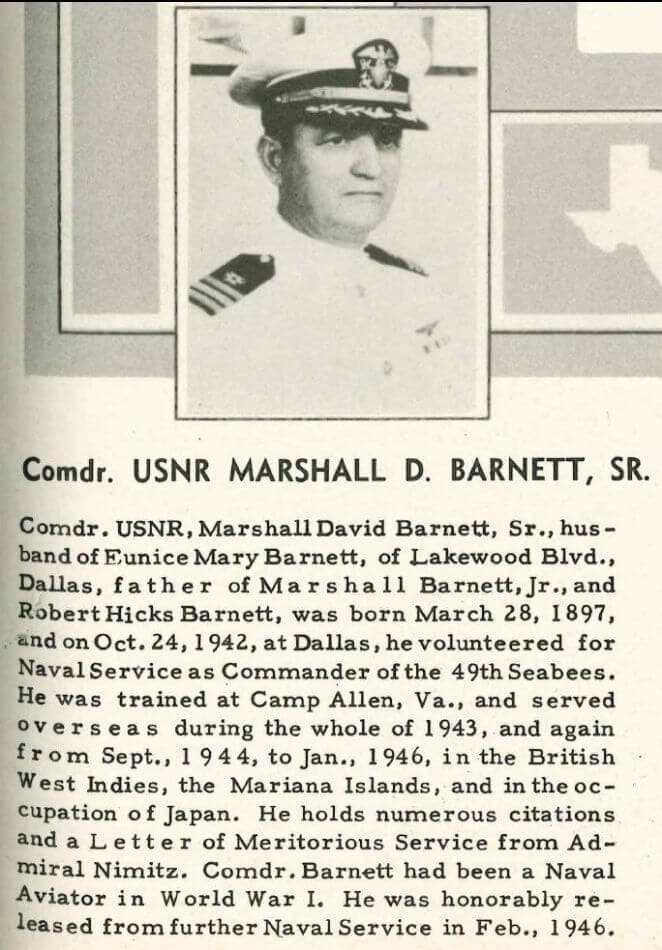 Marshall David Barnett, my grandfather also served over the years as a Commander in the Navy during WWII and constructed Admiral Nimitz's Pacific headquarters during the war as well as the first flying boat. This is an amazing memoir on him. When the war was over, he contributed to the architecture and development of Dallas from Park Cities Baptist church to Preston Hollow to Bryan Parkway and Swiss Avenue to Lakewood. Marshall Barnett, Hugh Prather and Charles Barnett (his brother) were charter members of the National Association of Homebuilders. Marshall Barnett and his business partner purchased a Ford tri-motor plane, secured a government contract and started American Airlines.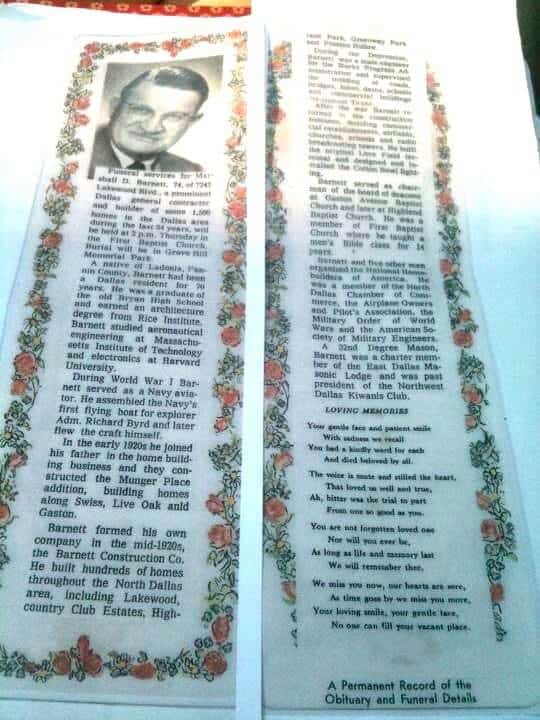 On my husband's side of the family there are many who served in our military as well. "Bud" Ferguson, my father in law was a very proud marine who also became a contractor in the Dallas, TX area for over 50 years following his service to our country.
veterans day celebrations
As long as I can remember, my children have been a part of their school's veterans day celebrations. Each year the school would put on a nice ceremony to honor those who have served our nation. It included the band playing, lots of flags and heartfelt speeches from real heroes.
Veterans day is an important day of reflection on how amazingly blessed we are to live in a country that is free and the price that was paid for that freedom. Some paid with their time, others with their health- mental as well as physical. Selflessly, some paid with their life.
For everyone reading this that has served in our military I salute you, I celebrate you on this special day and always. Thanks to you our freedoms are safe. Thank you.
veterans day printable
Use this FREE printable to make a card or frame it to create a special memory and to honor someone who has served. If you're unsure how to use printables, I've got you covered with details HERE.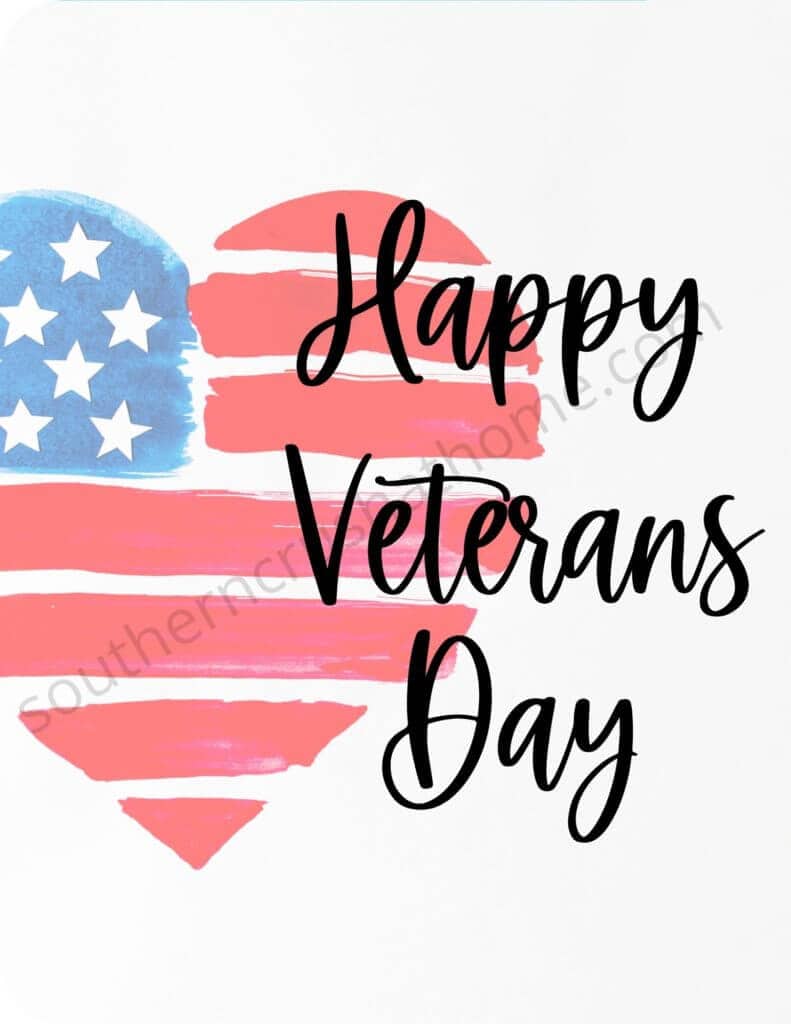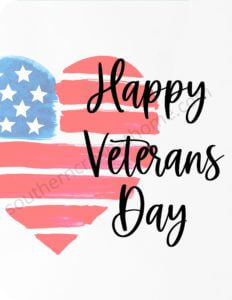 sign up for emails
If you love reading my journals, you need to be getting my emails, friend! Each week I send out a couple of emails that include updates, crafts, shopping experiences and decor inspiration. Be sure to get yourself signed up below. I can't wait to meet you!
>>>Leave your thoughts below in the comments please… BTW— Life is short—Hug a Veteran!