Easy No-Bake Cheesecake Recipe (with chocolate ganache topping)
This Easy No Bake Cheesecake Recipe will surprise you with just how decadent it really is. Haven't made a no-bake cheesecake before? No problem it really is quite simple to pull together and is just as tasty as a baked cheesecake.
With a scrumptious chocolate cookie crumb crust, a smooth, rich, and creamy cream cheese center, and a fudgy chocolate ganache topping you really can't go wrong. Right? If you love Philadelphia No Bake Cheesecake then this recipe is for you.
Be sure to PIN this one for later!
Looking for more no-bake desserts? I've got loads of them: Easy No Bake Lemon Ice Box Pie, Easy Strawberry Shortcake Trifle in a Mason Jar, No Bake Cookies Recipe (with Nutella), and this Chocolate Chip Cookie Dough Fudge.
This blog post contains affiliate links. The opinions are wholly my own from my own experience. I may earn a small commission from clicks through to the websites that end in a purchase.
Why You'll Love This Recipe
No need to turn on the oven
Soft delicate crust
Rich creamy, decadent cream cheese filling
Smooth chocolate topping
Equipment You'll Need
Measuring cups and spoons
Mixing bowl
Saucepan
Ingredients for Easy No-Bake Cheesecake Recipe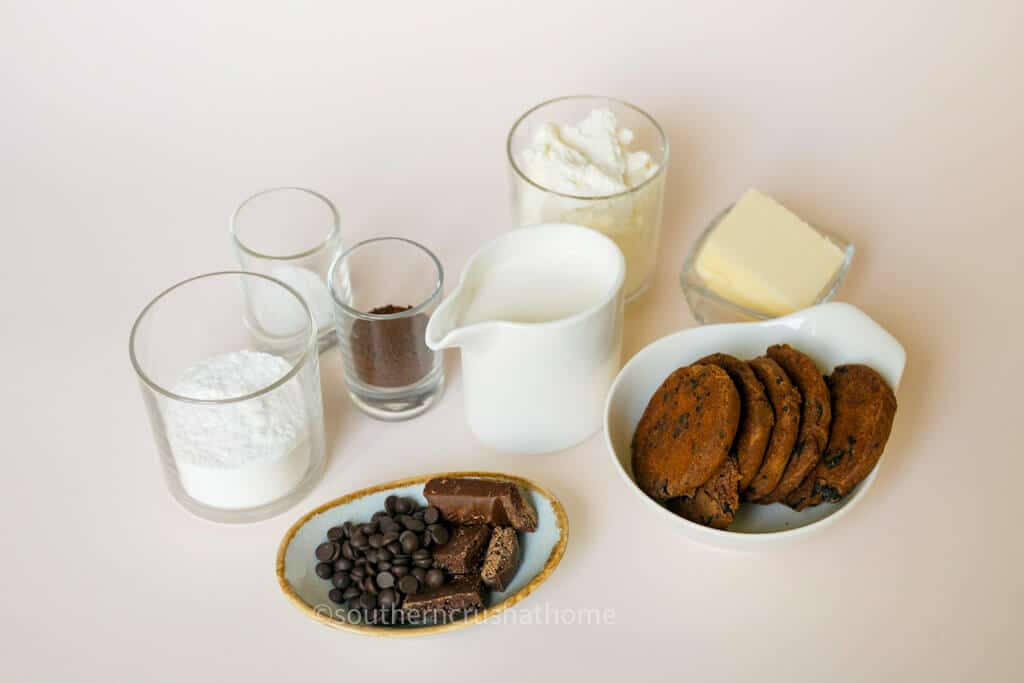 For the base:
8 oz of chocolate cookies
1/2 cup of butter
For the cream cheese filling:
1 cup of heavy cream
1 cup of powdered sugar
1 tbsp of instant coffee
1 tsp of vanilla
8 oz. cream cheese
For the chocolate ganache topping:
1/2 bar or 8oz. of semi-sweet or dark chocolate
2/3 cup of heavy cream
Alternative chocolate fudge topping:
1/2 cup of dark chocolate
1/4 stick of butter
Chocolate chips for decoration
How To Make an Easy No-Bake Cheesecake
For the base:
Place the cookies in a food processor and process until you have crumbs.
Add the melted butter and mix to combine.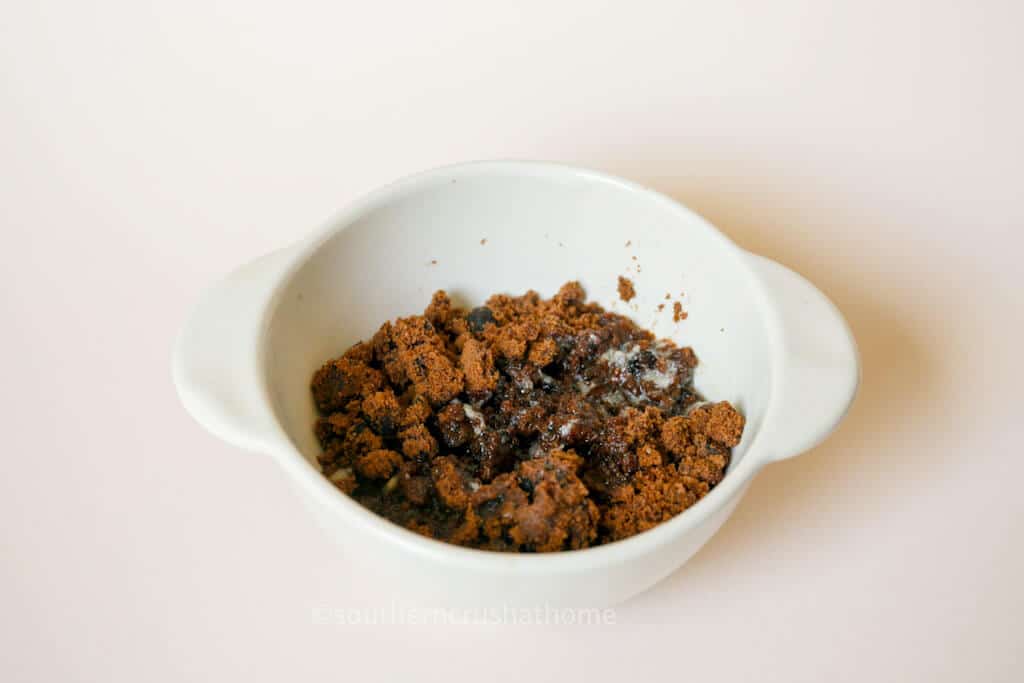 Remove the crumb mixture from the processor bowl and press it into a springform pan and cover with parchment paper.
Place in the freezer for 30 minutes.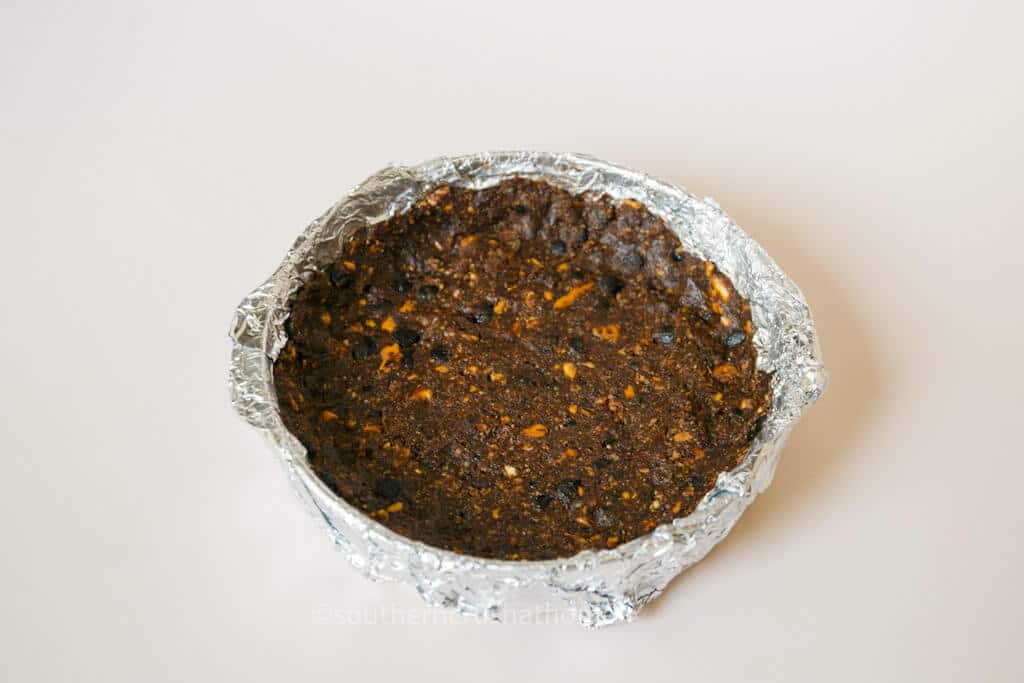 For the cream cheese portion:
Heat heavy cream in a saucepan, and add instant coffee making sure not to boil.
In a separate bowl, mix cream cheese and icing sugar.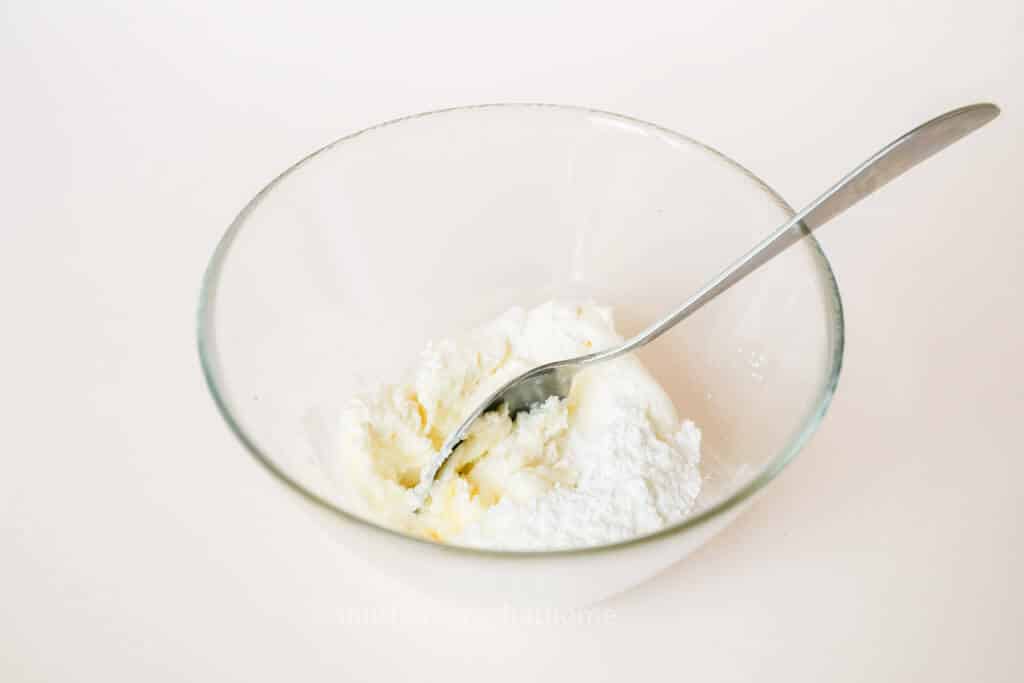 Add the cream and coffee mixture to the cream cheese mixture.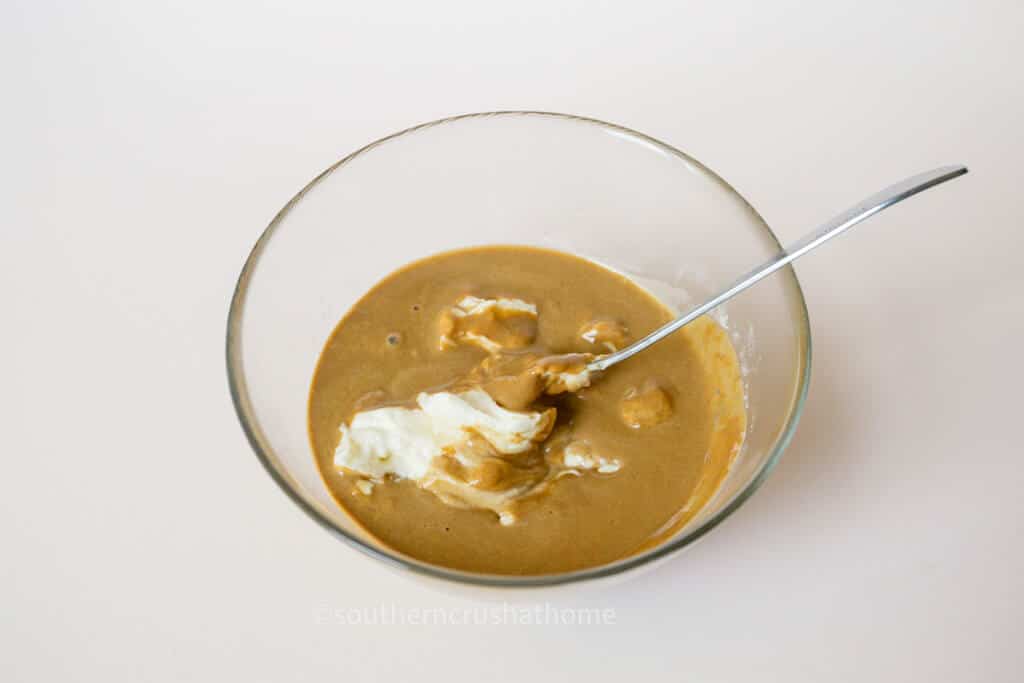 Beat the cream cheese mixture for 1-2 minutes with a whisk so that it thickens.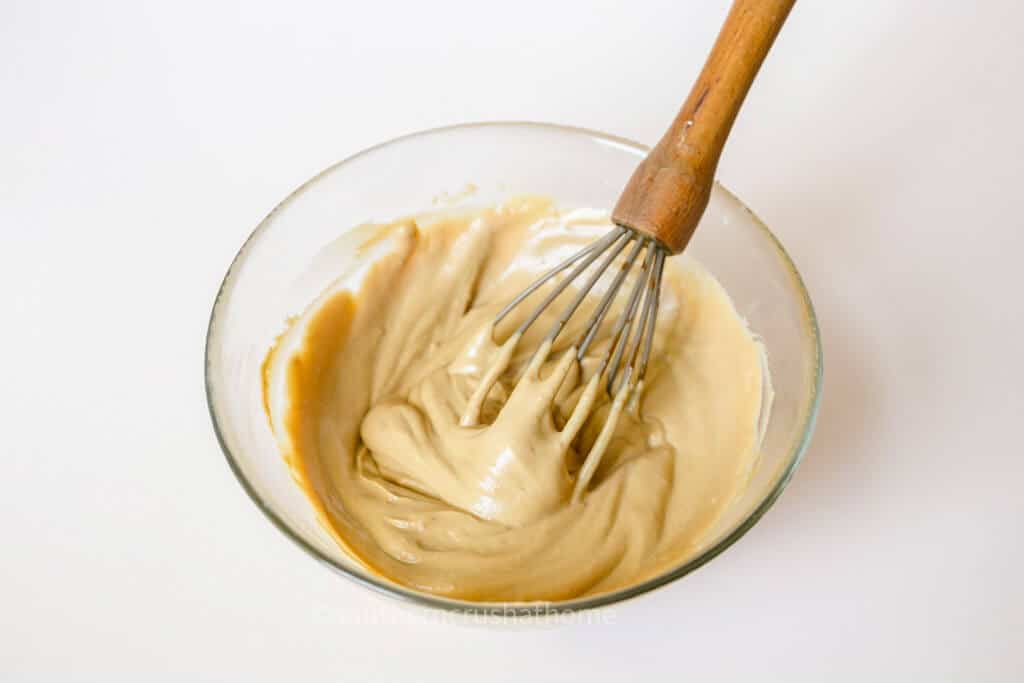 Spread the cream cheese mixture onto the cookie crumb base.
Smooth the top with a spoon and refrigerator for one hour.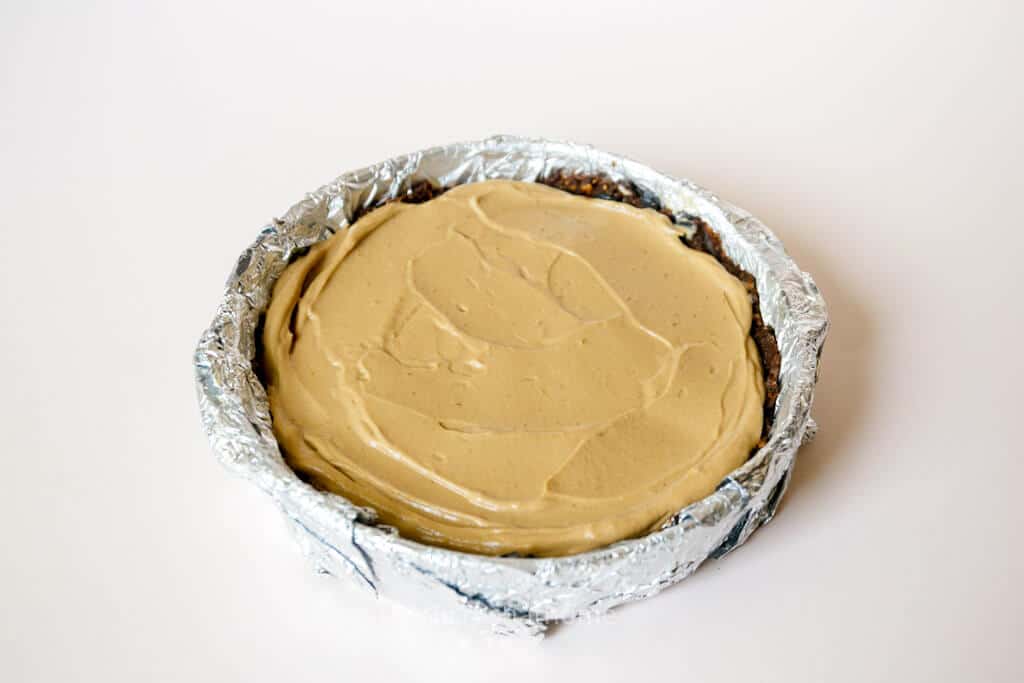 For the chocolate ganache topping:
Melt chocolate pieces with warm cream until the chocolate becomes a smooth liquid. See Tips below.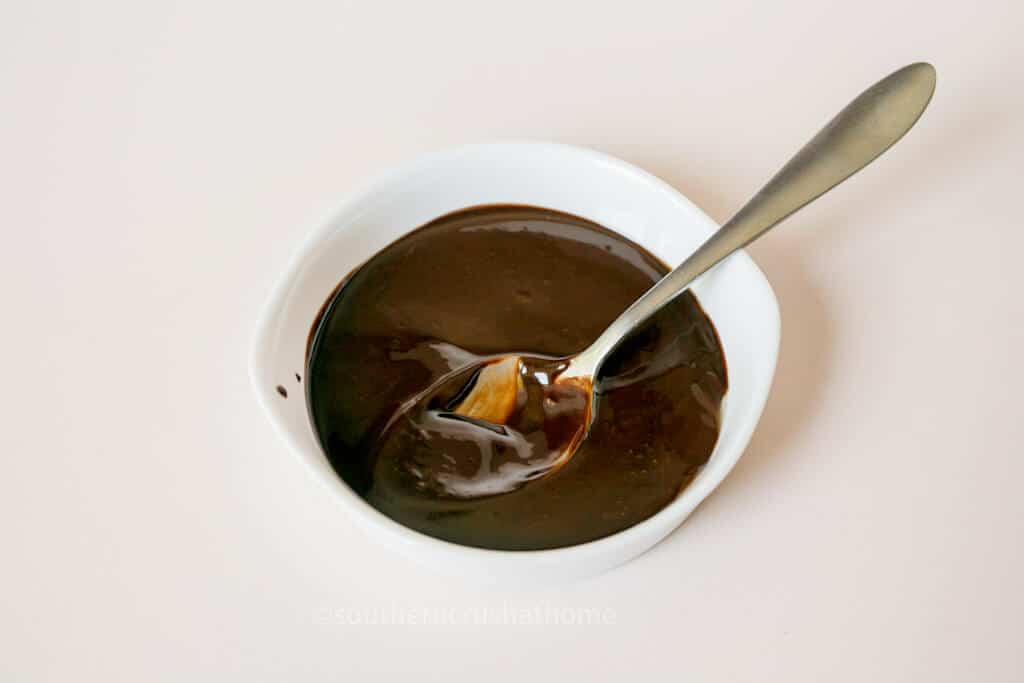 Pour the chocolate ganache mixture over the cheesecake and refrigerator again. It is best to refrigerate overnight.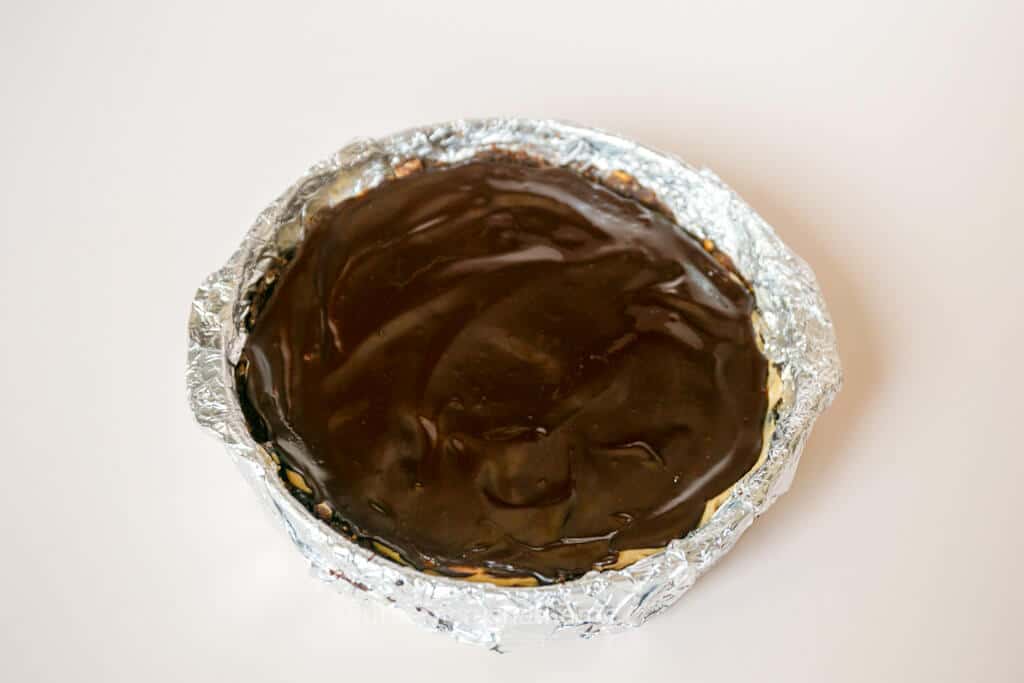 Remove from the fridge and decorate with chocolate chips, sprinkles or other cake toppings.
To cut the cheesecake use a knife that has been run under or dipped in hot water so as to make a clean cut through the cheese and chocolate.
Tips for the chocolate ganache topping:
Chop the chocolate bar into small pieces with a serrated knife and set it in a glass bowl.
Warm heavy cream until just bubbly around the edges and remove from heat.
Pour cream over chocolate bar pieces and let sit 1-2 minutes before stirring together.
Allow the chocolate ganache to cool before adding it to the cheesecake so that it will retain its shape.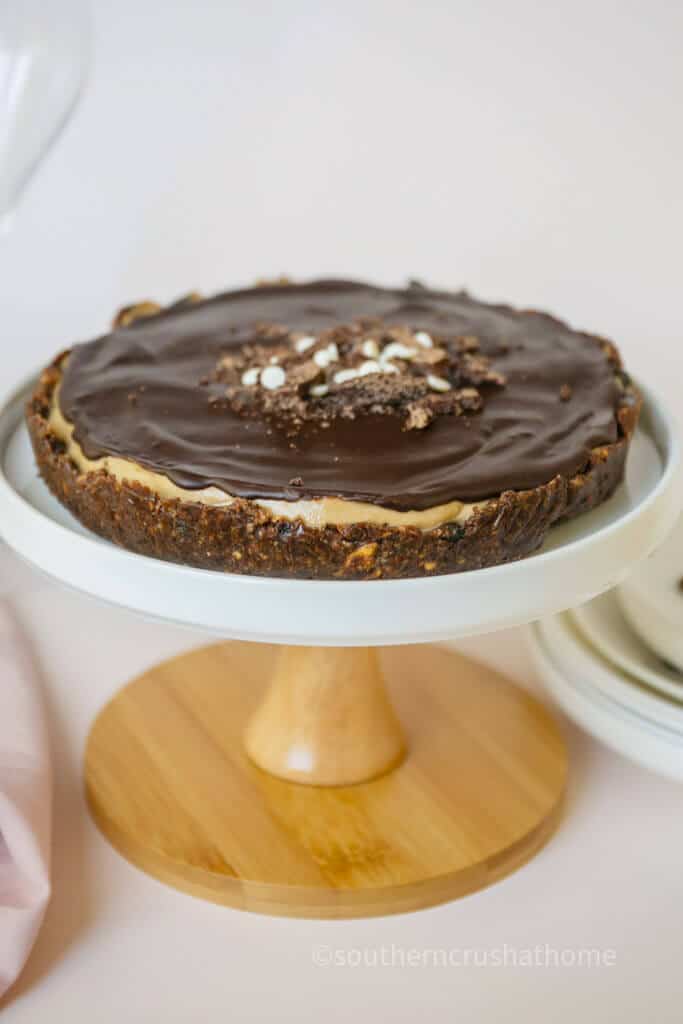 Troubleshooting Chocolate Ganache
Chocolate is Grainy
Be sure to use quality chocolate, not cheap chocolate chips. Use a glass or metal bowl only. Do not over stir or it will cause the ganache to become very 'greasy' looking.
Chocolate isn't melting
The chocolate for the ganache may not have been chopped finely enough or the heavy cream may not have been warm enough. Either way, it's much easier to be sure to get these two things right the first time. So not microwave your mixture. Add it to a double-boiler (pot over boiling water) and stir until melted.
Chocolate Seizes
This happens when it comes into contact with water. Be careful not to get any water into the ganache while preparing it. If the chocolate ganache is stiff and in a big clumpy ball, there is no way it will melt. Your best method of action is to start over with fresh ingredients.
What is a No-Bake Cheesecake?
There are two types of cheesecakes you can make; bake and no-bake. No-bake cheesecakes are just that, they do not need to go in the oven to be baked. Rather they must be placed in the fridge or the freezer to set. No-bake cheesecakes don't have eggs like baked cheesecakes.
Both are good in their own right they do have a different textures. Baked cheesecakes tend to be more dense and thick while no-bake cheesecakes are usually lighter in texture.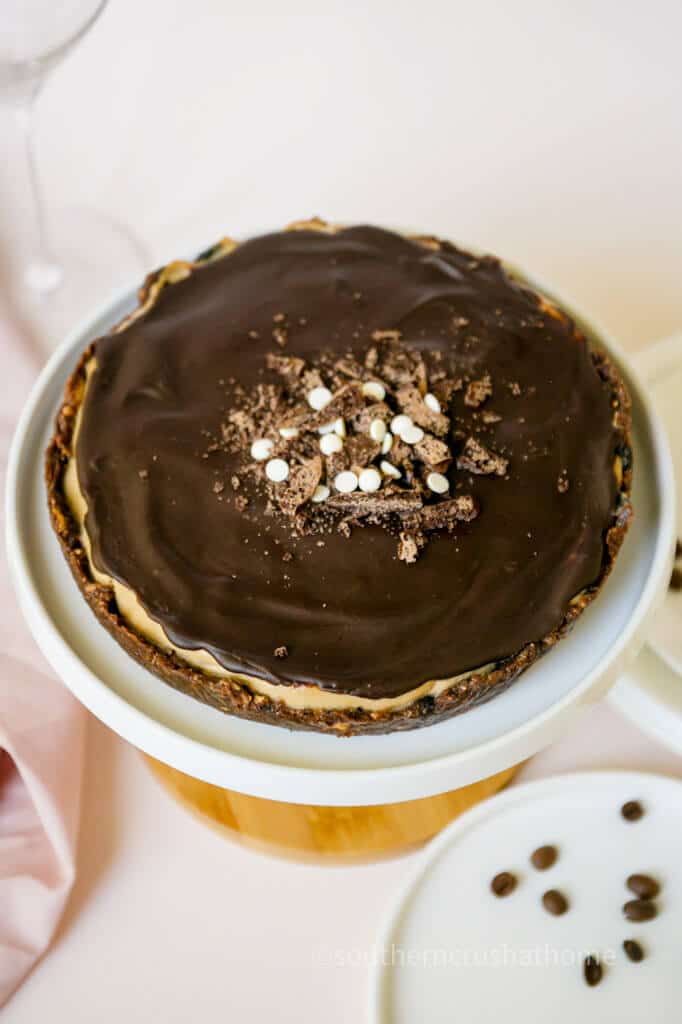 Variations of No-Bake Cheesecake
Use whatever cookies you have on hand, most cookies make a great crust once they are crumbled. Oreo cookies are a great option and graham crackers work well too.
Add fresh fruit to the cream cheese layer. Dice it into small bite-sized pieces.
Top the cheesecake with chocolate chips, fresh fruit, whipped cream, cool whip, or anything else you'd use to top a cake with.
Add a drop of food coloring to the cream cheese mixture to make it more colorful.
Add some cocoa powder to the cream cheese mixture for a different chocolate cheesecake.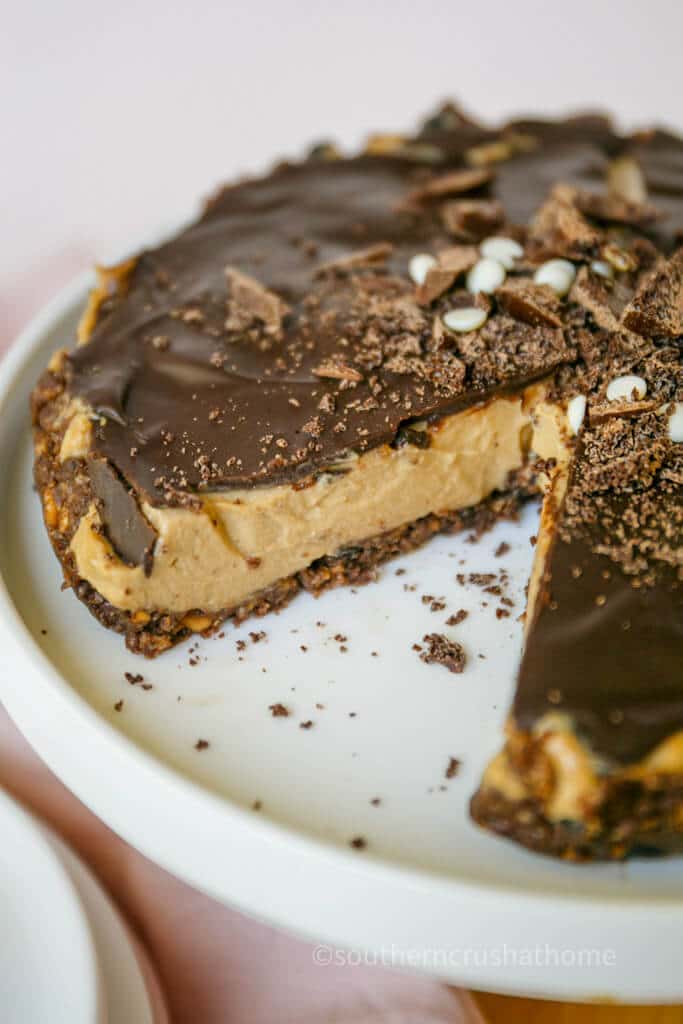 Tips and Tricks For No-Bake Cheesecake
Make the first step a little easier and use store-bought crumbs. Graham crackers, chocolate cookie crumbs, and Oreo cookie crumbs can usually be found in the baking section of the grocery store.
Ensure the heavy cream is whipped well so that the cake has a light and fluffy texture.
Use full-fat cream cheese for a richer taste.
No dark chocolate on hand? Use chocolate chips instead.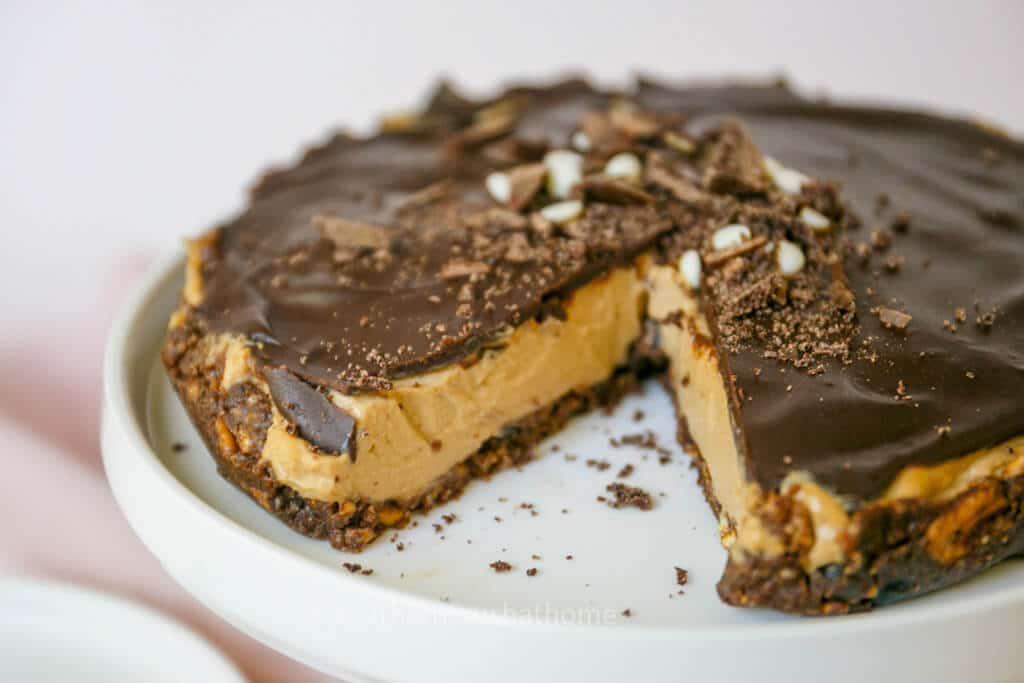 How To Store a No-Bake Cheesecake
A no-bake cheesecake needs to be stored in the fridge. It will keep for a few days in the fridge if it lasts that long!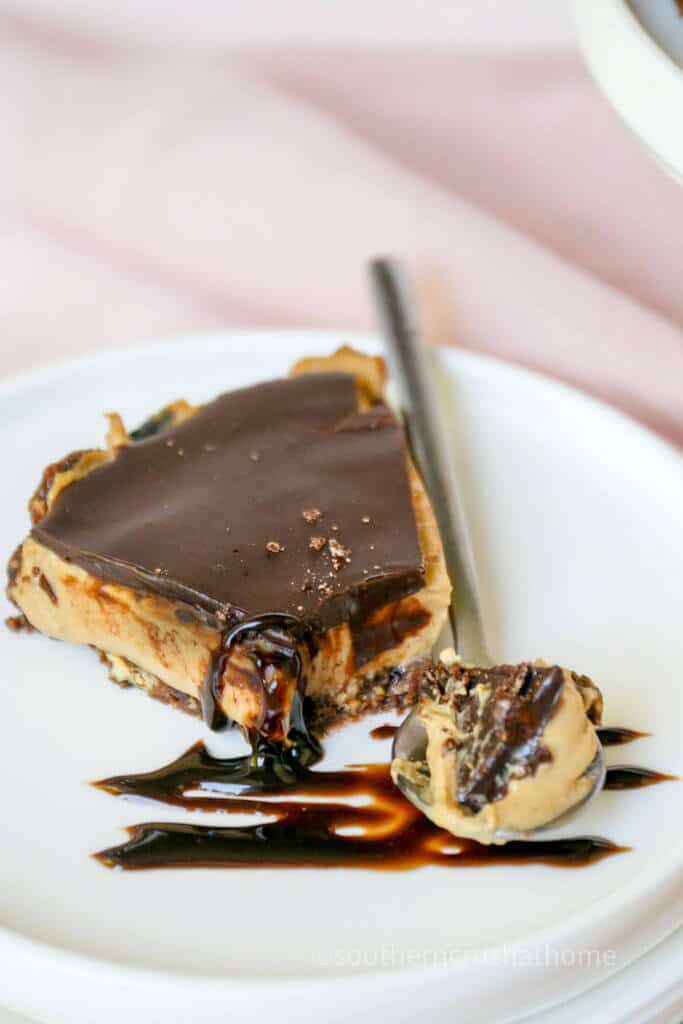 FAQs
I don't have a food processor, how can I make the crumb base?
If you don't have access to store-bought cookie crumbs and you don't have a food processor or blender you can put the cookies in a plastic bag and crush them with your hands or a rolling pin. You won't get as fine a texture but you will get cookie crumbs.
Do I need to grease the pan before putting the base in?
I like to grease all my cake pans unless the recipe specifically says not to. Use a cooking spray or olive oil spray and spray the pan lightly so the cake lifts out easily when you cut it.
Do I need to use a springform pan for this no-bake cheesecake?
You don't need to use a springform pan to make this cheesecake. Traditionally cheesecakes are made using a springform pan as the pan is removed to show off the layers of the cake. I like this set of spring form pans!
Can I make this no-bake cheesecake gluten-free?
To make this no-bake cheesecake gluten-free you can use gluten-free cookies or gluten-free cookie crumbs.
How do I make chocolate ganache without cream?
You can substitute sweetened condensed milk for the cream or whole coconut milk for a non-dairy option.
If you love these kinds of easy recipes and ideas, you need to be getting my emails, friend! Each week I send out a couple of emails that include recipes, crafts, shopping experiences, and decor inspiration. Be sure to get yourself signed up. I can't wait to meet you!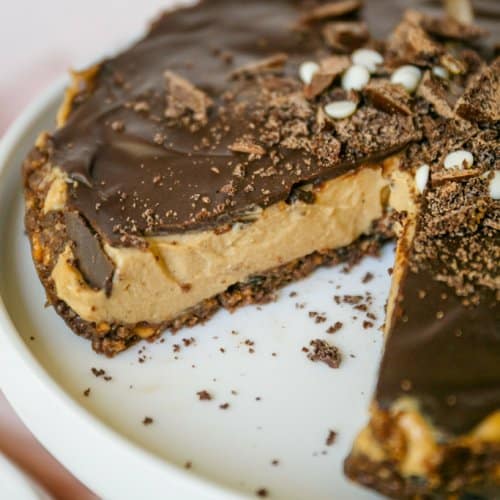 Easy No Bake Cheesecake Recipe
A rich decadent cheesecake made without turning on the oven
Ingredients
Crumb Base
1 ½

cups

cookie crumbs

½

cup

butter
Cheesecake filling
1

cup

heavy cream

1

cup

powdered sugar

1

tbsp

instant coffee

1

tsp

vanilla

8

oz

cream cheese
Chocolate Fudge Topping
½

cup

dark chocolate

¼

stick

butter

chocolate chips for decoration
Instructions
For the cookie base
Process the cookies with the melted butter until crumbs form.

Press the crumbs into a springform pan.

Cover the pan and refrigerate for 30 minutes.
Cream cheese mixture
Heat cream in a sauce pan with the instant coffee.

In a mixing bowl combine cream cheese and icing sugar.

Add the coffee/cream mixture to the cream cheese mixture.

Whip for around 2 minutes so that the mixture can thicken.

Pour the cream cheese mixture over the crumbs and refrigerate for one hour.
Chocolate Ganache Topping
Melt the chocolate and butter over a water bath.

Pour the chocolate ganache over the cheesecake and refrigerate overnight.

When ready to serve add your favorite cake toppings.