Easy to Make Holiday Melted Snowman Cookies for the Kids
These melted snowman cookies may just be too darn cute to eat! But you'll want to gobble them up anyway. Enjoy these melted snowman cookies on a chilly afternoon with a nice cup of peppermint hot chocolate on the side.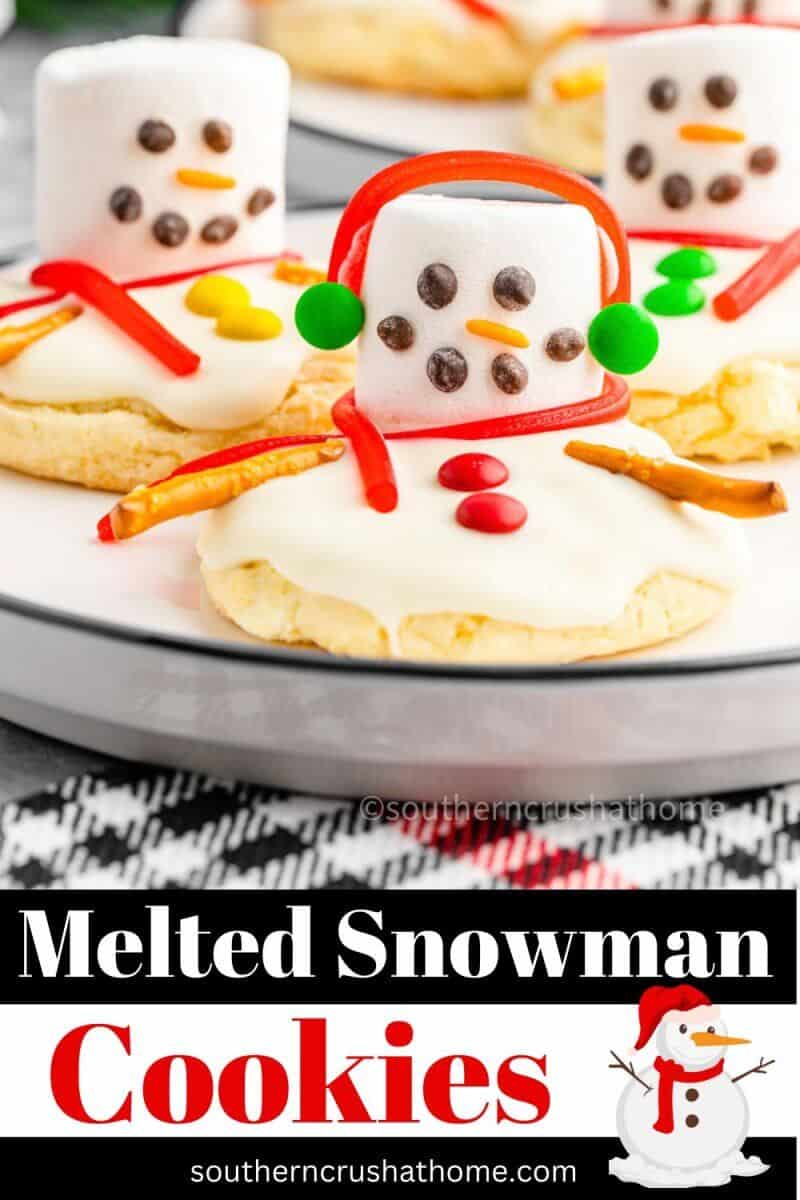 Be sure to PIN this recipe for later!
Boxed cake mix combined with white melting chocolate, chocolate chips, and marshmallows make these cookies super fun to make and even more fun to eat.
Kids will enjoy decorating them with pretzels, M&M's and Twizzlers, or whatever else you have on hand for little Mr. Snowman.
In case you are looking for other seasonal treats, long no further! I've got these recipes for you: Cheesecake Stuffed Strawberry Santas, Mickey Mouse Gingerbread Cookies or Festive Holiday 3 Ingredient Fudge.
Why You'll Love These Snowman Cookies
These melted snowman cookies are super cute
As much fun to make as they are to eat
Perfect way to embrace the season
Equipment Needed
Stand mixer with flat beater attachment
Two baking sheets
1 ½ tablespoon cookie dough scoop
Ingredients To Make Snowman Cookies
Servings: 20 cookies
Preparation: 20 minutes
Bake time: 10 minutes

15 ounce box vanilla cake mix (I used Betty Crocker)
1/3 cup unsalted butter, melted
2 eggs, room temperature
1/2 cup white chocolate chips
10 ounce package Ghirardelli white chocolate melting wafers
20 pieces regular sized marshmallows
⅛ cup tiny chocolate chips for the eyes and mouth
Orange sprinkles for snowman nose
1 pack pull and peel Twizzlers, pulled apart, for the scarf
20 pieces pretzel sticks, cut in half for the arms
One container mini M&Ms for buttons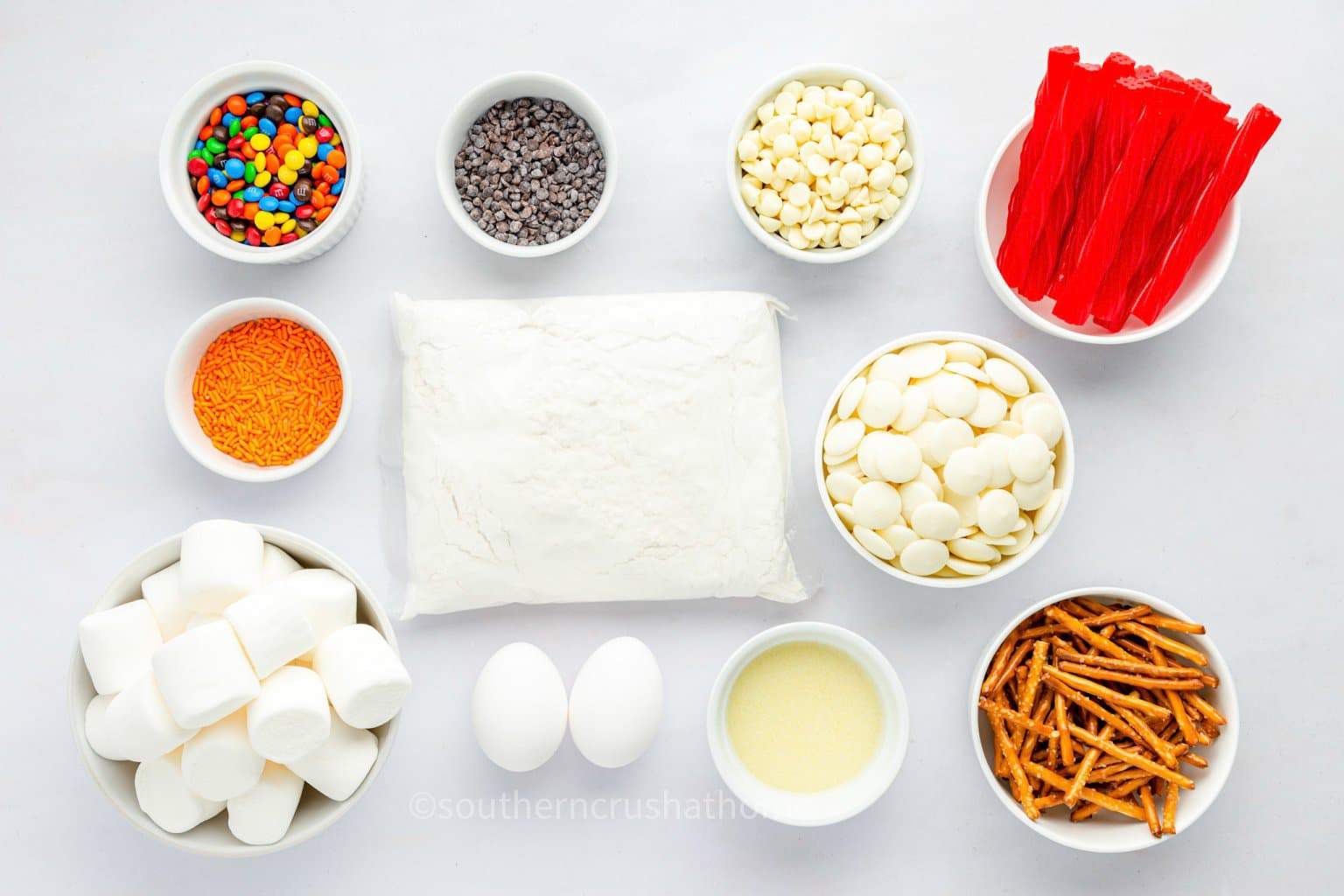 How to Make Melted Snowman Cookies
Preheat the oven to 350℉.
Line two baking sheets with parchment paper or put two silicone mats aside.
Place vanilla, vanilla cake mix, melted butter, and eggs in a large mixing bowl of a stand mixer that has been fitted with the flat beater attachment. Beat on low until combined.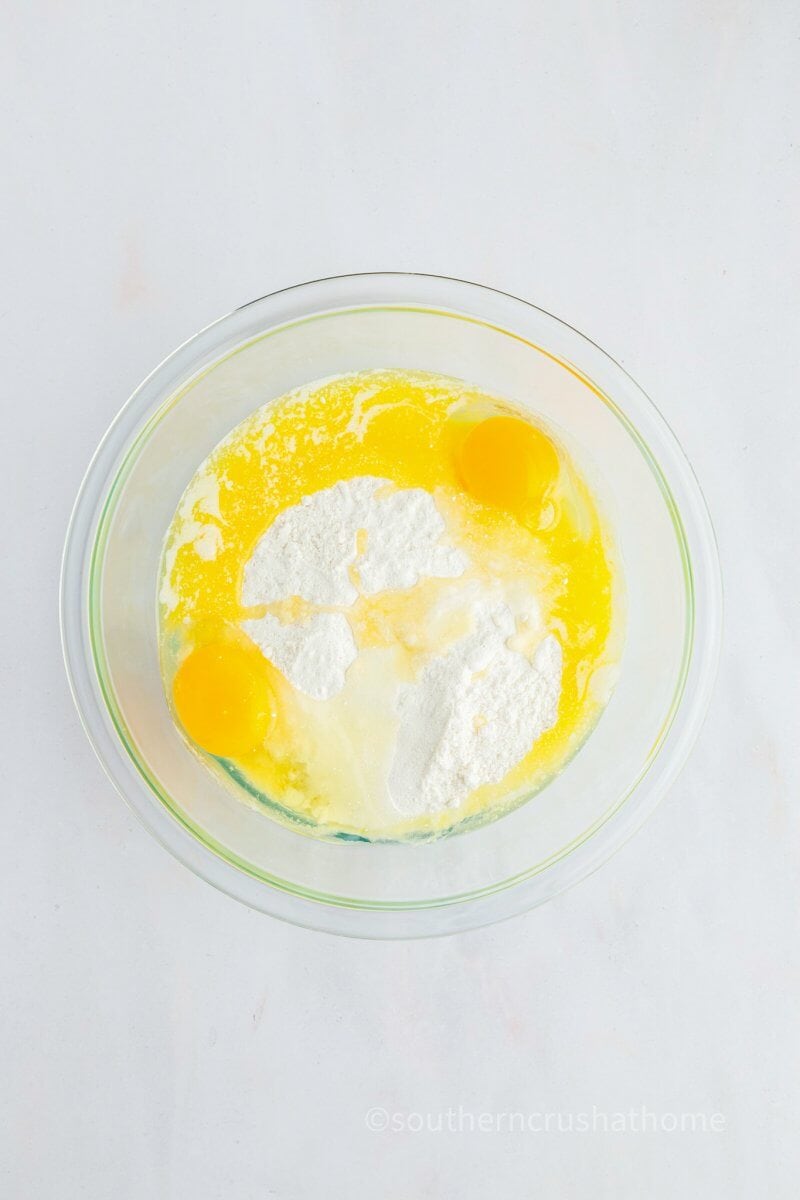 Fold in the white chocolate chips at low speed. If you don't have a stand mixer you can mix everything together with a spatula and mixing bowl.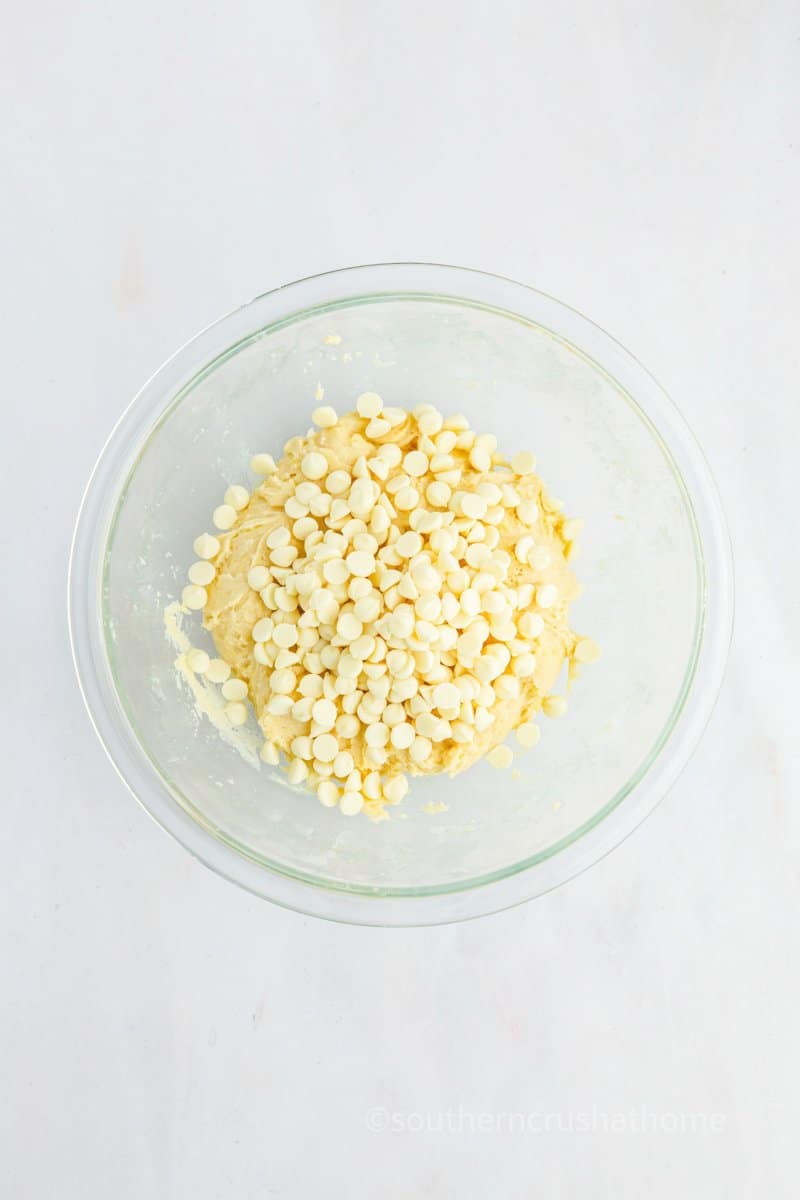 Using a small cookie scoop or spoon, drop 1 ½ tablespoon-sized balls onto the baking sheets. Leave a few inches in between them as the cookies will spread as they bake.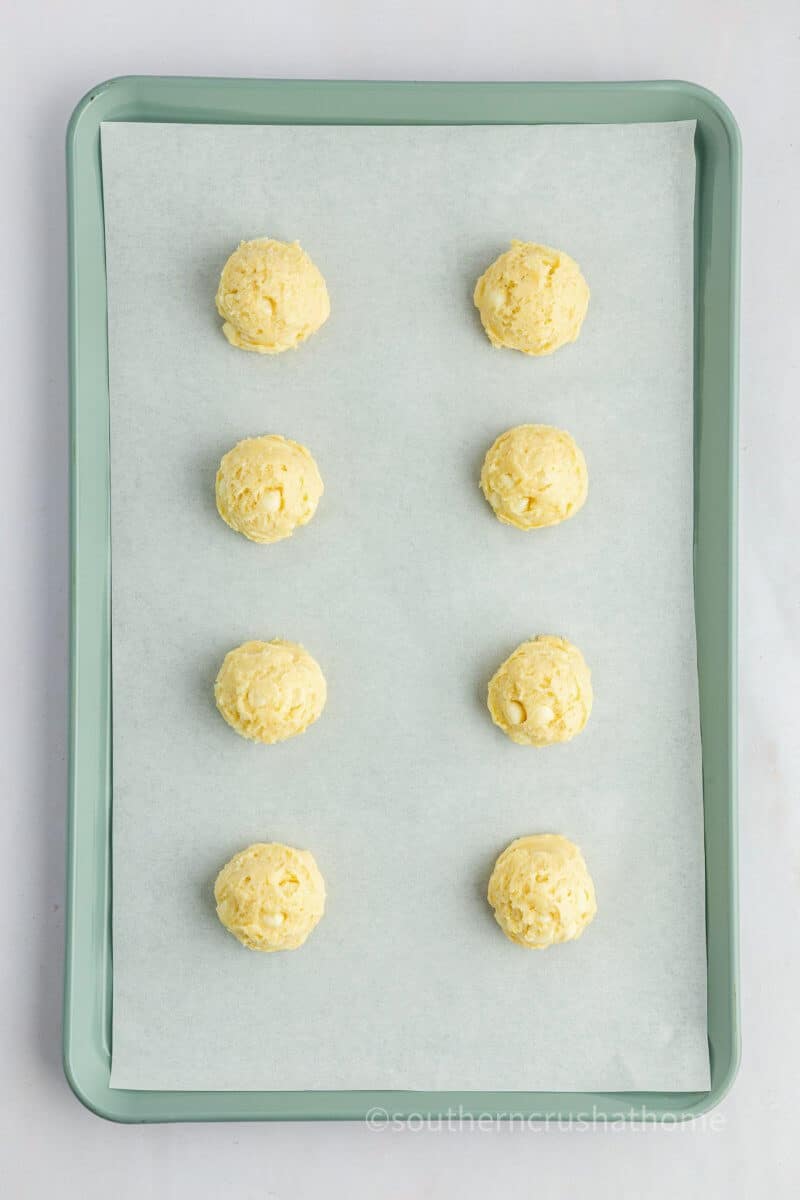 Bake the cookies 350℉ for 8-10 minutes or until the tops are set.
Cool the cookies completely on the baking sheets before decorating.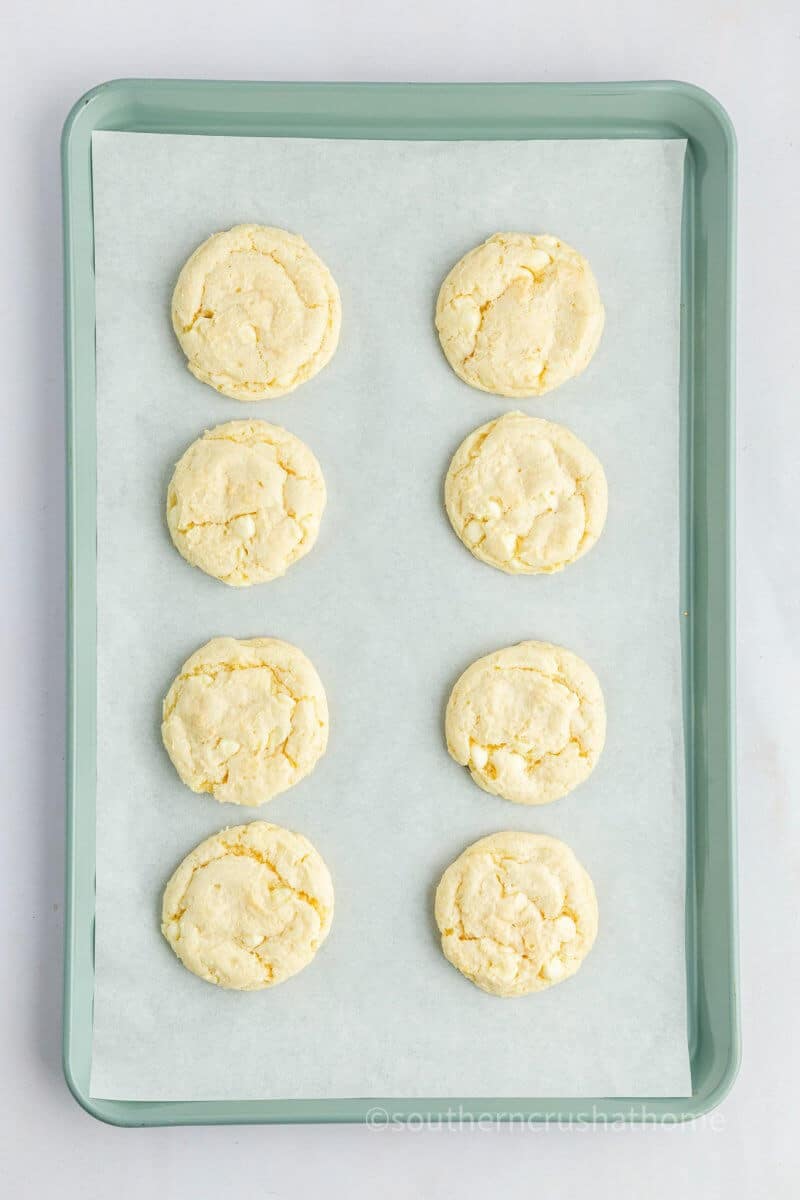 While the the cookies are baking, make snowman heads.
Melt 1-2 tablespoons of the white chocolate wafers to apply features to the marshmallows.
Create small space for the eyes, nose and mouth using a toothpick or skewer on the marshmallows. Quickly dip in white chocolate and then place the tiny chocolate chips and orange sprinkles in the openings before the white chocolate dries. You can use tweezers or your hands to do this. Whichever is easier.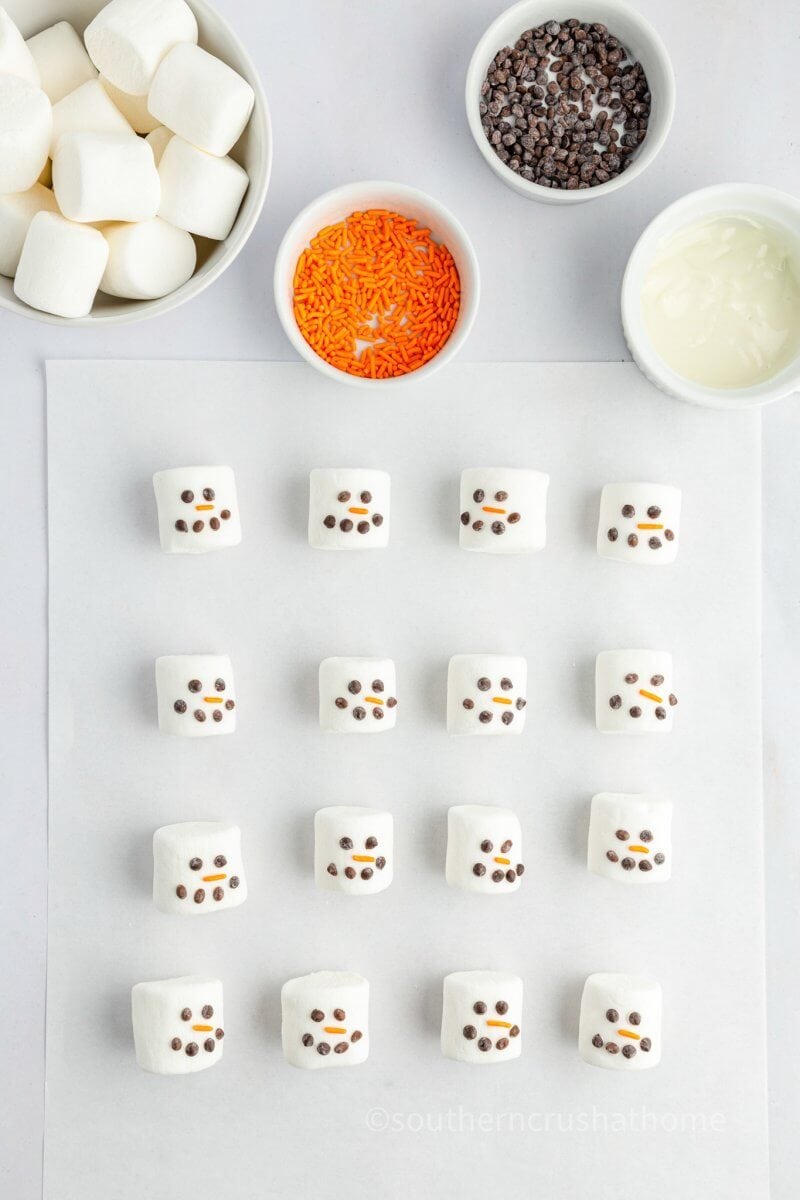 If you want to add cute earmuffs, and you have the time and patience, use Twizzlers and M&M's. You do have to hold them in place with the white chocolate until they dry so this may take some time.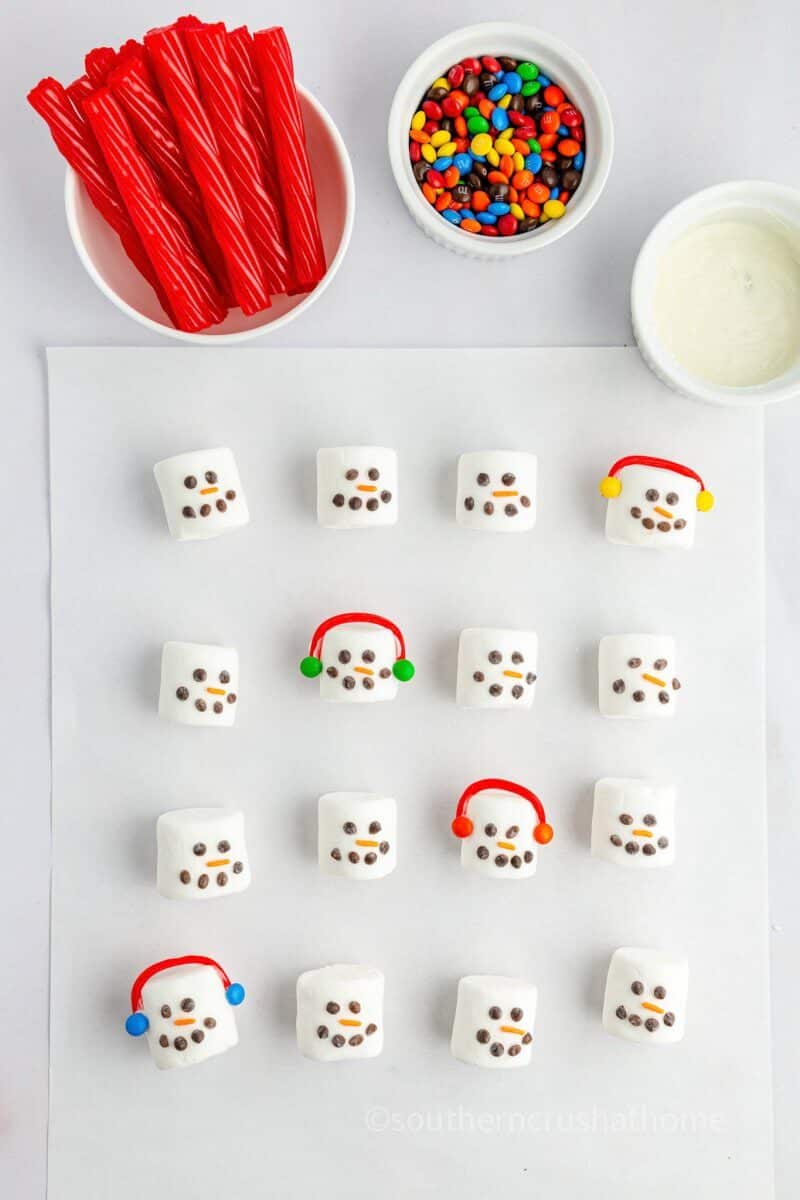 Once all the cookies have cooled enough to decorate, melt the remaining white chocolate melting wafers in the microwave.
Measure half a tablespoon of melted chocolate and pour it over the cookies. If some of the chocolate drips down the sides of the cookie it is fine. The objective is to make the snowman appear to be melting. You can break this portion of the decorating up into batches so that the chocolate does not dry before decorating. This will also reduce your chances of adding too much white chocolate as it is very sweet.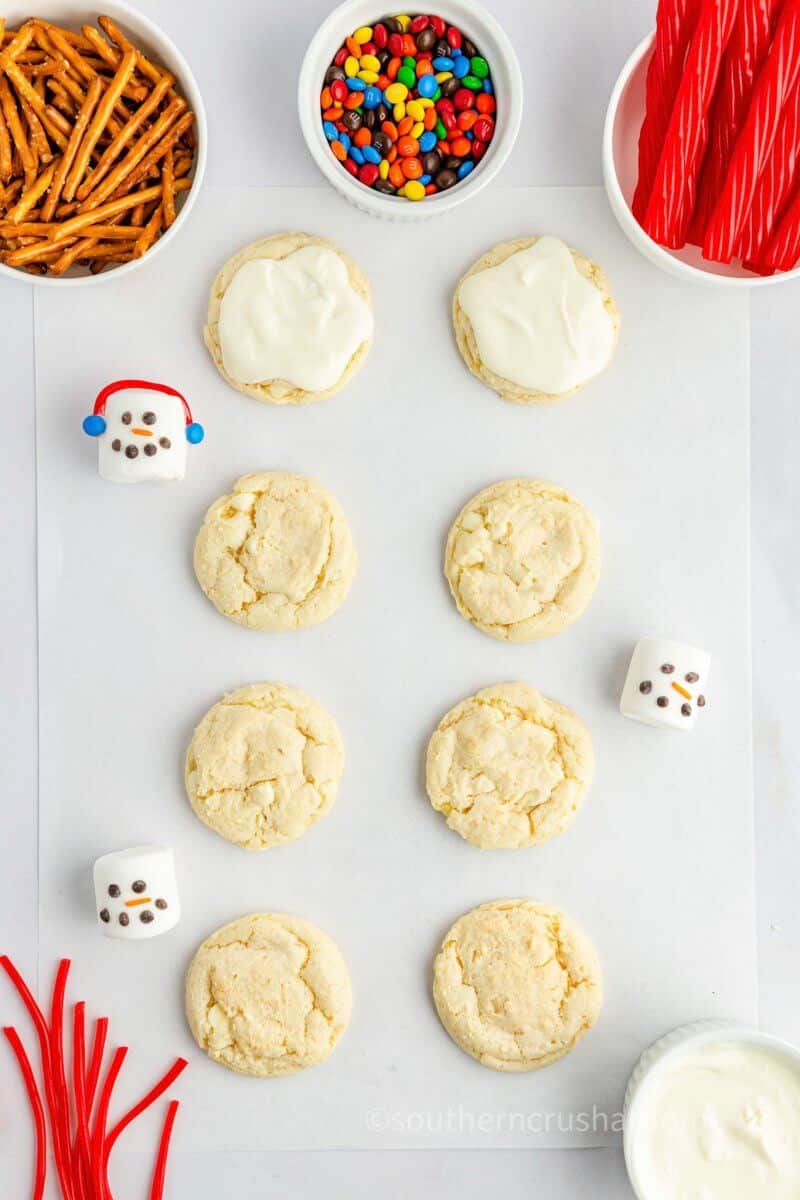 Add the rest of the snowman's body parts; head, pretzel arms, M&M buttons, and Twizzler scarf.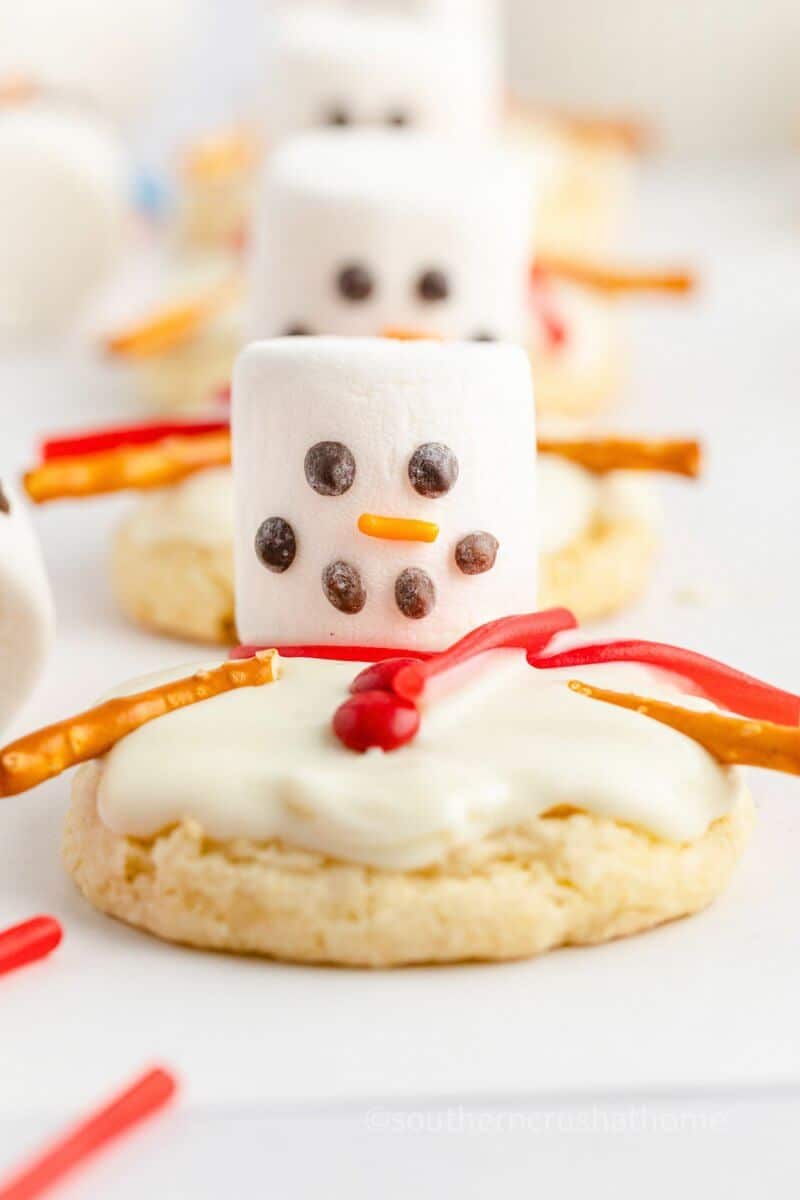 Once these have been applied, let the chocolate set for 10-20 minutes before serving. To speed it up this process, you can place the cookies in the fridge.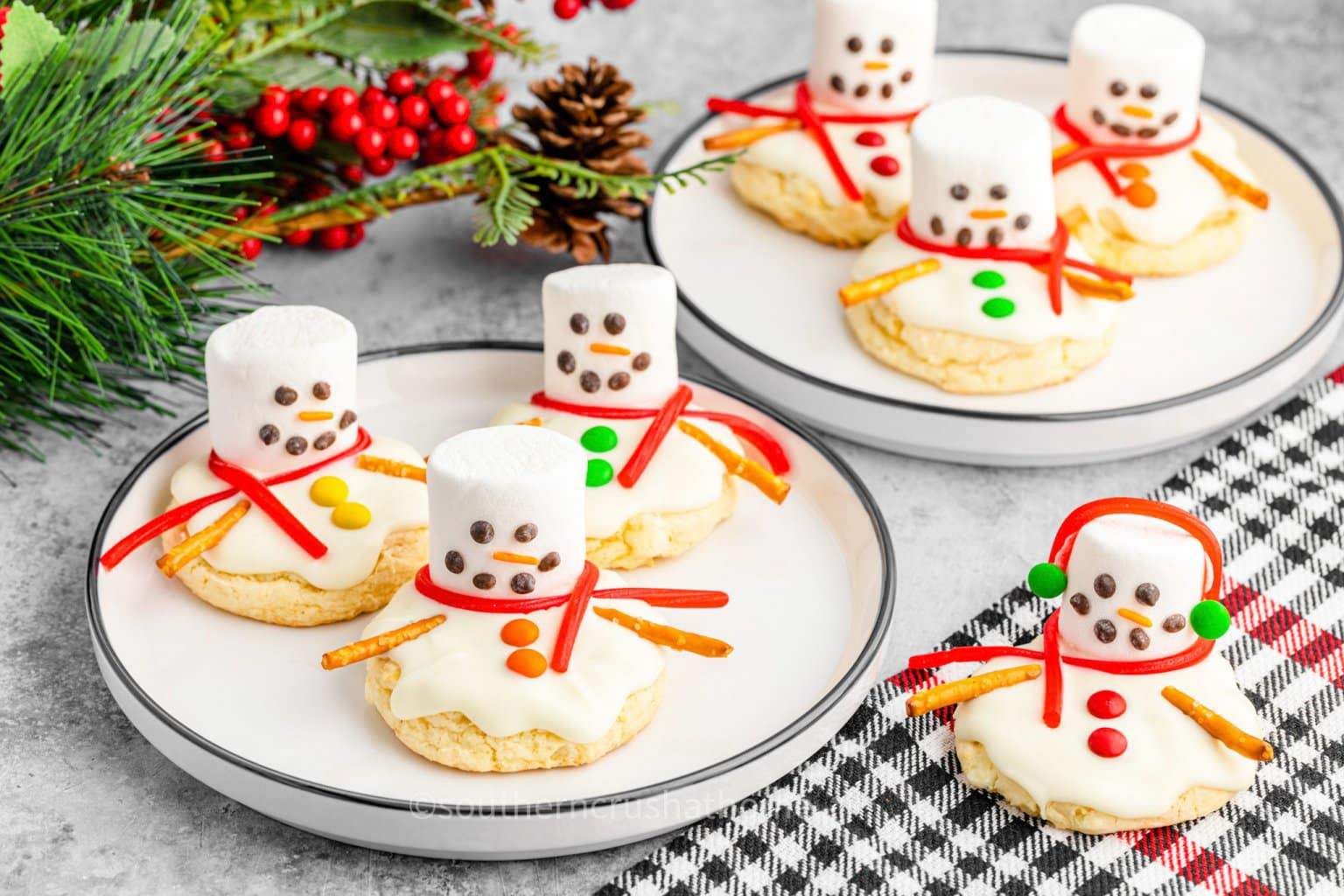 Tips and Tricks
Any boxed cake mix flavor will work in this cookie recipe. However, if you use a bigger box you will have to adjust the amount of butter required.
If you have a favorite homemade cookie recipe go ahead and use it. You can use any cookie base, even store bought, and just decorate the tops to be melting snowmen.
You can easily substitute equal amounts of vegetable oil for the butter.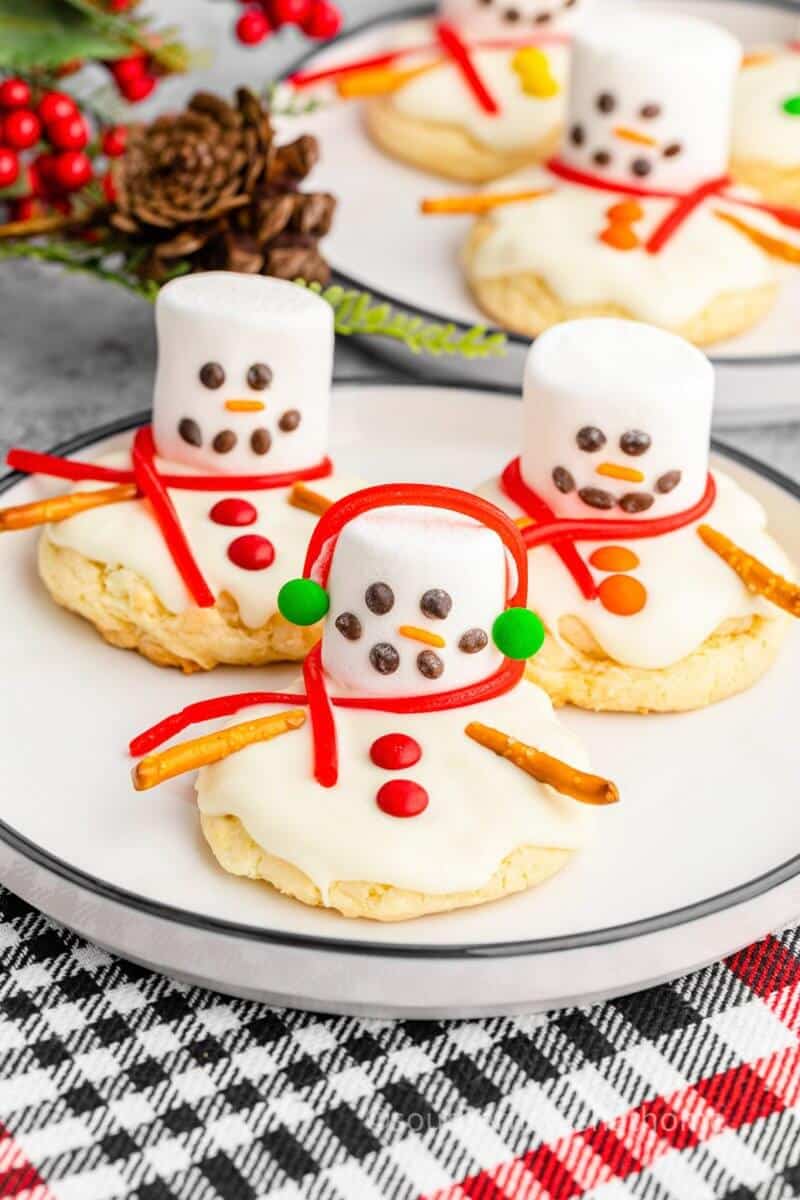 Variations
Decorating icing would work well for the snowman's eyes and nose and save you some time.
You can add orange and black food coloring to some of the white melting wafers and use it to decorate the cookies.
If you aren't a fan of white chocolate chips, they are optional. You can leave them out as the cookies don't need any more sugar to sweeten them up.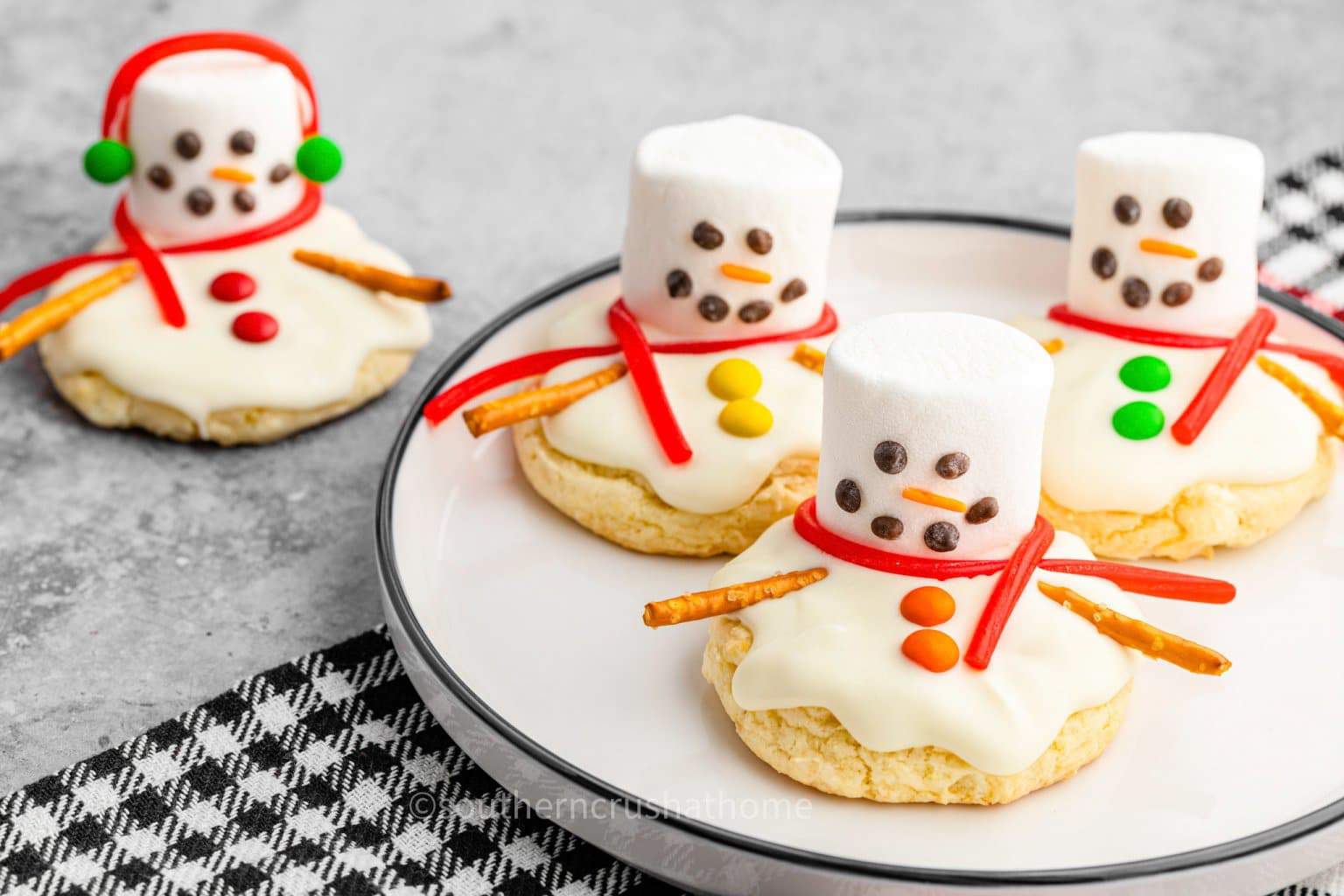 FAQs
Can I make the cookies from scratch?
Yes, you absolutely can make the cookies from scratch if you have the time. If time is of the essence you can also use store bought cookies and decorate them.
Can I use a gluten free cookie to make these melted snowman cookies?
Yes, any type of cookie will work. Just follow the instructions for how to decorate them.
Can I make these cookies ahead of time?
You can easily make these cookies a few days before you want to serve them. You can also just make the cookies and decorate them just before you want to serve them.
How long can I store melted snowman cookies?
You can store melted snowman cookies in an airtight container for 3-4 days. You can freeze just the cookies for a few months and then remove from the freezer to decorate them.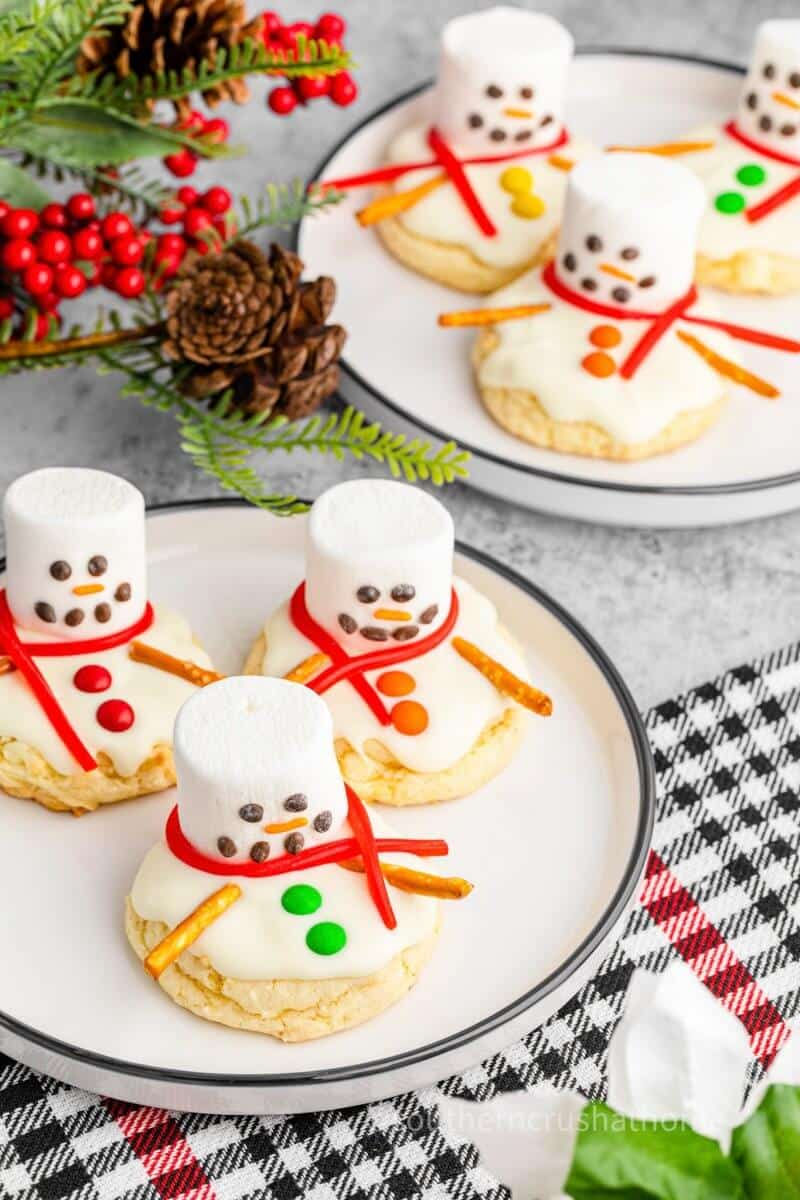 More Holiday Recipes you might like…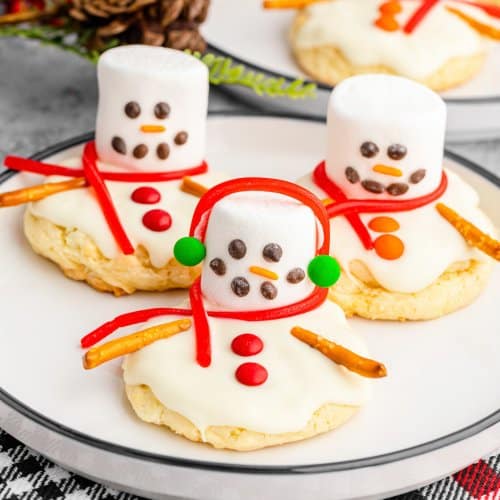 Melted Snowman Cookies
Equipment
Stand mixer with flat beater attachment

Two baking sheets or silicone mats

1 ½ tablespoon cookie dough scoop
Ingredients
1

15 oz

Vanilla cake mix (I used Betty Crocker)

⅓

cup

butter

unsalted

2

eggs

room temperature

½

white chocolate chips

1

10 oz

package of Ghiradelli white chocolate melting wafers

20

marshmallows

regular sized

⅛

cup

tiny chocolate chips for eyes and mouth

orange sprinkles for snowman nose

1

package

pull and peel Twizzlers, pulled apart, for scarf

20

pieces

pretzel sticks, broken in half for the arms

1

package

M&M's for snowman buttons
Instructions
Preheat the oven to 350℉.

Line two baking sheets with parchment paper or put two silicone mats aside.

Place vanilla, vanilla cake mix, melted butter, and eggs in a large mixing bowl of a stand mixer that has been fitted with the flat beater attachment. Beat on low until well combined.

Fold in the white chocolate chips at low speed. If you don't have a stand mixer you can mix everything together with a spatula and mixing bowl.

Using a small cookie scoop or spoon, drop 1 ½ tablespoon sized balls onto the baking sheets. Leave a few inches in between them as the cookies will spread as they bake.

Bake the cookies at 350℉ for 8-10 minutes or until the tops are set. Cool the cookies completely on the baking sheets before decorating.

While the cookies are baking, make snowman heads. Melt 1-2 tablespoons of the white chocolate wafers.

Create small spaces for the eyes, nose, and mouth using a toothpick or skewer on the marshmallows. Quickly place the tiny chocolate chips and orange sprinkles in the openings before the white chocolate dries. You can use tweezers or your hands to do this. Whichever is easier. (If you want to add cute earmuffs, if you have the time and patience, use Twizzlers and M&M's. You do have to hold them in place until they dry so this may take some time.)

Once all the cookies have cooled enough to decorate, melt the chocolate melting wafers in the microwave.

Measure half a tablespoon of melted chocolate and pour over the cookies. If some of the chocolate drips down the sides of the cookie it is fine. The objective is to make the snowman appear to be melting. You can break this portion of the decorating up into batches so that the chocolate does not dry before decorating. This will also reduce your chances of adding too much white chocolate as it is very sweet.

Add the rest of the snowman's body parts; head, pretzel arms, M&M buttons, and Twizzler scarf. Once these have been applied, let the chocolate set for 10-20 minutes before serving. To speed it up this process, you can place the cookies in the fridge