M & M Cookies Ice Cream Sandwich
What a great combination! Creamy homemade vanilla ice cream surrounded by soft, chewy M and M cookies. The perfect summer treat. You couldn't ask for anything better really. Vanilla ice cream and M and M cookies just go together naturally. Let me share with you how easy it is to throw this treat together for your next party!
Be Sure to PIN this one for later, too!
Looking for extra summertime dessert options? This Easy No-Bake Lemon Icebox Pie sure fits the bill. Check out my other amazing ice cream recipes Homemade Vanilla Ice Cream and this Homemade Peach Ice Cream.
This blog post contains affiliate links. The opinions are wholly my own from my own experience. I may earn a small commission from clicks through to the websites that end in a purchase.
Why You'll Love This Homemade Ice Cream Sandwich Recipe
What's not to love?? Really this decadent dessert combines a soft, chewy cookie with homemade vanilla ice cream and M and M's. Homemade ice cream sandwiches are absolutely the best. I know you'll agree and never go back to store-bought. This dessert is sure to bring a smile to your face with the bright cheery M and M's and other toppings.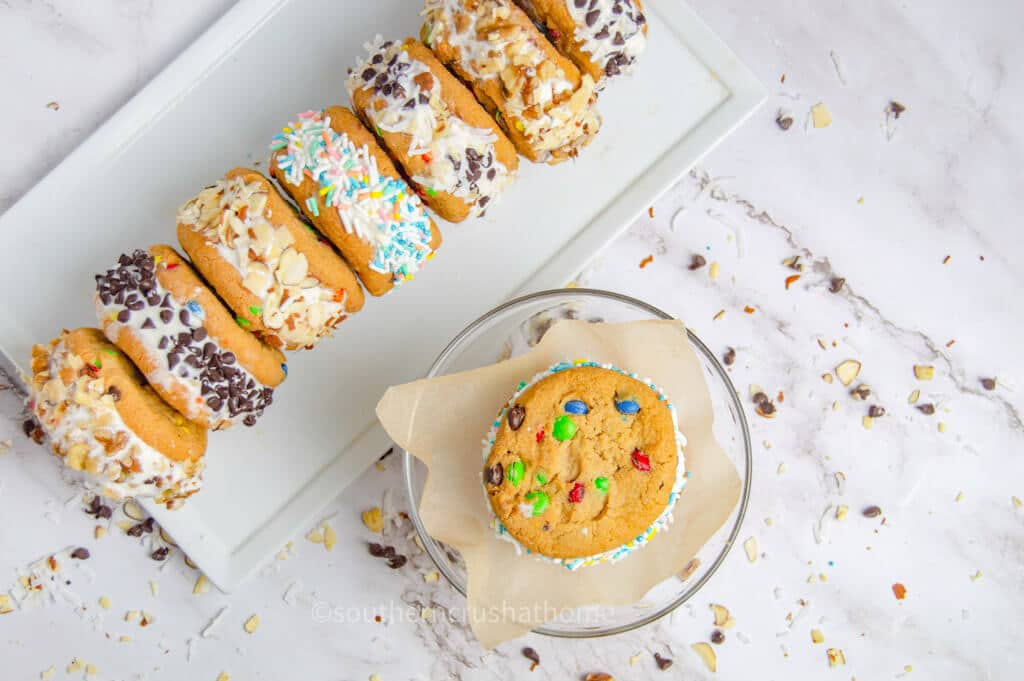 How to Make M and M's Cookies Ice Cream Sandwiches
For the ice cream grab my favorite Homemade Vanilla Ice Cream HERE.
For toppings, try walnuts, chocolate chips, coconut shavings, almond slices, and sprinkles of course!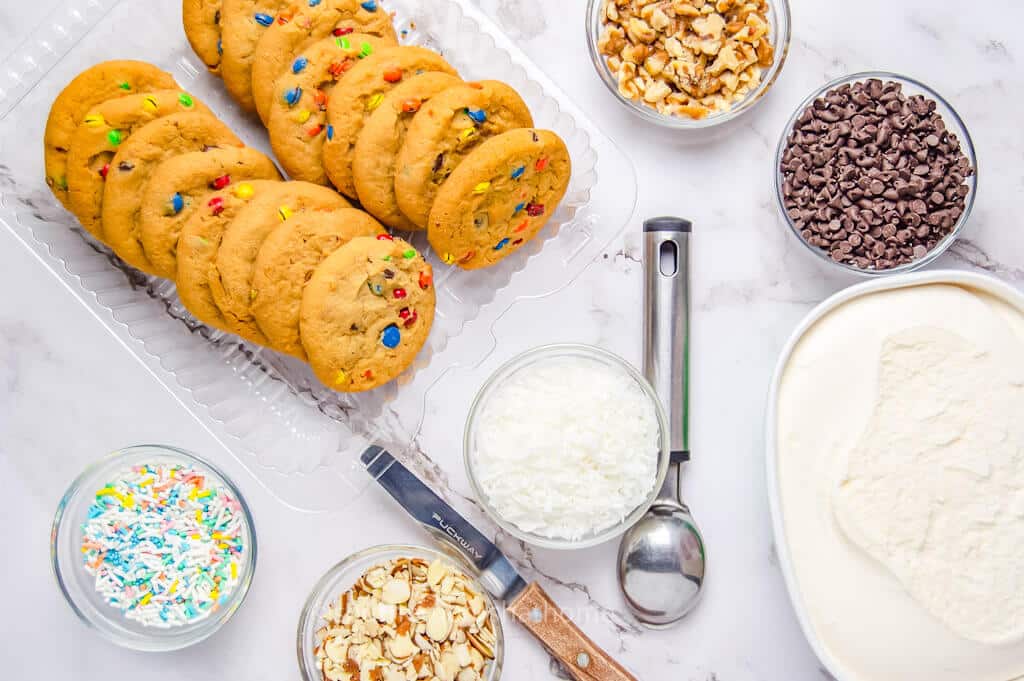 Follow the recipe for your favorite cookies, choose from mine below, or use store-bought cookies (I often do this to save time).
How to Assemble the M & M Cookies Ice Cream Sandwiches
Quick Tips
Make sure all your ingredients are on the counter when you begin
Let your ice cream soften for a minute on the counter before assembling the ice cream sandwiches. It makes it so much easier to work with.
If you are short on time, then at least dip your ice cream scoop in warm water between each sandwich scoop.
Step 1:
Using an ice cream scoop, scoop out a generous amount of vanilla ice cream.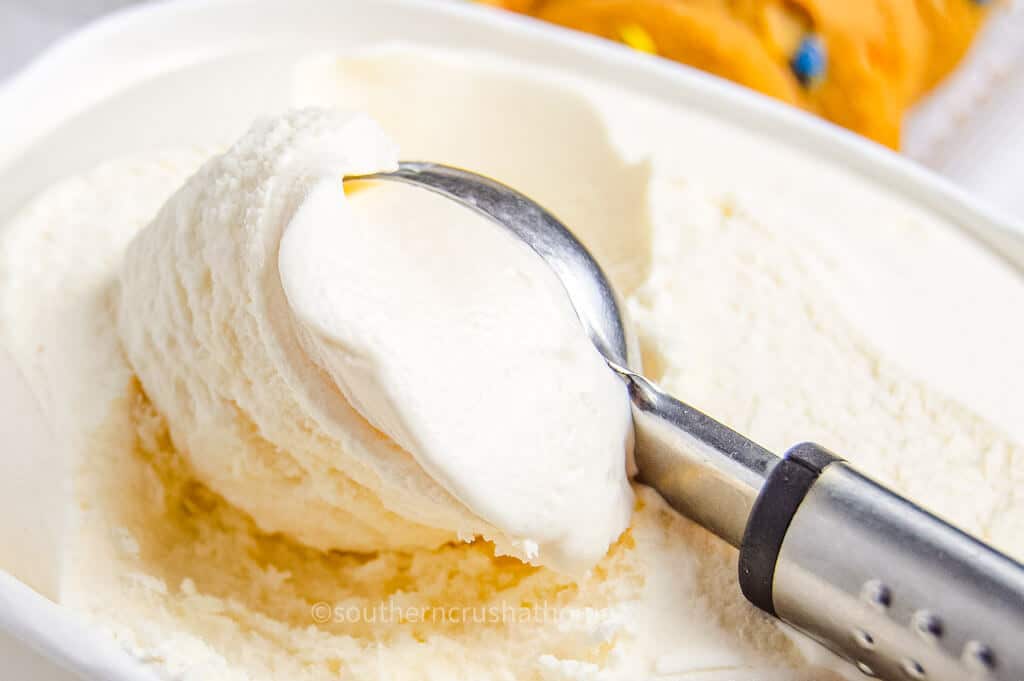 Step 2:
Place it on top of the bottom M&M cookie.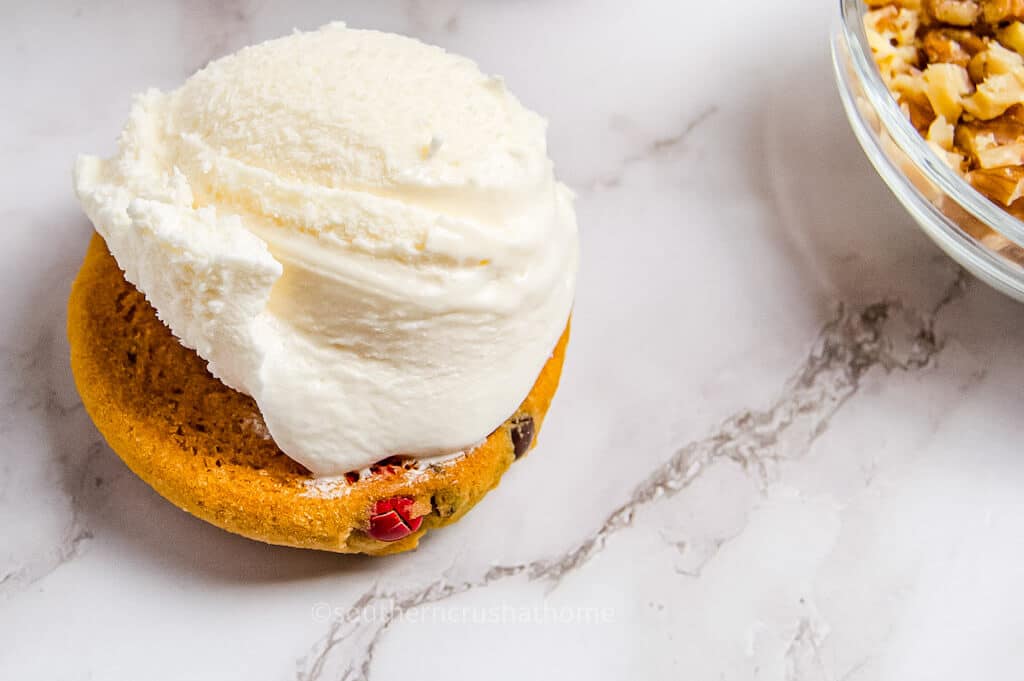 Step 3:
Cover each M and M cookie with another M and M cookie and press down to secure it.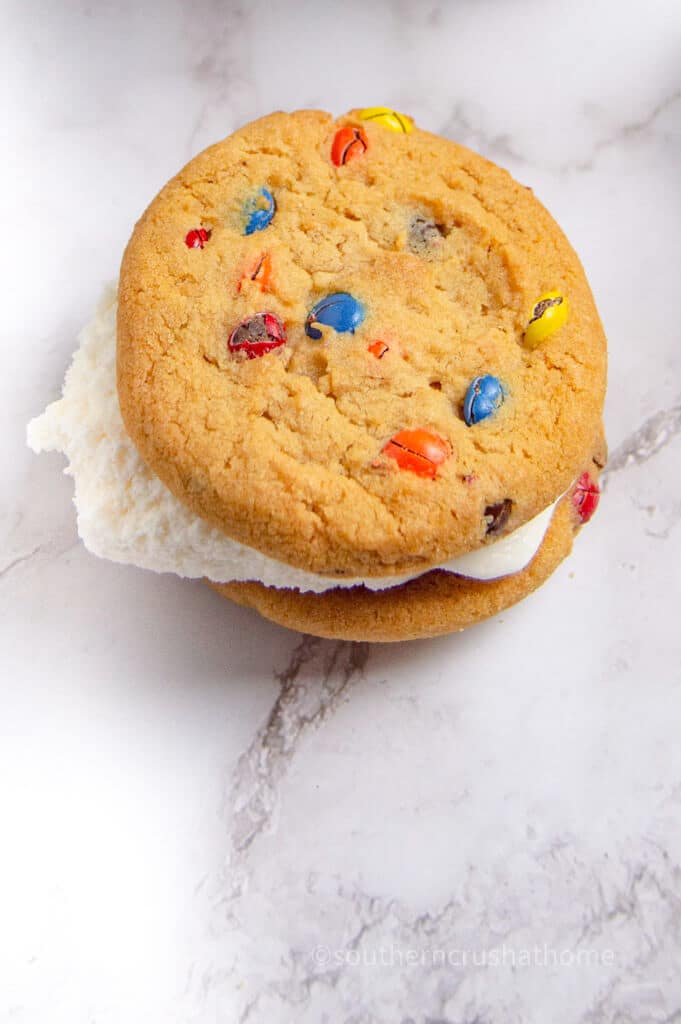 Doesn't that look so good?
Step 4:
Use a straight edge like a pastry knife and clean up the ice cream that hangs over the sides of the cookie to create a "clean" look.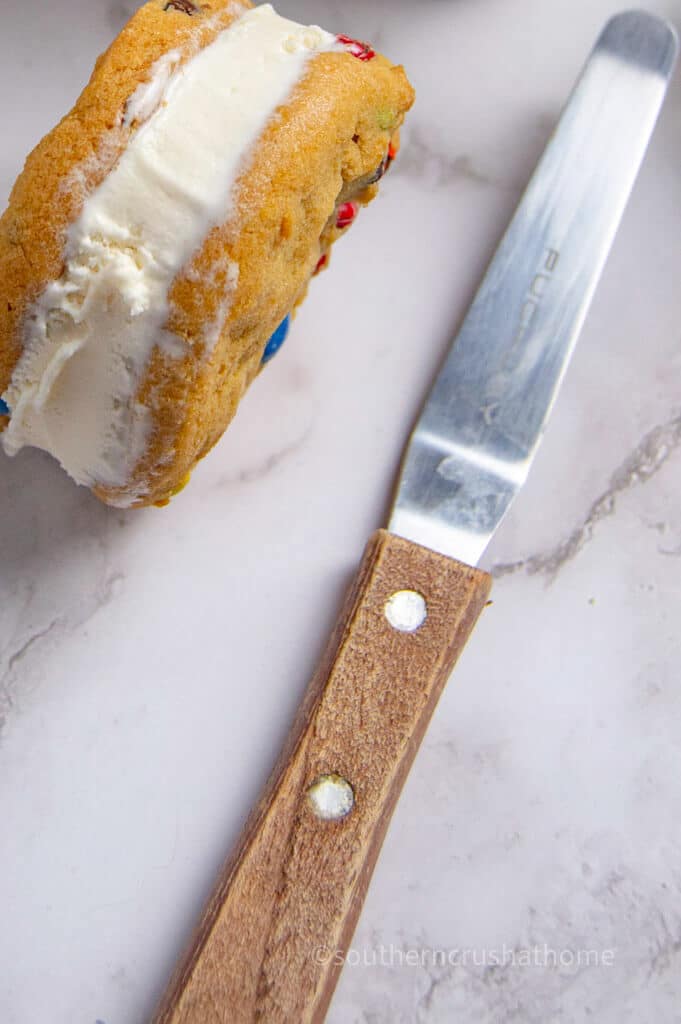 Step 5:
Bounce the sides of the cookie in each dish of toppings.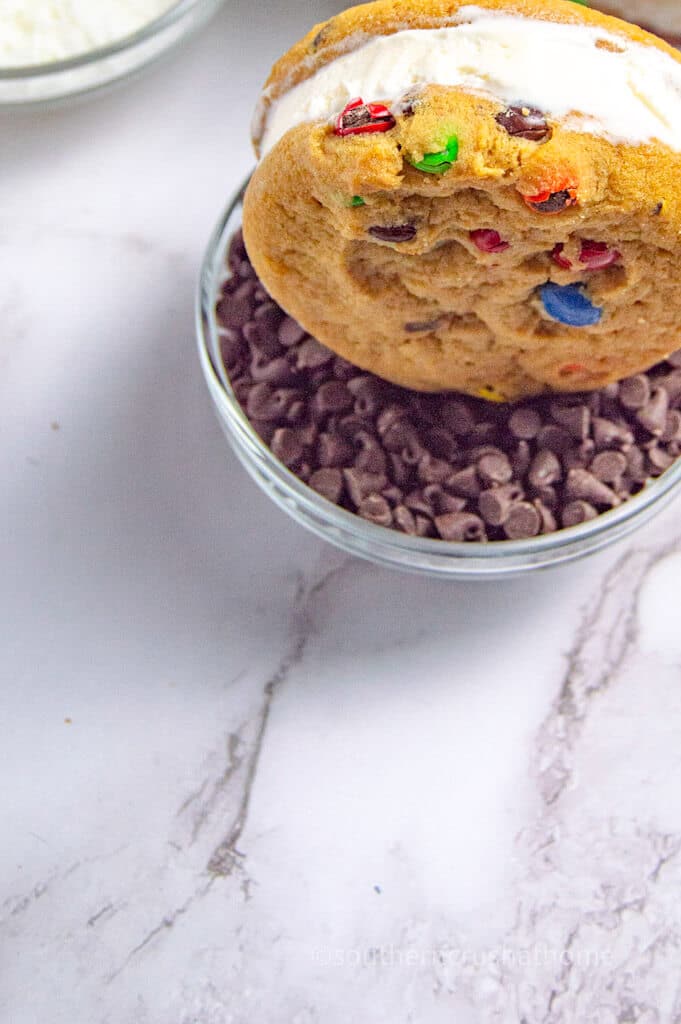 Work quickly so it doesn't start melting!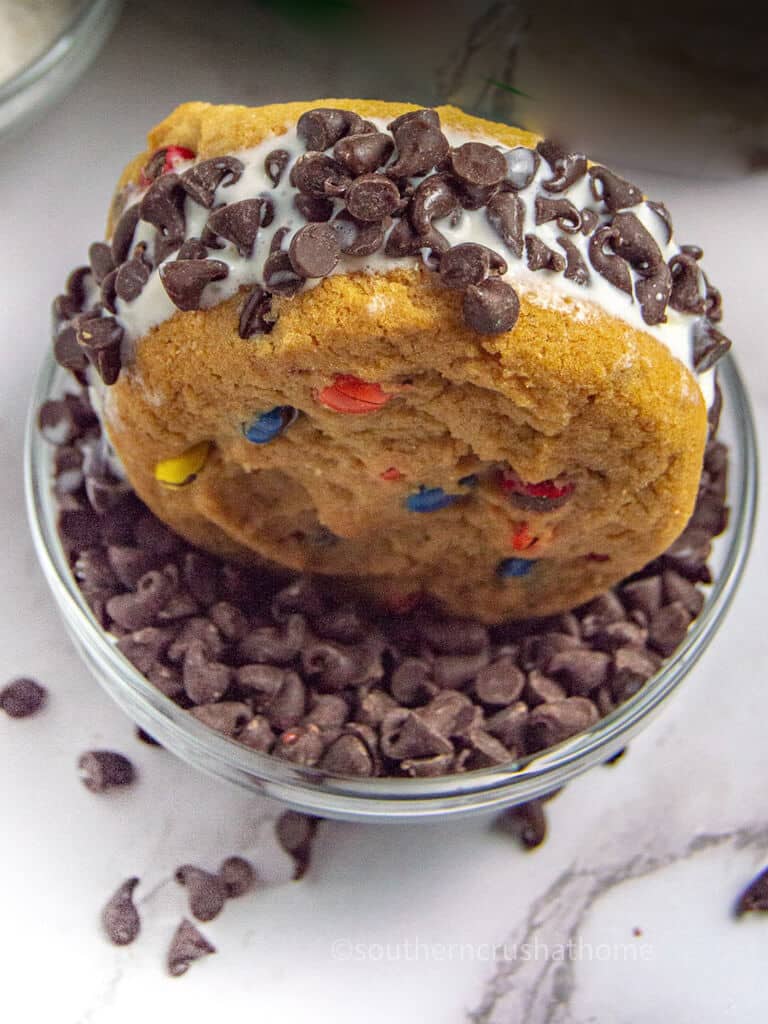 Continue this process with all of your different toppings.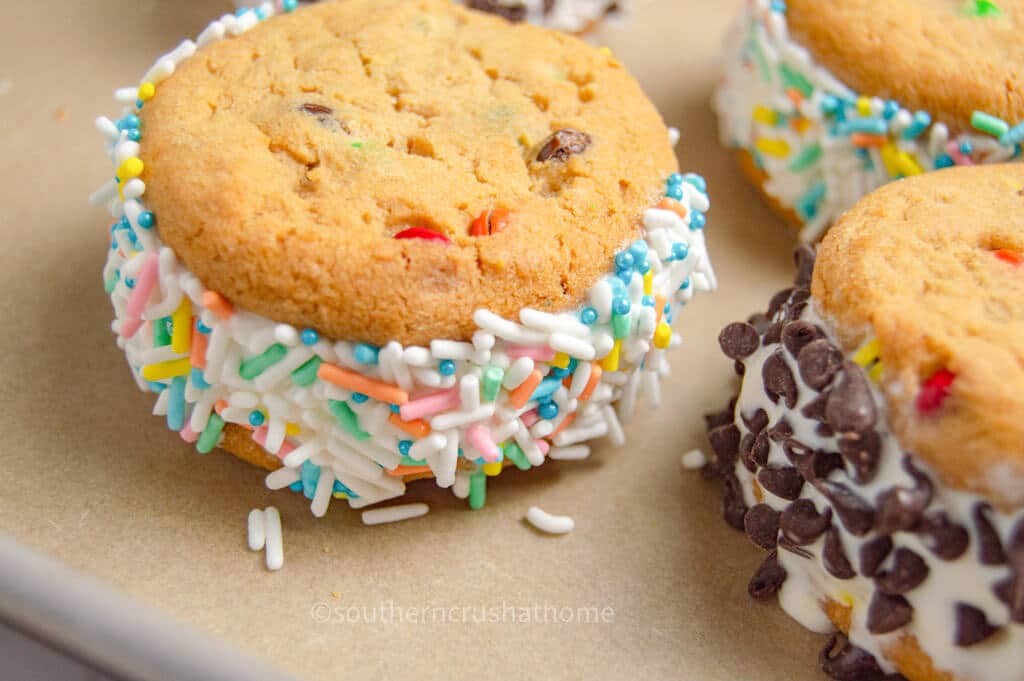 Step 6:
Once all of your cookies are covered in toppings, place the sandwiches in the freezer on parchment paper to firm up.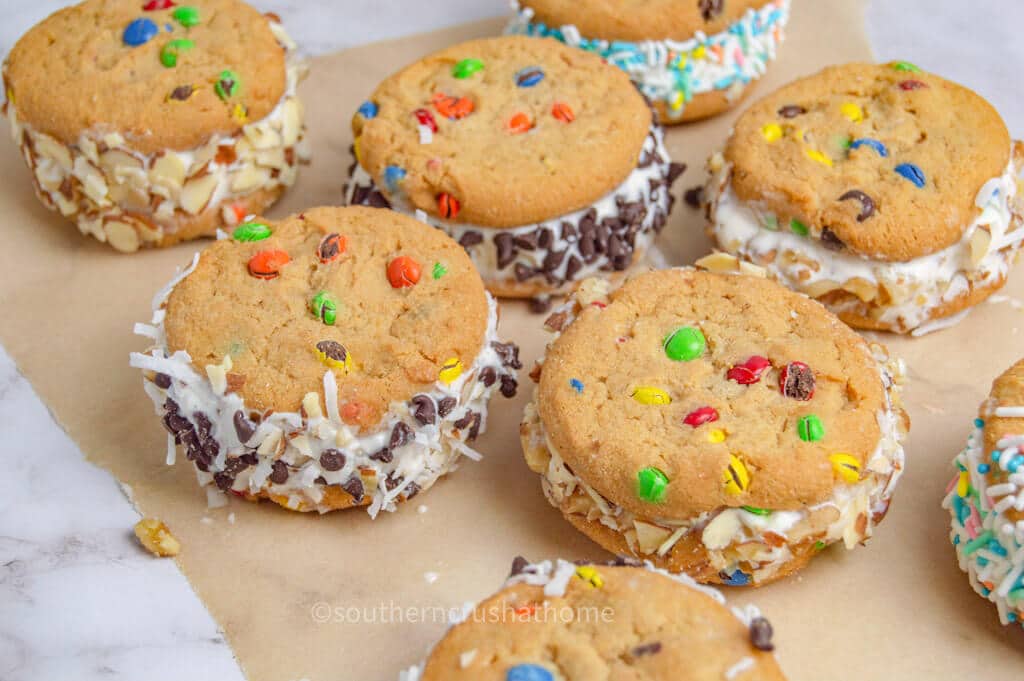 Take them within 5 minutes of serving. Enjoy!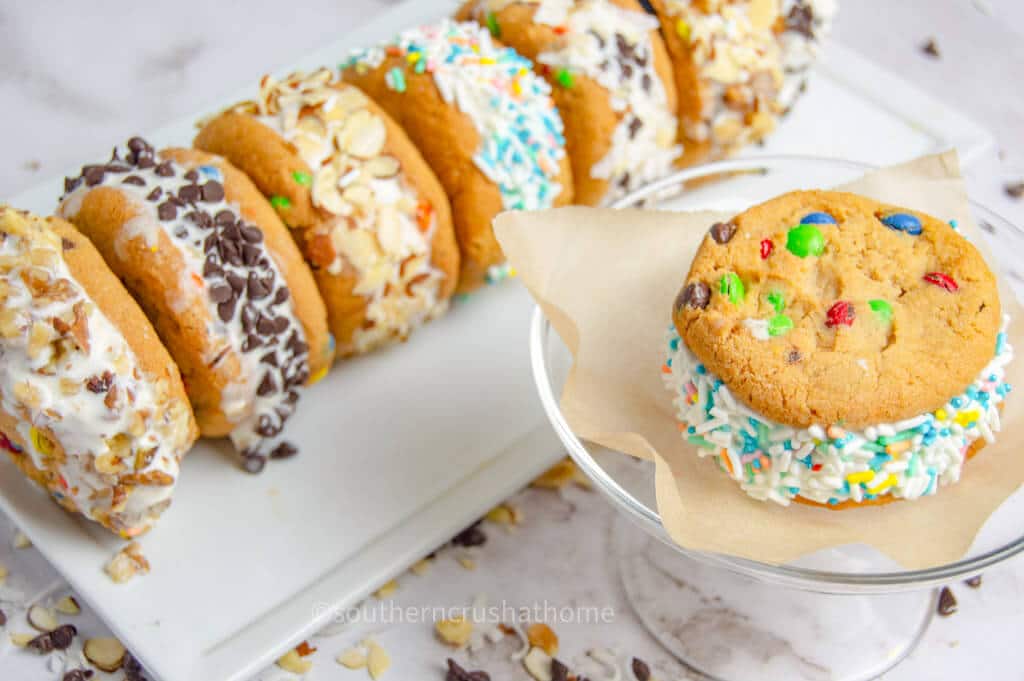 All About Ice Cream Sandwiches and Chipwich
Ice cream sandwiches made with chocolate chip cookies have their own name. They are called a Chipwich.
Research tells us that Richard LaMotta created the first Chipwich in New York City in 1981 using vanilla ice cream and chocolate chip cookies. LaMotta promoted the ice cream sandwich heavily and turned Chipwich into a well-known brand. Chipwich was bought by CoolBrands in 2002 and then sold it to Dryer's, a division of Nestle, in 2007. Chipwich production stopped at that time as it competed with Nestle's own chocolate chip ice cream sandwich.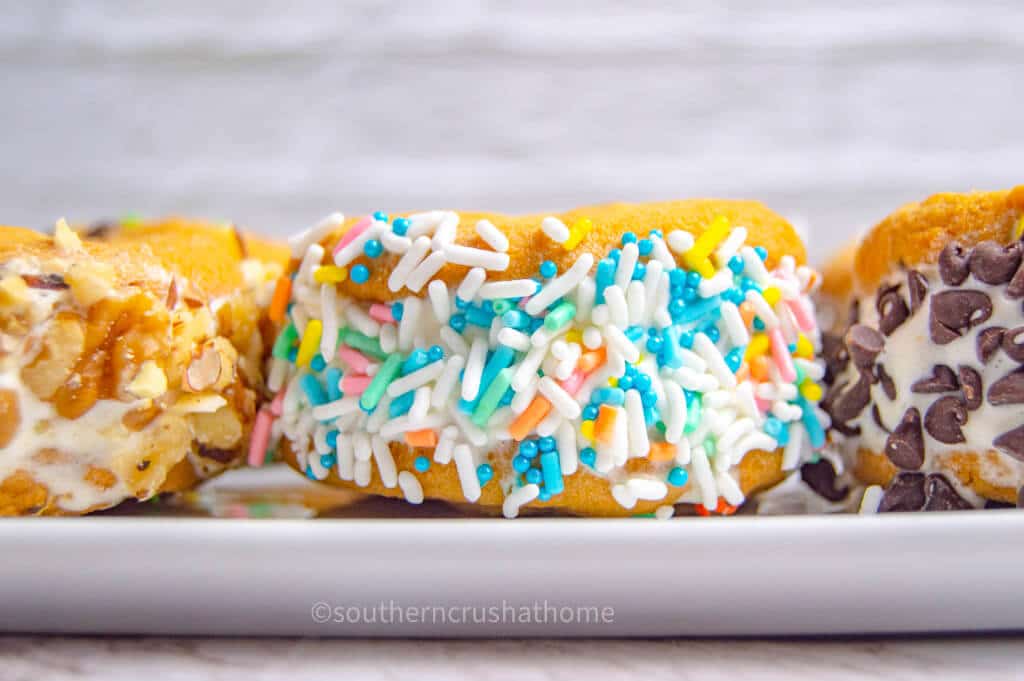 Variations of M and M's Cookies Ice Cream Sandwiches
Use any flavor of ice cream instead of vanilla
Add different add-ins to the cookie batter like Skittles and other bits of other candy bars
Chop up a different cookie and add to the ice cream batter
Make mini bite-sized cookies to make bite-sized sandwiches
Add chocolate to the ice cream batter as well as the cookie batter
Use a cookie cutter to make fun shapes of the ice cream sandwiches
FAQs
How many calories are in an ice cream sandwich?
This is a tough question we are all probably thinking about. It really depends on how big they are. Store-bought M and M's Cookie Ice Cream Sandwiches are around 240 calories.
Who invented the ice cream sandwich?
The ice cream sandwich as we know it today, vanilla ice cream with two chocolate cookies, was apparently created by a man named Jerry Newberg who sold them in Pittsburgh, PA in 1945.
Can I use store-bought ice cream to make these ice cream sandwiches?
Yes, absolutely! If you are really pressed for time use store-bought ice cream and store-bought cookies. Let the ice cream sit on the counter to soften slightly and then scoop it out and place it between two cookies. Place in the freezer to firm up.
Can I use different kinds of cookies to make ice cream sandwiches?
Sure, why not? As long as the cookies are the same shape making the ice cream sandwiches with different kinds sounds like a cool idea. The shape of the cookies needs to be the same so that the ice cream will stay put in between them.
Can I make the M and M Cookies Ice Cream Sandwiches gluten-free?
It is possible to make the cookies gluten-free if you make them yourself and substitute gluten-free flour. The best ones to use are Cup4Cup and Bob's Red Mill.
If you want a lighter store-bought ice cream sandwich, try Skinny Cow Ice Cream sandwiches you will adore them.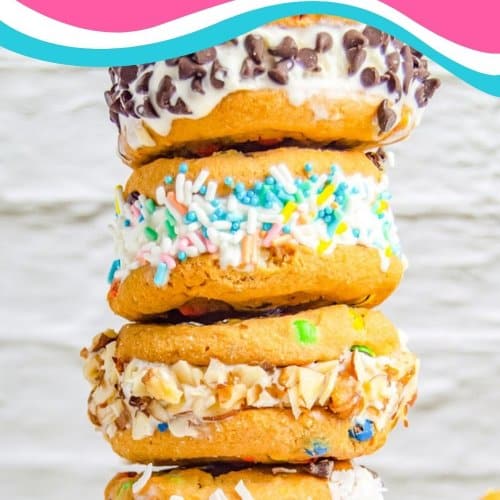 M and M Cookies Ice Cream Sandwich
A sumptuous sandwich with cookies and vanilla ice cream.
Ingredients
12

M&M cookies homemade or store-bought

1

half gallon

homemade vanilla ice cream

toppings of your choice
Instructions
Once the cookies have cooled and the ice cream frozen, lay the cookies out on a cookie sheet.

Scoop out equal amount of ice cream and place on top of the cookies.

Place another cookie on top and press down slightly.

Place the sandwiches in the freezer to firm up.