How To Make An Easy Ribbon Craft DIY
Make this Easy Ribbon Craft DIY using dollar store supplies and scrap wood. It makes a great addition to your home decor, and can be hung on the wall, or placed standing on an entry table or mantel. Learn how to make your own with this simple tutorial.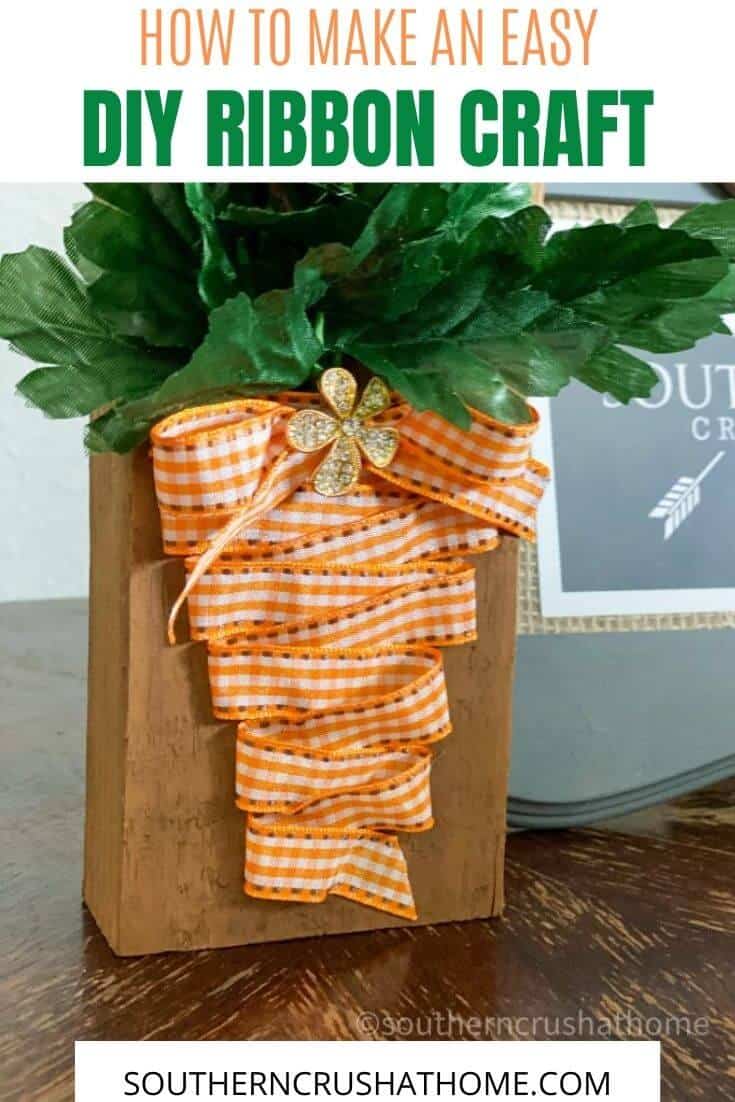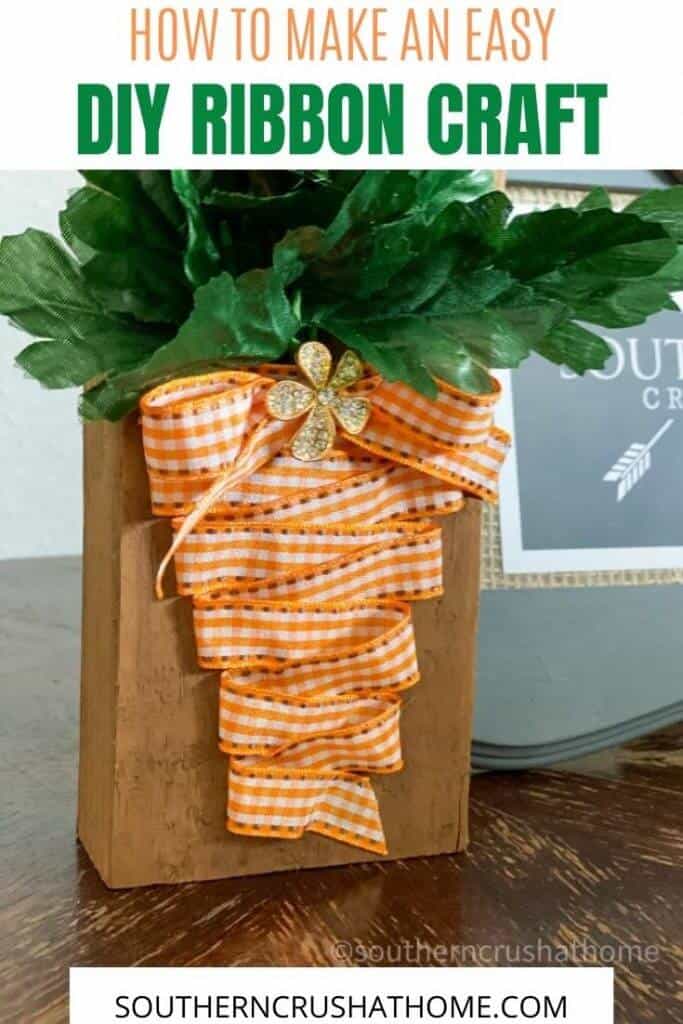 WHAT YOU'LL NEED TO MAKE THIS EASY RIBBON CRAFT diy
Scrap Wood
Dollar Tree Gingham Ribbon
Dollar Tree Flowers
Spray Bottle With Water
Acrylic Paint in brown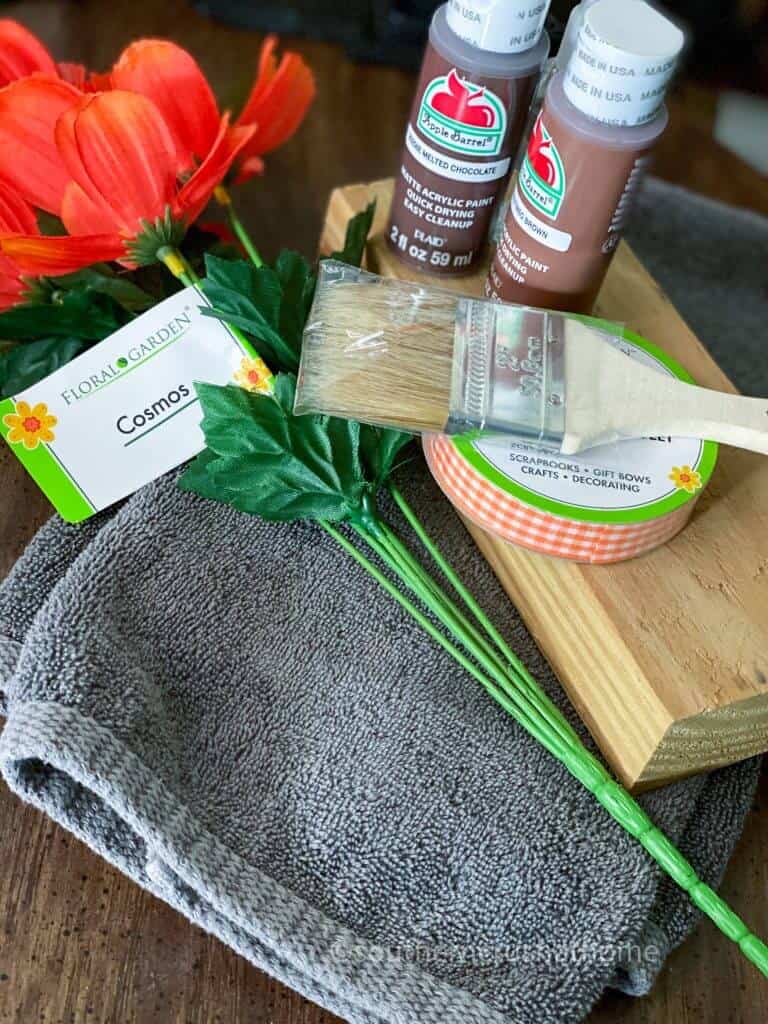 HOW TO MAKE An Easy Ribbon Craft DIY
Pour a little bit of the brown acrylic paint onto a paper plate. Spray the paint with water using a spray bottle. You can pick these up at the dollar store. Mix the paint and continue to spray with water until you get the desired consistency. This is making the paint more of a stain.
Use the chip brush to completely paint the wood piece. Once it is painted, use a baby wipe to wipe some of the paint off. It gives it a nice finish, with some of the lighter unfinished wood showing through. This technique is a great way to add dimension.
Let dry. You can use a heat gun to speed up the drying process.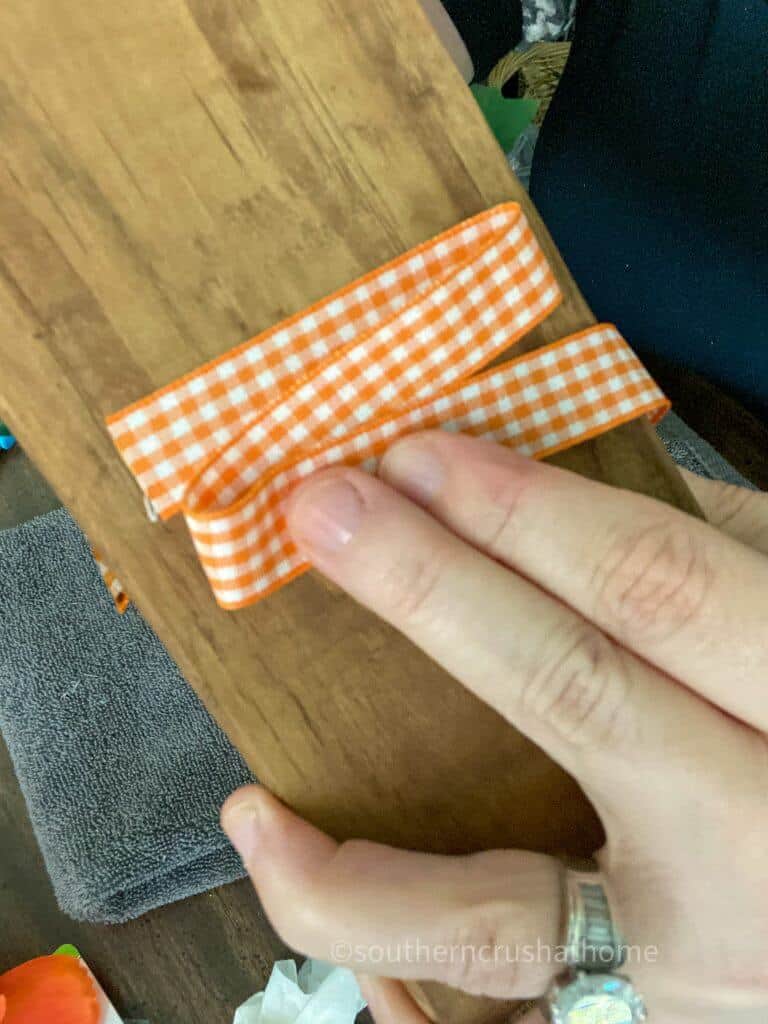 Add a dab of hot glue to the end of the gingham ribbon and place it on the wood piece. Continue to add the ribbon with hot glue in a zig zag fashion to the wood. It's easier (especially on your fingers) to add the glue directly to the wood, and tap the ribbon onto it. You want the ribbon to form a carrot shape, so glue the ribbon in shorter lengths as you continue down to the end.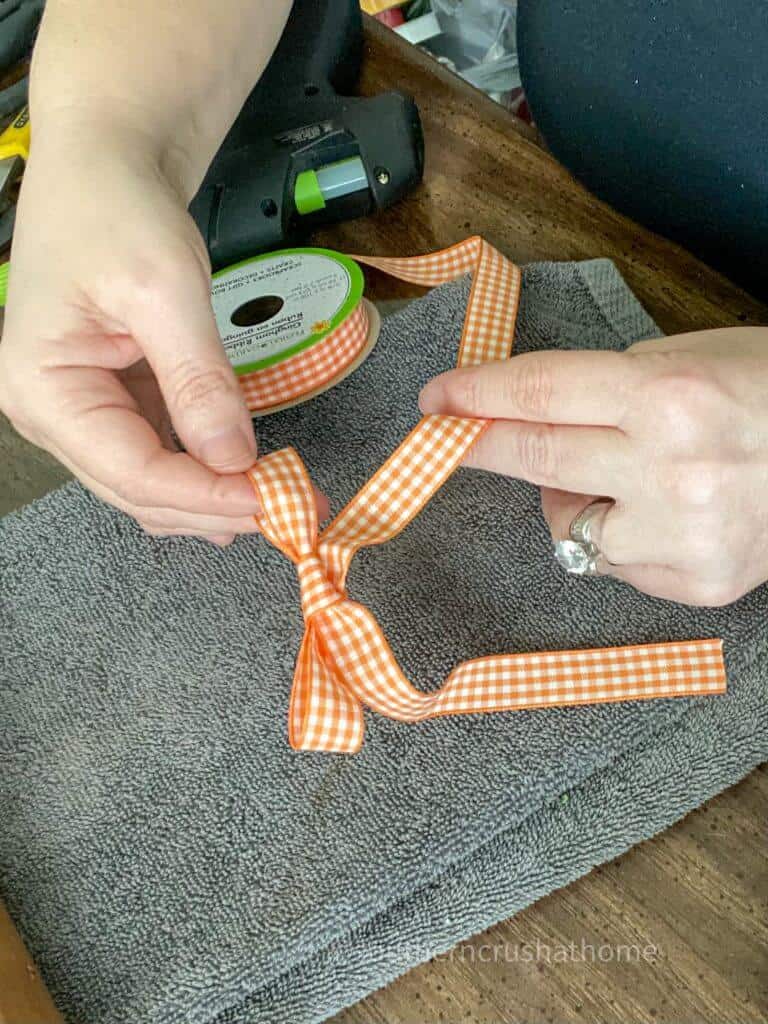 Make a simple shoestring bow for the top of the carrot and secure with hot glue. You can already see this sweet little ribbon craft taking shape!
NEXT…
Take apart the flowers and remove the greenery. You can use wire cutters if you want. Stick the greenery under the ribbon until you are happy with how full it is. You don't even need any hot glue!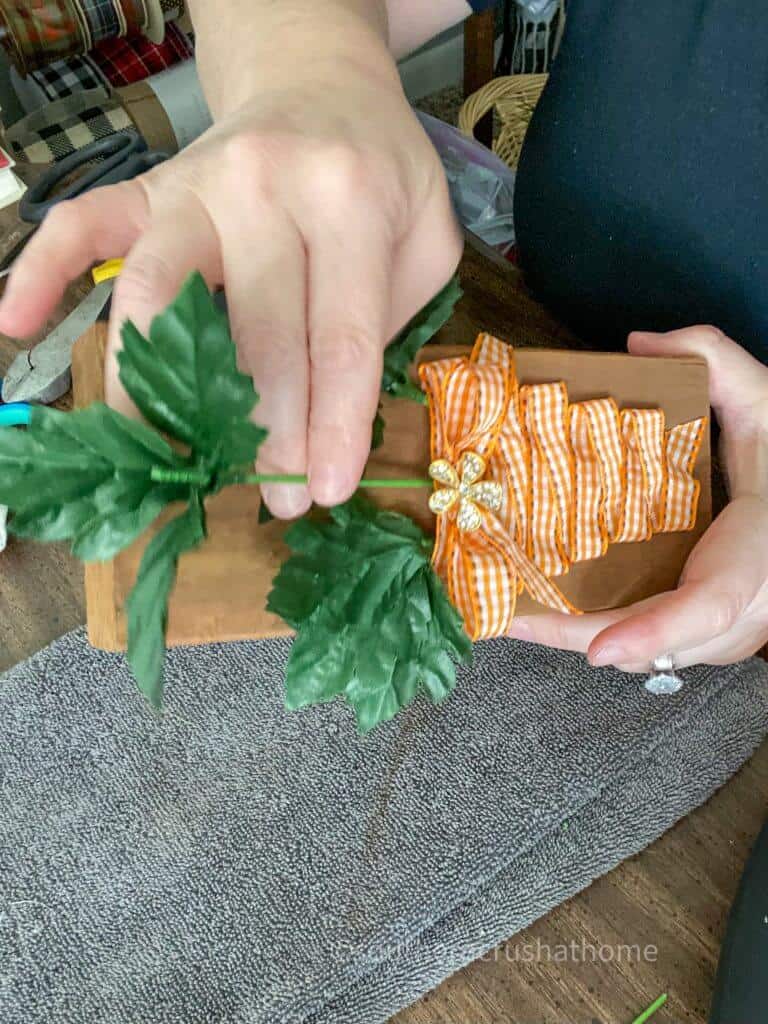 You know I love a little bling, so I added a pretty embellishment to the center of the carrot top.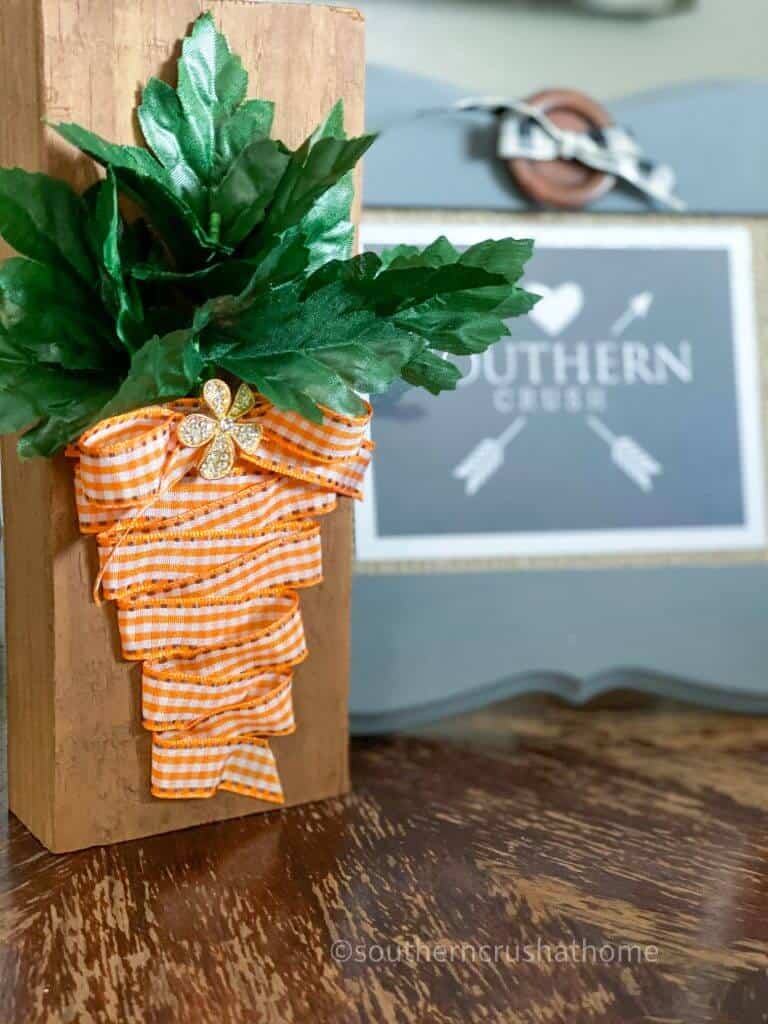 Easy Ribbon Craft DIY
Wasn't that so easy? If you want to hang it, just add a picture hanger to the back. But, I love that this piece can also stand. If you want to add a larger bow, you can see how I make a knotty bow here, and a messy bow here.
that's it!
Not only is this ribbon craft so pretty, but it's also so inexpensive to make, especially if you start with a piece of scrap wood.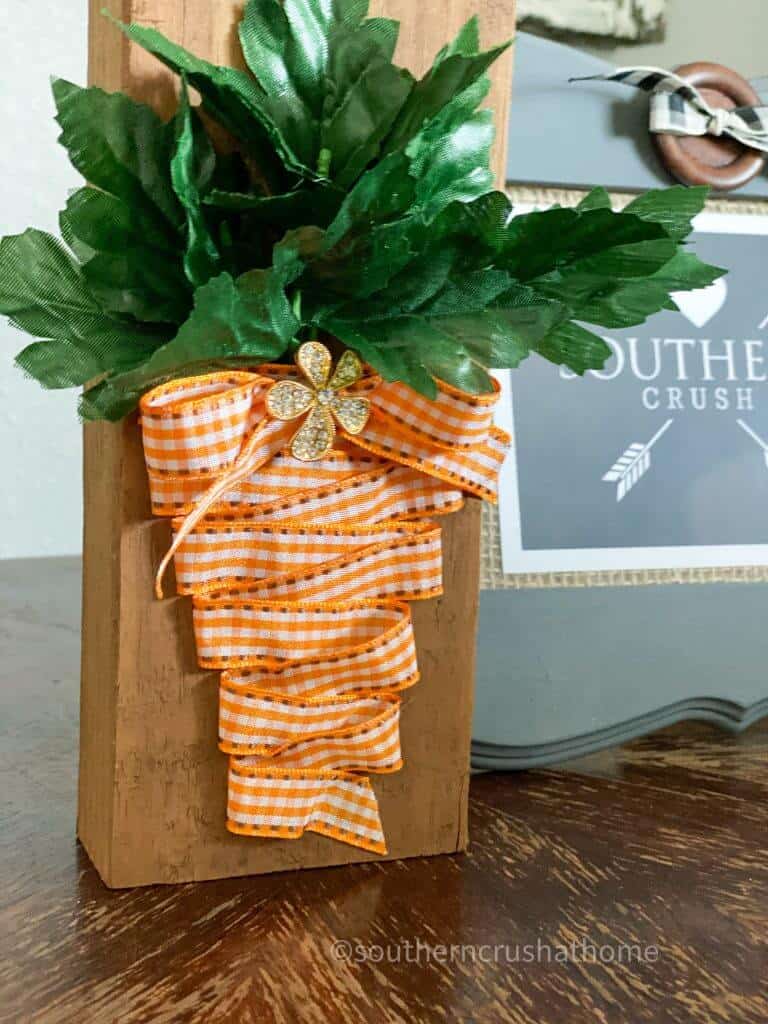 Think about how you can decorate with this piece. I can see it in a sweet spring vignette, or on a front entry table. How would you decorate with this DIY ribbon craft?
BE SURE TO CHECK OUT THESE OTHER Dollar store craft ideas!
GET MY EMAILS
If you love DIYs and Ideas like these as well as seeing all the fun things I find out shopping, you need to be getting my emails, my friend! Each week I send out a couple of emails that include updates, crafts, shopping experiences, and decor inspiration. Be sure to get yourself signed up below. I can't wait to meet you!