DIY Thrift Store Silver Tray Chalkboard
This DIY Chalkboard was the perfect transformation for this silver tray from the thrift store! I knew right away that I wanted to use it as a pretty tabletop version of our favorite game night activity, tic-tac-toe! This versatile DIY chalkboard project was super fun to make. Create one for yourself like this…
>>>BE SURE TO PIN THIS PROJECT FOR LATER!<<<
SUPPLIES for DIY Chalkboard
Silver-type tray of your choice (You can also use a plastic one from Dollar Tree)
Paint brush
Painters tape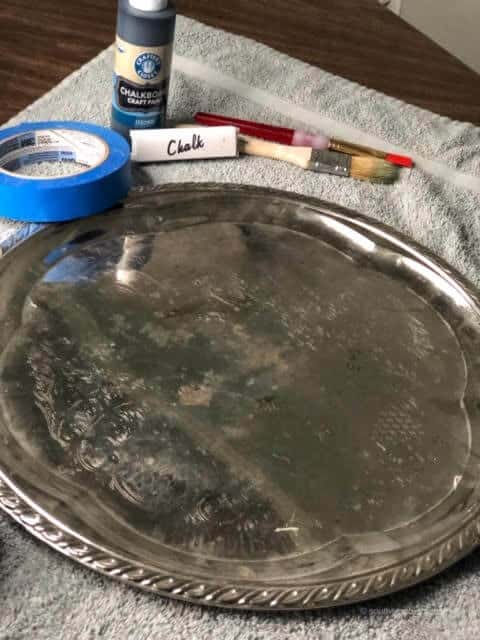 STEP BY STEP instructions for making a diy chalkboard
Using painters tape, mark off the edges you'd like to protect from the paint using small pieces at a time.

Paint the inside of the tray with chalkboard paint. Use thin layers of paint and allow them to dry thoroughly in between coats. It will take about 4-5 coats. Remove your blue tape.

Let you paint dry thoroughly. Take your chalk and begin scraping it across the tray using the flat side.

Cover the tray completely. This is called "seasoning" the chalkboard.
Let it set a few minutes and repeat this "seasoning" process 3-4 times.
At this point, your chalkboard should be ready for chalk or a chalk pen for designing!
This project is a little on the whimsical side to me and I love it! It doubles as the perfect fancy menu to add a magnet on the back and display on the fridge! I added some fun wooden tic-tac-toe pieces I found at the thrift store when I "scored" the silver tray! What would you use this versatile project for in your space?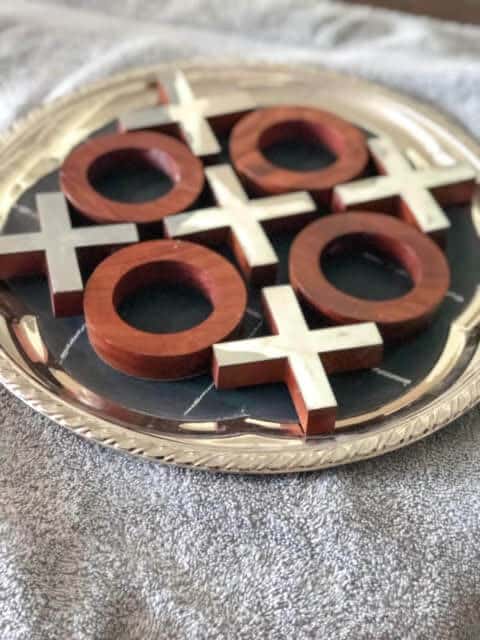 Did you see the the other game night project I did where I made a fun tabletop centerpiece? Check it out here –>> Game Night Centerpiece
>>>Leave your thoughts below in the comments please… BTW— Life is short—Enjoy the mess!
**P.S. Please join us over on our
Facebook Page
to see more fun projects "Live".