Easy China Cabinet Display Using Vintage Christmas Decorations
It's that time of year again! Christmas is just around the corner and I'm already getting into the spirit. How about you? This year, I decided to create a fun China cabinet display using vintage Christmas decorations, like my favorite Santa mugs that I've collected over the years.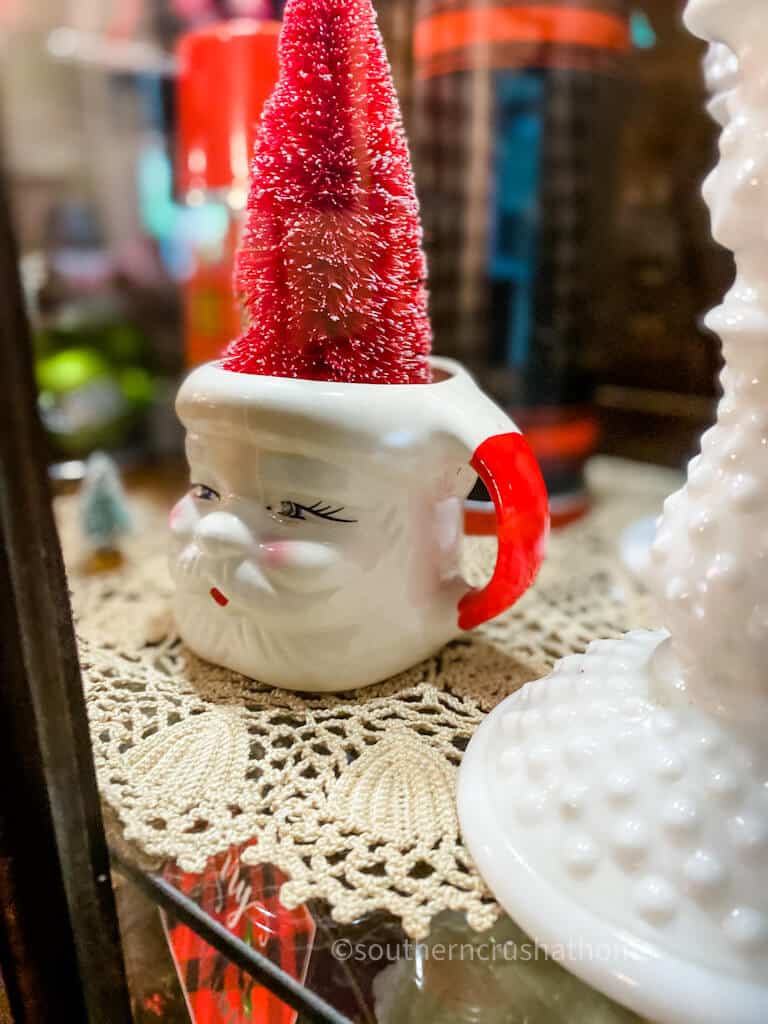 I think it's really fun to see how my vintage milk glass pieces which are a staple in my China cabinet come together with all of the seasonal Christmas decorations to create an amazingly festive and unique display for the holidays. If you're looking for some inspiration, check out these easy tips for creating a beautiful display using vintage decorations. Happy decorating!
Speaking of decorating, go check out my friend Angie with Postcards from the Ridge's Ways to decorate for Christmas using Navy and Pink as well as Amy Sadler Designs Ways to Decorate with the Color Brown for Christmas for even more amazing inspiration!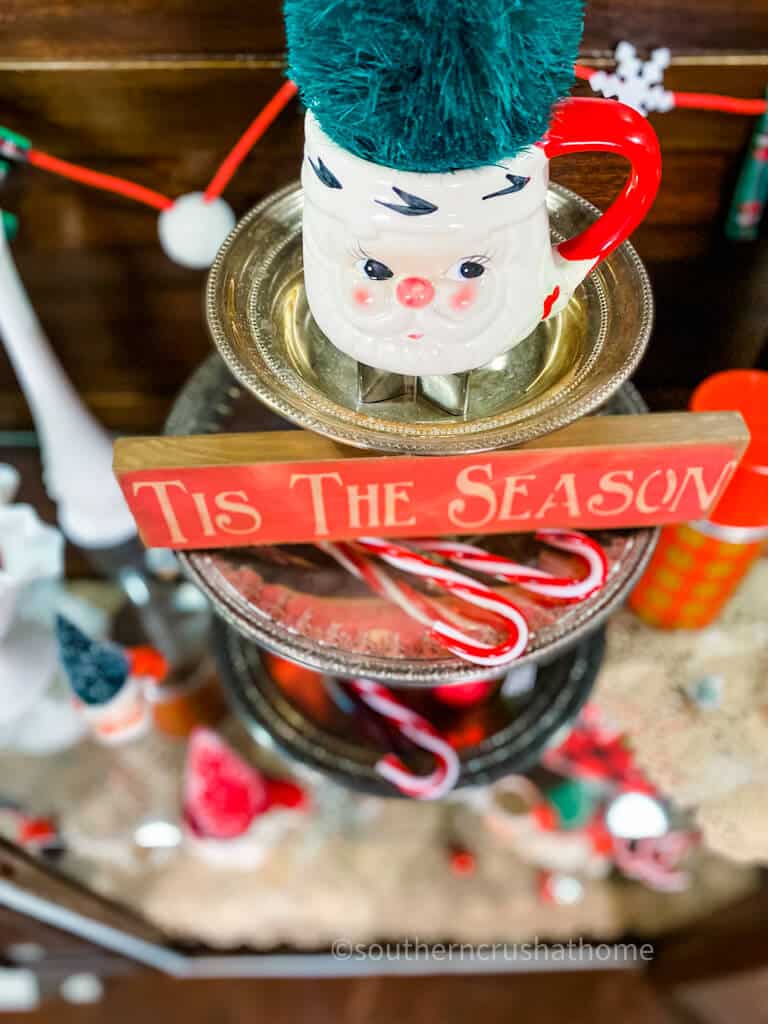 China cabinets, also known as display cabinets, or China hutch are a great way to showcase your favorite heirlooms. It can be any size from pretty small on a tabletop all the way to really large taking up the entire wall in a living room or dining area. The one I am using came from Facebook Marketplace and was one of my favorite furniture makeovers. See the process HERE.
How to Create a China Cabinet Display Using Vintage Christmas Decorations
It's such a simple way to add a touch of holiday cheer to any room in your home. And best of all, it only takes a few minutes to do. So if you're looking for an easy way to spruce up your home for the holidays, why not try using some vintage Christmas decorations in your china cabinet? You might just be surprised at how lovely it looks.
Step One
Start by removing everything from the china cabinet and giving it a quick cleaning – this will give you a blank slate to work with. Then, take a look at your holiday decorations and see what would work well in the space. If you have any extra vintage Christmas ornaments, now is the time to use them. You can also incorporate other holiday décor items, such as faux candles, garlands, or even small bottle-brush Christmas trees like these.
Once you've gathered your Christmas decorations, it's time to start styling. Don't be afraid to experiment until you find something that you like. As you style, keep in mind the overall look that you want to achieve. After all, this is your chance to get creative and have fun with it.
Step Two
I started with a few doilies similar to those I used HERE. Simply drape them over the glass shelves of the China cabinet to provide a bit of texture.
Step Three
Then I pinned a little "MERRY" garland across the back side of the cabinet to add a pop of color. You could use vintage tinsel here or a handmade wood bead garland like the one I made here or a fun glittery Snowflake garland like this one!
Step Four
Next, I returned most of my original milk glass pieces back to their original place in the display cabinet.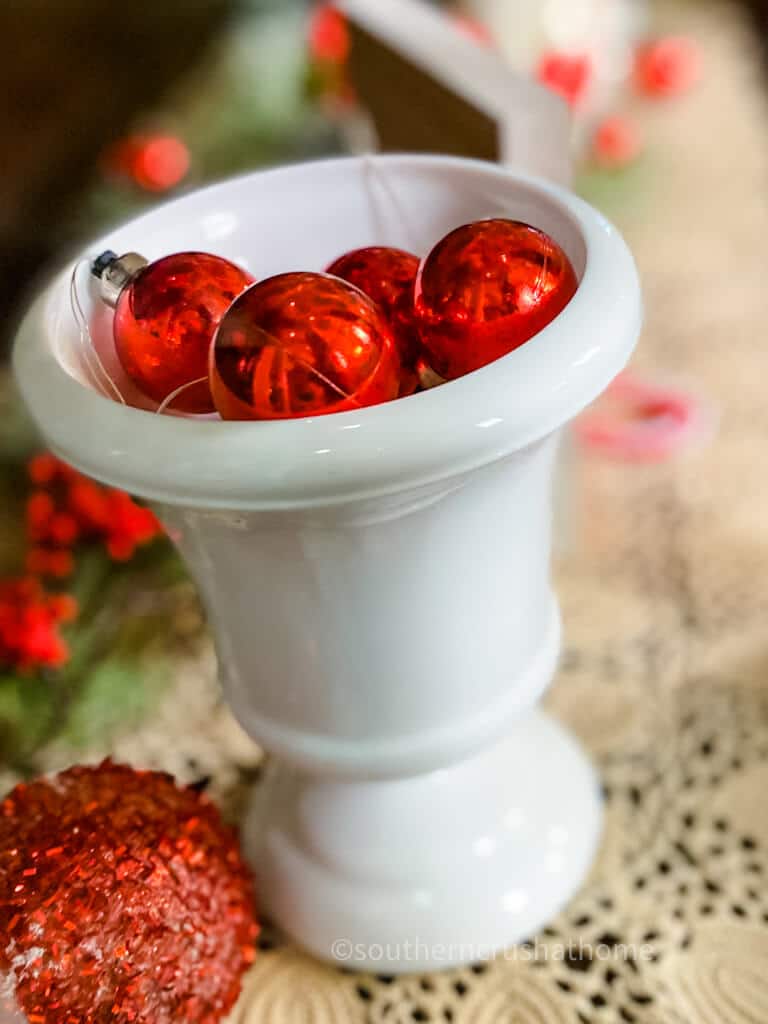 Step Five
Now comes the fun part! Adding in all the vintage Christmas decorations! I started with my Vintage Santa mug collection. Placing the varying-sized mugs on each of the three shelves in my China hutch created height and little pops of red.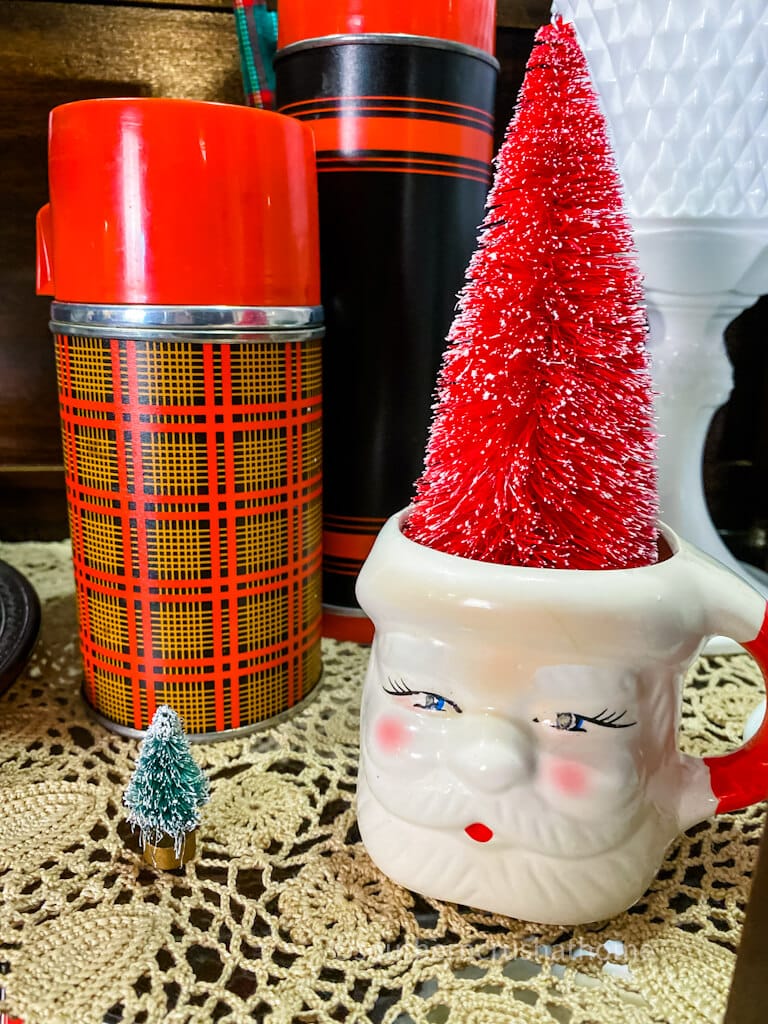 Step Six
For even more pops of green and red color, I added frosted vintage Christmas ornaments to some of the milk glass pieces and the silver platter tiered tray centerpiece.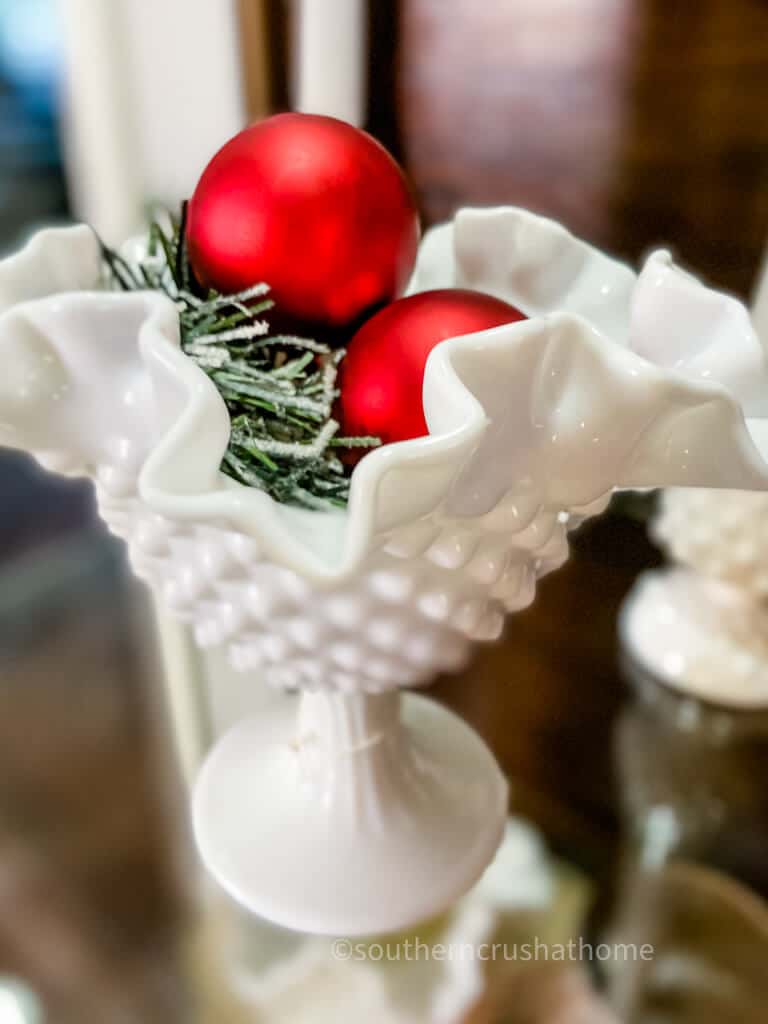 It was super fun to tuck little bottle-brush Christmas trees into some of the Santa mugs. I also found some mini trees to set on the glass shelves.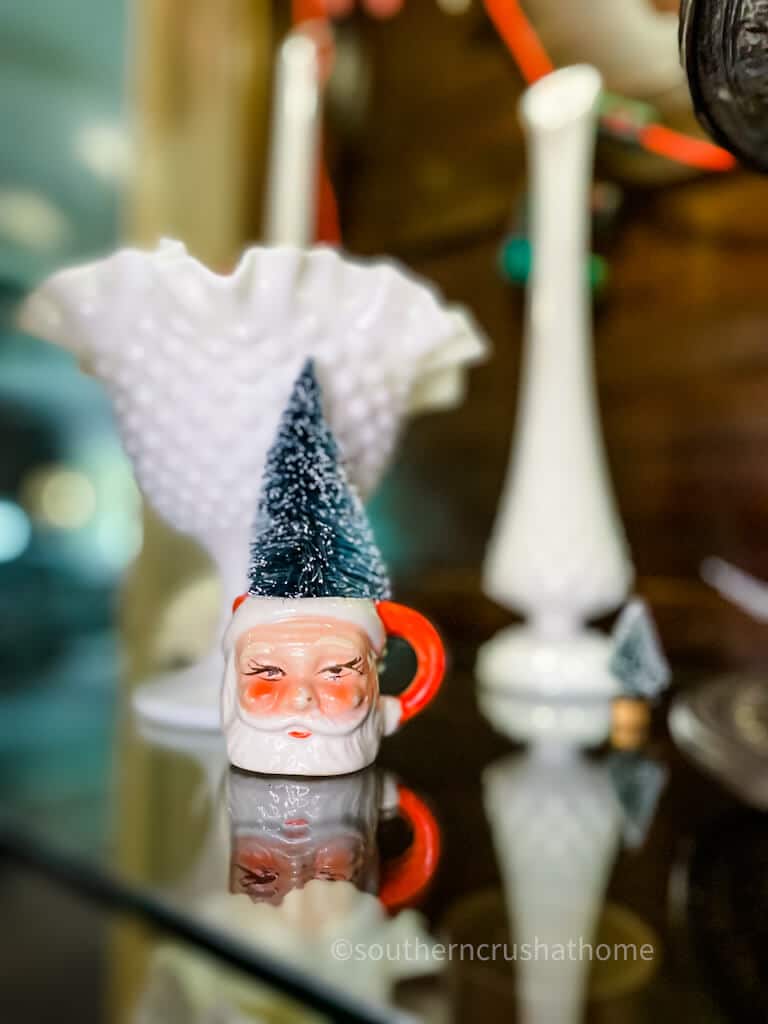 Step Seven
It's always a fun idea to add a couple of Christmas signs for interest. I added this "'Tis the season" sign to the DIY centerpiece.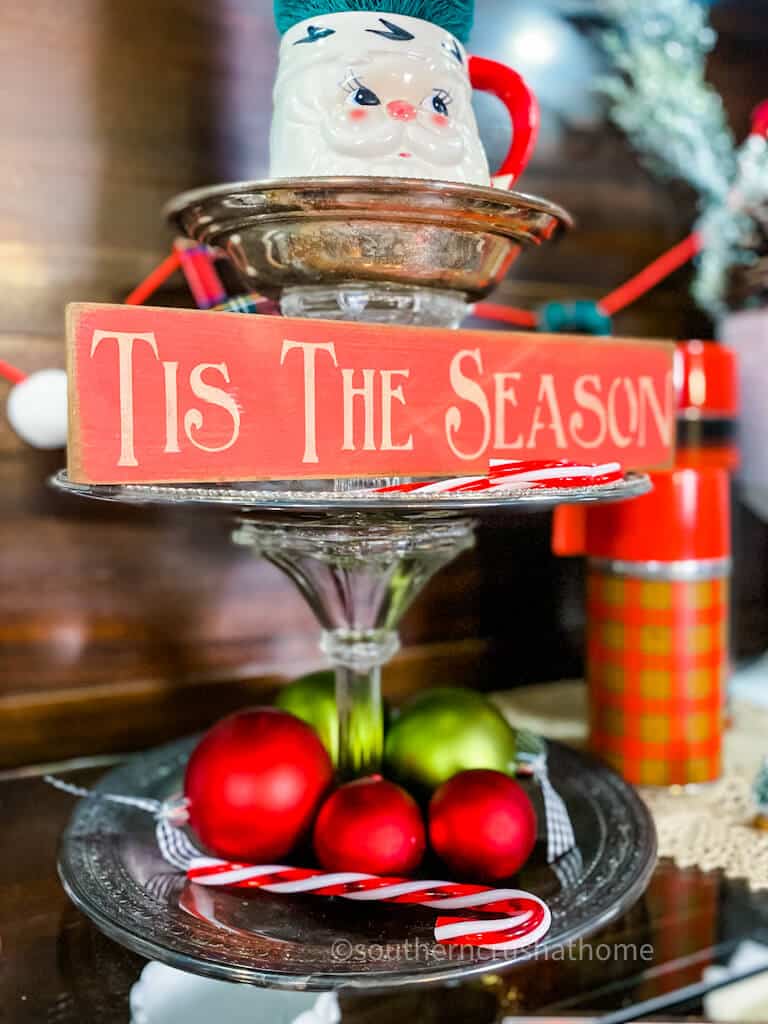 If you don't have any Christmas signs or shelf sitters, use vintage greeting cards! Place a tent card in your display case to greet your guests and add a pop of whimsy.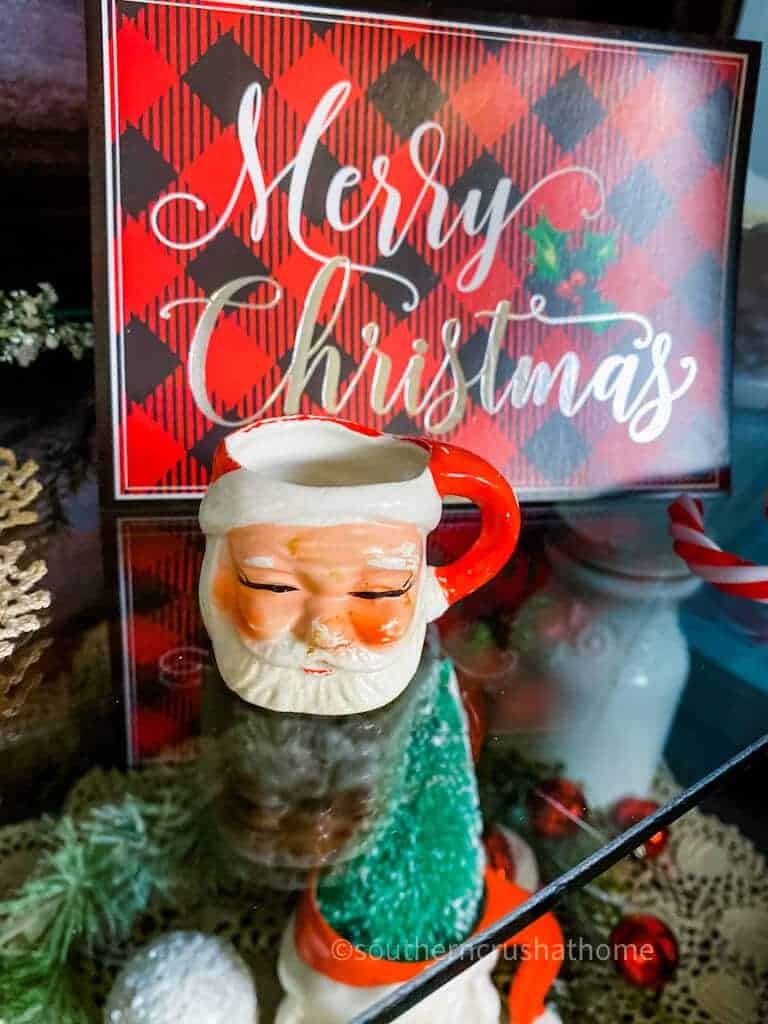 Don't make the mistake of forgetting the bottom shelf of your China cabinet! I added some faux fir branches, red berries, vintage ornaments, and this "Better not pout" sign that I hand-stamped and painted a few years ago!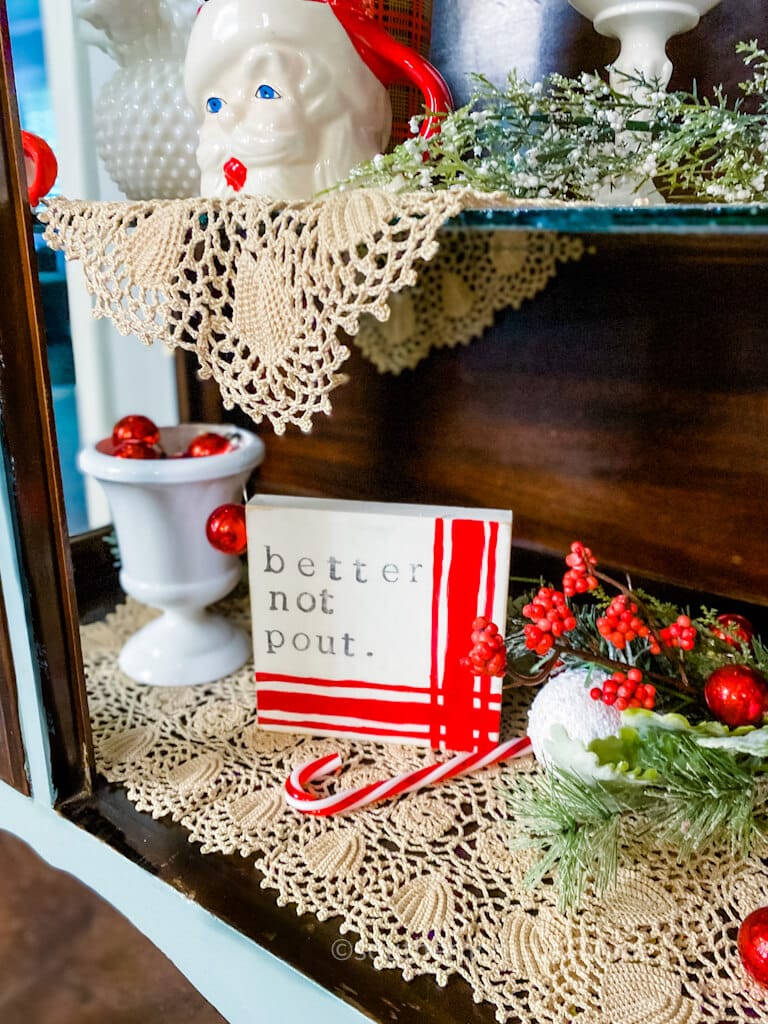 Step Eight
Finally, I placed a few faux candy canes throughout the China cabinet here and there to add a touch of red and white to the display as well as more faux greenery picks and large pinecones to some of the milk glass pieces.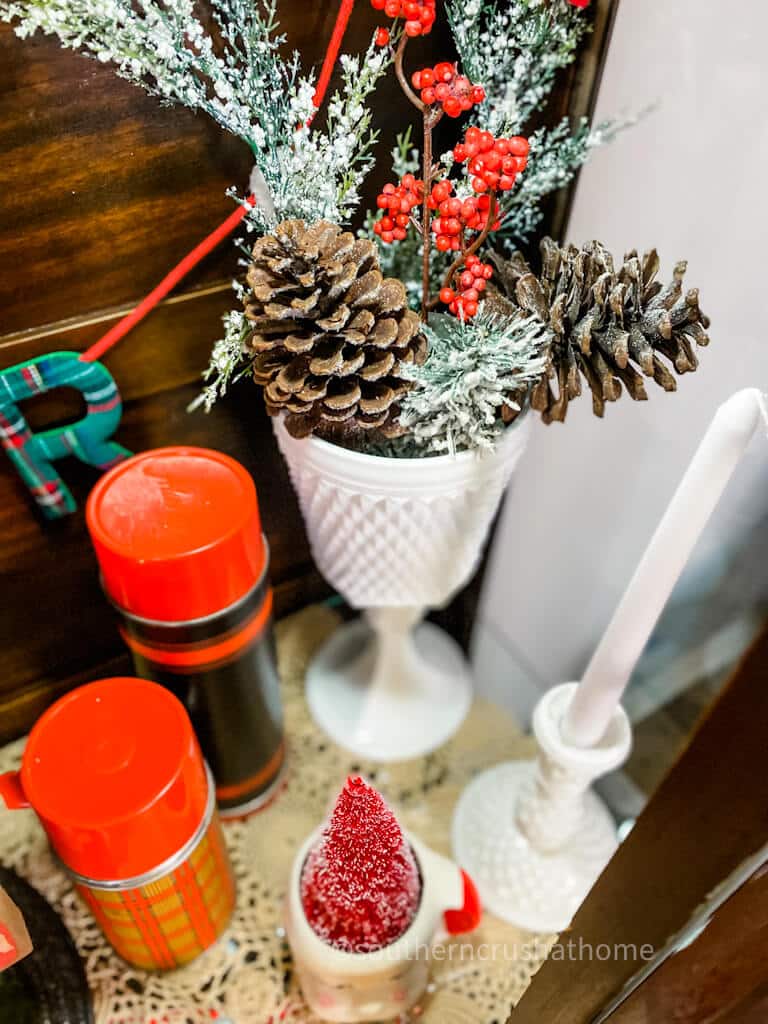 Step Nine
Optionally, you can add lighting to your China cabinet display.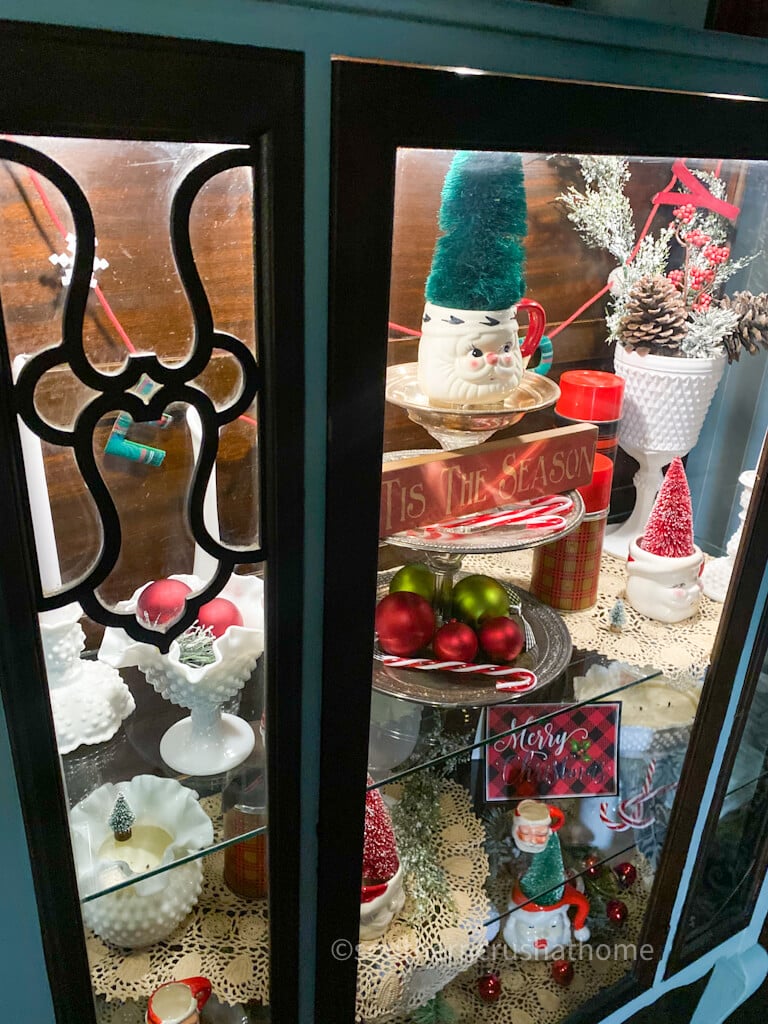 I slapped three battery-operated puck lights to the top of my cabinet; however, fairy lights scattered on each shelf would look great for a holiday display like this one!
Step Ten
After the inside of the China hutch is decorated with vintage decorations, it's time to add a few home decor pieces to the top. Try something like this farmhouse book stack, an oversized Santa-themed mug with faux birch or faux fir branches, and some vintage thermoses.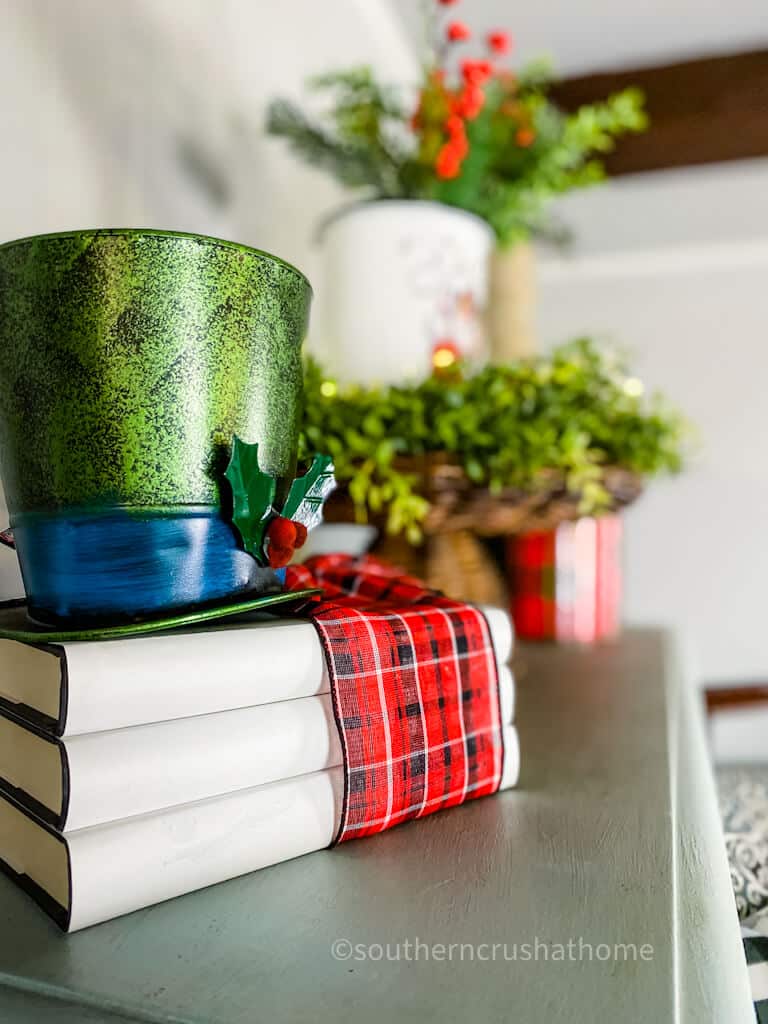 Try using different textures and heights while popping in a bit of faux greenery here and there.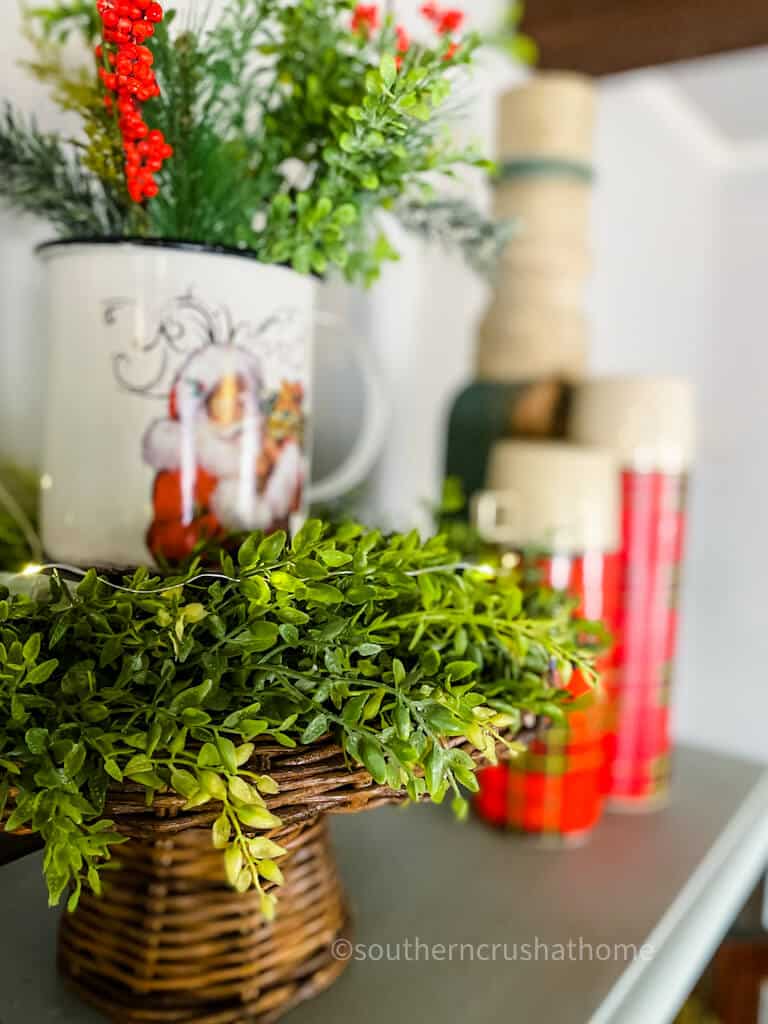 Once everything is in place, take a step back and enjoy your handiwork. Your China cabinet display will be sure to impress your guests and get everyone into the holiday spirit.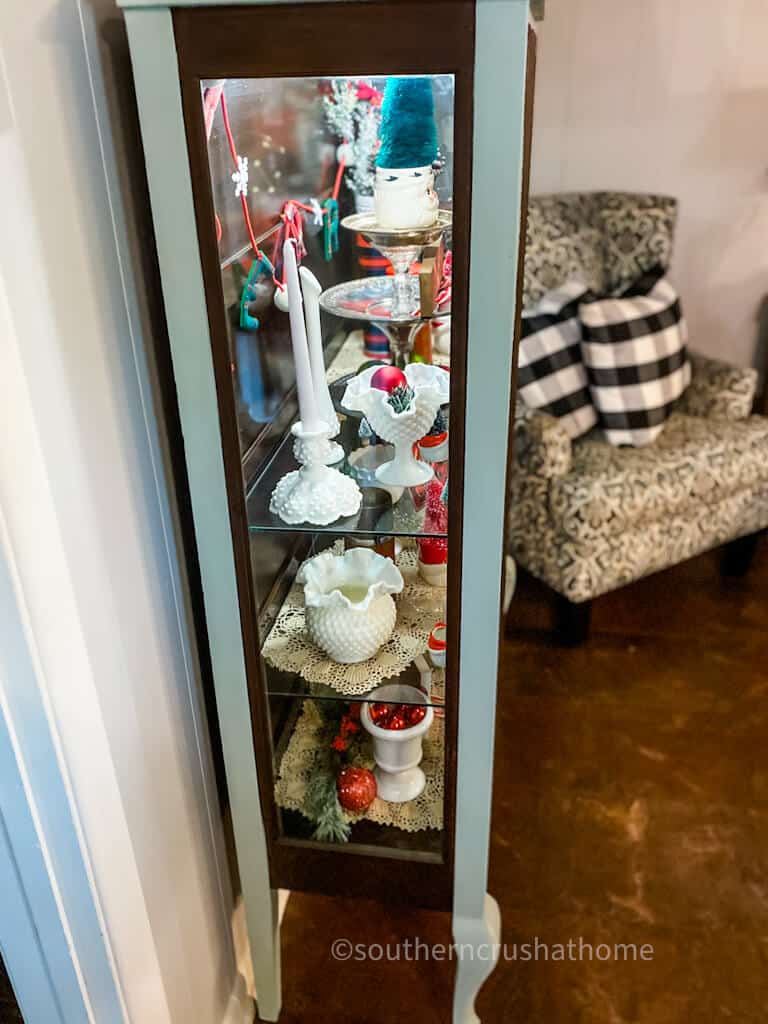 So get creative and have fun with it – after all, that's what the holidays are all about. Thanks for reading and Happy Holidays!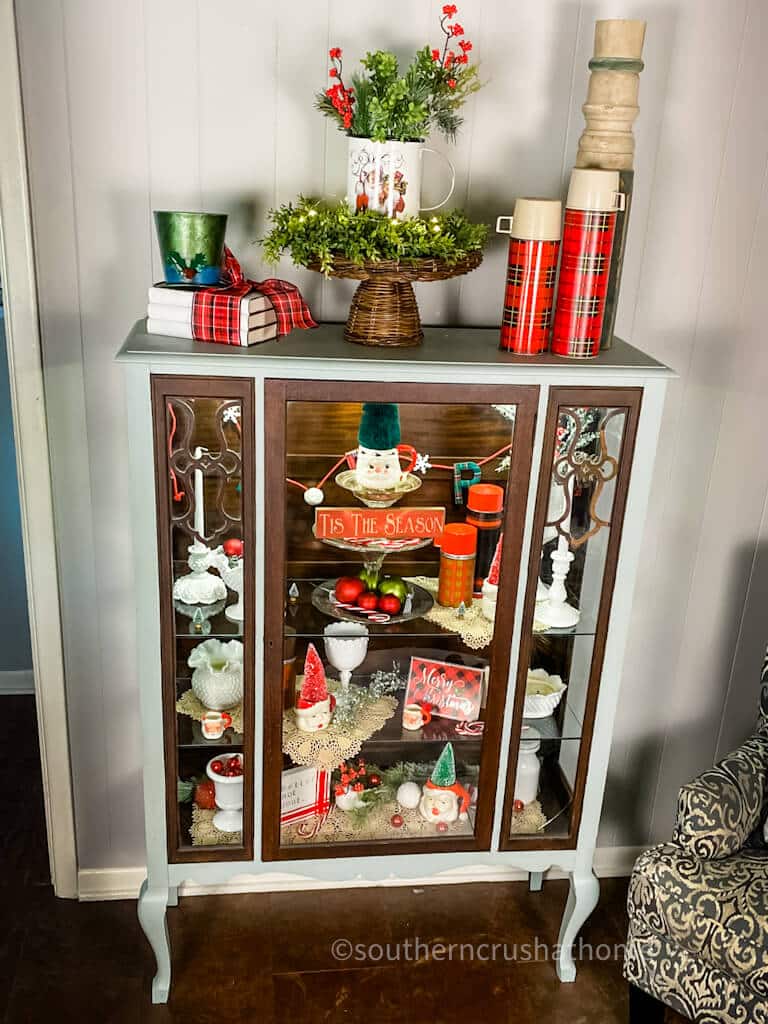 Here are a few more tips for creating a festive china cabinet display:
Gather inspo
Clean first
Start small
Choose a color scheme
Incorporate old and new pieces
Add lighting
If you're looking for a way to bring some holiday cheer into your home this year, why not try decorating your china cabinet? It's a great way to show off your holiday decorations and make them part of your everyday décor. Plus, it's a great way to use up those extra Christmas decorations that you have lying around.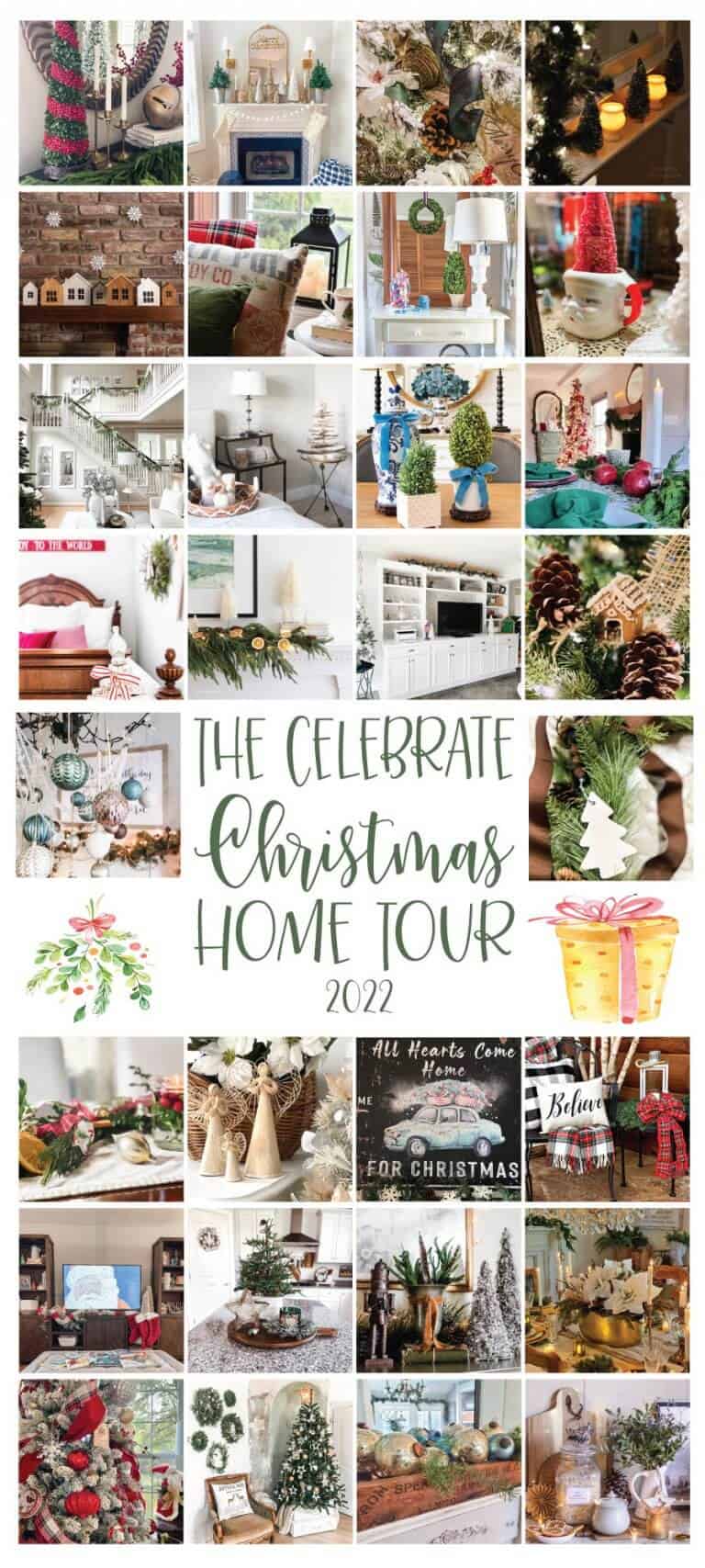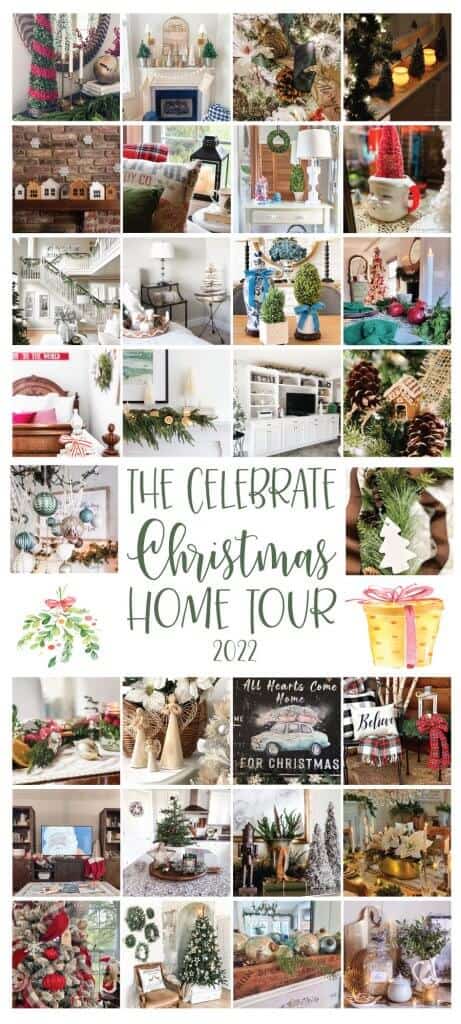 Sand Dollar Lane // 2 Bees in a Pod // At Home with Kristy // Exquisitely Unremarkable
Our Crafty Mom // Hearth and Vine

Zucchini Sisters // Postcards from the Ridge // Southern Crush at Home // Amy Sadler Designs
Pasha is Home // Simple Nature Decor

Worthing Court // The Tattered Pew // Cottage in the Mitten // DIY Beautify
Thistle Key Lane // At Lane and High // Feet Under My Table

White Arrows Home // Aratari at Home // White Lilac Farmhouse
Cottage on Bunker Hill // Bricks 'n Blooms

My Family Thyme // Southern Home and Hospitality // Songbird // Shiplap and Shells
Chalking Up Success // Pure Happy Home