13 Best Clear Bags for Stadium Events in 2023
It seems like every single time we go somewhere that involves a stadium, I'm the one who "accidentally" tries to bring in my purse. Inevitably, my husband has to make the 15-mile trek, in the heat or rain, back to the car to put it up for me. Well, no more I say! Today I'm sharing my picks for the best stadium-approved clear bags so you can enjoy your favorite stadium events without the hassle of any security check issues.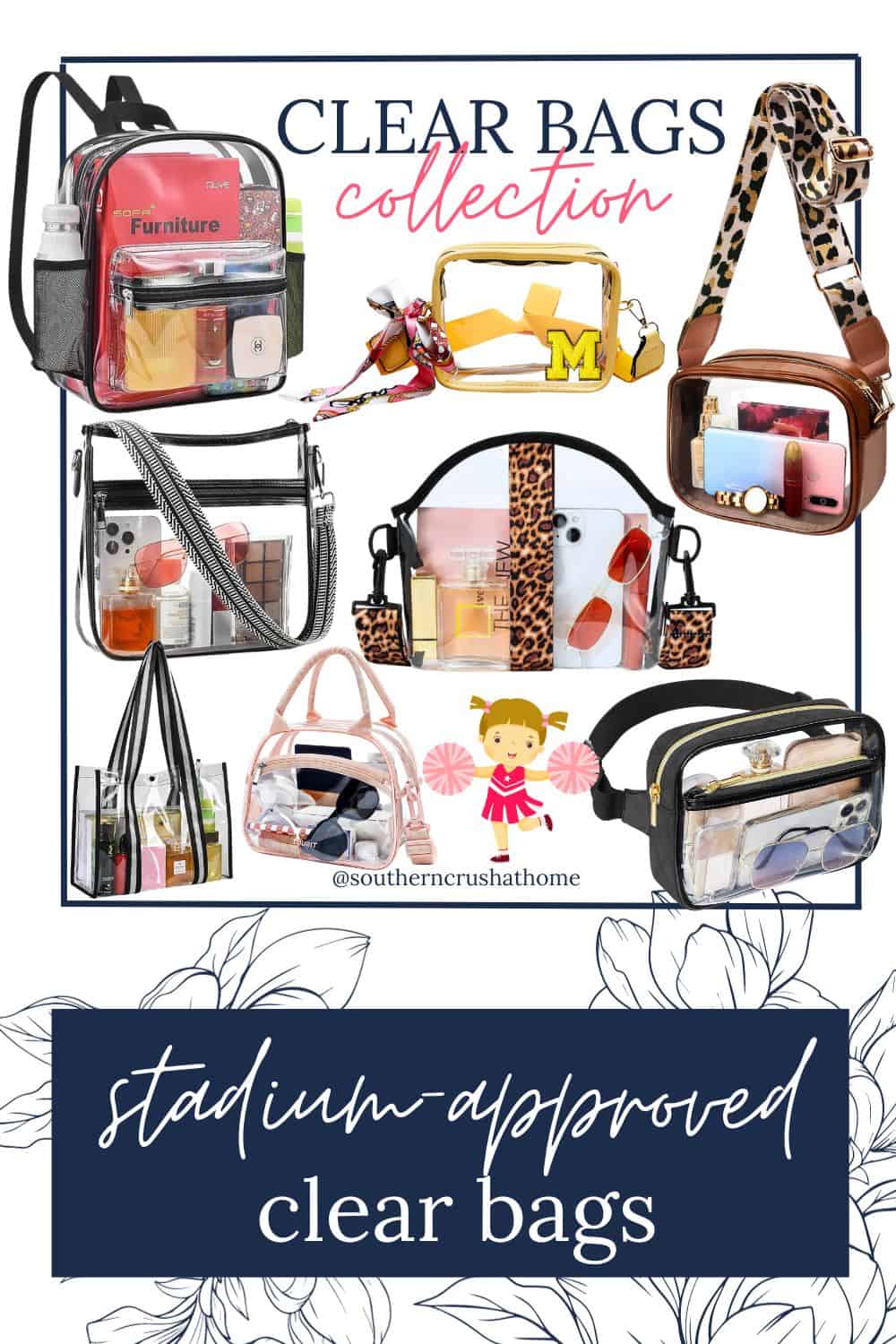 Be sure to PIN this one for later!
Make sure you're prepared for your next stadium outing! Whether you're headed to graduation, out to see your favorite artist in concert, or to cheer on your home team at the big game, clear bags are now a must for any stadium event. Don't wait until the last minute to learn the rules – get yourself a stadium-approved clear bag today!
Remember, different stadiums may have different requirements, but most allow clear bags that are 12 x 6 x 12 inches or smaller. Be in the know and enjoy your stadium experience without any hassles, issues, or angry husbands (LOL).
This blog post contains affiliate links. The opinions are wholly my own from my own experience. I may earn a small commission from clicks through to the websites that end in a purchase.

My Top Picks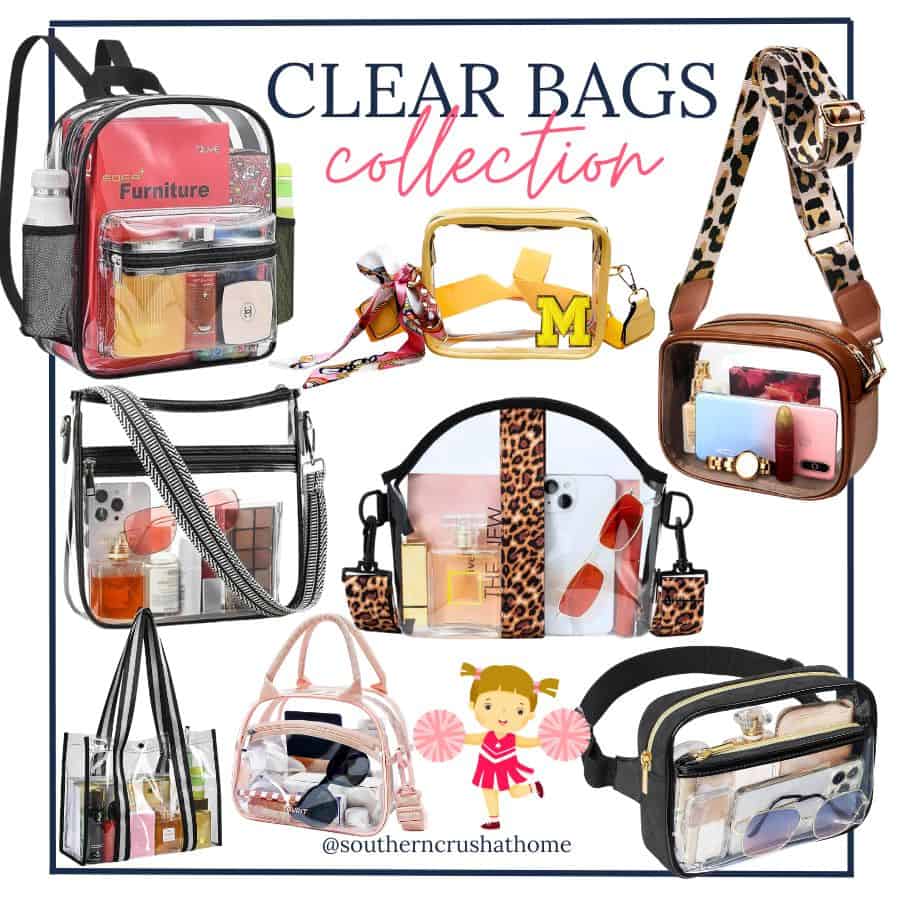 Introducing the Vorspack Clear Bag Stadium Approved – the perfect clear purse for women! Made from durable PVC, this clear crossbody bag is a must-have for sports events, festivals, and concerts. With dimensions of 8.7 x 9 x 2 inches and weighing just 180g/6.3oz, it's lightweight yet spacious enough to hold your phone, wallet, cosmetics, tickets, and more. Stay stylish and compliant with this convenient bag!
Introducing this stylish and practical Clear Backpack Stadium Approved! Perfect for concerts, festivals, sports events, and even work. This small clear bag measures 12×6×12 inches and comes in three vibrant colors. With its ample compartments, you'll have no trouble staying organized and having enough space for all your essentials. Don't miss out on this must-have accessory!
Introducing the stylish and practical Clear Fanny Pack Stadium Approved by Packism. This transparent belt bag is designed for all sizes, including plus sizes. With an adjustable strap, it offers a comfortable and secure fit for any occasion.
Whether you're heading to a concert, event, festival, game, or traveling, this black waist bag is the perfect choice. It adheres to stadium regulations, measuring 8.6 x 2.3 x 6.1 inches, and complies with transparent clear bag policies, with dimensions not exceeding 12″ x 6″ x 12″. Don't compromise on style or functionality – choose the Clear Fanny Pack Stadium Approved by Packism for all your stadium adventures!
Introducing the Vorspack Clear Bag Stadium Approved – the perfect clear purse for women to take to concerts and festivals. With its convenient 2 compartments and 2 shoulder straps, this stylish clear purse measures 9 x 6.75 x 2.5 inches. Stay organized and fashionable while complying with stadium regulations.
Introducing BOSTANTEN Clear Crossbody Bags for Women! These trendy hobo handbags are made of vegan leather and feature a fashionable shoulder purse with an adjustable guitar strap. They not only meet the clear bag policy but are also the perfect accessory for any stadium event (NHL, NBA, MLB, PGA, NCAA), concerts, festivals, airports, and more. This see-through clear bag is conveniently sized at 10″(L) x 2.36″(W) x 9.44″(H). Don't miss out on this stylish and practical bag!
Introducing the Steve Madden Women's Clutch Crossbody Handbag in a stylish and convenient size of 8″ L x 5″ H x 3″ W. This purse is the ultimate in clear bag luxury! Comply with the rules without giving up fashion!
Clear Tote Bag Stadium Approved: Perfect for Women and Men at Concerts, Festivals, and Work! Dimensions: 16″ x 6″ x 11″.
Introducing the Lorbro Clear Purse for Women: Stadium Approved, Chic and Functional!
Get ready to be the talk of the event with this fabulous, clear crossbody bag. Perfect for sports events and concerts, it's made with semi-leather and features a stylish chain strap that adds a touch of sophistication.
Measuring at 8.6"L×2″W×6"H, this bag may be compact but it can hold all your essentials. From lipstick and mini wallet to sunglasses and makeup accessories, there's plenty of room for everything you need. Plus, it even has space for your cell phone, ensuring you're always connected.
Designed to meet all your daily storage needs, this clear purse is a must-have for any stylish woman on the go. Trust Lorbro for quality and style. Get yours today!
Introducing the Blireana Stadium Approved Clear Shoulder Bag – a must-have accessory for all fashion-forward women! This custom glitter chenille letter purse is not only stylish but also perfect for concerts, the beach, or any occasion.
Available in a range of vibrant colors including pink, purple, blue, red, black, yellow, green, white, and orange. With its compact size of 18x14x7cm/7×5.5×2.75in, this super cute bag is sure to make a statement wherever you go.
Introducing the COROMAY Clear Bag Stadium Approved – the perfect accessory for sports games and concerts. This leather clear stadium bag features an adjustable strap for ultimate convenience. With dimensions of 7.7×2.6×6.3 inch, it's the ideal size to carry all your essentials like lipstick, cellphone, small wallet, keys, sunglasses, portable charger, and more. Don't wait, grab your very own now!
Introducing the Stadium Approved Clear Sling Bag! This PVC crossbody backpack is perfect for your next hike, stadium visit, or concert. It's clear, compact, and meets all stadium regulations. With dimensions of 6.3" x 3.2″ x 14.2'' and a lightweight design, this bag can hold all your essentials like your phone, wallet, and cosmetics.
Plus, there's a convenient front pocket for small items like keys, cash, cards, and tickets. Say goodbye to bulky bags and hello to convenience with this stylish and practical chest daypack. It's the perfect companion for all your adventures!
Introducing the ultimate gym bag for men! Our stylish and convenient crossbody sling clear small duffle bag is perfect for traveling and weekends. Stay organized and on-trend during your workouts with this clear bag that also meets safety regulations.
Tourit Stadium Approved Lunch Bag: Clear, Transparent, and Stylish. Perfectly Sized at 8.5" L x 6.5" W x 10.3" H – Get Yours Now!
Tips for Choosing the Right Stadium-Approved Bags
Regulated Sizes for Clear Stadium Bags
Get ready for your next venue with the scoop on bag size and style! Most stadiums allow bags that are 12 inches long, 6 inches wide, and 12 inches high. But that's not all. You'll also want to think about what suits your comfort and practicality needs. If you're hitting up a concert and plan on busting a move, a convenient belt bag could be your go-to. But if you've got a bunch of stuff to bring along, a backpack or tote bag might be more up your alley. Pick the perfect bag for a worry-free outing!
Styles of Clear Stadium Bags
Upgrade your game day style with a clear bag that reflects your unique personality. Say goodbye to unattractive and boring options – clear bag policies have evolved, and now you can find a wide variety of stylish and customizable choices. Our top pick, the Stoney Clover Lane Stadium Clear Fanny Pack, allows you to express yourself with endless patch options. Stand out from the crowd and showcase your individuality while complying with clear bag regulations.
Where to Buy the Best Clear Stadium Approved Bag
Here are some of my favorites to choose from below.

Frequently Asked Questions
What makes a bag stadium approved?
As a frequent attendee of sporting events, I know firsthand the importance of having a stadium-approved bag. But what makes a bag stadium approved? It's not just about style or size, but rather the materials used and specific guidelines set by each stadium. Typically, clear plastic, vinyl, or PVC bags that do not exceed a certain size are allowed. These guidelines ensure not only the safety of everyone attending the event, but also make security checks more efficient. So the next time you're gearing up for game day, make sure to check your bag against the stadium's approved list to avoid any unnecessary delays at the gate.

How big can a stadium-approved bag be?
When it comes to stadium-approved bags, size really does matter. The NFL policy allows for only clear plastic, vinyl, or PVC bags that do not exceed 12″ x 6″ x 12″. That means you'll need to leave your oversized tote at home and opt for a smaller purse or clutch. But just because the bags are smaller doesn't mean they have to be boring! You can still find stylish and functional options that meet the NFL's strict guidelines. So whether you're cheering on your favorite team or just enjoying a day at the stadium, you can do it with the perfect-sized bag in hand.