Super Fun Painting with a Twist Experience in Denton, TX
Oh my goodness! You've just got to try this! Painting with a Twist is an exciting way for wannabe artists of all ages to express their creativity in an intimate setting with friends. At Painting with a Twist in Denton, Texas, you will have the chance to create your own masterpiece with the guidance of an expert artist. This experience is perfect for date night or a girls' night out! Let's take a look at what makes this painting class so special.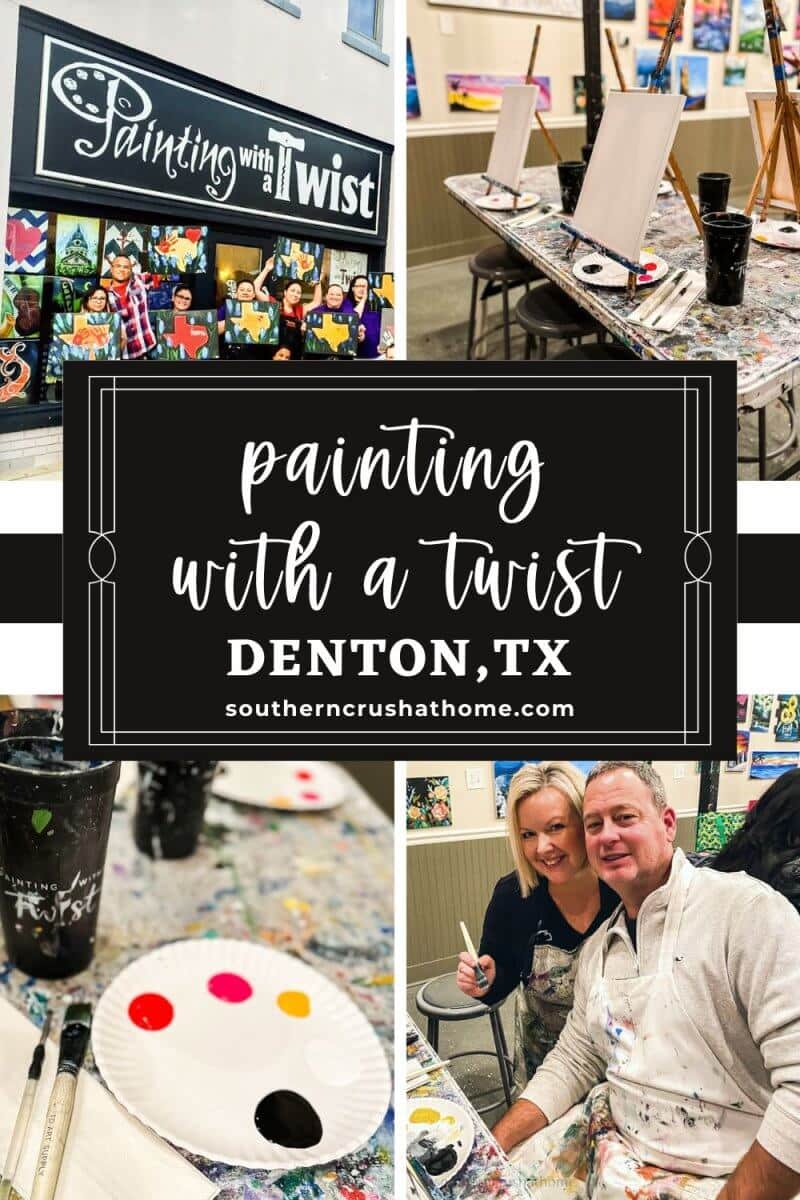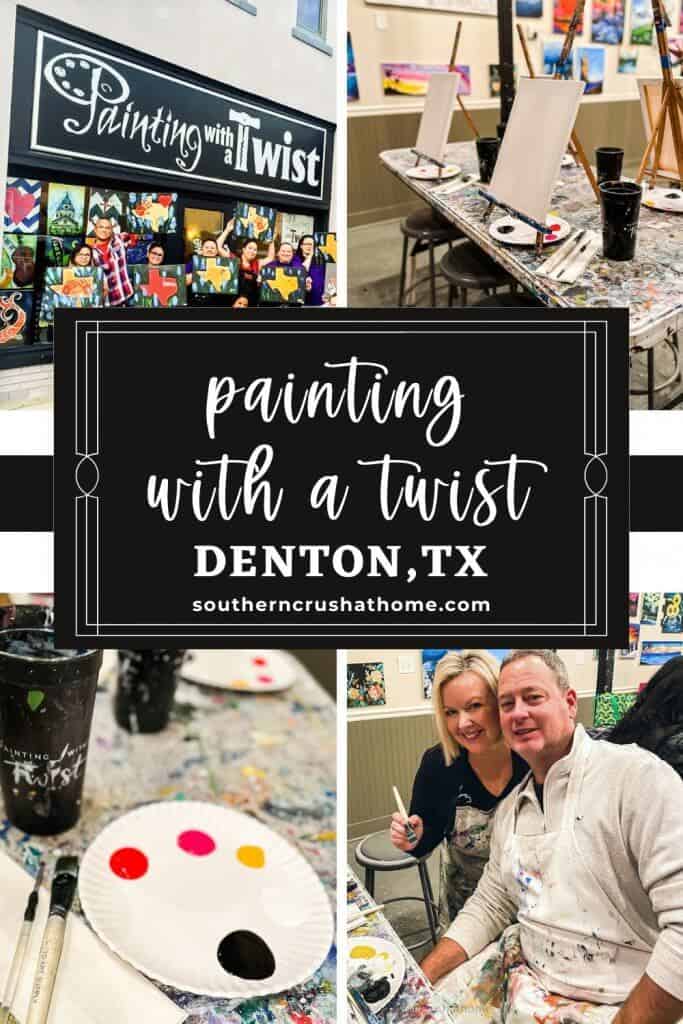 Be sure to PIN this one for later!
Painting with a Twist was started in 2007 by Cathy Deano and Renee Maloney and has created 15 MILLION PAINTINGS in fun-filled studios in 37 states.
What is Painting with a Twist?
In one word? It's fun! You pick out a class based on either a time that works best for you or a design that inspires you. Book your spot by making a reservation. Show up and BYOB to sip and paint your awesome masterpiece.
Painting with a Twist is located at 208 W Oak St Denton, TX 76201 (940) 535-8205
Painting with a Twist is also a franchise. Know anyone who is crafty and would like to open a new location?

The Atmosphere at Painting with a Twist

This was my first time trying out this experience and I have to say, the atmosphere at Painting with a Twist is peaceful yet lively. You'll be surrounded by vibrant colors and the smell of freshly-painted canvases as you settle into your spot at one of the easels.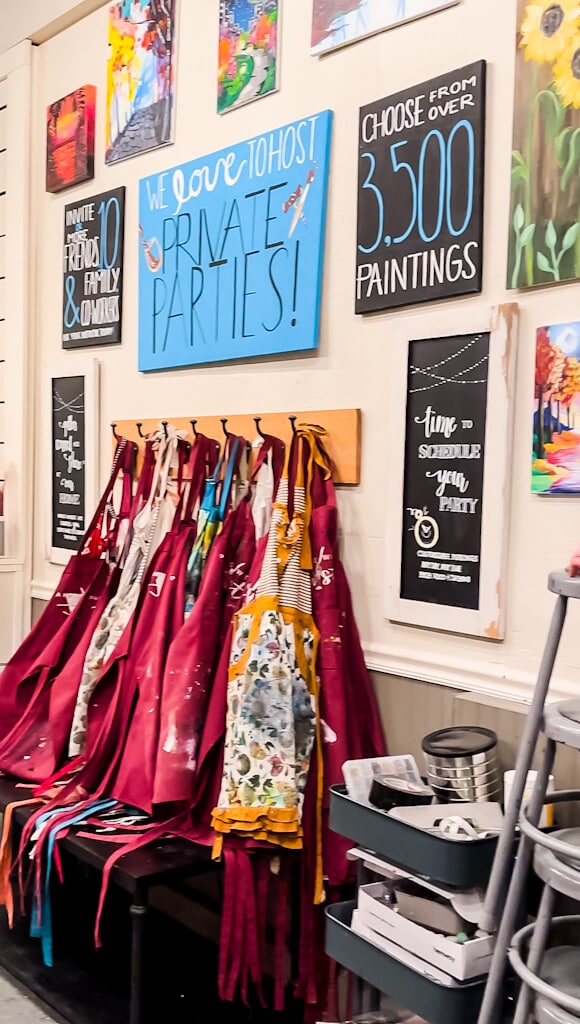 All materials are provided, including paintbrushes, canvases, paints, and aprons to keep you clean. You can also bring your own wine or beer if you'd like to enjoy some drinks while you paint. The staff will help guide you through the process of creating your masterpiece so that even first-timers like me feel comfortable expressing themselves through art!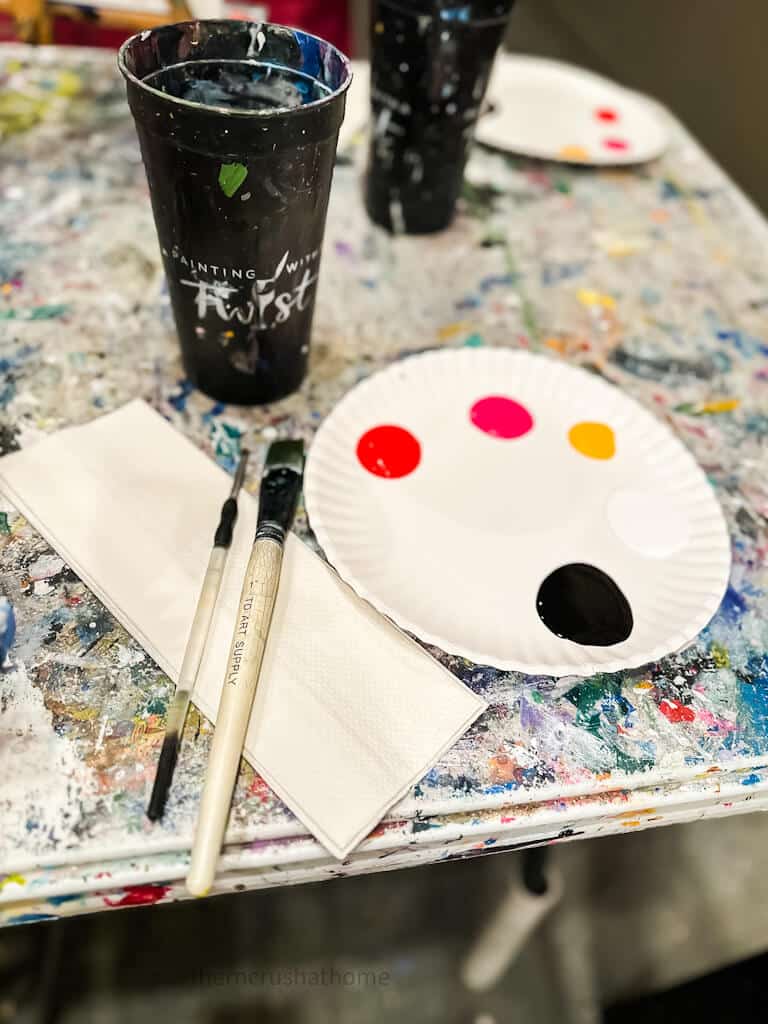 The Painting with a Twist Experience

Painting with a Twist offers a variety of classes for everyone. The classes range from traditional paintings (such as landscapes or still lifes) to more modern abstracts and contemporary pieces.
These are instructor-led classes where participants will be provided step-by-step guidance on how to complete their paintings—perfect for those who don't consider themselves very artistic! My husband was pleasantly surprised at how easy it was.
Painting Parties
Additionally, there are "paint parties" for groups that want to celebrate a special occasion or just have fun together! Uncork your creative side with a group painting party!
Paint Parties Are Perfect for Every Occasion
Birthday parties
Bachelorette parties
Baby showers
Sorority parties
Church group outings
Field trips
Retirement parties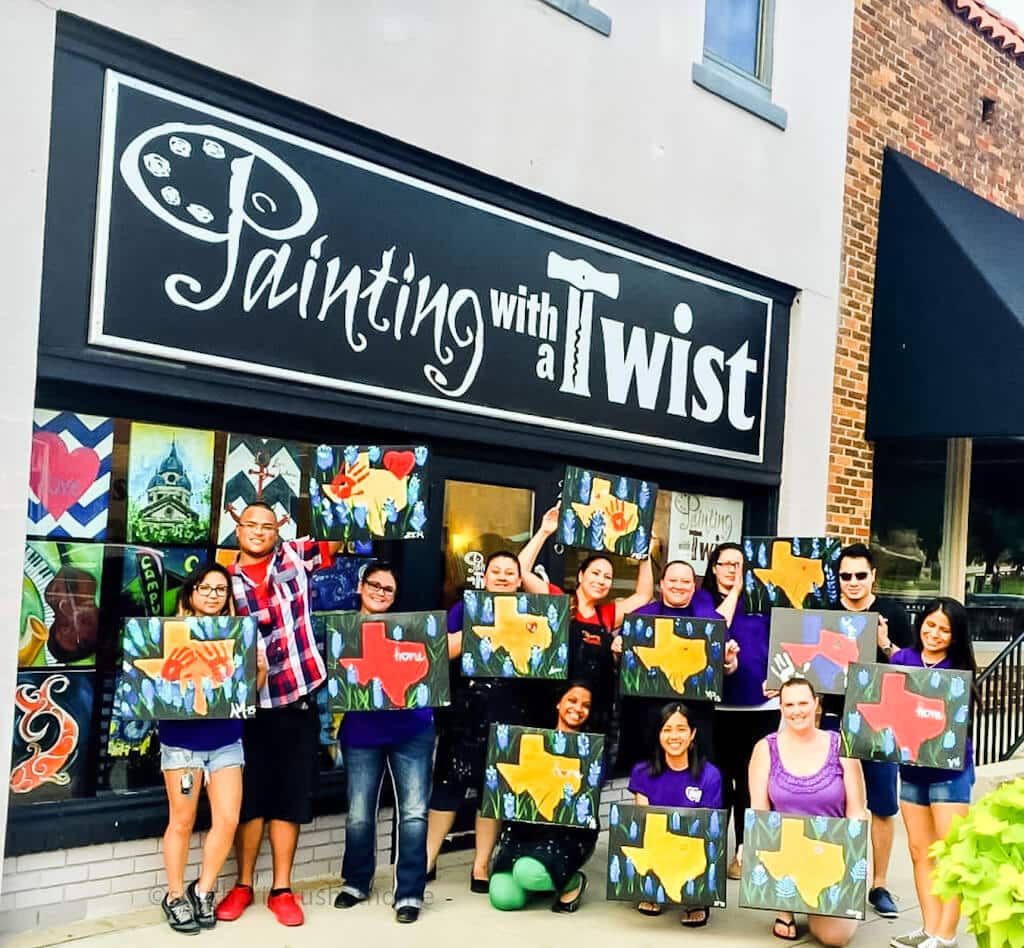 Our Date Night of Fun
When we walked into the venue, I knew right away it would be low-key and not intimidating at all. We were surrounded by the artwork on the walls and individual tables set up with canvases, easels, paints on a paper plate, and a plastic cup full of water and artist brushes. Ahhh! So much fun awaited us.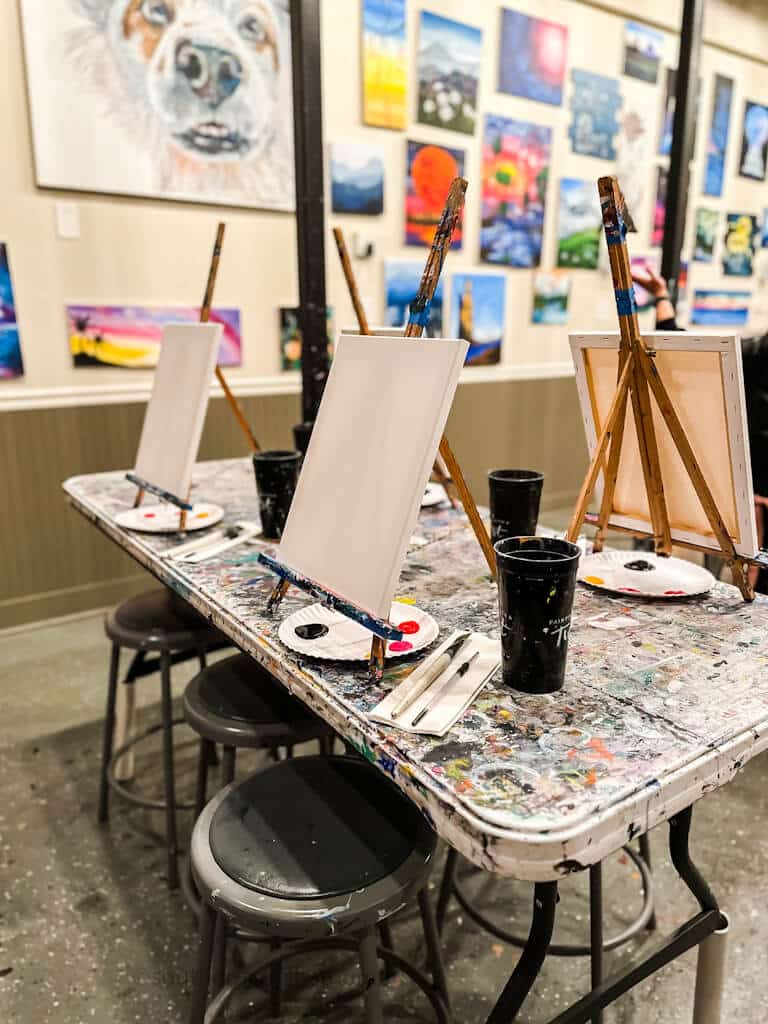 We couldn't wait to sip wine and craft a painting, too!
Our instructor, Sarah, was super nice and a lot of fun. She was engaging and made us feel at ease with the whole painting experience. She patiently walked us through each stage of the painting process and waited until everyone had completed their work before moving to the next stage.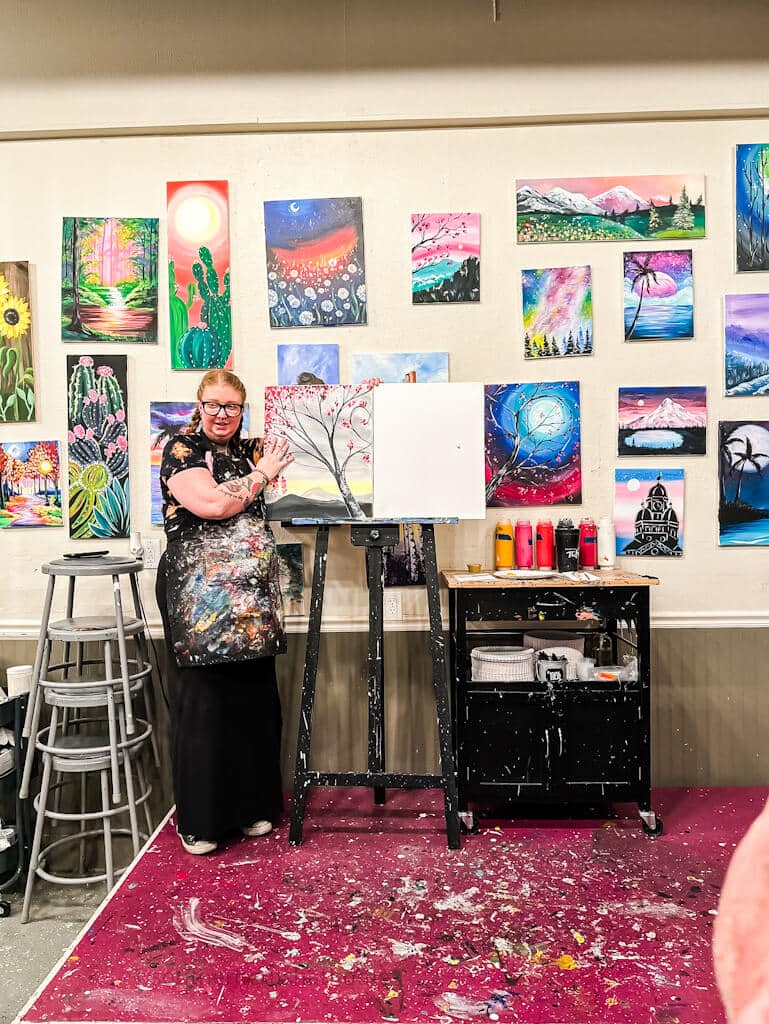 At Painting with a Twist in Denton, Texas, each artist works independently on their own canvas but can share ideas and encouragement throughout the class if they choose to do so. Our event was from 7-9pm but the time flew by!
We painted a cherry blossom tree in layers. We started with the background of a grey sky with a yellow sunset.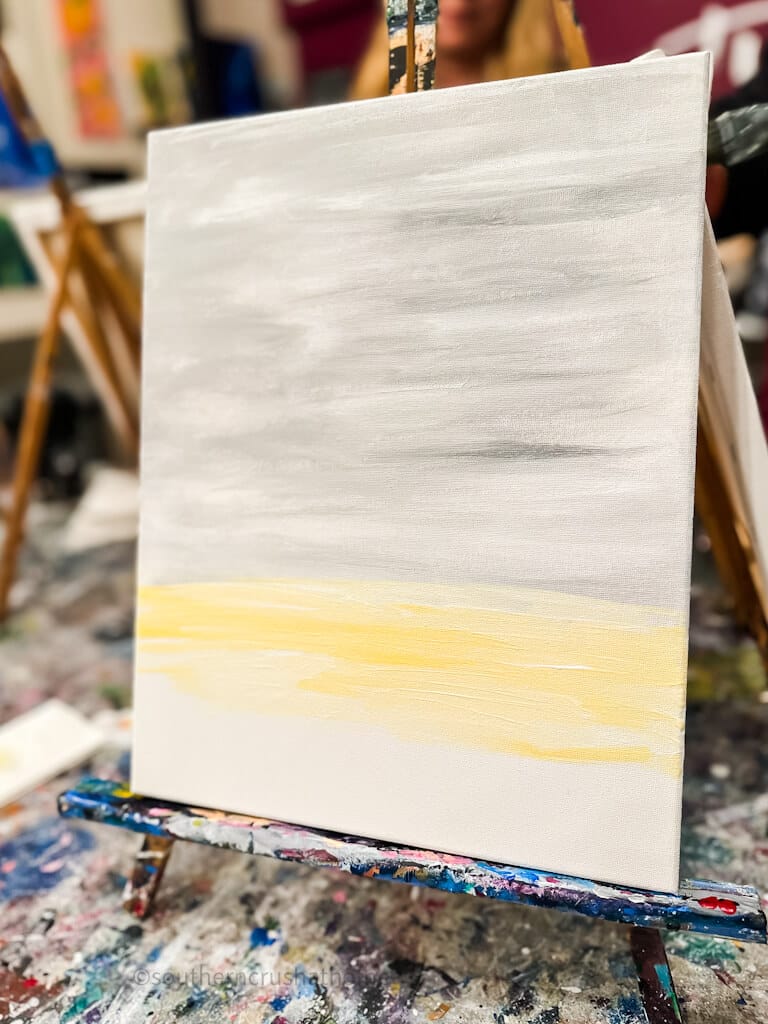 Then we added in a few grey and black mountains.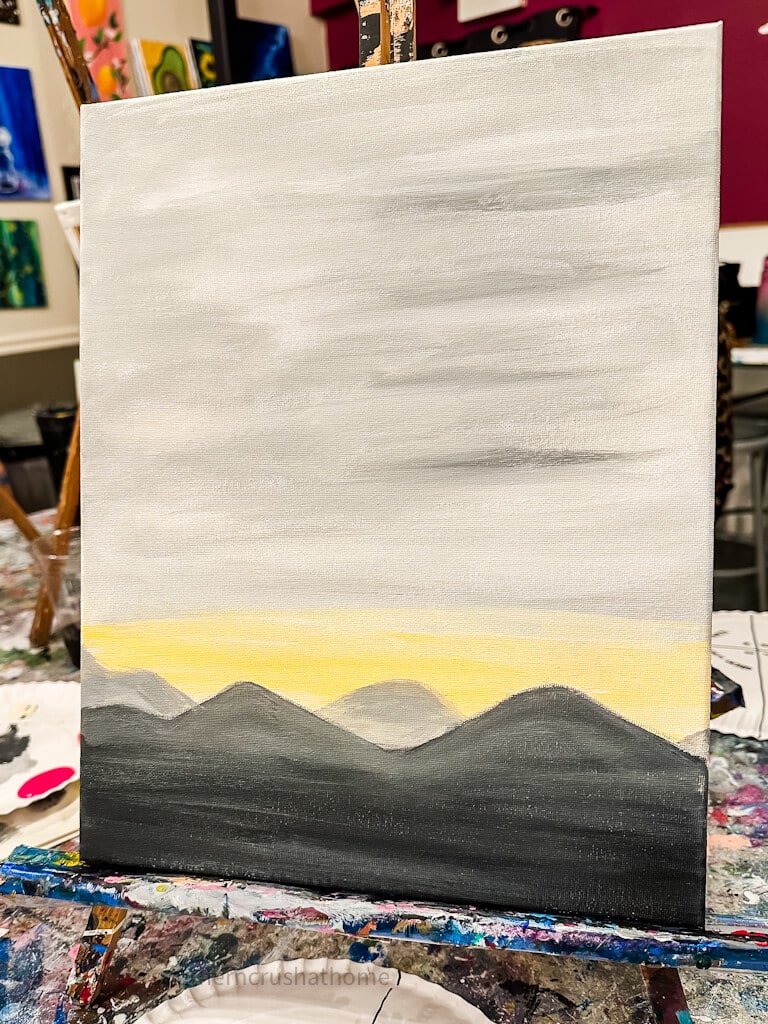 Followed by the tree trunk and tree limbs.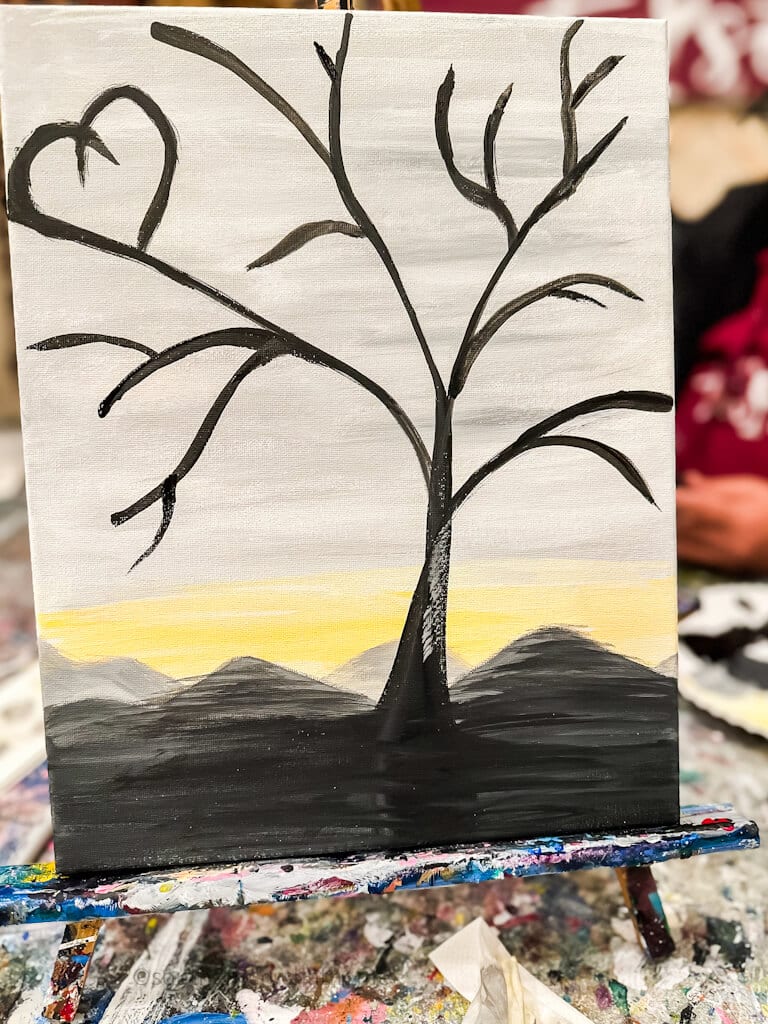 Finally, we added in the cherry blossom flowers or leaves. This is where creativity really came out. Some people finished in minutes and others (like me Type A personality) took quite a while. Everyone's painting looked completely different.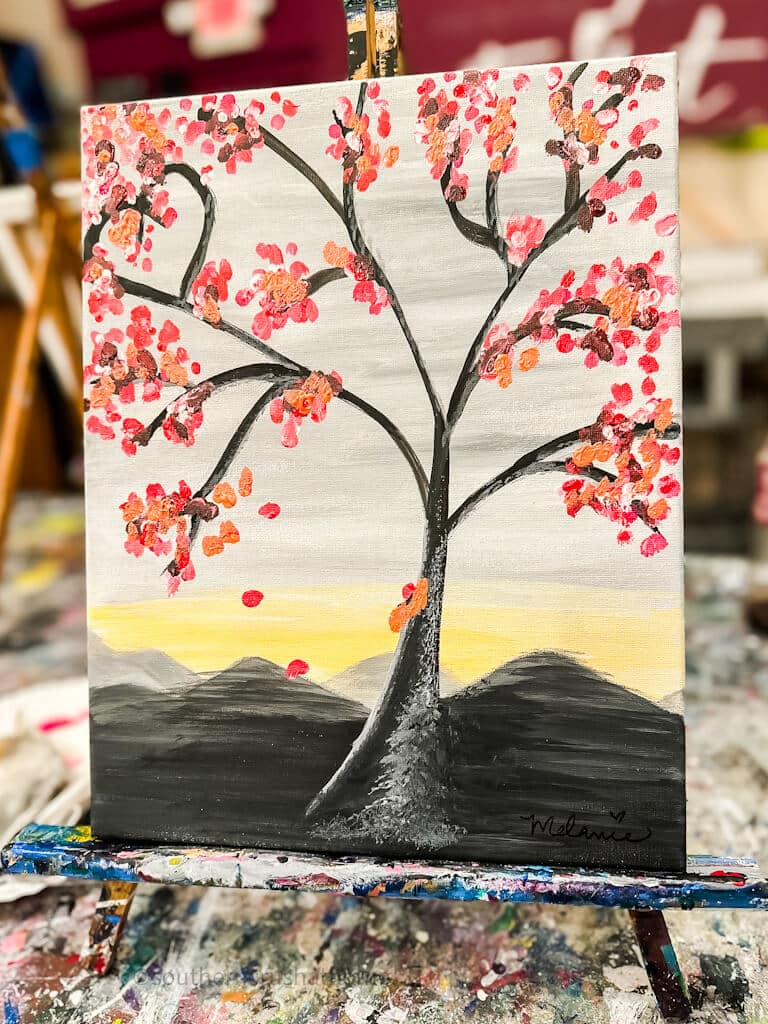 This was my and my husband's completed paintings side by side. It was fun to try and match them up!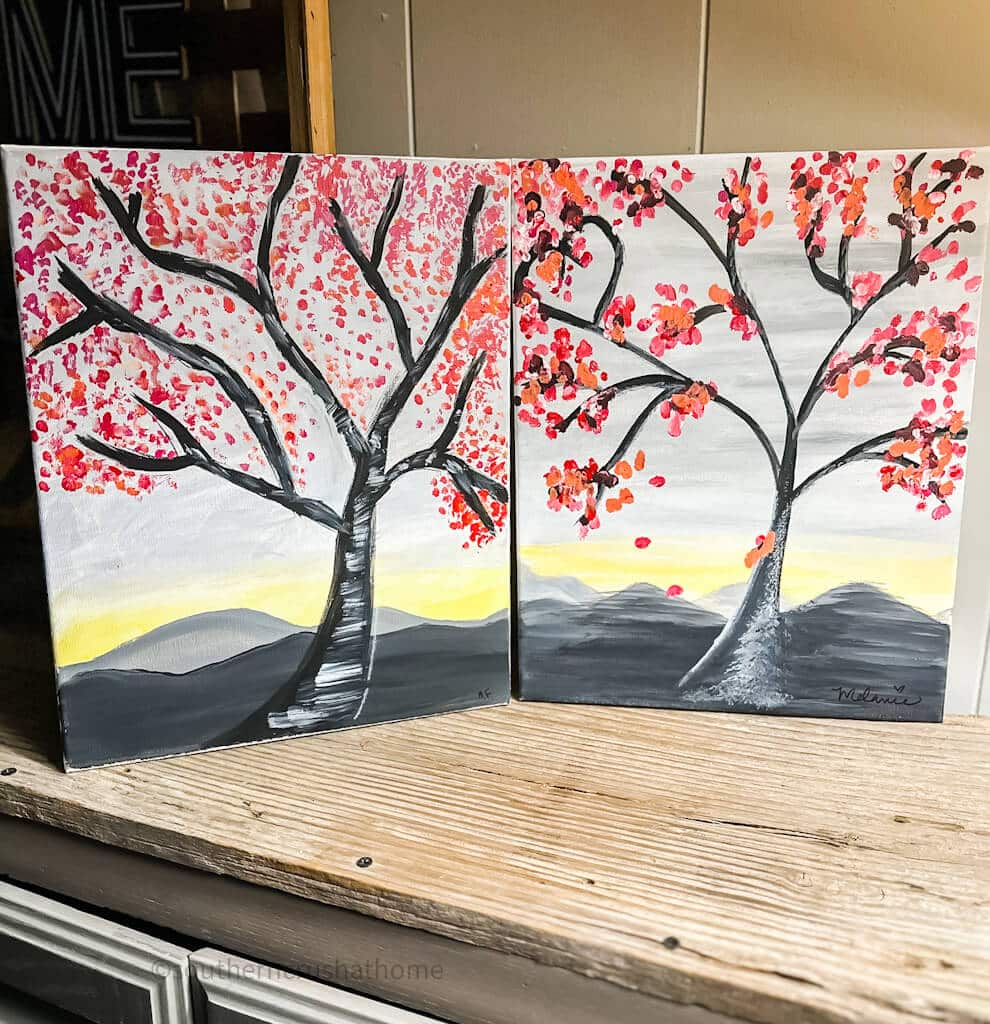 The classes always end with each person proud of their work and excited about taking home something they created on their own! They encourage you to sign your piece of art on the front or back of the canvas ~ so much fun!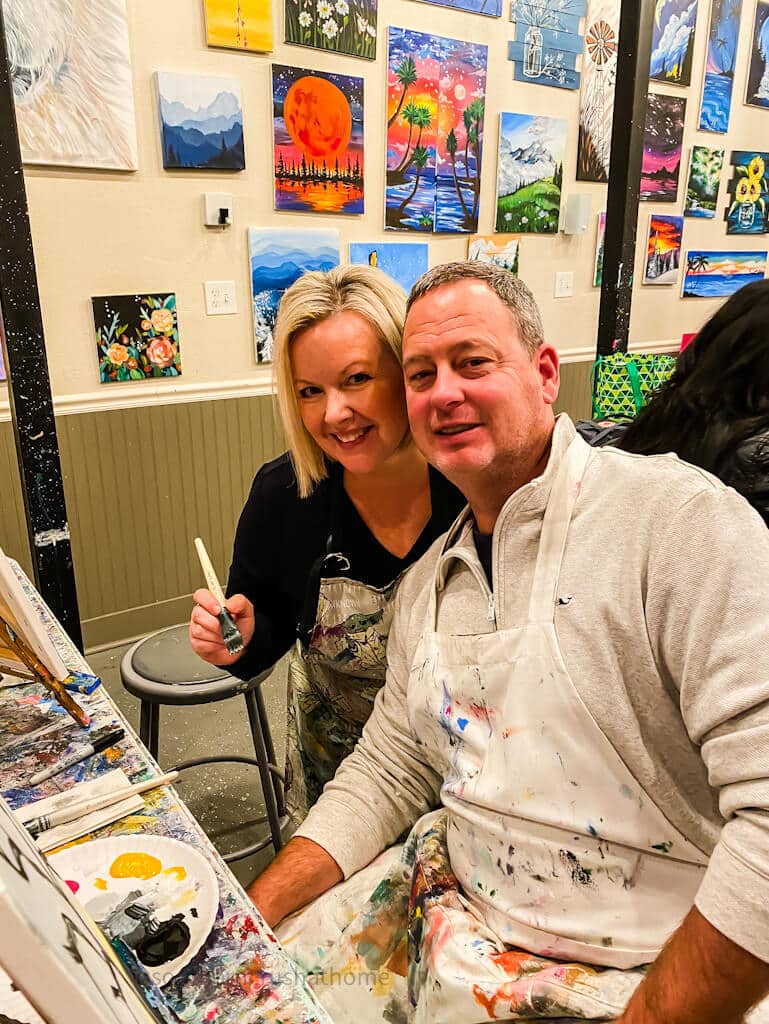 Plus, it's rewarding knowing that you supported local businesses while having fun doing something so creative!
You can purchase any of the paintings hanging on the walls around you to support your favorite local artist.
A fun evening at Painting with a Twist in Denton is truly a unique experience everyone should try out. I guarantee that no matter what skill level you're at when it comes to artistry, you'll walk away feeling inspired after this fun painting experience! ​