How I Hit 52k Monthly Sessions in Just 4 Weeks + Qualified for Mediavine
Want to grow your blog traffic as a new blogger fast? Want to qualify for Mediavine while you're at it? I hit 52k sessions in 4 just weeks and here's how I did it.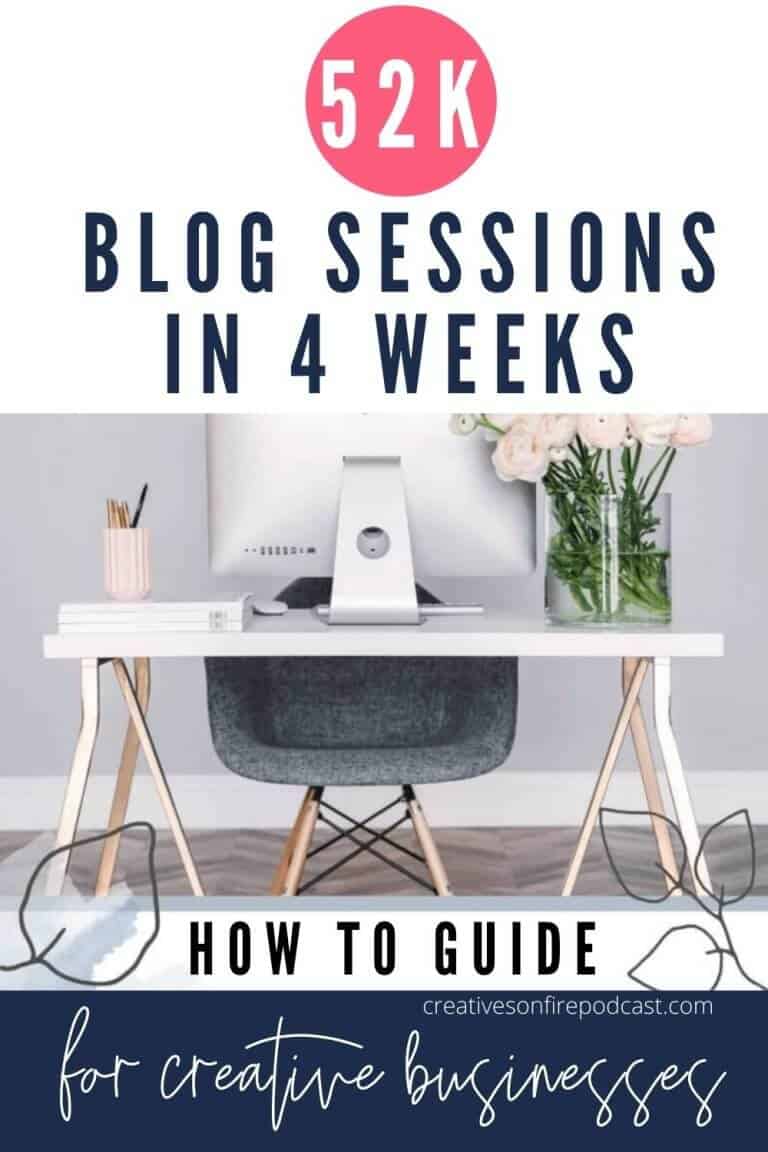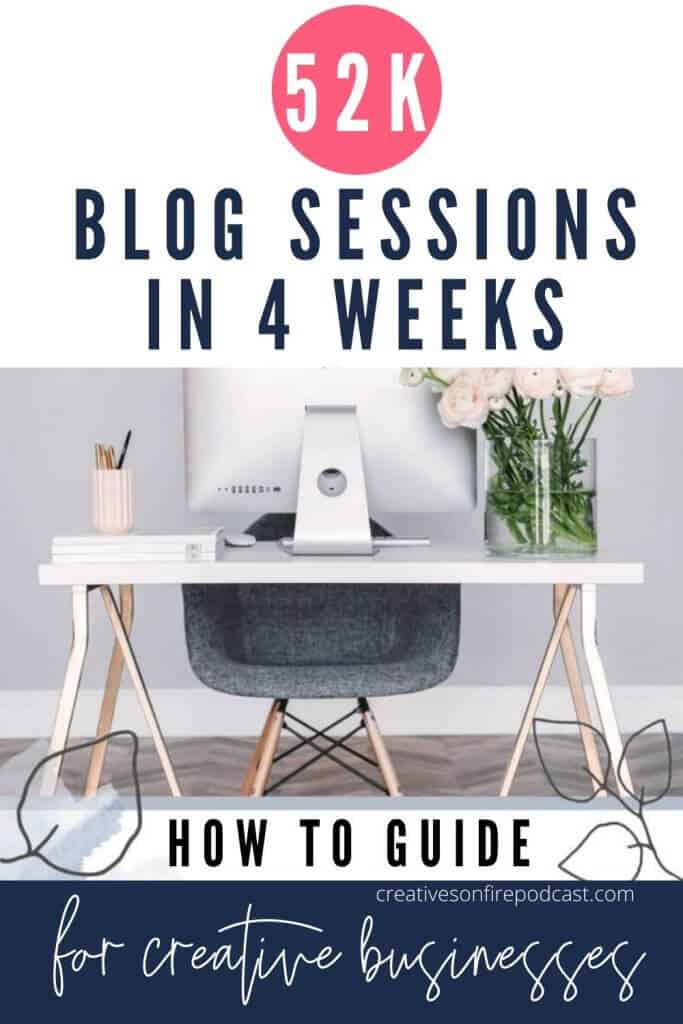 how I increased my blog traffic to 25k blog sessions
After months and months of blogging, I looked up and noticed no one was coming to view my content. Imagine that? I made a goal to qualify for the full-service ad management company Mediavine and it seemed like it was taking forever. It didn't take long to realize that I hadn't been sharing my content nearly enough to accumulate the sessions needed to qualify (25k at the time).
Having a fairly large following for my DIY home decorating page on Facebook, I began to share my content here and there checking back in with my Google Analytics often to see if it was working. People say it takes time – and yes, it was taking a long, long time.
I started paying attention to my Pinterest account as well, pinning every post, creating new boards, and optimizing everything. I tried it all. It also was taking what seemed like a long, long time.
But then, I'll never forget that fateful morning of June 15, 2020. The morning I hit the required 25k sessions, sat down at my computer to apply for Mediavine, and proceeded to discover that they had increased their qualification requirements from 25k to 50k sessions. Oh no! I was definitely disappointed for a hot minute.
I quickly decided I was going to make a run for the 50k in record time. Several well-meaning people told me it wasn't possible to grow that quickly (which was a blessing in disguise), and that fueled me even more so… did I do it?
Spoiler alert, I did it!
how I reached 52k sessions fast
These tactics may not be the most sustainable way to keep the traffic; but, they are definitely an excellent way to jumpstart your traffic as well as qualify for Mediavine if you are willing to put in lots of hard work. I put all of my proven ideas along with the shortcuts, plugins, links, and step-by-step details for you to follow in an easy-to-read and use eBook for you HERE.
12 proven ways to grow your blog traffic fast using social media
It took a combination of twelve blog traffic-increasing ideas for my DIY home decorating blog to hit 52k sessions so quickly. Most of the ideas were implemented by way of a solid audience over on social media platforms.
If you do not currently have an audience, you may need to begin by growing one. I host a podcast all about growing an online audience and how to monetize it called Creatives on Fire Podcast. Listen in HERE.
#1 Blog Post Comment Giveaway on Facebook
This was something I came up with at the very beginning to sort of kick-off this run to 52k sessions for my blog. This was exclusively held over on my Facebook page. Complete details on how to implement this idea are in my FREE eBook HERE.
#2 Blog Post with Special Discounts
In my DIY and crafting niche, there are several crafters. With this in mind, I created a unique blog post called Where to Buy Craft Supplies Online + Secret Discounts that contained a curated list of resources for craft supplies that included special online discounts (containing my affiliate links of course) which in turn created a huge win-win! This post was promoted on my Facebook page as well as through an email campaign and brought several hundred blog sessions to my blog.
Think about your niche and what would your audience respond to in the way of 'gotta have that' content.
#3 Instagram & Facebook Stories
In the past, I had not utilized stories that much on either platform; however, in the race to reach 52k sessions, stories became a new priority.
Each day I made sure to post some sort of story to create momentum. Whenever there was an image shared on social media that led to a blog post, it went directly on stories, too! Each story shared a link to the blog. If it was a Facebook story it was swipe up to read more and if it was an Instagram story it directed to a link in my bio (since I did not yet have the swipe up feature).
These stories proved to be an easy extra way to engage a few more eyeballs over onto the blog. Every eyeball matters.
#4 Featured Photo in Stories
Speaking of stories. In my niche of DIY and crafting, there is a frequently used social media post that asks followers to "show us what you're working on".
I created one of these inside my blog as a blog post and asked them to post their photo in the comments to potentially be chosen to be featured in my stories. Encourage traffic back to the post within each of the stories by adding a swipe up or link in bio to see more…
this is soooooo good!

#5 Prepaid Barcode Blog Post
Complete details on how to implement this idea are in my FREE eBook HERE. This blog traffic booster idea is an awesome one.
I'm not sure where I first learned about sharing prepaid promotions; but, I had never thought of placing one within a blog post until my friend Amy Sadler suggested it!
It works like a charm to drive traffic, every single time.
#6 Piggyback a Viral Social Media Post
A while back I had created a niche-specific meme that went bonkers over on my Facebook page. In order to capitalize on its engagement once again, I reposted it with a link to a new blog post that was complementary to the meme.
As we know, the Facebook algorithm suppresses posts with links so this one only got 299 shares; the original post without an outside link had over 550 shares.
#7 Create a Fun Quiz + Opt-in
This blog traffic growth idea is one of those that can actually stick around and be used over and over again. I definitely recommend you take some time on this one.
Outline your ideas, and thoughts while keeping your audience in mind when creating content for the quiz. There were so many options for quiz types, but the one I ended up using worked perfectly for my needs.
You will definitely want to grab your copy of the FREE ebook HERE for steps to squeeze the most juice out of this awesome idea!
The quiz actually became way more than a fun way to have my followers express their crafting personality. SEE MY QUIZ HERE
QUICK TIP: This is a promotion that doubles as an opt-in that brings in subscribers as well as hundreds of sessions at the same time. That is why this is a great opt-in to add to other blog posts throughout the blog.

#8 Create an Event Blog Post
For this idea, I hold a quarterly online event that attracts numerous people in my niche; therefore, this particular idea drives a ton of traffic to my blog on a regular basis.
This is one that will work for any niche with the steps I lay out in my eBook HERE.
#9 Share a Popular Post to Niche-Specific Social Media Groups
Create a blog post specific to your niche and share it in multiple groups. I have about 32 Facebook groups that I rotate through. Inside my eBook, I share best practices and how this works.
#10 Ask for Help through a poll or contest post
This one yielded 1,048 new email subscribers for me! Complete details on how to implement this one including the special WordPress plugin I used are in my eBook HERE.
#11 Freebie kicked off by a LIVE video
This idea works exceptionally well for the DIY niche but the gist is to offer something irresistible over on the blog and then announce it via LIVE video on Facebook or Instagram.
#12 Create a Niche-Specific Calendar
This is last but certainly not least. The idea is to create a perpetual reason for your readers to consistently return to your blog day in and day out or at least week in and week out.
There are so many ways to squeeze a ton of traffic out of this one idea that I share over in the eBook plus I share the actual plugin I use to make this as easy as possible for me to implement.

how to continue growing your blog
If you found this article helpful, you may enjoy growing your online business by listening to the Creatives on Fire Podcast each week and checking out these other helpful blog posts.
Collaborating with others in your niche is another great way to grow your audience. Here are 21 Ways to Collaborate that I put together for you.
more helpful podcast episodes when growing an audience