Halloween may only come once a year, but this easy stenciled doormat can be made to fit any season! That's why I love it so much! I may be one of the only DIY enthusiasts out there that does not own a silhouette or a cricut machine. Yes, it's true! So for this project, I had to improvise using some regular white chalk and chalk markers. It is one of the easiest diy projects ever and I hope you'll try it for yourself…

SUPPLIES FOR STENCILED DOORMAT
Plain ribbed doormat from Dollar Tree
Pair of witch's legs from Dollar Tree
Variety of white chalk pens
White chalk
Scissors
Painter's Tape
Old pencil or flat edge
Y'ALL DON'T FORGET TO PIN THIS FOR LATER!
Step by Step Instructions for Stenciling with Chalk
Print out your desired wording with your favorite font (bold print is best) onto regular printer paper. If you want larger letters, use one sheet of paper for a single letter or just a couple of letters at a time. Then combine them with tape for your project.
Flip over your print out and begin going over the letters filling them in using your regular white chalk. You can lightly blow the excess off if it bothers you.

Flip back over your print out and place onto your doormat into desired position and secure with painters tape.

Go back over your letters with a flat edged tool, I used an old mechanical pencil without an eraser. Just firmly rub over the letters one at a time, trying to be sure to keep your paper in its original position.
Remove your paper and the lettering should be left behind by the chalk. Go back over your design with your favorite chalk markers until your desired result is reached.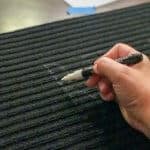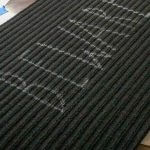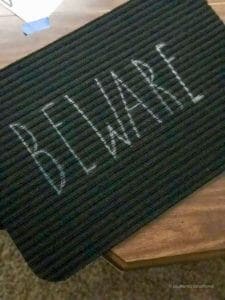 If you prefer to see the video tutorial for this DIY, grab a seat and watch it below.
VIOLA! You're Very Own Halloween Stenciled Doormat!
Some days are so crazy that you may feel like this poor witch that was crushed underneath the doormat. It's comforting to know that we don't have to worry about what the world will throw our way in this life. John 16:11 says "In me you have peace. (BEWARE), in the world you will have trouble, but don't worry; I have overcome the world." So when those troubling trials come, you can take heart and choose peace! Be an encourager and share a recent trial you've overcome below.
This was quick, fun and easy. The three ingredients to a great DIY project. I added a spider and a spider web freehand with my chalk markers. It's supposed to be a fun project, so just get creative with it and make it your own.
Don't forget to add your witch's legs underneath the mat for an added spooky effect! You can cut the ring off and glue them to the back of your mat in any position you desire.
My favorite part is the idea that this technique of using the chalk as my stencil without a silhouette or cricut machine opens the door for tons of doormat projects. This doormat from Dollar Tree was only $1.00 and that makes it a budget-friendly project, too! My doormat usually gets a lot of wear and tear throughout the holiday season, so the idea that I can change it out all time sounds like a good deal!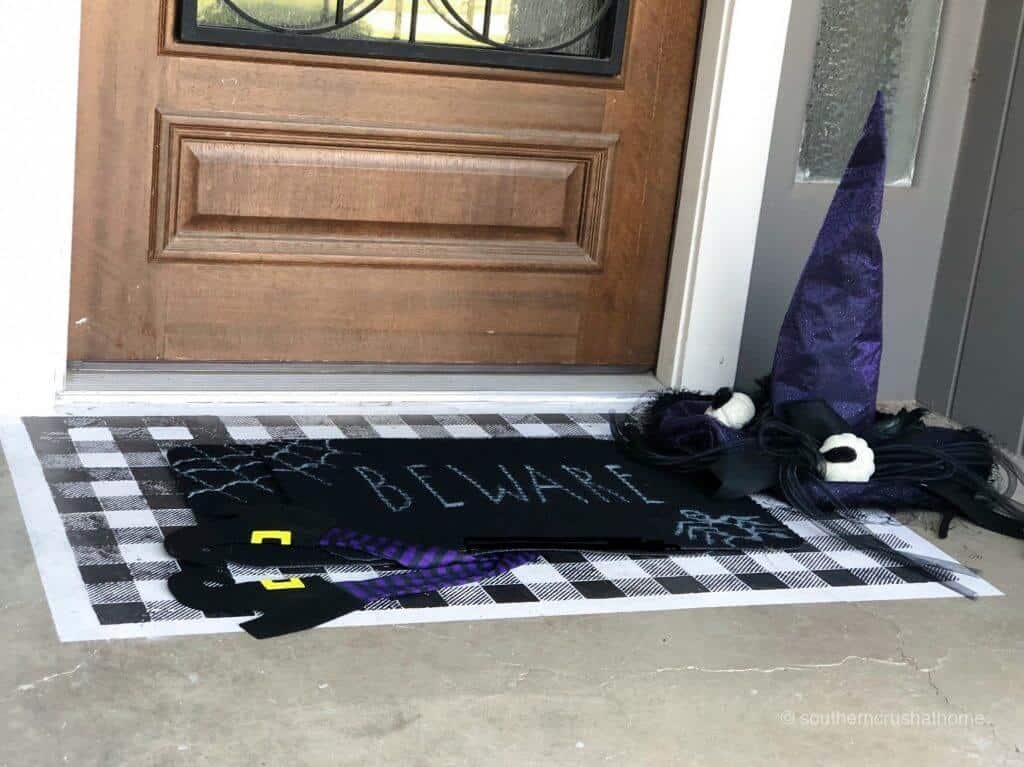 I also added a fun witch's hat for added effect. Ha! It literally looks like the witch was squished under the doormat! It's a great warning to others to "BEWARE"! Happy Halloween my pretties, at least I think that is what she would've said. LOL! Enjoy.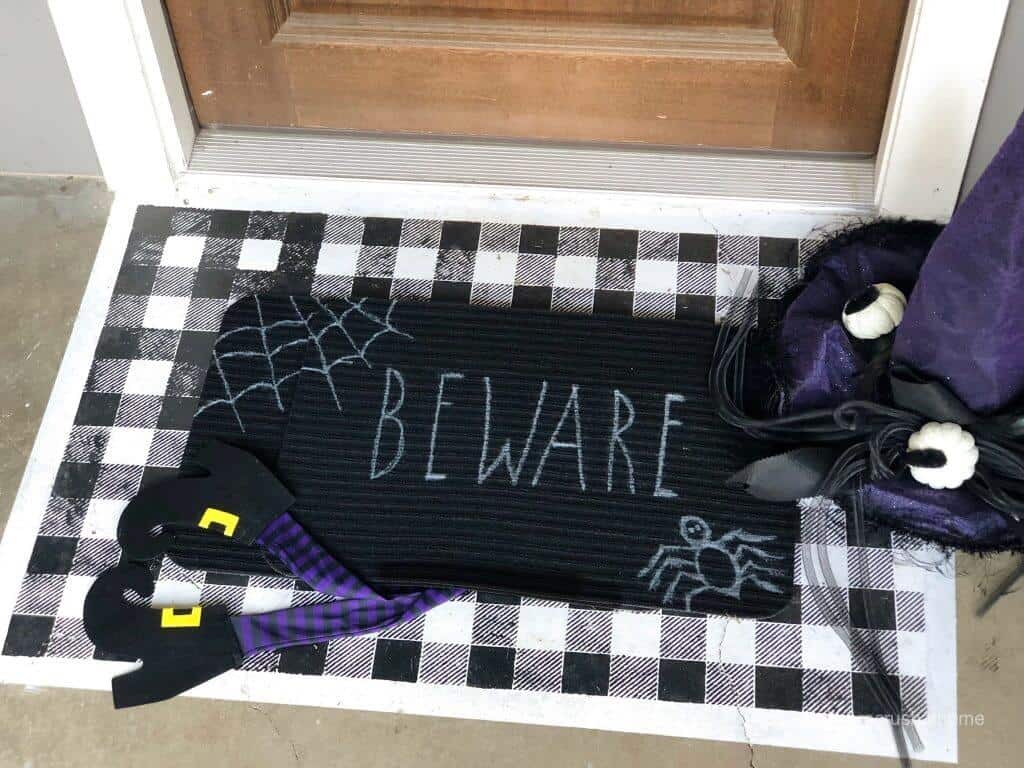 If you love this kind of DIY project, you need to be getting my emails, friend! Each week I send out a couple of emails that include updates, crafts, shopping experiences and decor inspiration. Be sure to get yourself signed up below. I can't wait to meet you!
>>>Leave your thoughts below in the comments please… BTW— Life is short—Enjoy the mess!
**P.S. Please join us over on our
Facebook Page
to see more fun shopping trips "Live". If you missed how I made the stenciled buffalo check mat underneath, that tutorial is
here
.