Decorating a fireplace mantle for the holidays is always a fun and exciting process. Halloween is no exception; however, this particular project can be easily adapted to fit into any holiday depending on which scrapbook paper you choose! Traditionally, Halloween colors are a mix of black, bright orange, neon green, and funky purple. For a more neutral, almost farmhouse look I stuck with muted orange, off white, black and burlap for this Scrapbook Paper Halloween Banner…
Y'ALL DON'T FORGET TO PIN THIS FOR LATER!
For this fun and easy DIY banner, I used a wooden pennant banner I found at a local thrift store. The original finish was a cute yellow and farmhouse gray design which I actually like, so the decision was made to keep one side the way it was intended and simply flip the banner over and design a different look for a totally different banner idea.
Supplies Needed for Scrapbook Paper Halloween Banner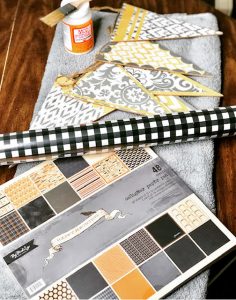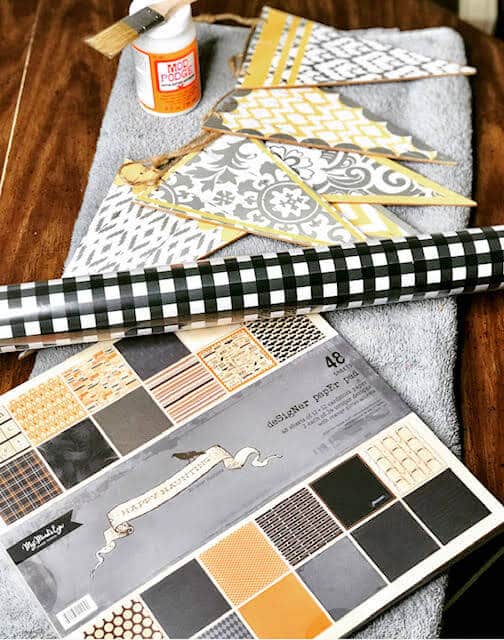 Scrapbook paper of your choice (mine was from Tuesday Morning) I also used some buffalo check gift wrapping paper I loved for one of the pennants. Note: The scrapbook paper worked the best because of its thickness.
Pennant (I used the backside of some particle board pennants that I found at a thrift store, but these are also at Hobby Lobby. You can also opt to not have the backing at all!)
Mod Podge
Paint brush
Scissors
Fabric pieces of your choice
Step by Step Instructions for Banner
Choose your desired papers. I chose a Halloween theme book of scrapbook papers for this particular project. I also decided to throw in a buffalo check gift wrapping paper for one of my pennant designs.
Trace your pennant shape with a pencil on to the back of the scrapbook paper, design side down.
Cut your triangular pennant shape out of your scrapbook paper. I went ahead and stacked all of my papers together and cut out the triangular shape one time.
Use the mod podge to adhere the scrapbook paper triangular shape to your pennant backing. Use a thin layer but cover the pennant thoroughly.
Let the mod podge dry completely. Trust me. Patience is a virtue. LOL.
Pick out several pieces of your favorite scrap fabrics and cut them into strips of your desired length. Mine were about 6 inches in length, but play around and cut them to fit your project.
Tie the rag ribbons in between your pennants. I used two strips in between each pennant. You may have to play with the number of ribbons. I started out with three, but then it looked too crowded and it was so hard to see the actual pennants. I cut it back to two between each pennant and it worked perfectly. Be sure to mix it up and use different patterned ribbons as you create your banner.
If you missed the video tutorial on Facebook, you can still view it below.
VIOLA! DIY SCRAPBOOK PAPER HALLOWEEN BANNER!
The pretty variety of the different patterns on this banner makes me think about how different we all are, but that when we lock arms it's a beautiful thing. "Live in harmony with one another, as much as possible, live at peace with everyone." Romans 12:16,18 What makes you different? Comment below.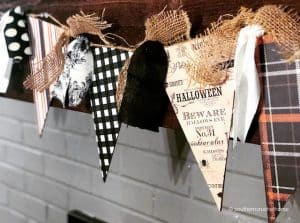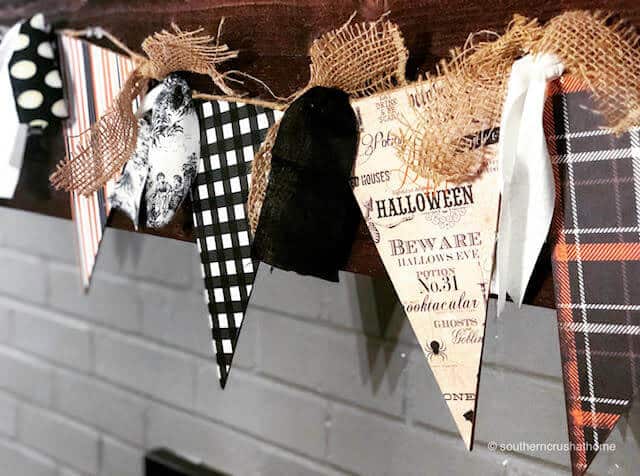 Such a cute banner that can easily be used in several places in your home. These are so versatile you can hang it on your fireplace mantle, across a door opening, over your cabinets, over the top of a window or even placed on a gallery wall as a fun pop! Get creative and have fun making these and decorating your spaces with them!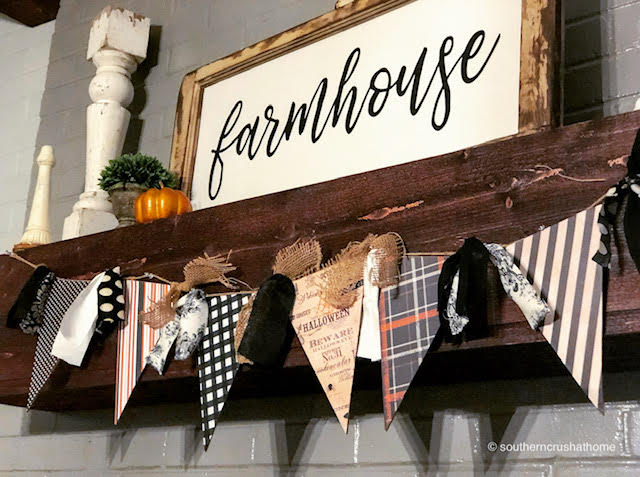 If you love this kind of DIY project, you need to be getting my emails, friend! Each week I send out a couple of emails that include updates, crafts, shopping experiences and decor inspiration. Be sure to get yourself signed up below. I can't wait to meet you!
>>>Leave your thoughts below in the comments please… BTW— Life is short—Enjoy the mess!
**P.S. Please join us over on our
Facebook Page
to see more fun shopping trips "Live". If you missed my 7 Fall Banner Ideas post, view it
here
.