Easy No-Bake 3-ingredient Kool Aid Pie
This fresh, creamy no-bake Kool Aid pie is a perfect treat on a hot summer's day. I made mine using cherry-flavored Kool Aid but feel free to choose any Kool Aid flavor you like as they will all work well.
This Kool Aid pie has to be one of the easiest desserts I have ever made, honestly, it comes together so quickly you'll be amazed. No fancy kitchen gadgets are required!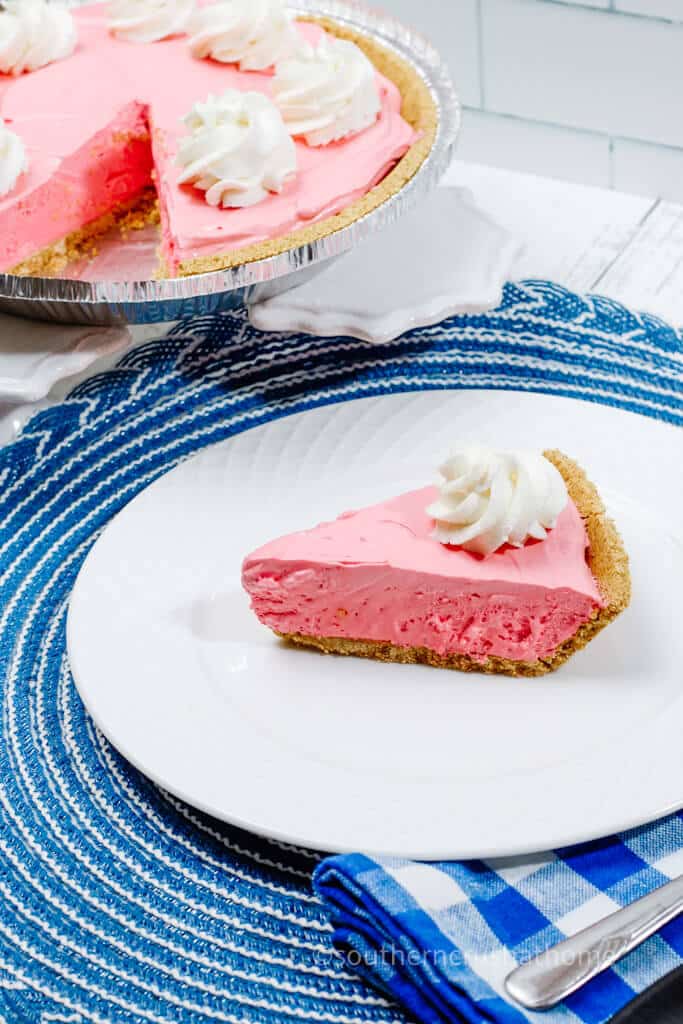 If you are looking for a few other no-bake dessert recipes I've got you covered; Easy No-Bake Chocolate Cheesecake, Easy No-Bake Lemon Icebox Pie or these Easy Dessert Strawberries. You can't go wrong with any of them. I love no-bake desserts in the summer. They are absolutely the best! No need to compromise on taste and simplicity even when you don't turn the oven on.
Why You'll Love This Pie
Very few ingredients
Comes together quickly
No kitchen gadgets required
Customizable and versatile
Delivers a real creamy mouthful
Equipment Needed
mixing bowl
glass (Pyrex) pie plate
mixing spoon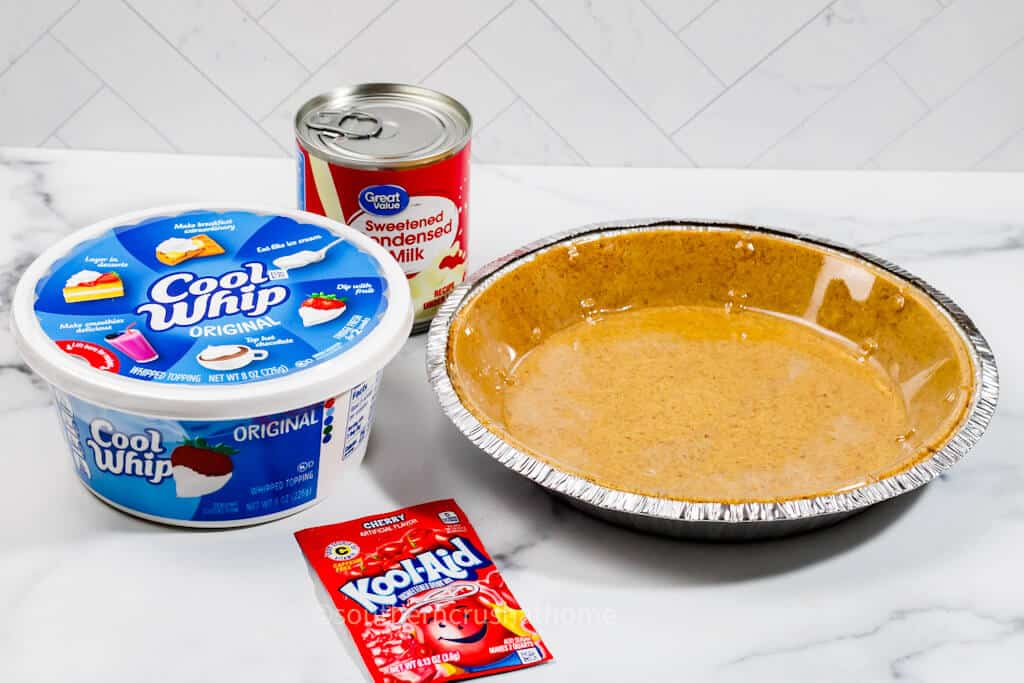 Kool Aid Pie Ingredients
8 ounces whipped topping
1 pkg unsweetened Kool-Aid packet
1 (14 oz.) can sweetened condensed milk
1 Graham cracker pie crust
How To Make an Easy Kool Aid Pie
Thaw whipped topping in the refrigerator.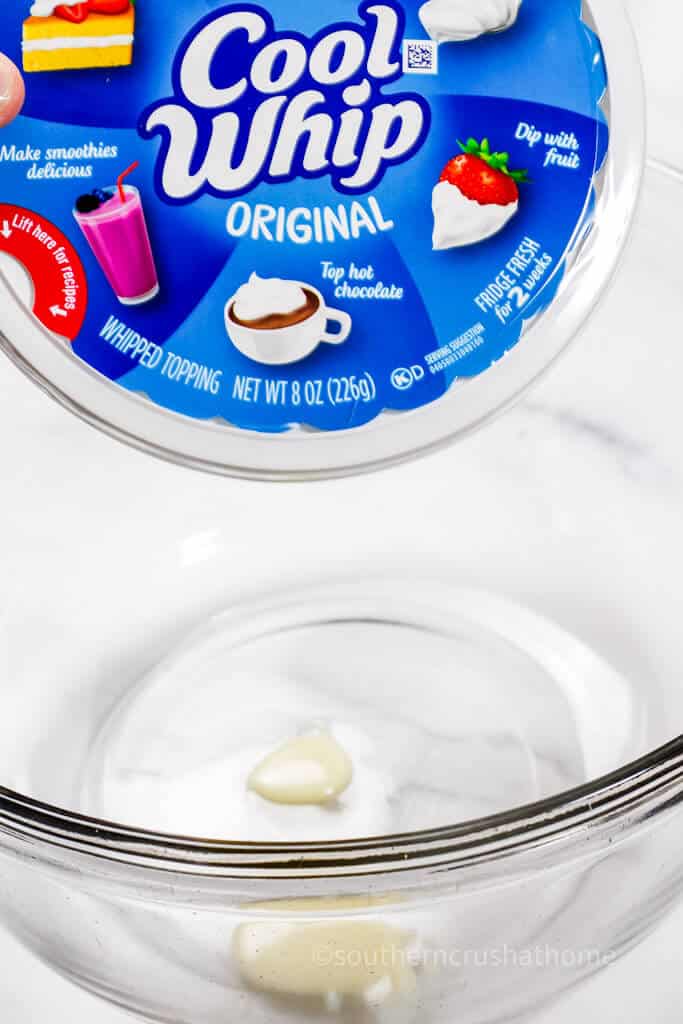 Add a can of condensed milk into a mixing bowl.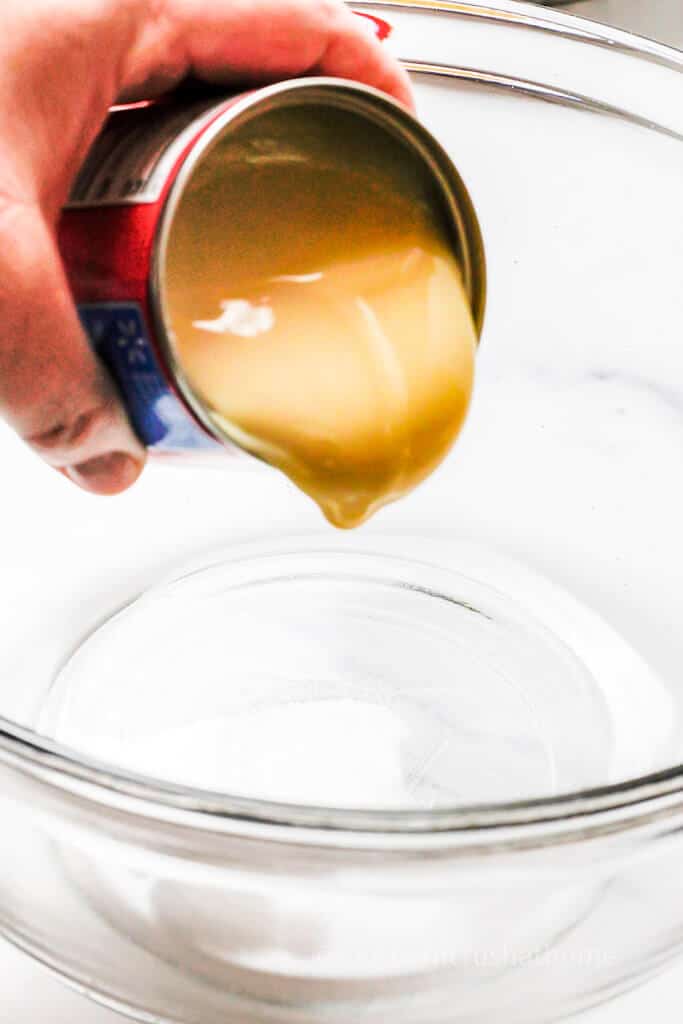 Add one package of Kool-Aid, any flavor you wish, to the whipped topping and condensed milk mixture.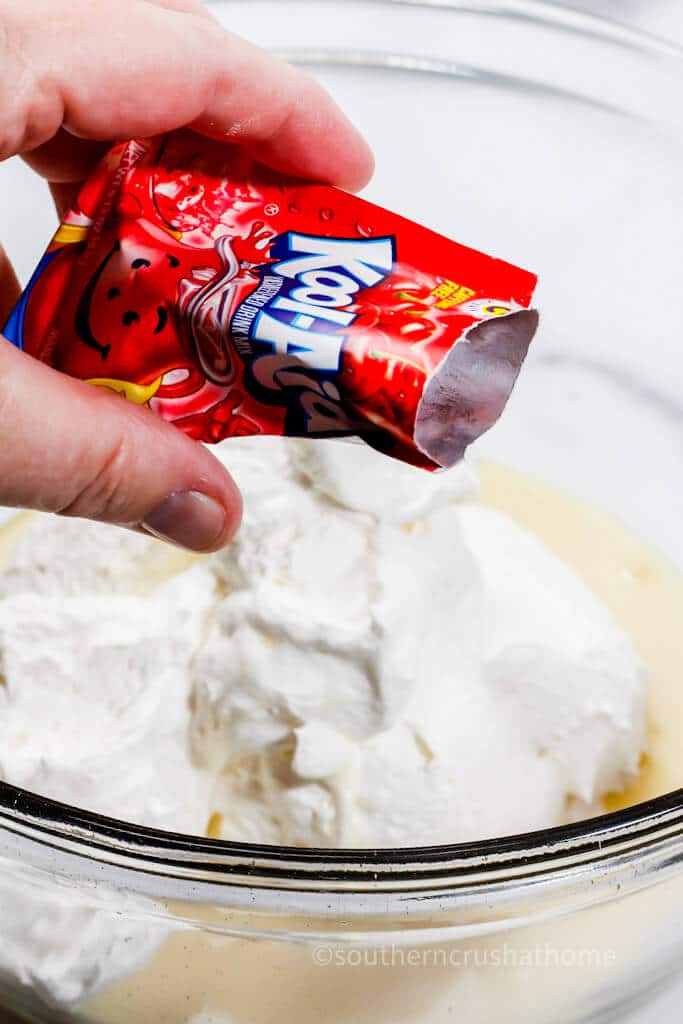 Mix on low until all three ingredients are combined thoroughly.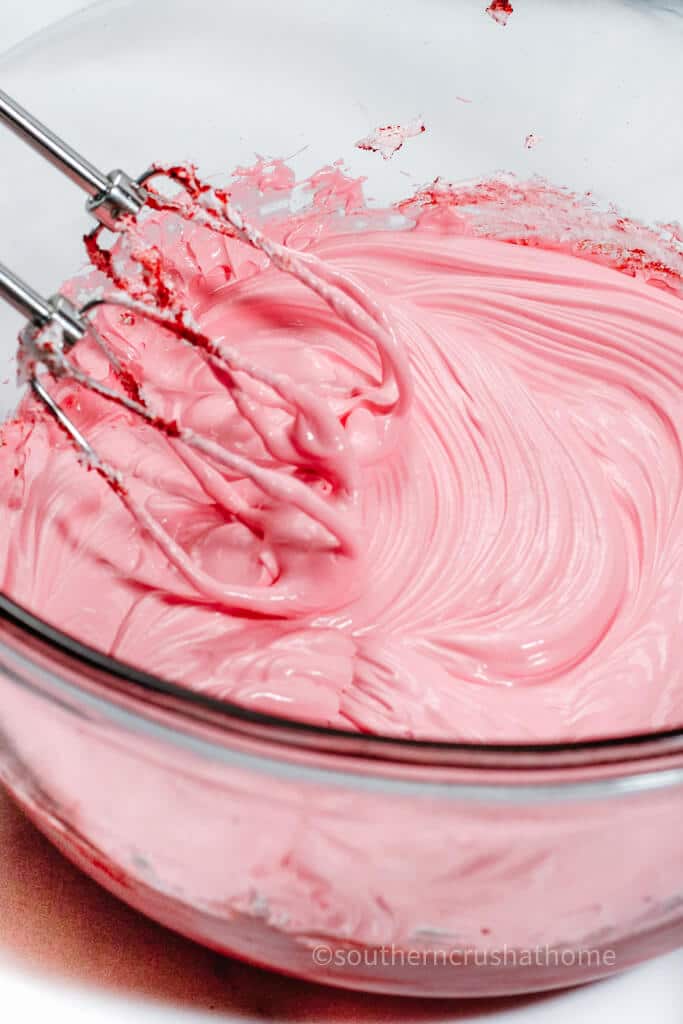 Then pour into the prepared pie crust. Doesn't it look so yummy? Now it needs to refrigerate for 2 hours.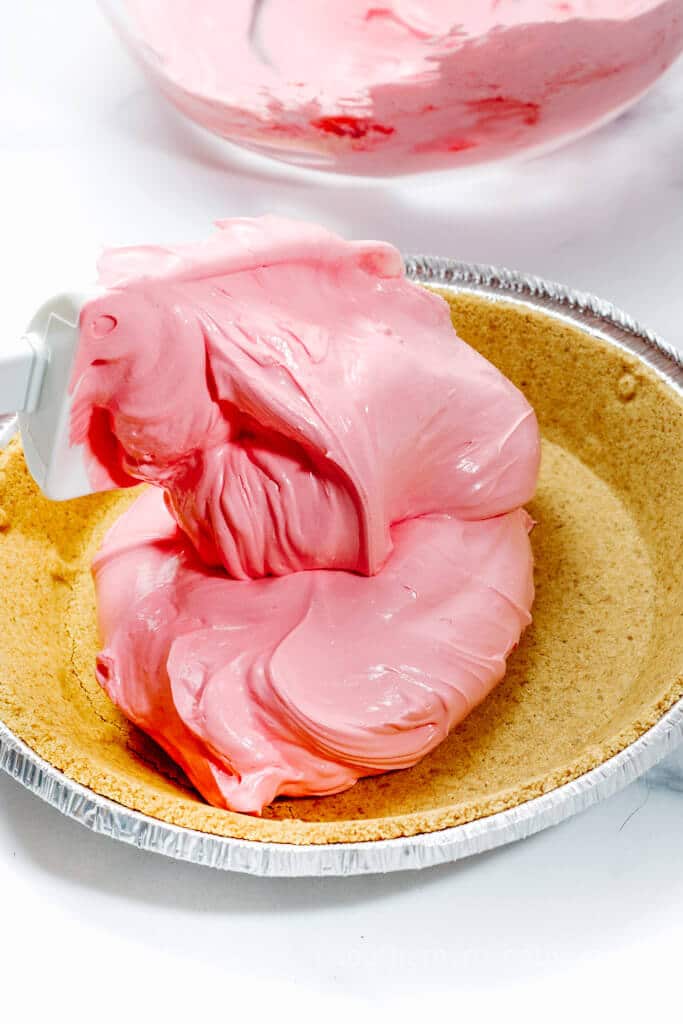 Remove from the refrigerator and slice into portions.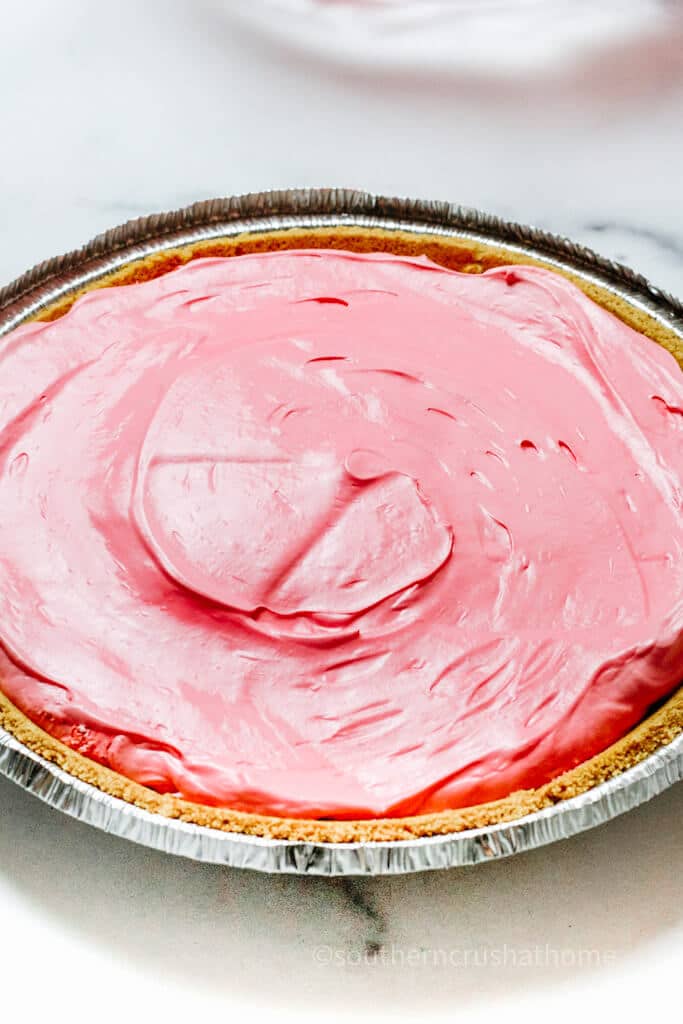 Add whipped topping by piping it onto each slice if desired. Enjoy!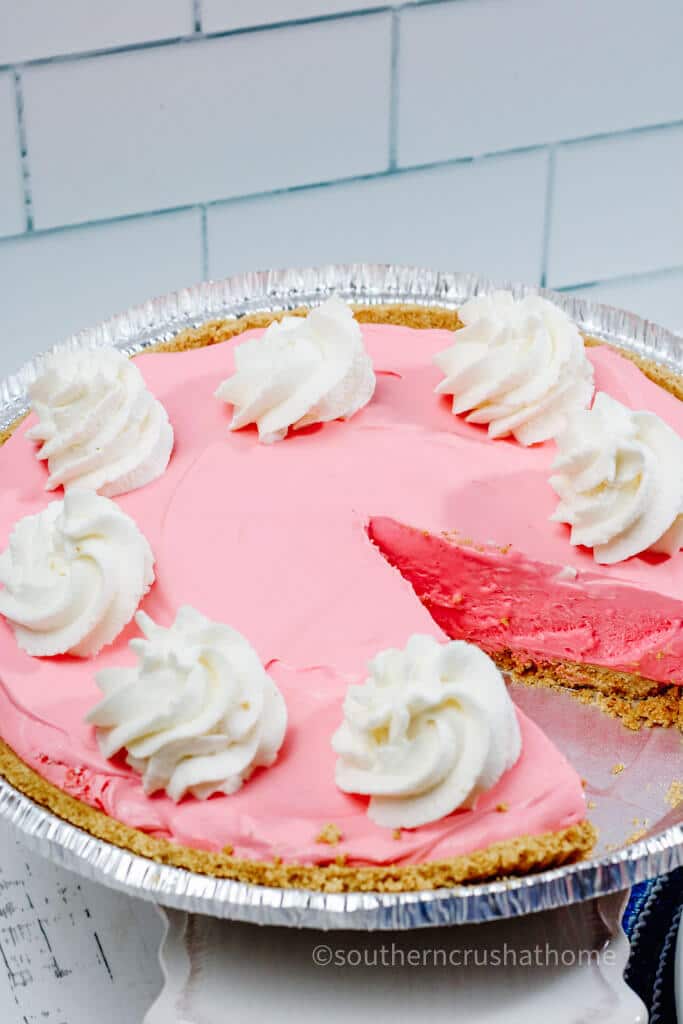 Tips and Tricks
remove whipped topping from the freezer a few hours before you want to prepare the pie
place the prepared crust in the fridge while you mix the filling to speed up the setting process
to really speed up the setting, place the pie in the freezer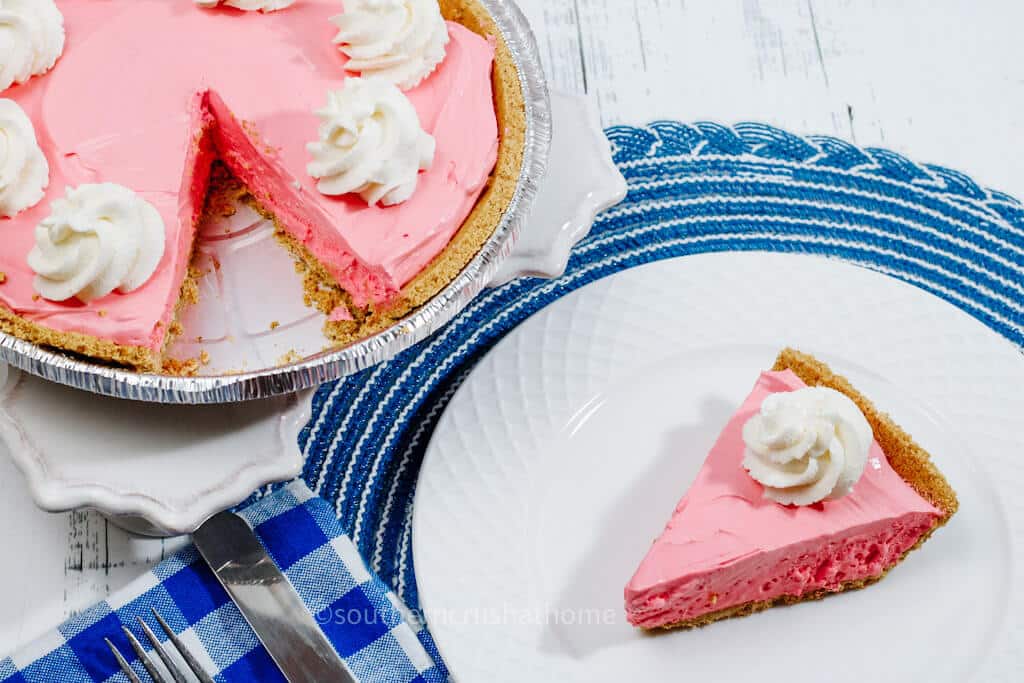 Variations of Kool Aid Pie
any flavor Kool-Aid will work
top Kool Aid pie with diced fruit
garnish with whipped cream
add your favorite cake sprinkles
choose a different crust – any crust will work – use Oreo cookie crumbs, chocolate wafer crumbs or even a regular pie crust would work well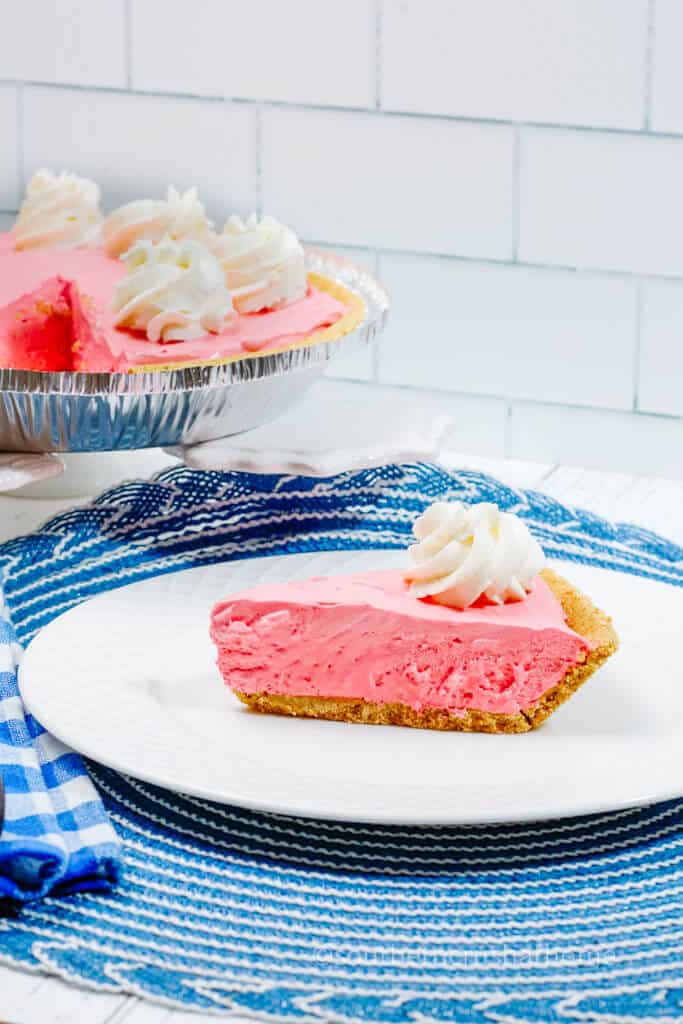 How to Store a Kool Aid Pie
Kool-Aid Pie is best stored in the fridge. The delicate whipped topping is best kept cool otherwise it will fall. The pie will keep for about a week in the fridge. Leftovers can be frozen.
FAQs
Which flavor of Kool-Aid tastes the best in Kool-Aid pie?
This is based on personal preference. Which flavor Kool-Aid do you like? Give it a try in Kool-Aid Pie. Better yet…. try out the different flavors and choose which one you prefer.
Do I have to use unsweetened Kool-Aid?
I recommend using unsweetened Kool-Aid otherwise the pie may be overly sweet. The sweetened condensed milk adds the sweetness so unsweetened Kool-Aid is best.
What can I substitute for whipped topping?
Whipped cream would make a good substitute for whipped topping.
What can I substitute for sweetened condensed milk?
Evaporated milk can be used instead of sweetened condensed milk but the finished pie will not be as sweet. If you use evaporated milk taste the batter and see how much sugar it needs. Just add sugar to your liking.
Can I make my own graham wafer pie crust?
If you have the time you can absolutely make your own pie crust. If you want to make a graham wafer crust you can buy graham wafer crumbs in the baking section of the grocery store and mix them with butter and sugar to make a crust. Or you can also use graham wafer crackers, process them into crumbs in the food processor and then add the butter and sugar to make a crust.
How do I make a gluten-free Kool Aid pie?
If you want to make a gluten-free Kool Aid pie you'll need to buy gluten-free graham cracker crumbs. Check the gluten-free section of your local grocery store to see if they carry them. They may carry gluten-free graham crackers which can then be processed into crumbs, mixed with butter and sugar, and made into a crust.
How do I make a dairy-free Kool Aid pie?
If you want to swap out the dairy items; whipped topping and sweetened condensed milk for nondairy options you can give it a try. The taste and texture will not be the same, however.
If you love these kinds of easy recipes and ideas, you need to be getting my emails, friend! Each week I send out a couple of emails that include recipes, crafts, shopping experiences, and decor inspiration. Be sure to get yourself signed up. I can't wait to meet you!
Be sure to PIN this for later!
All About Kool-Aid
Kool-Aid was developed in Nebraska by a man named Edward Perkins. The concept of a powdered fruit juice, Kool-Aid, came to him after he was introduced to Jello while working at his family's general store.
The family had a popular drink they developed called Fruit Smack. This drink was a liquid concentrate mixed with water. It was difficult and expensive to distribute Fruit Smack hence the creation of Kool-Aid which used a powdered concentrate instead of a liquid one. Kool-Aid was much easier to sell and distribute across the US and internationally.
General Foods bought Kool-Aid from Perkins in 1953 and is now owned by Kraft General Foods.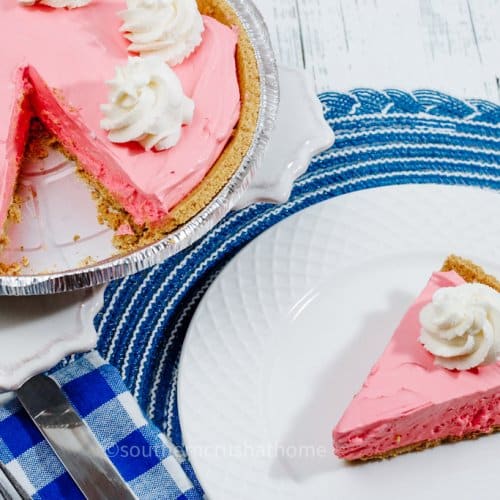 Kool Aid Pie
Ingredients
8

oz

whipped topping

1

pkg

unsweetened Kool Aid

1

14 oz can

sweetened condensed milk

1

Graham cracker pie crust
Instructions
Thaw whipped topping in the refrigerator.

Use whatever flavor of Kool Aid you wish. We used cherry in this recipe.

Mix whipped topping, condensed milk and Kool Aid in a mixing bowl.

Then pour into pie crust and refrigerate for 2 hours. Enjoy!