Pumpkins are a Fall staple when it comes to decorating! Typically, you will find your traditional orange pumpkins, but occasionally you'll see a white or gray one. This year, I went with navy pumpkins that were a fun paint pour project! After first seeing Pottery Barn's mercury glass version of these glamorous, antique looking glass finished pumpkins; I knew they were just what my Fall dining table centerpiece needed.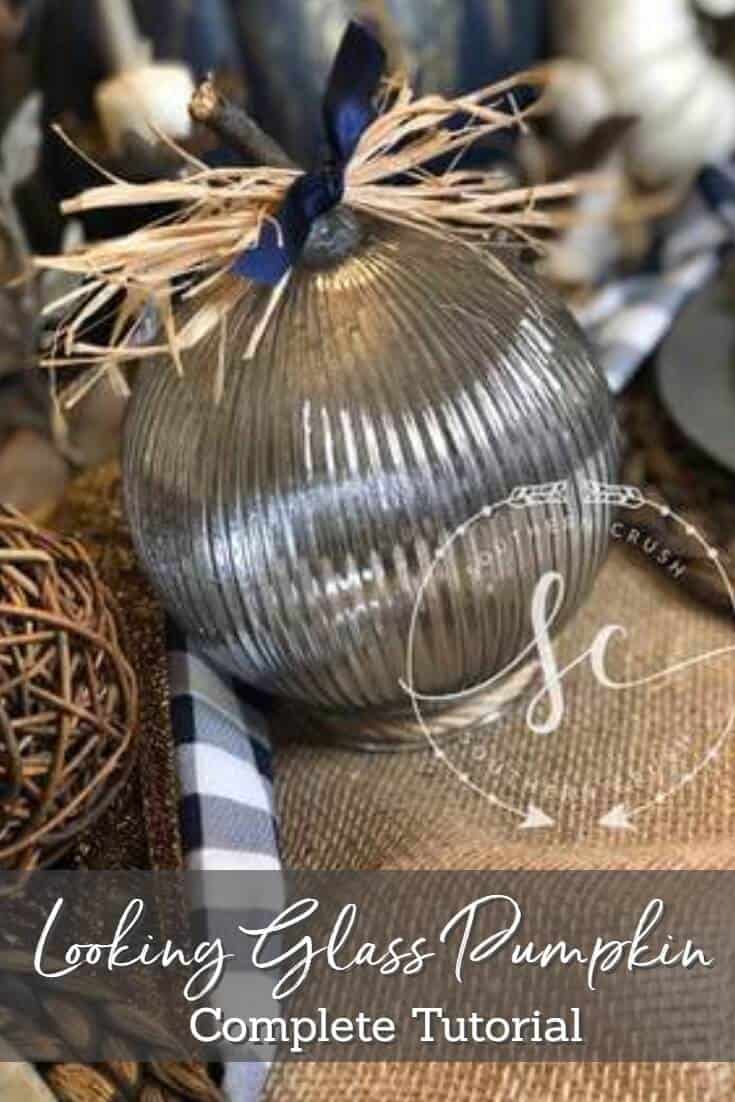 YOU'LL WANT TO PIN THIS FOR LATER!
Instead of grabbing these from the Pottery Barn, I decided that DIY or making them myself would for sure be the best thing to do! Add some shine to your Fall decorating by adding this easy-to-do twist on a typical mercury glass pumpkin! I like to think that buying them would be just too easy and not near as much fun as getting creative and making these for yourself! Let's make these together…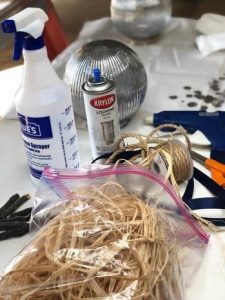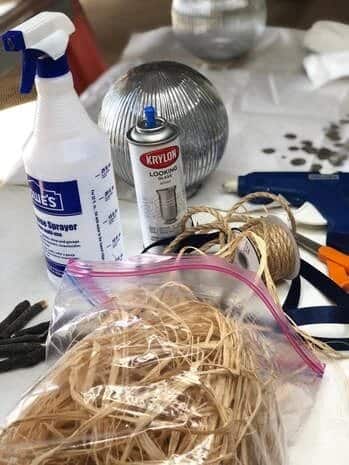 SUPPLIES FOR THIS PROJECT
First of all, this is "nacho average" pumpkin! You will need the following resources that can be easily found in my Amazon shop under "Shop the Project- Looking Glass Pumpkin" section of the site.
Glass globe light cover
Raffia ribbon
Wooden stick from the yard for a stem
Krylon looking glass spray paint
Spray water bottle filled with water
Trim (whatever you'd like, I used rope and satin ribbon)
Battery-operated votive (optional)
Hot glue gun
Scissors
Paper Towels
STEP BY STEP INSTRUCTIONS
Lightly and sporadically spray the inside of your glass globe light cover with the water from your spray bottle of water. Let dry a few minutes.
Next take the Krylon looking glass spray paint.and spray the inside of the inside of the globe lightly.
Let it drip dry.
Take a dry paper towel and twist it up to fit inside the globe in order to 'dab' some of the excess wetness off of the inside edges of the globe. This also helps with the 'mercury' effect.
Let the globe drip dry completely.
Using the hot glue, glue the wooden stick to the top of the globe and hold until it stays in place.
Glue or tie on some rope around the bottom and raffia ribbon and/or regular ribbon for embellishment on the top.
Add a battery operated votive underneath the globe for added ambiance!
P.S. The spray paint makes it nearly impossible to do this project indoors, so this project is a great excuse to get outdoors and enjoy the fresh air! So there's that! Watch the full video tutorial below.
VIOLA! THE POTTERY BARN LOOK-A-LIKE GLASS PUMPKIN!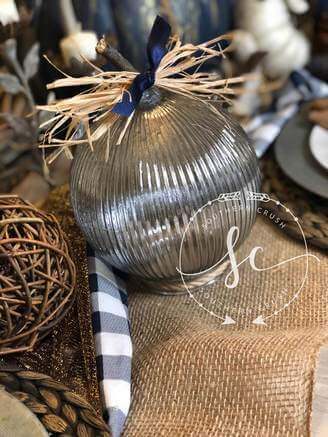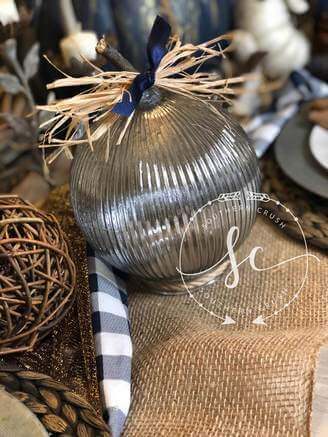 The final pumpkin did not disappoint. It looks even better, in my humble opinion, than the mercury glass Pottery Barn version! It was so much fun and super easy to do. It would be a great Fall project for doing outdoors once those cooler temps roll in. These looking glass pumpkins would be so cute as decor on a table as a centerpiece or on a fireplace mantle or simply in a guest bath for the Fall season! What do you think, will you make one of these for yourself?
If you loved this project, you need to be getting my emails, friend! Each week I send out a couple of emails that include updates, crafts, and decor inspiration. Be sure to get yourself signed up below. I can't wait to meet you!
>>>Leave your thoughts below in the comments please… BTW— Life is short—Enjoy the mess!
**P.S. Please join us over on our
Facebook Page
to see more fun projects "Live". Once you have finished YOUR GLASS PUMPKIN, please share it with our community on the page. It helps people so much when they see others being creative!