How to Make a Deco Mesh Christmas Angel Craft
This Deco Mesh Christmas Angel would make a great tree topper or could dress up any Christmas wreath. I had a lot of fun putting her together. The instructions for making the angel are so easy and the supplies are not expensive at all! This is one of my favorite kinds of crafts! I think she needs a special name as well, so I'm asking everyone to place their favorite name in the comments for me…
Supplies needed for a deco mesh Christmas Angel
Plastic ornament ball any size you choose (Dollar Tree)
Acrylic Paint (I used white)
Plastic cup
Wired Jute Twine from Dollar Tree
10″ Deco Mesh (I used white with silver strands) Dollar Tree
2 Zip Ties (clear is best)
Ribbon of your choice
Optional embellishment (I used my favorite bling)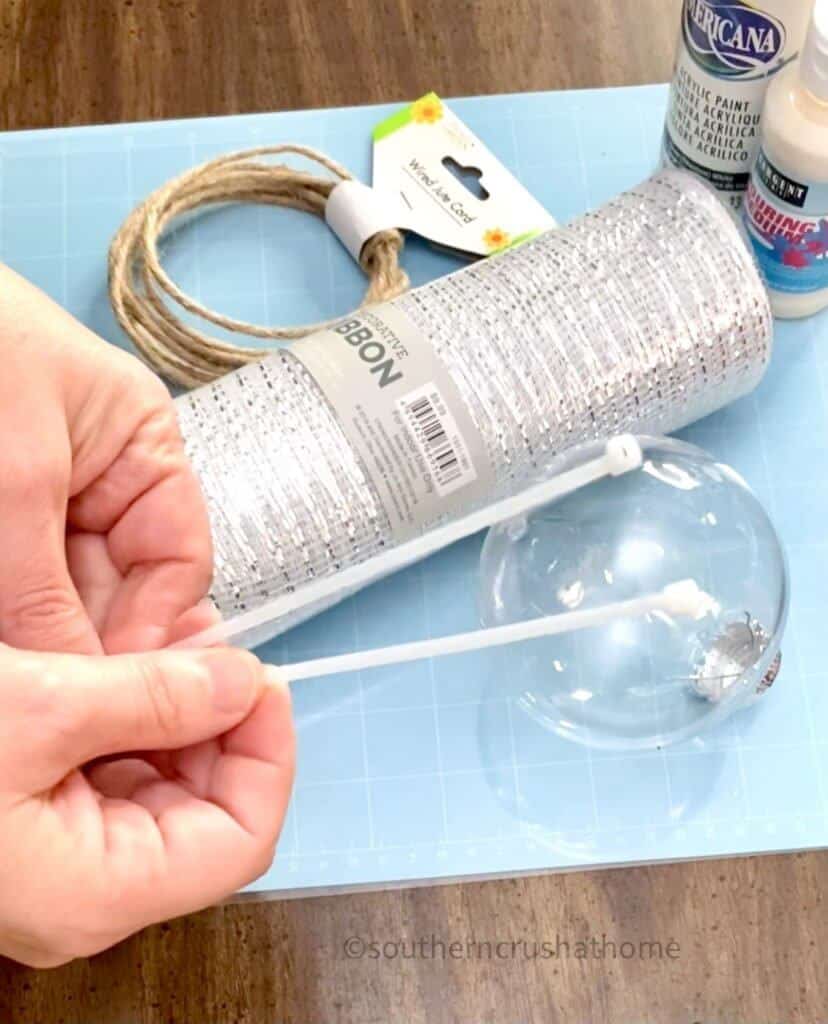 step by step how to make a deco mesh angel
Remove the ornament hanger from the ornament.
Drop a small amount of the pouring medium into the ornament ball.
Pour a small amount of acrylic paint into the ornament ball.
Swirl around in the bottom to mix and then swirl around to coat the inside of the ball.
Turn ornament upside down and allow to drip dry inside of the plastic cup. (You can also use a heat gun to speed it up, but be careful not to melt the plastic ornament.
Cut the 10″ deco mesh into ten, 10″inch strips.
Taking opposite corners of the mesh pull them outwards and then pinch in the center.
Collect all ten pieces in one hand at the center.
Secure with one of the clear zip ties at the center.
Section off five tails from each side of the arrangement and secure with a second zip tie approximate 1-2″ down to create the bottom half of the Christmas angel.
Hot glue the ornament onto the top of the center of the angel shape.
Using the wired jute twine; glue around the "neck" of the ornament and create a halo.
Taking the ribbon of your choice tie a pretty bow around the neck of the ornament to hide the twine and pull the bow tails down to hide the zip ties.
Hot glue an embellishment to the center of the bow.
If you wish to hang the angel; add a third zip tie in the back as shown in the VIDEO TUTORIAL.
If you missed the VIDEO TUTORIAL it can be seen HERE.
And… you have a deco mesh christmas angel
These will definitely surprise you with how easy they come together! You will quickly want to make one, two, even an entire choir of Christmas angels. They turn out so beautiful, too! You can certainly use whatever ornament you wish; maybe even one that is already a color that matches your Christmas tree?
Play around with the ribbon colors as well. Maybe you like maybe gold, silver or even a brighter color like red or blue velvet would be pretty, too! Get creative, Have fun!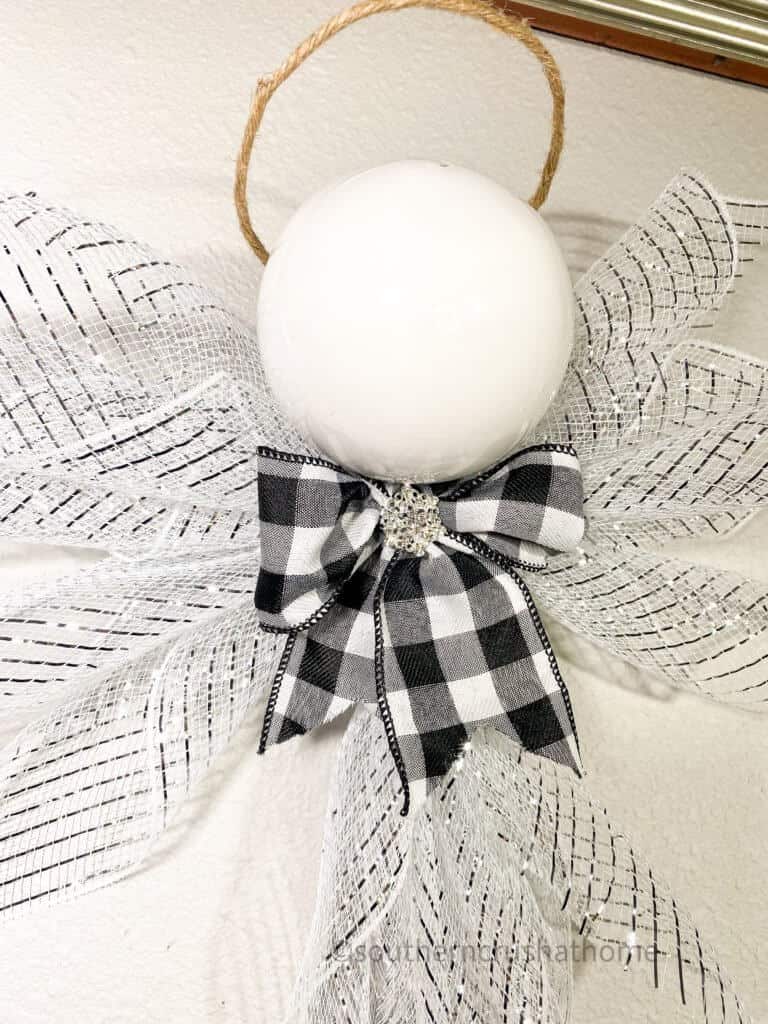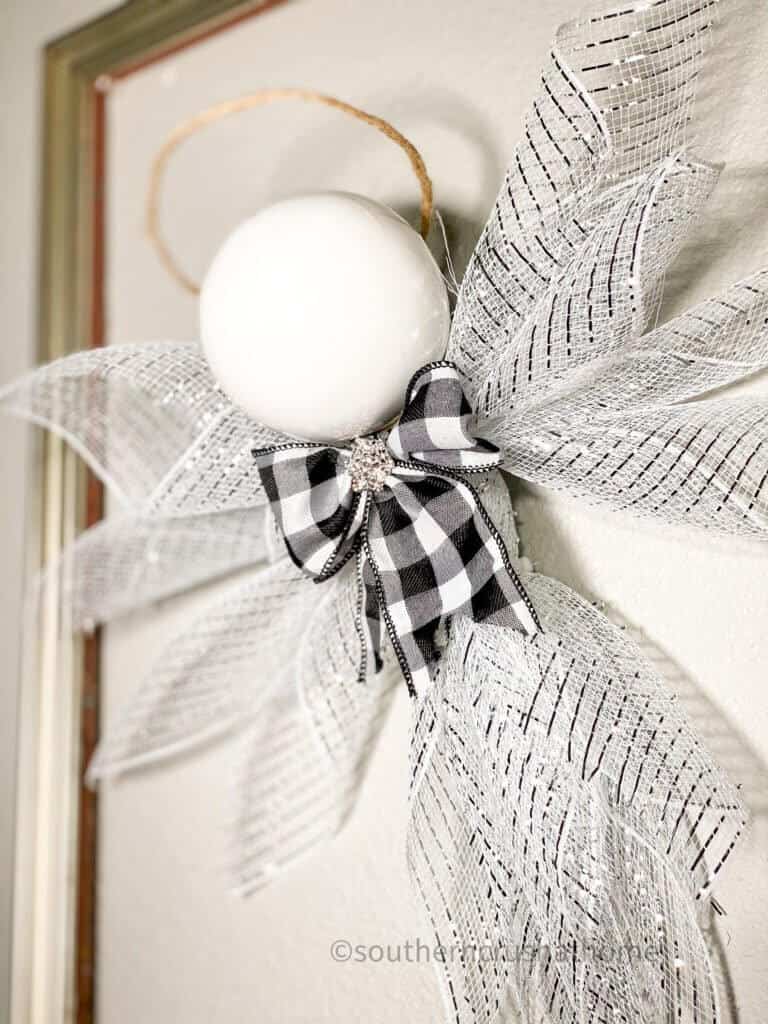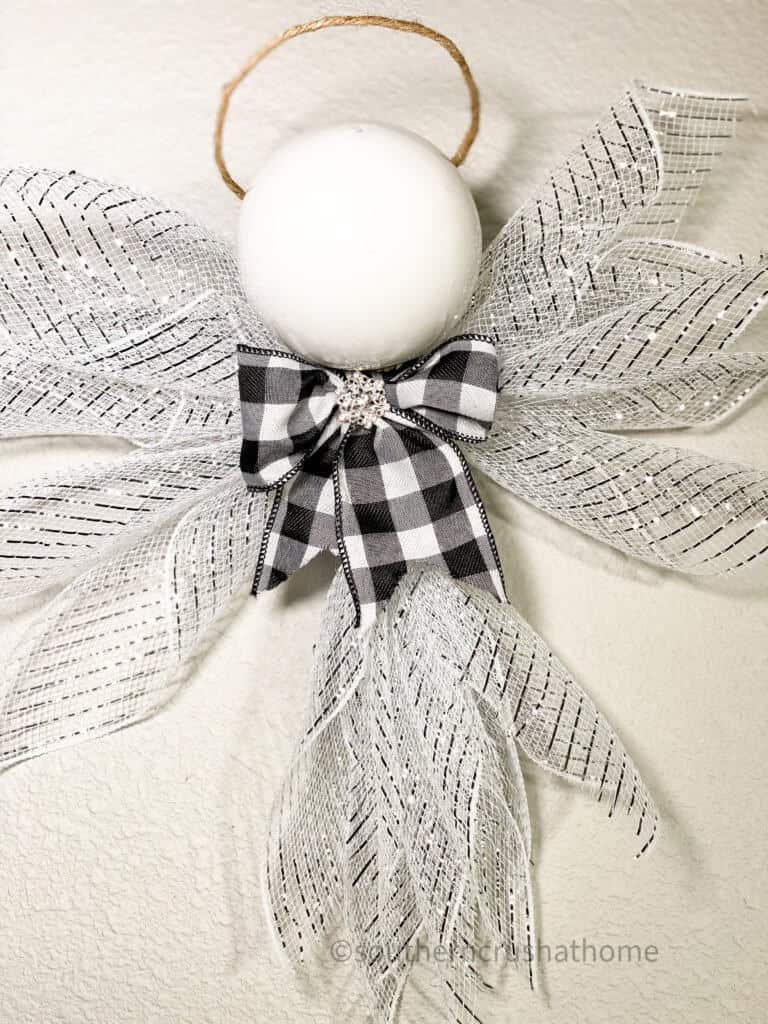 Deco Mesh Christmas Angel
This Deco Mesh Christmas Angel would make a great tree topper or could dress up any Christmas wreath. The instructions for making the angel are so easy and the supplies are not expensive at all!
Materials
1

Plastic ornament ball any size you choose

Pouring Medium

Acrylic Paint

I used white

1

Plastic cup

Hot glue

Wired Jute Twine from Dollar Tree

10

strips

10" Deco Mesh

I used white with silver strands

2

Zip Ties

clear

Ribbon of your choice

1

Optional embellishment

I used my favorite bling
Instructions
Remove the ornament hanger from the ornament.

Drop a small amount of the pouring medium into the ornament ball.

Pour a small amount of acrylic paint into the ornament ball.

Swirl around in the bottom to mix and then swirl around to coat the inside of the ball.

Turn ornament upside down and allow to drip dry inside of the plastic cup. (You can also use a heat gun to speed it up, but be careful not to melt the plastic ornament.

Cut the 10" deco mesh into ten, 10"inch strips.

Taking opposite corners of the mesh pull them outwards and then pinch in the center.

Collect all ten pieces in one hand at the center.

Secure with one of the clear zip ties at the center.

Section off five tails from each side of the arrangement and secure with a second zip tie approximate 1-2" down to create the bottom half of the Christmas angel.

Hot glue the ornament onto the top of the center of the angel shape.

Using the wired jute twine; glue around the "neck" of the ornament and create a halo.

Taking the ribbon of your choice tie a pretty bow around the neck of the ornament to hide the twine and pull the bow tails down to hide the zip ties.

Hot glue on an embellishment to the center of the bow