If You See a Cardinal at Christmas, Here's What it Can Mean
One of the most beautiful sights that can bring joy during the holiday season is seeing a cardinal. The vibrant red feathers of this small bird stand out against the winter landscape, and the cardinal bird meaning brings with it a message of good tidings and hope. In this blog post, I'll share why you should hope to see a cardinal around the holidays, and what they can symbolize for you and your family.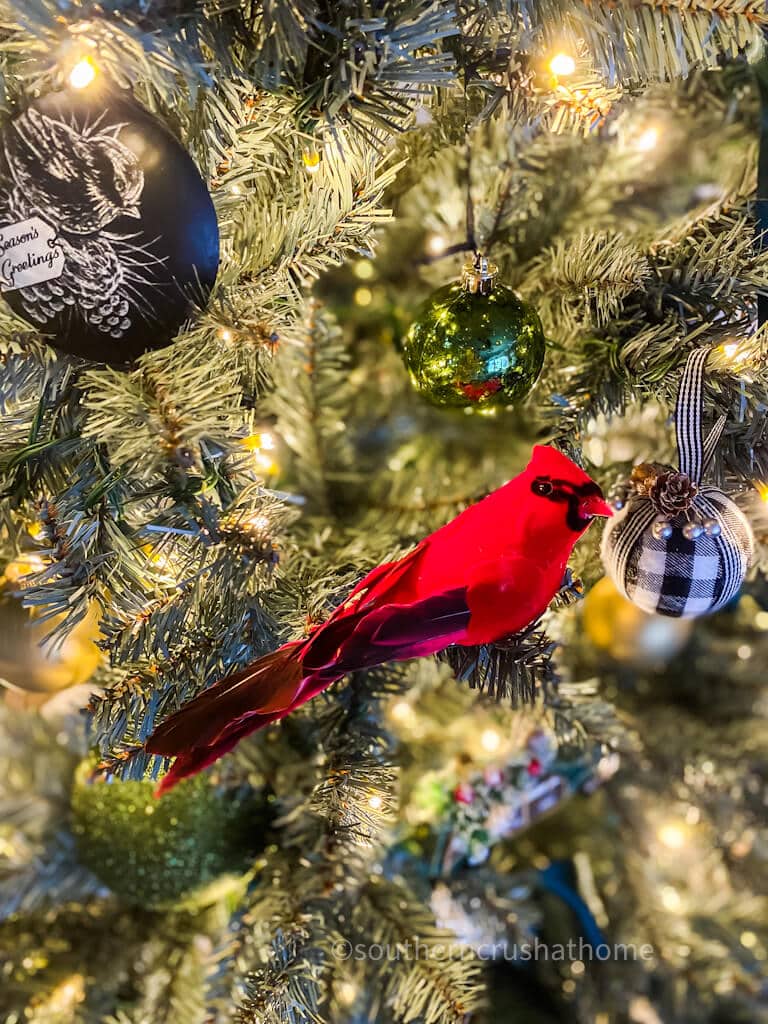 This blog post contains affiliate links. The opinions are wholly my own from my own experience. I may earn a small commission from clicks through to the websites that end in a purchase.
I'm super excited to be a part of this year's Candlelight Home Tour! If you came from The Ponds Farmhouse home tour, welcome and be sure to go and see Simply 2 Mom's gorgeous home tour next! The rest of the fabulous tours are linked at the bottom of this post.
The Christmas Cardinal: An Omen of Good Tidings and Joy
Seeing a red cardinal during the holidays is considered an omen of good things to come in the year ahead. It is said that when you spot one of these birds on Christmas Day or during any other holiday season, it means that you will be blessed with abundance and prosperity in all areas of your life—be it health, wealth, relationships, or something else entirely.

It's said that cardinals appear when angels are near and that the cardinal represents loved ones who have passed away. They are seen as messengers from Heaven who deliver words of love and comfort during difficult times.
If you see a bright red cardinal, it means that you are being blessed with good luck and fortune. Cardinal symbolism has been around for ages. When red cardinals appear it is thought to be a symbol of good luck, and they often show up when someone is about to receive some good news. If you see a cardinal, take it as a sign that something wonderful is about to happen in your life.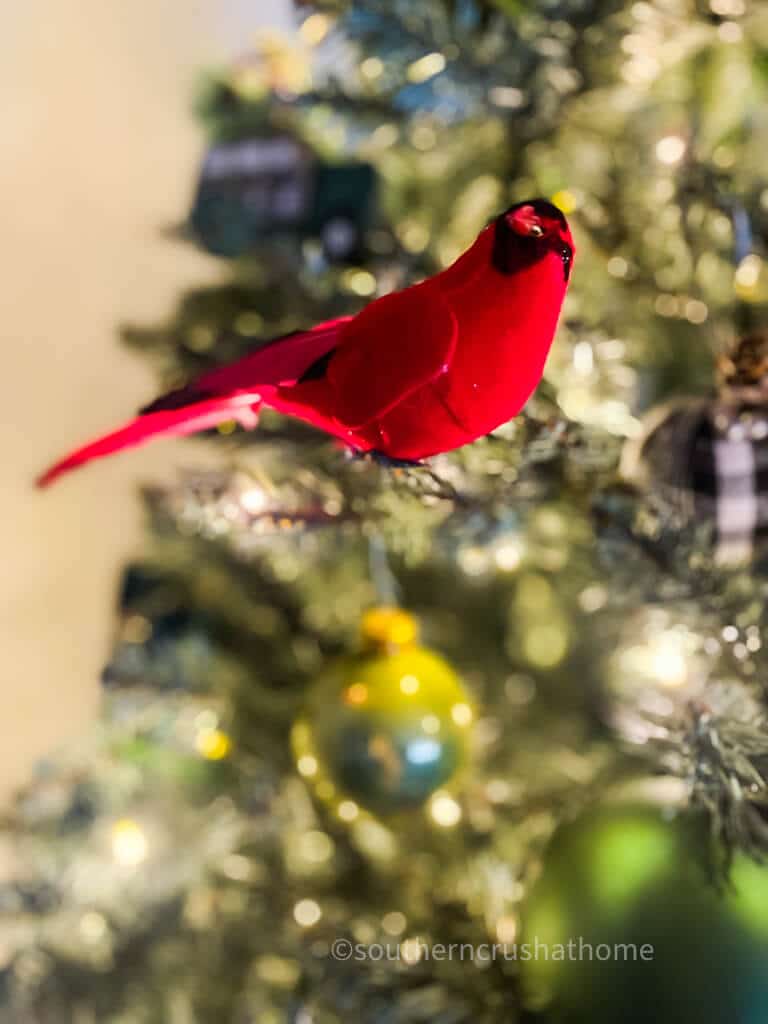 A red cardinal is also known to be a symbol of strength and courage. So if you see a cardinal, it can also be a sign that you need to be brave and have faith. Trust and believe that good things are on the horizon.
The next time you see a red cardinal, make sure to take a moment to ponder the cardinal meaning as well as appreciate the beauty of nature and the blessings in your life.


The Meaning of a Cardinal During Christmas Time

The red cardinal has been associated with Christmas time since the 16th century in Europe. They were considered symbols of faith, joy, and hope by many early Christian cultures who believed that cardinals were sent from God to bring these gifts to those in need during difficult times. This belief has been passed down through generations and continues today in many families around the world.
What Seeing a Cardinal at Christmas Means for You

The cardinal is a beautiful bright red bird, and to see a cardinal at Christmas time can symbolize abundant blessings, angels are near, and the loving memories we have of past holiday celebrations. According to old superstition, seeing a cardinal is believed to be a message from our loved ones who have passed away and are visiting us in spirit.
If a cardinal alights near you on your doorstep this Christmas, take it as a sign that someone special is sending their love from beyond the grave.
An added bonus? According to legend to see a cardinal may also mean that warmer weather is on its way!

Christmas Tree Decorations Using Cardinals
One of the best things about the holidays is all of the festive decorations. Christmas trees, sparkling lights, and red birds are just a few of the things that can make your home feel extra special during this time of year. If you think you have a slim to none chance to see a cardinal based on where you live, you can always decorate with red cardinals instead!
If you're looking for a unique way to incorporate red birds into your holiday decor, look no further. Here are a few ideas to get you started.
One simple way to decorate with red birds is to add a few to your Christmas tree. Whether you opt for large birds or choose smaller ones, they'll add a touch of whimsy to your tree.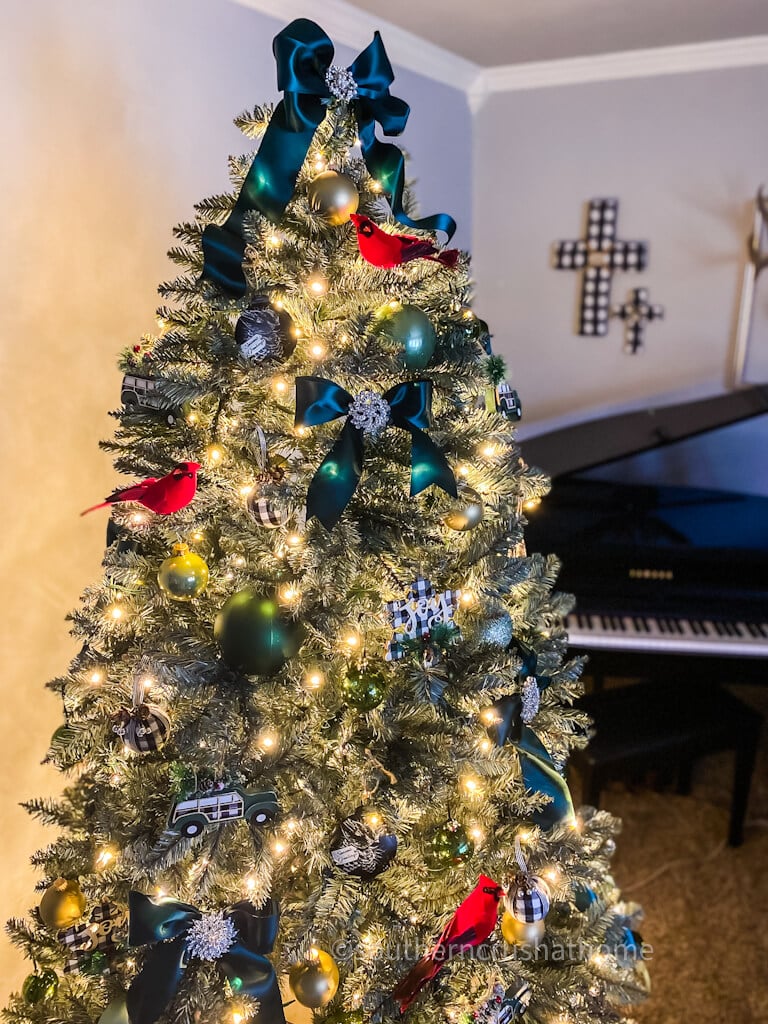 You can either purchase small red bird ornaments or you can also string together some small red lights to resemble a flock of birds flying through the night sky. Either way, they will add a cardinal bird meaning touch to your tree.

Adding Red Cardinals to Your Christmas Decor
As the holidays approach, you may be wondering how to incorporate some of this cardinal decor into your Christmas decorations. One way to do this is by adding artificial red birds to your Christmas decor. Red birds are not only a symbol of the holiday season but also a sign of good luck. Here are a few ideas for incorporating faux red birds into your Christmas decorations.
One way to use red birds is to try hanging red bird ornaments from your mantle or stairway banister. Or, for a truly festive touch, add a cardinal to a wreath with other ornaments.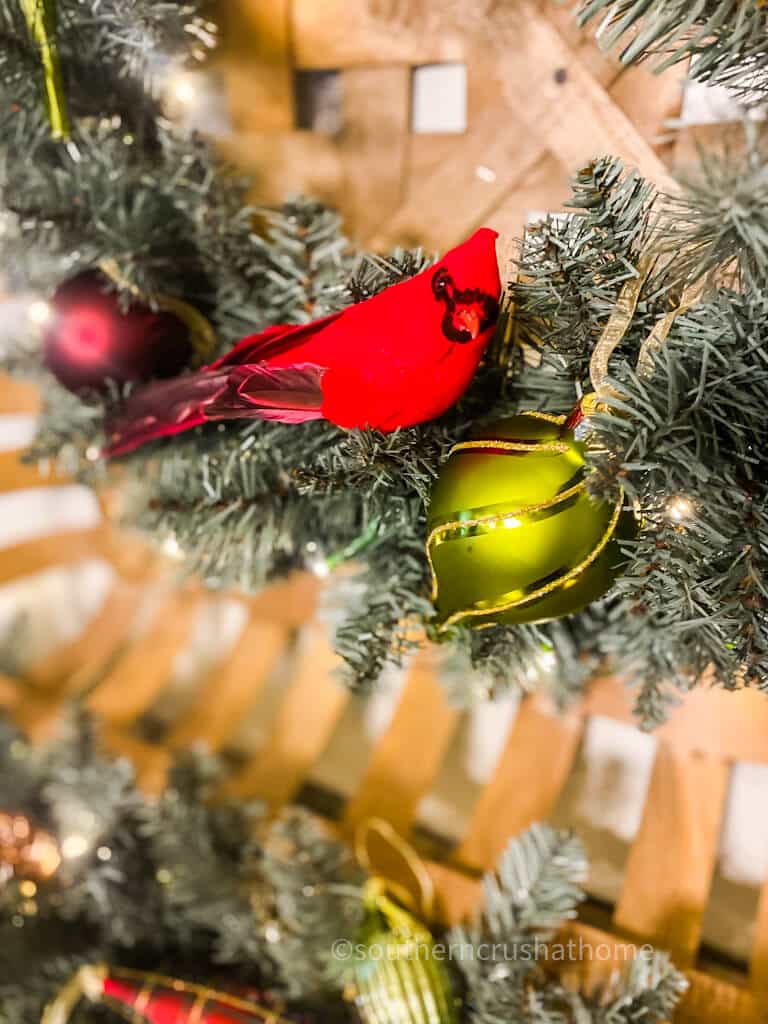 Or for mantle decor add a cardinal to a simple wreath hung on a mirror.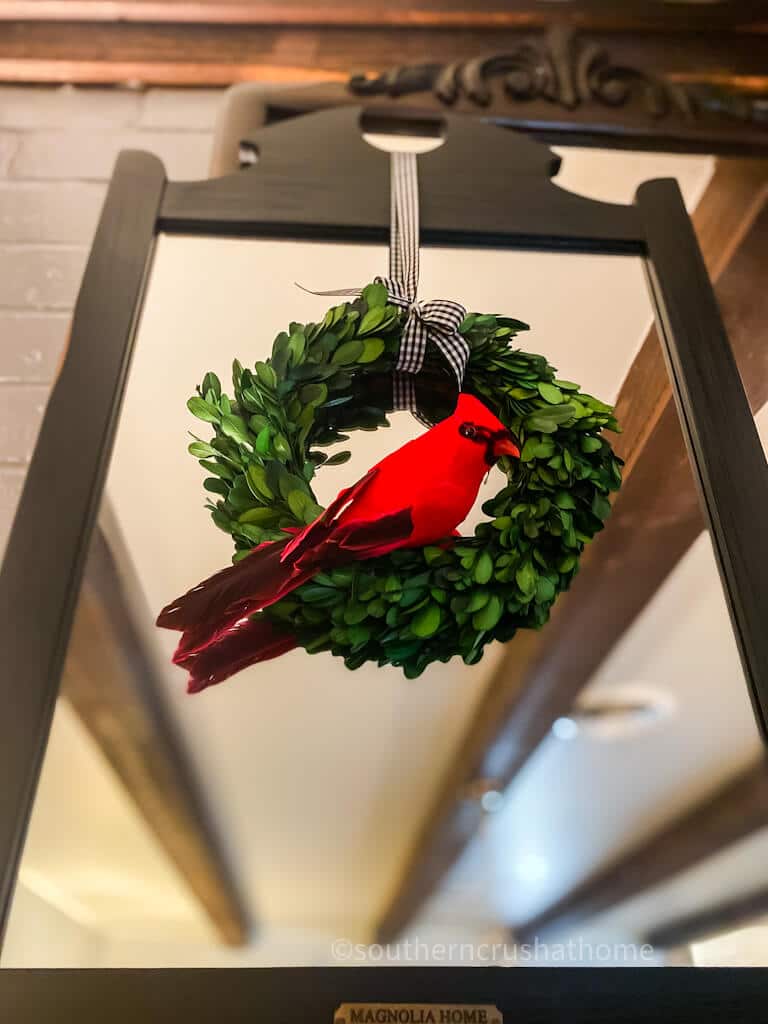 Another way to incorporate red birds into your décor is by using them in a table setting.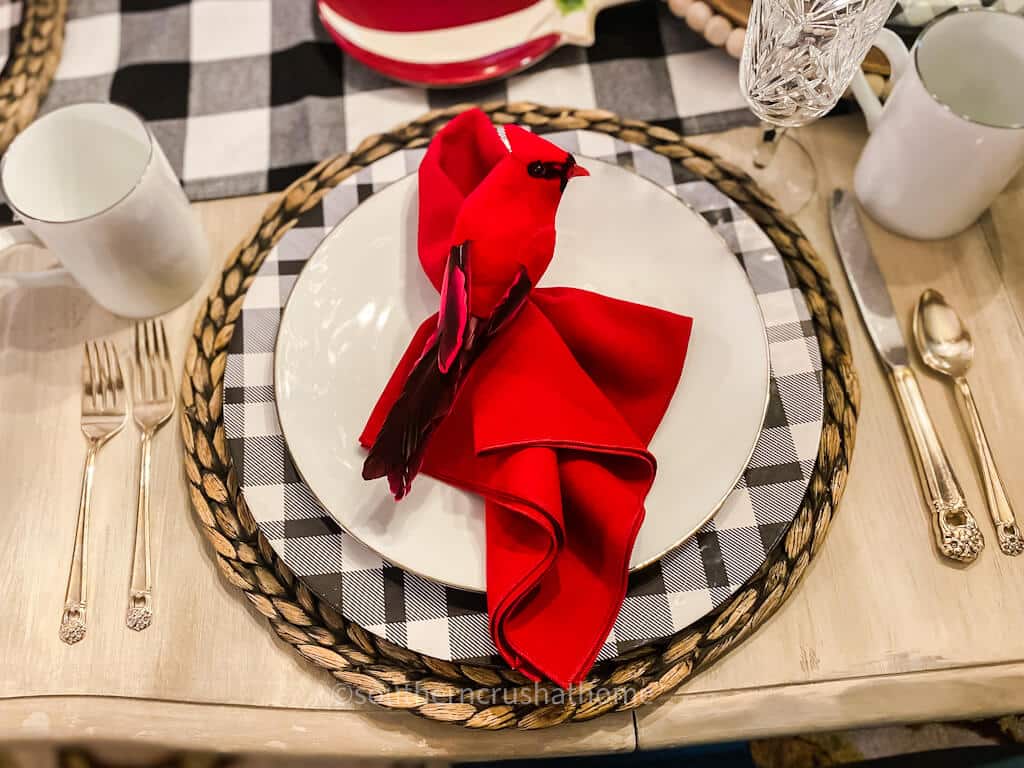 For example, you could add a faux cardinal to a napkin ring and place in the center of a dinner plate. This would make a beautiful and festive centerpiece for any holiday gathering.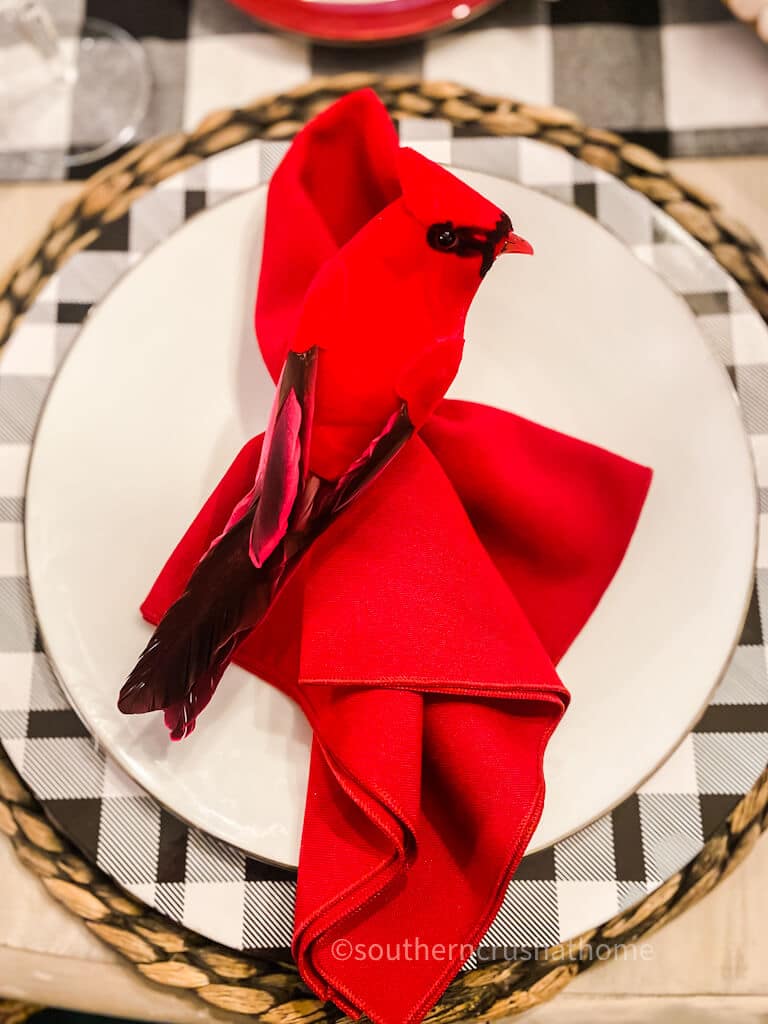 Another idea for using redbirds in your Christmas decor is to place a cardinal into a bowl of Christmas ball ornaments on a side table. Place the bowl on top of a coffee table book or a stack of books.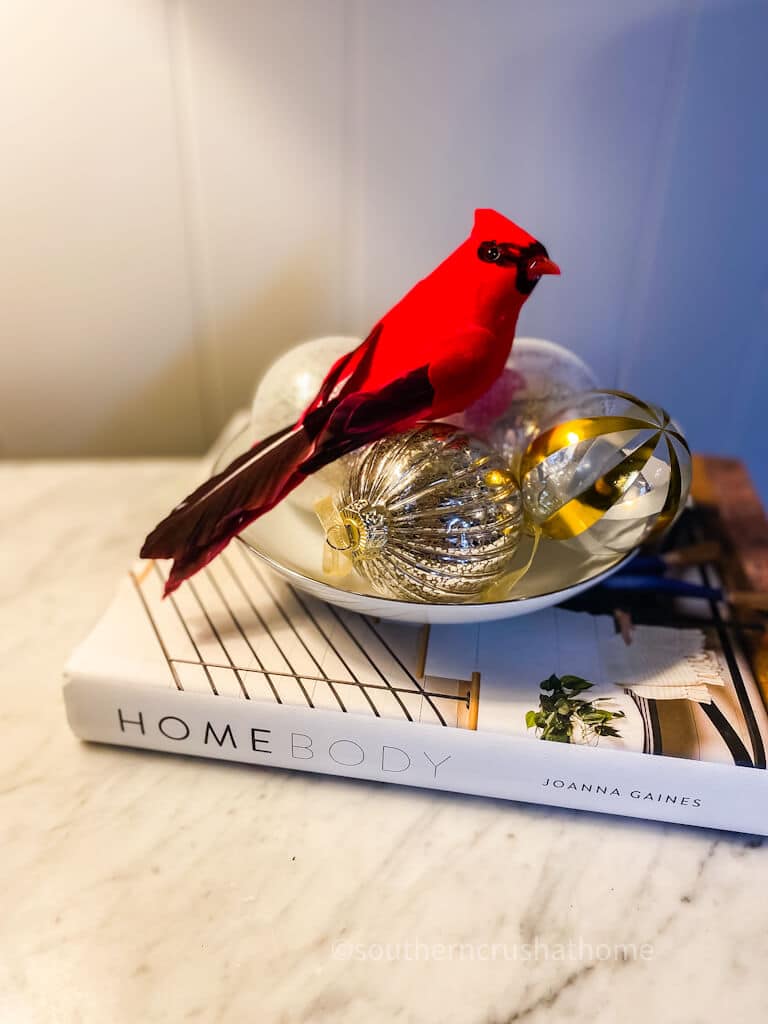 If you're looking for a more subtle way to add cardinal meaning to your holiday décor, you can simply place one or two on shelves or in doorways.
Wherever you decide to put them, these little cardinal accents will definitely add some holiday cheer to your home. So if you're looking for a unique and festive way to decorate your home this holiday season, consider adding some red cardinal birds to your décor. With their bright colors and lucky cardinal symbolism, they're sure to bring some extra holiday cheer into your home.
Whatever approach you choose, decorating with red cardinals is a fun and easy way to add some extra holiday cheer to your home.
Where to Find Faux Red Cardinals
Shop some of my favorite cardinal decor below.

Cardinal Symbolism at Christmas
Overall, seeing a cardinal during the holiday season is truly something special! As such, if you see one flying around your home or garden this time of year, take a moment to appreciate the cardinal meaning along with its beauty and give thanks for everything that you have been blessed with over the past year.
With its bright red feathers standing out against the winter landscape, there's no better reminder of joyous times shared surrounded by friends and family than seeing a cardinal bird at Christmastime!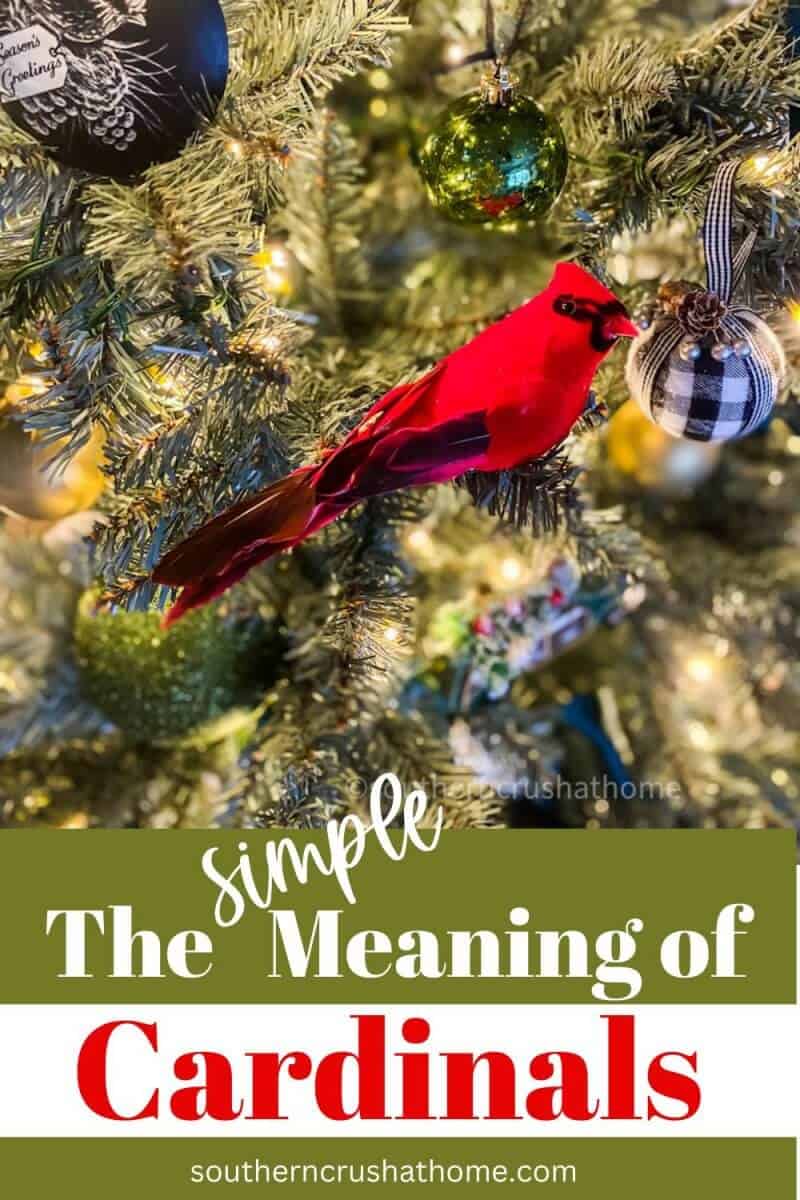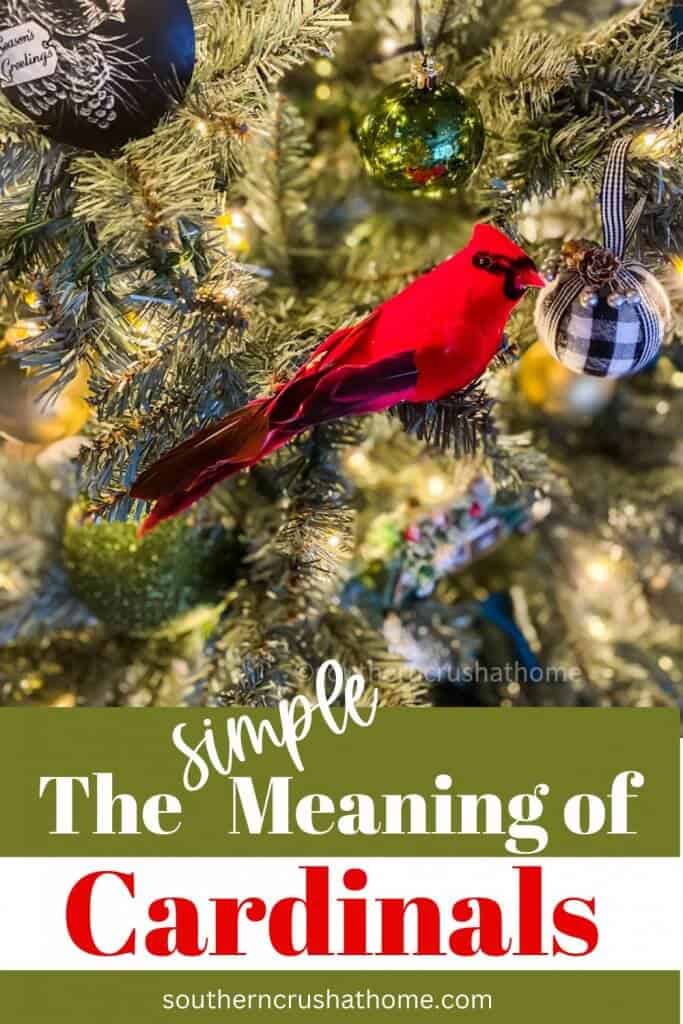 Be sure to PIN this one for later!
Christmas Candlelight Home Tours
A home that's decorated for Christmas always feels so special. When the sun has gone down and the lights are all twinkling it becomes so magical. Sit back and enjoy touring these beautiful homes by the glow of candlelight. You can visit each Christmas home tour by clicking the links below.
Monday

Simply2Moms: Anne // Cottage On Bunker Hill // Bricks'n Blooms
The Ponds Farmhouse // Southern Crush at Home
Tuesday

Simply2Moms: AnnMarie // The Tattered Pew // Pasha is Home
Midwest Life and Style // Vintage Home Designs // Life on Summerhill