Whimsical Silverware Organizer DIY using Paint Pixie Products
Are you embarrassed about pulling out your messy silverware storage box every time you're ready to host a dinner party? Well, fear no more because with the help of Paint Pixie products, creating an easy whimsical silverware organizer can be a breeze!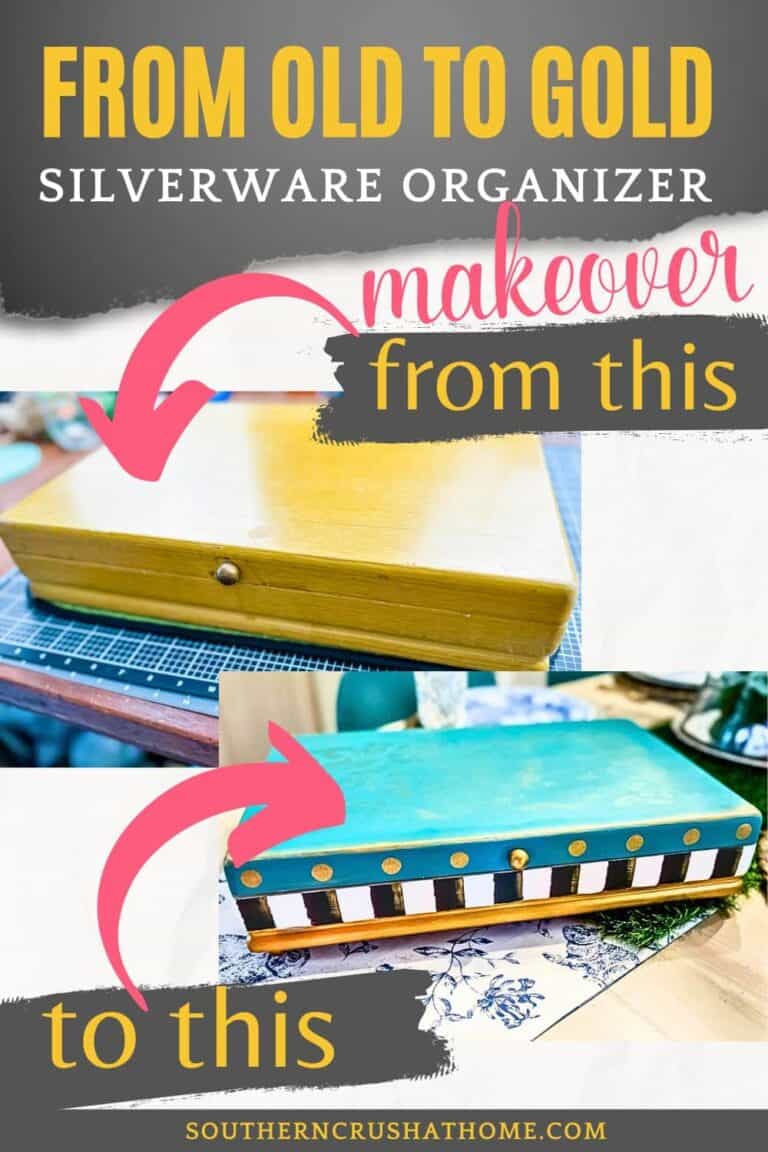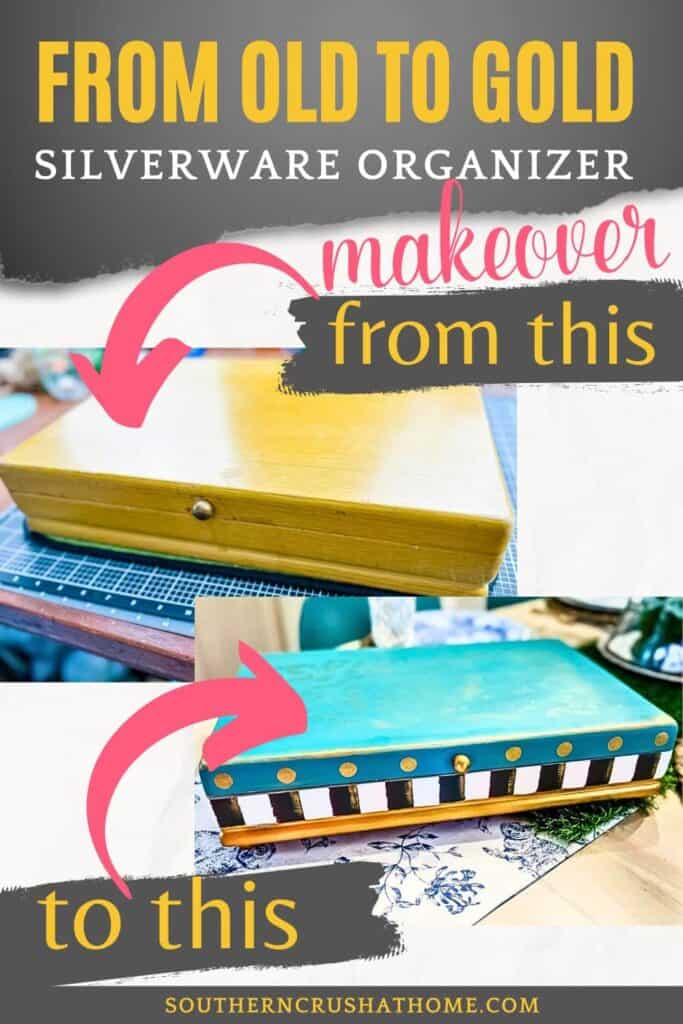 Be sure to PIN this one for later!
This blog post contains affiliate links. The opinions are wholly my own from my own experience. I may earn a small commission from clicks through to the websites that end in a purchase.
I recently had the honor of interviewing the owner of Paint Pixie! Josi Siefker has such a wonderful story! You can catch the whole interview here below in case you missed it!
Transform an ordinary silverware set into a beautiful and functional organizer with just a few simple steps. This is a view of my silverware storage chest before we transformed it!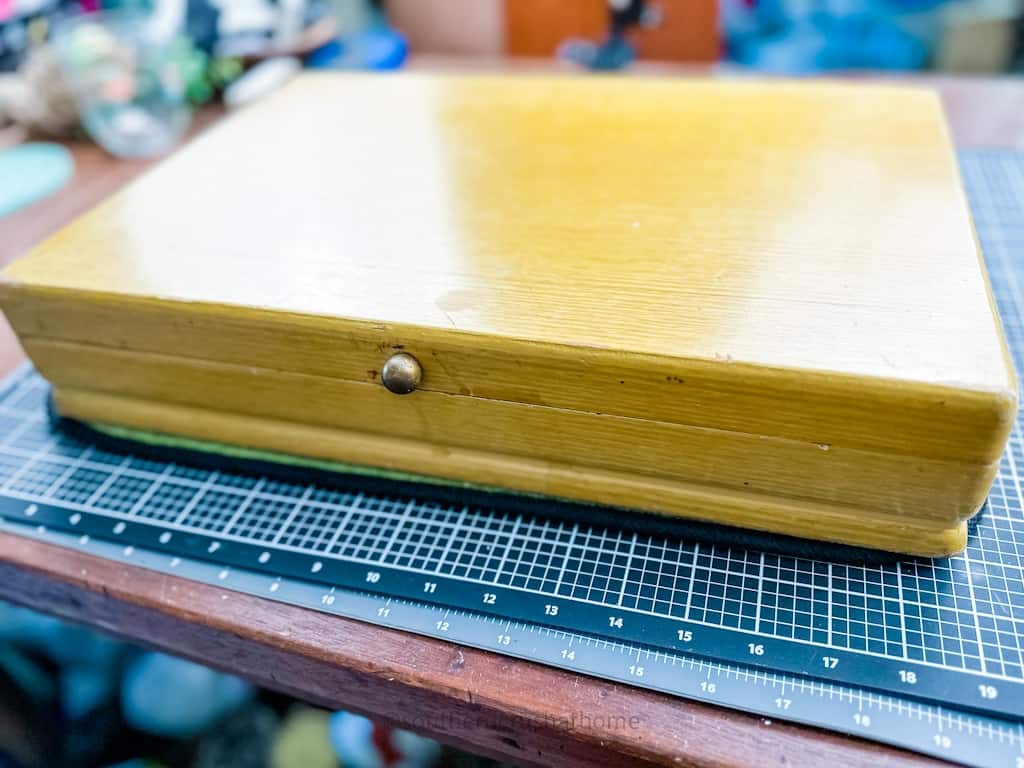 It was so embarrassing from years of use and deferred repairs. It needed a complete overhaul.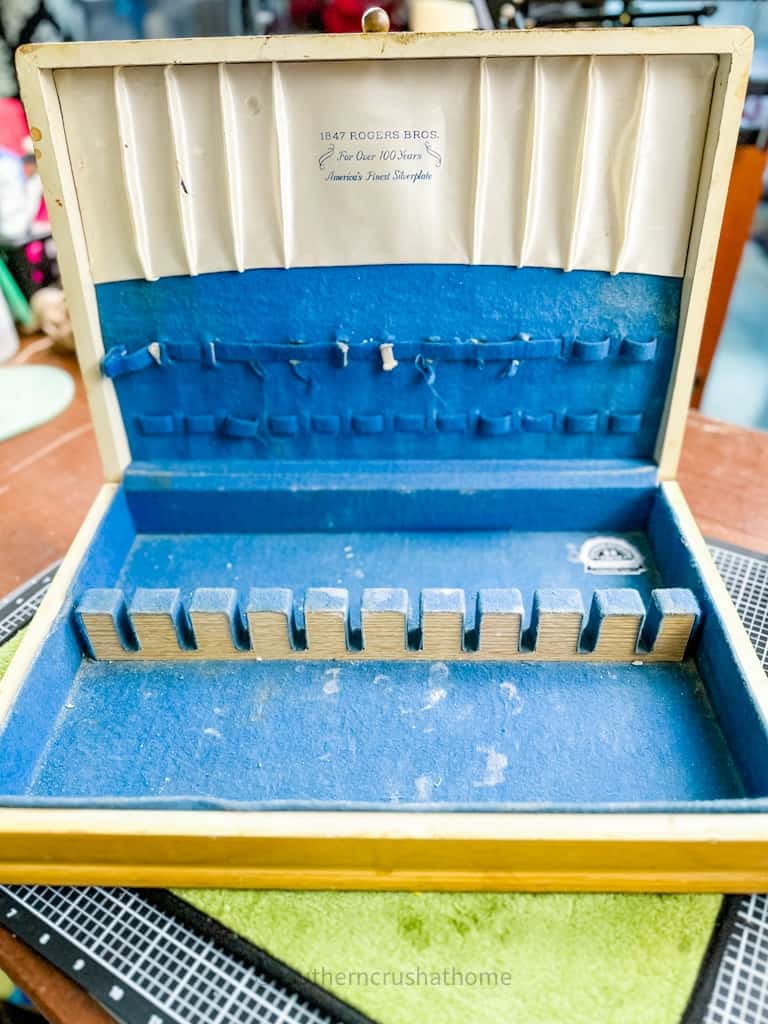 I started out by simply cleaning it inside and out with wipes. I trimmed any loose strings and glued down any areas that were torn. Depending on the shape your silverware chest is in, you may not have all of these repairs.
Supplies Needed for this DIY Project:
Sandpaper
Paint Pixie Brushes
Paint Pixie Paints
Paint Pixie Wax
Stencil of your choice (optional)
Wooden Bead Feet (optional)
Spouncer (optional)
Step by Step Instructions for Creating a Whimsical Silverware Organizer
Step One
Begin by sanding the silverware set to remove any previous coat of polish or varnish or damaged areas like the corners on mine as seen above.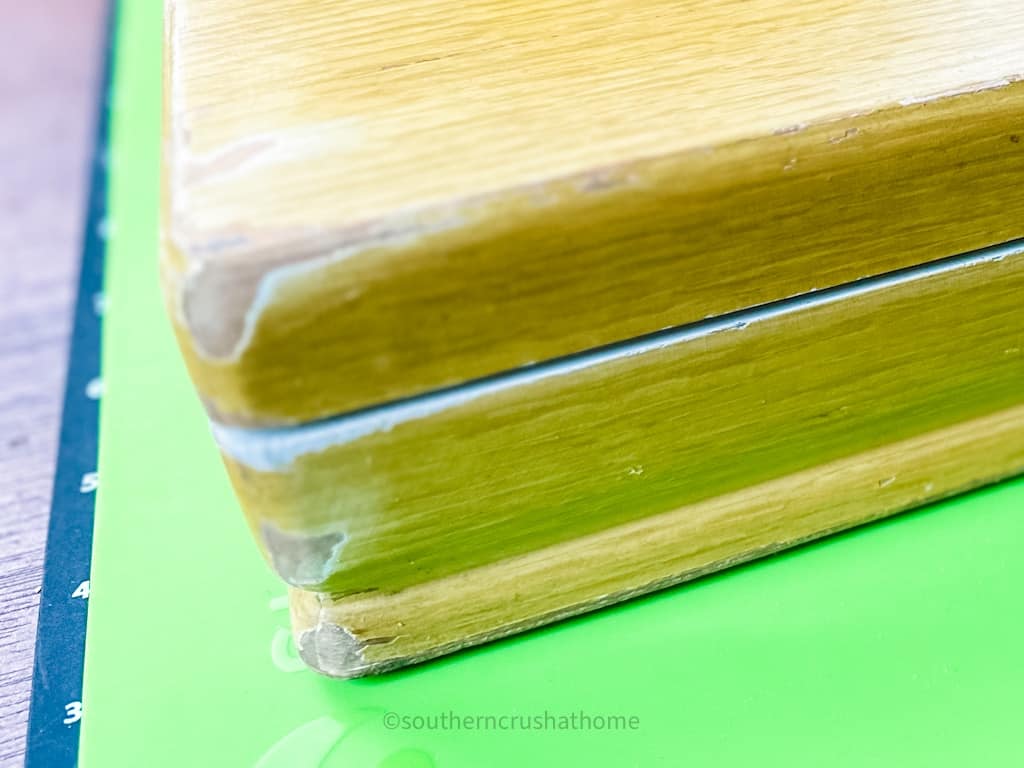 I used 150 grit fine sand paper since my piece was so old. I didn't want to cause it any further damage.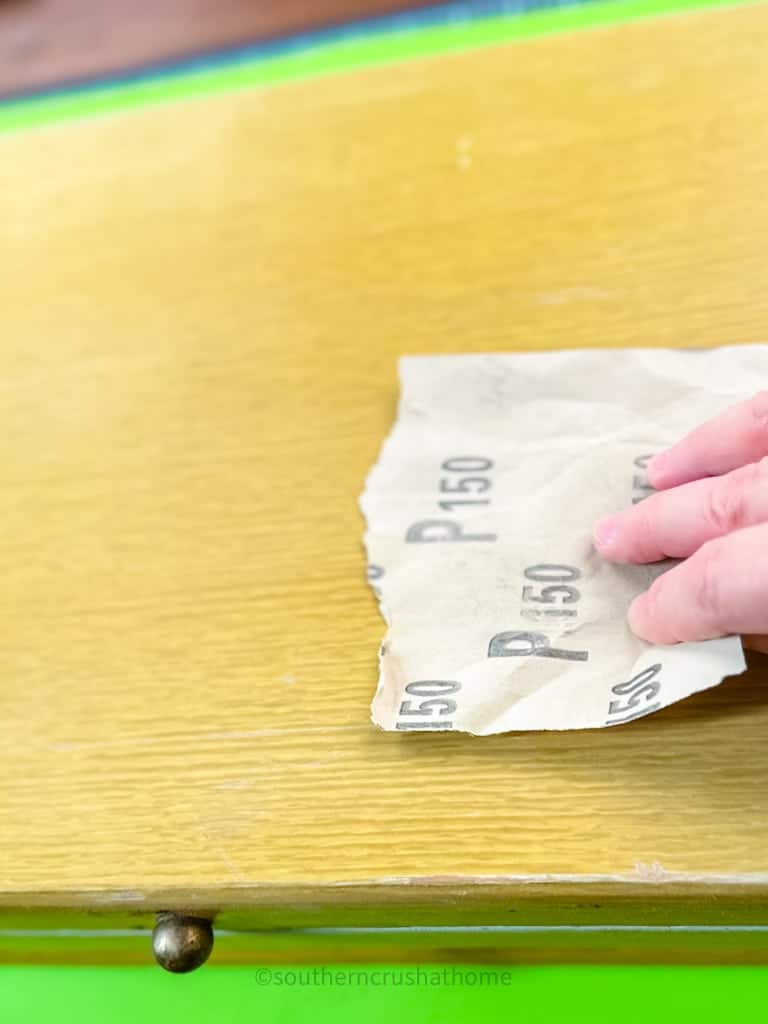 Step Two
Then, apply two coats of Paint Pixie Paint, (I used the color sugared glass) allowing it to dry between coats completely. Once the paint has dried, apply a stencil design using Paint Pixie metallic paints (I used the color Blue Diamond) and a good stencil brush (I used the Stipley) to give it a whimsical look as seen below.
As a final coat, I added Paint Pixie clear wax and buffed it with my Buffy petite wax buffer!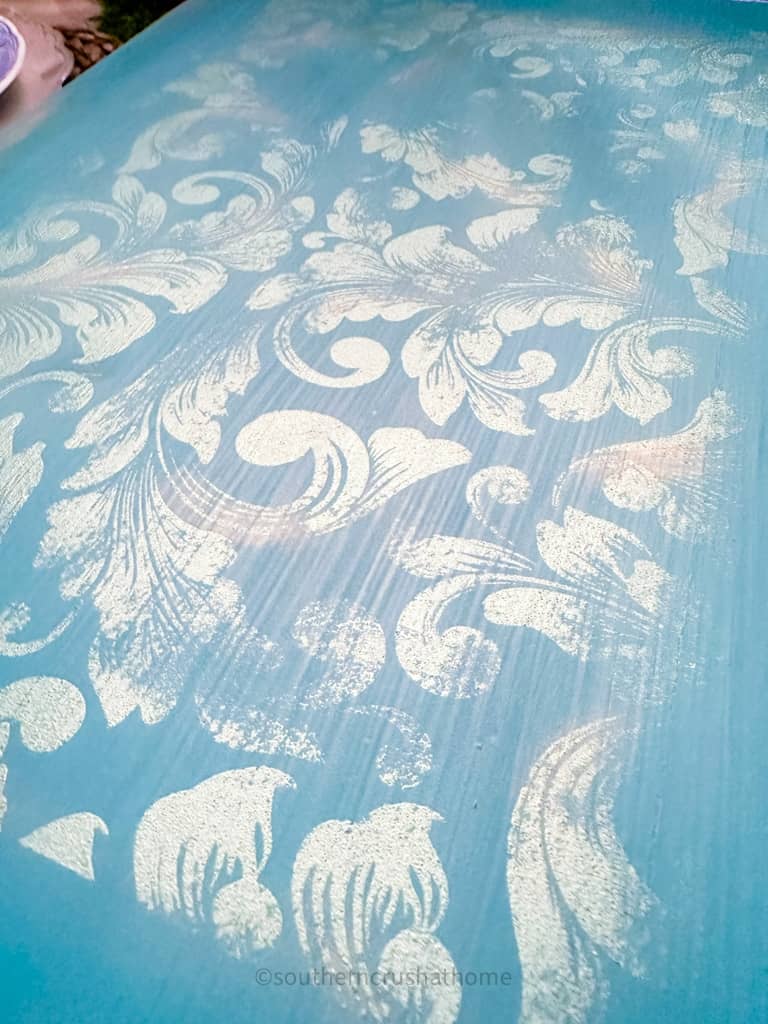 Step Three
Now, it's time to embellish the rest of the silverware storage box. I added these whimsical black and white checks using painters tape to mark out the spaces between each color. (I used the Paint Pixie colors, marshmallow and licorice)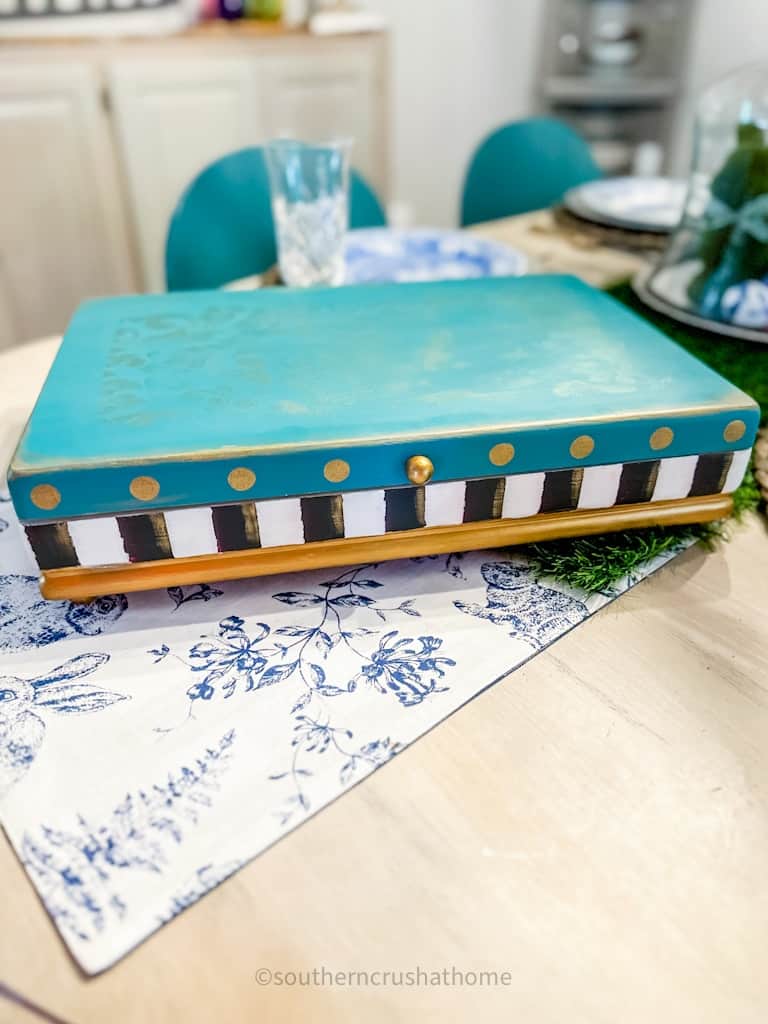 Step Four
Next, I used the Paint Pixie 24karat liquid pixie dust metallic paint to highlight the small knob on the front of my silverware organizer as well as the black checks.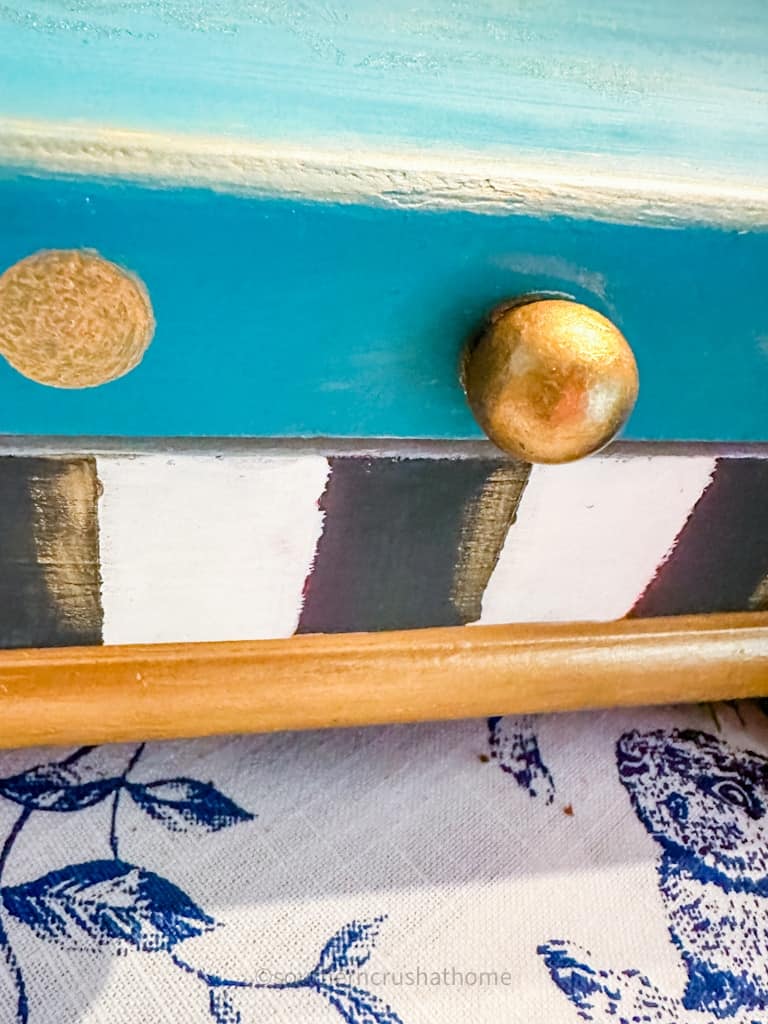 I also highlighted all of the corners of the silverware caddy as seen below.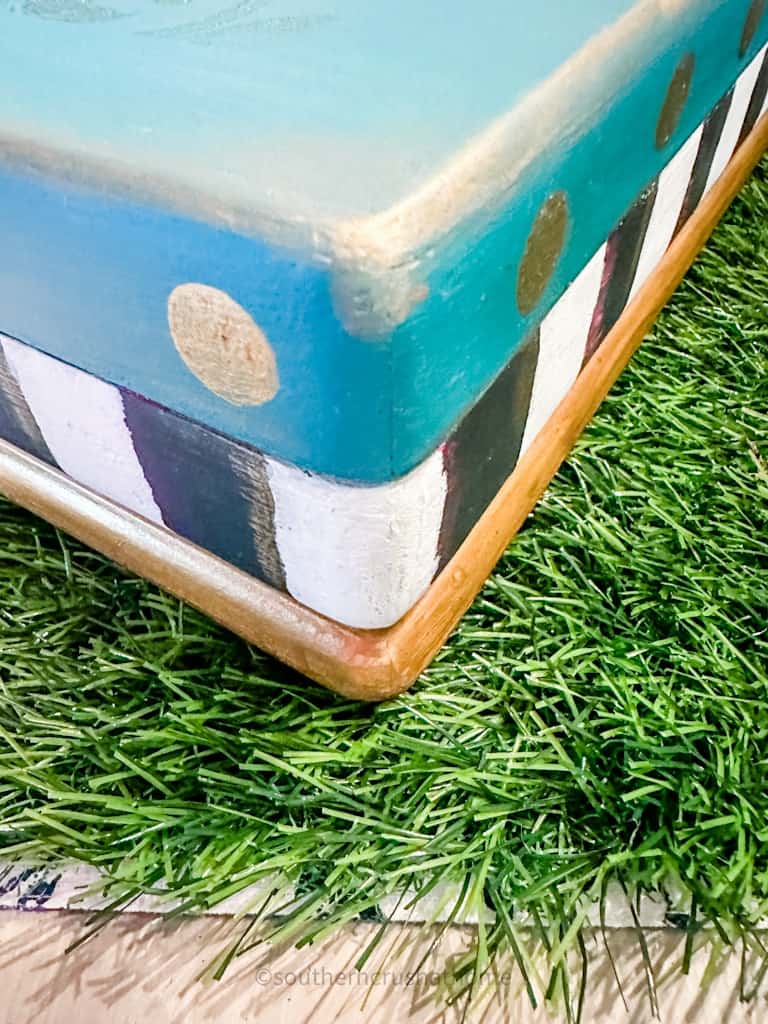 Step Five
Then using a spouncer, I added dots that mimicked the knob to the top trim.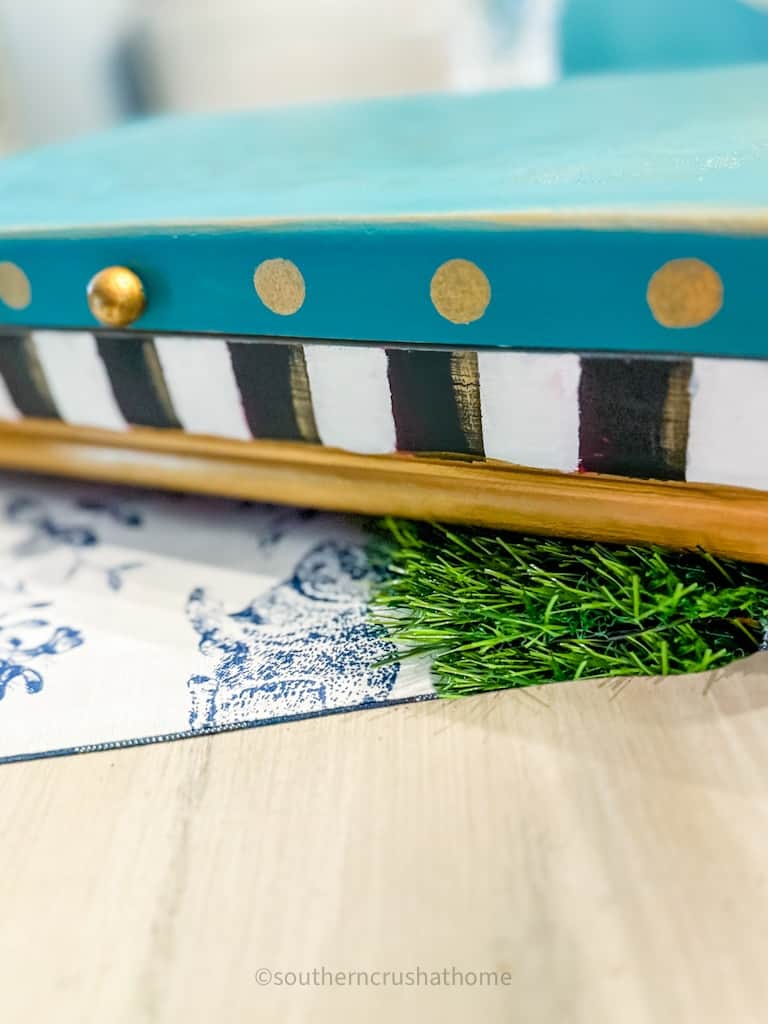 Step Six
As an added whimsical touch, I chose to attach wood bead feet to the silverware organizer box and then paint them along with the bottom trim in the Paint Pixie 24karat gold color!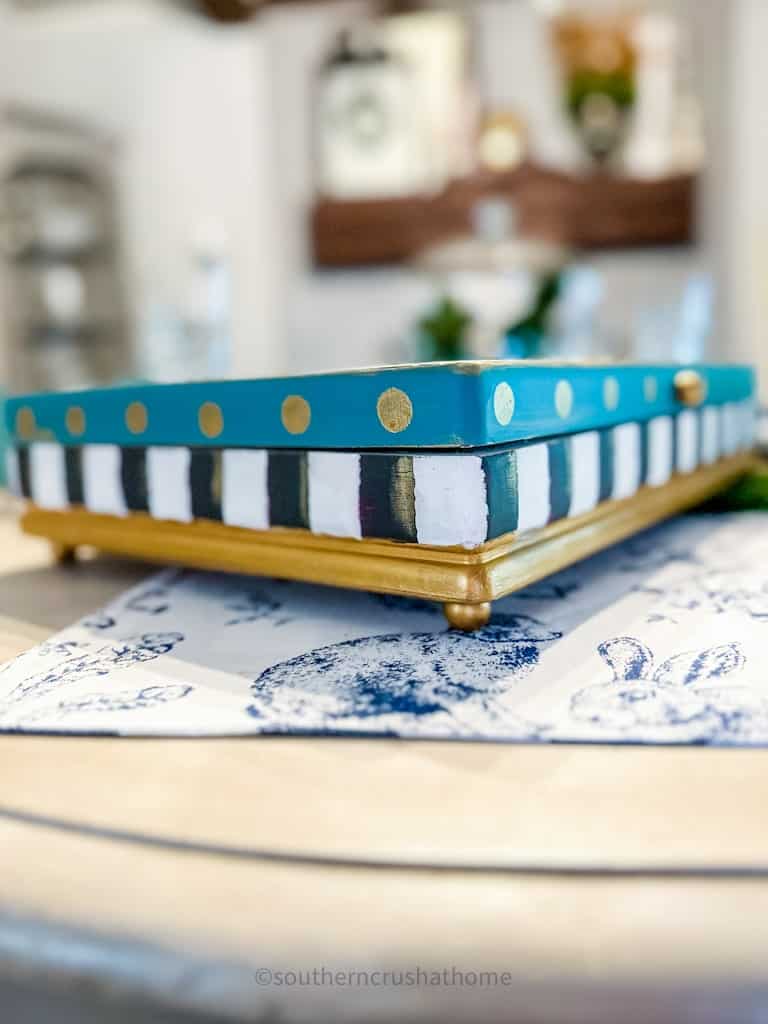 Step Seven
Finally, I returned the silverware set back to its new and improved home. I just love it!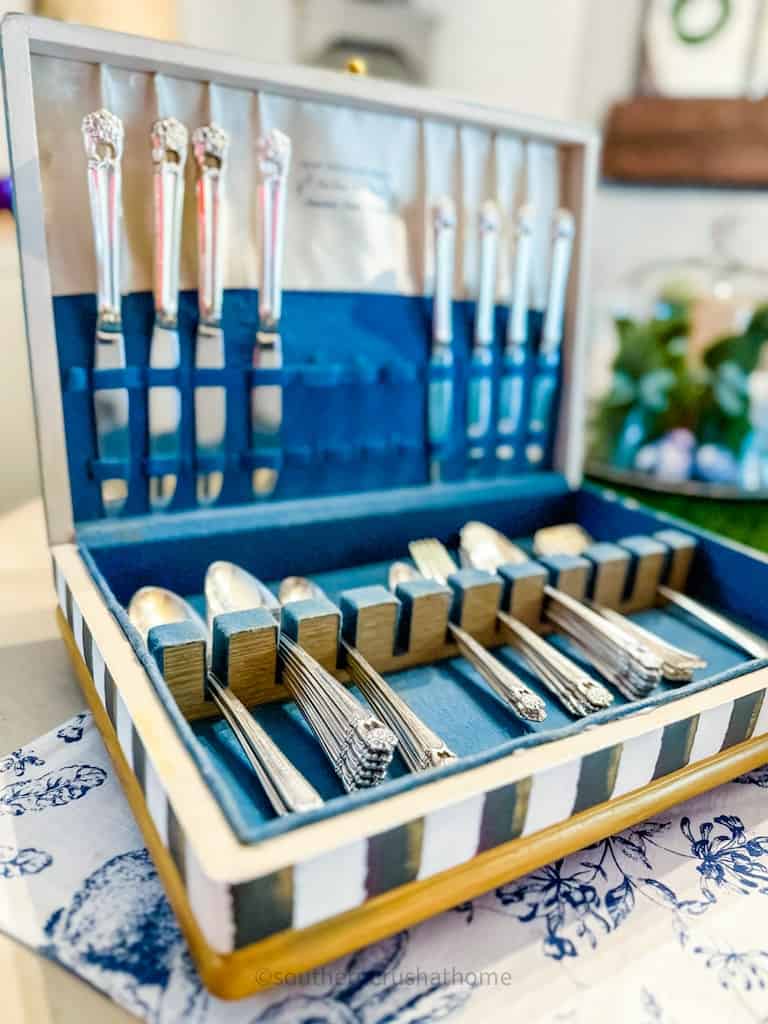 No more embarrassing flatware caddy. This whimsical silverware organizer is cute enough to leave out on display all of the time.
This not only adds a touch of charm to your dinner table, but also makes it easy for guests to grab the utensils they need without having to rummage through an ugly silverware chest.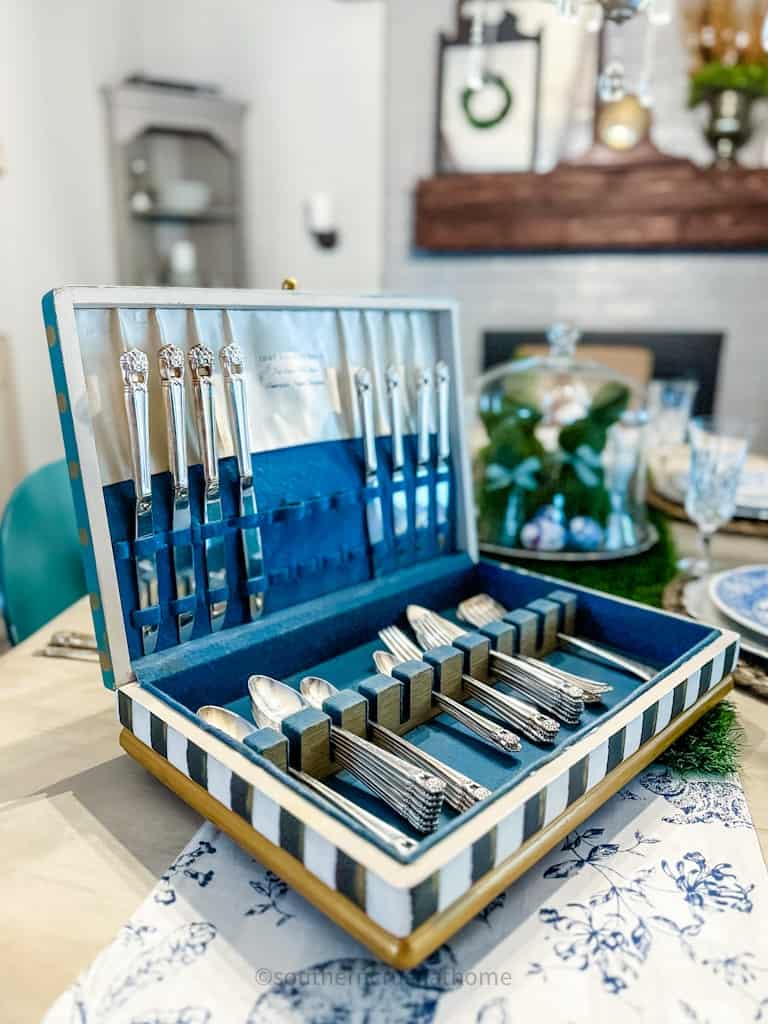 With this easy and fun DIY project, your silverware collection will be organized and oh-so-charming. So, channel your inner artist and give this project a try!
Let's clarify the difference between silverware and flatware. Silverware typically refers to items made of silver, while flatware encompasses any utensils used for eating or serving food.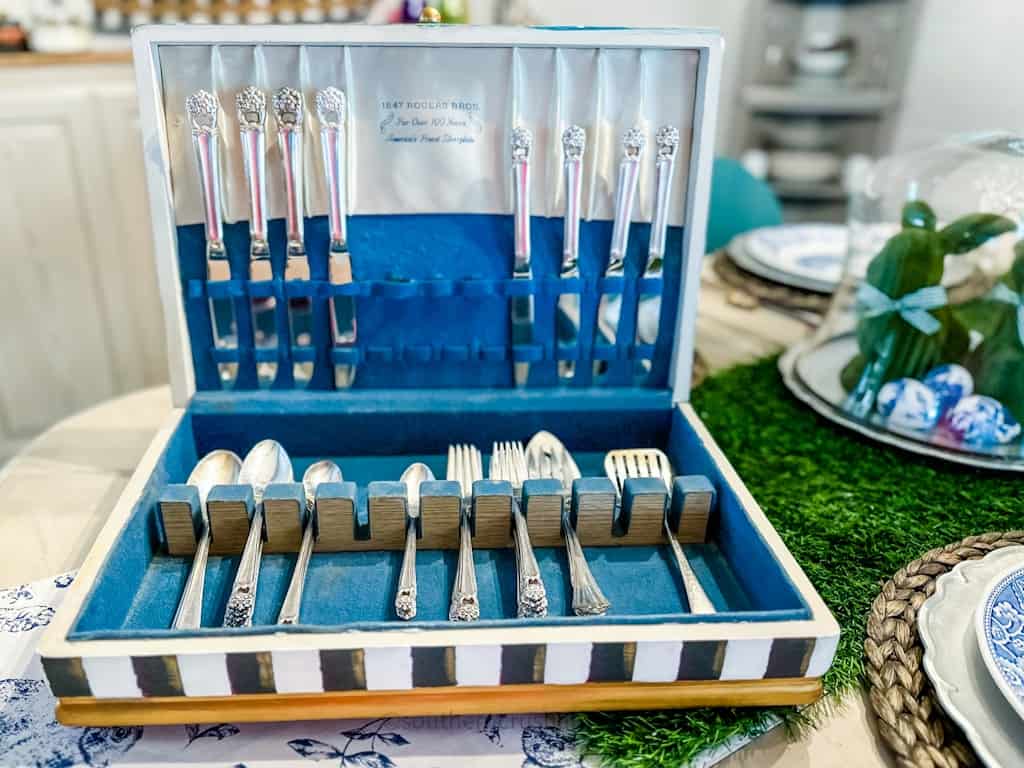 Flatware vs. Silverware What's the Difference?
| | Silverware | Flatware |
| --- | --- | --- |
| Definition | Cutlery made from silver or silver-plated metal | Cutlery made from any material, including stainless steel, plastic, wood, etc. |
| Material | Silver or silver-plated metal | Any material, including stainless steel, plastic, wood, etc. |
| Cost | More expensive due to the use of silver | Less expensive due to the use of non-precious materials |
| Maintenance | Requires regular polishing to maintain shine | Low maintenance, often dishwasher safe |
| Durability | Less durable due to the softer metal and requires more care | More durable and can withstand regular use |
| Tradition | Often associated with formal dining occasions | Can be used for both formal and informal occasions |
| Usage | Often used in high-end restaurants and special occasions | Used in both casual and formal dining settings |
| Value | Considered a valuable and precious item | Considered an everyday item |
| Availability | Less common and not readily available in many stores | Widely available in many stores |
Note: While there is some overlap in the use of the terms "silverware" and "flatware," traditionally "silverware" refers specifically to cutlery made from silver or silver-plated metal, while "flatware" refers to cutlery made from any material.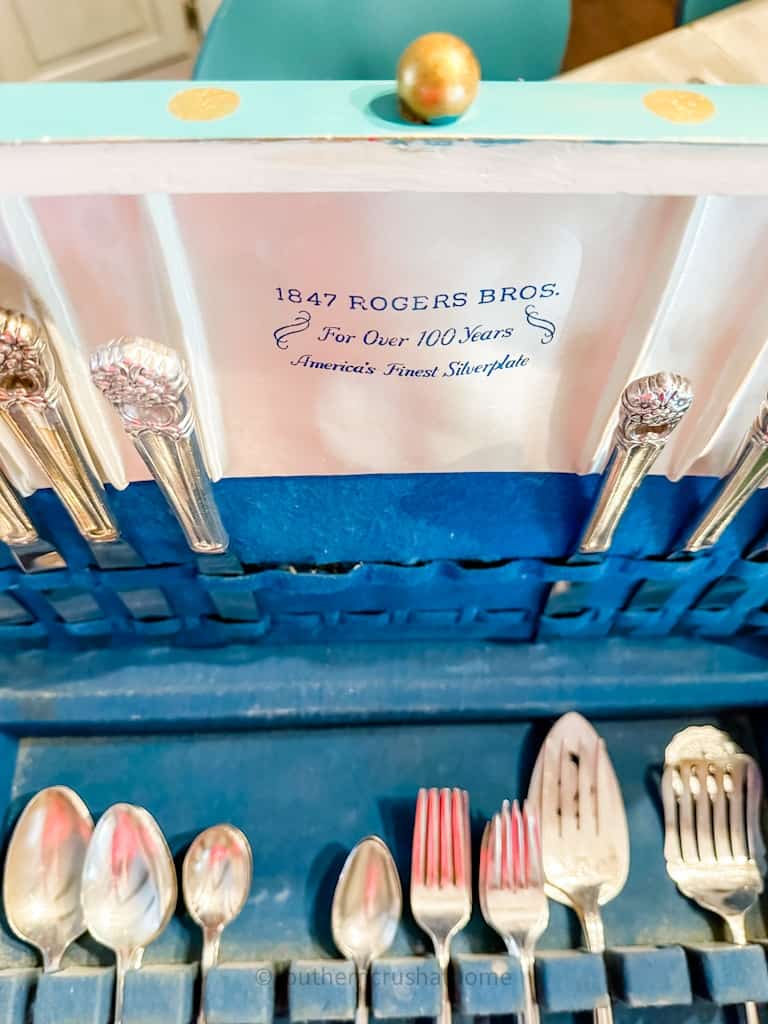 WM Rogers Silverware History
One brand that is well-known for its exquisite silverware is WM Rogers Bros. Their elegant designs have been gracing dinner tables for over a century.
Founded in the mid-19th century by the master silversmith William Rogers, WM Rogers silverware quickly gained a reputation for its exceptional quality and innovative designs.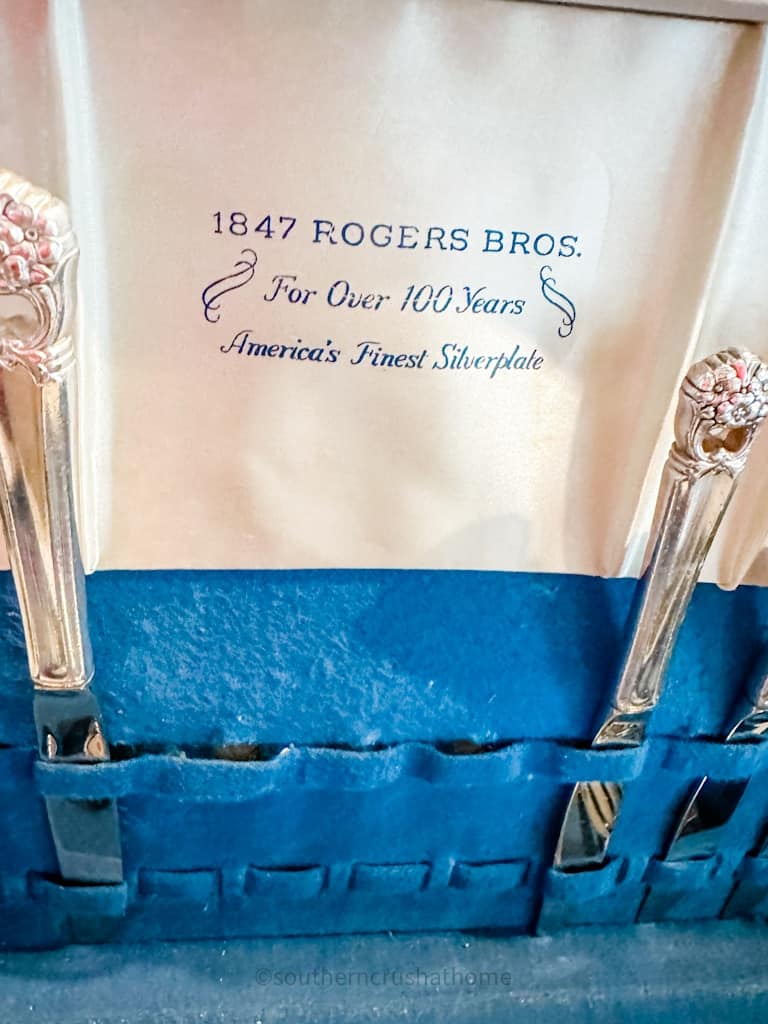 Working alongside his son, William Henry Rogers, the Wm Rogers Manufacturing Company produced a wide range of silverware, including flatware, hollowware, and serving pieces. Their dedication to quality and craftsmanship led to their becoming one of the largest silverware companies in the world by the turn of the 20th century.
The company continued to evolve with the times, producing silverware that reflected the changing styles and tastes of the era. In the 1930s, the Wm Rogers Manufacturing Company merged with other silverware companies to form the International Silver Company, which continued to produce silverware under the Wm Rogers brand name and others.
Today, vintage WM Rogers silverware is highly sought after by collectors and considered a valuable and treasured item. Do you own any WM Rogers silverware? Let me know in the comments below.