How to Hang a Wreath on Your Front Door (without making holes)
Is your front door looking a little bare? A wreath is a perfect way to add some personality and seasonal flair. But if you don't have any hanging hardware or are worried about putting holes in your door, don't worry – there are plenty of ways to hang a wreath without using nails or hooks. Check out these tips to get started.
This blog post contains affiliate links. The opinions are wholly my own from my own experience. I may earn a small commission from clicks through to the websites that end in a purchase.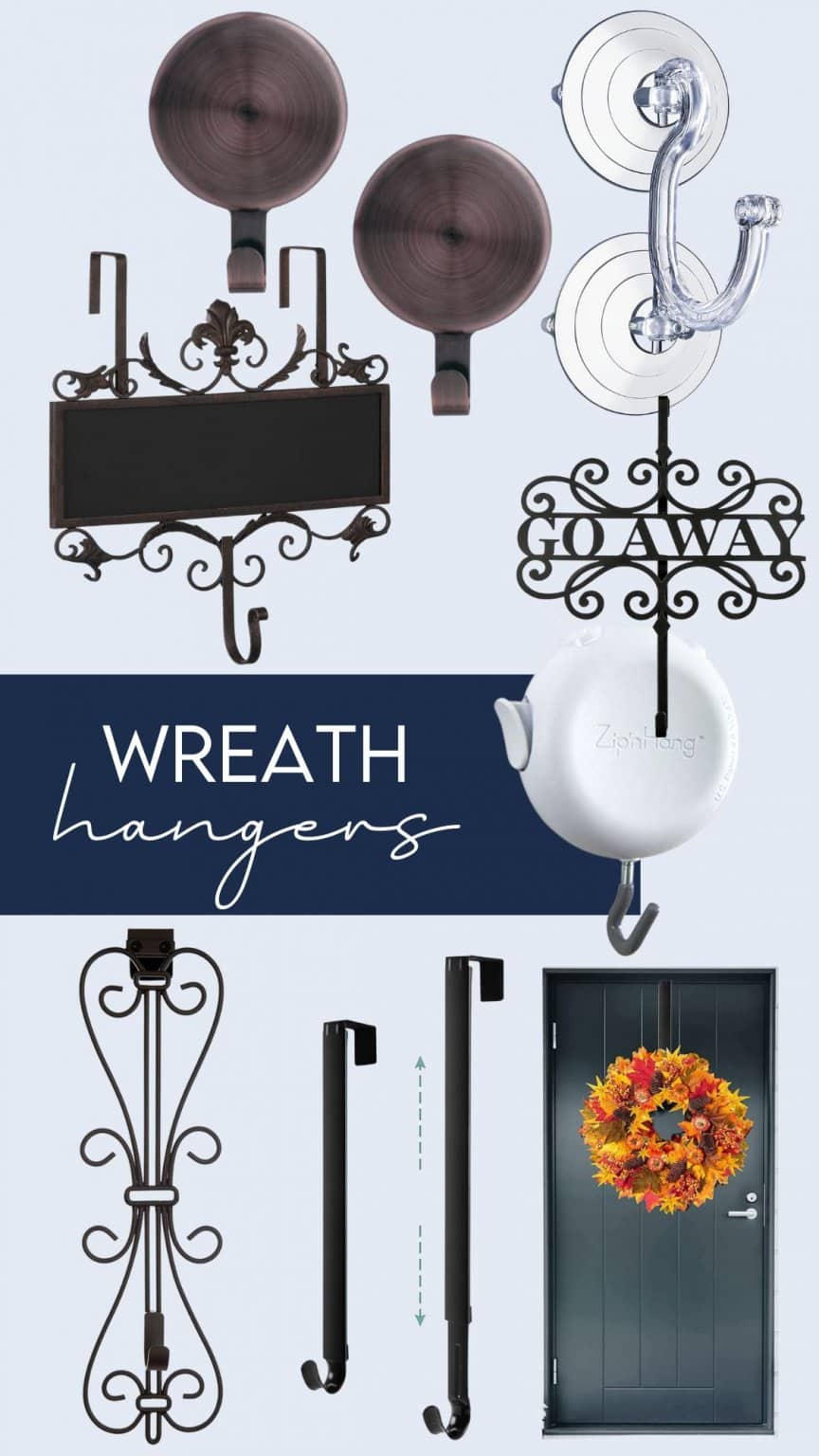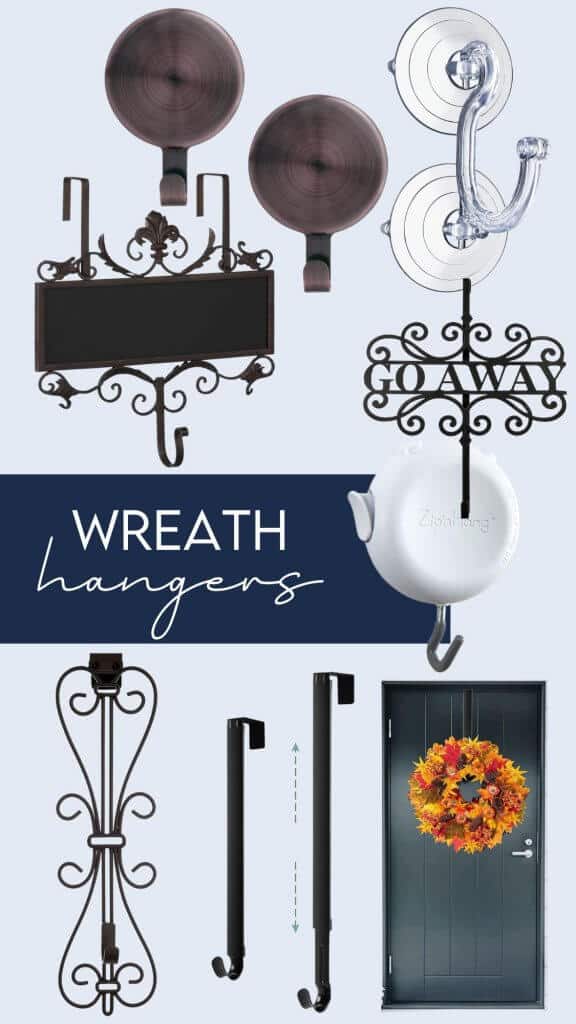 Be sure to PIN this for later!
Where to Buy Wreath Hangers
Shop my favorite options for hanging a wreath on your front door below.

How to Hang a Wreath on your Front Door
When selecting a wreath, choose one that complements both the color scheme and style of your house. For example, a rustic wooden sign wreath would add charm to a cottage-style home, while an elegant floral wreath would enhance the beauty of a Victorian house.
And don't forget about seasonal options – swap out for festive holiday wreaths during special occasions for an extra touch of celebration. Whatever style you choose, remember that the welcoming addition of a beautiful wreath will make for a warm and inviting first impression for all who pass by your home.
Choose the right wreath size for your door.
When selecting the perfect wreath for your front door, size matters. A wreath that is too small can appear lost and unimpressive, while one that is too large can be overwhelming and obscure the front of your door.
To ensure a balanced appearance, measure your front door before purchasing a wreath. Generally speaking, the diameter of the wreath should be approximately two-thirds of the width of your front door. However, this is just a guideline – ultimately, it's about finding a wreath that complements the proportions and overall aesthetic of your entryway.
Keep in mind that you can also hang multiple smaller wreaths for a unique and festive touch. Whatever size you choose, just remember to always hang your wreath at eye level for maximum impact.

Consider the weight of the wreath when choosing how to hang it.
When hung with care and attention, a wreath can add the perfect touch of holiday cheer to any home. However, before selecting how to hang it, be sure to consider the weight of the wreath. A heavier or denser wreath may require special hanging methods, such as using hooks or adhesive strips on doors without traditional wreath-hanging hardware.
Alternatively, try using a decorative ribbon or wire attached to the top of the wreath for hanging.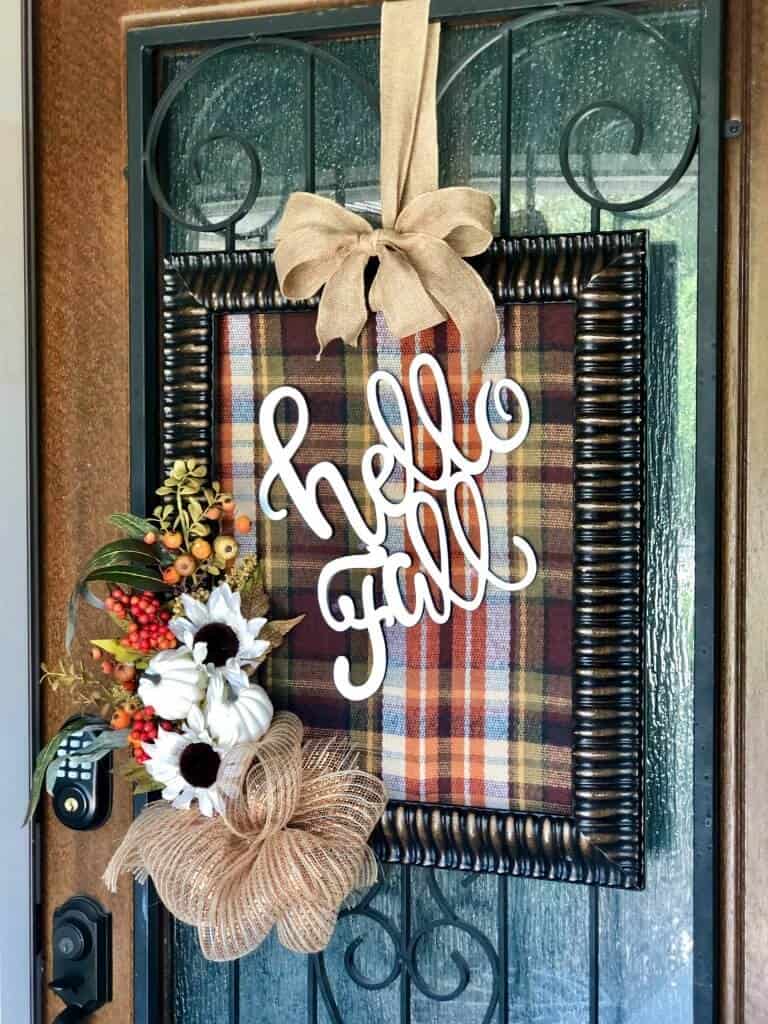 Keep in mind that these options may require extra caution when opening and closing the door, but they can help prevent damage to both your door and your beautiful wreath. Take a moment to assess the weight of your wreath before hanging it, and you'll have a merry and bright holiday display.
Decide on material for hanging the wreath that will work well with both the wreath and your door.
When it comes to hanging a wreath on your front door, the material you choose can make all the difference. You want something sturdy enough to support the weight of the wreath without leaving unsightly holes or marks on your door.
Adding a wreath to your front door is an easy way to enhance the curb appeal of your home without causing any damage. Rather than hanging with nails or screws, use a heavy-duty wreath hanger to securely display the wreath without leaving holes in the door.
Command hooks, magnetic hooks or adhesive velcro strips are both excellent options for avoiding damage to your door's surface.
Using wire or fishing line, you can also hang the wreath from existing fixtures such as a door handle or window latch for added stability.

Whatever material you decide on, just make sure it can hold the wreath securely without causing damage to your door.
Hang the wreath using command strips, magnetic hooks, or another method depending on your front door.
When it comes to hanging a wreath, there are various options available. I personally prefer using command strips, simple zip ties, or hooks.
For glass front doors command hooks offer a clean and seamless look without causing any damage.
Another great option for glass front doors is a suction cup wreath hanger like this one.
Over-the-door wreath hangers work well for wooden front doors, but make sure to use the proper type and size in order to give the wreath enough support without damaging the door.
Fancy Wreath hangers can come in some really fun ornate options for even more curb appeal, like this chalkboard option you can even use Magnolia Stencils on! Imagine changing out the chalkboard with sayings that are perfect for each season! Find stencils and chalk paste HERE.
Here is another pretty wreath hanger.
If your front door is made of metal or another material, consider using an alternative method such as magnetic hooks for hanging the wreaths.
Finally, there is a universal wreath hanging option for almost every front door out there called a zip 'n hang hanger. These are handy little suction cup wreath hangers with additional reinforcement at the corners of your door. Find them here.
Whatever option you choose, make sure it can support the weight of the wreath and will not cause damage to your front door.

Make sure the wreath is level and secure before closing your door.
The finishing touch on your holiday decorating is hanging a beautiful wreath on your front door. Before closing the door, take a few moments to make sure that the wreath is level and securely attached. You don't want to inadvertently knock it askew each time you enter or exit your home.
It's also important to ensure that the weight of the wreath and any added decorations won't cause it to come crashing down with the force of a slammed door. A quick check now can save you the hassle and potential damage later on. And who knows, maybe Santa will also appreciate a well-hung wreath when he stops by!
Front door wreaths are a great way to welcome guests into your home during the holiday season. By following these tips, you can choose the right size and hang your wreath securely, so that it looks great and lasts throughout the season.