How Long Should My Curtains Be?
Choosing the right length of curtains for your home can be a pretty intimidating task. Not only do you have to decide on the fabric, color, and pattern, but you also need to make sure that they are the right length. Too long and they will drag on the floor; too short and they will look awkward. So how do you know what length is best? It used to be a mystery to me, but now I want to share with you how to determine how long your curtains should be.
This blog post contains affiliate links. The opinions are wholly my own from my own experience. I may earn a small commission from clicks through to the websites that end in a purchase.
If you're looking for OUTDOOR Curtain Ideas, then check out my post below for an easy way to add curtains to a patio!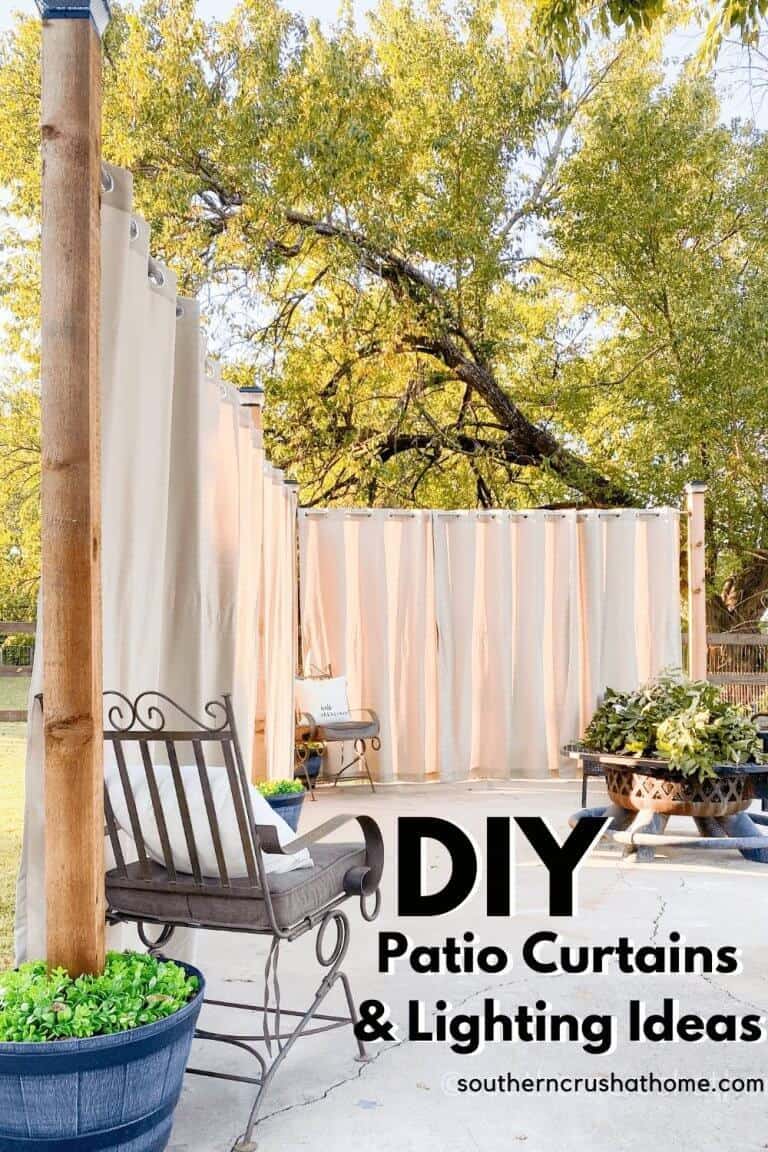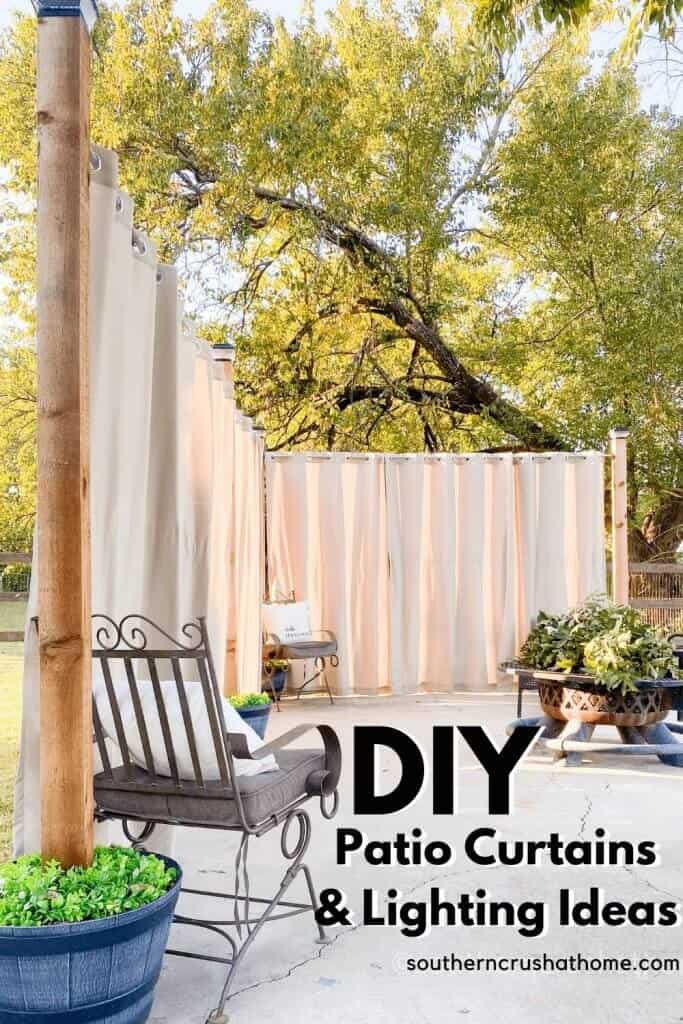 What Length Are Curtains?
Curtains are an essential part of interior design, and the length of the curtains you choose can make a big difference in the overall look and feel of the room. By following these curtain length rules, you can create a beautiful and functional window dressing that enhances your decor and provides the privacy and light control you need.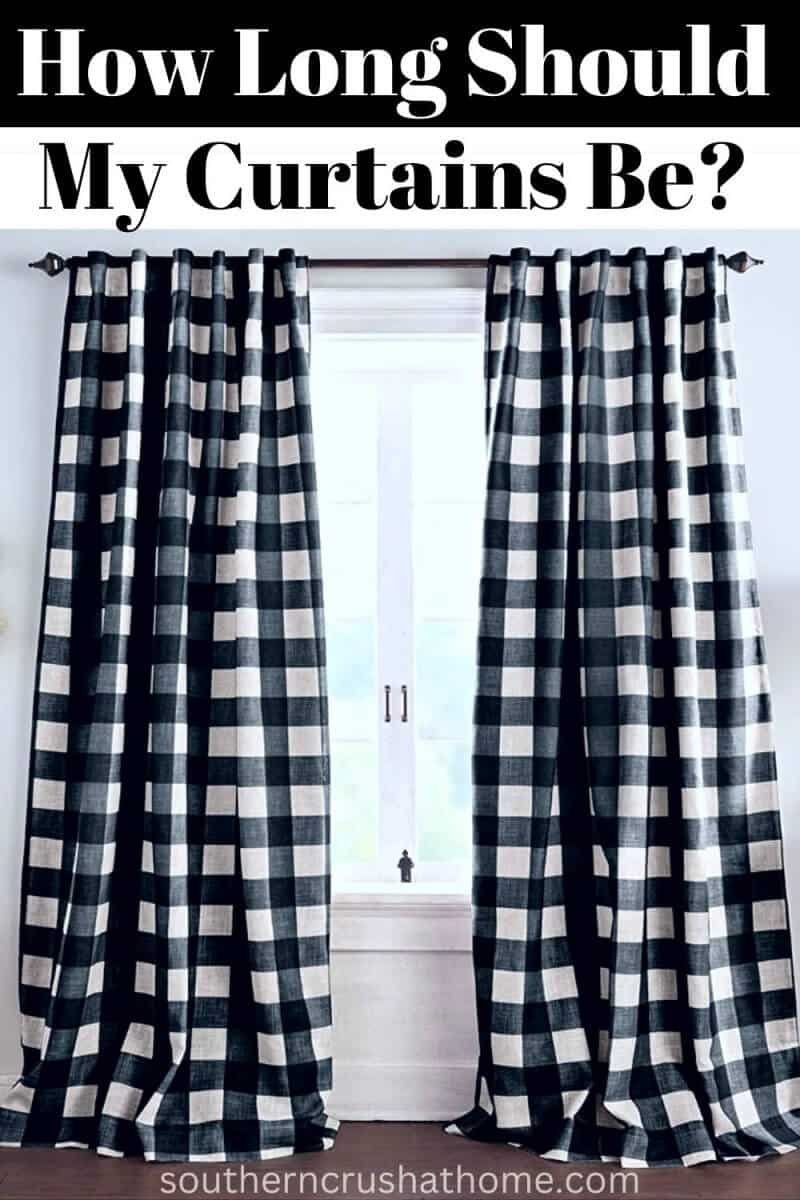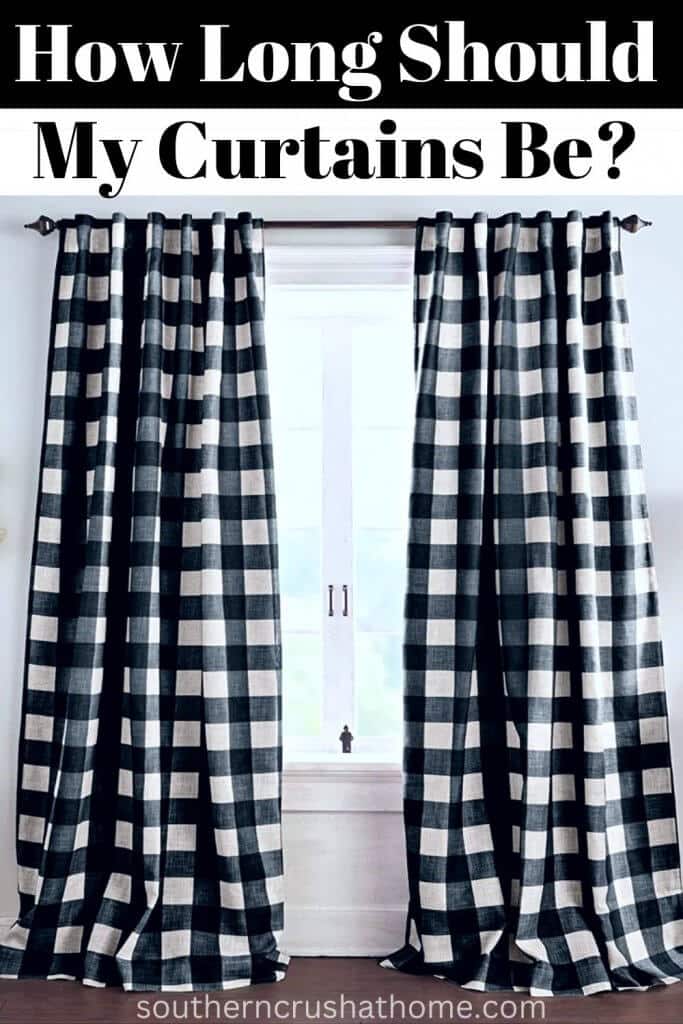 Be sure to PIN this for Later!

Standard Curtain Lengths

There are basic curtain lengths that apply to all curtains to help keep them standardized. Most drapery panels come in standard lengths of 63", 84", 95", 108", and 120".
The size of the window you have will determine which length is right for you. If your window is shorter than 63 inches then a valance or window scarf would be a better choice than full-length curtains.
For windows that are between 63" and 84" long, floor-length curtains are usually best. Windows around 84-95 inches look best with curtains that hang just above the floor—this will give the illusion of height without making the room feel overcrowded with fabric.
Windows 96-108 inches in length typically require curtains that hang at least 1/2 inch from brushing against the floor for a modern look.
Finally, windows 109-120 inches in length require a minimum 9-inch clearance from the ground to prevent dragging on the floor when opened or closed.

Hanging Method Matters
In addition to selecting the proper length of curtain panels, it is important to consider how you plan to hang them as this can affect their overall look as well as their functionality. If your curtain rod is hung higher than usual—closer to ceiling level—then you may want to opt for longer panels so that there is still ample coverage when opened or closed.
On the other hand, if you plan to hang your rod closer to window level then shorter panels may be more aesthetically pleasing and practical since they won't drag on the ground when opened or closed. Here are a few curtain length rules below to follow.

Curtain Length Rules: A Guide to Beautifully Dressed Windows
Curtains are a key element in interior design, as they can add style, texture, color, and privacy to a room. They can also cut down on sound and light. However, choosing the right length of curtains can be a bit tricky, as there are various factors to consider, such as the height of the window, the flooring type, the ceiling height, the furniture arrangement, and the desired look. Here are some curtain length rules to help you achieve a beautiful and functional window dressing.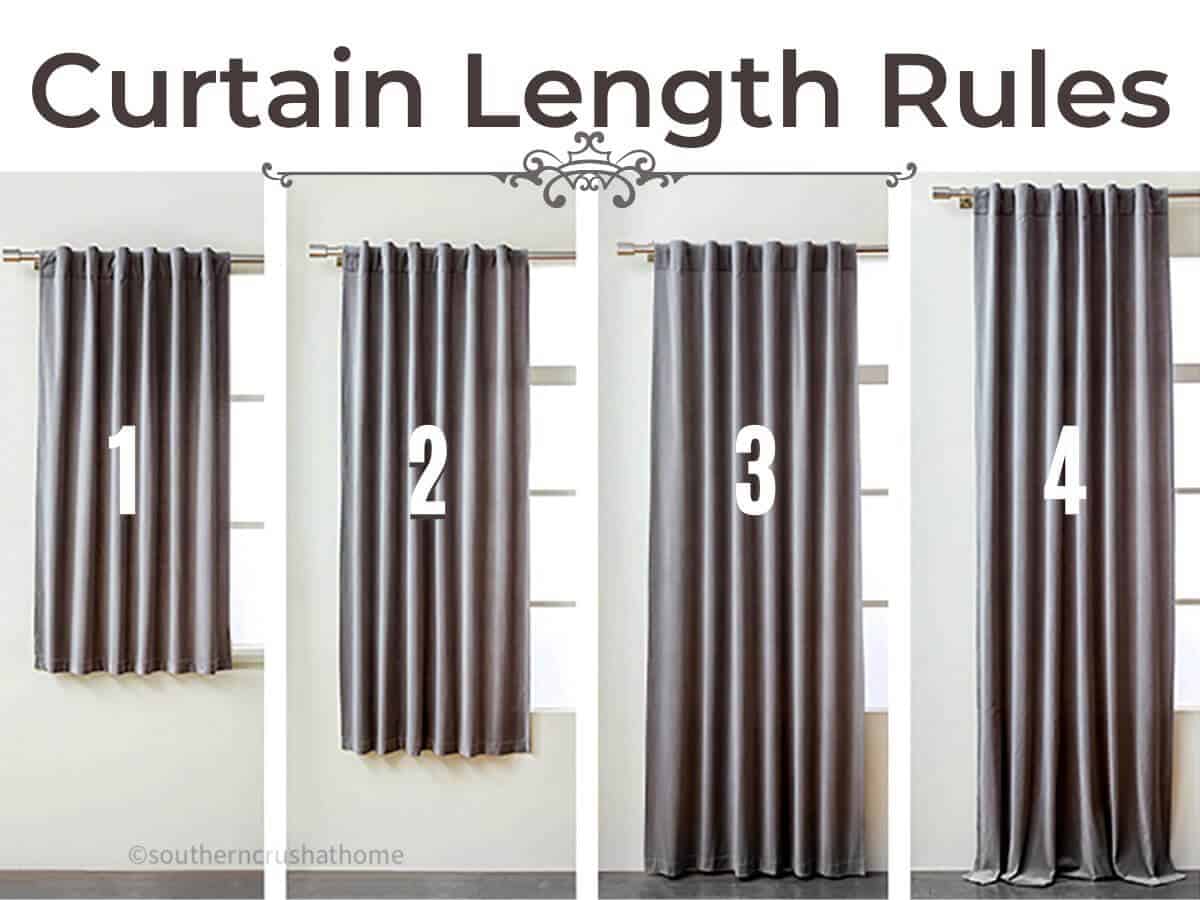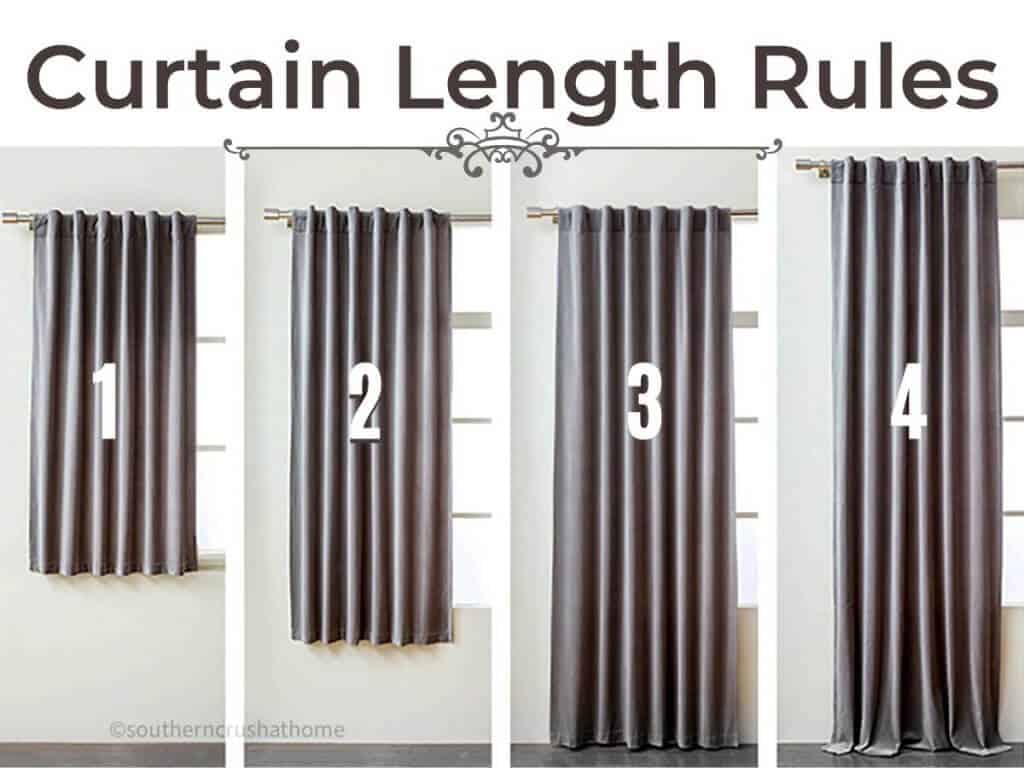 1. Sill-length curtains
Sill-length curtains are a practical and versatile option, as they cover the window and provide privacy, without obstructing the view. They should sit at the sill, or just above it, to create a neat and streamlined appearance. Sill-length curtains are ideal for small windows and for windows with a low ceiling height. Recommended length: 63″
Quick Tip: This curtain length is perfect for windows you open all the time such as those in bathrooms or kitchens.
2. Apron-length curtains
Apron-length curtains are a casual and easy option, as they can be adjusted to make a window appear larger. The length also adds dramatic elements, lifting the height of the room while providing instant interest. Whether you're attempting to add a bit of drama and sophistication or some effortless charm, these length curtains can do just that. With a length that falls between floor length and café length, they offer the best of both worlds—and they look great, too! Recommended length: 63″—84″
3. Floor-length curtains
Floor-length curtains are a classic and elegant option, as they add a sense of height and sophistication to the room. They should touch the floor, but not drag on it, as this can cause wear and tear. If the window is close to the floor, you can choose a slightly shorter length, such as half an inch above the floor, to avoid tripping. If the window is high, you can choose a longer length, such as an inch or two below the floor, to create a more dramatic look. Recommended length: 84″—96″
4. Puddle-length curtains
Adding length to your curtains is a great way to make a fashionable statement in any room. Puddle length gives a luxurious touch and extra drama! For maximum decorating effect, use a heavy fabric and add some length for more impact. Not only does this help define the space, but it looks beautiful flowing along the length of your window. Recommended length: 108″—124″
Quick Tip: This length of curtain is best in low-traffic areas without kids and pets.

More Curtain Styles
Café Curtain Lengths
Café curtains are a charming and intimate option, as they cover only the lower half of the window, allowing natural light to enter the top half. They should sit at the sill, or just above it, and cover the bottom half of the window, up to about halfway between the sill and the window frame. Café curtains are a great choice for windows that need privacy but also need to maintain some natural light.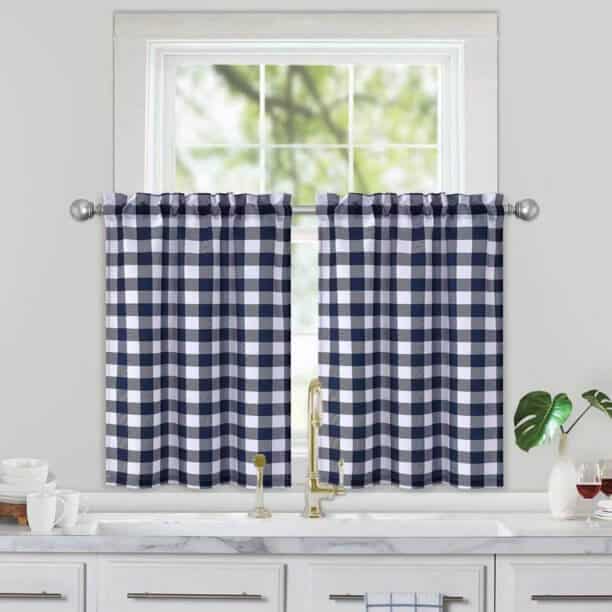 Swag and Tails Curtain Lengths
Swag and tails curtains are a romantic and elegant option, as they create a lush and billowy effect. They are typically hung from a central point, such as a hook or a rod, and fall in graceful folds on either side of the window.
The tails can be long or short, depending on the desired look. Swag and tails curtains are ideal for large windows or for windows that need to be dressed in a more formal or traditional manner.
There are so many fancy styles: Empire, Pole Swag, Kingston, Murphy, Murphy Tails, Victory, Cris Cross Swags, Kingston Pole Swag, Basic Pleated Swag, Basic Pole Swag, Vienna, Squire, Manhatten, Medallion, Elaborate Empire, Basic Pleated Swag over Panels (my favorite), Soft Swag & Cascades, and another version of the Murphy swag style. See the images below for inspiration!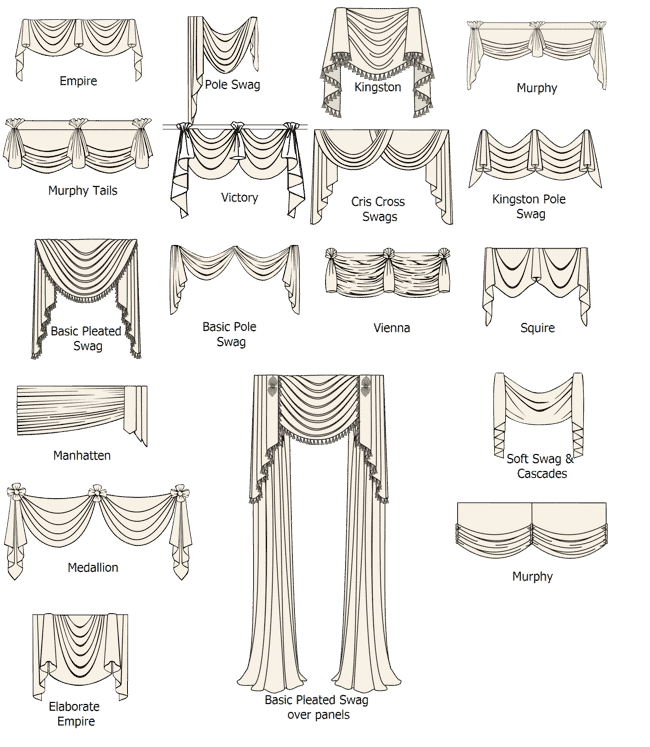 The perfect curtain length really comes down to personal preference and style choice—just make sure not to hang them too low! With all these tips in mind, choose a curtain panel length that works with both your window size and desired hanging style for an effortlessly chic look in any room of your home!

Where to Shop for Curtains
It's never been easier to find beautiful curtains for your home! With a wide variety of stores offering everything from classic to trend-setting styles, you can make sure that your windows look as great as the rest of your home. It's always important to double-check quality, so if you go secondhand don't forget to inspect the material and be sure it will last over time. Have fun with it and let those windows shine!
I'm sharing a few of my favorite curtains with you below.