Looking for something sweet and satisfying? These melt in your mouth praline pecans are the perfect solution! Pecans, brown sugar, and butter come together for a sweet delicious mixture you can eat on its own or as a topping for your favorite dessert, ice cream, or even yogurt. Or better yet throw it on top of salads and stir-fries. Candied pecans go well with lots of dishes and add a nice sweet crunch.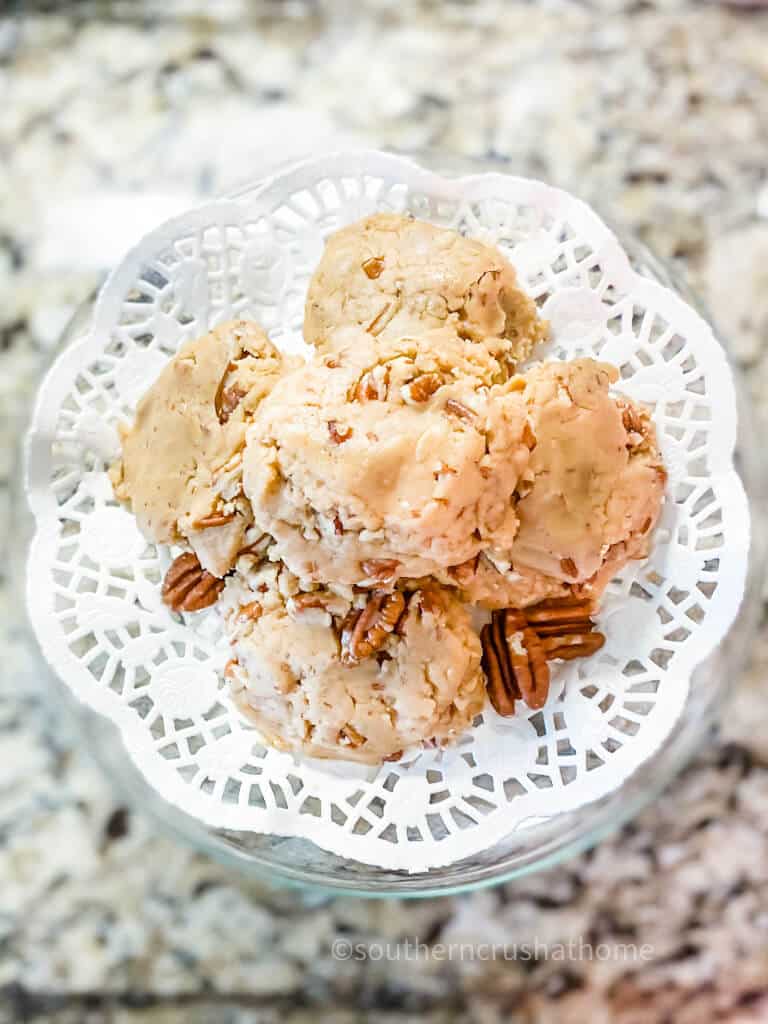 This stovetop recipe for praline pecans is really an easy way to make candied nuts.
Are you looking for more snack options? Check out this Jarcuterie recipe, these Easy Dessert Strawberries (Red, White, and Blue), or How to Make Popcorn Balls .
This blog post contains affiliate links. The opinions are wholly my own from my own experience. I may earn a small commission from clicks through to the websites that end in a purchase.
Why You'll Love These Easy Praline Pecans
quick easy stovetop method
great to eat on their own or on salads, dessert, ice cream
they keep really well
Equipment You Need To Make This Recipe
measuring cups and spoons
saucepan
aluminum foil
wooden spoon
candy thermometer (I like this one because it clips onto the side of your pot and has an easy to read temperature guide for candy temperatures)
Praline Pecan Ingredients
3 cups of light brown sugar
1 cup of heavy whipping cream
1 teaspoon of vanilla extract
1/2 stick of unsalted butter
2 Tablespoons of light corn syrup
2 cups of chopped or whole pecans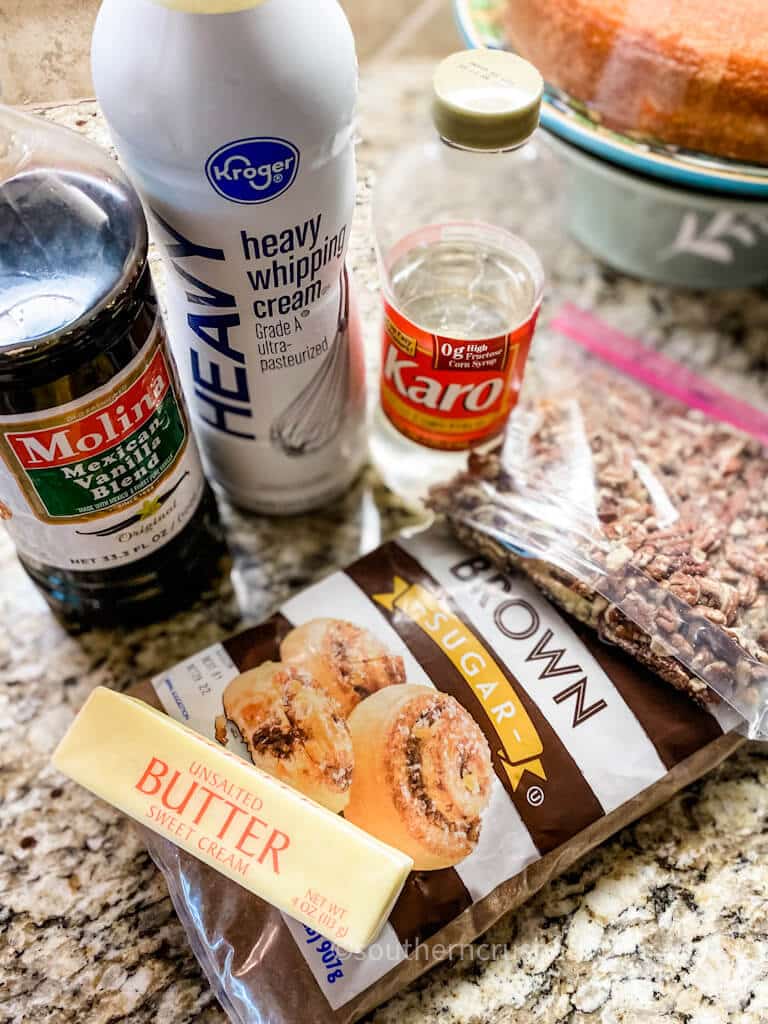 How To Make Candied Pecans
Start by spreading butter all over a sheet of aluminum foil. Set aside
Add butter and tightly packed cups of light brown sugar to a saucepan.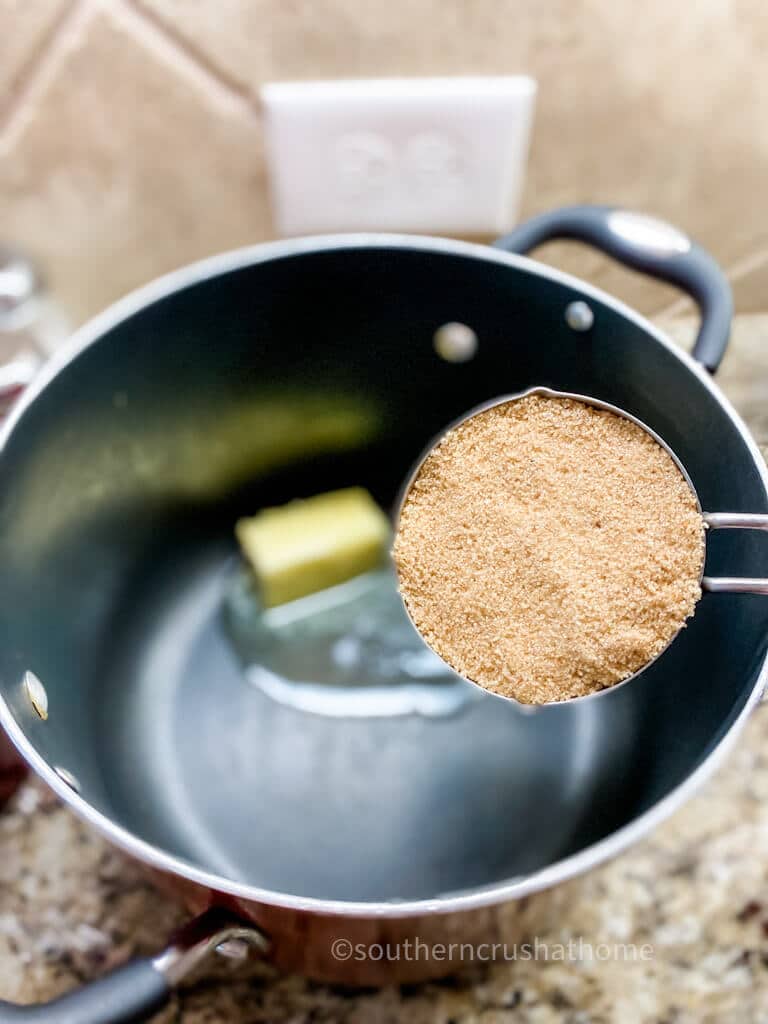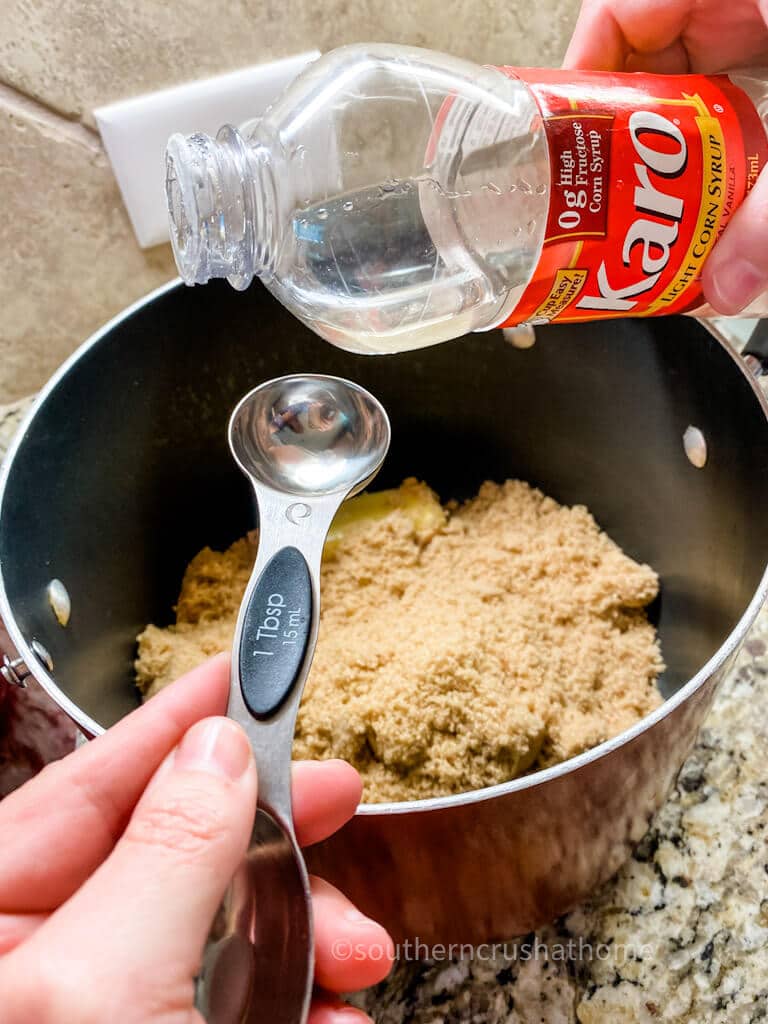 Next add the heavy whipping cream.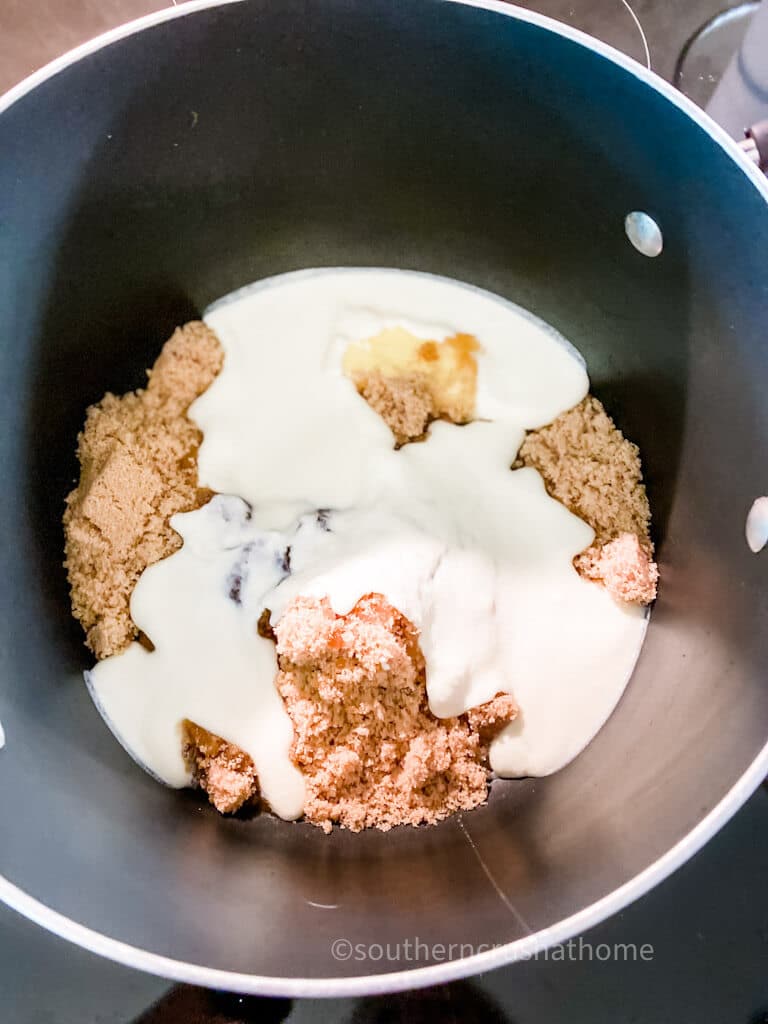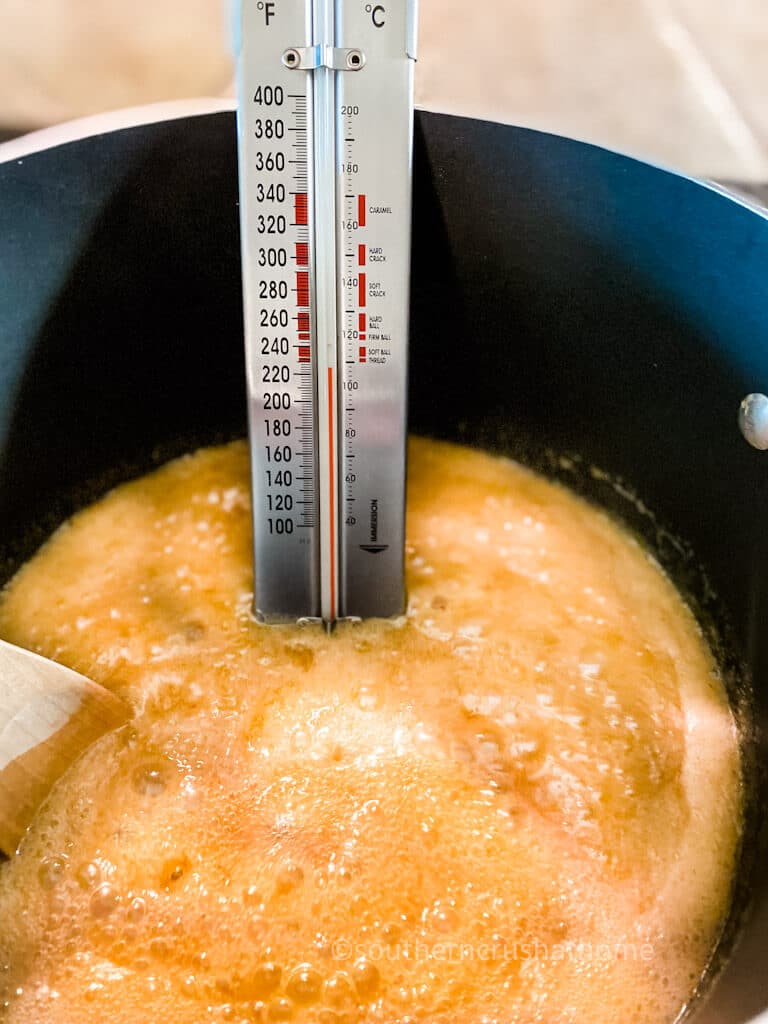 You can also use the "spoon" method if you don't have a candy thermometer.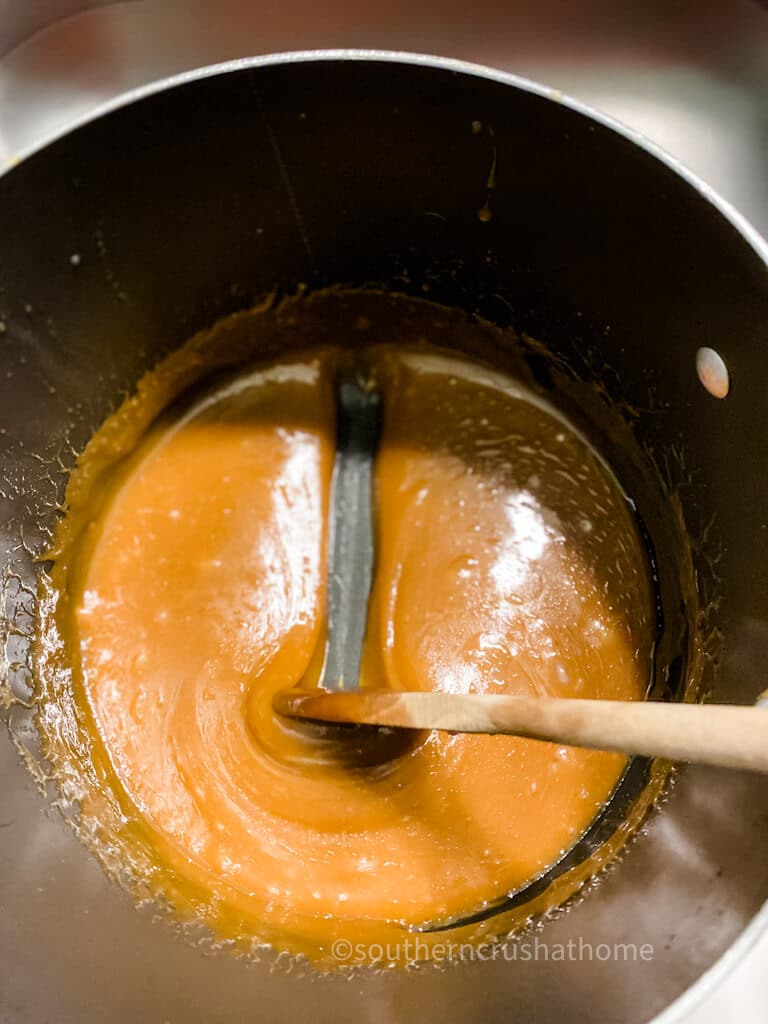 The mixture should stick to the back of a wooden spoon but still be able to slide off as shown.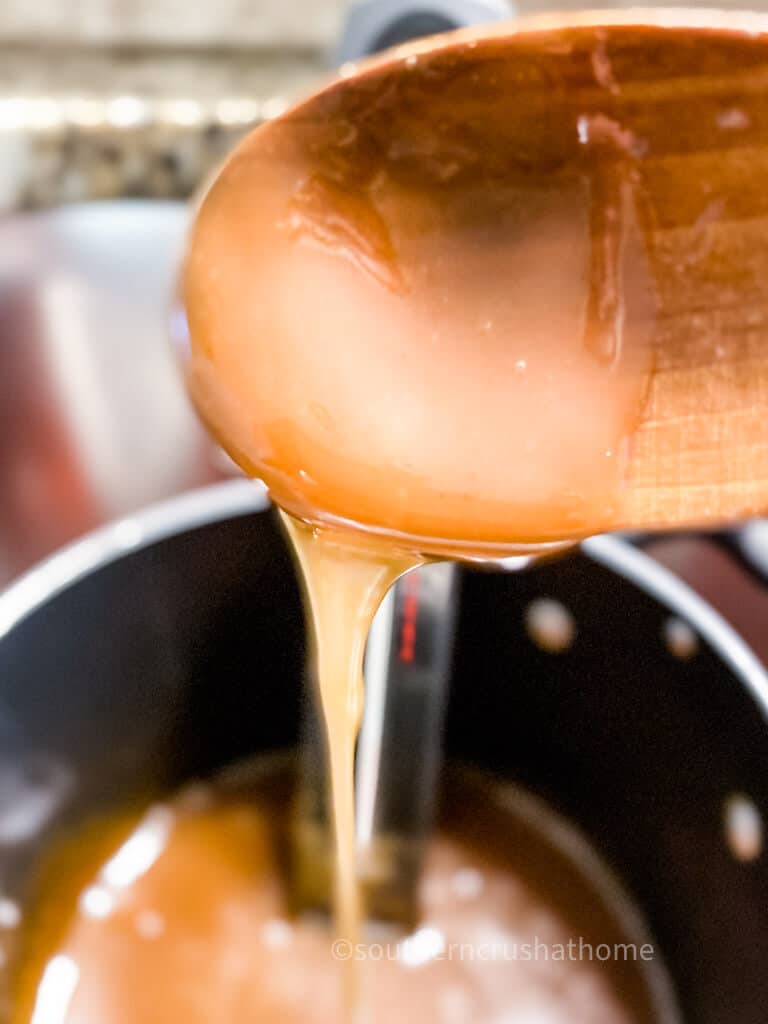 Remove from heat.
Let cool until it reaches 150 degrees Fahrenheit.
Stir in vanilla and finally pecans.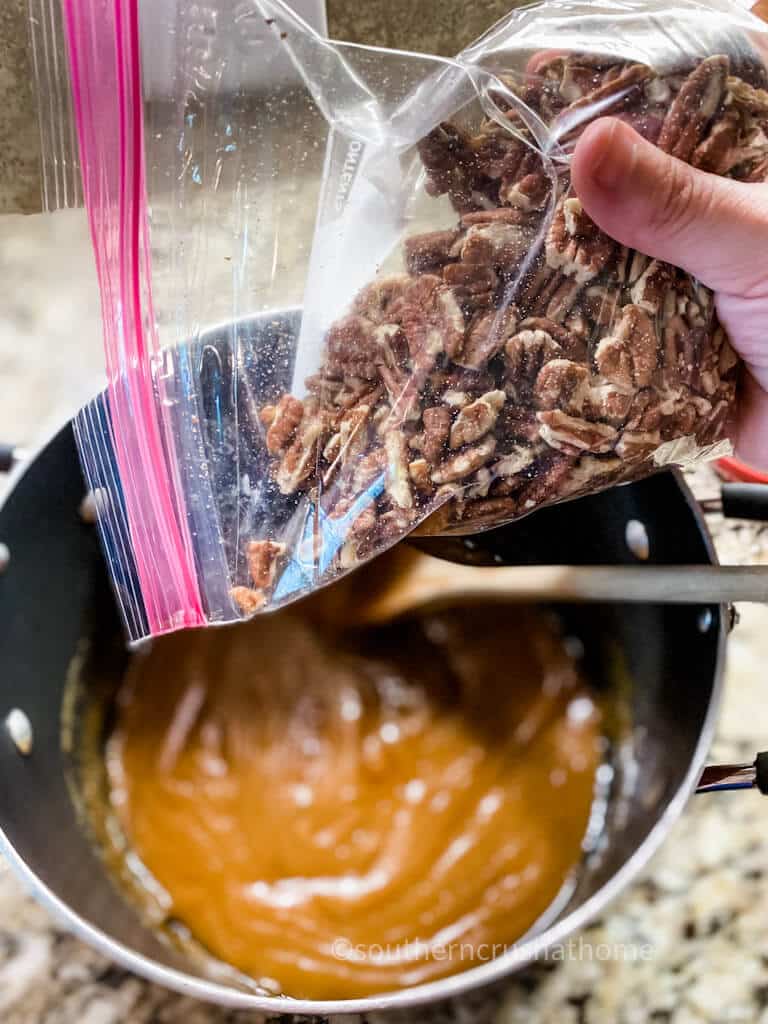 Use a greased scoop or spoon to evenly place onto the butter-greased foil sheet or baking pan lined with parchment paper until set.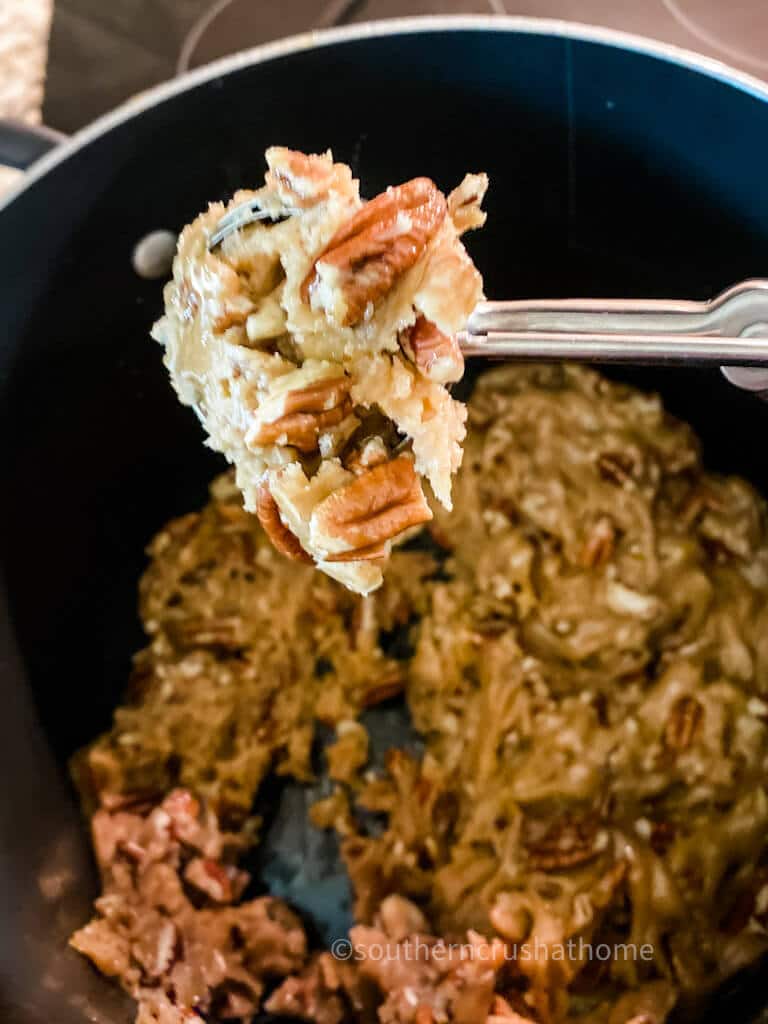 This is where you can choose to form them into a traditional praline shape or spread them out into loose crumbles as more of a topping.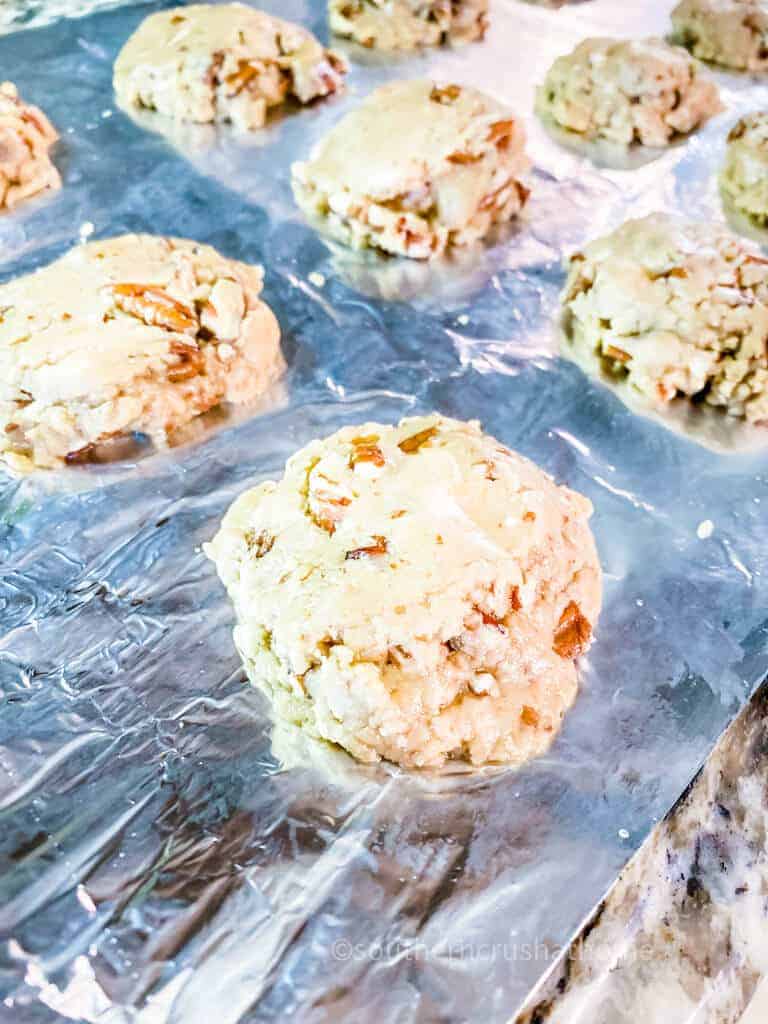 Serve on a cute platter or store in a cool dry air-tight container.
All About Pralines
Pralines made with cream, milk, corn syrup, and sugar originated in the south. Pralines are most often made with pecans though other nuts can also be used. These homemade southern pralines have a fudgy taste and texture. I love them!!!!!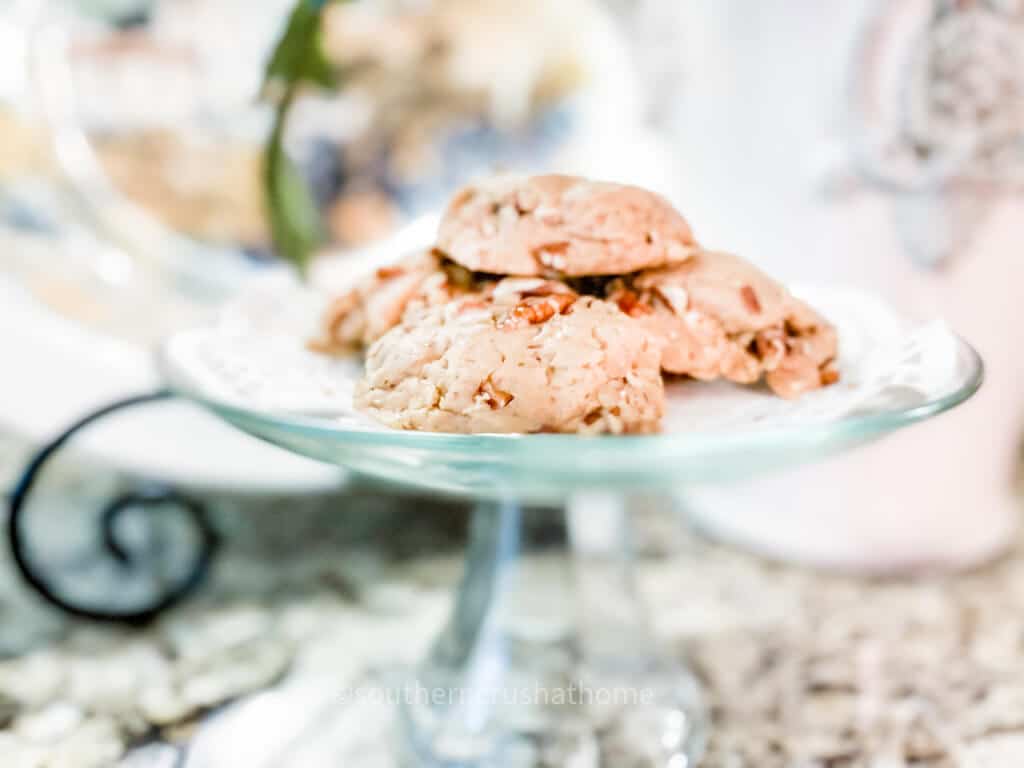 Variations Of Praline Pecans
use a different nut like almonds or cashews – make sure they are unseasoned and unsalted
use a combination of nuts or seeds – mix pumpkin and sunflower seeds with almonds or pecans
add maple syrup or honey instead of corn syrup
add some cinnamon or cayenne pepper for some spice
toast the nuts or seeds before coating them with the butter and sugar mixture
Tips and Tricks For Making Homemade Candied Pralines
make sure to buy unseasoned/unflavored fresh nuts
any type of brown sugar should work in this recipe
if you don't have heavy whipping cream on hand you can use regular whipping cream or heavy cream though if you go with a lighter consistency of the cream you may not get the richness from a heavy whipping cream
make sure to cook the praline mixture well so the sugar dissolves, you don't want a grainy texture
have a candy thermometer on hand so you can be sure the mixture reaches the correct temperature
How To Store Candied Pralines
Homemade candied pralines can be stored on the counter in an airtight container like these cute mason jars for a few weeks.
They can also be frozen if you don't think you'll be eating them right away. You can also double the recipe and make a big batch for the freezer so you always have candied pralines on hand.
FAQs
Are pralines and pecans the same thing?
No pralines and pecans are not the same things. Pecans are a nut. Pralines are made out of nuts and caramelized sugar. Most often pralines are made with pecans though pralines can also be made with other nuts.
What is the difference between pralines and candied pecans?
Candied nuts, including pecans, are often made with white sugar and an egg white. Pralines are nuts that are caramel coated with a mixture of brown sugar, butter, and cream. They are both sweet in nature but have slightly different taste profiles.
Can I make praline pecans in the oven?
Yes, absolutely! There are two ways to make candied pecans; either in a saucepan on the stove or baked on a cookie sheet in the oven.
Why are my pralines a bit grainy?
If your pralines are grainy it could be that the brown sugar did not completely dissolve. Make sure to stir well so that the brown sugar breaks down completely.
How do you serve praline pecans?
Praline pecans can be eaten on their own or served on top of many dishes. If you are having a party, place them in a serving dish and leave them out for your guest to munch on while they mingle.
Or try making a fun homemade ice cream sundae bar and let guests top their ice cream with the pralines. Try them with this amazing Peach Ice Cream recipe— you won't be disappointed!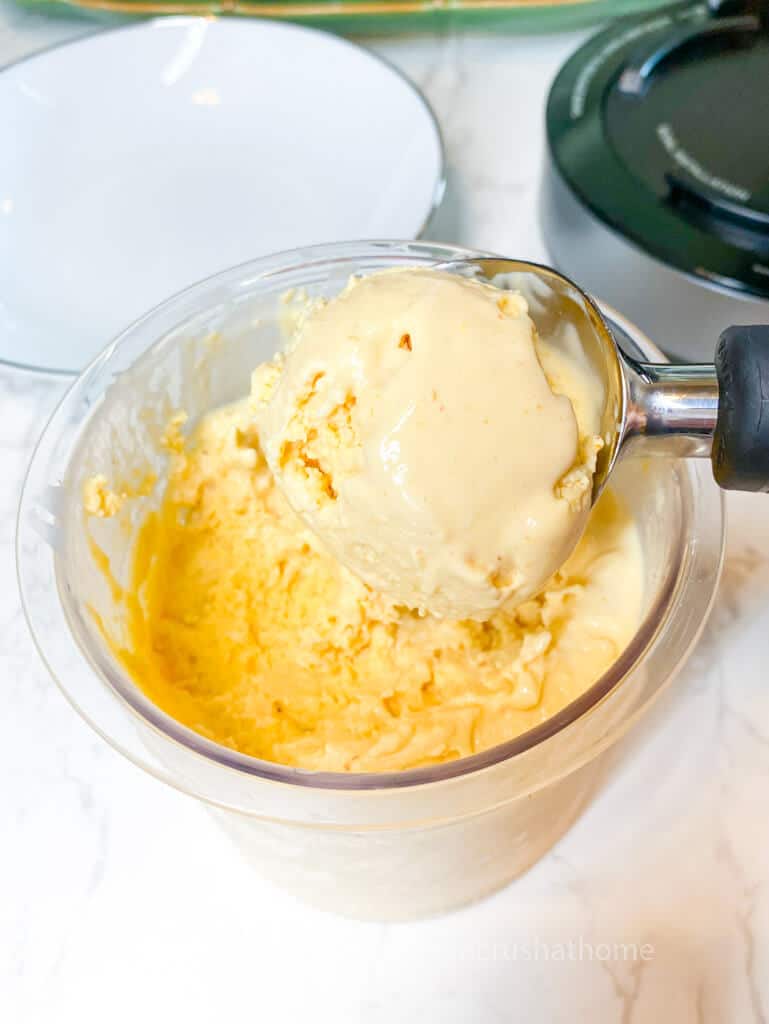 I sometimes add a few tablespoons to my salad. I find the praline pecans go really well with a strawberry and spinach salad.
Why should I use raw pecans?
It is best to use raw pecans as they will not have any flavoring or salt. If you can't find raw pecans unflavored, unsalted pecans will also work. I like to use raw pecans as I find they have the best flavor.
You can find them at grocery stores, but also at farmers' markets like Ham's Orchard!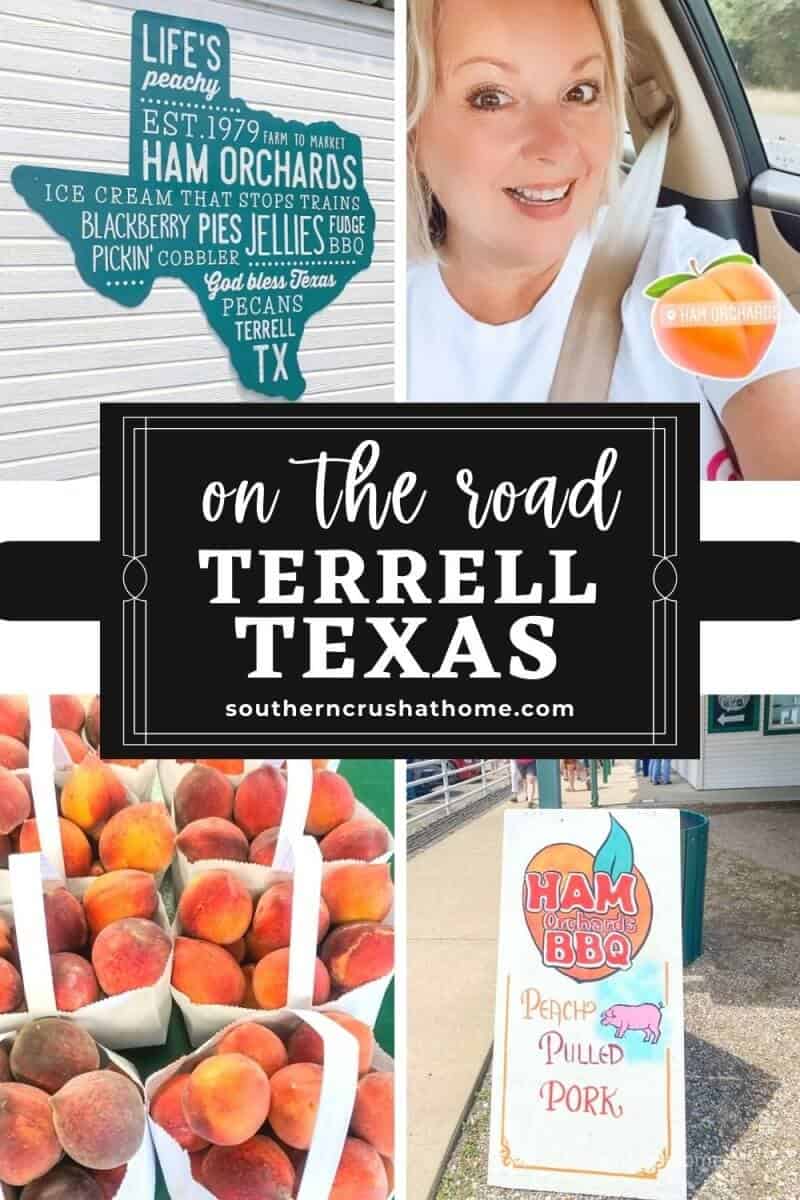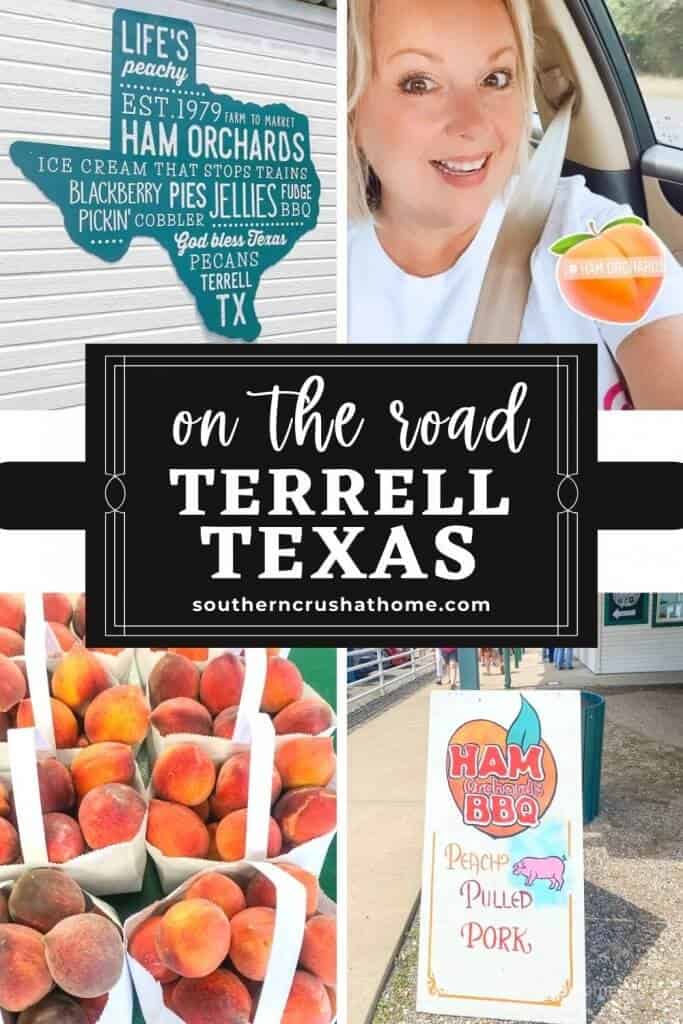 Is this recipe for praline pecans suitable for vegetarians?
This recipe for praline pecans contains whipping cream and butter. Some vegetarian will eat dairy and some don't so it is best to ask your vegetarian guest if they eat dairy.
Can I make this recipe for praline pecans vegan?
If you want to veganize this recipe you will need to substitute non-dairy alternatives for both the butter and the whipping cream. The recipe will work with non-dairy alternatives though the taste will be different.

If you love Meal Planning as I do, don't forget to grab a copy of my FREE Easy Meal Planning For Beginners Guide.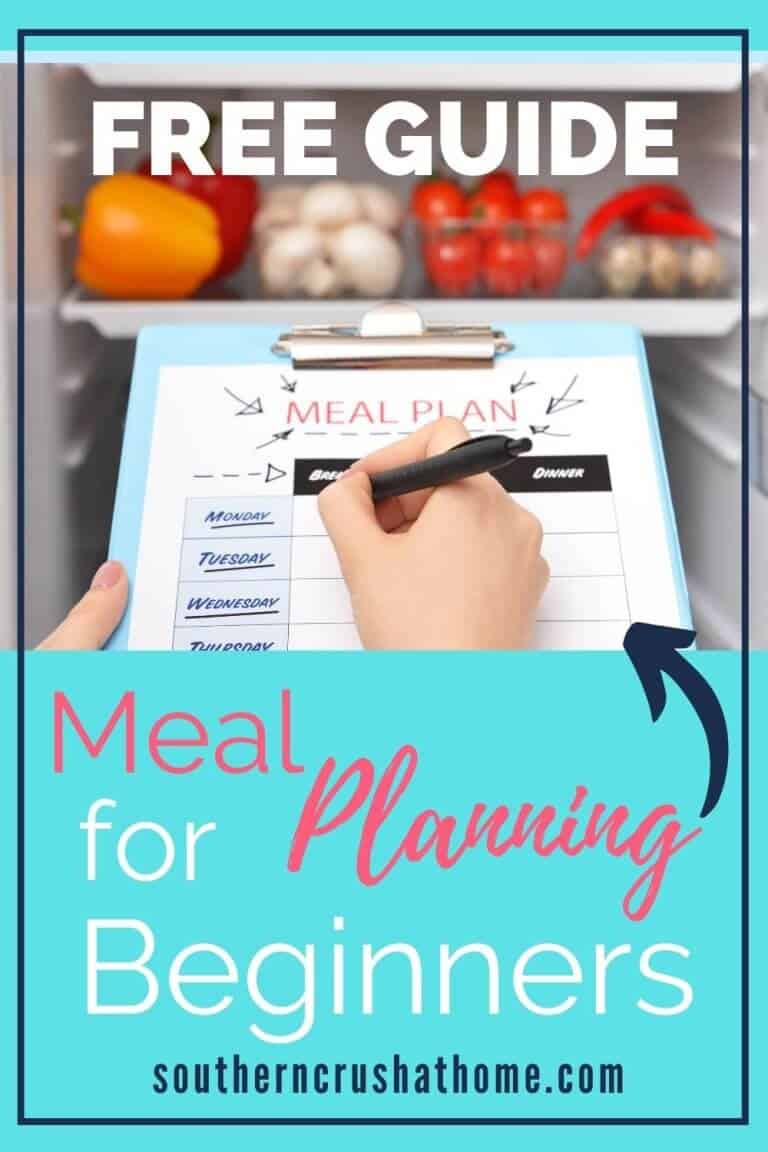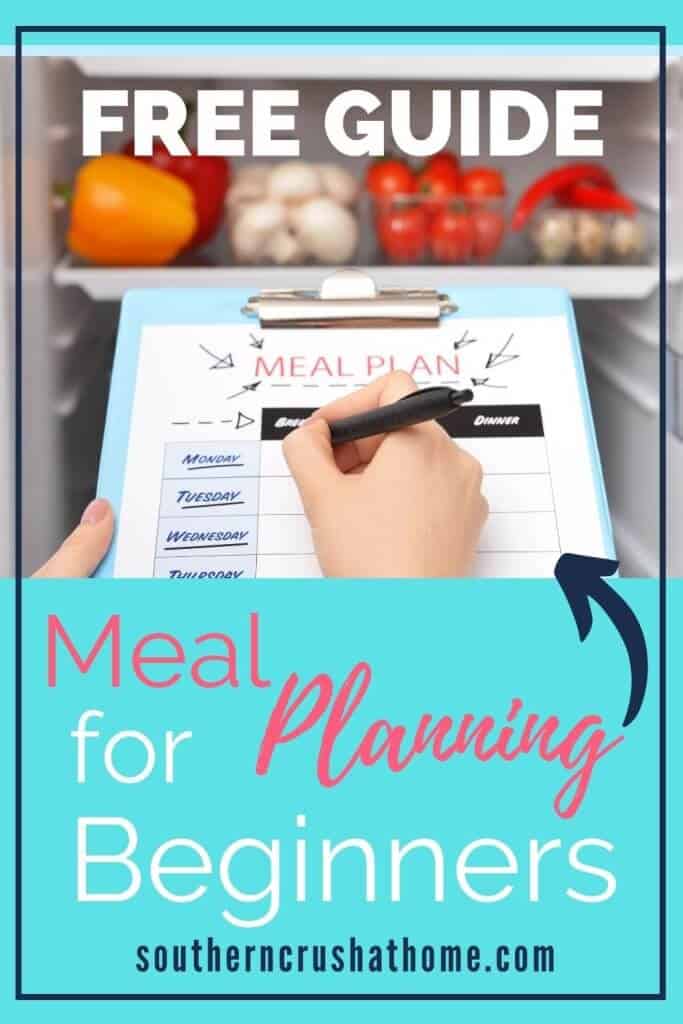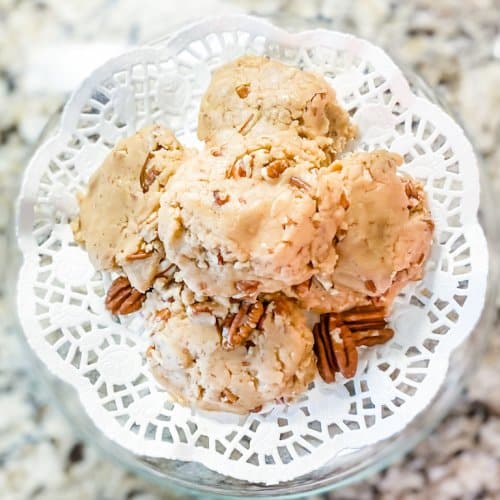 Best Praline Pecans
Equipment
Measuring Cups and Spoons

saucepan

aluminum foil

wooden spoon
Ingredients
3

cups

light brown sugar

1

cup

heavy whipping cream

1

tsp

vanilla extract

½

stick

unsalted butter

2

tbsp

light corn syrup

2

cups

chopped or whole pecans
Instructions
Combine all ingredients except for vanilla and pecans.

Cook on low heat until it reaches a soft ball stage or 236 degrees Fahrenheit.

Let cool until it reaches 150 degrees fahrenheit.

Stir in vanilla and finally pecans.

Spoon onto a greased foil sheet or baking pan until set.

Store in a cool dry air-tight container.