Best Monthly Craft Subscription Box for 2023
Looking for the best monthly craft subscription box to inspire your creativity? Look no further than Magnolia's Monthly Craft Club! This monthly box includes one of Magnolia's beautiful stencils, chalk paste or ink, and a unique surface that is perfect for anyone who loves crafting.
This blog post contains affiliate links. The opinions are wholly my own from my own experience. I may earn a small commission from clicks through to the websites that end in a purchase.
What is included in a Magnolia Craft Club Subscription Box?
Craft club is a monthly subscription that sends you a box of Magnolia's high-quality surfaces and stencils. You'll also receive access to our online community, where you can share your work, get tips and advice from other crafters, and more.
Create new, beautiful projects with Magnolia's best-selling surfaces and stencils. This monthly subscription box is perfect for crafters of all levels, from beginners to experts.
Each box includes:
1 Unique Surface
1 High-Quality Reusable Mesh Stencil
1 or 2 Chalk Pastes or Inks (depending on the project)
Plus, you'll get access to our online community, where you can share your work, get tips and advice from other crafters, and more.
Example Craft Club Kits
See what an example "Craft Club" monthly kit looks like! So much fun waiting for you inside! Get creative and have some fun!
Benefits of Joining a Monthly Craft Subscription Box
Each month those who join will receive a collection of our beautiful products that you'll
use to create an exclusive project, one that is not available as a kit outside of this
program.
Not only is Craft Club an incredible value—it's also the perfect way to try new products and techniques, expand your crafting skills, and get inspired by other crafters.
Get creative with Magnolia's monthly subscription box! The selection of high-quality surfaces and stencils is perfect for anyone who loves crafting. With the wide variety of designs, you're sure to stay inspired.
Additional Benefits of a Subscription Box:
Convenient
Less waste
Complete instructions
Stay at home
Less stress
Budget-friendly
Easy to use
How do you order a subscription box?
The Magnolia Craft Club subscription box is the perfect way to get high-quality surfaces and stencils delivered right to your door each month. You can order one HERE.
This craft subscription box is such a great value! For just $22.99 a month, you'll receive everything you need to create gorgeous crafts.
So what are you waiting for? Sign up today and start crafting your way to beautiful creations!
Monthly Subscription Box FAQs
Find out all of the answers to your most important questions regarding this monthly craft subscription box HERE. Magnolia Craft Club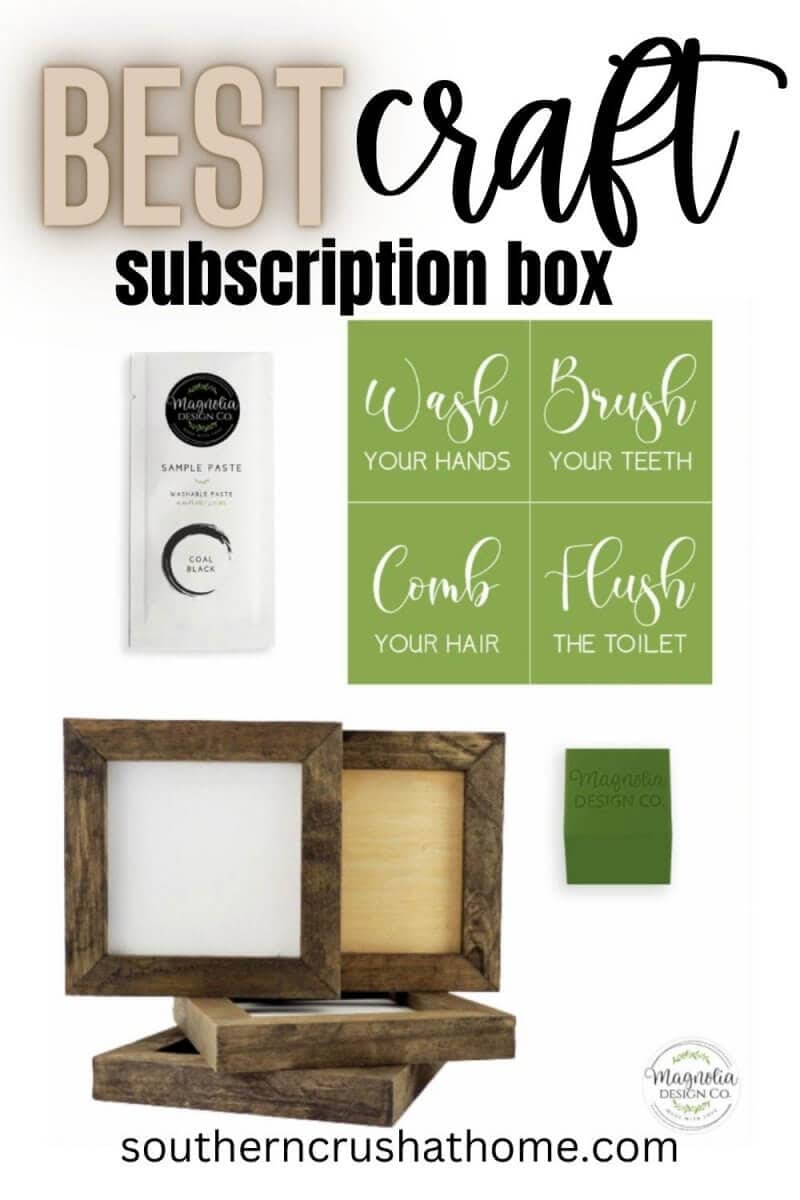 Be sure to PIN this for later!