Mason jar lids can have so many uses and these easy handmade ornaments are just one! Handmade ornaments make the holidays so much more special. These are my take on two totally different ornaments; a fancy one and a "gnomette" or female gnome (I'm not sure if there is such a thing, I think I made it up). Take an old sweater and some mason jar lids so that you can create one of a kind farmhouse looking ornaments for your Christmas tree! See how it's done…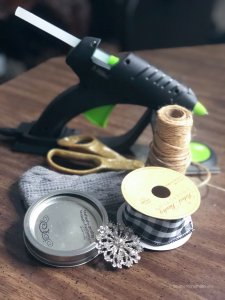 Supplies for mason lid ornaments
canning jar lids
material of your choice
fur accent material
small wooden bead
ribbon of your choice
twine
scissors
These are so easy to make and fun for the kids, too. Pick an afternoon, gather your materials and plan to create these handmade ornaments for your tree. In case you missed the live video tutorial or if you prefer to watch a video, you can view it below.
step by step creating the ornaments
Cut a circular pattern out of your chosen material or sweater, using the mason jar lid circle as your template or guide. Be sure to leave a bit around the edge available for stretching.
Take your mason jar ring and lay your material and lid inside, pressing it together until the material is stretched over the lid fairly tightly.
Glue down the edges of the remaining material with hot glue to the inside back area of the lid to keep it in place and avoid it from coming apart.
Choose which way you'd like the material to face and make that your "top" edge. Create a loop and tie a knot with your twine. Attach the twine to the back of the lid with hot glue to serve as the hanger for the ornament. You can also glue it down at the rim of the ring for better hanging support.
Choose your embellishments. For the rhinestone look; hot glue your bling to the center of the lid front. Add greenery to the edges and a bow to complete the look.
For the gnome or 'gnomette' look; hot glue your fur material to the top of the lid.
Take a small wooden bead and hot glue it to the center of your lid just underneath the fur to serve as a cute little nose.
Add a fun bow and dress it up with rhinestones if desired. Glue in place.
viola! easy diy mason lid ornaments
That's literally all there is to these! They are a super easy diy for Christmas ornaments and can be done in a quick five minutes. The options are endless for ideas and designs, choice of materials or choice of embellishments. They are just so much fun! You can make these, as well as these, embroidery hoop ornaments all in one afternoon! Just pick out your favorite materials to mix and match to make it more fun! These are perfect for your Christmas tree of course, but they also make amazing gifts to have on hand for last minute guests.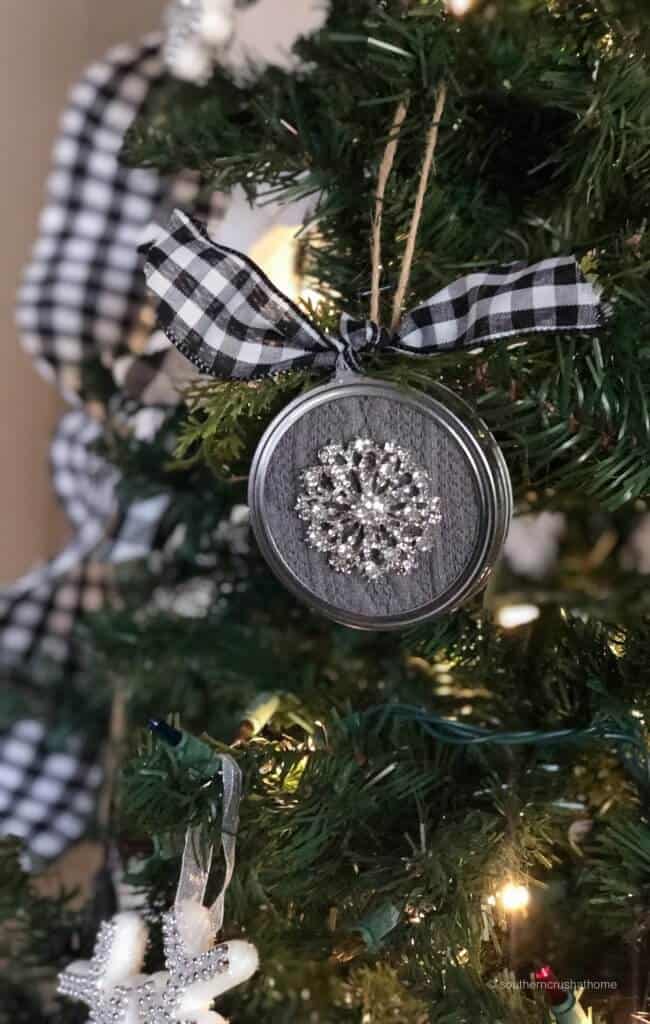 PRETTY Rhinestone Mason Jar Lid ORnament

CUTE "GNOMETTE" MASON JAR LID ORNAMENT
If you love this kind of DIY, you need to be getting my emails, friend! Each week I send out a couple of emails that include updates, crafts, shopping experiences and decor inspiration. Be sure to get yourself signed up below. I can't wait to meet you!
>>>Leave your thoughts below in the comments please… BTW— Life is short—Enjoy the mess!
**P.S. Please join us over on our
Facebook Page
to see more fun projects "Live".