5 Best Email Marketing Solutions for a Creative Business
One of the most important aspects of a creative business is email marketing. Whether you're emailing your followers or potential customers, an effective email marketing campaign can help boost your marketing efforts as you build and grow relationships with your audience while also increasing brand awareness.
I've compiled a list of email marketing services to help you get started today!
This blog post contains affiliate links. The opinions are wholly my own from my own experience. I may earn a small commission from clicks through to the websites that end in a purchase.
What Is Email Marketing and Why Do You Need It?
Sending consistent email marketing campaigns is a great way to stay in touch with your email subscribers, build relationships and increase brand awareness.
A great email marketing strategy can also be used as a selling tool by providing valuable content to users who may not know you well yet or purchasing something from you.
This graph shares that customers prefer good email marketing campaigns even more than social media! That marketing emails statistic is super eye-opening.
Are you currently sending out regular marketing emails to your followers, readers, and customers?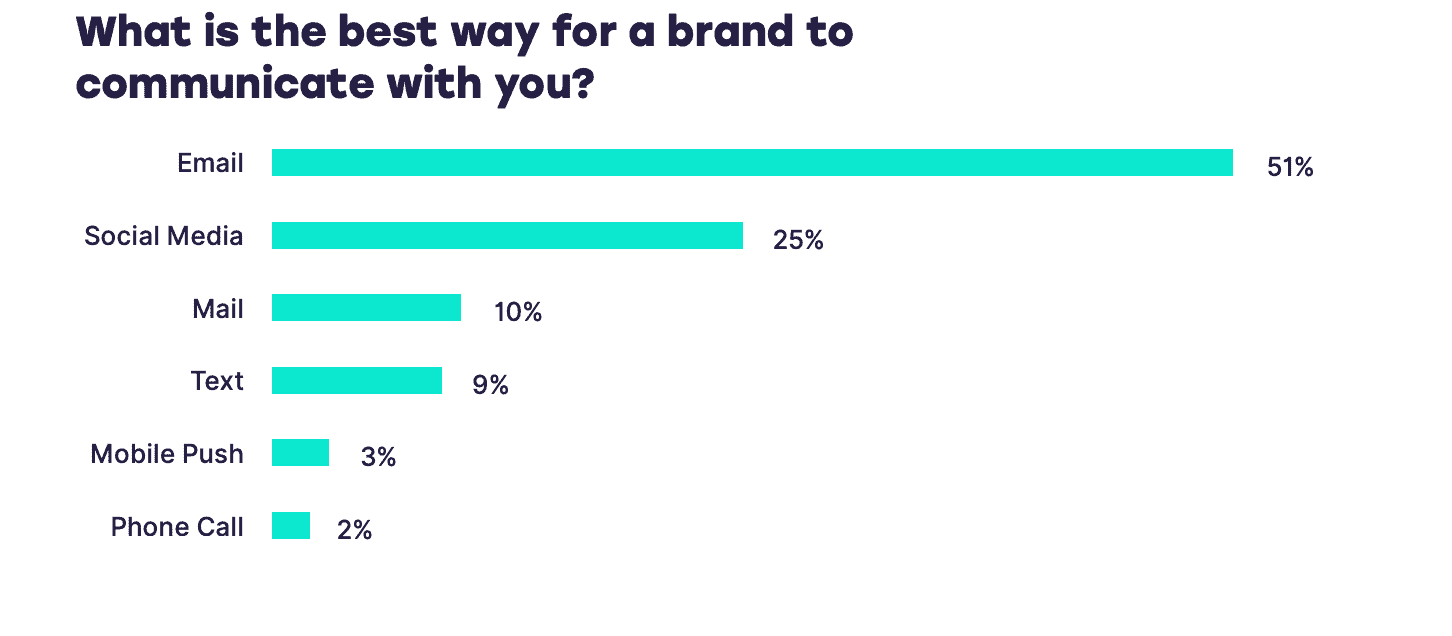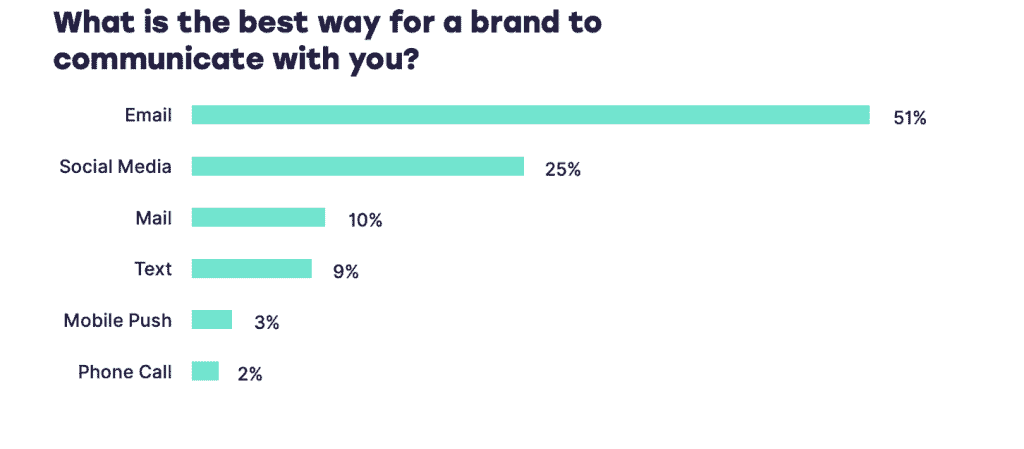 In order to create email marketing campaigns that have the most positive effect on your creative business, it's important to choose email service provider that aligns with your business type, email list size and email marketing strategy goals.
What are the Top Email Marketing Solutions for Creative Businesses?
Comparing the Top Email Marketing service providers
When it comes to finding email marketing solutions for creative businesses like yours, there are many options available.
Let me help you dig through the choices by sharing my personal experiences with each of these top email service providers.
MailChimp is a great email marketing automation tool for creative businesses and freelancers.
It's easy to use, has great templates and integrations with other software, and offers a free plan for up to 2,000 subscribers.
I personally used MailChimp in the beginning stages of my online creative business.
It was easy to get started with sending email campaigns and did the job for the low price of FREE.
Mailchimp Pricing
MailChimp pricing starts at $0/month for up to 2,000 subscribers and goes up to $299/month for up to 10,000.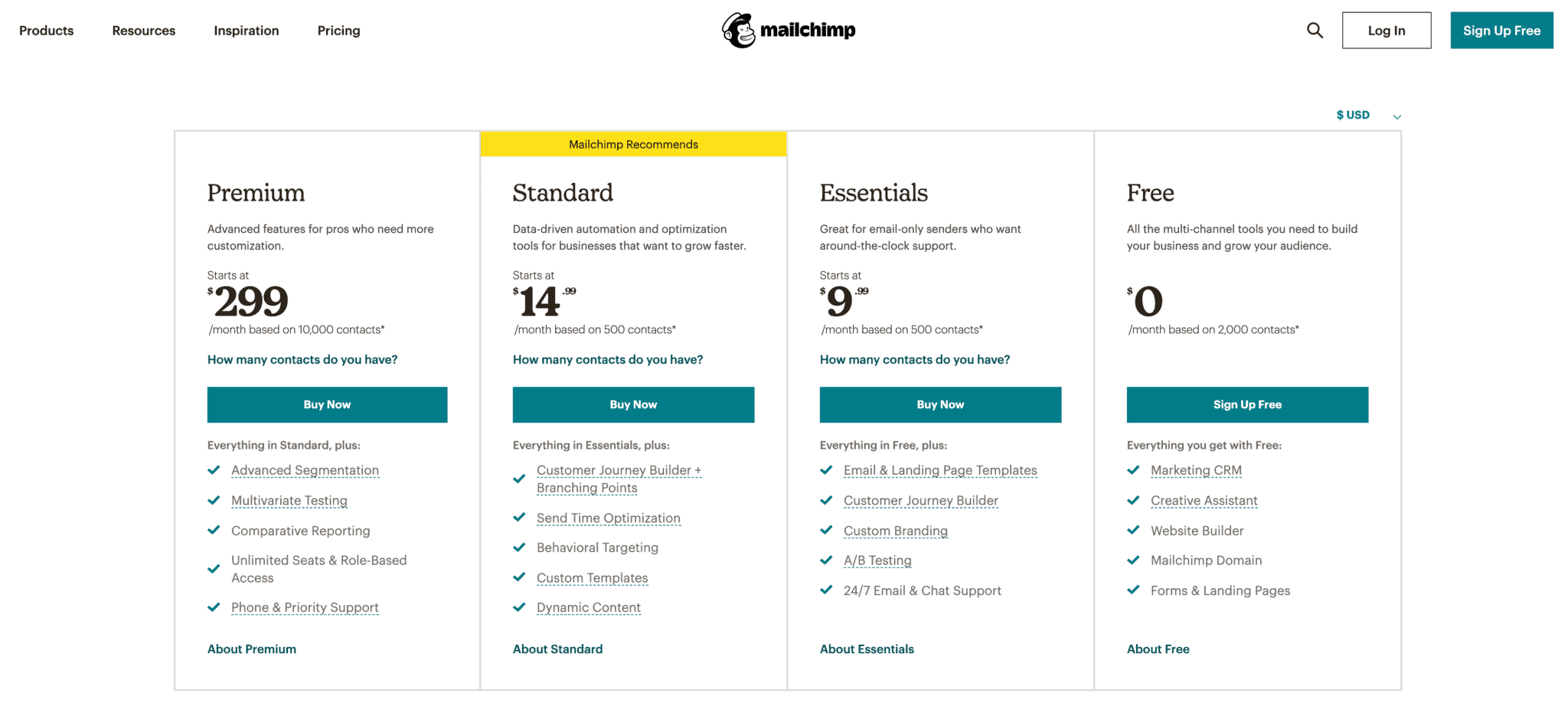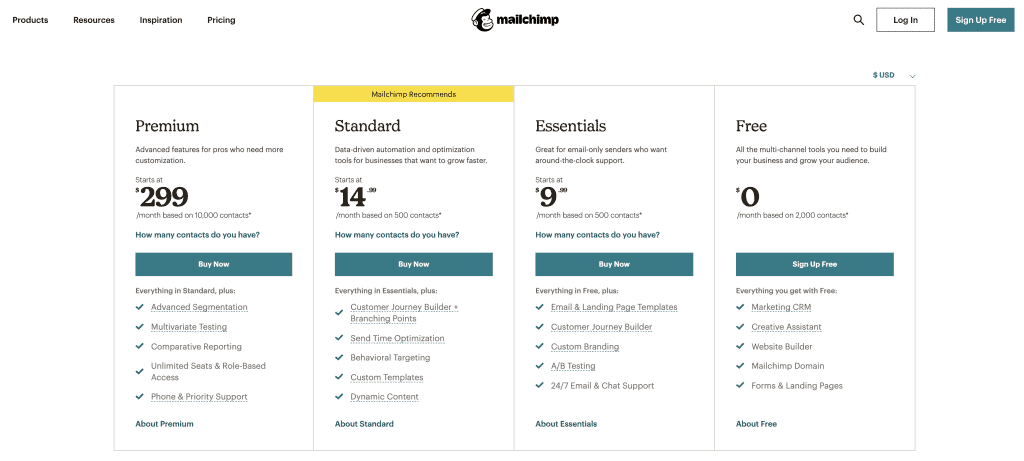 Pros
Cons
Easy to use
Can be expensive for larger businesses
Great email marketing templates and integrations
Free plan for up to 2,000 subscribers
ConvertKit is email marketing software designed specifically for creatives like you.
They offer powerful email automation options, great integrations, and detailed subscriber data that can help you better understand your audience.
They also offer a 14-day free trial so you can test it out before committing.
This is the email marketing platform that I personally currently use for my creative business.
It is very powerful and helpful in building my blog audience which is the main goal of my email marketing strategies.
There are so many integrations with so many other tools, which makes it my one of my number-one choices.
ConvertKit pricing starts at $29/month for up to 300 email subscribers and goes up to $299/month for unlimited email lists.
Pros
Cons
Great email template options
There is a learning curve
Detailed subscriber data about your audience is available
14 day free trial option
High in customer loyalty
FloDesk is a modern email marketing software with a focus on visuals. This is what I use for my newsletters.
They offer beautiful templates, an easy-to-use drag and drop editor, and the ability to share your emails on social media for extra exposure.
They also offer a free plan for up to 1000 subscribers.
I started with this email service when they first came out as an email marketing solution for creative businesses.
It creates such pretty marketing emails! I love how it integrates with Instagram and my other social media, too!
My creative business has grown rapidly. I have outgrown the capabilities of this solution. That being said, I still keep an account with them, because, well… they're that good!
FloDesk pricing is a straight $38/month for unlimited email lists. My affiliate link will get you 50% off.
Pros
Cons
Beautiful templates
Limited integrations
Easy-to-use drag and drop editor
Shares your emails on social media
Provides business trainings
Active Campaign is an email marketing service that's great for businesses with a large email list.
It offers tons of features, including email automation, detailed subscriber data, and the ability to split-test your emails to see what works best.
They also offer a free trial so you can try it before you buy it.
This was an email marketing platform that I used in the early stages of my creative business as I was growing. I wanted to test it out as I had heard a lot of good things about this solution.
It definitely did a great job of segmenting my lists. It also integrates with a ton of other tools which is awesome.
Active Campaign pricing starts at $9/month for up to 500 email subscribers and goes up to $399/month for unlimited email lists.
Pros
Cons
Lots of features including email automation and segmentation, detailed subscriber data, and the ability to split test your emails
Can be expensive for larger businesses
Free trial period so you can try it before committing
MailerLite is email marketing software for small businesses and freelancers.
It offers email templates, lists, and segmentation plus they have a free plan available to get started.
MailerLite is one that a lot of my friends with creative businesses use. It is easy to navigate and very affordable for just getting started.
MailerLite pricing starts at $0/month for up to 1,000 email subscribers and goes up from there depending on how many emails you send in a month's time.
Pros
Cons
Email templates
Limited integrations
Lists and segmentation
Pricing based on subscribers and emails
Free plan available
Which Email Marketing Solution Is Right For You?
So, which email marketing platform is best for your creative business? It really depends on your business' email marketing needs and what you're looking for in an email service provider.
Depending on your business type, social media following, size of email list and email goals – you may find that one email marketing solution works better for your email marketing campaigns than another.
If you're just starting out, I would recommend trying MailChimp as a FREE account or FloDesk. If your email list is larger than 2000 subscribers, then I would recommend using ConvertKit or MailerLite. And if email automation is a big part of your email strategy, then you'll need to go with an email marketing software that offers automation options like ConvertKit or Active Campaign.
I hope this comparison of email service providers helped shed some light on the top email solutions currently available so you can pick one that's right for your creative business and map out an email marketing strategy the will scale as your email marketing efforts build your audience.
Getting Started with Email Marketing
Once you've decided on the best email marketing solution for your creative business, it's time to get started collecting new subscribers and sending out your first email marketing campaign!
Remember, don't be afraid to test out a different email marketing tool to see which one works best for your direct marketing as I did.
It's important to choose an email solution that offers high delivery and the ability to get through most spam filters.
Don't forget to include that important unsubscribe link in your email marketing campaigns.
Pay attention to your click through rate, your growing number of email contacts, and how your emails look on mobile devices.
It's important to make sure you don't land in your subscribers' promotional messages folder!
More Email Marketing Tips
Stay tuned for some upcoming email marketing tips on best email subject line practices, how to create opt-in marketing messages, and creating a welcome sequence email campaign. Also, content on what makes effective email marketing campaigns!
Download my FREE EMAIL SEND SCHEDULE for the best times and days to send professional emails.
Whenever you're ready, there are 3 ways I can help you:
#1 Listen to the Podcast:
Each week a new episode is released with inspiring ideas and proven methods to grow your business from other Creatives on Fire!
#2 Join us over in the FREE Facebook Group:
Did you know we have a great community of creatives that are waiting to meet you? Join us over inside the Creatives on Fire Community group today!
#3 One-on-One Call:
If you need help determining a specific, personal passion or business destination book a 1-on-1 consult with me so that we can take deep dive into what you need to be doing on a daily basis to make it happen.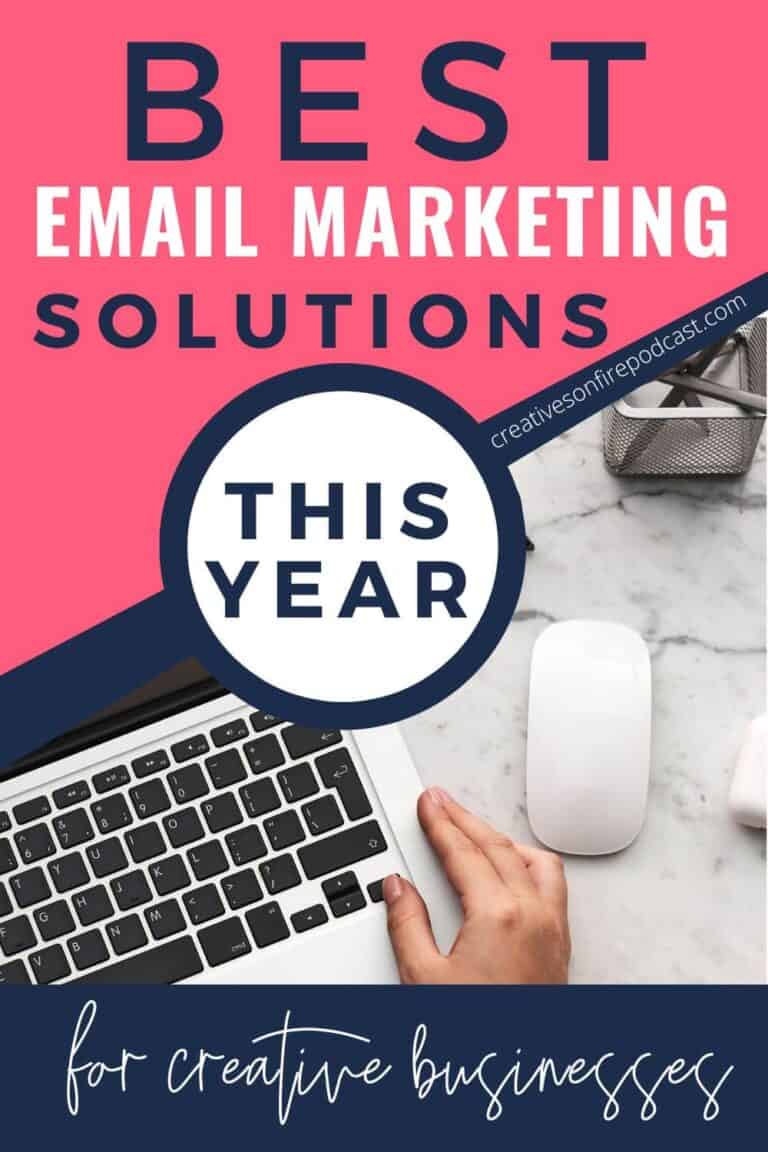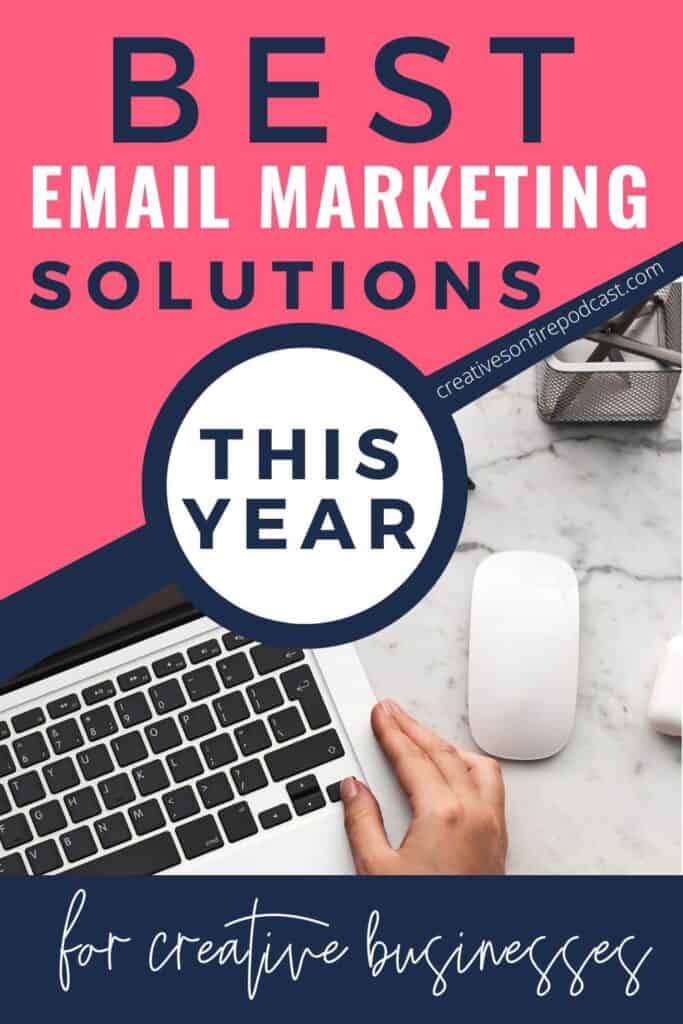 Be sure to PIN this for later!