7 Email Templates to Welcome New Subscribers: Ideas and Examples
Welcome emails are a great way to welcome new subscribers and give them an overall sense of what they can expect from your business and your blog. In this post, I'm providing you with 7 welcome email templates that you can use for inspiration when creating these welcome emails for your own business.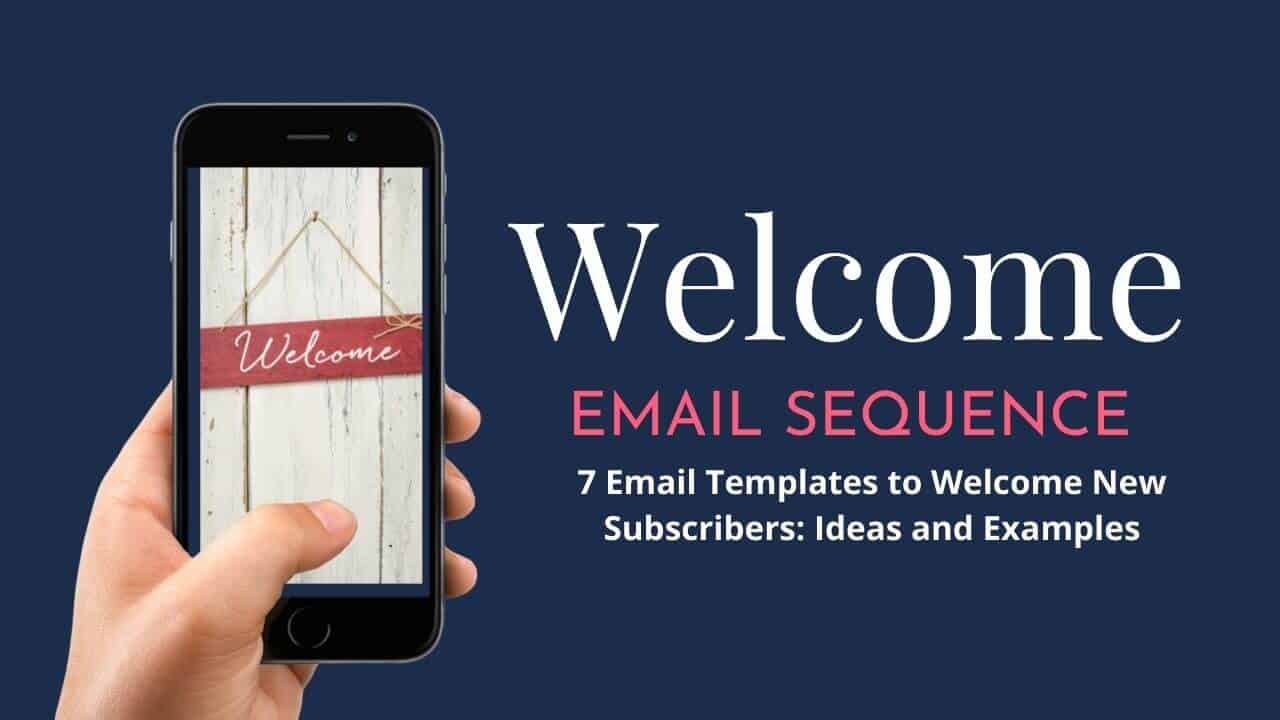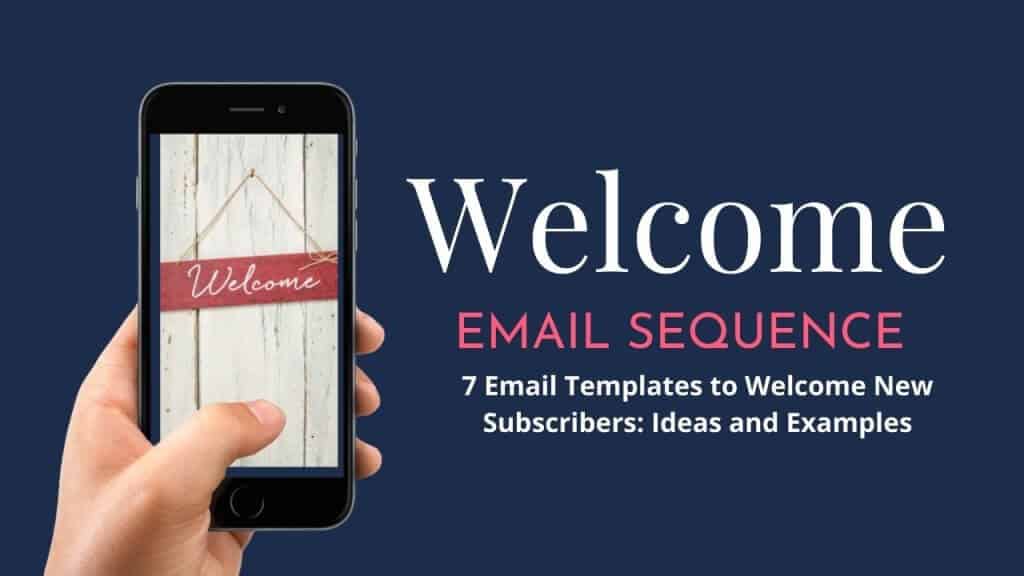 Welcome Email Template Ideas
You can customize welcome emails to fit your business needs in a variety of ways. I recommend keeping the welcome email content relatively short – only including one to two calls to action.
This blog post contains affiliate links. The opinions are wholly my own from my own experience. I may earn a small commission from clicks through to the websites that end in a purchase.
Several of the best email marketing services provide welcome email ideas and examples for you to use in your business. You may want to check out what these email marketing platforms offer in the way of free ideas, too!
For each welcome email, I have also given you some ideas on how to customize the welcome email template so it is unique to your needs.
I hope these templates help show you the power that welcoming new subscribers can have for your creative business!
Template #01: The Welcome Email with a Freebie
Hi there!
Welcome to my website/blog! As a welcome gift, we're offering you a free ebook/report/tools that will help you get started. Simply click on the link below to download your free gift. We hope you enjoy it!
[Link to freebie]
Template #02: The Welcome Email with a Discount Code
Hi there!
Welcome to our website/blog! As a welcome gift, we're offering you a special discount on your first purchase. Simply enter the code below at checkout and you'll receive 15% off your order. We hope you enjoy it!
[Discount Code]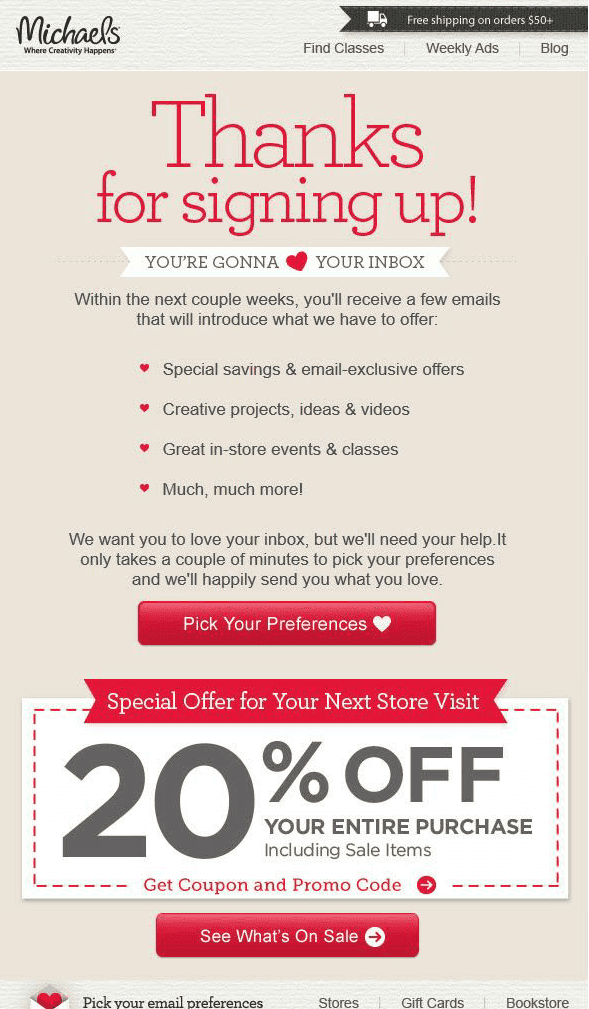 Template #03: The Welcome Email with an Introduction Video
Hello!
If you're reading this, then you've just subscribed to my blog/website. Thank you for joining me! In order to introduce myself, I've created a short video that will tell you more about who I am and what I do. Click on the link below and you'll be redirected to the video.
[Link to welcome email video]
Template #04: The Welcome Email with a Personalized Message
Hello!
I'm so glad to have you as part of my community/website. I hope you enjoy what I've created here and don't hesitate dropping me some suggestions or comments anytime, either through this welcome email or via [social network]. Have an amazing day! [Name(s)]
Template #05: My Personal Welcome Email with a Short Bio Intro Blog Post Link
I am super excited to have you here!
I've always enjoyed creating things – and I'm sure you do, too. Let's get this party started, shall we?
Now that you're part of the creative crowd, I'm planning to send you updates, inspiration, projects, and even some fun offers – right to your inbox. I promise never to spam you and to only send you awesome stuff.
You will get several emails from me for our first week together, and after that you'll hear from me a couple of times each week.
You are going to love what I send you.
I'd love to meet you in person someday, but for now I'll settle for introducing myself here. My name is Melanie, I'm a wife and mom, I love vintage finds & shopping at thrift stores, I'm a business mentor to creative entrepreneurs and a DIY home decor blogger for Southern Crush at Home. For me, crafting and creating are therapy – and I love to share my creations, so watch your inbox for inspiration coming soon!
You can read my entire story HERE.
I'd love it if you hit "reply" and tell me a little bit about you, I'd enjoy getting to know you better!
Template #06: My Personal Welcome Email Asking for a Reply and a Follow
Hey there friend,
I LOVE seeing everyone's creations – it's such an inspiration!
Do me a favor and reply to this email and tell me what you're working on!
Better yet, send me a picture!
By the way, are you on Instagram?
I'd love to have you follow me HERE and then tag me @southerncrushathome in your current project.
I can't wait to see what you're currently working on!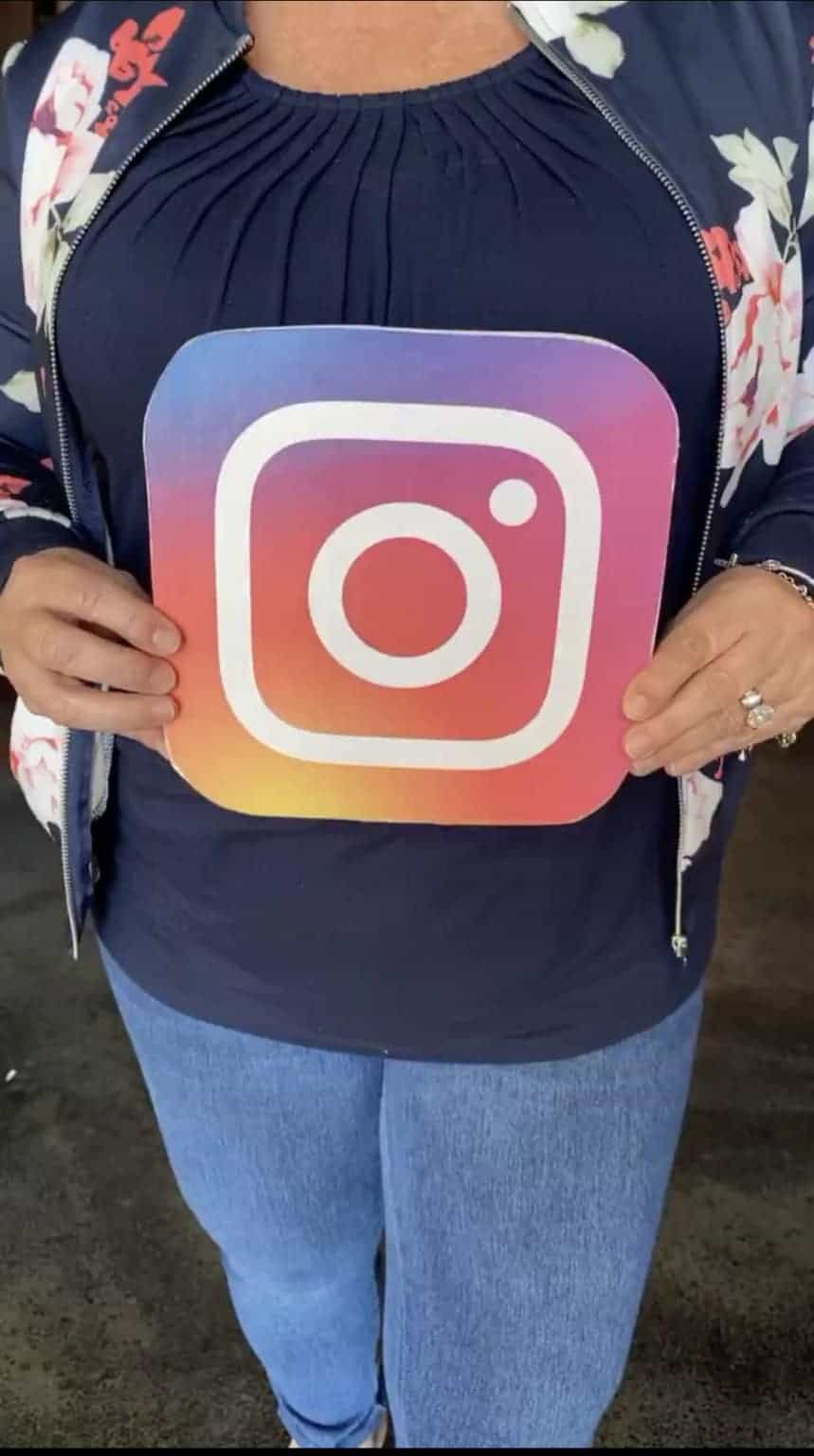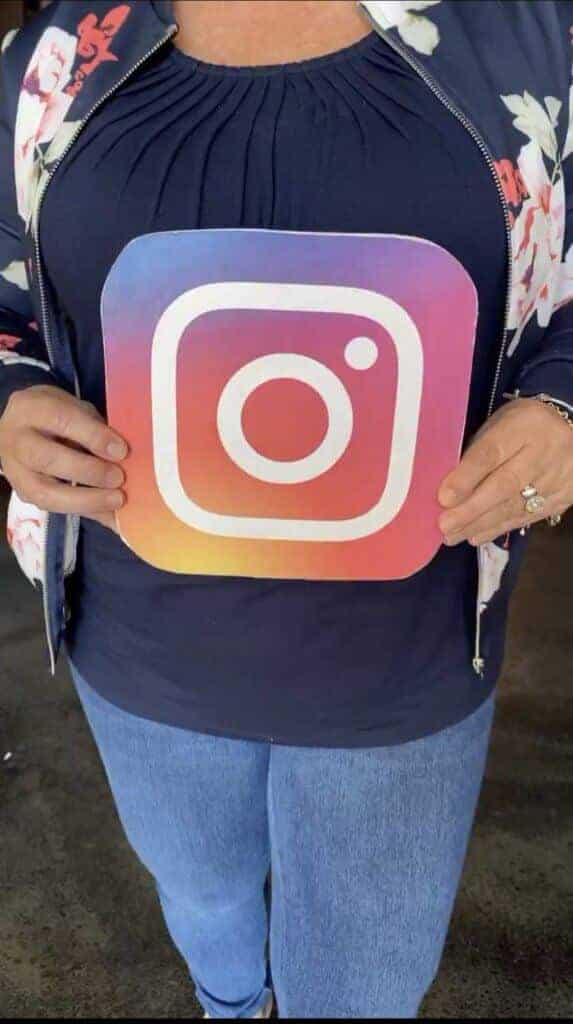 Template #07: My Personal Welcome Email with a Call to Action
Hey there my friend,
I create…a lot.
And I while I used to share my creations without a supply list, I realized (pretty quickly) that my audience was literally begging for a list.
That's why I created one place where you can literally shop online all of the supplies for any project you find on Southern Crush At Home right here.
I understand that not everyone has a Hobby Lobby, or a Michael's, or even a JoAnn's locally – so I wanted to make sure that no matter your location, you can create beautiful projects for your home with the same supplies that I use for the tutorials (because, honestly, supplies make all the difference).
I also added this secret page to my blog just for you with additional creative resources!
Where do you get your craft supplies? Reply to this email and let me know!
Email Templates to Welcome New Subscribers
The welcome emails above are just examples of how welcome emails can look when designed in different ways and customized for your specific business needs.
You should now feel more confident about creating welcome emails that will help boost engagement between new subscribers and your brand.
Remember, these welcome emails are not only serve as an introduction to your business but also to what you have to offer. They can bring you a consistent flow of blog traffic if done right.
Make sure that the welcome email offers something of value for new subscribers so they get a sense of why it is worth staying on one's list!
WHEN DO I SEND THE WELCOME EMAIL?
These welcome emails can be sent soon after someone subscribes or even days/weeks later since there is no rule about when exactly welcome emails should go out. It all depends on how quickly you want to follow up with them once they've subscribed (what kind of content do you plan on sending over time).
I personally state in my first email that they can expect several emails from me over the next few days. I then send out 6 emails over the first 7 days after someone subscribes to my list.
I've found over the years that it's best to respond quickly and often in a short period of time in order to solidify the relationship. It takes people 7 interactions with a brand to even begin to remember who they are.
After the first week, the subscriber is put into my regular sequence of 2-3 emails a week.
Welcome Email Sequence Tips
Do not forget: welcome emails don't need to be too complicated; keep things simple by providing just enough information so new subscribers understand who you are and what you have to offer.
These welcome emails should provide just enough content for those that recently subscribed in order to make sure new subscribers understand who you are and what can expect from this relationship (what kind of content will one send over time).
Make sure the welcome email offers something valuable! Welcome emails also serve as an introduction to your business and what you have to offer.
These welcome emails should not only be welcome gifts but also help boost engagement between new subscribers and your brand.
Whenever you're ready, there are 3 ways I can help you:
#1 Listen to the Podcast:
Each week a new episode is released with inspiring ideas and proven methods to grow your business from other Creatives on Fire!
#2 Join us over in the FREE Facebook Group:
Did you know we have a great community of creatives that are waiting to meet you? Join us over inside the Creatives on Fire Community group today!
#3 One-on-One Call:
If you need help determining a specific, personal passion or business destination book a 1-on-1 consult with me so that we can take deep dive into what you need to be doing on a daily basis to make it happen.
More Email Marketing Tips
Stay tuned for some upcoming email marketing tips on best email subject line practices, how to create opt-in marketing messages, and creating a welcome sequence email campaign. Also, content on what makes effective email marketing campaigns!