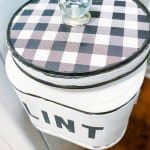 Print
Easy Coffee Can Lint Bin DIY
In this post, I'll show you how to make an easy and inexpensive lint bin from a plastic coffee can. This is a great way to recycle those used coffee cans and keep your home clean and organized at the same time.
Empty the coffee can container of its coffee grounds into a gallon-size Ziploc baggie.

Spray paint or chalk paint the coffee can container and the lid to match.

Stencil on the "LINT" wording using the squeegee and the chalk paste.

Trace the lid out onto the Crafter's Square buffalo check vinyl and cut out using scissors. Stick it to the top of the coffee can lid.

Poke a hole into the top of the lid and thread the glass knob through the top.

Using an artist brush add black acrylic paint to the lints of the coffee can to mimic the look of enamel. Let dry completely.

Hot glue two magnets onto the side of the plastic coffee can so that it will stick to the side of the dryer.