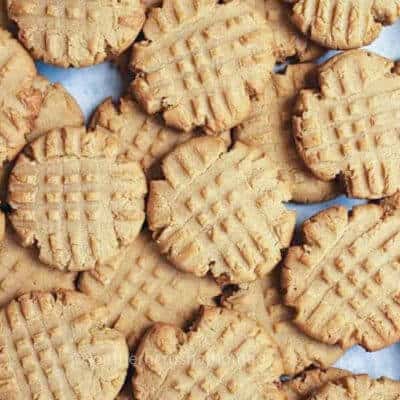 3 Ingredient Homemade Peanut Butter Cookies
There's nothing better than Homemade Peanut Butter Cookies. They're quick, easy and tastes oh so good and this recipe uses no flour! These versatile yummy cookies will be your quick fix when you need a little something sweet in your life. They also make a great option for gift giving! See how easy they are to make here...
Preheat the oven to 350 degrees.

Stir together the egg, sugar and peanut butter until smooth.

Scoop or roll into 1" balls and lay out onto a parchment paper lined baking sheet.

Optionally, although, I firmly believe this is what makes them so good... Form a criss-cross pattern on top by pressing down with the back of a fork one way and then press again from the opposite way.

Bake for 12 minutes and then let cool for 1-2 minutes before removing to a wire rack to finish cooling.

Store in an airtight container. Enjoy!