Email Open Rates: When is the Best Time to Send Emails?
Are you wondering when the best time is to send a professional email so that it gets opened? You're not alone! A lot of people struggle with this question. Even though there's no single answer that fits everyone, there are a few guidelines you can follow to make sure your email is seen by as many people as possible. Keep reading to learn more about email deliverability and open rates.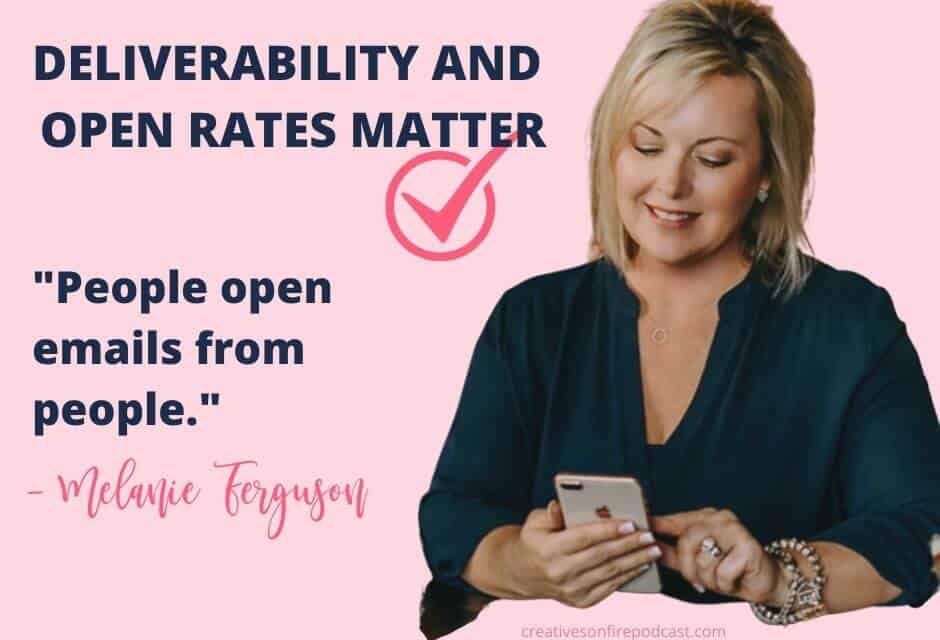 One of the most important things to keep in mind when sending professional emails is email deliverability. You want to make sure your message actually reaches the recipient's inbox, rather than being sent to their spam folder.
What Affects Email Deliverability?
Email Send Frequency
If you do not send emails frequently enough, you're going to have lower deliverability, lower open rates, and ultimately, higher unsubscribe rates. In other words, if you don't send enough emails, you're not going to have the opportunity to actually connect with and engage with your email community.
Lower click-through rates and higher chances of being reported as spam are additional negatives to not emailing your list consistently.
Download my FREE EMAIL SEND SCHEDULE for the best times and days to send professional emails.
Consistent Email Schedule
Now, the day and time you send a professional email matters, too. There is an effect on your deliverability and your open rates when you're consistent, when you're frequent and when you send on a certain day and time that people are more likely to open and read your emails.
Being sporadic or not sending emails frequently enough to your list will negatively affect your deliverability. Don't think that you should only send a professional email when you feel like you have something valuable to share.
You want to be consistent, sending a professional email every week, and you want to be consistent in the day and time that you send your emails.
Download my FREE EMAIL SEND SCHEDULE below for the best times and days to send professional emails.
Email Marketing Platforms
It matters which email marketing platform you are using when it comes to email deliverability. These email marketing services each have their own algorithm. Some of them play nicer than others with certain email providers like Gmail, Hotmail, Yahoo! Mail.
Each email marketing platform has a deliverability rating. Check their statistics and make sure that you are working with one of the best email marketing solutions to ensure your professional emails are delivered to the recipient's inbox and not their spam folder.
READ my post on the BEST EMAIL MARKETING SOLUTIONS.
How Can I Increase My Email Open Rates?
Another thing you'll want to consider is email open rates. Open rates matter to businesses simply because a subscriber can't convert into a sale if they don't ever open your email.
A study by GetResponse found that emails sent on Tuesday and Thursday had the highest open rates, while those sent on Sunday had the lowest open rates. This isn't too surprising, since people are usually busier on the days when they have to work and less busy on the days they don't.
Additionally, you'll want to take into account your recipients' time zones. If the bulk of your recipients are in a different time zone than you are, it's best to send your email during their local hours. This will ensure that they see it when they're most likely to check their email.
Download my FREE EMAIL SEND SCHEDULE for the best times and days to send professional emails.
Guidelines to Get Your Email Open Rates Increased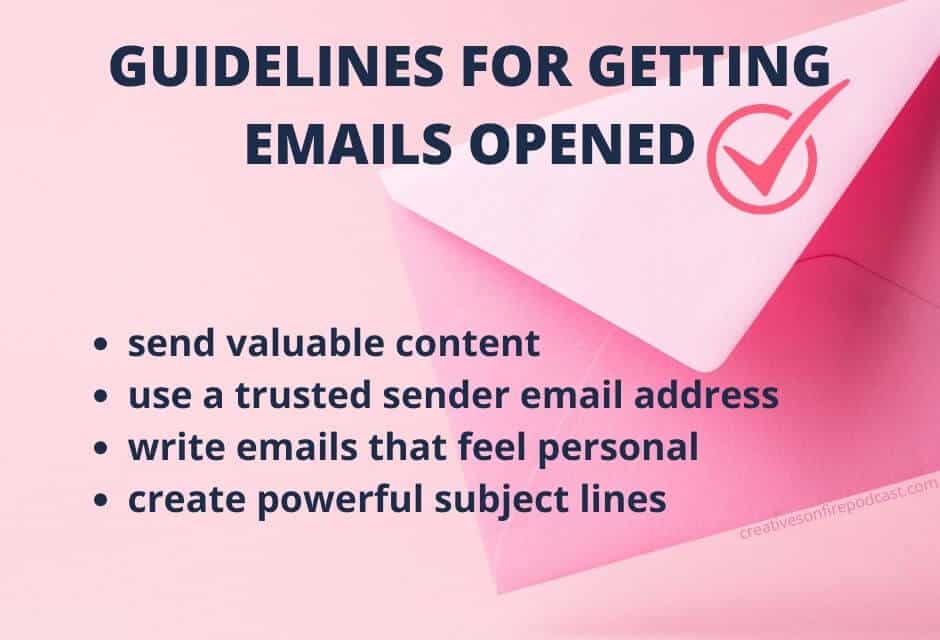 Send Valuable Content so that Subscribers Want to Open Your Emails
When it comes to your newsletter, the better your content, the more likely your subscribers are going to be interested in opening your newsletter. If the content is interesting, thought-provoking, or seemingly valuable to your ideal recipient, they are more likely to click thru as well as share with others in your niche.
Pay attention to the professional emails you send out that have the highest click-thru rate (CTR), which will normally indicate the highest level of interest by your subscriber list.
Use a Trusted Sender Email Address
The bottom line is this; people open emails from people. Don't send your professional email from "info", "hello", "email", "newsletter" or "support" @yourcompany.com. It seems insincere and impersonal and those emails trigger the promotions and spam folder algorithms in the email systems.
Open rates are also affected by whether or not you send from a different email than the reply to email provided so make sure that they match up.
Lastly, do not use a generic email like @gmail.com as these are not received as professionally as @yourcompany.com.
Write Professional Emails That Feel Personal
Think like you're writing an email to your best friend. Keep it short and to the point but don't leave out any of the stories. Stories sell. Start with a short story about your day or week to keep people interested long enough to get to the important content.
Make yourself relatable to your ideal customer's situation and they will want to hear from you again and again.
You need to build a relationship with your subscribers. This starts from the beginning. Be sure you have a warm welcome email in place like these ideas and examples.
Email is meant for relationship building. Yes, you can sell to them, but not in every single email and not all the time. Sometimes the email just needs to feel personal and be of value.
CREATE POWERFUL SUBJECT LINES that make subscribers open your emails
Subject lines are super important in getting your emails opened. The best rules to stick to are as follows:
Keep subject lines short; no more than 9 words and 50 characters.
Ask questions that peak curiosity in your subscribers. Make them want to find out the answer by opening the email and reading further.
Use numbers in your subject lines when it makes sense.
Emojis help create interest in a subject line and make help to get your email noticed and even opened.
Avoid spam filter trigger words like the ones on this list.
Best Time to Send an Email that Gets Opened
At the end of the day, you need to consider your own situation and the preferences of your recipients by watching your own open rates. But by following these guidelines, you can increase your chances of getting your message seen by as many people as possible!
Don't forget to go and download my FREE EMAIL SEND SCHEDULE for the best times and days to send professional emails.
Whenever you're ready, there are 3 ways I can help you:
#1 Listen to the Podcast:
Each week a new episode is released with inspiring ideas and proven methods to grow your business from other Creatives on Fire!
#2 Join us over in the FREE Facebook Group:
Did you know we have a great community of creatives that are waiting to meet you? Join us over inside the Creatives on Fire Community group today!
#3 One-on-One Call:
If you need help determining a specific, personal passion or business destination book a 1-on-1 consult with me so that we can take deep dive into what you need to be doing on a daily basis to make it happen.