Best AI Writer For Bloggers (5 Ways to Improve Your Blogging)
If you're like most bloggers, you're always looking for ways to improve your blog and attract more readers. Well, guess what? There's a new way to do just that – with the help of an AI writer!
In this post, I'll share five ways I've found that an AI writer can help your blogging business succeed. So read on to learn more about how this amazing blogging technology can work for you, too!
But what is AI writing software, and which AI writer is best for bloggers?
In this post, we'll answer those questions and more. Keep reading to learn everything you need to know about using AI technology in your blogging business!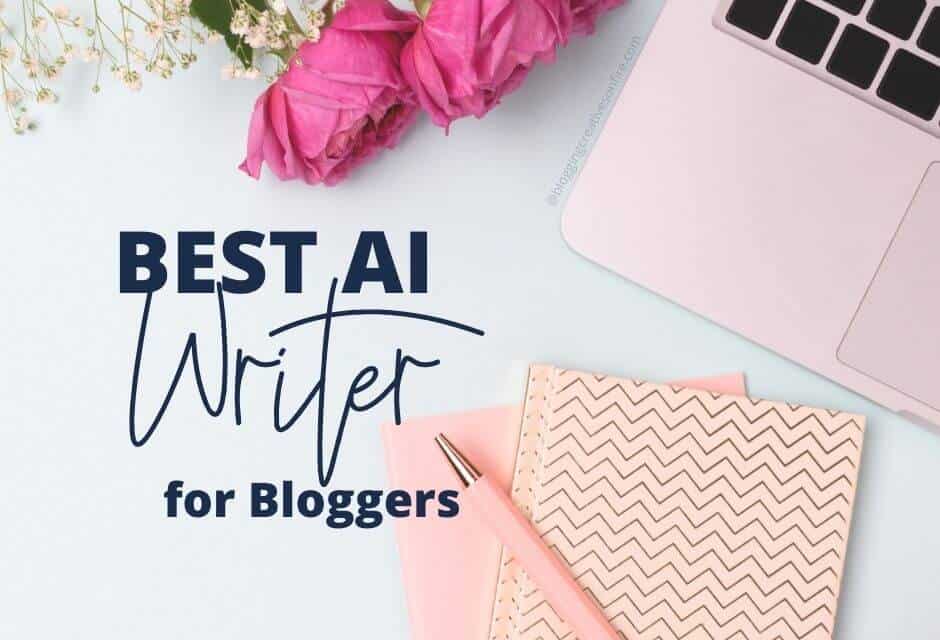 What is an AI Writer?
An AI content generator service helps you write better SEO content for your website (with just a little bit of input from you). It does this by understanding the interests of your readers and helping you target your content to the right audience.
A good AI writer can help a content creator by providing ideas, suggesting topics, and helping to improve the quality of your content.
If you're a blogger, chances are you've already considered using an AI content generator to help with your content creation. After all, an ai writing assistant can help you create better original content for your articles, target your audience better, and even save you time.
Five Ways AI Writing Software Can Help Bloggers Succeed
If you're trying to decide whether or not to use artificial intelligence for content generation, I hope this blog post is helpful in getting answers to your questions as well as in making a decision.
First
AI writing tools can help you create better content. By using data and analytics, AI can help you understand what your readers want to see – and then deliver it!
With just a few prompts, your content will be more relevant and engaging, which is sure to attract more readers.
Second
AI text editor software can help you save time. As a busy blogger, you probably don't have a lot of time to be consistent with creating new original content. With AI tools, you can generate content and automate some of the tasks associated with blogging, such as research and analysis.
This will free up your time allowing you to focus on other aspects of your business, like social media content creation.
Third
AI software can help you create more targeted content. By understanding the interests of your readers, the ai text generator can help you create content that is specifically tailored to them.
This means that your readers will be more likely to stick around – and maybe even share your content with friends who are just like them!
Fourth
AI content software can help you stay ahead of the competition. With so many blogs out there, it can be difficult to have your blog posts stand out from the crowd.
With AI writing tools, you can get a leg up on the competition by using analytics to create quality content that is truly unique to your niche. Not to mention the extra content you'll have time to create!
Finally
An ai content generator can help you make money from your blog and let's face it, that's what most of us want. By using laser-focused stats and analytics, AI can help you understand what products and services your readers are interested in.
You can then use this information to create affiliate links or sell products directly on your blog. So if you're looking for ways to monetize your blog, utilizing a writing tool like AI is a great option!
So there you have it – five ways that an AI writer can help your blogging business succeed. If you're not already using an AI writer, now is the time to start. I'm sure you'll be glad you did!
Do you already use an AI content generator in your blogging business? If so, what benefits have you seen? Share your thoughts and experiences in the comments below!
FAQs About Using an AI Writer
If you're considering an AI writer for the first time, you probably still have loads of questions. I know I did. Here are some of the more frequently asked questions when it comes to deciding whether or not an AI writer is right for your blogging business.
What Are Some Things to Keep in Mind When Using an AI Content Generator?
Some things to keep in mind when using an ai writer include:
– making sure your content is well-written and error-free don't just rely on the generated text that is provided; make the content your own and put your own voice to it
– targeting your content to the right audience by giving the AI writer enough of the right information to start with
– being aware of the competition so that you know what will be expected out of your content before you write it
Using AI software in your business can have many benefits, from increased efficiency (removing writer's block) to improved content quality even in long-form content.
If you're not already using AI software, now is the time to start. There are even free ai content services that offer a free trial so there are no excuses.
Can Google detect AI-written content?
Yes, Google can detect an ai article. However, Google can detect all content writing styles. This includes duplicate content, copywriting, and spam. You should have no worries if you have taken the AI content and made it your own.
Does Google Penalize AI Content?
No, Google does not penalize AI content. In fact, they have even said that they are working on ways to better understand and rank AI-generated content. So if you're using AI to help with your blogging, there's no need to worry about being penalized by Google.
Can Content Written by AI Rank on Google?
Yes, content that was written by AI can rank on Google. In fact, a lot of the newer page one results will have utilized some sort of AI assistance. So if you're using AI to help with your blogging, there's no need to worry about your content not ranking on Google.
Can You Monetize a Blog with AI Generated Content?
Yes, you can monetize a blog using an ai content generator. In fact, using AI to help with your content creation can actually increase your earnings. This is because AI content is often of higher quality than manually written content, and it can also be targeted more accurately to your audience.
Another efficient way artificial intelligence software can help you monetize a blog at a higher level is the faster speed at which you can produce content. The auto-generated ideas and ai text generator copy can essentially cut your writing time in half.
Ghostwriter vs. AI Text Generator
There are a few key differences between ghostwritten content and AI content. For one, ghostwritten content is usually more expensive to produce depending on the quality of your hire. This is because you're paying for a human writer's time and experience to generate unique, original content for you.
Additionally, text written by a ghostwriter may not be as accurate or targeted as AI-generated text.
Finally, ghostwriter content is subject to more mistakes and inaccuracies as compared to ai content.
If you're trying to decide whether to use a ghostwriter or AI content writer to generate unique and SEO-friendly short and long-form content, you may want to employ a combination of both. That is what I do for my personal blog content writing.
This blog post contains affiliate links. The opinions are wholly my own from my own experience. I may earn a small commission from clicks through to the websites that end in a purchase. Thank you so much.
So, Which is the Best AI Writer for Bloggers?
There are a few different AI writing assistant programs that are designed to help bloggers. A few of them have a free trial. Some of the most popular ones include:
Jasper.ai is the best AI software because it's what I personally use. LOL! Besides that, it offers a comprehensive suite of features that are designed to make your writing process easier.
For example, Jasper.ai can help you with intro paragraphs, conclusions, and titles and even offer suggestions for amazing social media post content or generate email subject lines for marketing your blog posts.
In addition, Jasper.ai is constantly being updated with new features and improvements, so you can be sure that you're always using the best AI writer writing tool available.
AI Writer
AI Writer is another excellent choice for AI. It offers many of the same features as Jasper.ai, but also includes a few unique features of its own.
For example, AI Writer can help you brainstorm ideas for writing an ai article and even offer suggestions for different ways to approach your topic.
If you're looking for an AI writer that can offer a little bit of everything, then AI Writer is a great choice.
Copy AI
Copy AI is a great choice for those who want an AI writer that can help with grammar, spell check, and even offer suggestions for improving your generated text writing and words.
Each of these AI programs has its own unique set of features some of which include a free trial to get you started. Ultimately, you'll need to decide which one is right for you based on your needs and preferences.
How Does Jasper AI Work?
Jasper (formerly Jarvis.ai) is an AI writing assistant that can help you bust through writer's block and generate better content writing for your blog with its ai text generator and just a few prompts from you.
Jasper AI for bloggers is the perfect tool to help you save time and generate content that is rank-worthy.
Jasper can help you significantly improve the quality of your long-form content, and target your audience better, all while staying ahead of your competition.
Using AI for Content Generation: the pros and cons
There are a few key pros and cons to using AI for content generation. On the plus side, AI can help you write better quality content. Additionally, it can be very helpful in targeting your audience and making sure your content is relevant to them.
However, there are a few potential downsides to using AI as well. For one, AI content comes at a monthly subscription cost vs. manually created content generated by you is free.
Additionally, it's important to make sure you're using a reputable and reliable AI writer program, as there are some risks associated with using AI (such as data breaches).
Finally, keep in mind that blog posts written with an AI tool may not be as unique as an article whose original content is generated manually.
If you're a fellow blogger, I hope this post has been helpful in understanding how you can use an AI writer to help improve your content creation and what may be the best AI writer for your blogging business.
If you have any questions, feel free to leave me a comment below. Join us on social media in our free Facebook Group.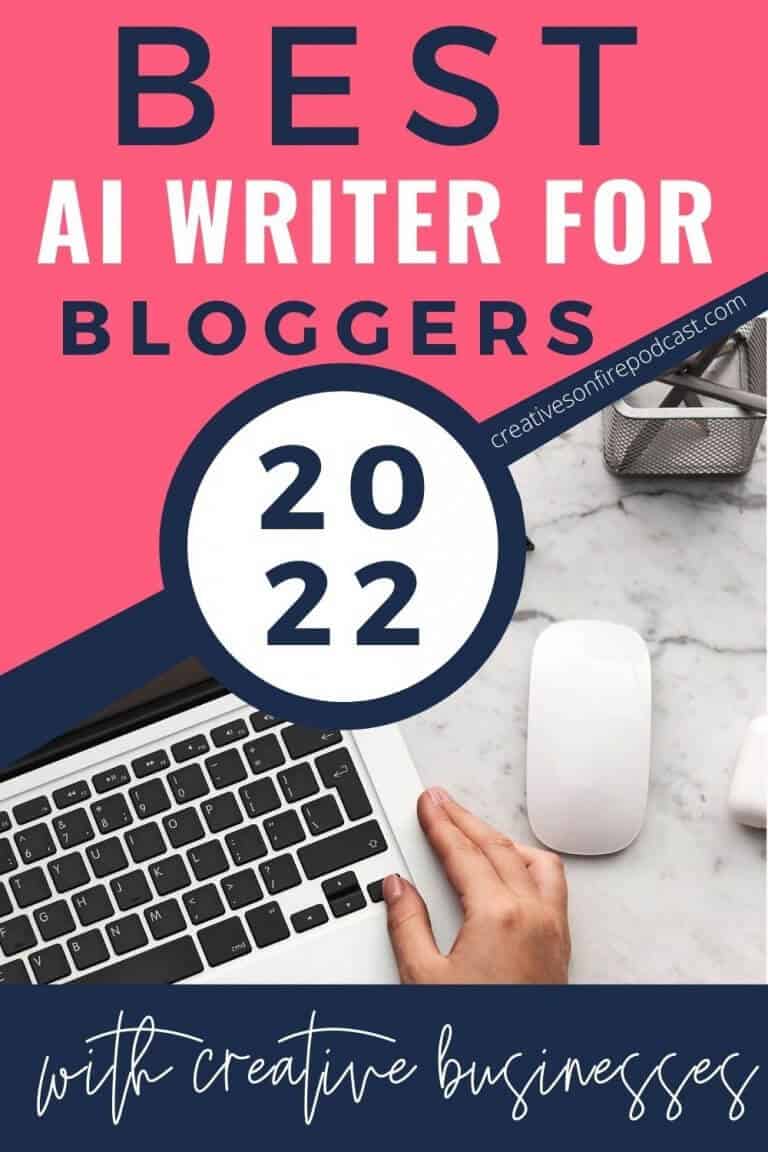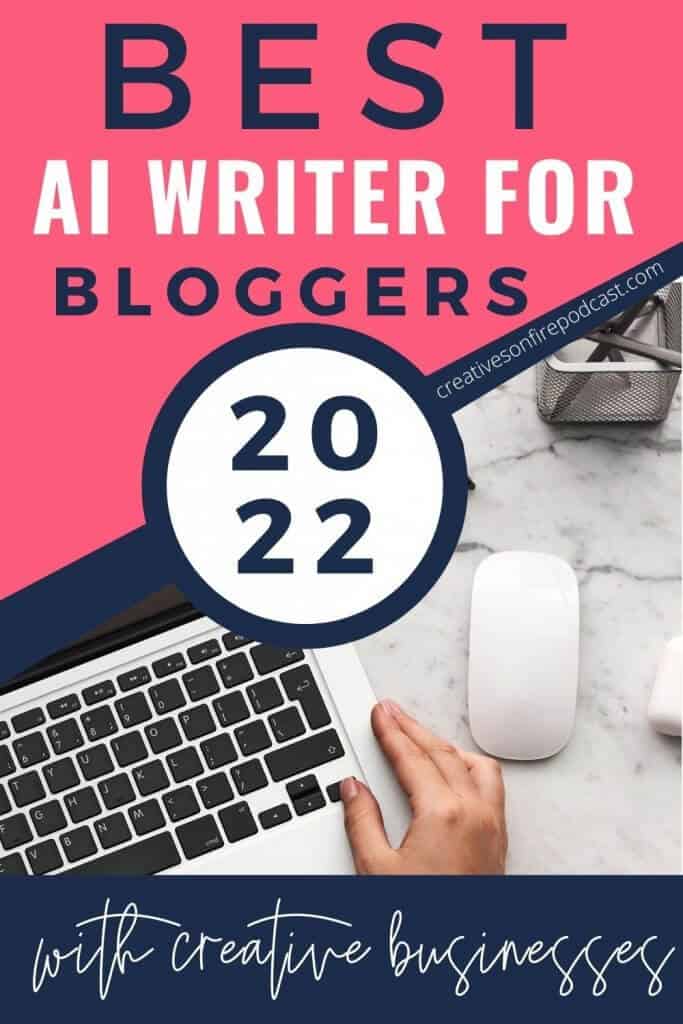 Be sure to PIN this one for later!