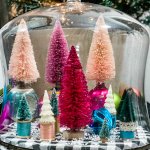 Print
Vintage Christmas Bottle Brush Tree Display
Everyone loves vintage items, especially during the holiday season. This year make your own vintage bottle brush tree display to show off all of your favorite vintage ornaments! Bottle brush tree decor is a lot easier to make than it looks and only requires a few simple supplies that you probably already have lying around. You can use any bottle brush trees you want, but I found mine at the dollar tree and a thrift store for just $2 a bag! Follow these steps below to find out how easy it is to create this beautiful decoration.
bottle brush trees

Dollar Tree has some

ornaments

I used vintage shiny brites from an antique store

wooden spools

lace trim

optional

dollar tree pizza pan

dollar tree buffalo check fabric
Take the wooden spool and add hot glue around the top edge to adhere the lace trim for an added vintage effect.

Then remove a bottle brush tree from it's base using the wire cutters if needed.

Apply a generous amount of hot glue to the top of the wooden spool and insert the base of the bottle brush tree.

Repeat until all wooden spools have a bottle brush tree on top.

Remove the hanger portion of the ornament from the top.

Using hot glue attach the circular part of the hanger that was removed from the top, to the base of the ornament as shown.

Then hot glue a bottle brush tree onto the top of the ornament and let dry.