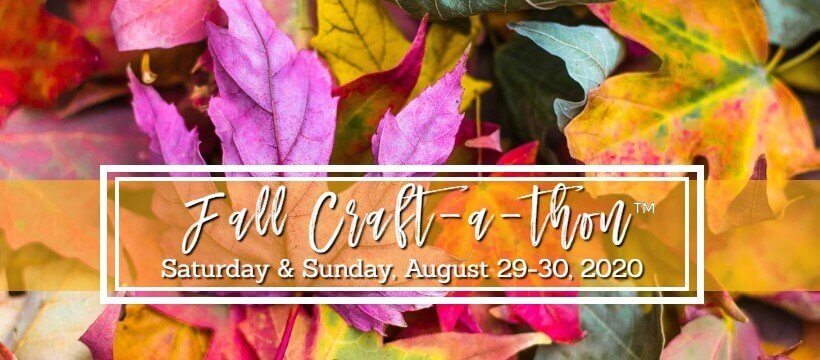 FALL 2020 Southern Crush CRAFT-A-THON™
Ever heard of a "Craftathon™"??
Do you love to craft?
Could you sit for hours and watch new ideas unfold before your very eyes?
Do you like to follow along with others while you make your own pretty things?
Well then, welcome to your dream come true. The official Southern Crush Craftathon™. The Southern Crush Craftathon™ is now a full weekend, real time virtual crafting marathon that consists of 54 expert crafters sharing their newest ideas with you by way of twenty minute live online videos inside a FREE private Facebook group. Get a sneak peek at some of the most creative ideas for the upcoming season of crafting. Free access is available to everyone for 48 hours.
This is an epic event that is attended by hundreds of thousands of viewers from around the world viewing the videos online from the comfort of their couches. Full list of FAQ's is at the bottom of this post.
Register HERE to win prizes!*
Every Craft-a-thon™ has prizes! It's always FREE to register to win, too! We've given away, $100 Amazon gift cards, Starbucks gift cards and FREE t-shirts! The excitement just from the prizes alone can be enough to make you want a Craft-a-thon every single day! Don't forget to enter to win–ONLY ONE ENTRY PER PERSON WILL BE COUNTED. Lucky winners will each receive one of the following prizes including (1 of 5) $25-100 Amazon gift cards or (1 of 8) $5-10 Starbucks gift cards!
Hear from some of the past winners of the craftathon™:
Each Southern Crush Craftathon™ has its own uniquely designed official event t-shirt. Super cute–"Falling Leave & Crafting Please!" 2020 Fall Craftathon™ T-shirts are here and ready for you to grab your size (XS-4X) today to wear it for the event! All of our sponsors are listed on the back.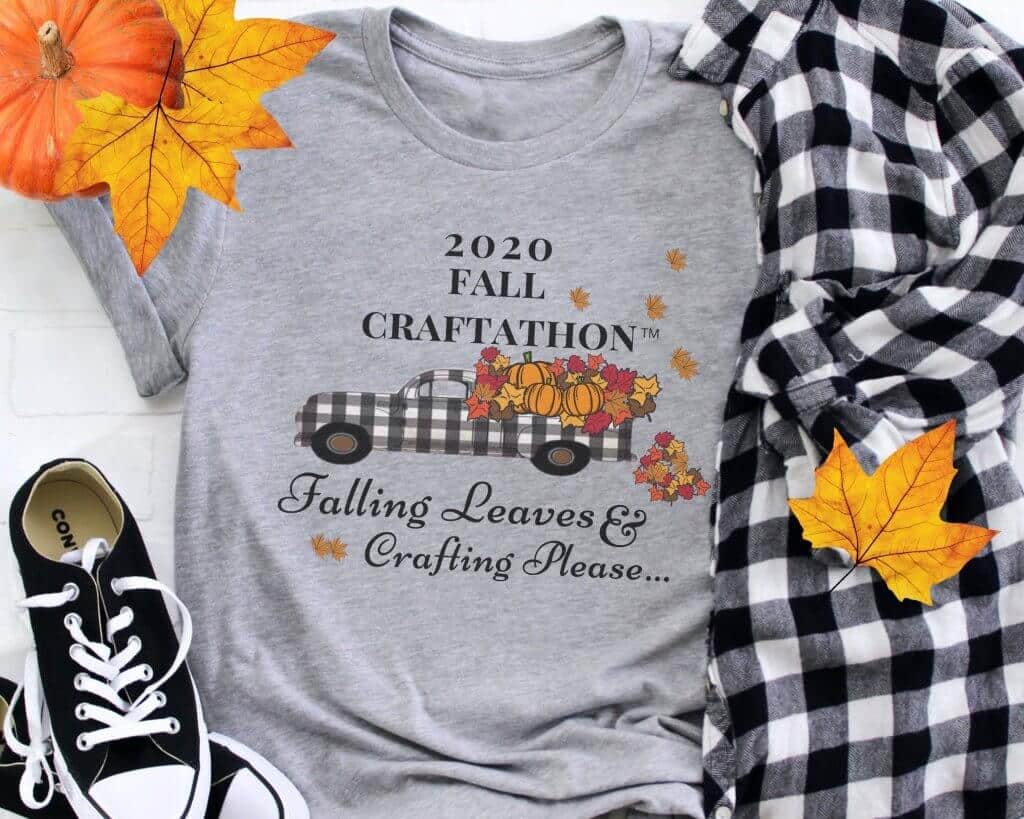 THIS EVENT IS BEING SPONSORED BY THE FOLLOWING SMALL BUSINESSES…
Brown Eyed Girls Crafting
Darshe Designs
The Ruffled Daisy
Miller's Rustic Sawmill
Sweet Lady P's
Adore and a Wreath
Driftwood and Shine
Snazzy Little Things
Art by Debbie Viola
Come Craft with Me
Heather Lynne Designs
Craft Em
Queen Bees Decor
Crafty Servings
Designs by Dina
Woodland Creations
DIYDreaming
Mettle Modern Design
Divine Design by Michelle
Second Hand Treasures
Rose Brooke Boutique
Creating with Kris Hunter
Southern A-Doornments
Art Shattered
Texas Art & Soul
Custom Southern Co.
Yia Yia's Nook
Home by Barthelmes Design
Artsy Tartsy Designs
Crafty Gram
A Thankful Palette
Chateau Chic DIY
If you've never heard of the Southern Crush Craftathon™; I invite you to watch a little preview video of the previous craftathon™ that was held last Fall just before Christmas.
This quarterly crafting event has quickly grown in popularity with the crafting community and draws thousands of excited crafters from literally around the world!
This is what they're saying about the Craftathon™:
And even more say:
And even more say:
And even more say:
And even more say:
If you love this kind of EVENT, you need to be getting my emails, friend! Each week I send out a couple of emails that include EVENT updates, crafts, shopping experiences and decor inspiration. Be sure to get yourself signed up below. I can't wait to meet you!
FREQUENTLY ASKED QUESTIONS
When is the Fall Craft-a-thon™? Saturday & Sunday, August 29-30, 2020
What if I cannot watch it that day or if I miss some of the videos, will there be a replay? All of the videos in their entirety will be available for viewing inside the group for the entire weekend for FREE. You can always upgrade to VIP access level at any time to have lifetime access to all of the videos!
Will I have access to the supply list ahead of time? The VIP ACCESS paid option is the only way to receive a copy of the complete supply list for each and every project presented during the craft-a-thon™. This upgrade can be added at anytime.
Where do I go to see the videos?

All of the videos will be released one at a time over the 12 hour period inside the public group here

http://facebook.com/groups/southerncrushcreativeclub

These will be available for FREE to view for 48 hours.

If you have paid to join the VIP group, you will view the videos inside the Southern Crush Creative Club VIP Group with lifetime viewing access. Request to join with the email you used when making payment.
How can I request to be a presenter? If you are interested in being a presenter, please fill out the following application and once reviewed you will be contacted
>>>Leave your thoughts below in the comments please… BTW— Life is short—Enjoy the mess!
**P.S. Please join us over on our
Facebook Page
to see more fun projects "Live".