I simply cannot believe how easy this no sew DIY potholder doorknob pillow is to make. You've got to try one for yourself! Makes me think there may be a ton of these in my future! So many possibilities, limitless really. You almost can't un-see this project and now every potholder you find may fall victim to becoming a super cute doorknob pillow. This three supply DIY takes a few short minutes and makes a great last minute gift to keep on hand during the holidays…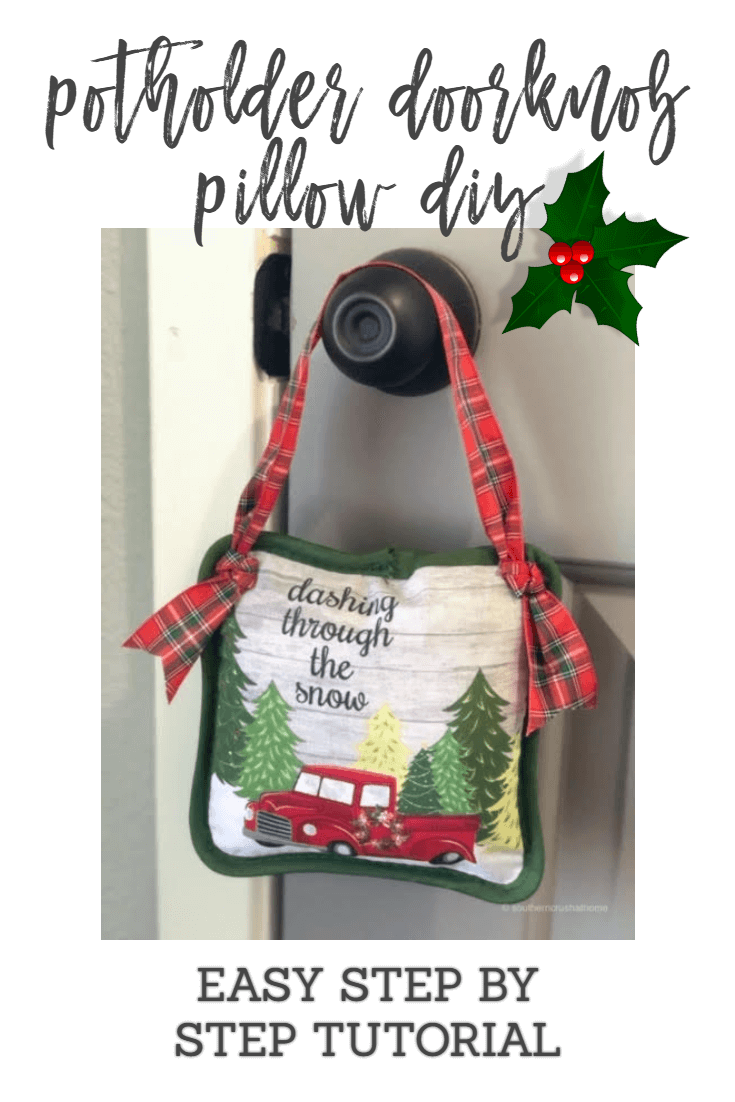 >>>BE SURE TO PIN THIS FOR LATER!<<<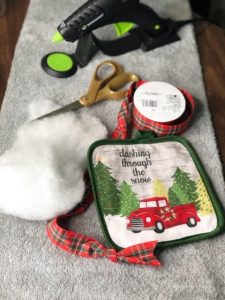 supplies for the potholder pillow diy
any potholder that has BOTH a front and back material with a center pocket (not all potholders are the same) This one was from the DOLLAR TREE
poly fill or some type of stuffing for filling
scissors
ribbon
step by step instructions for potholder pillow
Trim the top loop or hanger piece off of your potholder as this won't be needed.
Separate the trim from the potholder at the seam using your scissors creating a small opening for filling your potholder pillow. You can do this at the bottom, top or side of your potholder. It really doesn't matter; I just made it where the top had already been cut for the removal of the little loop hanger.
Stuff your potholder with poly fill or cotton until you reach your desired puffiness level. It needs to be full, but not so full that it's too difficult to bring it together at the top to seal the opening.
Taking your glue gun, seal up the opening you made on the potholder and carefully press it down so you do not burn yourself. You can also choose to sew it back up; I just prefer the no sew method, myself.
Attach your favorite ribbon or twine to the top corners with hot glue for a quick and easy way to hang your potholder pillow. You can even sew this part or attach it underneath the trim; I just prefer the no sew method.If you missed the video tutorial, it is here below for your convenience.
viola! potholder doorknob pillow diy
So simple and makes such a great statement for any doorknob throughout the house. You could even choose to hang it from your kitchen or bathroom cabinets or really any piece of furniture with a small knob! These make super cute and fast last minute gifts to keep on hand for that unexpected guest during the holidays. Who knows who'll be stopping by for hot cocoa?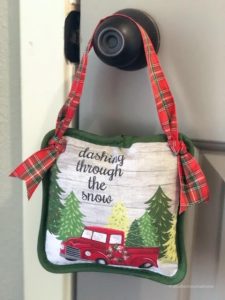 Don't you love the Christmas plaid ribbon with this potholder and it's colors? So festive! This can be adapted to any colors and style you like (even my favorite–buffalo plaid)! The possibilities are endless and are only limited to the potholders you can find out there!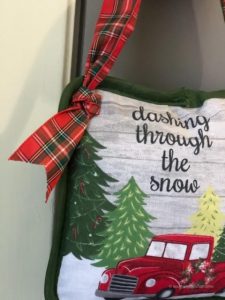 I sure do hope you'll make a few of these potholder pillows of your own and then be sure to share them with all of us over in the creative group on Facebook! We're waiting for you and it's FREE.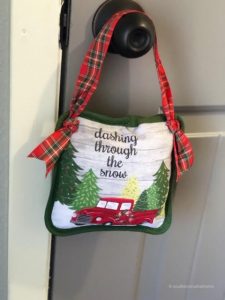 If you love this kind of DIY project, you need to be getting my emails, friend! Each week I send out a couple of emails that include updates, crafts, shopping experiences and decor inspiration. Be sure to get yourself signed up below. I can't wait to meet you!
>>>Leave your thoughts below in the comments please… BTW— Life is short—Enjoy the mess!
**P.S. Please join us over on our
Facebook Page
to see more fun projects "Live".